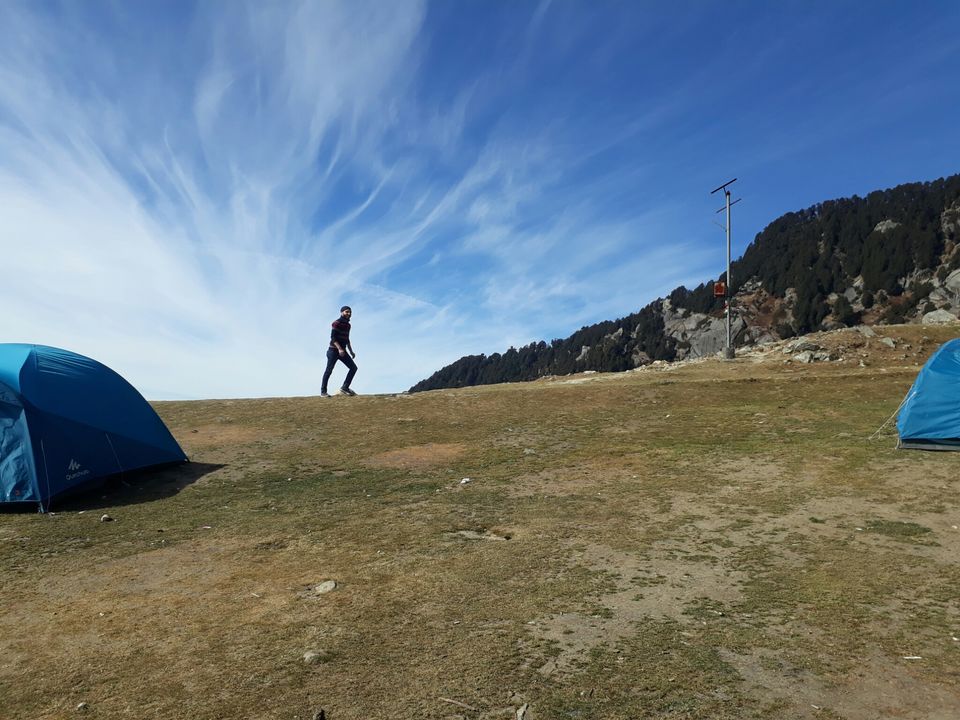 Triund Hill is the crown of McLeodganj, India. It is situated in the lapse of Dhauladhar ranges at a height of approx 2800 mtrs (9180 feet) from the sea level.
The top of Triund gives you the majestic views of Dhauladhar ranges on one side and Kangra Valley on the other side. Check out the below links to get a glimpse:
https://youtu.be/SJkQl1mdAc8
https://youtu.be/y683apAxlXg
Imagine, sitting on top of the world with your friends or may be your soulmate or may be alone, having a glass of wine and watching the sun goes down. Trust me, its one of the most beautiful thing you can ever experience.
How to Trek Triund Hill
It is an easy to moderate trek of about 11 km from Main Square, McLeodganj. You can cover the first 6 km of the distance till Gallu Devi Temple by the local transport which would cost you around Rs. 150-300.
But, if you have time and you are eager enough to enjoy the beauty of the nature, I would advise you to take a walk like I did.
I started my day waking up at 5:30 in the morning. Got ready quickly and had a light breakfast at a local shop near my hotel. Out of my curosity, I thought of getting some useful tips for trekking.
He showed me the way that took me to Dharamkot about 2 km from Turkish Cottage, where I stayed. You can easily track the school there and the way to Gallu Devi Temple is from the left side of the water tank beside the school gate.
I started following the jungle trail surrounded by the beautiful oak, deodhar and rhododendron trees and walked about 1.5 km to reach Gallu Devi Temple. The morning breeze was too fresh to feel. I clicked a lot of photographs on my way to the temple.
There were 2-3 cafes here to take a break and sip-in some tea or coffee. But, I continued my trek as I didnt wanted to stop too early. The trek becomes a bit tough from here with steep gradients and curves. The path from here on is full of uneven stones. Check out below links to get a fair idea of how hard its gonna be:
https://youtu.be/Dz9HCemV7Yk
https://youtu.be/C3o107q_THI
After trekking about 3.5 kms from the Temple, I reached the next check point and there were 2 cafes namely, 'Magic View Cafe' & 'Best View Cafe'. As the name suggests, the view of the valley from this point was amazing. You would already feel on top of the world. I rested here for a while and had some bananas to restore the much needed energy. The last 2 km stretch was the real test of my grit and determination. It included the tiring 22 curves to reach the top of the majestic Triund. Check out the below links and imagine what it takes to reach the top:
https://youtu.be/OryLBwfuvwc
https://youtu.be/6YX3W8gRKRw
No matter how hard it appears to you, trust me, you would not have a slightest thought of your tiring trek when you reach the top. I was overwhelmed with the view and was automatically smiling telling to myself, " Why didnt you came here before?? Wowwwwww. . . It was such a beautiful moment. Absolutely speechless.
There were a number of local cafes on the top. I laid down there on the grass in front of a shop and opened my bottle of whiskey and ordered a maggie which costed me Rs.70. I laid there for about an hour and watched the blue sky on top. The sun was out but the cool breeze took the heat away.
It took me about 5 hours to cover the 9 km distance on feet. I started at 6:30 am and reached on top at about 11:30 am. Since, I started quite early, there were not much visitors I met while trekking to the top. But, once I reached the top the number kept on increasing.
The local shops would offer you tea, coffee and food, but at a premium price. You can easily hire a tent for Rs.500 for an overnight stay which would be a breathtaking experience. Looking at the majestic Dhauladhar ranges and the Kangra Valley,
I could imagine the night camp experience on a full moon night. Unfortunately, my trip was planned otherwise and I had to come back down on the same day. But, I promised the nature and myself, that I would come back on a full moon night for an overnight camping experience.
I spent about 2 hours on the top enjoying the beauty of the nature and clicking a number of beautiful photographs to take back my unforgettable memories to cherish in future. Truly an amazing experience I had.
Important points to consider:
¤ Start trekking early in the day.
¤ Wear comfortable woollen clothes and shoes. Dont forget to cut down your nails.
¤ Keep a jacket along. You wont need it during the trek, but it will be required on top.
¤ Keep a lot of chocolates, dry fruits or fresh fruits like banana or orange for instant energy.
¤ Keep a water bottle or two if you dont want to spend too much while trekking.
¤ Food and water will be available on the top, but at a premium price.
¤ You may carry your own tent, if looking for an overnight stay.
¤ No guide is required as the trail is quite clear to follow.
¤ You may carry a bluetooth speaker, the rythm of music would help you carry on trekking.
Best time to visit: April-June and September-November
*If you are looking to trek in snow, which is more difficult, but way more pretty, then you can think of trekking in January-February.
** I would personally advise to camp overnight on a 'Full Moon' night on the top.
If you find this blog useful, please do share with people who loves travelling around the world. If any of you have any queries related to this trekking, just leave a comment, I would be more than happy to reply back.
You can also check out my amazing road trip to "Bir Billing - World's 2nd Highest Paragliding Spot' using the below link:
http://lovetravelsolo.blogspot.in/2016/12/paragliding-in-bir-billing-worlds-2nd.html?m=1