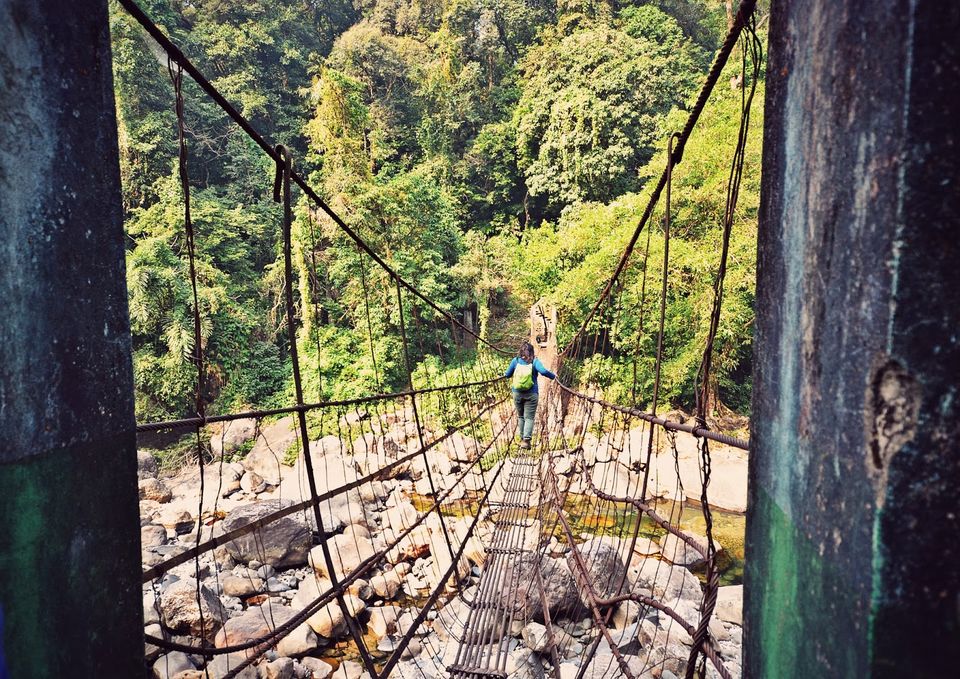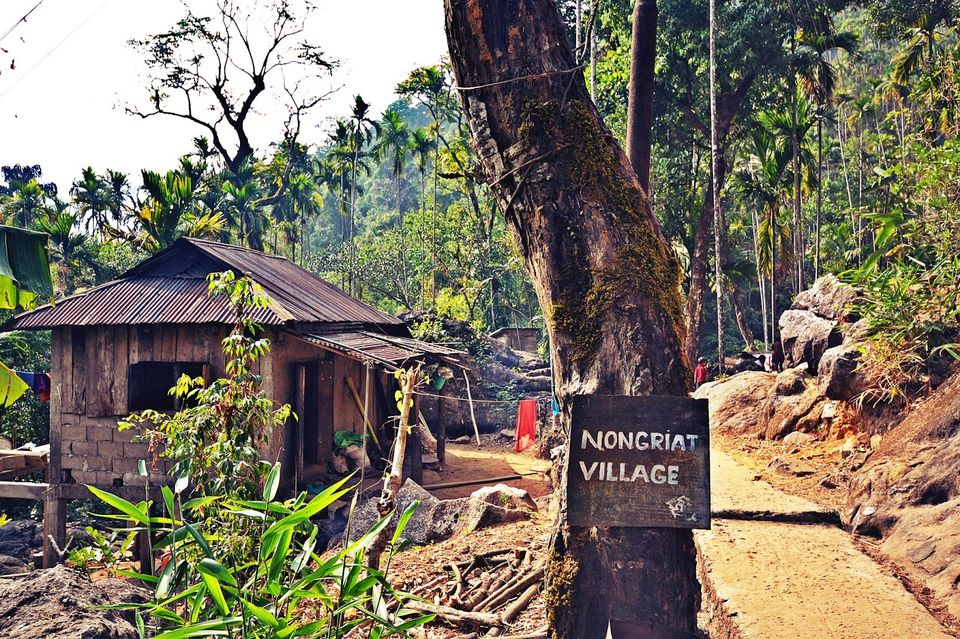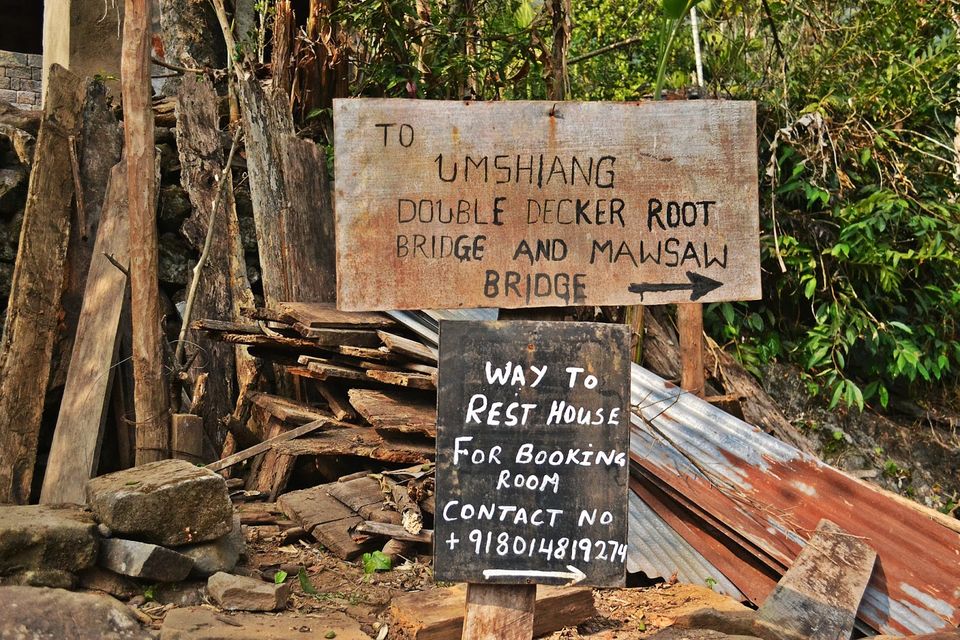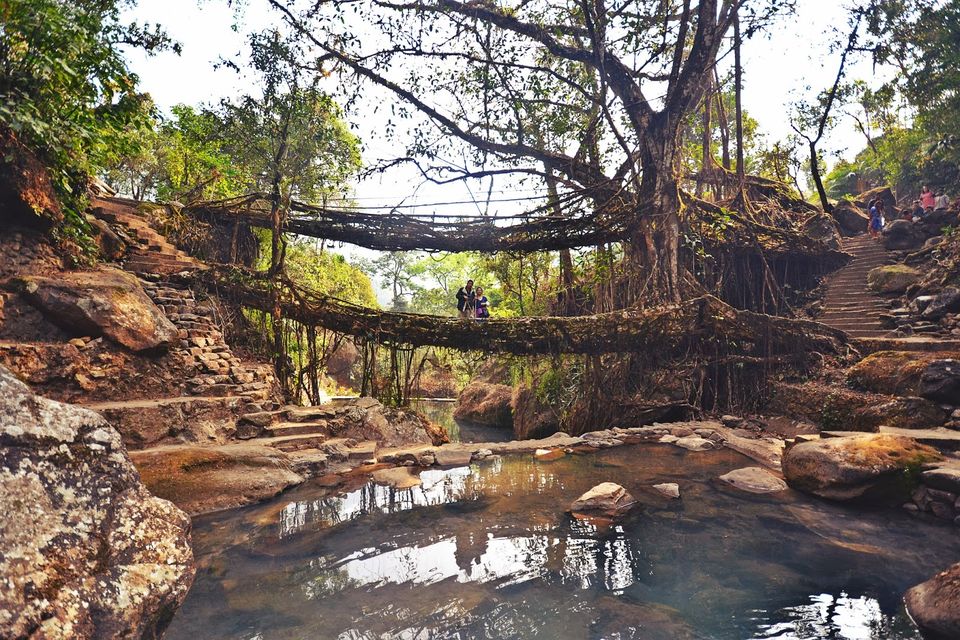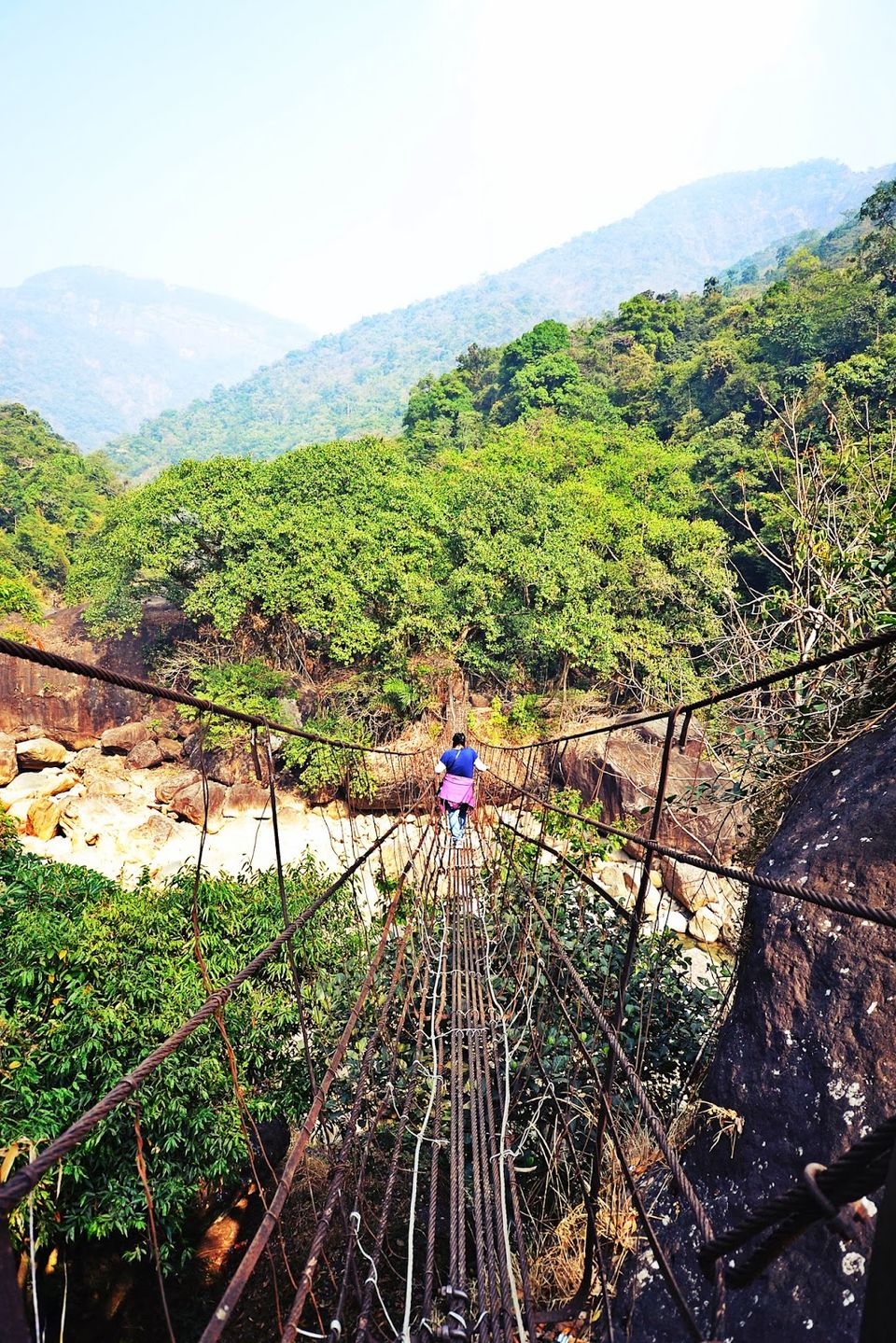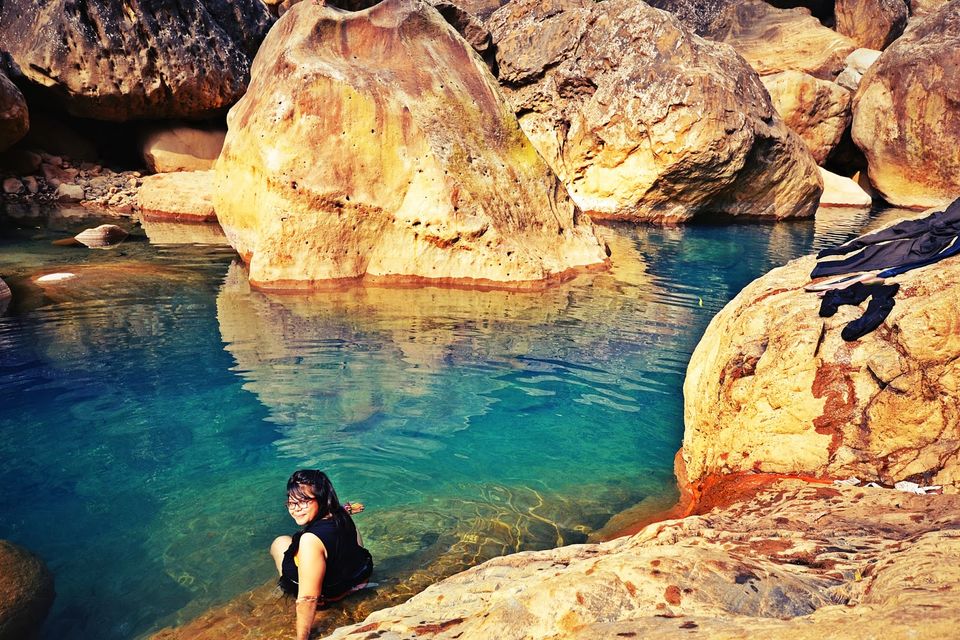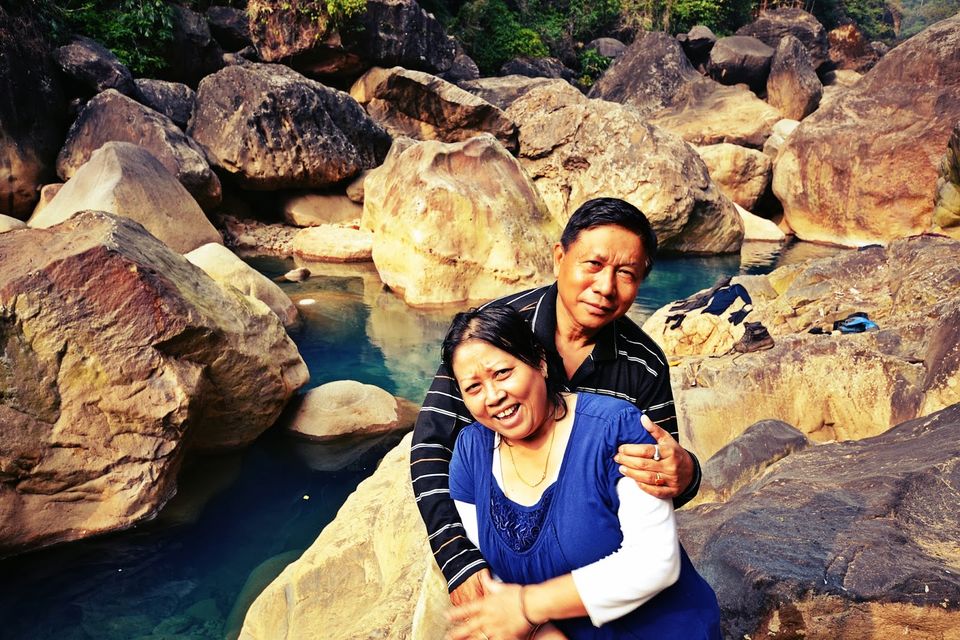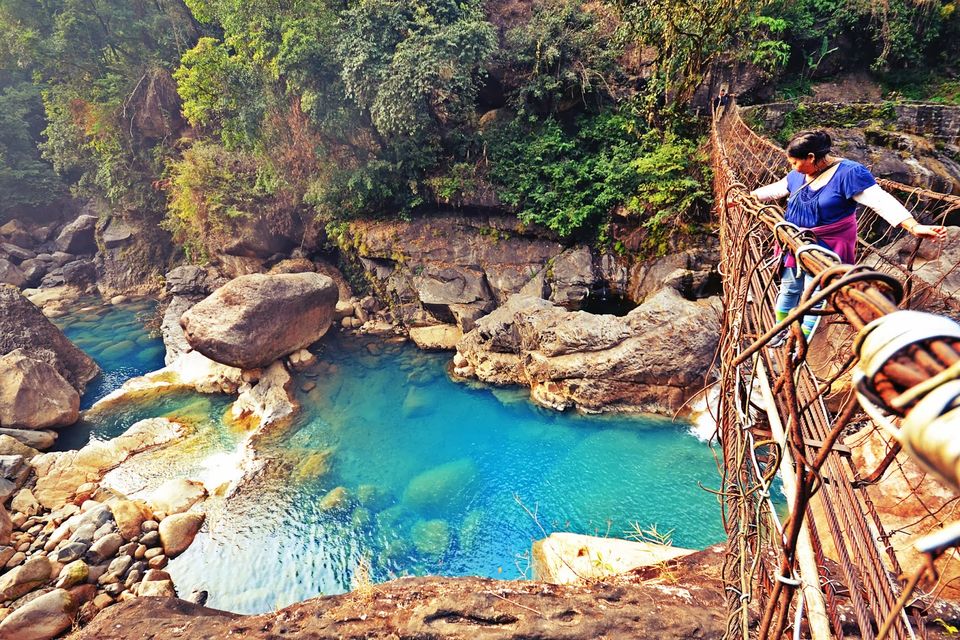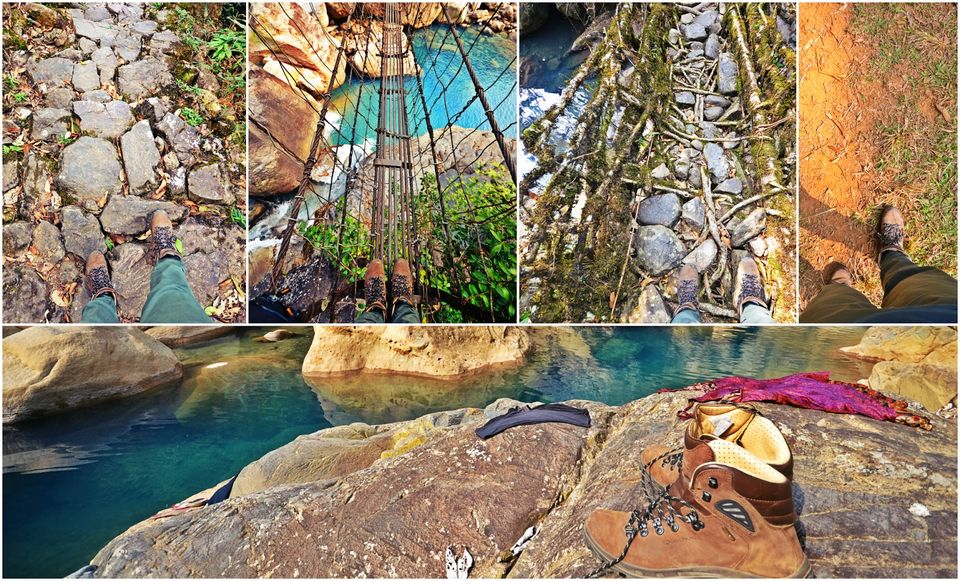 When I was planning this trip, I was completely ready to do it alone. But my mum and dad insisted that they come along too. OKAY. Now the trek would take me 9 hours to complete because mom has this knee pain she keeps complaining about and they are both nearly 60. I was quite doubtful if this was their best decision. But nonetheless, early next morning, we got our walking sticks, packed our lunch, met Fredrick (our 22 year old Khasi guide) and reached Tyrna village, the starting point of the trek.
As we made our way down the endless number of stairs, I kept wondering how would we ever make our way back. Moreover how would mum make her way back! But so far so good, we were just rolling down the mountain side fast. Soon we reached the first of the narrow swinging steel bridge. As I stepped on it, the bridge started swinging, I looked around to see if someone had stepped on it too. No, it was just my knee shaking uncontrollably. I am really scared of heights and at this point, even though I was petrified beyond belief, I didn't say a word and slowly and steadily crept on until I made it across.
Mom was next and just as I turned to encourage her..."Wha...tttt!!!" she was already on the bridge, smiling and walking down like a boss! After being humbled by mum, I silently climbed some more stairs and walked on through the jungle, till we reached another *gulp*another twin steel bridge. I was sure this must be some kind of punishment until I saw the aqua blue water below that literally took my breath away! The beauty around and the fact that if I scream and whine, my mum would tease me endlessly, kept me distracted enough to cross the bridge rather easily!
Two bridges down and before we knew it, we were at our first living root bridge, small but really sturdy. These bridges are used by man and animals alike and are a boon for the villagers as it not only makes accessibility easier but also brings in the tourist.
While the steel bridges go weaker as times passes by, these bridges made from the living roots of the tree only grow stronger. It is an extraordinary example of bio engineering and a true marvel of the Khasi tribe's ingenuity.
From this small living root, you can catch a glimpse of the 'Daddy' of Living root bridge, The Double Decker Living Root! But to reach the bigger one we had to walk up till the next village, Nongriat. This village with oranges growing wild and cute children running around was a perfect place for a tea break!
From here the legendary bridge is just about 5 minutes away.
You won't realize you have reached the bridge until you are on the bridge. The roots of the trees are stretched across the river and woven so seamlessly with the support of bamboo and then embedded with stones; it is difficult to believe that the bridge you walk on is actually LIVING!
One bridge can take years to be completely functional but once ready it can last for years to come.Once we marvelled at this bridge and walked on it like ten times at least, it finally sank in why people travelled so far just to see this piece of brilliant design. After taking in all the beauty, we headed towards the natural pool. The trek to the pool takes about an hour or so and has no trails at some places since it is hardly used by anyone. Before we reached our destination, Fredrick tells me, "One more bridge...", then gives a toothy grin and says, "the longest."
By now he knew about my predicament with these bridges which amused him beyond my comprehension! Soon we reach the last steel bridge and he wasn't kidding! It was the superlative of all the bridges we had crossed so far, long-ere, narrow-er, slimsy-er, scary-er, every-err-thing-er! I let mum go ahead, while I prepared myself mentally. Right after this bridge was another crazy bridge which was actually a steel bridge but with roots strewn all over it. The roots had eaten of the bridge to such an extent that most of the footing was made of just tree bark and bamboo sticks. The trees with their roots all over and moss covered rocks looked magical. Soon we were at the river bed which greeted us with a slow flowing rocky natural pool, blue as the deepest sky and clear enough for us to see the bed! This was P.A.R.A.D.I.S.E!!!!
I couldn't resist going in and before my mum could stop me, I was down for a dip in the icy cold water in the middle of the winter month! After the long trek, this was the most refreshing thing.
A quick riverside lunch and we were on our way back, the same way. Well, what goes down has to come up!
I choose to skip this part since most part of the climb up was about either mum pulling me up or dad pushing me up. And at this point I can say with absolute conviction that if it hadn't been for my mom and dad, I would have still been somewhere in those Khasi hills with roots growing all over me! Though the living root bridge was amazing, what left me truly amazed was the stamina and strength my parents have at their age to complete this trek! This post is dedicated to my super mom and rock-star dad and their spirit for adventure!