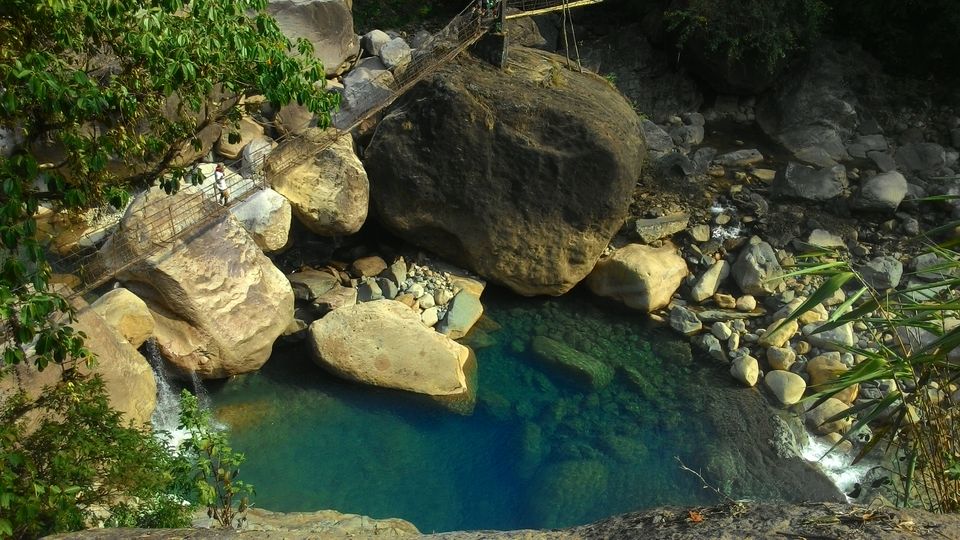 In December 2015, I took a trip that changed my life. After returning, I deactivated my Facebook account for good & decided to embark on a digital detox. I have only just recently become "Active" on Facebook again.
After college ended, me and a handful of my friends finally decided to realize our plans of setting off for the hills together. We were strapped for cash and therefore chose to travel by train. As the Kamrup Express slowly chugged into Guwahati Jn all the way from Howrah, our excitement was palpable. We were a 5-hr ride away from our destination. But our vacation had officially begun.
As we drove away from Assam and into the heart of Meghalaya- the rapid drop in temperature and sloping mist-laden roads greeted us. We finally reached our hotel in the dead of night. The good people at Coniferous Resort had readied our room, as instructed over a brief phone-call on the way there. Exhausted to our bones after the long journey, we hit the bed but not before a round of rum to ensure we slept uninterrupted in the severe cold.
The next day, we woke up early to make our way to Tyrna - the transit point for the Double Decker Root Bridge Trek. The Living Root Bridges are an exquisite example of natural architecture. Shaped by hand from the aerial roots of Rubber Fig trees by the indigenous Khasi & Jaintia tribes of Meghalaya- they are a sight to behold. And, also the focal reason behind our trip east! The path that takes you to the Double Decker Root Bridge in Umshiang from Tyrna involves climbing down approximately 3000 stone-paved steps & crossing over two extremely weathered bridges, hanging over cascading waterfalls, at a steep height.
But when you witness the sight of the root bridge, built over hundreds of years, you do not begrudge the effort that took you to reach it. Infact, you marvel at how precious the moment is!
By the time we'd contented ourselves taking photographs of this natural wonder, the Sun was already on its way down. Hence, we decided to look for accommodation for the night there itself. Choosing against the risk of hiking back in diminishing light. Once, we had arranged for our stay at a modest hill hut, renting out beds by Rs.200, it was time for us to continue our exploration.
We returned to the site of one of the iron hanging bridges we'd crossed on our way & realized we wanted to see a waterfall up close. So, down we climbed boulders until we'd reached the spot where the waterfall collected into a pristine blue pool. Darkness was falling rapidly all around us and threatened to engulf us but for the light of the Moon. In moonlight, the lot of us made our way back to our home-stay. After cleaning the day's dirt off ourselves, it was time for dinner. We were served Bamboo shoot curry and dal made of lime, generously alongwith rice. Our tastebuds had never been treated to a palate this exotic. Satiated, we requested our hosts to arrange a bonfire (They had offered to collect wood before for the same) .
I sat in a circle with three of my closest friends around the glowing warmth of the fire, swapping stories & laughing. Countless stars were visible in the clear Winter sky. Words fail everytime I try to recount the bliss I felt at that instance. Sitting there in contentment, for hours, we headed back only after what sounded like a fox howl.
Mobile network coverage in Umshiang is only made available by Aircel. Hence, for the duration of our trek, we functioned without any.
After caving, we were dropped off at Police Bazaar, Shillong. We put up at a hotel for the night & caught some much needed R & R. The next day we visited the famed tourist spots of Shillong but nothing compared to the virgin beauty of the hamlet we had left behind. That very night, we had our train back home. In the evening, we hired a taxi that would drop us to Guwahati Jn from where we would get on the Kanchenjunga Exp. We had shopped from Police Bazaar earlier in the day and concluded our shopping at the souvenir shop in the station. With our bags heavy but our souls replenished, we caught our train back home.
In hindsight, this is the trip that shaped my travel preferences & personality. Now, I identify myself as a backpacker hungry for experiences in places still unmapped as opposed to someone who'd spend exorbitantly for a resort stay-cation.
Frequent searches leading to this page:-
Tour to Meghalaya 3 Nights / 4 Days, Spectacular 2 Nights 3 Days Shillong Tour Package, Shillong-Cherrapunjee Tour 02 Nights / 3 Days
On our way back, we trekked via Nongriat to visit the Longest Living Root Bridge in Asia. We hadn't hired a taxi for our ride back & were very grateful when the driver for the local church gave us a lift in the only vehicle we saw in the entirety of Tyrna. We were driven to Sohra Bazaar, the central marketplace of Cherrapunji from where we rented a taxi to take us to Mawsmai Cave. We also tried "Jadoh" here, which is a culinary delicacy indigenous to Sohra, made of rice cooked with pork and minimal spice.