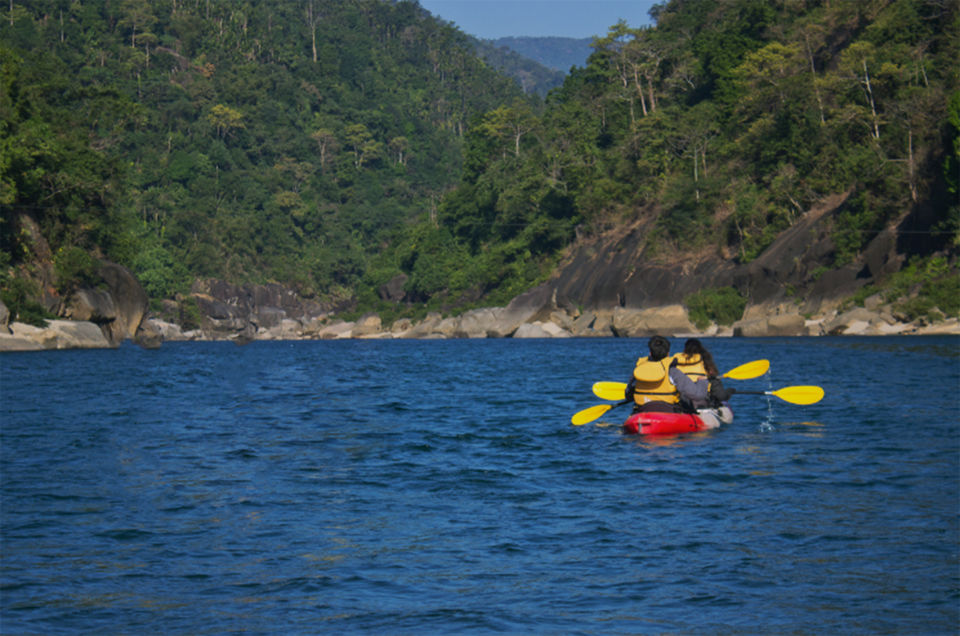 Have you always wanted to see a transparent water body?
Heck yes!
All thanks to Outlook Traveller x AltoWow.
Dawki, in itself, is mesmerizing. The previous day we journeyed from Cherrapunji after seeing the supposedly beautiful Nokhalikai Falls.
The drive up to Dawki was amazing with ever-changing backdrops and salutations from the nearby rivers. The lazy town had nothing much to offer apart from a life-changing experience and shelter by the enthralling river.
Since we arrived sometime after dusk, we couldn't see much of anything. All we knew is that we had to cross a sturdy but dangerous looking bridge to reach the other side of the river with only flashlights to guide us.
After an uncomfortably cold but cozy night of camping by the Umngot River, we were awoken by the innocently irritating voice of our Assistant Director.
We'd barely gotten two hours of sleep since we'd been shooting till 3:30 am the last night and here we were, already up before 6 am!
Again, thank you, Outlook Traveller. (All in good fun.)
The chilly morning air and the sound of water lapping against the shore greeted us warmly. Even with the lack of sleep, camping by the river had resuscitated us.
You see, you can never feel anything but joy if your eyes open to a sight like the gently cascading, crystalline Umngot River.
Now that we saw what we had missed the night before, we were eager to touch the limpid waters.
Scarfing down some tea and toast, we changed into our outfits for the day and raced down to the riverbank.
The sun was glinting off the steadily flowing river, birdsong reverberated through the rousing wind, the sweet smell of dew mixed with the briny scent of the river bank enveloped us and the sight of the crystal-clear river made for a more-than-perfect morning.
There were a dozen boats and kayaks tied up to rocks and wooden stumps ahead of us. Although they reeled gently, they looked like they'd topple over at any point when untied.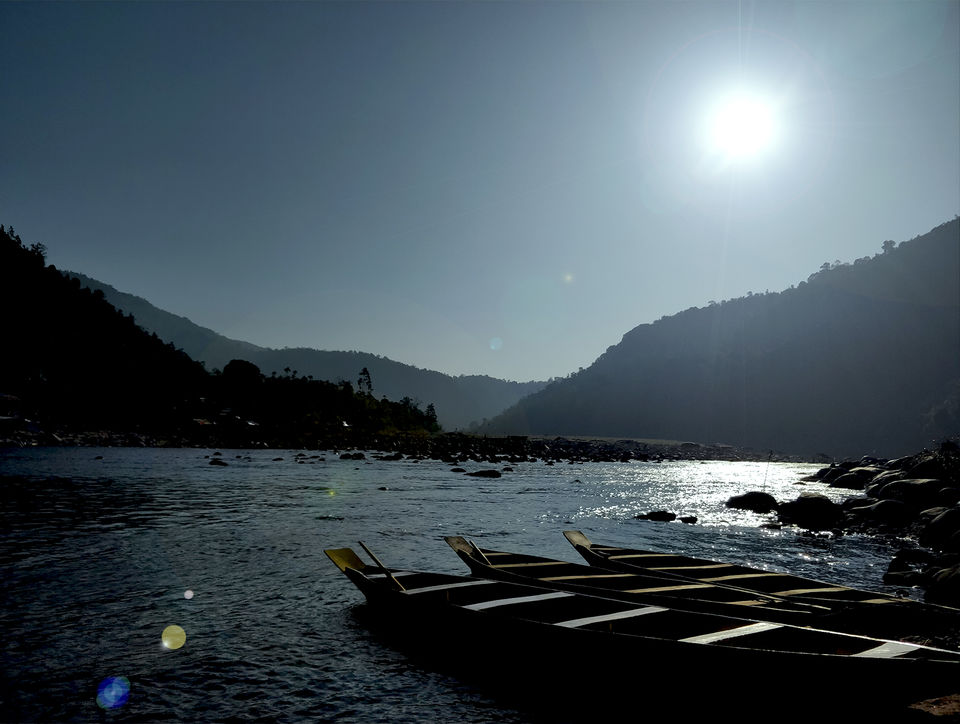 Who doesn't love a little life-threatening thrill?
Thankfully, the two of us were paired together for our first kayaking experience! I was supposed to lead while Sahil paddled, sitting right behind me, in the same exact format.
"Left, left, right! Nooooo... I said right!"
"Dude, I literally did what you did!"
"No, I mean right, right, left... sorry."
We struggled in the initial 10 minutes but as we lurched forward, we fell into sync pretty much like we did in most aspects of life. We paddled on the most beautiful river I have ever seen in my life and everything under us came alive.
The sun was shining brightly above us and cast, almost-opaque, rays on the waters. If anything, some parts of the water looked like liquid gold. Any memory of a chilly night was replaced with the warm hands of the morning light.
Just us, joking and laughing, feeling like the few lucky ones left on earth, waters below us, the sky above us. For me, this river feels like how the rest of the world would be after an apocalypse, reclaimed by nature. Innocent. Kind of like the river in the movie Birdbox!
Alright, I'm gonna leave all morbid thoughts aside.
Of course, since we were shooting, we went about slowly to get a perfect and steady shot. And 15 minutes into the experience, the lazy waters kicked it up a notch, bringing in baby rapids.
For the ones who have been kayaking/rafting/canoeing before in semi-treacherous waters, these rapids would feel fun sized and hardly adventurous!
The beauty of the ecosystem that surrounds you is enough to take your breath away and that's something it has in common with adventure.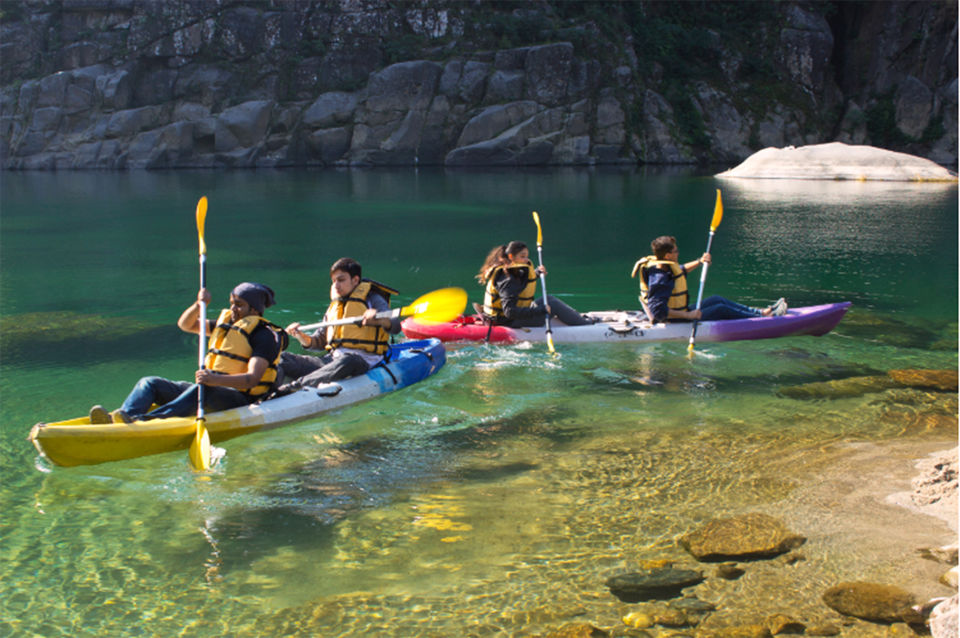 We made a stop on a tiny little shore. I'm sure when the season comes, our little pit stop would be totally engulfed, reunited with the marine life and known again as part of the river bed.
We discussed and shot the next few scenes and changed rowing partners.
It gets easier, right, with practice? Wrong. Here I, Saachi, was paired up with Chiro who had two left arms, just like me. We ruined quite a lot of shots and basically just kept spinning in circles. No joke.
And just like that, another permanent memory was made.
No matter how much I write about it, it has to be experienced in all it's glory to be truly known.
All in all, it was an honour kayaking for the first time on such a beautiful river. We had no clue what awaited us the next day yet here we were, having one of the best experiences of our lives.
If you're planning to visit The Great North(east), novice or expert, put Kayaking in Dawki on your itinerary.
Happy travels! Until next time!
- Two Metal Tourists.
We would also like to thank Archana Singh and the whole team at Outlook Traveller for these beautiful photos and the amazing opportunity, respectively.
Travel Tips:
- Wear sunblock! I can't stress this enough, we ended up with a nice beautiful tan that absolutely didn't match the rest of our bodies.
- Carry your shades and caps, it's quite sunny, even in December!
- If you want the whole experience, camp on the banks of the river the night before Kayaking! There are quite a few hotels to choose from and the campsites are equipped with almost everything.
- Get your power chargers along! If you're out camping and paranoid about leaving your devices anywhere but close to you, a fully charged power charger is the way to go.
- You might be sore after kayaking/canoeing so make sure you have lesser strenuous activities lined up for you later in the day.
- Slippers and shorts work better with any water activities, just putting it out there!