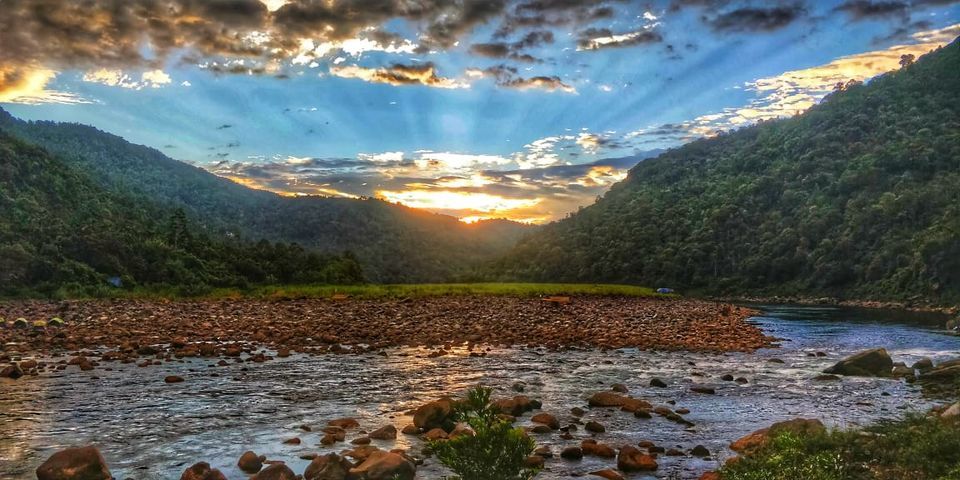 Northeast has always been very close to my heart! One of the reasons being my schooling… I had so many good friends from this part of India. And being from Bengal, northeast was our most comfortable travelling destination. I had been to most of the places in my childhood with my parents, and I admired how they loved every bit of it and since then, I fell in love with hills and with Northeast.And when someone talks about northeast, Shillong in Meghalaya will be a favourite of most you out there and that place totally deserves all the love and hype. Shillong for me is a shopping paradise, a musical paradise and those stunning places to visit in and around the place is just a cherry on top!
So, when we got posted to Manipur, I have been after the husband to visit Meghalaya as it was so near to us! But as usual this workaholic human that I live with, seldom has the urge to take leave, and why blame him… work is his happy place just like travelling is mine. But then some falling star listened to my wish and the husband himself proposed to go to Meghalaya for the weekend. I was thrilled!
With less than a week in hand I had to quickly do the flights and bookings and prepare an itinerary. I did have an idea how I wanted to do my Meghalaya trip and the husband left every decision on me (let's just say he was just too busy to take part). I prepared a list of the places I could visit and though 4 days was not much but still I wanted to make the most of it. And because we had only 4 days in hand I did not want to make a strict itinerary and book places of stay beforehand… I wanted it to be fun, adventurous and spontaneous. The flight tickets were done and I made sure I book the place of stay on the first day(as we shall be reaching Shillong late after travelling almost the whole day). I like being independent while travelling and Zoom car is a best option if you want to explore on your own, stop where you want and take a detour if you are in the mood, also its far cheaper than booking a taxi.
We reached Imphal a day before (it takes around 2 hours from our place) as I wanted to attend a food fest that was happening here. The next day our flight from Imphal was in the afternoon at around 1pm. We had booked a flight to Gwahati and from there we shall be driving down to Shillong in our Zoom car.
The Trip Starts
We got out of the Gwahati Airport at around 2:30pm and headed to the Zoom Car parking which was just 1km from the airport. After being done with a few formalities we were handed over the car. It was our first experience of a Zoom car and I must say the whole thing was really easy, fast and convenient.
The drive from Gwahati to Shillong is blissful! The road to Shillong bypasses the Gwahaticity and so the traffic is decent! The road is in good condition and the drive is scenic with lots of eateries on the way. It is a 3-hour drive but the traffic gets bad as you start entering Shillong and it might end up taking longer.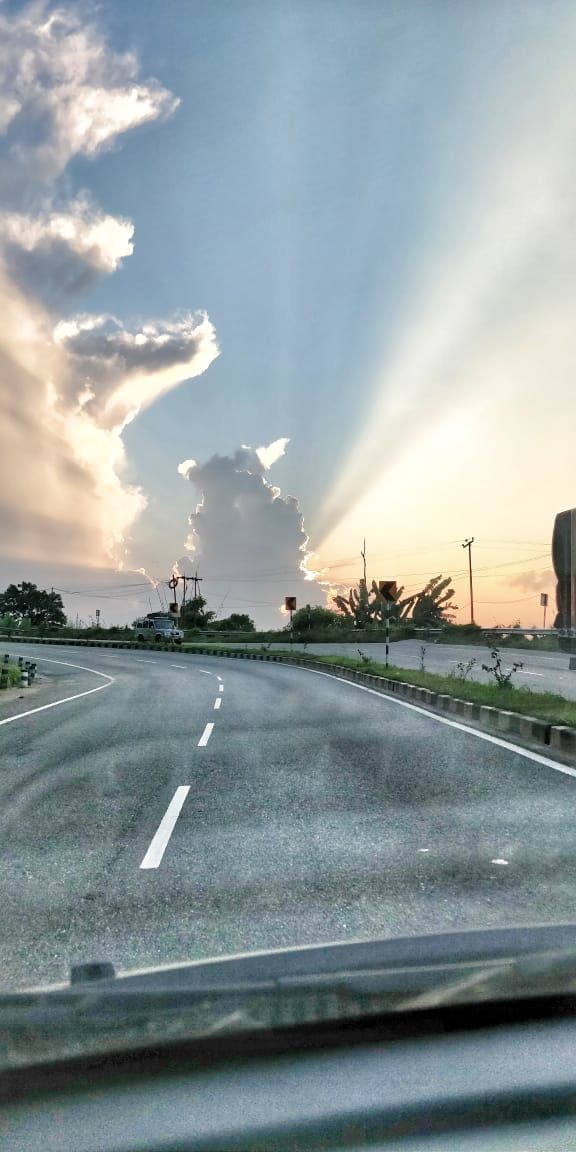 I had booked a BNB for stay at Kynjai Homestay A nice cozy little room with the most comfortable bed. Dajeid, the owner was extremely helpful and interactive. He informed us that we were reaching on the day of Autumn Fest and was really sweet enough to send me the location to the Autumn Fest which would be right on the way, near Umiam Lake.
So that meant we could sit and watch the sunset at Umium Lake and head to the Autumn Fest after that. After spending few good hours in the fest with some great food and music we headed to Dajeid's place, tired and looking for some good sleep.
Day 1 – We planned that we shall be getting up early to drive down to TyrnaVillage (a three-hour long drive) and start trekking for the double-decker root bridge and rainbow falls (the whole trek takes around 5 hours) and stay put in Nongriat for the night and trek back the next day. I had got hold of the phone number of a guide from a friend who had already done the trek before. I had spoken to him and he agreed on guiding us from Tyrna village to the rest of our trek and also help us find a homestay in Nongriat.
But as they say… Man proposes and god disposes! This proverb goes really well with my life.The next day we woke up to a dense fog and light rains. Disheartened I jumped back to bed.
However, seeing the husband all ready and prepped up for the ride, I got up and was all set to start. Almost 2 hours late from our decided time, at around 8am we started from Shillong. Being Sunday, the road was nearly empty and we glided our way to our first stop almost 1 hour from Tyrna village. We decided to pick up something to munch and it was just then I got a call from Kit (our guide). He said it rained and the steps are too slippery for the trek and so it will be too dangerous! He suggested we come the next day. I knew this trek won't be happening in this trip. We just had four days in our hand and there were other places I wanted to see.
It was 10am in the morning and we had the whole day to ourselves. So, he suggested we head to Dwaki which was on the same way with a small detour. **When you start from Shillong the road to Dwaki and Cherrapunjee(Tyrna is in Cherrapunjee) is the same road which hits a 'V' section – you take a right for Cherrapunji and left for Dwaki.
So, we took a left and headed to Dwaki. On the way I messaged my BNB host Dajeid if he could help me with the places to visit in Dwaki and he messaged me a list –
Rngain view-point
Mawlynnong
Living Root Bridge
Bri Daw Falls
Dwaki(Bangladesh Border)
Shnongpdeng
It was still drizzling and I was not even sure we would be able to do boating in Dwaki but still the husband was willing to take a chance! So, we headed towards our destination.
The road to Dwaki was in decent condition with little traffic (due to off-season) and the scenic beauty throughout the road is spectacular! We stopped at a number of locations just to sit and enjoy the view. A little before the diversion to Mawlynnong, there is a lot of viewpoints for Bangladesh. I realized… most of the viewpoints, as you go near Dwaki, was about Bangladesh and not some scenic point. Not complaining but it's nothing spectacular to watch. You realize you are in the hills and the land in Bangladesh, though just 500mts away, was unusually flat!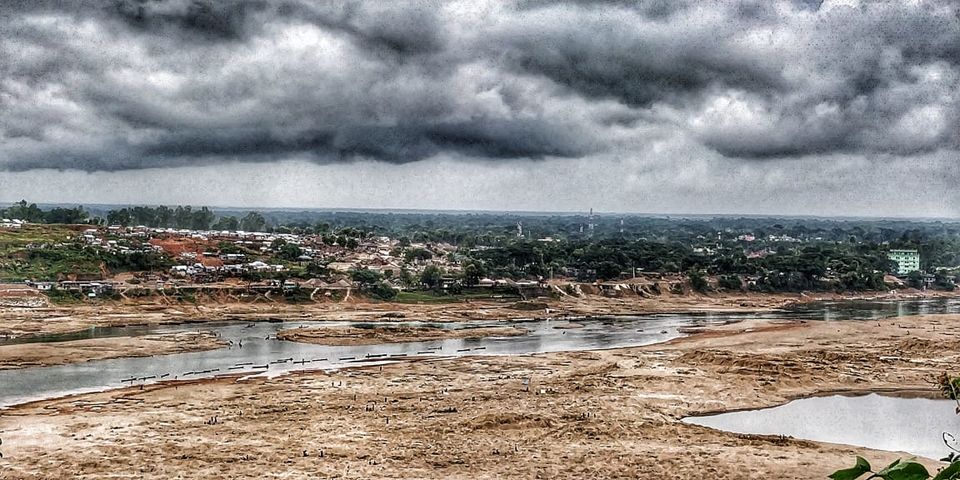 There is a proper board for the diversion to Mawlynnong, bang on the main road, keep an eye on the road and it's easy to find. The road to Mawlynnong is single lane and in a bad condition. It is evident it would be a pain during tourist season. It takes around half an hour to reach the village.
Mawlynnong Village, once known as the cleanest village of Asia gained fame due to its cleanliness and natural attractions. I went in the 'village' with a lot of expectations… I really wanted to get an idea of the village life of the Khasi tribe. I was looking for that traditional thatched roof houses and bamboo structures. But what I got was very different from what I had imagined.No essence of the village life is left here… the houses were mostly concrete and the few thatched houses were being cemented and rebuilt. There were a huge number of homestays and rest houses, which looked like a resort and the roads have been cemented. Not that it wasn't beautiful but I was going from Manipur's most interior village and for me it was really commercialized! Definitely not what I had expected… I came back a little disheartened.
You can drive your car inside the village to a proper parking space, where they charge 20/- INR and you can go around the place. It's not a very big village but in a beautiful area with little waterfalls and viewpoints around.
Just 5 minutes before entering the village, there is another parking area which was for the living root bridge. Seeing the place crowded we decided to visit the village first and see the root bridge on our way back. The parking again takes 20/- INR and the root bridge is just 450mts away with hardly 100 – 200 steps leading you there. This root bridge happens to be most visited by tourists, for the obvious reason being – its easy to reach! In fact, even in this off season the route to the bridge was so crowded that I kept cursing the rains for spoiling my trek to the double decker bridge.
And did I mention all this while it hasn't stopped drizzling! :/ And in case you visit these places and you are as unlucky as us to encounter rain in the weirdest months, the tiny tea shops here have umbrellas for rent for 20/-INR per umbrella.
**While travelling from Mawlynnong to Dawki there are two ways. One, through which you take a diversion from the main road and one more that connects from Mawlynnong to Dawki without hitting the main ShillongDawki highway. It is advisable that you travel back to the main road from Mawlynnong and hit Dawki. The route is in a far better condition making the travel time far less than the short single road.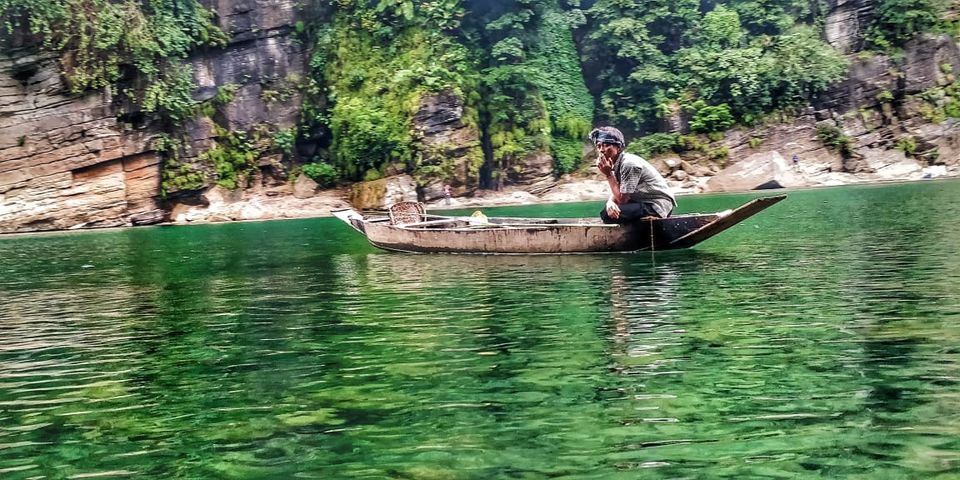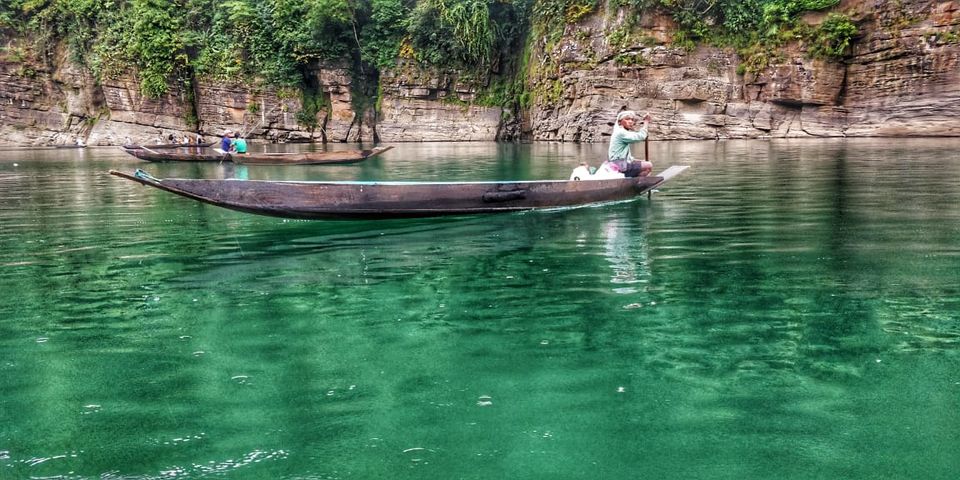 You reach Dawki by crossing the hanging Dawki bridge over the Dawki river. The view is stunning and luckily the rain had stopped by then. Dawki happens to be a border town that shares its boundaries with Bangladesh. As you come near the Dawki bridge, a huge number of locals run to your car to lure you for a boat ride. It is best to cross the bridge and you shall find a proper parking spot and can go down the banks of the river before you decide on having a boat ride. The bank of the river is divided between India and Bangladesh without any fencing! You see Bangladeshi vendors selling eateries and a lot of tourists from the neighboring country roaming by your side.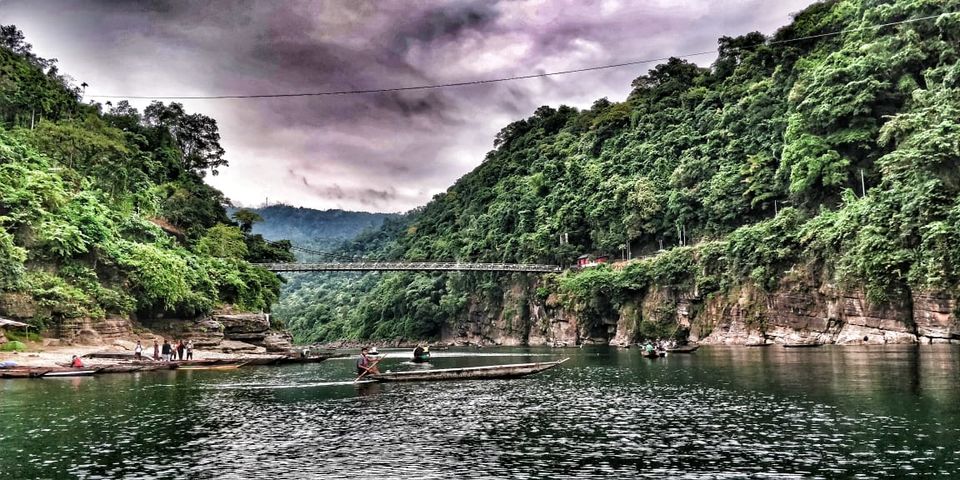 I had heard so much about the crystal clear waters of the Umgot River also known as the Dawki river. And if you too have heard all that about the umgot river… believe it! It is everything that would love to believe. Thanks to the rains I could go boating in those waters. One best part about visiting during offseason was, the river had more fishermen than tourists and it was calm and clean. And do not miss out having 'jhal muri' from the Bangladeshi vendors, its delicious! ????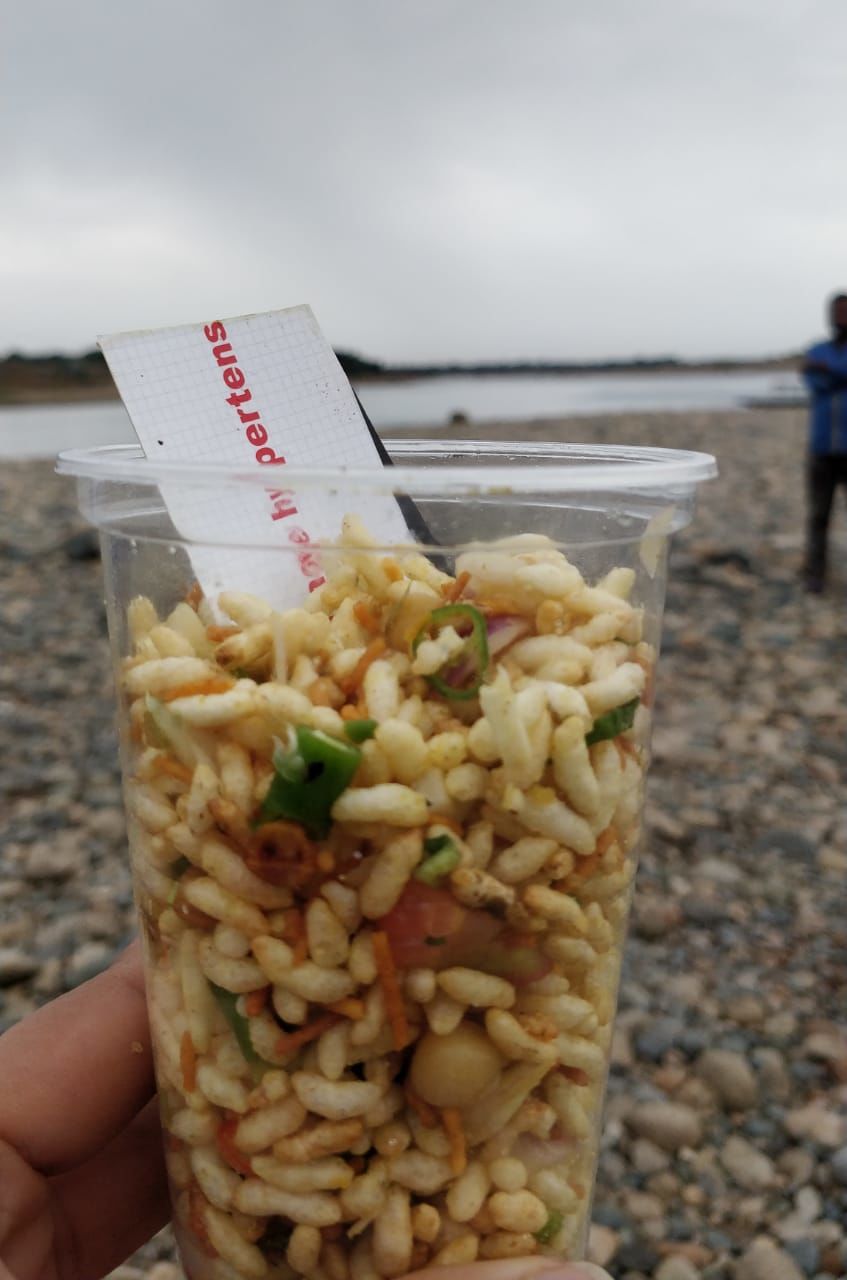 From Dwaki we saw the vehicles were heading back to Shillong and I knew our first day had come to an end. I wasn't really happy with the way the day had turned out… Leaving alone the boat ride at Dwaki, there wasn't really anything great about the day. And moreover, my plans for the day had been a far adventurous one and the turn out had been a little disheartening and dull. And to top it up my phone had fallen in the waters while jumping out of the boat and it switched off.
But little did I know that the best was about to come! The husband had decided to surprise me with an overnight camping in Shnongdeng, and he already made phone calls to enquire about the place. I was more than excited!!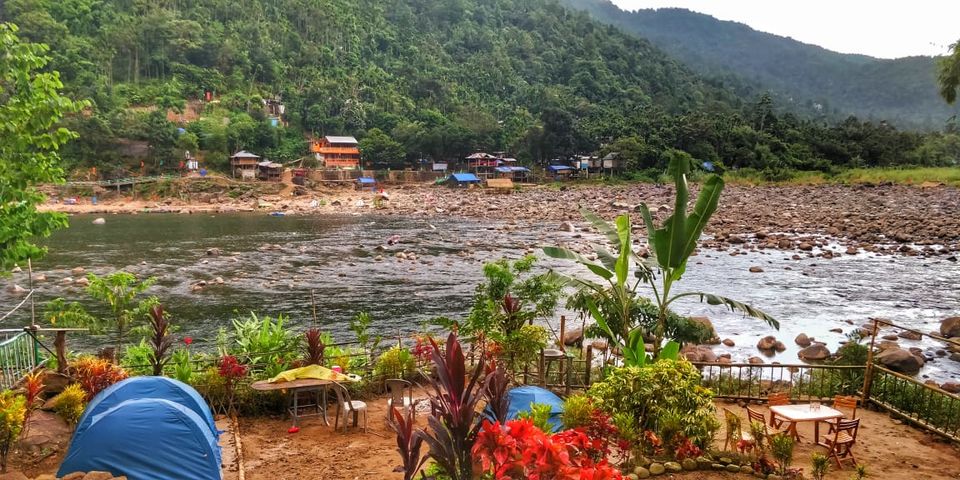 We reached Shnongdeng at around 5pm after we were done with our boating and going around Dwaki town. Shnongdeng is around an hour drive from Dawki. It's a beautiful place which was known for its camping sites.The place has other activites like boating, canoeing, scuba diving, snorkeling to name a few. Pretty exciting place, I tell you. ????
When we reached Shnongdeng, the weather had cleared. I was having second thoughts because ours was the only car in the parking. I asked Johnson (the tent owner) if we were the only ones and he said there was 2 more people who were camping with us. We were also told that there was no electricity on the other side of the river and if we needed anything at all we should carry it now! We parked our car and walked with our backpacks to the other side of the river where we had our tent. The car parking is safe and they charge 100/-INR for a night.
In the meanwhile, I checked my phone and it was fine, but the battery had gone dry. I did something that I would never do anywhere… but it's the northeast and I trust these people with anything. I spoke to one of the little tea shops on this side of the river and requested him to charge my phone while I go and set up the tent. I promised him that I would be back to get my phone after a few hours.
There are two ways of going to the other side – boating or walking down a scary looking bridge. We chose the bridge and it was one scary yet thrilling experience to cross that swinging bridge in that windy evening.But the view from the top… heavenly!
After sunset Shnongdeng turns into a dark mess! A beautiful one though… with the musical sound of the Umgot river in the background, and the singing of some unknown insect in the distance. And the best part about this place.. there was not a single mosquito in the place!I have no idea how?!!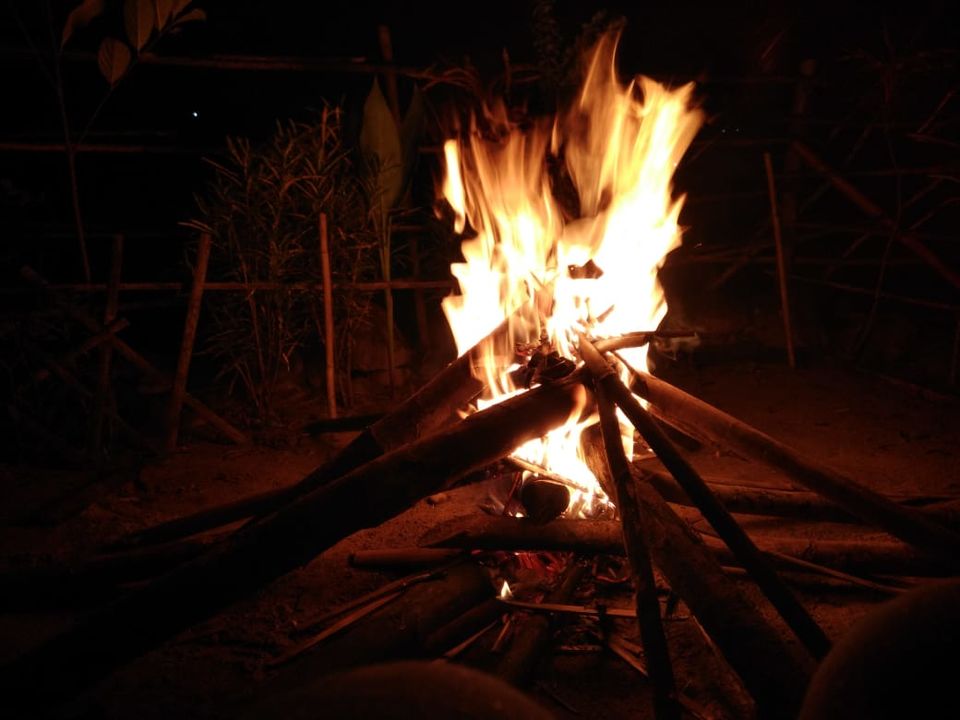 The nights stay at Shnongdeng was a lovely experience! I loved every bit of it. There are a number of tent owners and they provide you with food on request too. And to say the least after the whole day eating almost nothing mostly out of disappointment, the simple chicken curry, daal and rice tasted delicious! The stay was comfortable, the tents and the area was super clean and the people are very friendly! There is one caretaker who always stays at night if not the whole time. The tent cost per head, ranges from 800/-INR to 2000/-INR(depending on the size and the season). The food costs : Dinner/Lunch -600/-INR per head. Breakfast/Snacks – 300/-INR per head. Which is on the expensive side, but you have no other choice there.
Majeid, the caretaker of the tent was a great company and he stayed back at night.I asked him if I could go for a swim early morning and he offered to take me to the best river bank.
I am not a morning person, but I am always one in these kind of places. I woke up at 4am just to sit by the river and watch the sunrise. At places like these you find your peace…
Shnongdeng is a must visit if you guys are in Meghalaya. It's not just camping but they also have a number of adventure activities planned for you here – canoeing, cliff jumping, snorkeling, scuba diving to name a few. Do not miss out on this lovely place!
P.s – The tour company that we stayed with were Riverside Hut and Camping, but you also get a lot of options there! Though one of most well known ones are the Pioneer Adventure Tour Company but there are others too who provide the same service and maybe you could just land up in a cheaper deal. The best way is to go to the spot and bargain. But just in case you want to check to make a pre booking on tourist seasons call Jonathan (Riverside Hut and Camp) @070854 87756
From Shnongdeng we went to Cherrapunji. We planned on touching a few caves and falls and on the way back the Laitlum Canyon.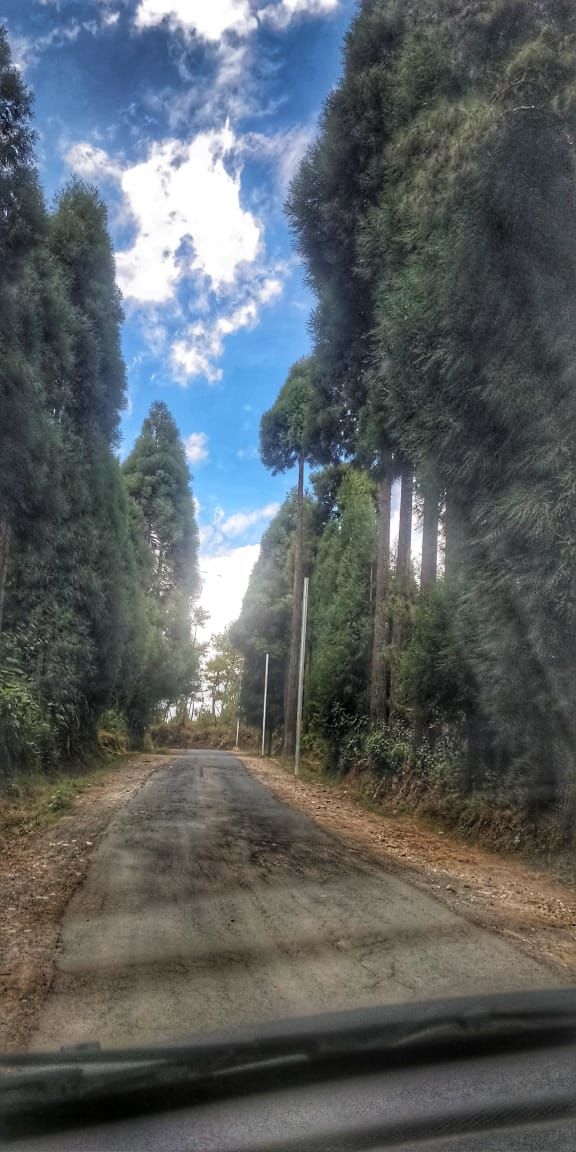 Frequent Searches Leading To This Page:-
meghalaya travel experience, 4 days meghalaya trip, 4 days meghalaya itineraries, 4 days meghalaya holiday package, guwahati meghalaya tour packages