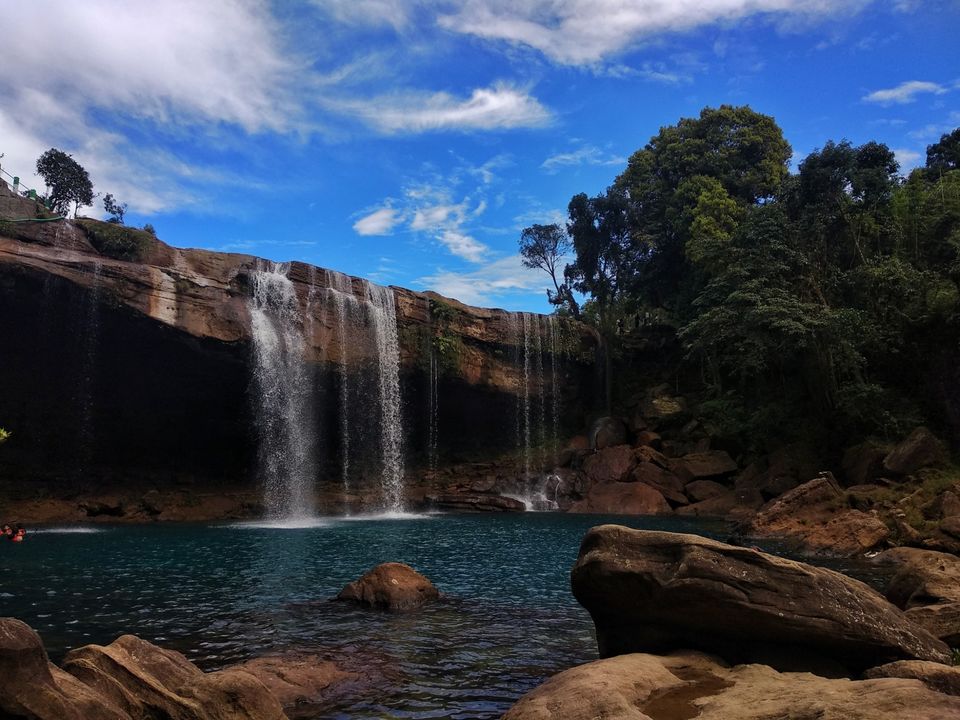 When you are in meghalaya, the one thing you end up seeing is way too many waterfalls. Being a Goan, I thought waterfalls weren't something that would impress me here but this place totally proved me wrong. Undoubtedly the most-most beautiful waterfall I've seen (sorry goa). The limestone falls and oh that turquoise water is a sight to behold. I was so glad our host insisted we go here.
Located on the west Jaintia hills, around 2.5hrs from Shillong, this is quite an isolated place which makes it very peaceful. Roads are in a good condition and the journey itself is quite picturesque with beautiful landscapes. Oh I'll mention the sky specially.
There was ample of parking space available and nobody charged anything for that. There were 2-3 shops selling basic eating and drinking stuff if you reach hungry.
There was an entry fee of around 50-60rs to go to the waterfall. One has to trek for around 15-20mins from the parking. There were stalls on the way too. There is a platform created as you approach the fslls, which gives a distant view of the destination. There were two parts where one can spend time, one on top (where there is a long stream of water flowing) and other under the falls where the water is accumulated to form a pond- one can swim herr and is surrounded with rocks. We decided to go down as the blue waters instantly pulled us towards it. We were also very lucky as we had reached at around 11.30 in the morning and nobody else was there beside the swimming guide. So we got the entire place for ourselves. Some of my friends decided to swim for which life jackets are compulsory and will cost around 30rs. They also had changing room facility there separately for males and females.
It was totally a photogenic site, with bright colors standing out being a sunny day (see the pictures). And the water was so clean and clear, could nicely see what's underneath. One thing I have really admired about Meghalaya apart from the amazing places it offered was the people. People here are as beautiful as the place itself. They have such a beautiful relationship with nature and maintain and take care of it with such honesty.
Well I had visited this place in the last week of October and it was quite comfortable weather wise. So I would suggest October- November to visitors, if they want to avoid the place in foggy condition. Best would be if you reach there on a sunny day. We spent around 2 hours enjoying the site in still condition for a long period actually, admiring the beauty.
For the later part, we got a rainbow which could be seen in the water falling down. I had visited the double decker living root bridge in Nongriat just 2 days before that. But due to our tight schedule we couldn't visit the rainbow falls. And I had regretted it as I wanted to see as much as possible. The moment we saw this rainbow, the guy who got us here (a local) said 'this looks so similar to the rainbow falls'. This was the moment, after which my regret of 2 days was gone. How lucky could we get ???? So guys, if you're lucky enough you might get to experience rainbow falls here as well :D
The pond water isn't too deep actually and one can go till the bottom of the falls, where there's space to sit and get yourself clicked. There was another way to go to that spot but when I reached I saw it was closed as the surfaces had become very slippery. But I got to see a complete different frame of the place so that made up for it I'd say.
Another thing I noticed here was, just near the falls, there's an area where people had set up tents. The spot is so that the falls are clearly visible. Only if I had enough time, I would include camping here as I could stare at this beauty whole day. Also compared to the other camping sites we stayed at, this site wasn't one of those cliché tourist spots and with very few inhabitants around. So if you plan to go to krang suri, include camping and spend a night here. Or else you might regret it later.
To go back we had to trek again and reached hungry on top as it was almost 2pm. The shops here were selling a very limited menu of either a thali with Jaintia food (both vegetarian and non vegetarian) and cuppa noodles. We decided to go with the noodles. It cost us around 20-30rs extra than the normal price, same with other things we bought (water, chips etc). But it was understandable as it's far from the city and that's probably their only source of income.
Overall it was a memorable trip and we were very happy we decided to listen to the locals and visit this place. Next time I go here, I'm surely taking a tent with me.
Also fellow travelers, people here are very hardworking along with being sweet and spend a lot of their time keeping the surroundings clean, as a result of which we get to experience and live such amazing sights. So please don't litter around and be kind to nature. We can do at least this much in return. Happy travelling ????