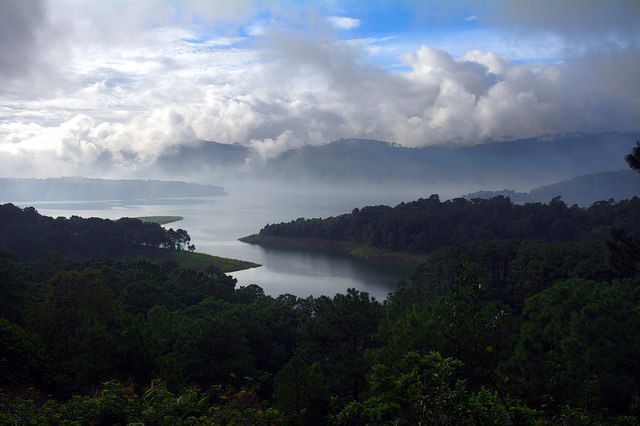 Imagine sipping on a a glass of wine with your loved one in the middle of nowhere—in a sit out overlooking a pristine lake, nestled in the middle of lush green mountains! This is not a visual out of any fantasy film. A serene getaway located at a distance of 20 km from Shillong turns this dream-like picture into a reality.
If you've been considering your options for that perfect romantic vacation, this one will surely put an end to all your confusions!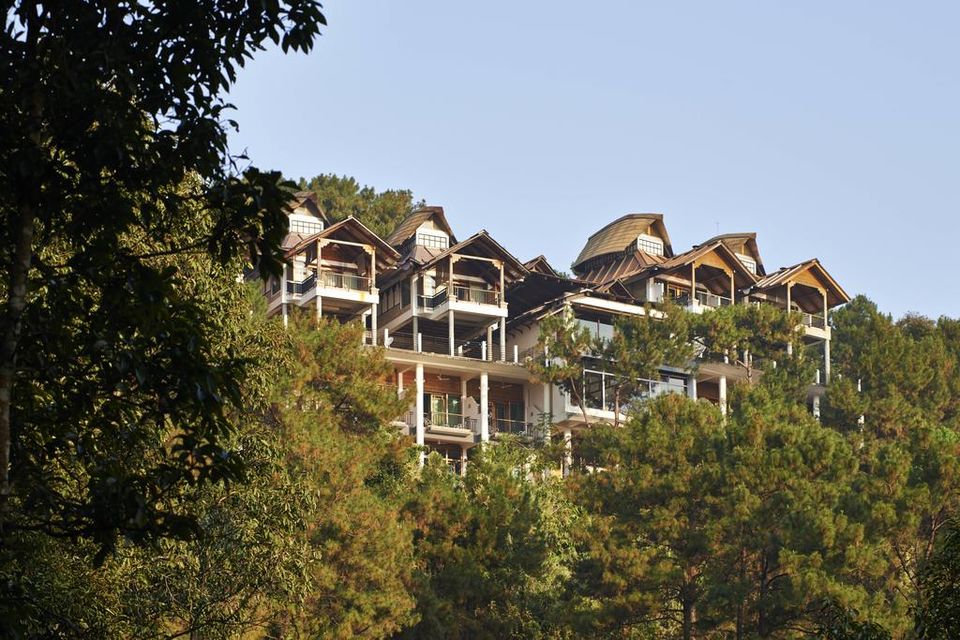 Ideal for
The property is ideal for couples who are looking to escape to a quiet yet luxurious spot to spend some time together. Additionally, you can also plan a peaceful family vacation at Ri Kynjai and pamper yourself in the lap of nature.
About the property
With a name that literally translates into 'land of serene environs' in Khasi language, Ri Kynjai sticks true to its name and offers a one-of-a-kind experience that'll stay etched in your memory for a lifetime. Nestled over the picturesque Umiam Lake, Ri Kynjai, in its architecture draws inspiration from original Khasi huts. The resort does a unique blend by combining the warmth of Khasi hospitality and architecture with modern and chic facilities.
Spread across an area of 45 acres, the vibe at Ri Kynjai goes hand in hand with the purity of its natural surroundings. The spacious cottages at the property, in true Khasi style, are constructed on circular stilts and come adept with facilities such as comfortable beds, free WiFi, attached bathrooms and wardrobes amongst others. The resort also has superior rooms that have been designed meticulously and open into private balconies that offer breathtaking panoramic views of the valley.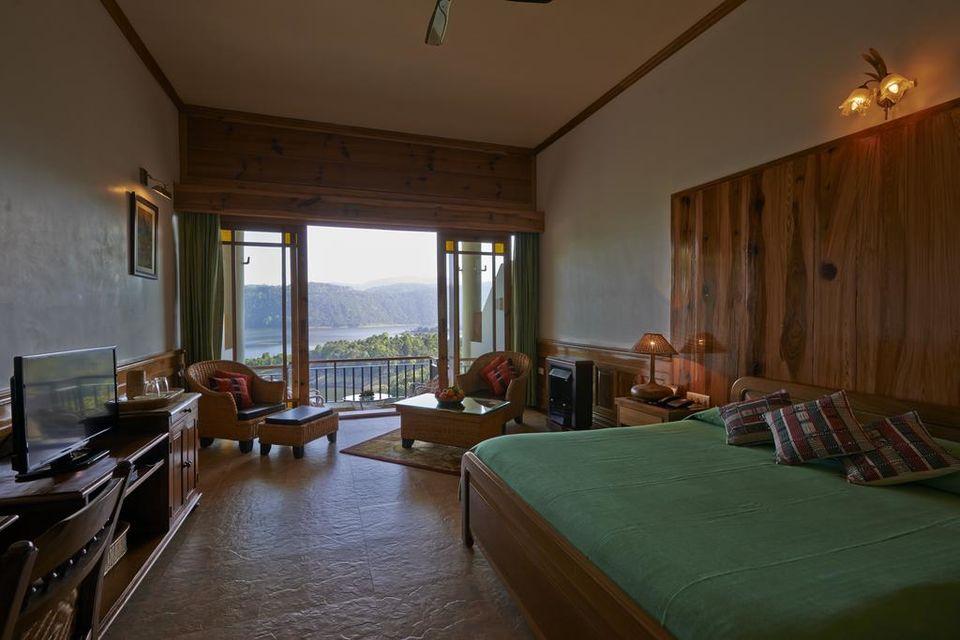 Also, the entire resort is designed with its orientation to the east. Make sure you wake up early and keep your cameras to capture that beautiful sunrise against the Lake Umiam.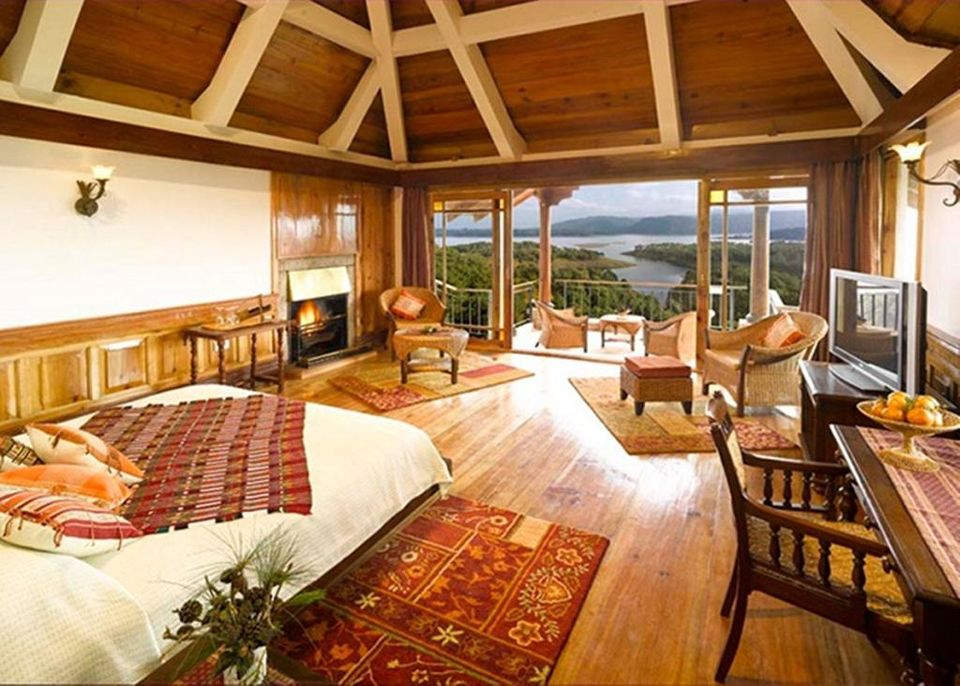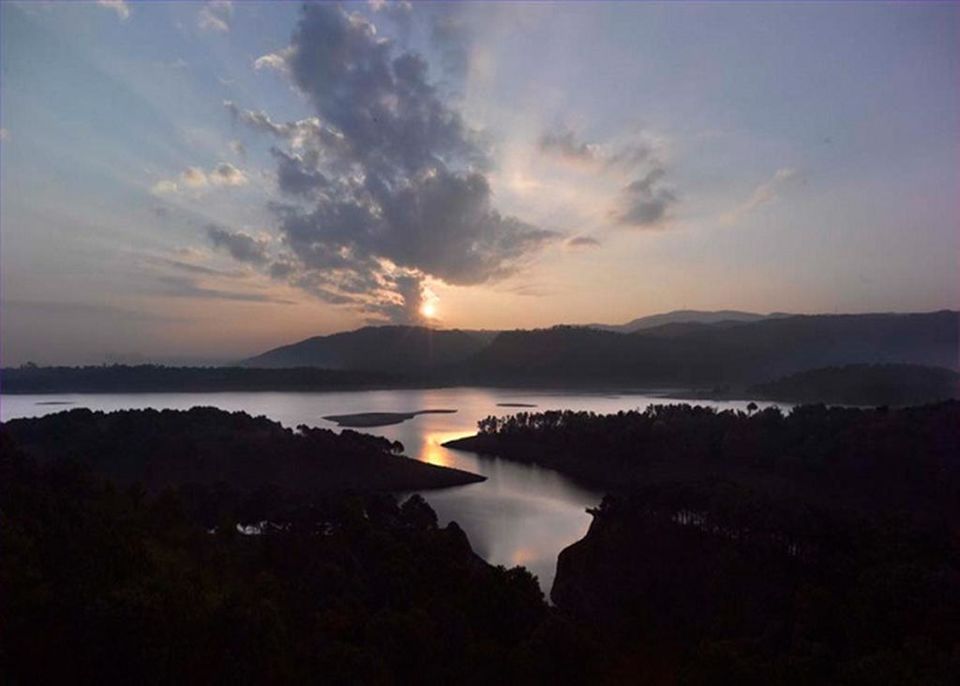 Food
Dining at Ri Kynjai's in-house restaurant Sao Aiom (Four Seasons) is as much a cultural experience as it is a gastronomical one. Overlooking the pristine waters of the Umiam Lake, the restaurant brings the food of northeastern tribes and communities on to your plates.
Amongst the many traditional dishes on offer, the smoked pork with bamboo shoot and the famous Cherrapunji chicken cooked with freshly ground pepper are the absolute winners. To add to the authenticity factor, the decor of the restaurant is kept extremely simple, as you would find in a traditional northeastern home and is decorated with textile and crafts from around the region.
Cost
A stay in Ri Kynjai's Superior Double Room will cost you around ₹10,000 per night while the gorgeous cottages cost about ₹14,500 per night for double accommodation. The prices are inclusive of a hearty breakfast for the guests.
Best time to go
One can plan a stay at Ri Kynjai between the months September and March as the weather is very pleasant with temperatures hovering between 2 to 23 degrees Celsius.
What to do in and around the property
1. Pamper yourself at Khem Janai
The resort has a well-equipped on-site spa called Khem Janai that guarantees complete rejuvenation and relaxation. The warm and friendly staff at the spa offers a range of exotic massages and herbal treatments. Khem Janai also has state-of-the-art hydro therapeutic facilities which result in some of the most unique 'water massages' that you will ever witness. This one is not to be missed at any cost!
2. Test your golfing skills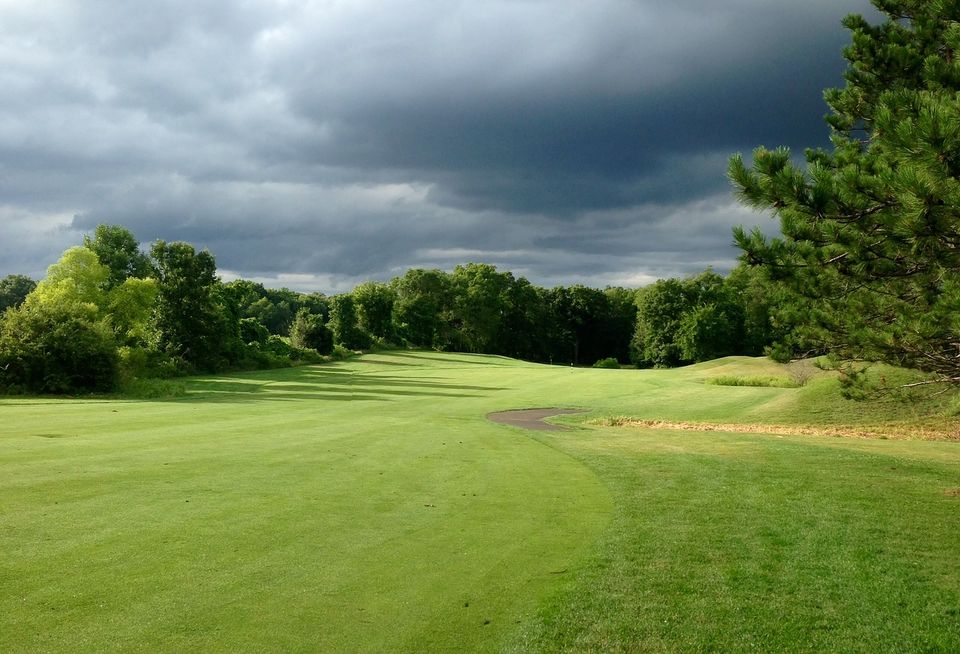 Guests staying at Ri Kynjai can avail the facilities of the Shillong Golf Course, identified as one of the oldest in the world. The golf course which was incepted way back in 1898, till date exudes an old world charm and is a reminder of the old colonial glory that used to be Shillong. The picturesque setting of the course is evident from the fact that its beauty is often compared to the Gleneagles of Scotland and is also called the 'Gleneagles of the East' in the golfing world.
3. Explore the hills of Shillong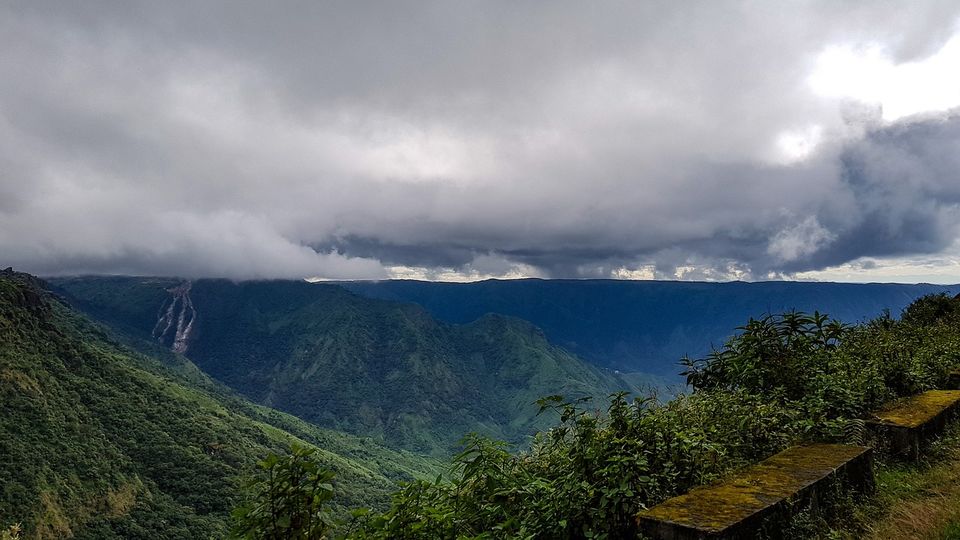 The region surrounding Ri Kynjai resort has scope for a range of activities that will make every explorer and nature enthusiast's day. While trekkers, can kick off a climb up to the religious peaks of Lum Sohpetbneng and Lum Diengiei, novices can walk through the pine forests surrounding the Umiam Lake. One can also take a walk to the quaint Umniuh village to experience life in a local Khasi village.
4. Spend a day by the Umiam Lake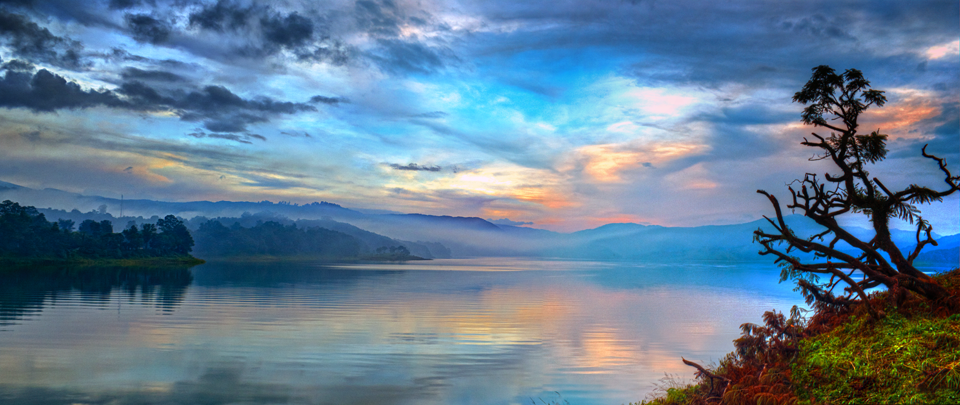 Situated right on its banks, the ease of accessibility to the beautiful Umiam Lake makes it a favourite spot amongst guests at Ri Kynjai to spend a lazy day. A man-made lake, the Umiam Lake or Barapani, as locals call it, is a vast reservoir that also offers water sports such as boating and kayaking. You can also put up your own picnic setup by the lake and just laze around, soaking in the infectious beauty of Meghalaya.
5. Take a trip to the wettest place in India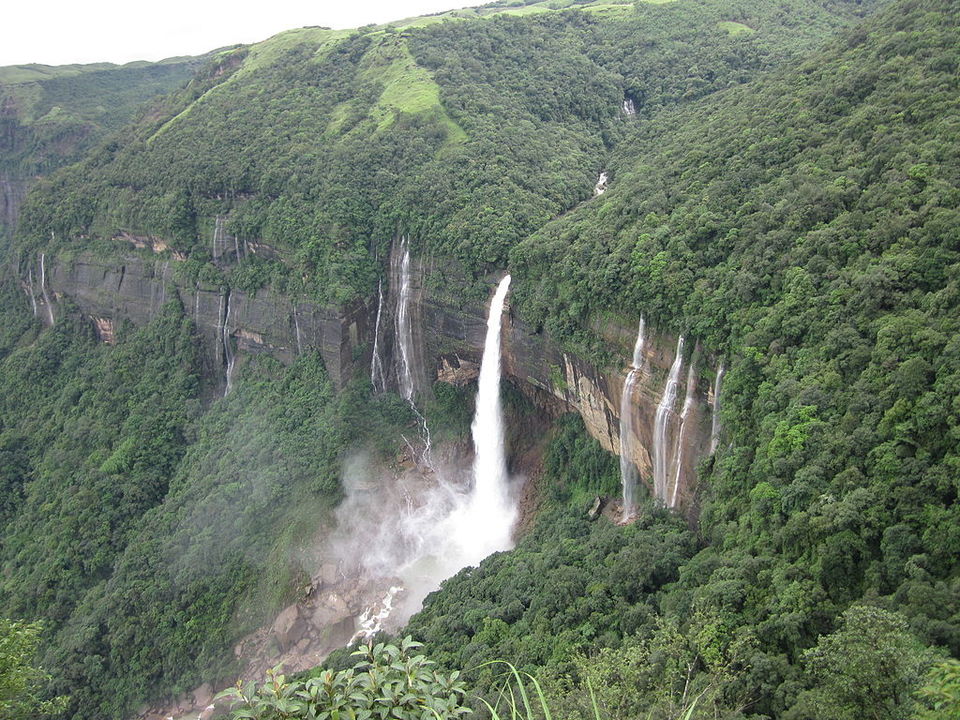 Located at a distance of just 70 km, a day-trip to Cherrapunjee is almost an essential if you're putting up in Ri Kynjai. The regions of Cherrapunjee and Mawsynram offer great panoramic views, exciting trekking routes and beautiful picnic spots. On your way to Cherrapunjee, make sure you halt at Nohkalikai Falls (the fourth largest waterfalls in the world) for a photo session!
How to reach Ri Kynjai
Here's how you can reach the beautiful property from New Delhi:
By Air: The fastest way to reach Ri Kynjai is to take a direct flight from New Delhi to Guwahati which will cost you around ₹3,500. Once you get down at the Guwahati airport, hire a cab to get to the resort in another two and a half hours (100 km).
The other option is to take a flight from New Delhi to Shillong. Since there are no direct flights between the two cities, you will have to take a connecting flight through Kolkata which will cost you about ₹5,000 and will take approximately seven hours. Once you get down at the Shillong airport, the resort is just half an hour drive away (20 km).
By Train: If you happen to be the adventurous kind who really wants to go all out, catch a train from New Delhi to Guwahati which will take about 28 hours. Upon reaching the Guwahati railway station, hire a cab or hop on to a bus to reach the property in two hours (80 km).
Which is that one dream destination you'd want to visit with your special someone? Write in here and tell the Tripoto Community about it.