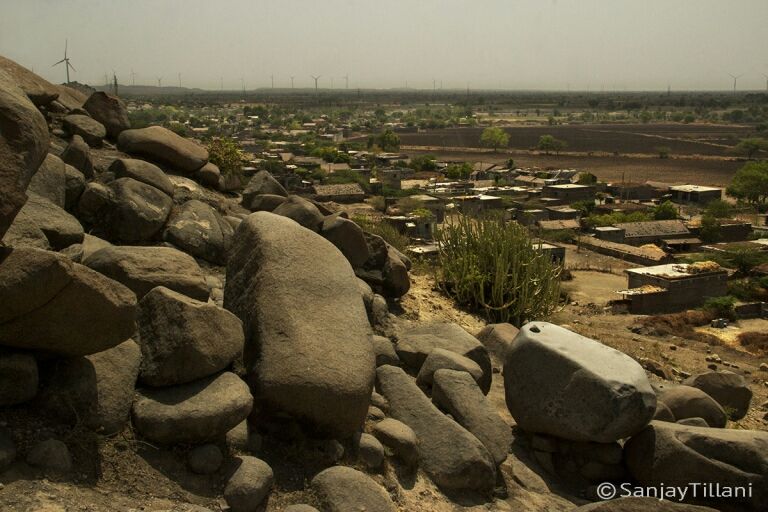 "Even we haven't seen the stone and it is seven kilometres from here!" an old man with heavy built told me with a playful smile, the excitement added more roundness to his face.
I sometimes wonder about India, our Country is filled with a wide variety of richness in its contents. There are a lot of interesting places and stories which are simply hidden in plain sight for someone to explore, which are not even there on Google.
Kariyana is a village in a sleepy corner of Gujarat, whose name is not heard much. One has to go to Babra taluka in Amreli district and ask for this village, even the road leading to this village is a single lane road where two vehicles could barely run side by side.
This Village is famous for a Ringing Stone and a lot of people come here to worship this stone. To see the stone you have to climb a small mountain.
It is Believed that a saint, Swaminarayan(1781-1830) also known as Sahajanand Swami, while travelling across India arrived at this village in search of a hermitage, while his stay here, he performed an Aarti (a Hindu religious ritual of worship, a part of Puja) on this particular stone and therefore, the stone makes a different sound as well as has a different appearance from the other stone in the vicinity. It makes a Tan Tan sound and that is the reason the locals call it 'Tan Tan Yo Pano', Where Pano means Stone in their local Gujarati dialect.
"The stone has a light greyish colour and therefore has a different appearance"
It is Because of this unbelievable act, The Darbar Community( Guajarat's Warrior Clan) didn't liked Swaminarayan's stay and made a lot of hoodlum for him to leave this village for good. Therefore, he left peacefully and went to another village to stay. And that is how the story goes.
The stone is now a thing for worship, you could even find an aluminium Diya  as well as Incense sticks, which are kept under the stone. the whole setting makes it a pilgrimage and for me somehow arises a question.
'why do people worship the things which they couldn't understand? Is it just their trust towards God or are they an ignorant lot who simply doesn't want to be bothered by such curiosities?'
Anyways, with time the stone kept ringing and the worshippers kept increasing, as far as it goes.