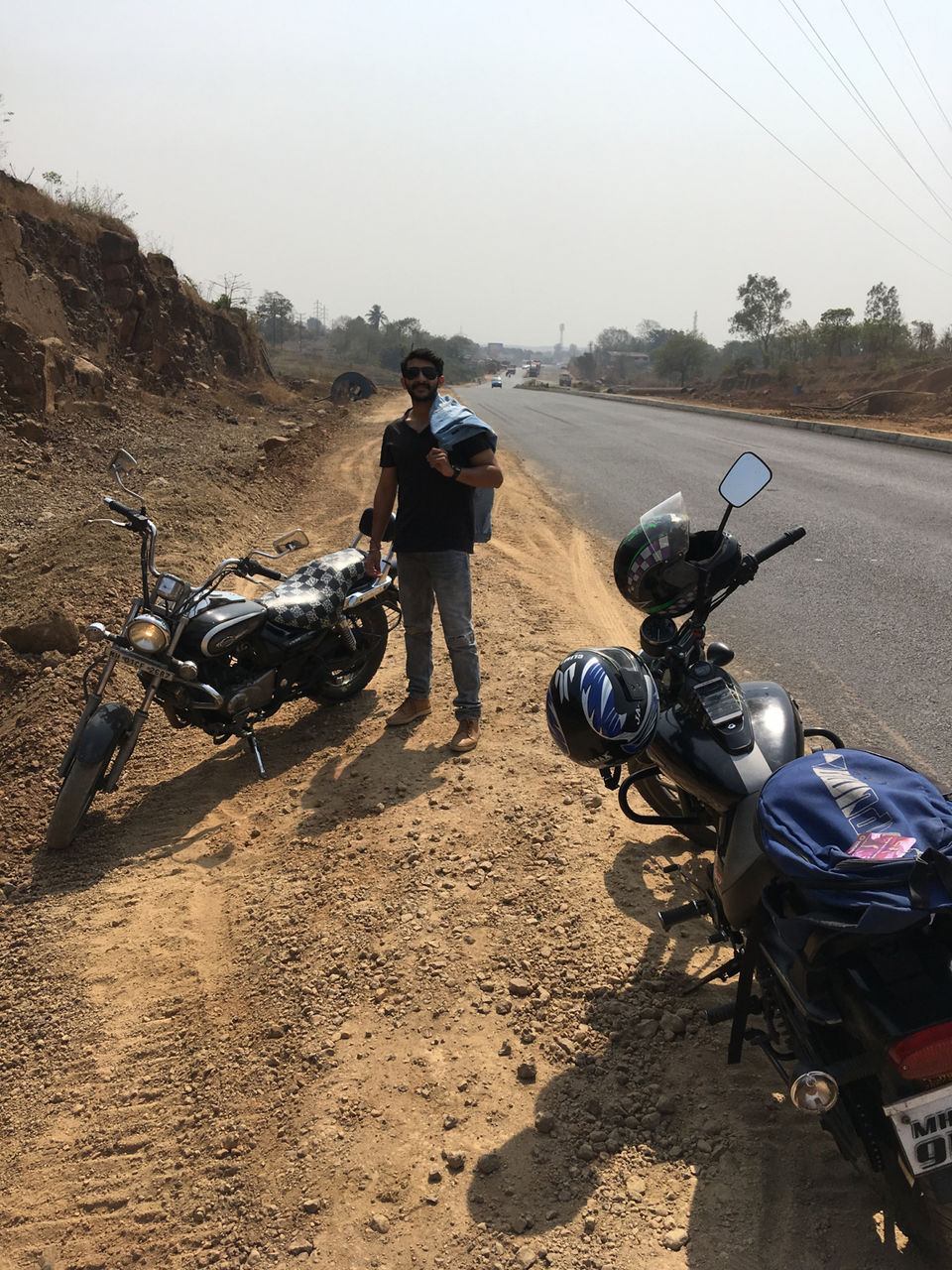 Target Audience: Trippers on Two wheelers, Bikers, & Students.
Highlights: Economical+ Thrilling + Highway Popper + Beach + Beach Adventures.
Since I have mentioned very briefly how this trip is objectified towards a specific audience, I jump right into the trip details.
I and my young friend Yuvraj thought to live a day by riding our minds off from tightly packed college studies: Yes, we decided to live a day away from Bambaai (Desi tone to Say Mumbai). I had promised this young man that I and him will deliver us a good road trip on Bike. I am a man of my words and it happened eventually on Feb 19, 2018. After crashing a wedding somewhere in Mumbai on Feb 18, I booked two Bajaj Avengers on Wheelstreet.com.
Luckily, the bike I was looking for was available. I want to assure my readers that Bike really does play a role here. Please do not try to hop in any bike to take a feel of the highway. Point is to enjoy and maximise the fun in minimum . constraints. Now, we got up to locate the bike addresses. Luckily, the address was very reachable and the guy giving us the bike was was very cordial. He checked out National IDs which was a very standard procedure. Finally, we get to hit the toad. A glimpse here will make you understand how this trip is gonna roll.
I used my other phone to set the navigation to my destination: Colaba Beach Alibaug. How did I use my phone to navigate? Pretty simple. And EVERY biker should use this if they DO NOT have a navigator panel installed on their bikes. Buy a cello tape from stationary. Go to settings and set your phone to battery saver mode and select an option that keeps your device ON all the time.
Wrap the tape all over your phone and stick it to the Gas tank of your bike. Check the pictures and I assure you this is a great ticket to your destination.
We set our course right on the amazing Bombay-Goa Highway. I stand astonished by the fact that as soon as you set your foot beyond Sion Panvel Highway, there's a different aura welcoming you to go further.
I told Yuvraj to Cruise at a set speed so as to maximise the highway amazedness. We set our speeds at 80-90 KMs. Speed isn't the focus, feeling the trip is the emphasis. So, ride safe and enjoy good!
We reached around lunch time at the Alibaug beach. Mind you, there are several beaches there and Google Maps does get confused just like us humans. So, we went old school and asked where's the main beach from Locals and then yes, We were headed there. The beach had this intrinsic connection with the Arabian Sea, the sunlight had its way with the sand at the beach. We were astonished by the fact that neither the sunlight nor the warm water affected the temperature there; it was quite breezy. Please don't apply Geomorphology and Oceanography here, I too thought how can it be and then dropped the idea, Temperature is good and that's it! Next, we headed to Nagao beach and found to ourselves that beach adventure activities are being played there. We registered ourselves.
When our turn came, we thought this is a cake walk for us. But Alibaug is full of surprises. We had to hold our forearms to the thin ropes tight. It reminded me of my Wall climbing days. The combination of Arabian salt with accelerating motor on 'Banana ride' was surely the topping of that day.
Finally, we receded to the shoreline. Then we were running with our breaths for catching hold of that sea water for way long. In all, you have to gargle good with potable water and throw up all that water you gulped while riding in sea. That's the only mantra. We had our day out filled with adventure.
While returning, Make sure you eat somewhere at the Dhaba to fill your energy again. Riding in sea water makes your stomach fill full, but it isn't the case.
It's actually running dry and you have to fill it up. Eat simple and plain. And only Dhabas can do that. Also, don't eat too much that you feel pukish. These facts are to be with bikers all their time of mortal life!
On returning, find a charger plug and charge your phone before you can navigate again. Use the same trick to install your phone on the bike.
Also, make sure your co-partner(s) are closer to you around and you people don't struggle most of the times searching each other on highway owing to your different speeds
I am disclosing here the total cost of the trip as a rough estimate so that readers can take a reference and modify accordingly.
1. Avenger Cruise 220 CC: ₹900/ Day
2. Avenger Street 150 CC: ₹700/ Day
(subject to availability)
3. When we booked, there was no security deposit, only a National ID card deposit (Like Aadhar, or Voter).
4. Petrol: Try getting the tank in full condition.
5. Backpack: Protein bar Chocolates+ Chewing Gum+ Water Bottle+ Extra Towel+ T Shirt (Cloth can be modified according to the exigencies).
6. Extra Money for emergency situations.
Most important of all is that a biker should not be tempted by amazing highway and try to romanticise their trip with Amazing Highway= High speed
Enjoying is more important than trying to catch hold of that engine at great speeds.
Happy Alibaug!
Travel Diary, 2018.