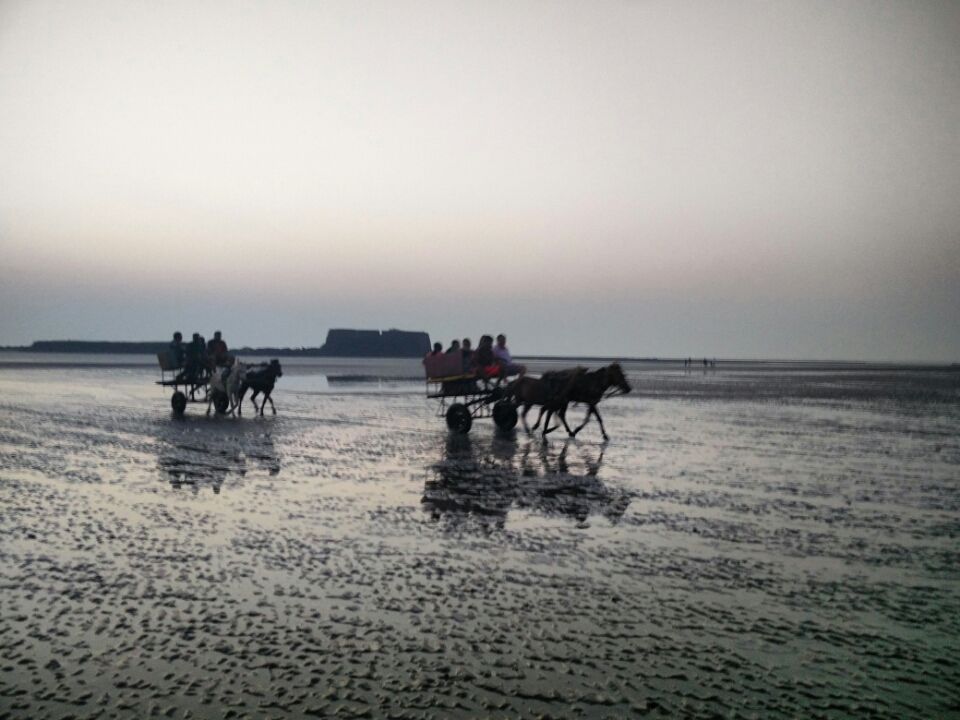 So, I was looking for a place to visit this weekend around Pune and Internet-search helped me to zero in on Alibaug, a sleepy coastal town in Raigad district of Maharashtra.
I took a MSRTC bus from Pune to Alibaug as a private bus service was not available. The best way to reach Alibaug is by taking a ferry from Gateway of India which takes an hour to drop one at Mandwa and a 20-km bus ride further takes one to Alibaug. But I wanted to experience the bus ride at least once so I took the bus and reached Alibaug in 5 hours from Pune as the condition of the roads are bad.
After reaching at the Alibaug Bus Stand, I was feeling hungry like anything and had Chicken Kolhapuri at Sagar Sawli Restaurant which is just opposite the Bus Stand. It was the best Chicken dish I had in a long time. Having had lunch, I walked towards the beach which is a km away and enroute to the beach was searching for some place to stay. I walked through the beach, which was still full with crowd in the noon, and then got myself a staying place in a cottage. As it was 1600 hours by that time I was dead tired. I rested for a while and then went to Alibaug Beach and took a stroll on the beach and clicked photographs. Kolaba Fort is also located about 1 km from the shore and one can go there on feet. It was a pleasing experience to watch the beautiful sun set from the beach with the horse-cart going and Fort in the background. Evening was spent walking through the alleys of Alibaug and exploring the local things and delicacies.
I got a hand on a map showing nearby towns, beaches and forts to visit. I rented an Avenger 220 from a shop in Alibaug of which I got to know from the localites and drove off towards Murud which was at a distance of 57 kms from Alibaug. However, the reality was the opposite of the expectation. The roads upto Murud were in bad shape and speedometer of the Avenger never went past 60 kmph. Nevertheless, I was on.
My first stoppage enroute to Murud was at Nagaon Beach, a good 3 km away from the highway, which a famous one and a lot of tourists were having a gala time there. I had omelet-pav with tea at Prachi restaurant, an open air one at the beach. Before leaving, I walked on the beach, through the waves, and and performed a Namashkar to the sea which I do at every beach.
Next, I left towards Murud on the highway and halted at Revdanda Beach. Since I was on a bike I navigated freely and went to that part of the beach which is less frequented by tourists.
I stopped my Avenger at places and had some chats with the localites. Having conversations with the localites and knowing them is one feeling I got in this trip.
I left for Kashid Beach, which was around 17 kms away on the highway. This is also a famous beach where families had come for an outing and plenty of activities were taking place here. I spent some time walking on the beach, had coconut water and left.
My next stop was Nandgaon Beach. The way I took to this beach was a bit messy but I found it the best. An isolated beach with no activities taking place. Only two gals were leaving the beach when I came, maybe they were also enjoying their gal-trip. Except for 3-4 locals, nobody was at the beach and I enjoyed a full hour walking on the beach and playing kabaddi with the waves. I found it the best of all beaches in Alibaug where you can just laze around and do anything.
Just as I was about to take the highway for Phansad Falls, I asked a localite about its location and he immediately hopped on to the backseat of my Avenger and said, "Bhaiya, chalo main btata hu." He rode pillion to me for about ten minutes of journey telling me about himself and the places going by. His name was Ketan and he was born and brought up in Nandgaon. He got down at his friends' home and told me to go to Ursoli Tep and take a left turn. When I reached there, still the Phansad falls were 6 kms away from the highway. After driving for 6 kms I was at the entrance of Phansad Wildlife Sanctuary inside which the Phansad falls were located. I enquired from the staff there about the time it would take to go and come back as I had limited time and had to reach Murud and back to Alibaug by night. I started walking towards the falls and reached at a junction where one way was going to the falls and the other to the sanctuary. There also a local family who lives in the jungle advised me to not to go to the sanctuary alone as the lion roams there freely and it was a long walk there of 6 kms. So, I took the other way to the falls on which the family was also going and they shared their experiences of living in the jungle. I trekked through the jungle to reach the falls which were at a distance of 2.5 kms from the junction and was disappointed as there was not much to see. I trekked back to the entrance as it was already 1530 and I had not reached Murud which was still 11 kms on the highway.
So, I finally reached Murud around 1600 hours, went straight to the Beach, performed Namashkar to the sea which I do at every beach, walked around and left to see the town and Janjira Fort. A ferry takes one to the Fort which is at around 1 kms from the shore. I went in the ferry but didn't go inside the fort as there was too much rush. Instead, I did something more meaningful which is difficult to tell briefly. I went back to the shore, took my bike, explored Murud for sometime and headed back to Alibaug. A 60 kms non stop journey from Murud to Alibaug took 2 hours and 20 minutes as the roads were in bad shape. I reached Alibaug at 2030, gave the bike back, had Chicken Kolhapuri again at Sagar Sawli restaurant, had kulfi, walked through the alleys of Alibaug towards my cottage and retired for the day.
So, today was my last day here and I had to cover the Mandwa side, having done the Murud side the day before. I checked out in the morning with my only bag which didn't have much stuff in it. I also didn't have a plan of returning back to Pune. I had to return either through bus or there is another option of ferry from Mandwa to Gateway of India. The localites at Alibaug bus stand told me about the ferry operators and their ticket counters. I went straight there only to be disappointed of the bookings being full for the day. I went to the second operator and was disappointed again. But the third operator Ajanta was selling tickets for the current ferry. As I had to leave in the afternoon and it was only morning I decided to purchase tickets after covering the remaining beaches.
As I decided to go to Kihim Beach, I took a shared auto till Chondi Naka. The beach was still 3 kms inside from the highway. I decided to walk till I get a lift. I got one and rode pillion to a young boy who goes by the name Ravi. He was a bit hesitant as he had learnt to drive a scooty recently and was a bit unsure whether he could ride someone pillion. I raised his confidence by saying, "Har kaam pehli baar to kabhi na kabhi krna pdta hi hai" and we drove off towards the beach and he told about his life in that 10 minute journey. Kihim Beach is also one of the famous beaches and a lot of tourists were there. After spending some time at the beach I returned in the same way to Chondi Naka as I had gone, taking a lift on a bike.
Next, I took a shared auto towards Thal Naka. My destination was Thal Beach and I reached there in a similar way by taking a lift. It was a calm beach with no tourists and one could see only fishermen and their boats lined along the coast.
After Thal I went to Alibaug to purchase ferry tickets as there was a lot of rush, the main reason being that I wanted the Ferry-experience. I reached the counter, purchased a ticket from Ajanta for 105 bucks. A bus was to take people to the ferry and it was packed like anything. I didn't get a seat for the whole one hour journey. Everyone got down at Mandwa Beach from where the ferry was to be boarded. I walked for sometime on the Mandwa Beach and left for Gateway of India from Mandwa.
Having reached Mumbai at 1630 hours, I met some friends and took Shivneri to Pune in the night.
All in all, I can say that I took solo trips to know myself and I can sense a change in my attitude towards life.