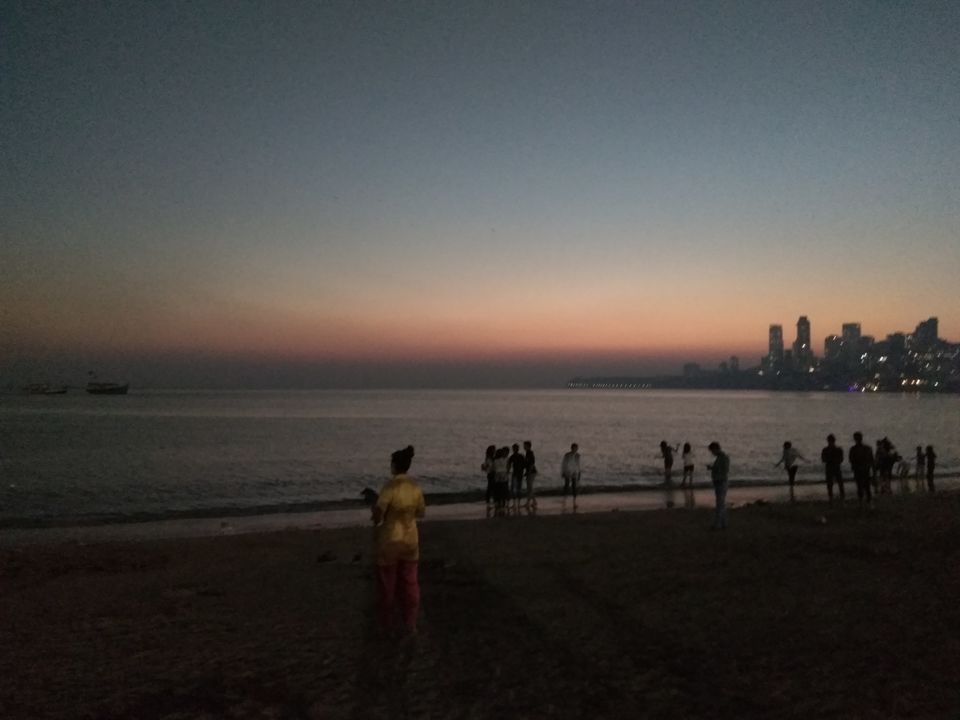 College life is always incomplete without a trip. When the end of per-final semester came, I realized a trip must be in calendar. The best part about having a valid college ID is that you can go outside to some other college's festival with least expenditure. Mood Indigo is I.I.T. Bombay's main cultural festival. This time it was organized on 23-26 December 2016. The festival attracts students from all over the nation. Bombay team is considered one of the best host. From our college itself (Shaheed Sukhdev College of Business Studies- Delhi University), about 40 students went for the event. The fest involves many competitions such as music,dance, drama, street play in which our team Verve performed as well. Students can be seen practicing on the grounds and i hostel areas all day long to win the biggest festival.

We took a Garib Rath train from Nizamuddin railway station to Bandra station in Mumbai to cover the 1384 k.m. distance. This train was started especially for people who wanted to travel the distance without having spend a lot of money. The train tickets cost about INR 1700 both sides. If you wish to sleep, have back issues or simply want a peaceful and comfortable ride; you might want to consider sleeper class as the journey is long. We started at about 4:00 P.M. and reached Bandra around 8 A.M. the following morning. The train was filled with college students from Delhi, Dehradun, Punjab and other places in north India. We were a group of 5 people, not going for any competition but just to have a little fun. We made new friends from the Dehradun Institute of Technology on our way to Mumbai. We are still in touch ;)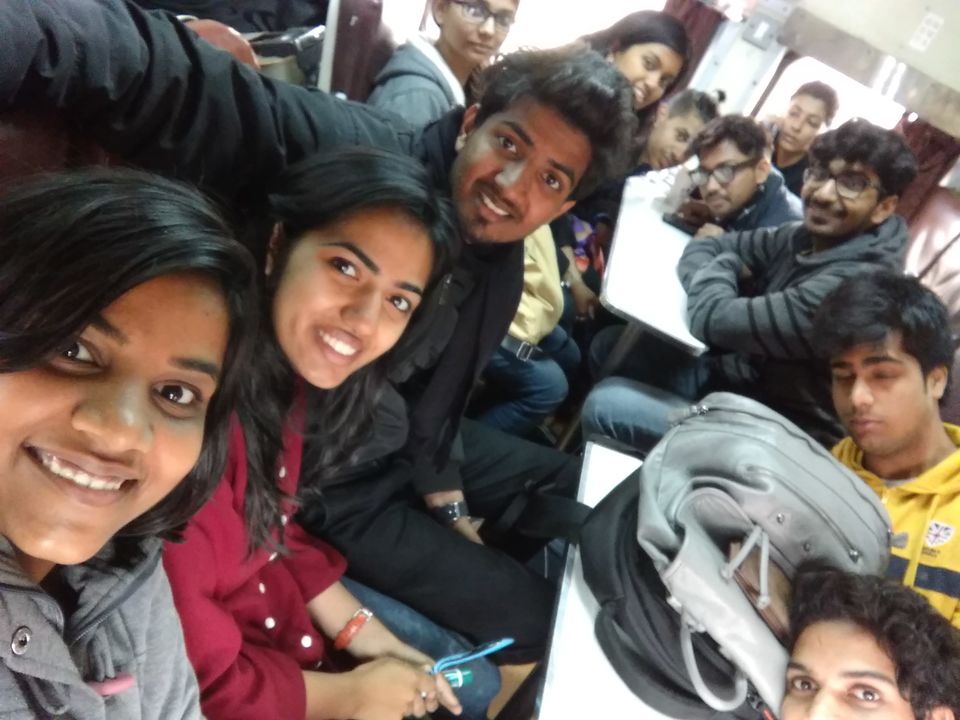 Once you reach Mumbai, it does not feel like you're at a completely new place; like you feel when you see mountains. Everything is plane and there are high buildings which is all the same. But right when you are about to enter Mumbai. you can see big lakes and little hills and the scenery is exquisite. It does not last very long and there is a good chance that you might miss it if you were awake the whole night and fell asleep right when you shouldn't have!
The stay for 4 days was for INR 1600 which was cheap and was the best option a college student can hope for. One fair warning to all the college students who are planning to go to Mood Indigo- the hostels are packed at this time! Make your reservations well in advance and do not forget to pack your blanket or even pillow! You will get your bucket and mugs and other supplies because they are sponsored. The case wasn't same when my friends went for Entrepreneurial summit there. But as I said, MoodI attracts many many people for the cultural fest.
The weather in December was fine. It was a little cold only once the sun set and that too in the campus as it is a jungle there- a beautiful one though. The campus is huge and you will find students sitting at all corners of the campus with their guitars and humming. I heard the most beautiful voice one day- I did not look at the guy out of fear that I might just fall for him! The ambience is amazing. One must definitely go on such a trip!
What to do within campus?

You must visit Powai Lake. It's a huge lake and a part of it is within campus only. Although the rules about visiting the lake at late hours have been strict now but if you're careful; you can afford to break a few. I recommend you not to be stupid as there are crocodiles there as well, that you might just not be able to see at night!
The eateries are under budget for the college students and a few of them are yummy! Try the local canteens, vada- pav and do it at the mess! The food is inexpensive and tasty! Once can have vegetarian and non- vegetarian options. The brownie there is amazing too. You can fill yourself up in just INR 30-50. There is Gulmohar restaurant nearby. It is usually always packed.
Visit Church during the christmas especially. There is one right beside the campus. It's a small one but on Christmas it looks very pretty. There is a market nearby that you can go to as well. The festivities are spread across the campus and you can always find something to do during the fest.
Mood Indigo is a college cultural festival on which crores of amount is invested. The festival is filled with colors and competitions. The star night witnessed Shankar, Ehsan, Loy this year which made our night on the campus.

Mumbai is famous for its street food- both veg and non-veg. If you're a non vegetarian; you are in for a treat. The biryani and sea food should be in your bucket list. For this you ought to go the Khao Galis of Mumbai. One place, very famous even in Delhi is Theobroma in Colaba. You have to go there to satisfy your sweet tooth. Each item of pastry will cost you around 100 bucks. You might that whole market of Colaba is a bit expensive but all great things come at a cost! Sadly I can not remember name of another bakery which offers cupcakes but you have to go there. It's near to Theobroma in the same lane, about 2-3 shops later maybe.
Mumbai is a whole new world even though sometimes it seems like every other metro city. For us, North Indians, going to a whole new part of our country was amazing. It was more than just the beach I'd say. The not- so- scary night life, the cheap breakfast- Vad pav, the people and the differences in their ideologies- their friendliness and support to visitors. There is so much to the city.
Mumbai is the hub of Indian film stars, you can see their Bunglows, might even see them waving at you. You can go to the Esselworld or take another trip to Lonavla to see green valleys. Mumbai is a place to party and relax. It's a place to find a different culture and to go there on a campus trip is a whole other thing! A college trip like this is cheap and it is celebrated in the memories of your college diaries!
Frequent Searches Leading To This Page:-
weekend holidays from mumbai, weekend trip from mumbai, weekend getaways from mumbai, weekend trip cost for couple from mumbai, weekend getaways from mumbai
Beyond I.I.T. Campus
The sad part is that all the good places of Mumbai are situated in South Mumbai and away from the campus. You will have to take 1-2 hours ride minimum to reach the desired places and traveling this much can simply make your trip expensive.
You have a few options of commuting. You can take a cab- Ola/ Uber/ local ones or take an auto or go for the local trains. The metro in Mumbai is not as well connected as it is in Delhi. You will have to take another transport for a very long distance to reach metro first which does not make much sense. And even though you might want to opt for the local trains hoping that they will be inexpensive; you will soon realize that it is not as pretty. People are simply shoved into the general coach that does not have doors like metro and you might just fall off and get yourself injured. So you might want to take extra care. Other coaches are reserved and some coaches are extremely expensive where the prices for a ticket for one side can go up to INR 200. We covered the major distances via Cab only using various schemes and splitting the cost. Unlike Delhi, the rules there are strict w.r.t. number of passengers in the vehicle and the starting fare is also lower than in Delhi. Although the population density in Mumbai is very high and the traffic is simply annoying!
Best Places to visit in the film city:
The stories about the night life in Mumbai are true. It does not matter what time it is, you will always find a cab every 20 meters of distance especially when you're in a main road. This is more true for the south part of Mumbai, where all the interesting places are like beaches. Our first beach was Girgaum Chowpatty where I had my first night out ever! Chowpatty Seaface is in C- shape and it is about 3-4 k.m. The beach is simply beautiful. People usually have Juhu beach in mind; wich is a lot bigger but dirtier in all senses. The view of the sea is much more wider from Juhu Beach but you would never want to miss on Chowpatty. There is a small food court kind of area where you can have Pani Puri (Gol Gappe) , vada- pav, Pav- Bhaji, ice creams and every kind of street food. Pav Bhaji is very tasty there and Pani puri is amazing! You often have to find a good Gol Gappa wala in Delhi but you can stop for Pani puri anywhere in Mumbai and it will be great!
Mumbai never sleeps is a true statement. We stayed there all night. The food courts eventually closes but there you can stay beside it all night. There were about 50+ people on the beach that night. The scariest part I'd say was when I had to go pee at 3 or 4 in the morning and there was no public washroom open at that hour; so we had to take a cab. The cab driver took us to a place where you would not want to go even in day light. For a second we thought, he is either going to kidnap us or kill us which probably would have happened in Delhi in such an area! But the cab driver stayed not far away and took us back to Chowpatty. The night fares are a bit higher but you do not have to worry even for a second even if you're alone on that road all night! Chowpatty was simply the best night of the whole trip.
Mumbai has various other beaches that are much less talked about and much more beautiful and simply clean! You can find those on tripoto only under "Hidden beaches around Mumbai". If you want to build a sand castle and stand in the water without being scared that you might run itno someone's underwear; you might want to go further than Juhu and Chowpatty. But that does not mean that you can miss out on these. The Marine drive is life!
One very famous market that you wouldn't want to miss is Colaba. In the south of Mumbai is everything you need to see. The architecture of the buildings is catchy! You can find some great street food and cafes, restaurants under budget in all the markets of Mumbai. You must visit the churches. Christmas or not, Churches will be a pure treat to visit.
Another favorite day was the one when we went to visit Elephanta Caves on the Elephanta Island or Gharapuri. It is about 10 km to the east of the city of Mumbai in Arabian sea. This is a must visit trip! In order to reach there, one has to go the famous Gateway of India. The most famous hotel- The Taj Palace is right there along with the Gateway of India which offers a marvelous view of the sea. The Colaba market is also quiet near. So you can spend a whole day to visit all 3 places. The last ferry (boat) leaves about 2-3pm. It takes more than an hour on the sea to reach the island. The Indian Navy port is at that point and you can see huge fighter and navy ships throughout your ride. It was a little scary to be on the boat in such deep water as it was my first time but the place is beautiful. It was more than a busy metro city that we had been seeing all the time. There weren't any cars or too many people to be seen. It was quiet and peaceful. There is a bridge where the boats leave you to go to the island.
The island is actually a hill. So after crossing the bridge you have to climb many many stairs but it still is fun as the entire path is filled with small shops like the ones in hill stations. There are small dhaba like places to eat at where you must try the Vada- pav and Sev- puri. There is a shop at the top where you will find amazing t- shirts. The artificial jewellery of Mumbai is very famous and the clothing was nice too. Sadly it was the end of trip and were running out of Cash so we were forced to shop less!
The caves are a network of sculpted caves. A few areas are restricted and the insides are dark and scary. There is a small pond that you can see through the barrier inside one of the caves. There isn't much to do once you reach, except click pictures but the market and the voyage is worthwhile the trip. The last ferry back to Mumbai leaves at 6 P.M. This is what were told but it's not really true. The shops begin to close at this point and the ferry drivers come to the caves to call people down. Even though we reached to the ferry around 6 P.M. we could not get on to one before 8:30! All the visitors had come down since everything was closing and the ferries were very few. they had to take passengers, drop them to the port and come back. For this it took a lot of time for our chance to come. People ran madly to get to ferry fast in the dark while there was deep water everywhere down the bridge! I recommend you climb down the hill on time if you wish to avoid the hassle. But we did not regret the waiting because it was again worth it. The sea at night was completely different! And oh, I forgot to mention that you need to pay INR 10 extra if you wish to climb up the boat to level one. It's a little scarier but the view the far better. It is open and you can see far beyond from up there. The cold breeze, tiny shimmering lights from the other port, high waves that made the ferry dance and the dark dark sea once your reached the middle- it was all very different. We sang slow songs, closed our eyes to feel the wind in our hair and then opened them again to see the waves below. It might have taken us longer to get back. We got a cab back to the campus around 10-10:30 P.M. The Gateway of India was beautiful at this hour of the day.
Mumbai has many other places for you to visit. All of which are mostly in South Mumbai. There is a national park as well- Sanjay Gandhi National Park. According to the map it is adjacent to the I.I.T. Campus but the entrance to it is again far away. We could not go there due to schedule issues but I have heard it's a nice place. Near to the Chowpatty are Malabar hills, above which gardens known as the Hanging Gardens are situated. there isn't much to do there but the street food is good.