Mumbai.... very well known as the city of dreams and has done the same to me.... bought about the best in me... gave me a dream to live for... I have become a bon viviant since the time I moved to Mumbai and I would insist you all to visit Mumbai not to only find your dream but to test mine.... to try these out these amazing food which will leave you awestruck and craving for more!!!
SO my blog is all foodporn(beware)... and where you can find it in Mumbai....
Day 1: Stop 1: Unlike an usual, my meal (food trip) started with a Dessert!!! the best one.... The Roller Coaster IceCream.... Situated right in the middle of the Khau Galli in Ghatkopar, is this Roller coaster icecream shop. As the name suggests the process involves a huge Roller filled with ice rotating around its axis. This roller is covered with fresh cream..... Then comes in the fun part... u need to select a flavour of your choice .... the icecreamtender (i just made that word up) pours the juice of your choice on this roller and smooth-ens it out until flavor blends in with the cream. He then grates of the ice cream on a paper plate and serves it.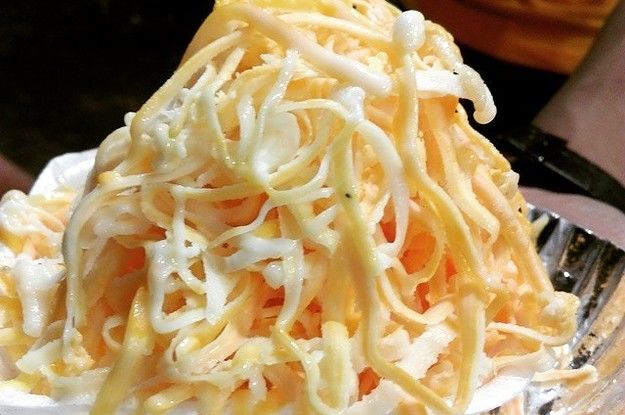 Imagine the peace you find when you feel these small cold strands of sheer cream and flavor melting in your mouth. The flavor I tried was Mango... and the color in the above picture is from a freshly cut mango #nofilters#noartificialflavors .Can't wait to try other flavors.
Day1: Stop 2: My next stop had to be something equally satisfying. Being a epicure next thing close to my heart, and that would still make way to my stomach after a heart-filling dessert indefinitely had to be cheese or chocolate. So we chose to go for cheese
That divine looking thing is the view of cheeze bursting out of a Masala Dosa..... and trust me it was mouth watering..:) But o'course I would say you wouldn't like it much if you are not on Melting Cheese's fan following list. The Cheese Burst Dosa is a fragile indo-western combo which could be destroyed easily with slight dis-balance in the ratio and proportion of cheese and spices and yet brings out a totally different version of the classic Dosa.
Day 1: Stop 3: By now i was dragging myself, with so much of cheese i needed to have a walk to keep going :)... We went to Nariman point to shed out those few calories so that i could eat more... Next i was looking forward to have something light to snack around while i was walking.We decided to try The J's
Crisp, crunchy and yummy.... couldn't stop nibbling these potato fries with crispers and maggi masala. What was smarter was the shape of the cartons in which they where served. These where cones with one end elevated so that the fries wont topple off.... and also these holders made on the tables at The J's which could hold these cones in place.These fries looked as if they could vanish off in a couple of bites.... but they were enough to walk me home.
Day 2: Stop 1: This day i had decided to take it slow..... so after a hectic day at work, we started with something simple but filling.
Up there is the Samosa chole..... a combination i never ever could imagine.... a finger licking dish,,.... i just couldn't stop eating... a perfect combination of sweet and sour tastes served to perfection.... N hence forward I can never imagine of separating these two from each other... Samosa and Chole.. the best food pair I have known :)
Day 2: Stop 2: Samosa chole acted like a bit of an appetizer for me that day, and i was hungry again before i could even think of my next destination... I now had to eat something really filling.. so we changed our plan of fooling around Bandstand and instead headed for Bademiya...
As scrummy as it seemed, so did it taste... We started with the chicken Kebab followed by the Chicken Baida Roti at Badeymiya.... this place is a savior when the hunger hits you after you drop dead dancing at the pubs around... And of course you heard it right ... the place serves food till 3AM... Back to the food... the kebabs were succulent and patiently grilled. The Baidha roti was something i never tried before... but to me it tasted like a stuffed chicken paratha... too good to be true ... time n again i was surfeit.
Day 2: Stop 3: After an overfull maw... i wanted to end the day just right.... with a dessert... what better than an icecream n rabdi :)
Eternal bliss is finishing the day with a toothsome dessert. The Gulkand kulfi with along fresh rabdi was one of its kind... so dont forget to hit this place Shahi Durbar the next time you cross Carters :)
Will keep you posted with more food dat i try as this trip is still in progress..... till then happy reading :) happy hogging :)