When you think of the Oktoberfest, you are probably thinking of three things; Germany, lederhosen and freshly brewed beer stored in big barrels. While you're mostly right, this enormous, widely celebrated festival has a whole lot more than what appears at first glance. Essentially, it's one giant party with traditional Bavarian music and gallons of different types of beer to enjoy.
To give you a little back-story, in October of 1810, King Ludwig of Bavaria married Princess Therese of Saxony-Hildburghausen, presently located in the German state of Thuringia. To celebrate this royal event, the people of Munich were invited to attend the festivities in large fields. Back then, these fields were named Theresienwiese (Theresa's Meadow) in honor of the Crown Princess however, today it is locally called the "Wiesn" after the colloquial name for the fairgrounds. The Oktoberfest is an important part of Bavarian culture, having being held since 1810, where people from all over the world gather every year to drink and honor the Bavarian beer!
The Oktoberfest has been on my bucket list for as long as I can remember. This year, I had the privilege to attend the festival, in the heart of Munich, with Yes Trips and ESN Utrecht. That it was an "EPIC" experience would be an understatement. From the different types of beer to the local food, there are tons of traditions dotted all across the festival grounds. The start of the festival is marked by an elaborate opening ceremony with a parade of horse-drawn floats and traditional music played by local Bavarian bands. The energy of the festival is so powerful and positive that it immediately sets the tone for the upcoming days of revelry!
Among the many attractions in the festival, the "liquid gold" is probably the most important thing at the Oktoberfest. If you're doing the Oktoberfest right, you will not just drink any old commercial beer. And forget about ordering a Guinness, it's a shame if you do. There are about 9 main beer tents that brew their own beer. Each of these breweries sponsors a tented beer hall, for you to enjoy their beer, sing Bavarian songs and go absolutely crazy with the high-spirited crowds. I entered nearly all the big and small tents to taste the different kinds of beer; my favorite one being Hacker-Festzelt at the Hacker-Pschorr tent. The beer is served in a giant "mass", which is German for "measure". Each mass holds up to 1 liter of beer and, mind you, that is the minimum you can order!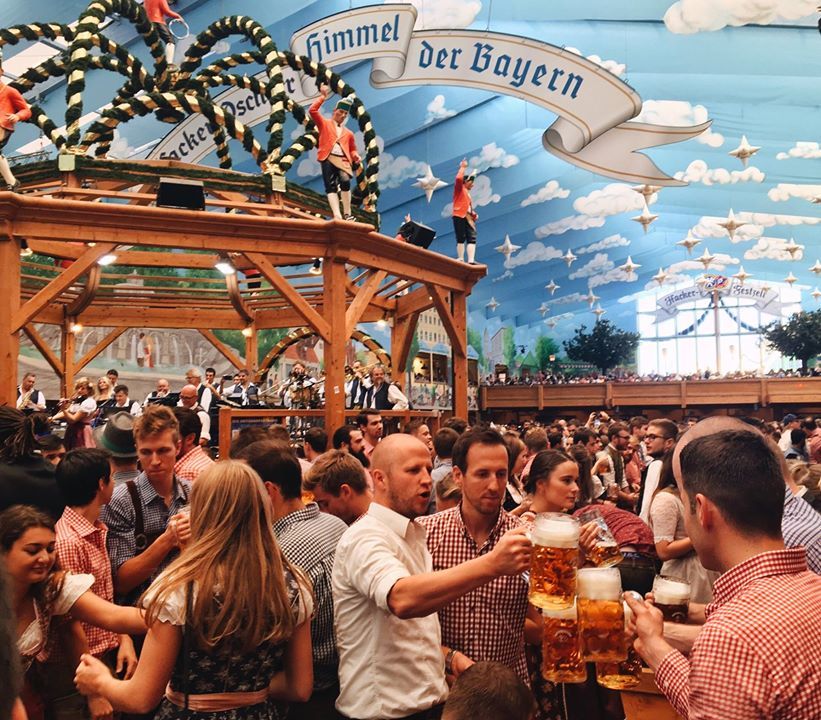 This year, there were a whooping 7 million people taking part in Munich's Oktoberfest. Now that's a massive crowd, making it the biggest beer festival in the world. On an average, the crowd consumes 9 million liters of beer every year! But like I said, the festival is not just about the beer, or for drunk adults. It's nice to enjoy some hot pretzels, schnitzel sandwiches and cheesy fries too. I would say, beer and pretzels make the best combination! Oh and don't forget to ride the dizzying roller coaster and other amusement park rides, without getting too giddy after all that beer!
This crazy day-drinking festival has become a popular place for students studying across Europe (like me!). It's an interesting place to meet new people, make new friends and gather a few memorable moments. I went for the festival not knowing anyone from Yes Trips and ESN Utrecht, but returned with a bunch of amazing friends. So let loose and enjoy this crazy, free spirited and contagious festival!
Here are a few tips for you to remember, if you plan to go for the Oktoberfest:
1. Enter early -
On most days, especially weekends, it is recommended to stand in the entrance line before the doors open for the fest. That way, you can also quickly get a table at one of the beer tents you wish to go to.
2. Beer Tents -
Preferably, walk into each of the tents (local breweries) to enjoy the real experience of the beer festival.
Here are some of Oktoberfest's best breweries and beers:
MARSTALL:
Brewery – Spaten-Franziskaner-Bräu
Capacity – 4200
Characteristics – Newest tent, stage resembles a carousel & serves wine & cuisine.
Beer Price – 11.50 euros
HOFBRAU-FESTZELT: (International Tent)
Brewery – Hofbräu München
Capacity – 9918
Characteristics – Serves authentic Bavarian delicacies
Beer Price – 11.40 euros
HACKER-FESTZELT: (Bavarian Heaven)
Brewery – Hacker-Pschorr
Capacity – 9300
Characteristics – Bavarian heaven: sky and stars ceiling & Rock 'n Roll band at 5pm, book in advance!
Beer Price – 11.40 euros
SCHOTTENHAMEL:
Brewery - Spaten-Franziskaner-Brau
Capacity – 10,000
Characteristics – Oldest (1867) & largest tent with many young drinkers
Beer Price – 11.45 euros
WINZERER FAHNDL:
Brewery – Paulaner
Capacity – 10.900
Characteristics – Gemütlichkeit ambience
Beer Price – 11.50 euros
WEINZELT:
Brewery – Wine Tent
Capacity – 1900
Characteristics – 15 wine varieties
Beer Price – 15.90 euros
LÖWENBRÄU-FESTHALLE:
Brewery – Löwenbräu
Capacity – 8500
Characteristics - Good meeting point (Giant Lion)
Beer Price – 11.50 euros
BRÄUROSL:
Brewery – Hacker Pschorr
Capacity – 8420
Characteristics – LGBT special!
Beer Price – 11.50 euros
OCHSENBRATEREI:
Brewery – Spaten
Capacity – 7400
Characteristics – Large ox on the rotating spit
Beer Price – 11.20 euros
3. One Glass -
One mass/one glass is 1 litre, and that is the minimum amount you can choose! Drink responsibly but enjoy every bit of it!
4. Tip the waitress -
This is by far the most important tip I can give you. The people that serve you this delicious "liquid gold" do not get paid for their services. So when you order your first round of beers, give the waitress a slightly high tip (20-30 euros). They'll always watch out for your table, and serve you your drinks on time! If you don't tip them, they'll either get the guards to kick you out, or they'll never return to you for another order. Eventually, you can start lowering the amount.
5. Defend your table -
If you enter the festival early (10:00am), rush to one of the beer tents and pick a table. Each table fits 8-10 people and what you have to remember, is to DEFEND YOUR TABLE. If one of your table mates gets really drunk, pukes, behaves inappropriately with the waitresses, or if you tip less; the bouncers have the right to throw your entire table out of the tent. It's an extremely competitive scene, so save your table!
6. One litre down -
Here's the most fun and insane part of the whole event. If you or one of your tablemates manages to 'bottoms up' a whole litre of beer, you can stand on the table and the WHOLE crowd will go crazy supporting and encouraging you! You may also get a free beer!