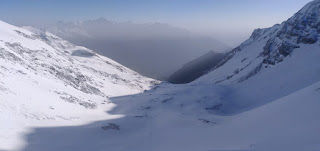 I have done three Himalayan Treks so far - Chopta Chandrashila, Valley of Flowers and Buran Ghati. Buran Ghati wins the best trek award so far hands down!! Not because of the height or difficulty or anything else. It is at least four treks combined in one. We pass through meadows, forests, snow clad mountains, lakes what not. Overall it is one hell of an adventure, lets begin!
Buran Ghati is a very recent trek started by Indiahikes. I was part of the second batch of this trek via Trek the Himalayas ( I have already expressed my love for TTH earlier, take it here again <3 <3). As it was the second batch we just had 14 people and together we were sort of exploring the trail.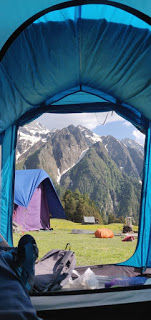 Buran Ghati is located in the state of Himachal Pradesh at a height of 15000 ft. The closest hill station to Buran Ghati is Shimla. From there we stop at multiple villages and hike our way to the top. Our day starts with a jeep picking us up at Shimla from where we drive around 8 hrs to reach a village called Janglik. Shimla is at a height of some 7000ft, at Janglik now we are at some 9000 ft. The moment we reach Janglik we start seeing the wooden and stone houses, pahadi people who are over courteous and nice, the hill side dogs and the tall tall trees :) The feeling that you are in a well preserved far away world has also started to settle in.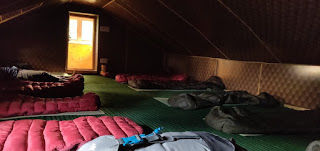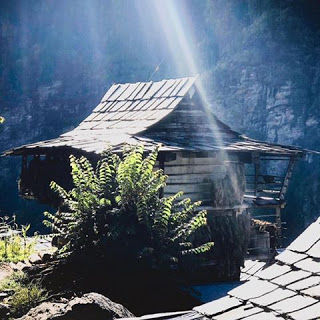 We stay the night in the modest guest house and next day we start our first trek. We are going to Dayara. A beautiful valley surrounded by hills. The valley is filled with colorful flowers growing all over - yellow, blue, red- it is simply happiness all around :) We stay the night there having good food, good conversations and a very peaceful sleep.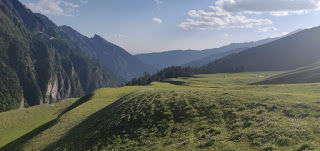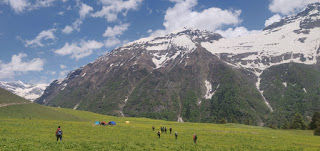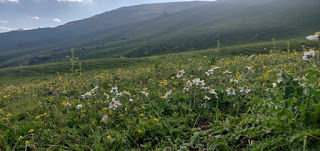 Next day we again trek for some 4 hours to reach our next pit stop Lithum. The last two days have been relatively easy. Just four hour gradual descent treks crossing valleys and forests. The next day is going to be difficult. We trek to Chandra Nahan which is a frozen lake. We do a steep climb of approx 1500 ft from Lithum. Today is the day where we see proper snow for the first time. We cross rivers with freezing water good enough to numb the bare foot. We climb the steep slope and then walk over a frozen lake. All of it is so beautiful and exciting at the same time. I learn something from my trek leader. He says if you shout/ disturb the mountains, they answer back in the form of rain/ hailstorm. We shouted, it echoed and randomly rained also. So ya nature does talk to you!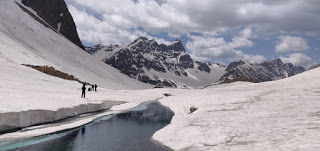 We come back from Chandranahan all tired. We sleep early today because we all need to collect our thoughts. Next day we do semi difficult trek to Dunda. It is somewhat difficult only coz half the trek is over snow and we are slipping. We reach Dunda and realise that our tents are over the snow today. The temperatures have dipped a lot but good that our body has acclimatized well. We enter our tents and heavy hailstorms start. Ideally we should we enjoying it but our frozen mind is speaking otherwise. We are dragged out for the technical training a little later. At the same time the sun decides to show up - Good Job There!!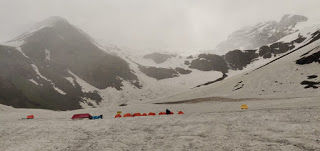 Today is the last day of our summit and the most exciting one. We know its going to be very tough but we are not giving up for sure. We start the trek at 3 AM. We are freezing and the 40 degree plus slope dosent help but we go on. We trek for some 3-4 hours to reach the pass. When we reach the top we are over whelmed. I am so thankful to the trek team, I have this urgency to cry, my body is giving up and my toes are numb. We get a 15 second relief with group photos etc and then I see the vertical decline through the pass. The 200 mtrs steep decline has to be covered by rappelling for 100 mtrs and a 100 mtr slide. The adrenaline has kicked in but I am dead scared. Still I know the next 10 minutes are going to be a lifetime experience for me.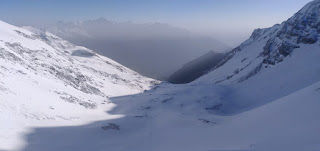 After this it is just descent with snow slides, snow balls, hiking and falling. I was so lucky that the weather was with us and we could do the summit. Every trek makes you more humble, more thoughtful, more compassionate and more you! Why do I love the Himalayas - I donno, it is hard to explain but I know I will keep coming back to my home, to myself!
No of days - 9 (Bangalore to Buran Ghati to Bangalore)
Total spend - 35k + (with flight tickets)