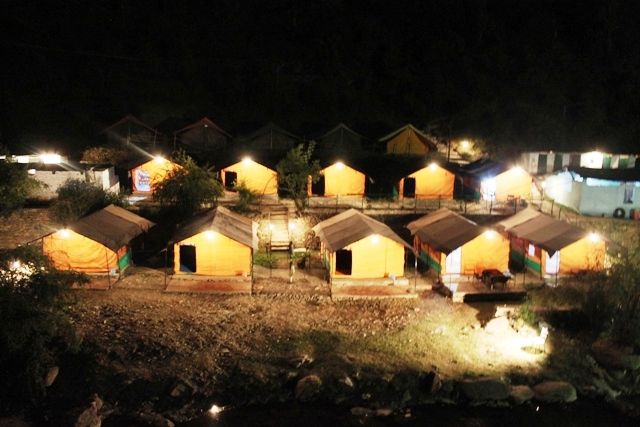 Camping always seemed an exciting opportunity, and I was keen to explore it. In every sense of word, Camp Kalsi was my first trip without my family. I still remember it as a coming of age mark, a souvenir memory which I cherish till date.
Though, as some of you might say, camping should be a non-commercial endeavour. But it was the first step and I decided to bring in the aspect of safety. Camp kalsi is a managed campsite with all the facilities of a comfortable hotel with wide array of food and clean bathrooms.
We stayed in camp tents and slept in sleeping bags. The best thing about the whole situation was that it stood right on the bank of the beautiful river Kalsi. I spent most of the time lazing on the large rocks that obstructed the river flow. And the river was the best part of the trip.
The first day comprised of usual adventure activities like rappling, river crossing e.t.c .It was day full of exertions and some of the activities required a strong will power. It was the evening that turned out be outstanding. We were divided into groups and asked to hunt for twigs and branches on way to our destinations where we would have to cook maggi using the foliage we collected. The whole task was exilerating and the competition was very exciting.
We also went trekking multiple times across the valley which was in full bloom.
All in all it was an amazing trip and would always signify as my first step in the world of travel.
Frequent Searches Leading To This Page:-
Top Nainital Tour Packages With Prices, Nainital Honeymoon Package Price, Top Nainital Tour Package For Family, Top Nainital Tour Packages For Family, Top Nainital Tour Package For Couple From Delhi, Top Weekend Getaways From Nainital, Top Weekend Getaway From Nainital