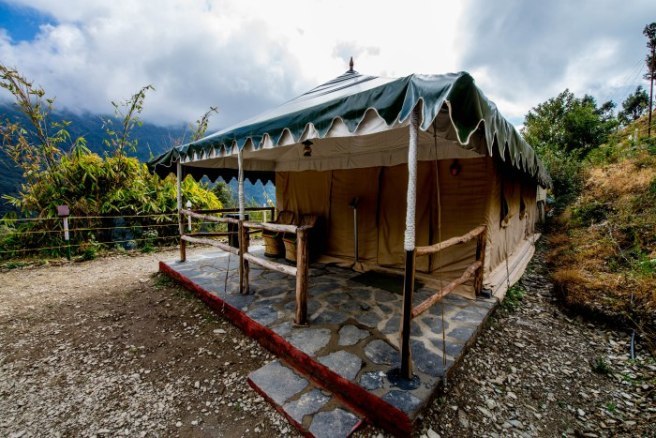 Camping is "Home"
Personally, I like a perfect camping to the one which is action-packed with a great comfort. However, Nainital is a beautiful city of lakes, but I dislike the idea of spending a vacation on a crowded hill station. Moreover, I've visited Nainital several times before plus I like to visit different places every single time.
Pangot is an unexplored village in the Kosiyakutoli tehsil of Nainital district in Uttarakhand, a nature lovers heaven and adventure's delight, Pangot is a recognized bird sanctuary of Nainital, yet unexplored by many tourists.
NATURE DROPS, Pangot is about 15kms from Nainital is a fairly new addition to the premium camping resort. What sets this one apart? away from the crowded hill stations and the fact that it gives you a very homely feel in mid of the mountains with different weather experiences in a single day. The drive from Nainital to Pangot was so mesmerizing that it made me forget everything. Meanwhile, the moment I reached there, weather delighted me with a light rain shower. The resort staff was friendly they presented me their special welcome drink.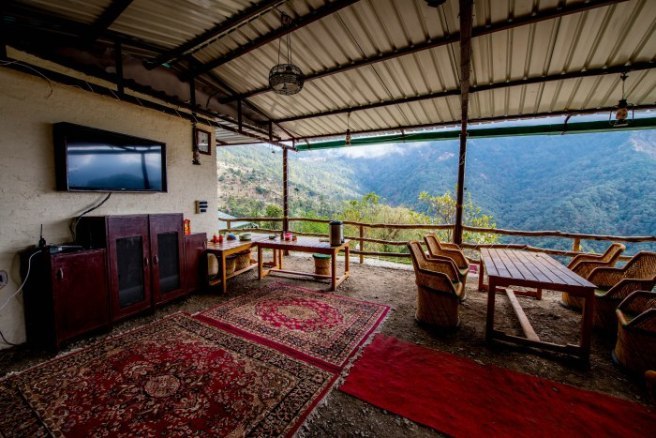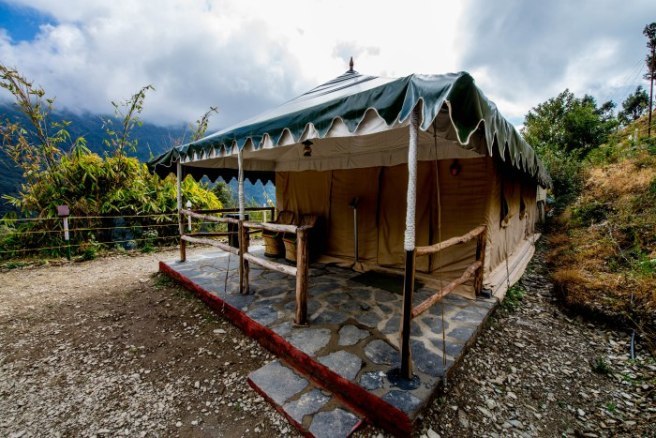 Notably, the tent houses look very artistic from outside as well as extremely comfortable from the inside, well furnished with lovely wooden flooring, classic night lanterns, netted windowpanes which exhibit the daylight, seal-proof from all sort of atmospheric conditions.
There was a comfortable seating area in the front Porch of the tent; accent chairs, some wooden sun loungers in the garden to relax or just lounge around. Accompanying with, the garden swing in mid of the floral ambiance was creating a magical setting where I love spending my day observing scenic view!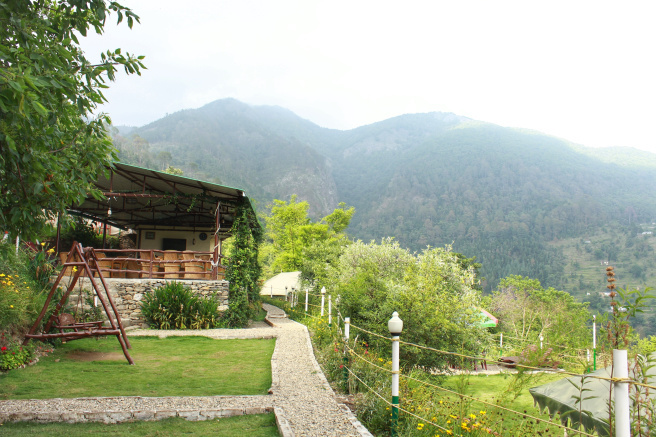 As Pangot is a recognized bird sanctuary of Nainital therefore, Several birds were chirping (both indigenous and immigrant) and twitting over there, it was something more delightful to listen during the daytime. In the distance, there is also a trekking trail near the resort which will take you to the charismatic waterfall which is abundant with birds and landscape.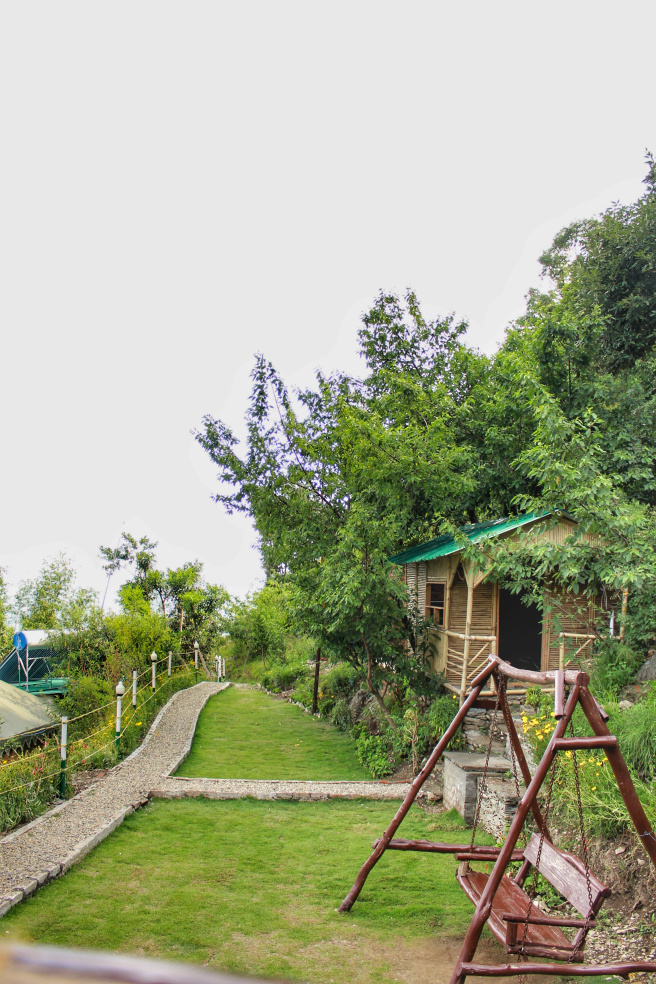 There was a large separate tent for many Indoor games to play such as pool table, table tennis, carrom board provided by the resort. Furthermore, if you request staff to play games like kite flying, badminton etc.., then they can organize some games for you.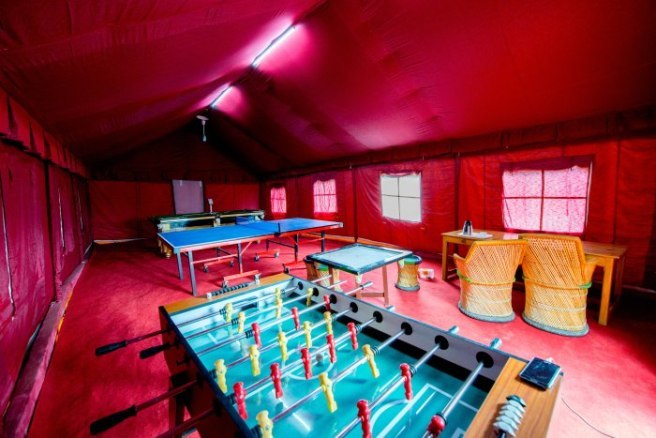 The resort not only offers the scenic view and bird's but also hosts some adventurous activities for adventure lovers. In the hills above, I experienced numerous sports like Burma rope bridge, rope net, rappelling, and zipline, which slipped me back in the camp area, though the light was ending the day and sun was also setting down, a pleasant view of sunset grabbed my attention. After having so much fun, I was feeling tired and there was something grumbling in my stomach; I was hungry, and for the twilight snacking they presented some delicious pakoras, sandwiches, and coffee which personally, I enjoyed very much.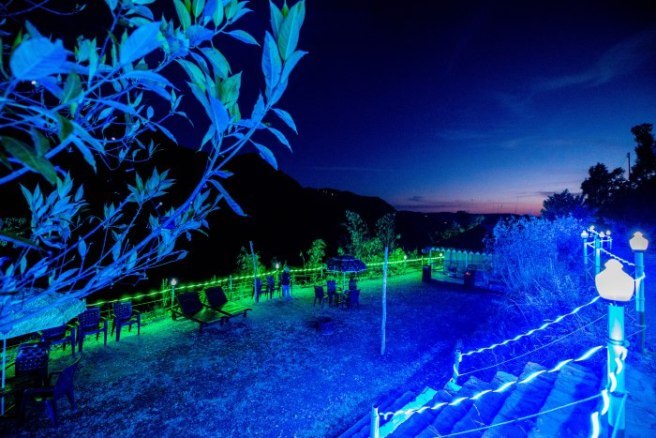 In the night, the place was lightened up with fairy lights and lamps. When it comes to dinner, they arranged a scrumptious vegetarian buffet meal (made with Organically grown and produced food ingredients) in the sitting area with music which enlightened the moment.
A major thrilling adventure was waiting the next morning, for me to fly high in the sky on a free-flying foot-launched glider (paraglider). Although, the sport was not hosted by the resort, however, they helped me to reach the spot i.e, Bhimtal - Naukuchiatal, Nainital it is around a distance of 24kms from Nainital.
Overall, I've had a great experience. Although, they offer very limited varieties of food but surely the delicious one. The place promises an unparalleled experience with a blend of luxe, adventure, and scenery.
Getting there:Alternative:Nearby Places to visit: Tibetan market, Boating at Naini Lake, The Mall Road, Zoo, Jungle Safari at Jim Corbet. if you prefer to reach via bus or train then the resorts cab can also come to take you from the Nainital mall road to the resort. The best way to travel there is via taxi/car which takes around 7 hours from Delhi to Nainital. The resort is just 15 KM further from Nainital near Pangot on Kilbury road.
Frequent Searches Leading To This Page:-
Top Nainital Tour Packages With Prices, Nainital Honeymoon Package Price, Top Nainital Tour Package For Family, Top Nainital Tour Packages For Family, Top Nainital Tour Package For Couple From Delhi, Top Weekend Getaways From Nainital, Top Weekend Getaway From Nainital