Bintan Island in Indonesia is the largest island in the Riau Archipelago and your dream coastal destination for a travel holiday.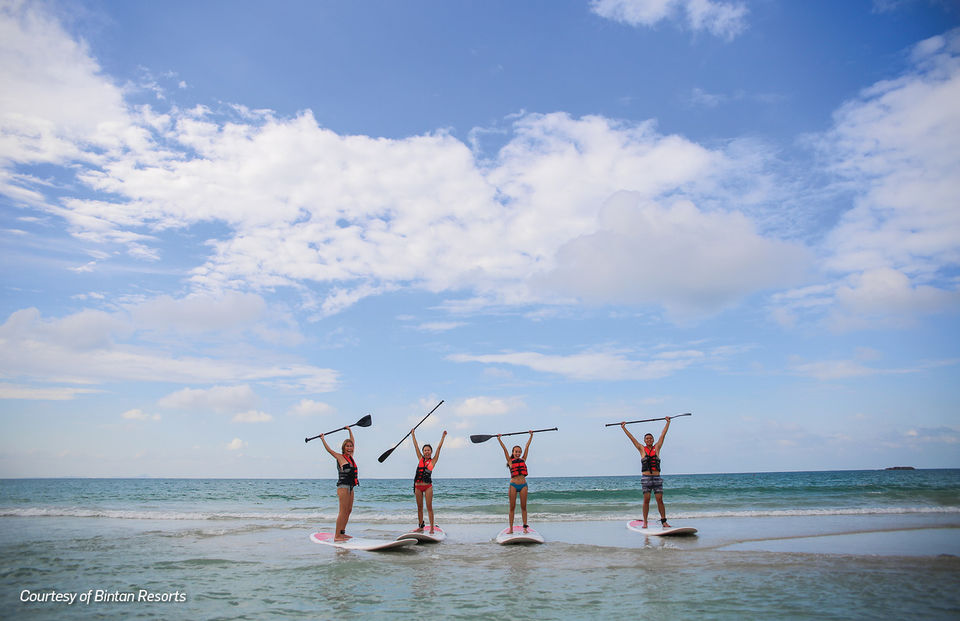 A short distance from Singapore, Bintan Island is a rejuvenating getaway for families that want to spend an idyllic and fun time together. Gorgeous beaches, exciting trails, and world-class resorts are all catalysts to book a trip to Bintan.
Visit the Lagoi Bay Lantern Park located near the Lagoi Beach. This park is themed on the underwater world and and features a lantern display of marine creatures, apart from endangered land species like the Javan rhinoceros and the Sumatran elephant. Families with young kids will enjoy a ride around the nearby Plaza Lagoi on the Odong Odong cycling car or mini train.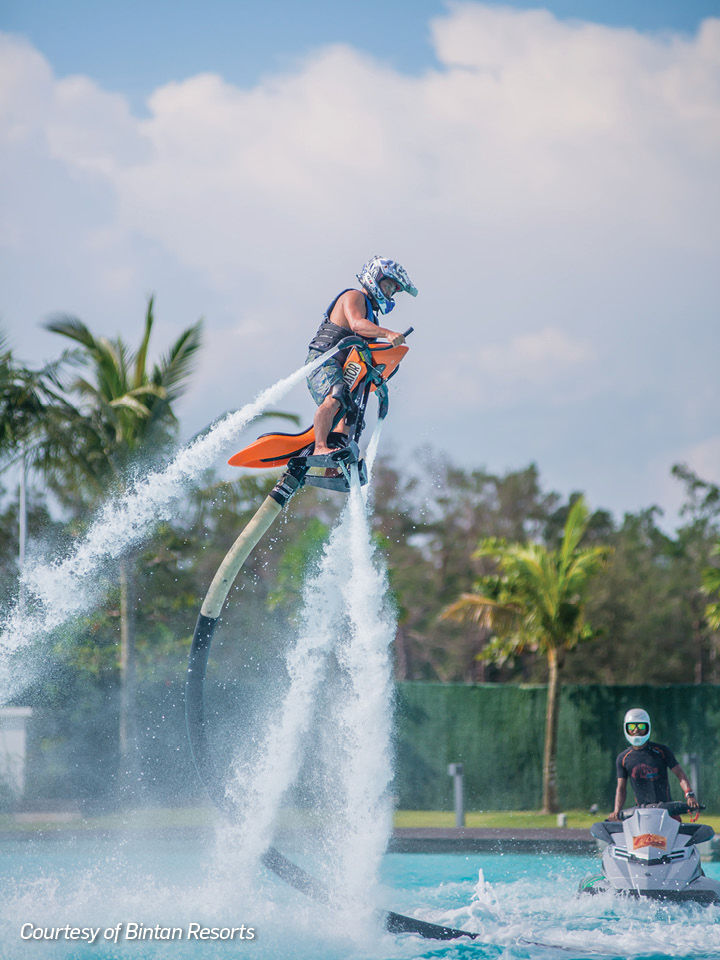 The island of Bintan is also host to rich mangrove forestry. In the thick green canopy and the quiet waterways of the Sebung River, keep your eyes peeled for the shy wildlife including the exotic macaque, silver leaf monkeys, monitor lizards, and snakes. Everyday lives carry on as you take your tour—look out for static fishing traps (bubus) planted by fisherman, and when the river meanders southwards, spot the Orang Laut (sea gypsies) and Kelongs (over-water fishing houses built on stilts).
STAYS
Choose from a variety of lovely hotels on the island for your stay.
QUICK FACT
The patented technology behind Crystal Lagoon at Treasure Bay Bintan involves 100 times less chemical products than conventional swimming pools and consumes minimal energy. This allows for an environmentally friendly and safe setting to carry out aquatic activities.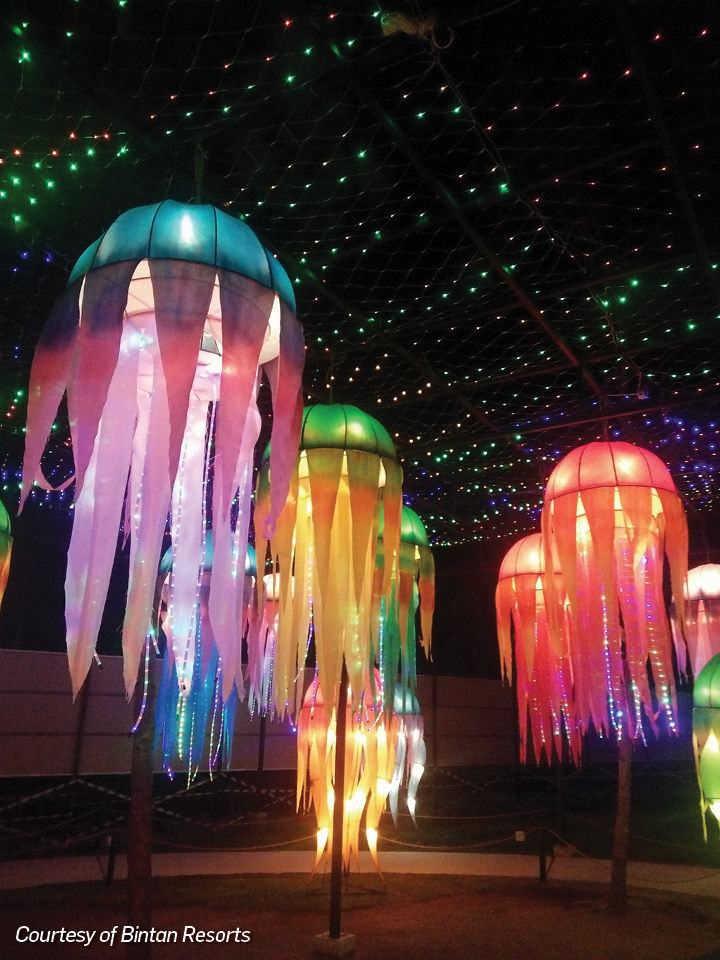 Book the two-bedroom Island Family Suite at Angsana Bintan that features a spacious living area, a dining room, and jacuzzi. In the afternoon, families can gather for table tennis, pool, darts, or board games at the rooftop recreation deck of the resort. The nearby 18- hole Laguna Golf Bintan is also ideal for golf enthusiasts. Play a part in improving Bintan Island's ecosystem by participating in coral planting and the release of young turtles. Visit the resort's Marine Conservation Lab to find out more.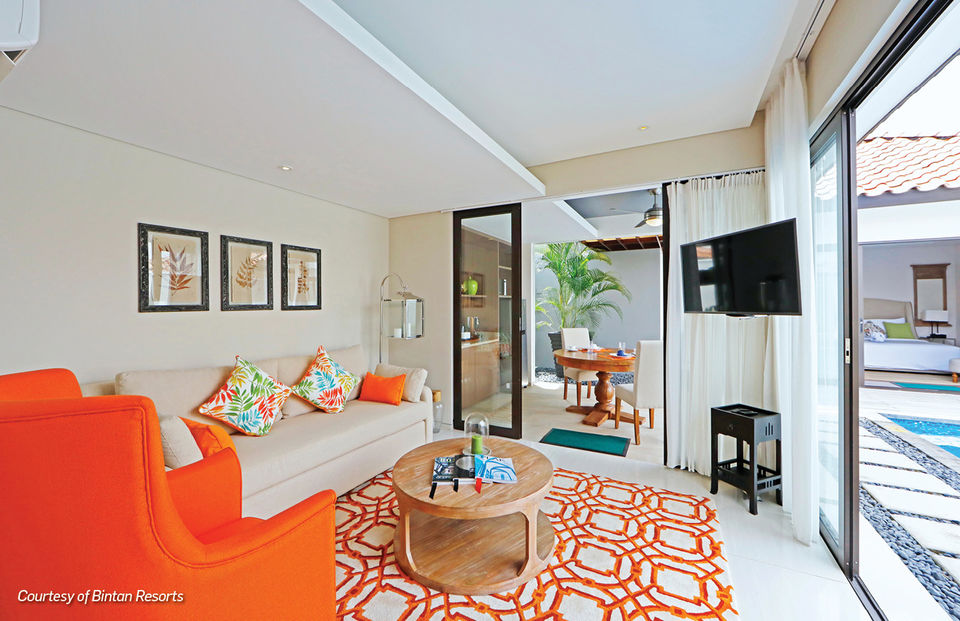 Spanning over 800 acres, Nirwana Gardens is an integrated business, leisure, and event destination that offers five different accommodation options for guests. The Nirwana Resort Hotel is perfect for small families travelling with children. Each room or suite looks out to the landscaped gardens, the South China Sea, or the swimming pool.
Couples will appreciate a peaceful stay at the beautiful thatched-roof chalets of Mayang Sari Beach Resort which is conveniently located just along the beach. Adventure enthusiasts can check in at the Nirwana Beach Club that offers 42 brightly-coloured cabanas and easy access to The Beach Club with exciting water sports. For larger families, the Banyu Biru Villa offers 15 double-storey villas fully furnished and equipped with kitchen facilities. Perched on the hills overlooking the South China Sea, each villa of the Indra Maya Pool Villa is elegantly furnished with a private pool, courtyard, and separate living and dining rooms.
Club Med Bintan Island This 311-room property caters to every kind of traveller: from gourmands to wellness junkies. The resort also hosts a range of artistic and cultural activities for kids from as young as two years old. Choose from an exhaustive list of treatments to pamper yourself at the spa The Canopi.
The Canopi is popular as a 'glamping' destination where one can access the comforts of modern day luxuries in a safari tent. It sits right next to Crystal Lagoon, the largest man-made salt water lagoon in South East Asia. Guests will be spoilt for choice by the exciting range of water and land activities available, such as cable skiing, kayaking, jetovater, bumper boats, electric scooter and ATVs.
Holiday Villa Pantai Indah A villas-only resort, the tastefully appointed Holiday Villa Pantai is set on the eastern quarter of the Lagoi Bay, ideal for families as well as couples. It has a private beach overlooking a cluster of three small islands rich with marine life; excellent for snorkeling and scuba diving.