Another one crossed my bucket list.
Total cost: 10500 NPR (8500 for paragliding 2000 for pictures which is optional)
Total time taken: 3 hours
Paragliding especially in Pokhara has always been on my bucket list. Why? Just imagine you are literally flying in the sky to see the whole city on one side and lake on the other. And all this surrounded by the all highest ranges like Annapurna Range. YEAH! That's why.
As said in the before post this was a family trip, and we exactly did not plan any itinerary in Pokhara. So on the first day we were strolling on the main shopping road in Pokhara and came across 'Sunrise Paragliding'. My sister said it was one of the best in the city. We did not hesitate to go inside and ask minimum information. Lucky us there were exactly 2 empty slots that can fill us in. so within no time we filled our information and paid the money.
On the day:
We could only book a slot at 11 30 am. So our reporting time at the 'Sunrise Paragliding' was by 11 20 am. As soon as we reported we met with the people who we will be flying with(I forgot the name of the person who flew with me). We were 8 in total (4 beginners+ 4 experts who tag along with us). So we started at 11 40 am in a jeep to Sarangkot(the famous hill for paragliding) which takes around 15 to 20 min. So the jeep stopped at almost 3/4 th of the mountain.
After we were buckled up and the person who flies with me explained how it works. Well I was totally blank when he was explaining as I couldn't even dare to see down the mountain forget about how it works. So the wind has to flow in a particular position to fly, so it might take around 30 min to understand, sync the running with flyer, and the wind to happen simultaneously. I had few problems in the starting. But as soon as we jumped from the hill into the sky everything was mind blowing. The pictures says all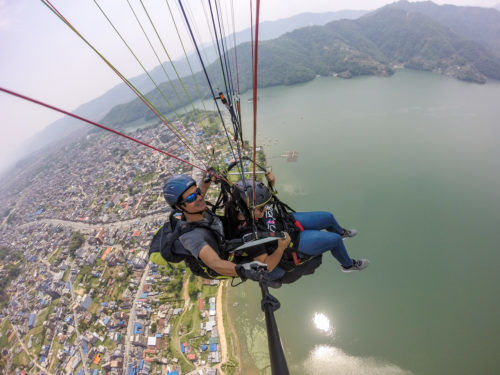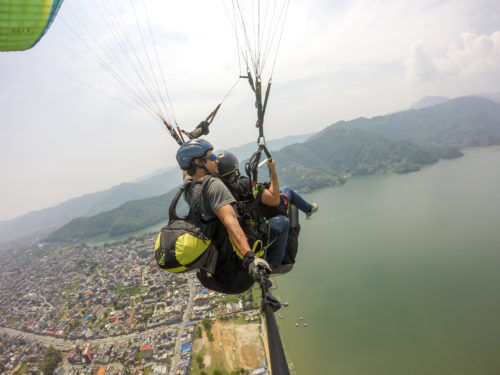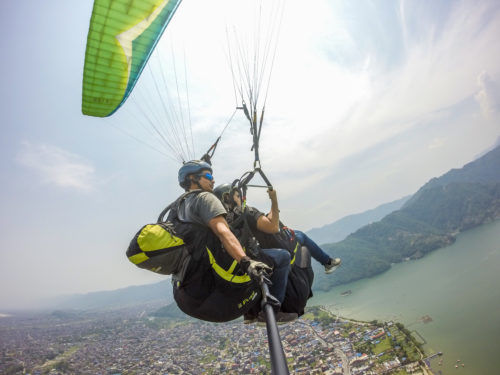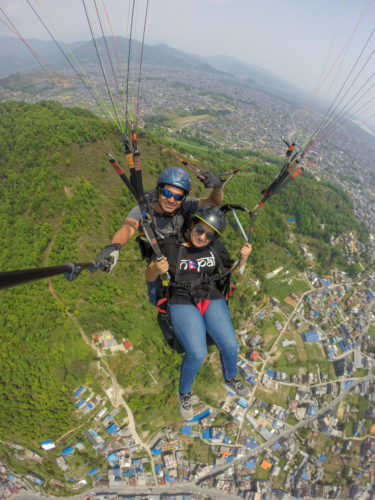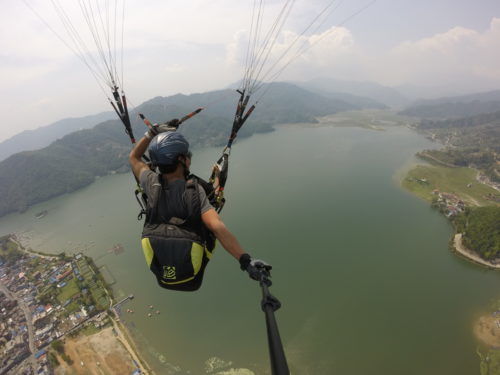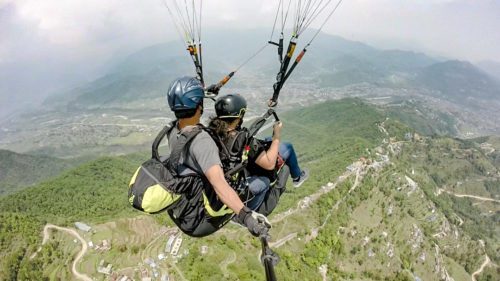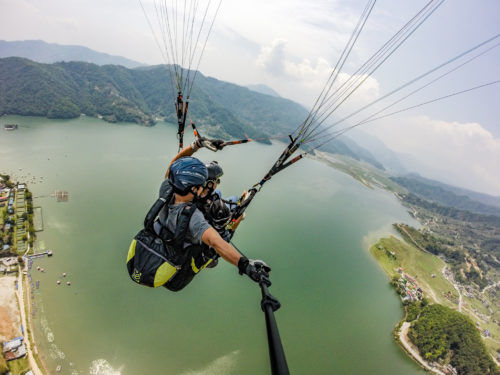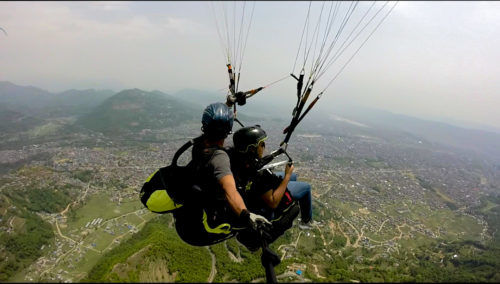 So we will landed down the hill adjacent to the lake and again from there we went back to Sunrise STORE. Collected our pictures and videos at the desk.
So the weather in Nepal is totally unpredictable so the day we were paragliding it was cloudy so we couldn't see the Annapurna range. The management at the store said the best time to visit and see the Annapurna range was in October and November. So if everything works good, i might come back and experience this all over again.