8:55 PM 13th March 2020 - It's been 20 days since I have returned, and pretty much the town life that I didn't find an apt mood and time to write this one until now.
Finally, here I am today, Thanks to the Coronavirus outbreak that I had to cancel travel plans to my hometown and steal some time finally.
88 km trek, 6D/5N unusual climate, and 1% Hope - that's all I am going to talk about in this blog.
I booked this trek with a small trekking organization as it will be known to a smaller fraction of trekkers. Being a solo traveler, all I wanted to do was trek alone, walk those paths alone and, have that stillness all for myself. Though, it wouldn't have been possible on such group treks.
And, Guess What?
On reaching base camp in Manebhajang, the guide informed me that all the other bookings were either canceled or shifted to other dates, so I was the only one on the trek. Lucky isn't it! Therefore, a solo traveler again.
Except trekking solo means there will be no special porter or help involved on the trek. It was just us, me and my trek guide.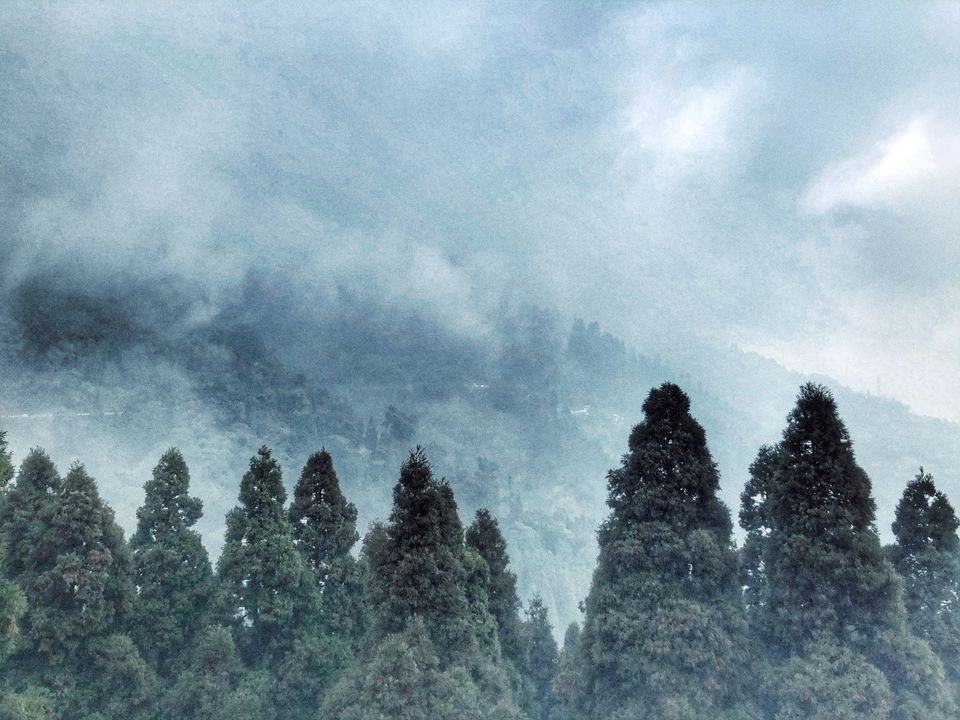 Day 1 - 11km, 6 hours
Would it be righteous if I say, Day 1 was pretty easy. Certainly, because it was just the first day, and we had covered only 11/88 km. Consequently, it wasn't a big deal, for any trek isn't complete until you are back to the base camp.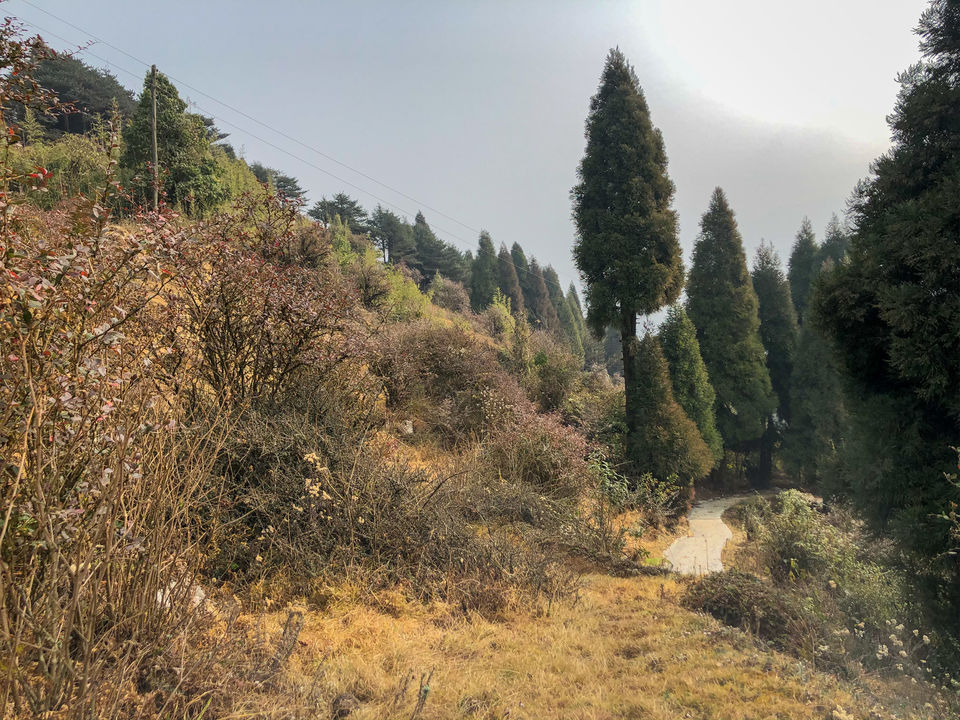 On the other hand, My guide looked pretty amazed while mentioning only once in many such treks they get such good trekkers! He said, even he couldn't match up with my step, to which I giggled and responded, I would be really happy if you say this on the last day of the trek as well! With a comforting look, he replied, you are going to walk the same throughout the trek. Talking about the views, one of the reasons I choose this trek was the view it offers. But every trek has its landscape, isn't it? It won't be fair to judge a trek solely by its scenery, or by the ranges, one gets to see. As what you might see today, might not be visible to another person another day as the weather on such altitude keeps changing colors like a chameleon.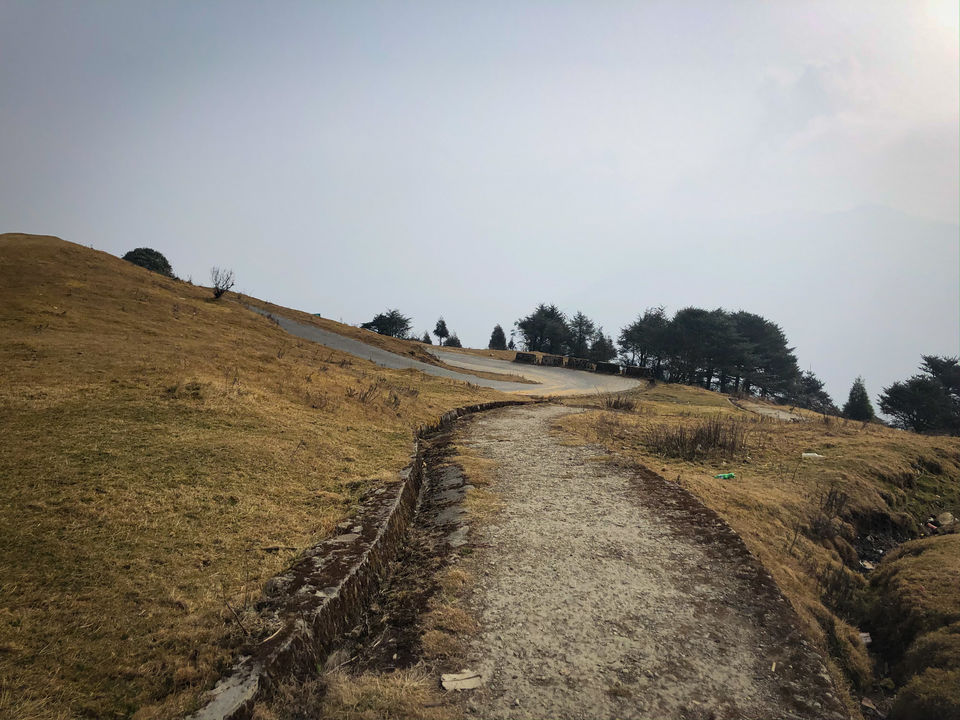 Moreover, why am I saying all this? Because on the first day of the trek, it was all misty around, the only thing which accompanied us throughout on the first day was mischievous clouds, sometimes dense sometimes pretty flimsy. Always there.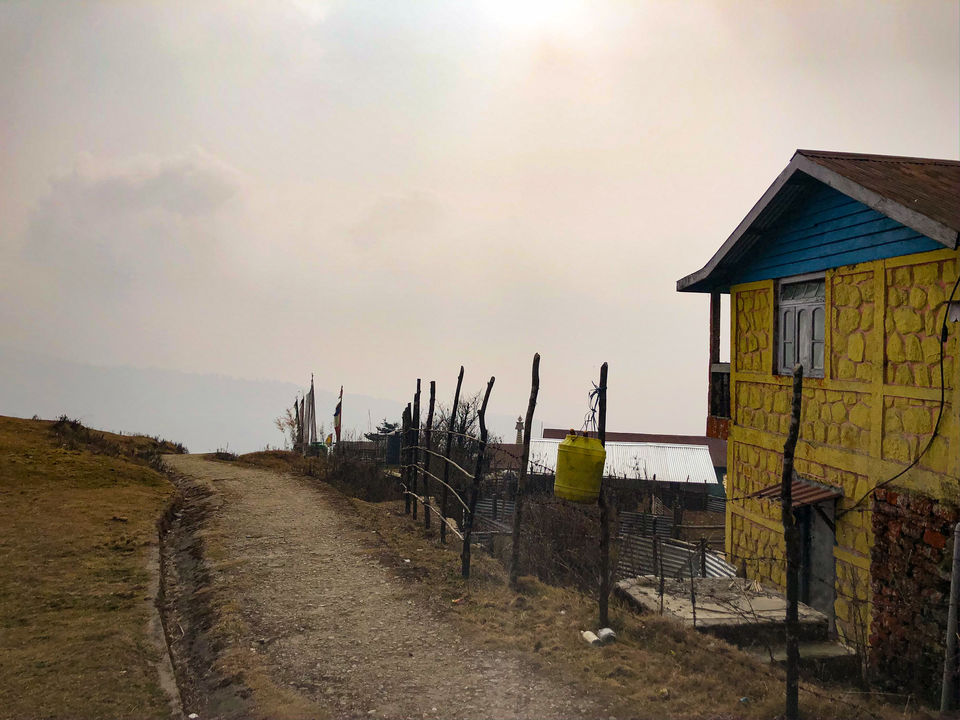 Ideally, the first day of this trek has good views of Mt. Kanchenjunga except I didn't get a flash. Still, I wasn't disappointed because I had 5 more days. During all this time waiting for the clouds to get clear, I was enjoying my bit with things around, exchanging smiles with locals, sometimes talking non-stop and other times enjoying my art book with relaxing music. Travel Learnings Part 1 - Enjoy and Love whatever little you have.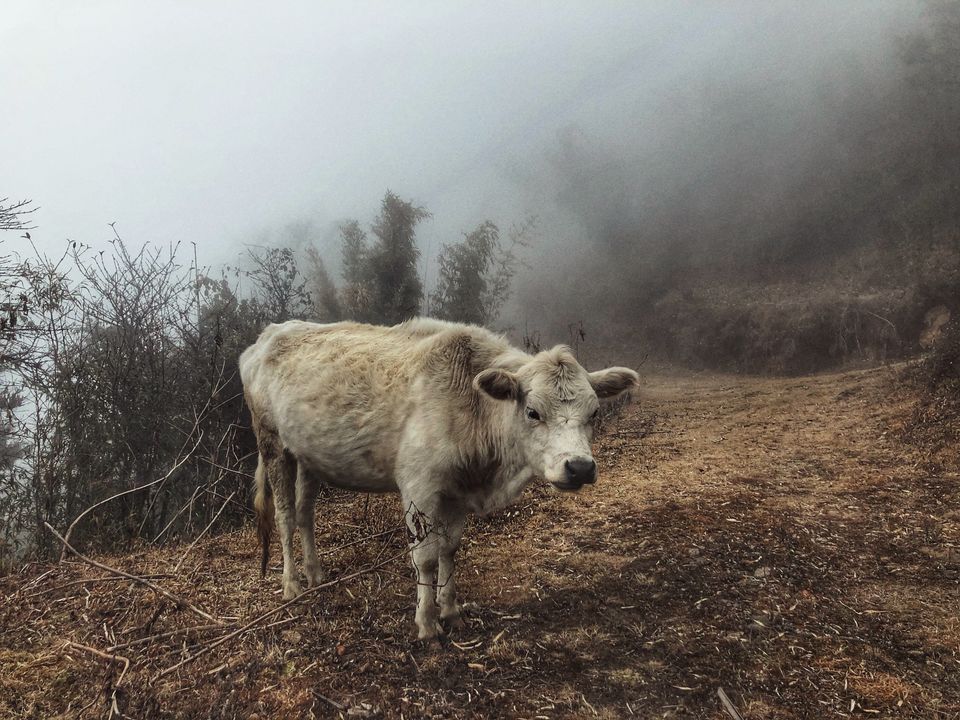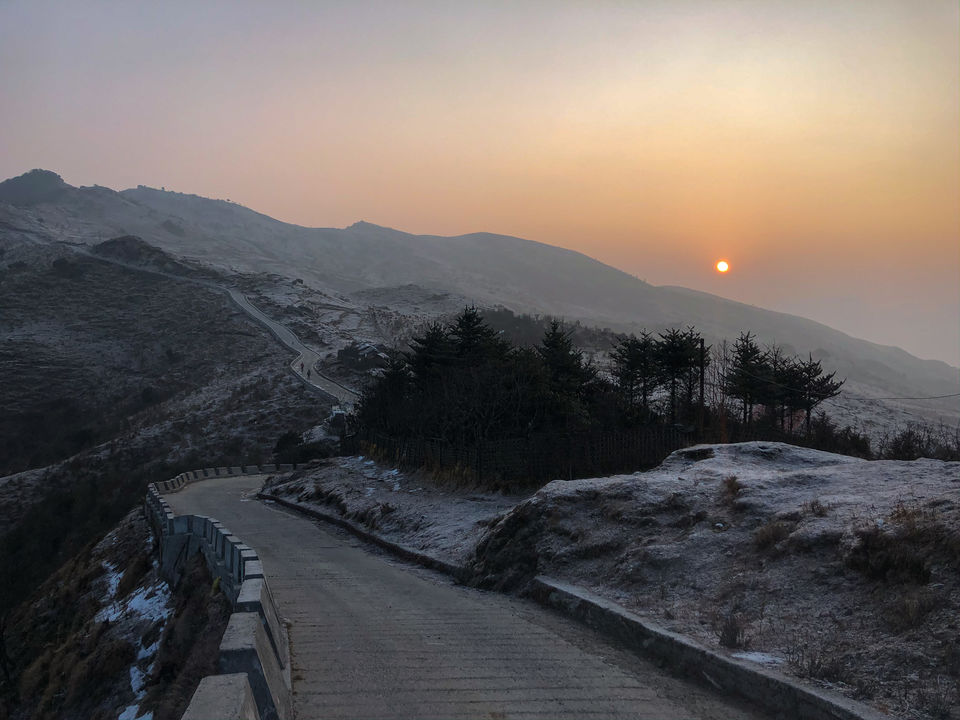 My legs worked pretty well this day, better than the previous day. Plus, we covered 14 km in less than 6 hours, giving approximately 2 hours for tea and lunch. Yes, that's a long break because I love to travel slow.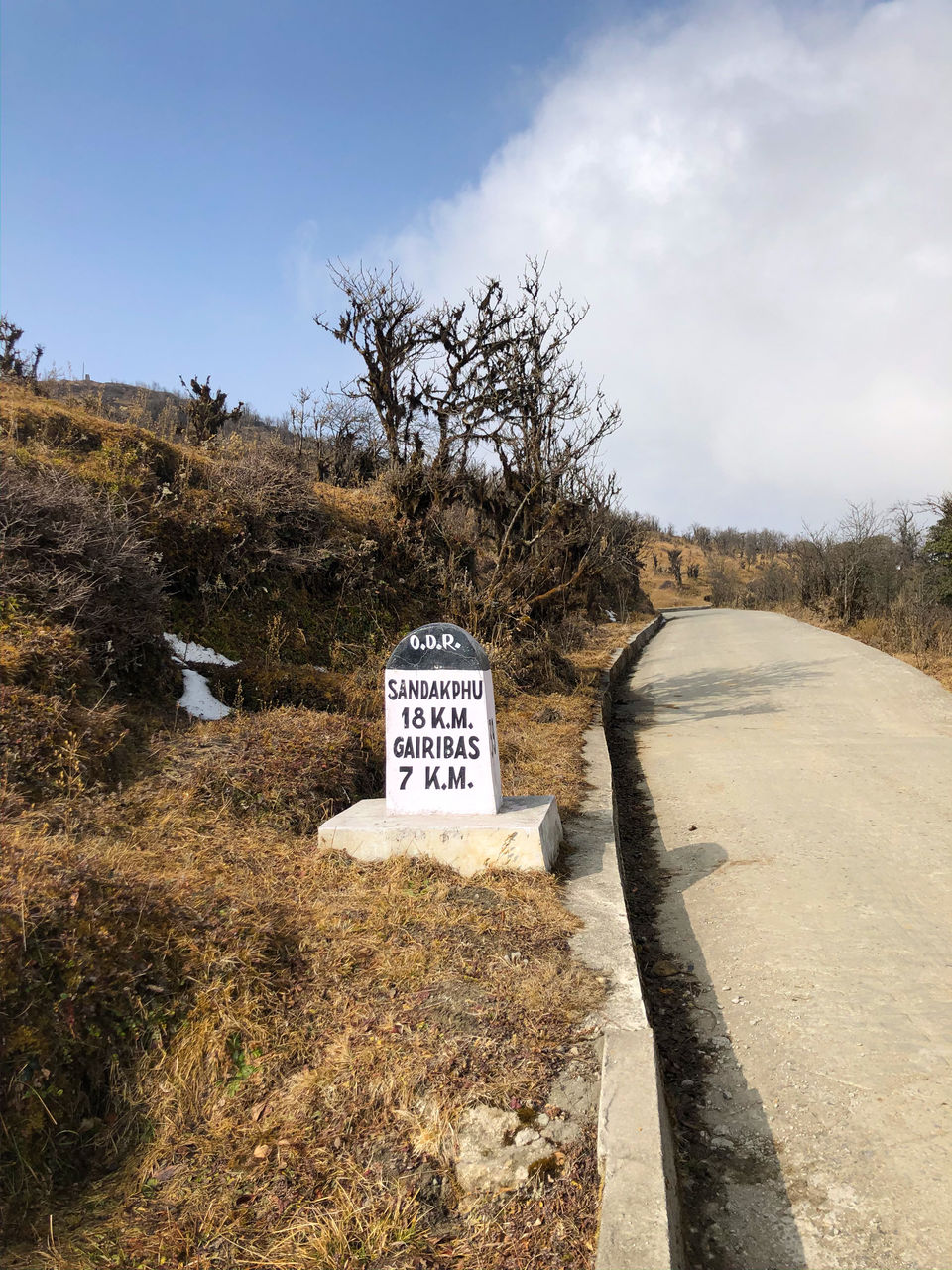 Though weather was being unpredictable every minute, I was soaking in the typical Nepali vibes as the trail on this trek flirts exquisitely with dainty Nepal villages. My mood for the entire day was reflected in the colors of my drawing, that I painted every dusk on reaching the homestay. The overall tone of my picture came out to be disturbing on the second day. As to no matter how much ever I was comforting myself, I was upset and frightened of the fact that the weather was only getting more unfortunate day by day.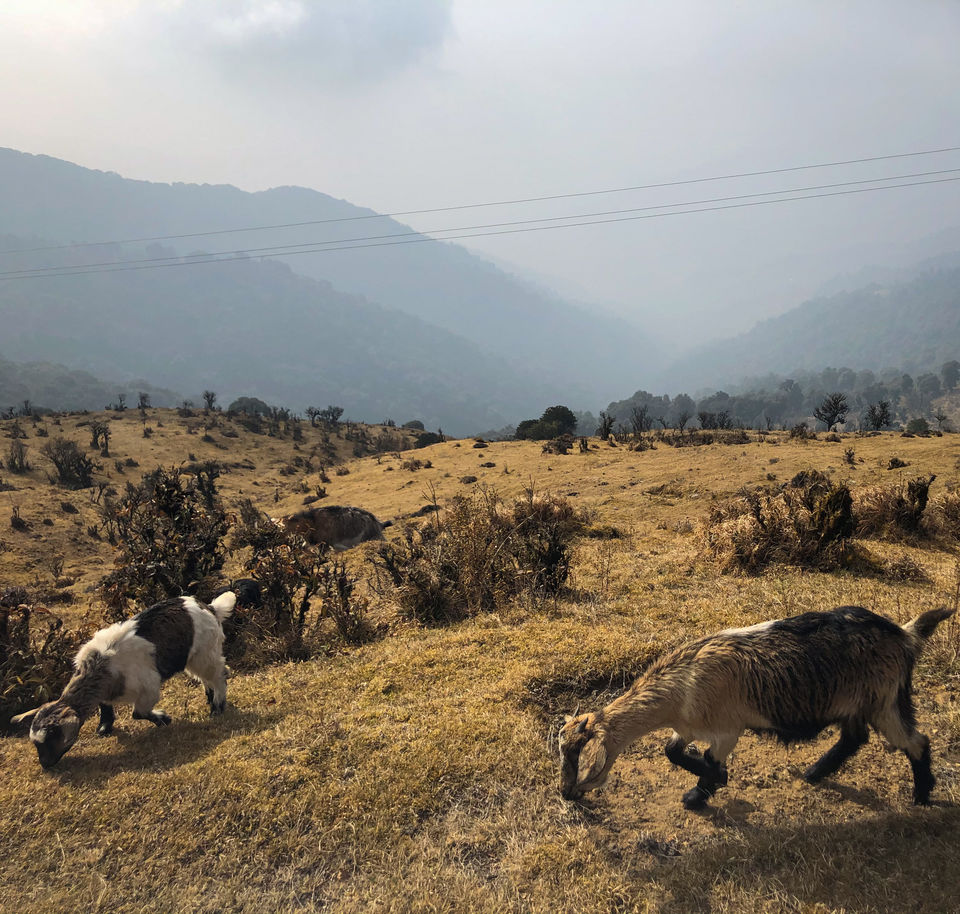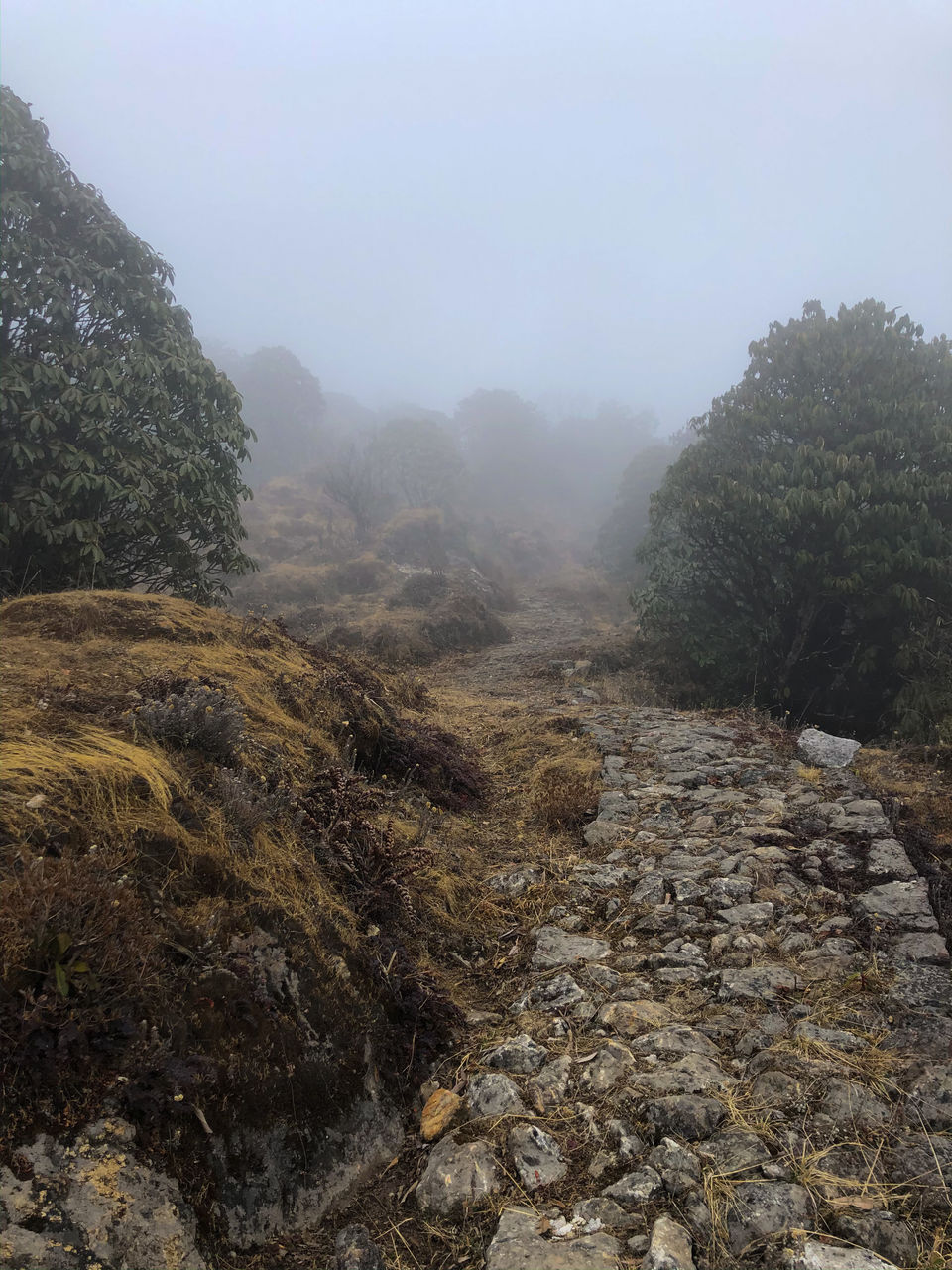 Day 3 - 8 km, 2.5 hours - Ahl Village
Yet another 7 km covered with dense fog and clouds which kept following us. We reached Sandakphu, the first spot on the trek that offers a panoramic view of 20 mountain peaks including four of the five highest peaks in the world. I was numb, as none of the peaks were visible. I couldn't gather the courage to stand at the viewpoint. I went inside a shop nearby and asked for a cup of coffee and spent some time there recollecting myself.
Our homestay was 1 km ahead of the viewpoint. After spending an ample amount of time at the shop, we left for the homestay. I guess, my guide noted the grief on my face, while we were walking he said, 'Areh koi baat nahi, abhi 2 din or hai humare pass.'(Don't worry, we have two more days)
To which I gave a gloomy smile. I walked slow and broke. That 1 km seemed the most difficult walk of my life. I didn't want to look around, I didn't want to think anything yet I was dubious about the idea of God bringing me on the trek with such weather condition. It got windy and dense, soon there was snow on the trail. My facial muscle contracted in pain trying to control those tears and shortly tears started rolling down my eyes, I was crying. I settled before my guide could catch me.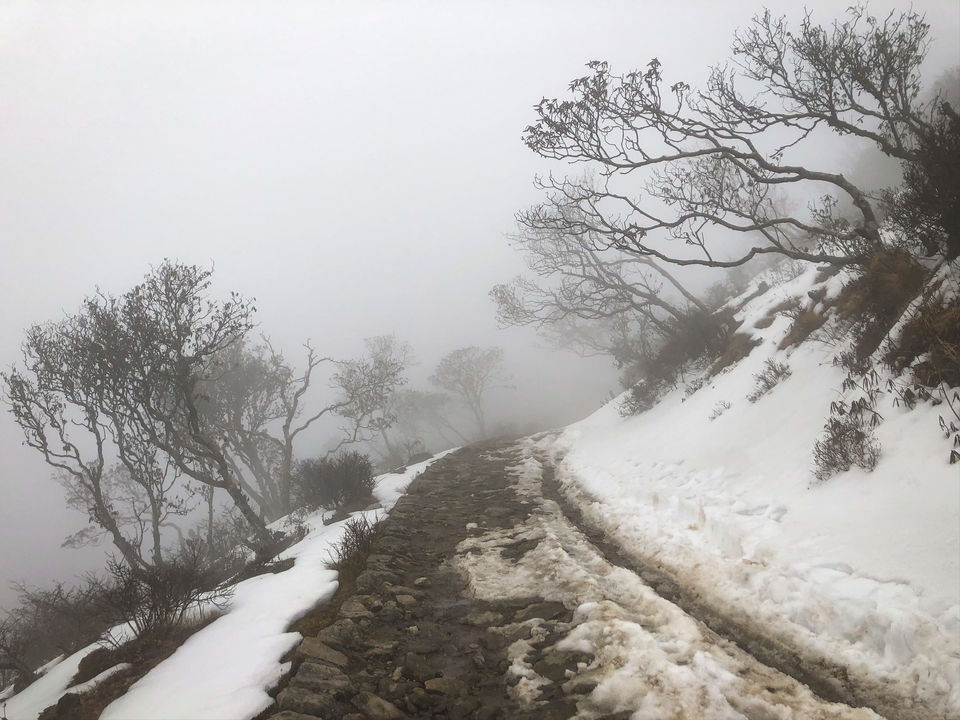 The homestay was packed with a group of 14-15 trekkers from a renowned trekking organization. That evening I couldn't sit alone, I didn't join the group either. I didn't paint as my mind was troubled and my heart was sad.
I went inside the kitchen where there were 6-7 male members including 2 trek guides and 2 porters of the group, 1 cook, 1 homestay owner, and my guide. I spent the rest of the time, sitting in the kitchen, chatting with everyone. From our conversation, one thing was sure, I made money to travel and they made money while traveling and staying close to nature. That's what the man from the homestay pointed out. It hit me hard, to which I replied, 'Aap log toh lucky ho.' (You guys are lucky)
Sitting by the hearth getting some heat and, cooking a meal for approximately 25-30 people, soon each one of us was our best.
A part of me was still worried about what the next two days have in store for me. It was 8:15 pm, I was done with my dinner when the eldest member (42) of the team came to me and said, 'Stars dekha bahar?' (Did you see the stars) I rushed outside. As soon as I stepped out, I was held back. There was no one outside, I felt a strange silence as if the night was whispering something in my ears through the winds. Staring at the moving clouds, I pleaded for the weather to get clear before the trek ends. Oh, wait! What about the stars? Yes, I skipped the reason as to why I was standing there. Quickly, I looked up in the sky. I was spell bounded. I had tears in my eyes and a tranquil smile on my face. This was the most number of stars I had ever seen in my life. 'A Sky Full of Stars', truly!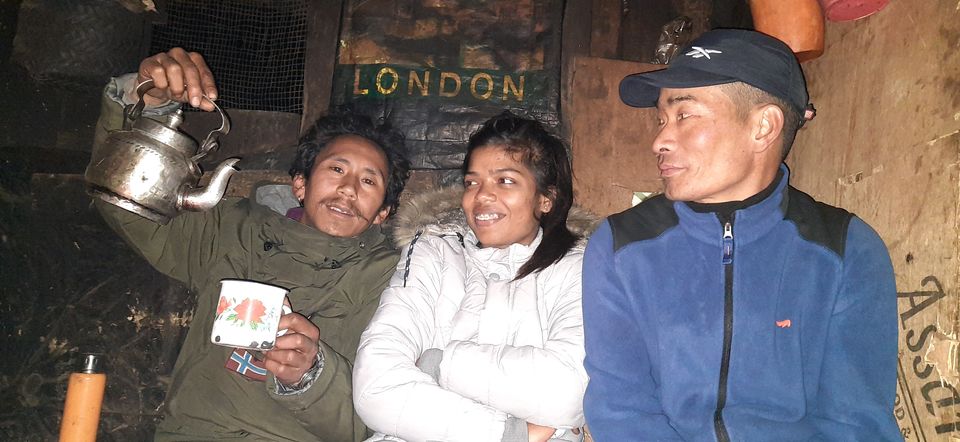 Day 4 - 16.5 km, 5 hours - Sabargram Village
Trekkers of another group slept forthwith last night deciding they would wake up early for sunrise. On the contrary, I couldn't sleep well, for the very little time that I did, I woke up to an odd dream and all I knew was nobody is going to get a glimpse of sunrise. Soon, everyone was awake by 5:30 am and complained about the unfortunate weather. My dream came true literally.
While I was getting set for the day, the rest of them were debating on not moving further as there were chances of a thunderstorm. It was risky considering there were no settlements en route.
Locals in the homestay asked me to stay as well stating it would only get more critical from here. They assured me that chances were limited for us to get a clear view. One of them even teased me, saying '3 din ho gaya na trek kar k trek guide ko chodh kar kuch view dekha kya aapne? isliye humare saath rukk jao agar dikhna Hoga yahan s bhi dikh jaega.'to which I gave a puzzled look.
I didn't want to quit. There has to be a reason for this trek if it is not Mt. Everest, it has to be something else and that reason cannot be unveiled without getting to the end of the trek, I said to myself.
Oh, I didn't tell you guys, right? Yes, It was Mt.Everest. It was my motivation constantly. It was wholly about seeing that highest peak in the world.
We were trekking for the past three days now, and for the last 33 km misty breeze followed us, causing the least visibility. It was 99% known fact that it was not going to get better for the next few days but that 1% hope got me going.
I and my guide left from Ahl with some packed lunch, whereas the group stayed back. With the kind of resistance, I was undergoing between my mind and heart, this 16.5 km was going to be tough mentally than physically.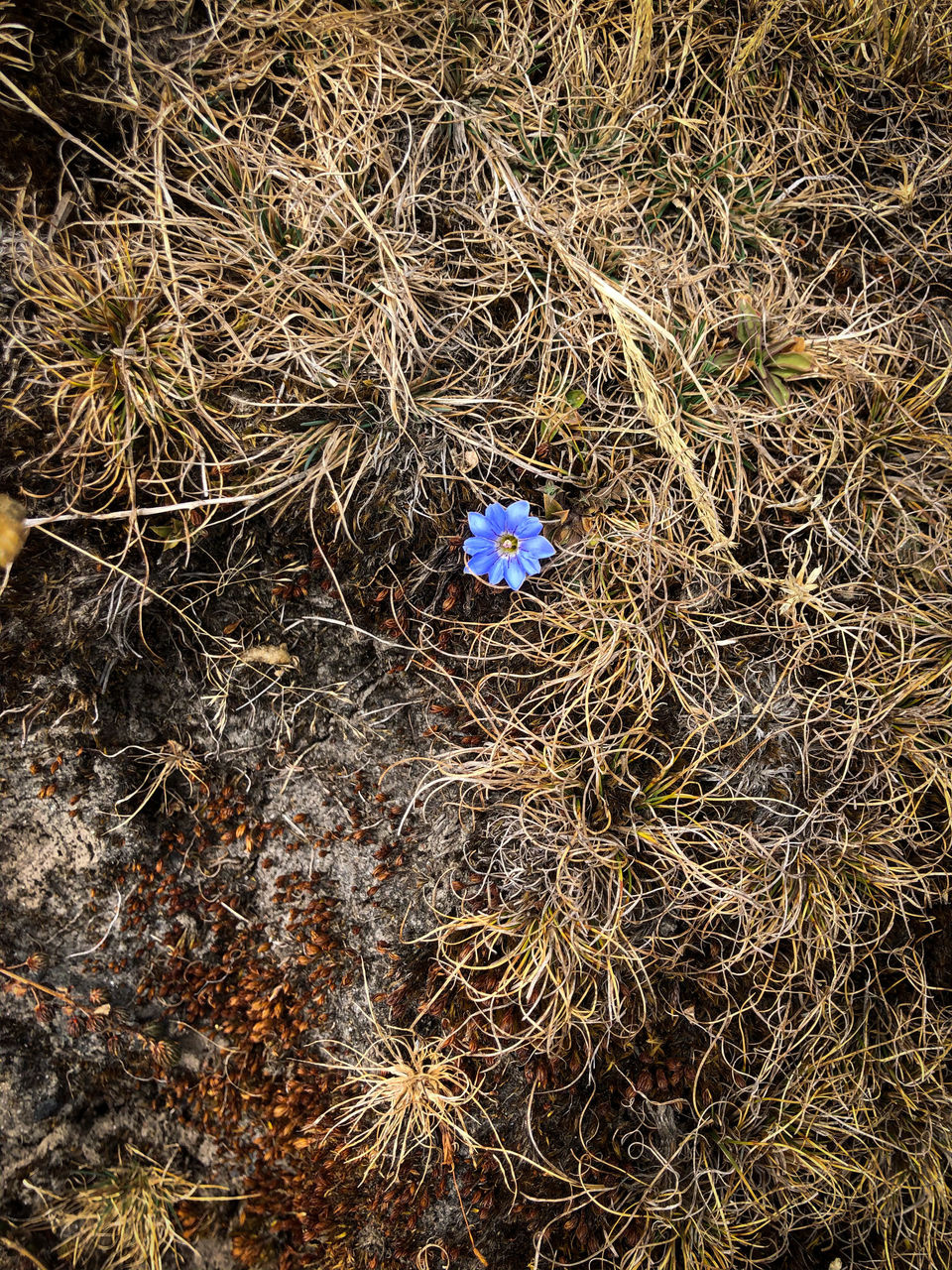 The trail was pretty easy though it seemed as if I was giving my everything to a nearly lost match with the belief of winning it still. Travel Learnings Part 2 - Never give up.
We left the homestay around 8:35 am and slowly the mist started moving in the opposite direction of our trail. Suddenly, the sun was shining bright on us. My guide said, 'mausam saaf ho rha lekin view toh dikhna mushkil hai iss hafte mausam aisa hi rahega.' (which ultimately meant that I didn't have a chance this time)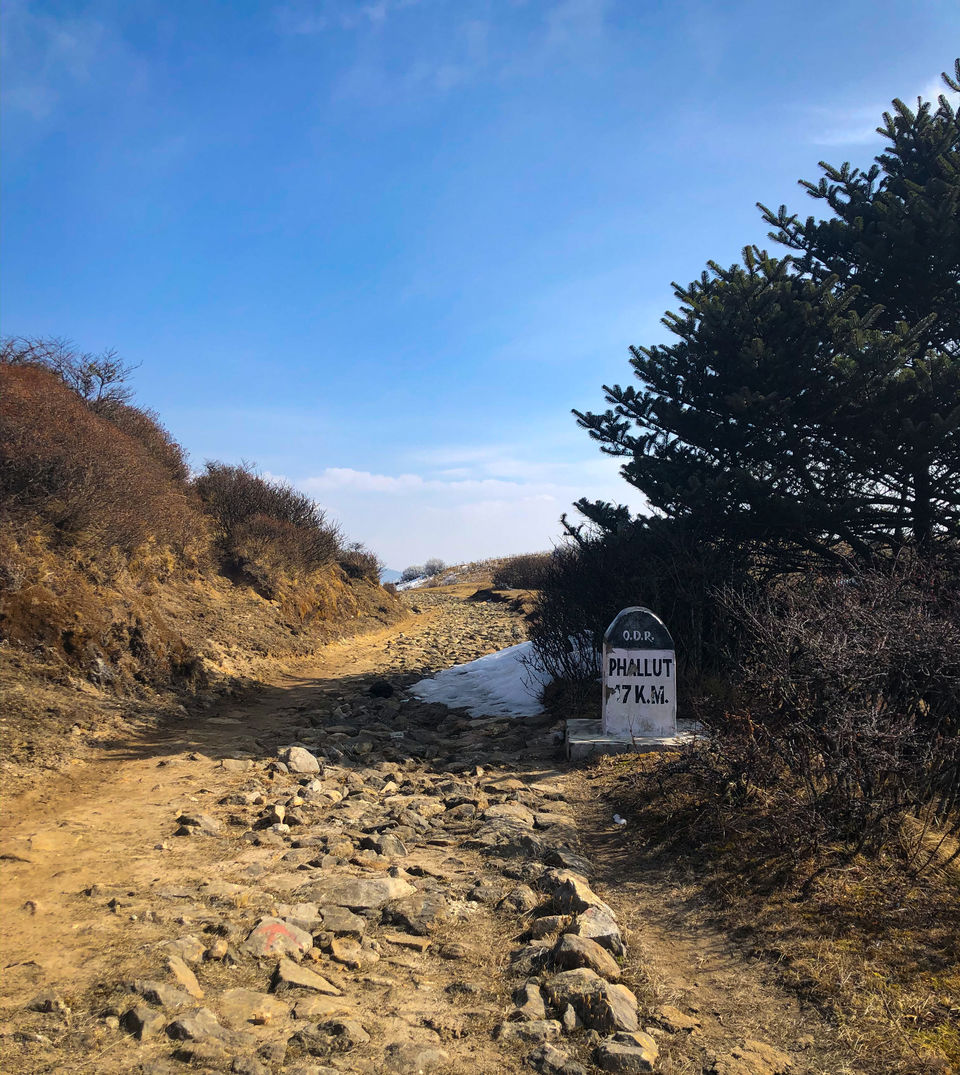 I was feeling oddly confident now, I avoided hunting for those peaks anymore and enjoyed the limited scenery around. At 9:05 am, my guide cried with joy, 'Somya wo dekho.' (pointing his finger towards the Kanchenjunga range, and pulling my cheeks at the same time, I guess he pretty much understood the child in me) I was seized by the moment physically and emotionally and just smiled back to him and the mountains. My faith was restored once again.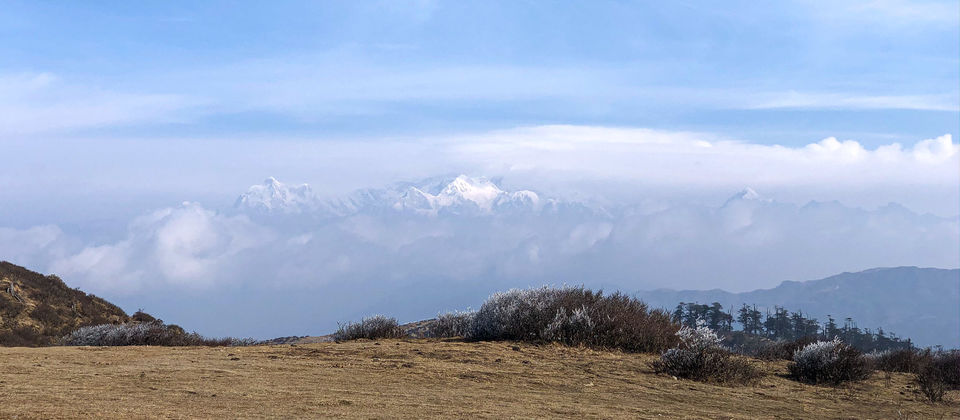 My guide took a small detour for me to get an unobstructed view. It was 9:15 am, I could see most of the Sleeping Buddha range, including Mt. Kanchenjunga, Mt. Pandim, Mt. Kumbhkarana. While the guide was involved in a dialogue with a yak herder, I stared at the mountains with my hands folded thanking them for showing off. I was happy yet couldn't celebrate it as my inspiration for life was camouflaged by the clouds.
And even before we left the spot, the curtain of the show dropped as if it played exclusively for us. It occurred like a lovely short dream.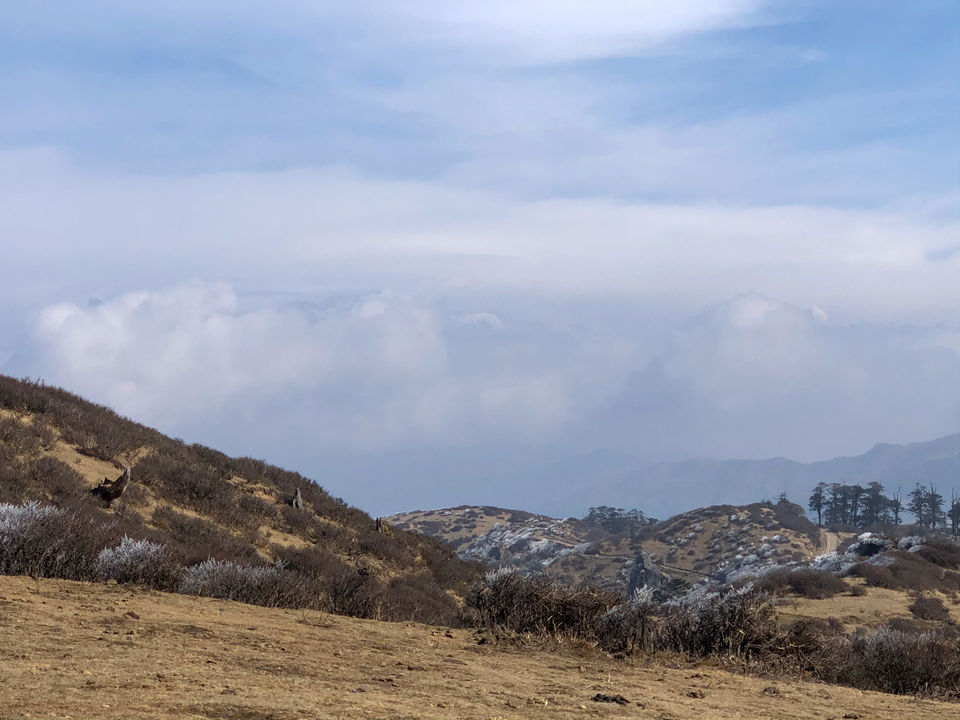 Our stop for the night was 14-15 km ahead. I continuously believed one thing, I am going to bag a lot of stories from this trip. Some which can be shared with the world and some other for which I might fall short of expressions.
Day 5 - Last chance to catch a sight of the Everest range. Did I get one? Read it here.