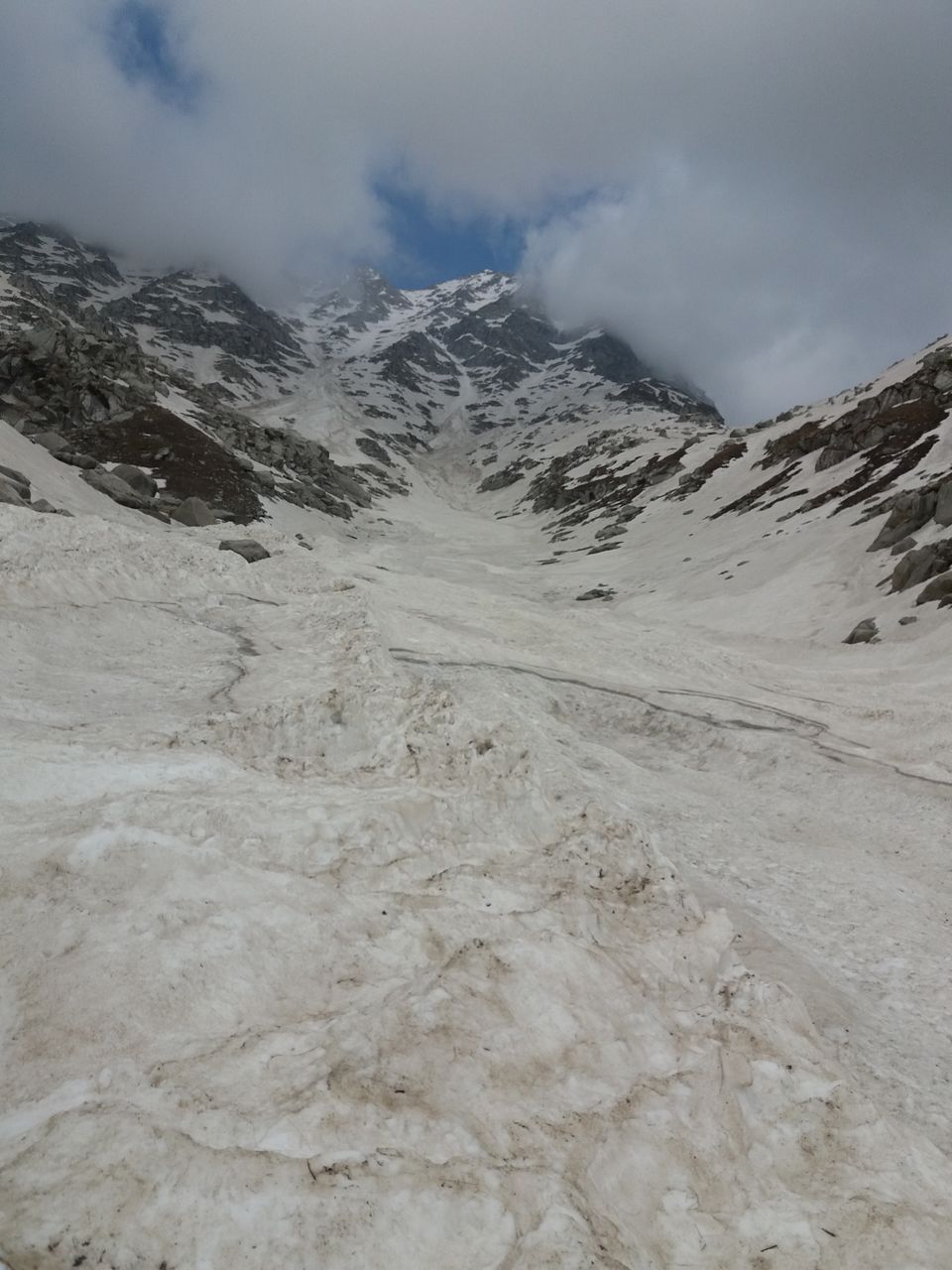 #CoffeeWithTripoto
Slips,slips and slips ; the only thing that were happening with my feet on the inclined treacherous icy(not snowy) route.
I was up against it, the odds to able to get to my destination were dipping with every fall I took.
Two of my friends had already reached the top with the help of the guide, three of them didn't even attempt.
I had tried everything on the slippery slope(more so with the slips from the group that went before) from making footholds for my legs as well as my hands, my upper body strength though was not up to the mark. Moreover I was tired from my adventures of taking the wrong route.
12 failures !!
Trekking pole was the one thing I was regretting not buying.
It had all started with a polite enquiry from Pallav (a new recruit to Adventure Club) in the stalls outside the thapar university gates after the Adventure Club meeting.
"We are going to Indrahar Pass, want to tag along?" Pallav asked
"I would definitely be there, if my plans of Kedarkantha do not go through."I said.(The plan for Kedarkantha was just something I knew wouldn't happen)
The date was 12th April 2017 when we had to make the leave. We had made arrangements for tents, food, burner, medical care,rucksacks; the only piece missing, a major one though were the sleeping bags.
The A/C buses were all filled up for the night journey to Dharamshala from Chandigarh days before the trip. Fortunately we got the Non A/c Himachal roadways bus 11 pm time only because Pallav took a journey to the bus stand in the afternoon.
Anyways we were off a company of six knowing so little about each other. For the two of them I had met just twice to discuss some things about the trip, one of them I had interacted with a little bit in the past year or so-tagged him along knowing he is a superlative trekker and he was showing enthusiasm to go on a trek, one of them I just met on the day-a friend of Pallav from school.
We stopped in the middle of the night for the bus's arbitrary one stop and we didn't see Vishal(the superlative trekker) anymore that night. He had apparently taken the Volvo to Dharamshala. (one seat vacated on our stoppage)
The familiar himachali town of Dharamshala, snow-claded mountains with was reached by bus at about 8 am while Vishal had reached an hour earlier.
Next was a bus ride to Mcleodganj which we reached by 9:00 am.( half an hour journey)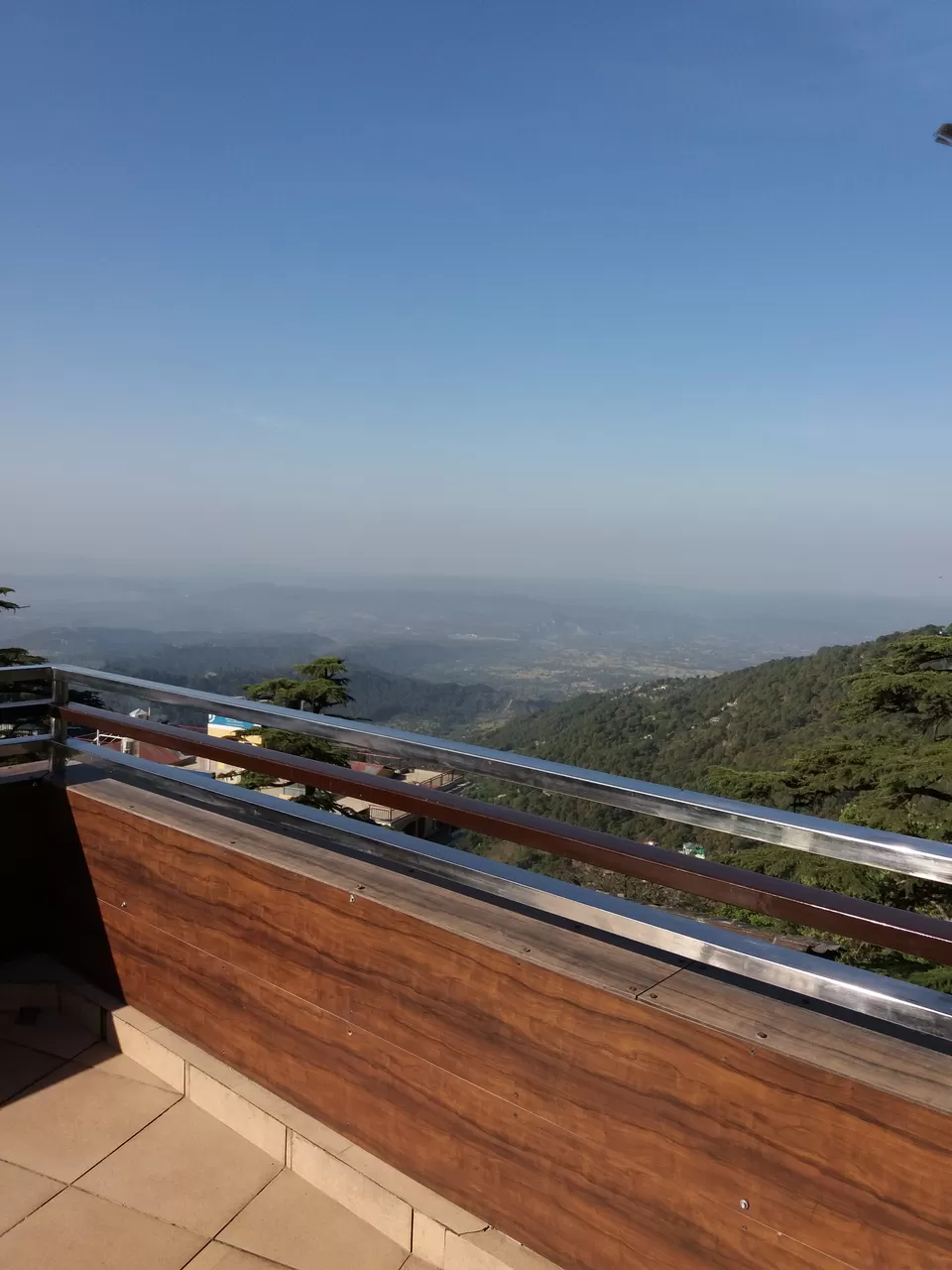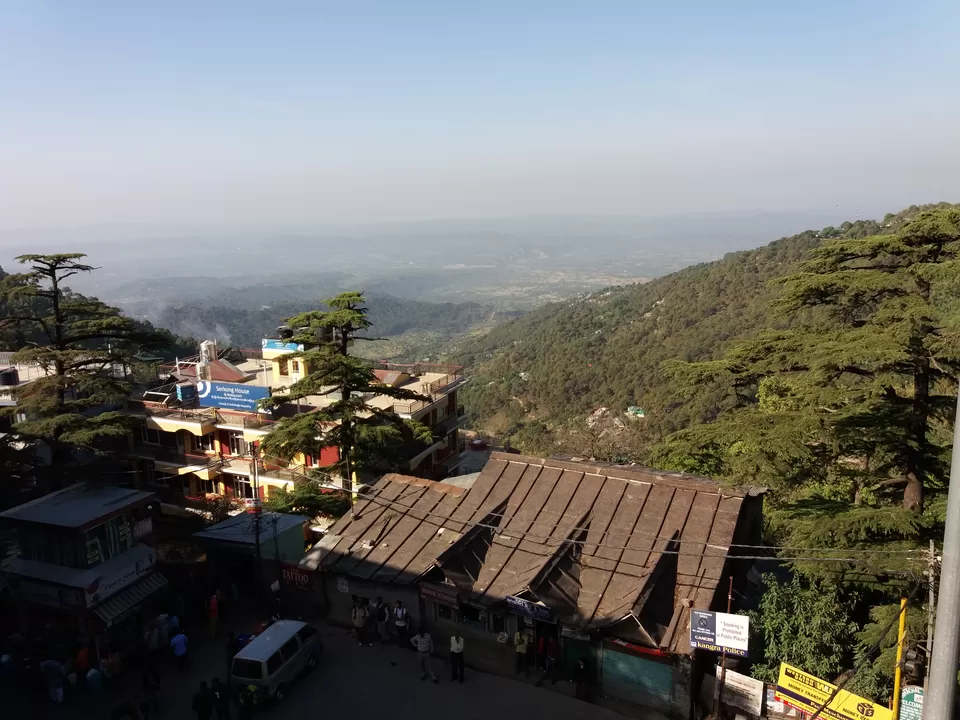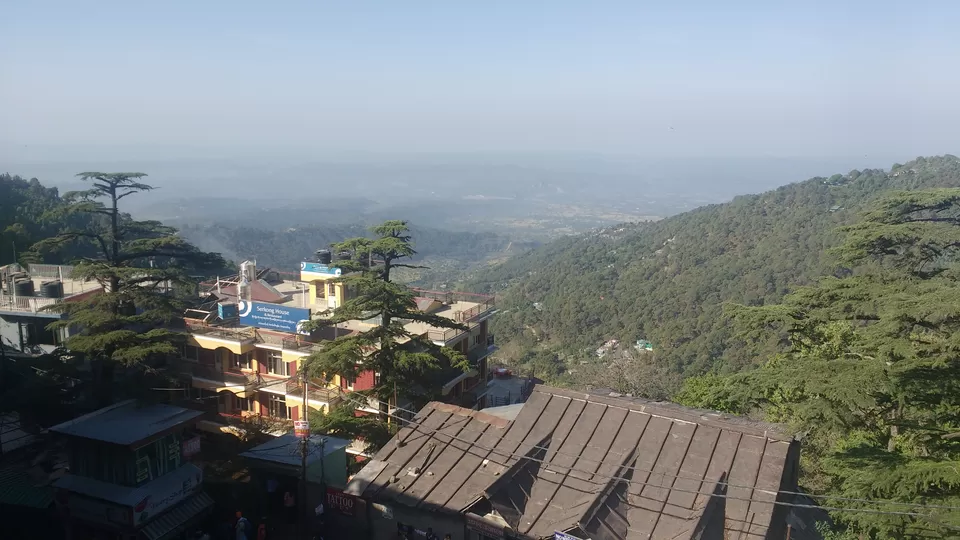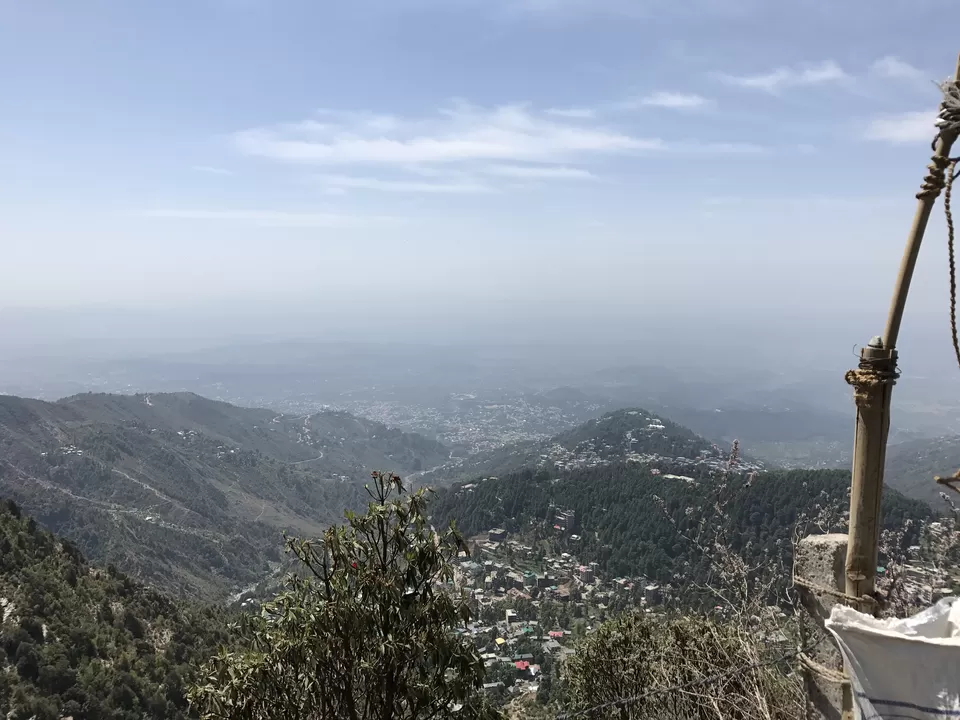 We still had one big problem to be solved sleeping bags(needed to get them from Mcleodganj as they have limited stock which are not provided at the top without tents; also they are expensive), it was not all unplanned obviously we had got some contacts for the sleeping bags but they were all going to dirt. One and a half hours on we were nowhere near getting going. And then all of sudden the sleeping bags got arranged, we got the taxi to Dharamkot at a cheaper rates than the usual ₹400( a hundred less) and best of all we didn't have to carry the sleeping bags we were going to get them at snowline.
11 am, the time we took to the rocky trail for Triund hills. This was the origin of where it had all begun, where my latent lust for trekking had come out. I had taken five more in the next six months.
More on my first expedition to Triund.
Vishal just took off, hit a different gear after we were together for about 5 minutes. He had been here before and it seemed like, it felt home to him.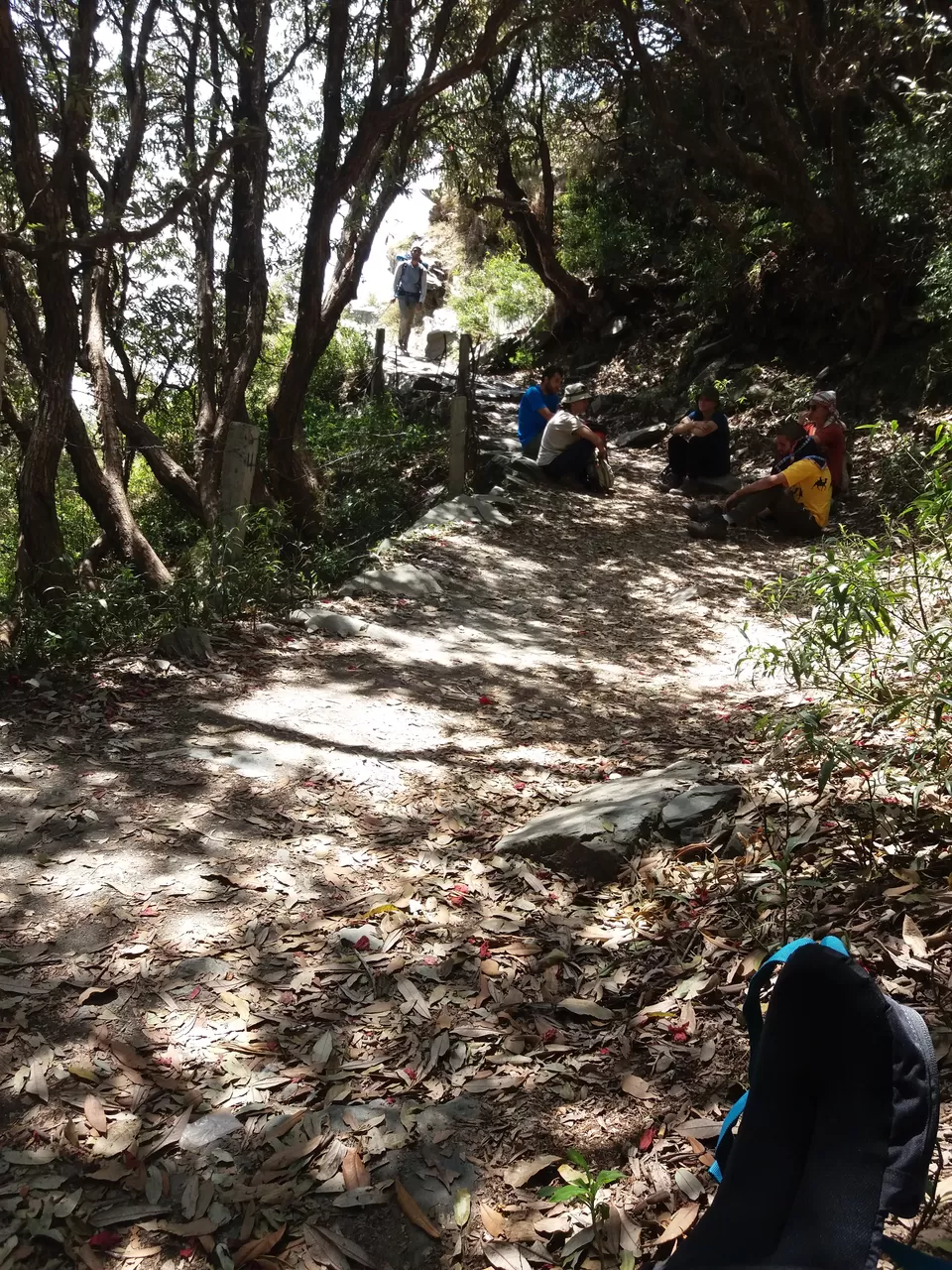 While Vishal was going at a speed which was putting the locals without rucksacks to shame. Two groups were formed - One included me, Pallav and Pranav(one of the two I met with before for discussion) and other included Anshuman(the one I met on the day) and Smacky(The other one I met before; PS: I don't remember his real name)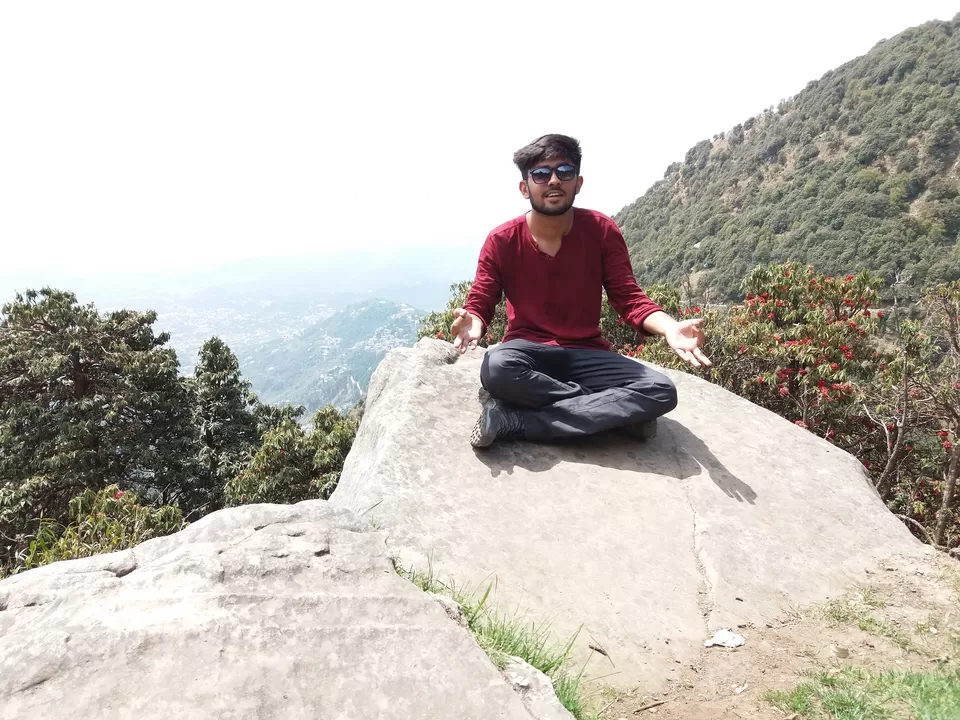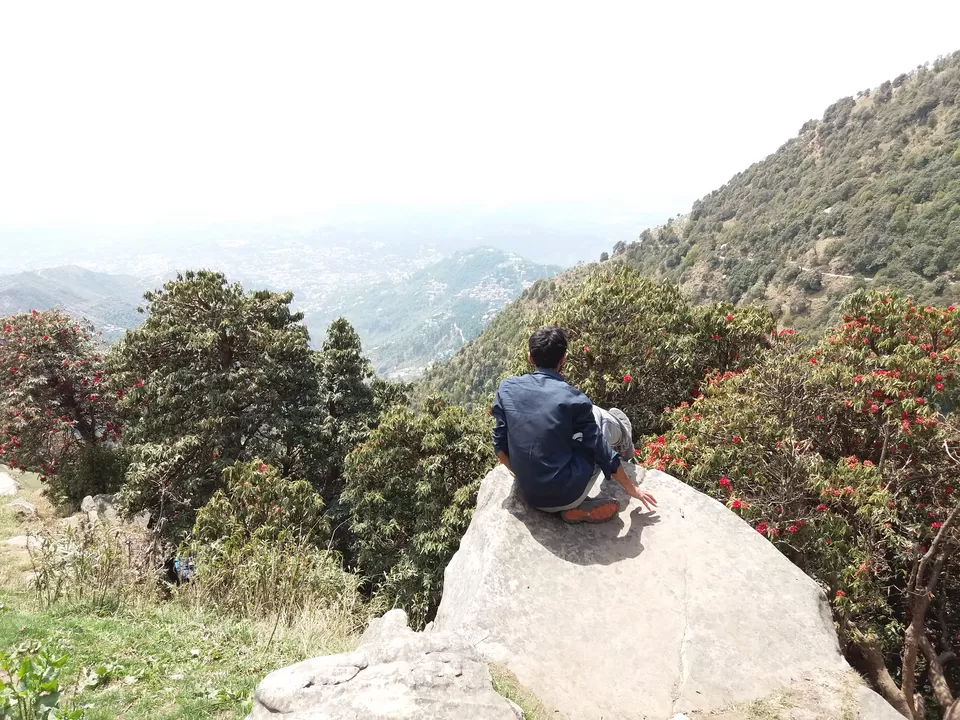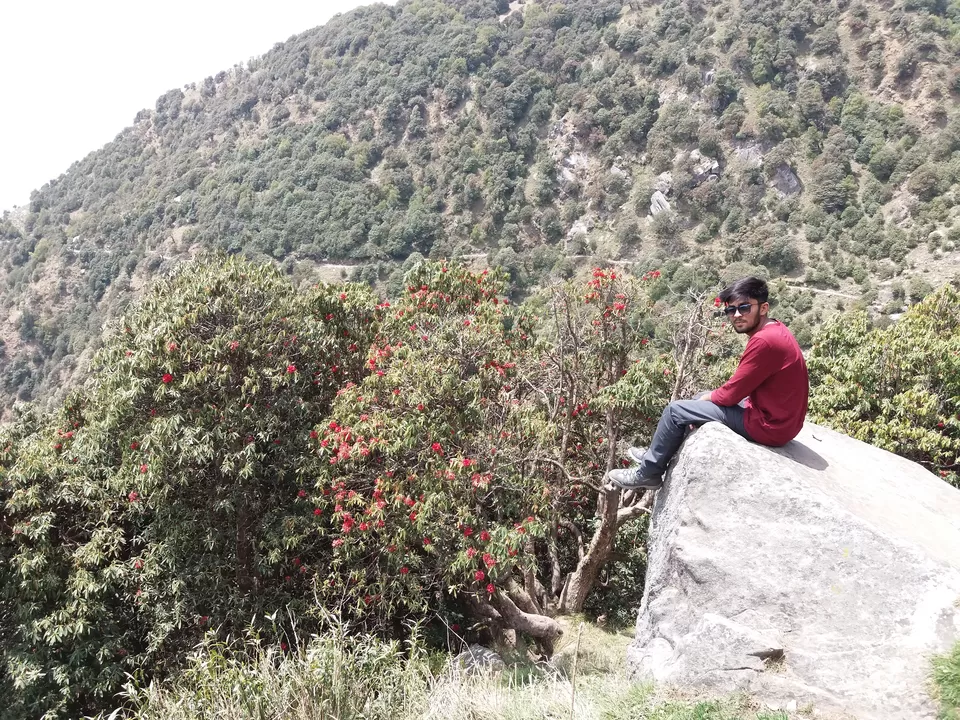 We(Pallav,me,Pranav) were the ones carrying the tents and other stuff for the trek but were still maintaining a better pace than the other group, they were nowhere to be seen or heard.
We had our fair share of uncomfortable events that should happen in the trek but we still faster than the time it took me last time to complete the trek when we had no rucksacks. It showed how far I had come.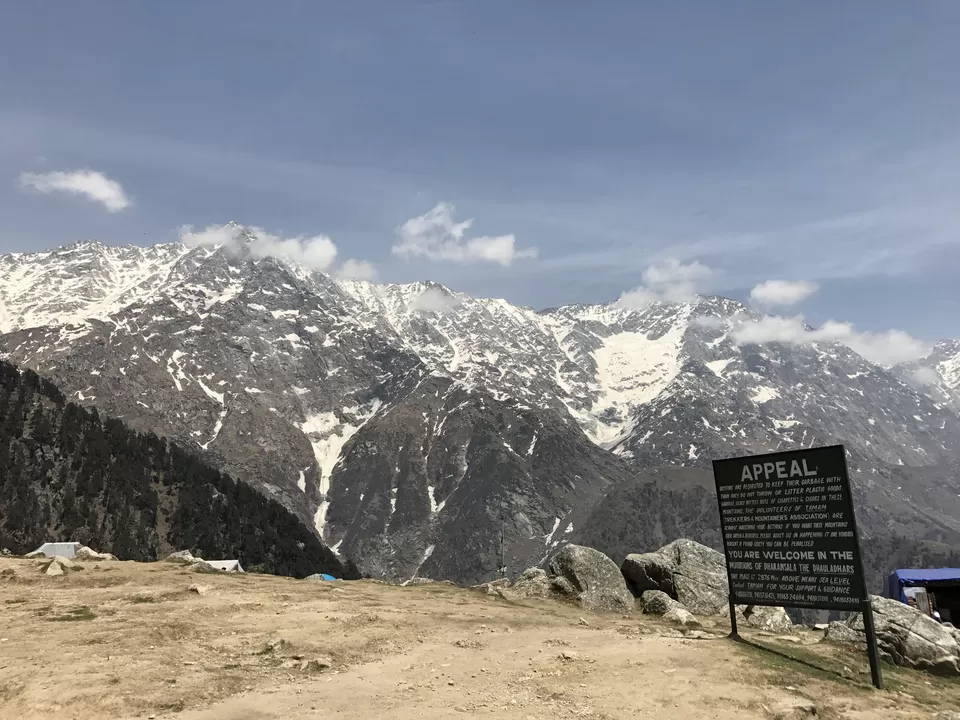 We reached the top at about 3 pm( 4 hours it took us) while Vishal took half the time.
We waited for around half an hour or so having a quick snack break in the make-shift shops with tents. Still there were no sightings of Smacky or Anshuman.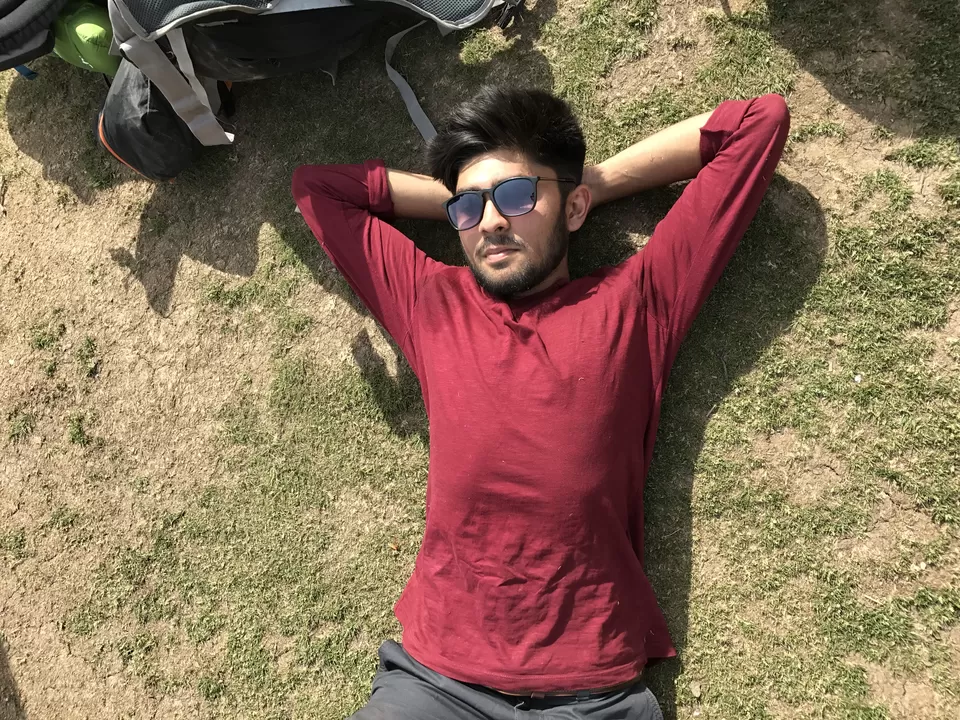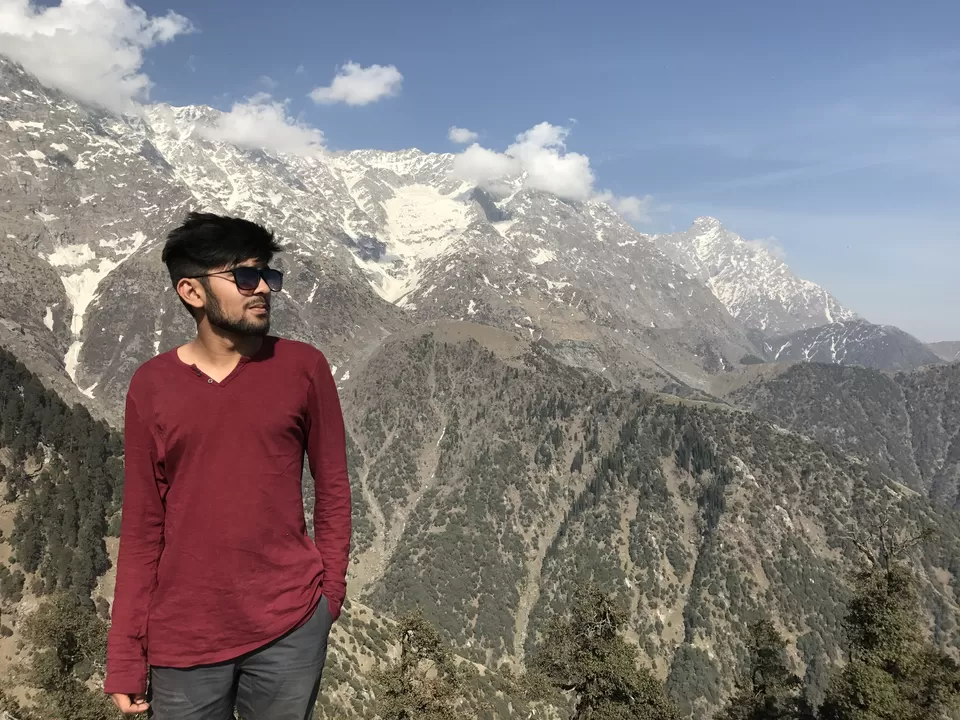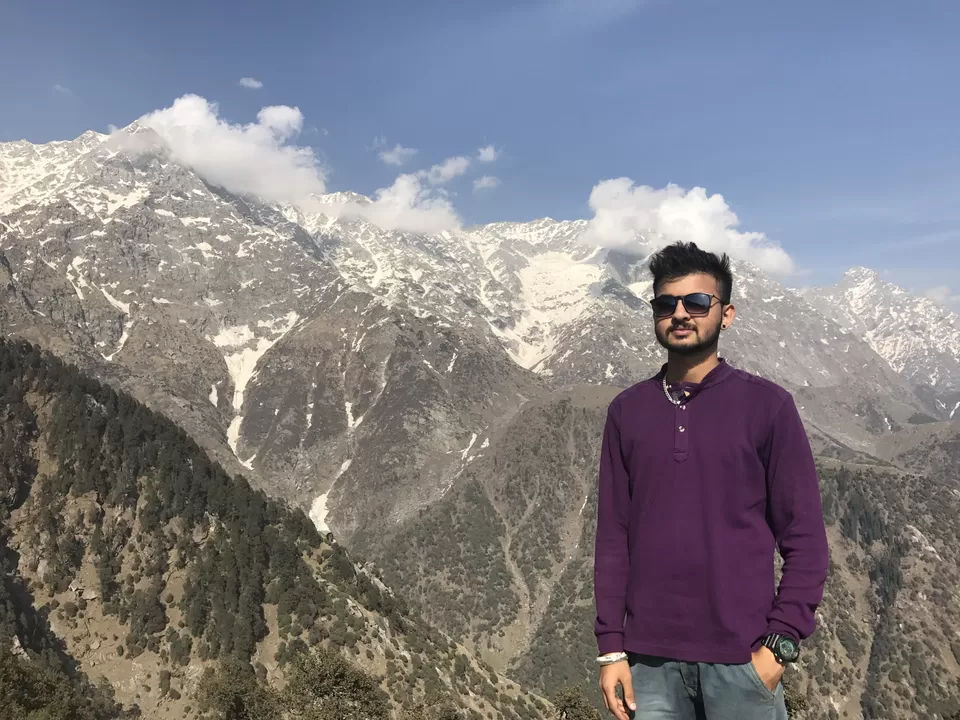 A decision now had to be made, Pallav and Vishal were to go pitch the tents at Snowline while Pranav and me were to wait around for the duo to arrive.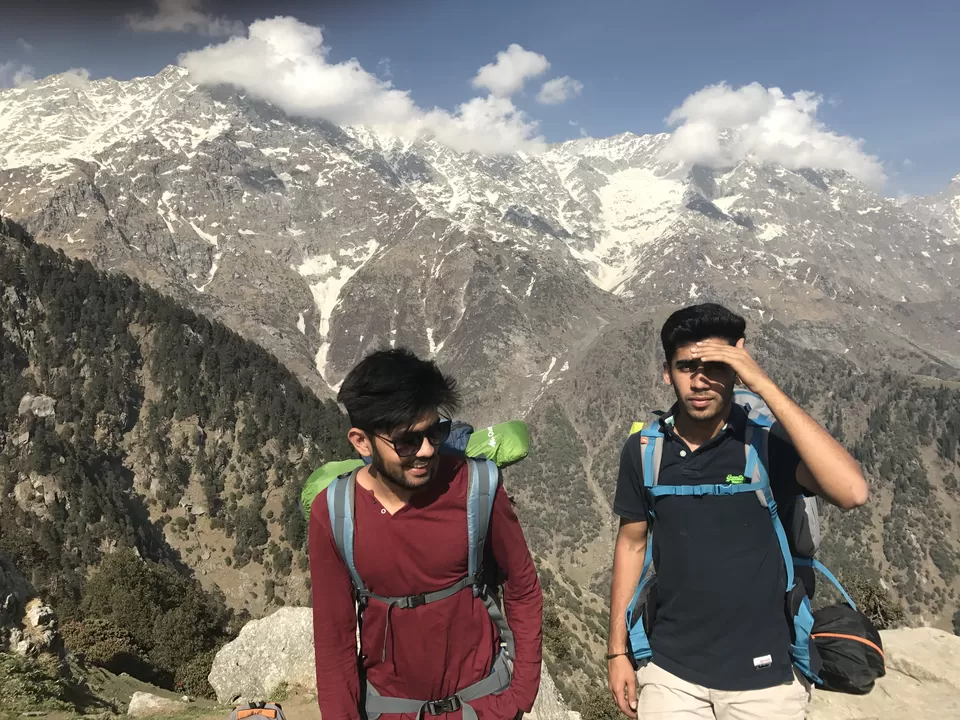 Time was passing by 3:40,3:50,4:00 and we had to announce our arrival before sunset.
4:10, 4:20 finally they were here, their bodies seemed fully drained, out of energy; their eyes looked like they took a heavy pounding, in dire need of rest those eyes were.
As cruel as it may seem, sometimes in treks you have to make those decisions. We were moving again in about 20 minutes.
The path to snowline is a lot easier than to Triund. We covered the 3 km distance in about 1 and 1/2 hours.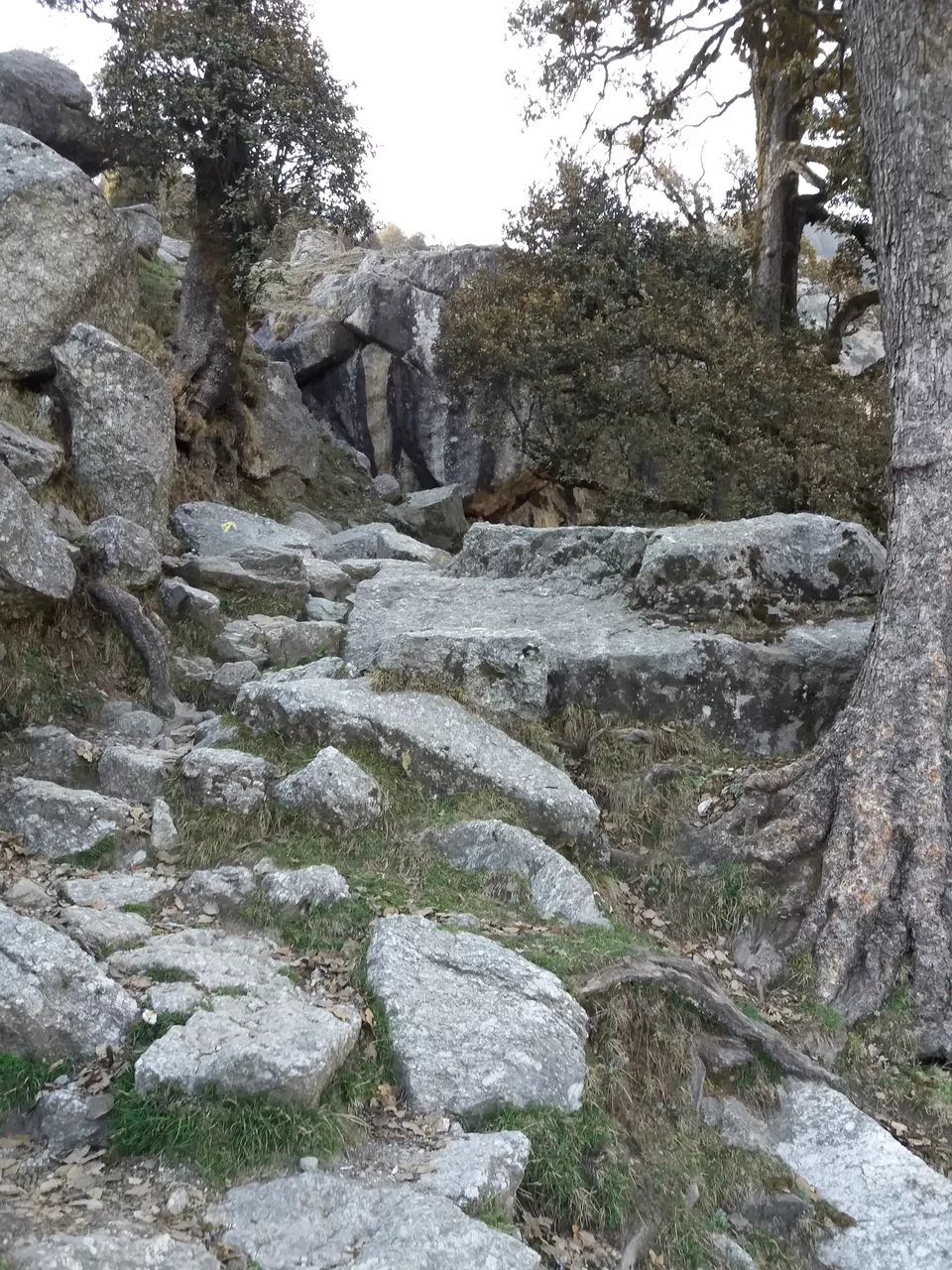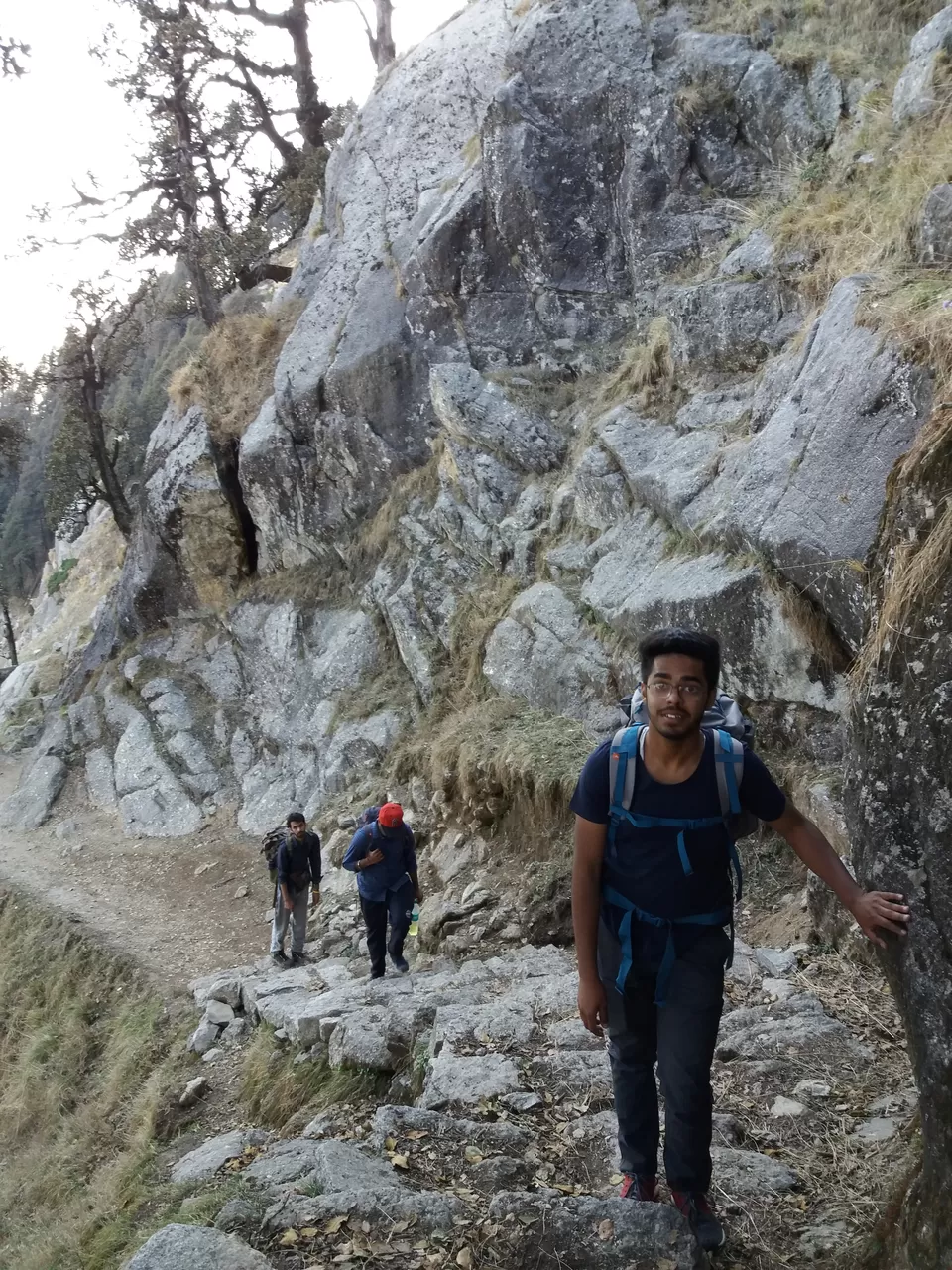 SNOWLINE
We missed the sunset by a whisker. But it didn't matter much we were camping there another day. My Vow of going further than Triund though had been completed.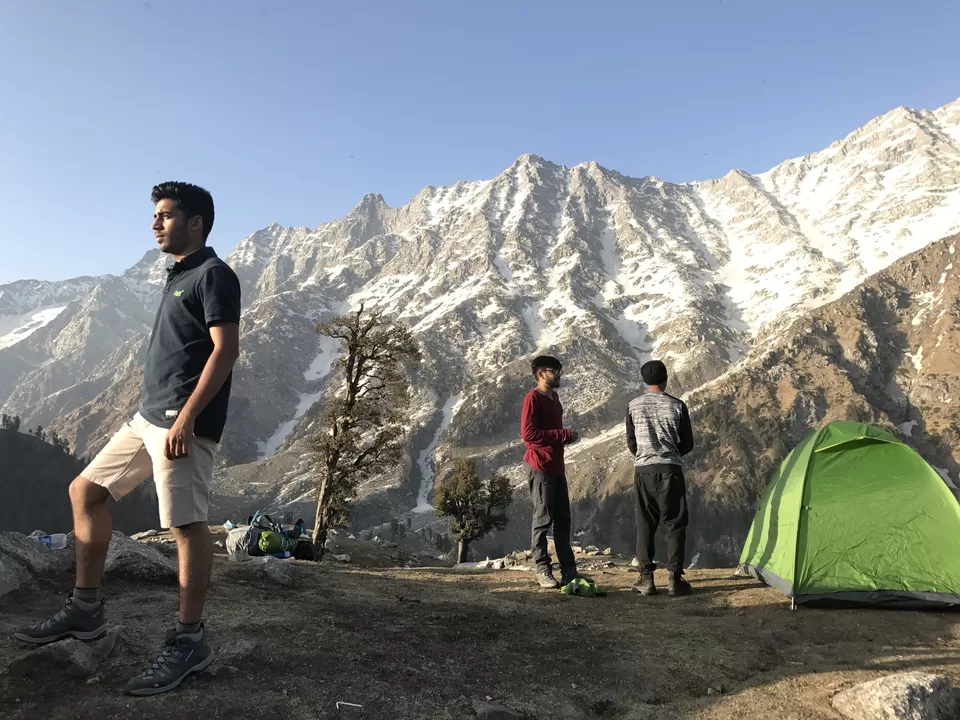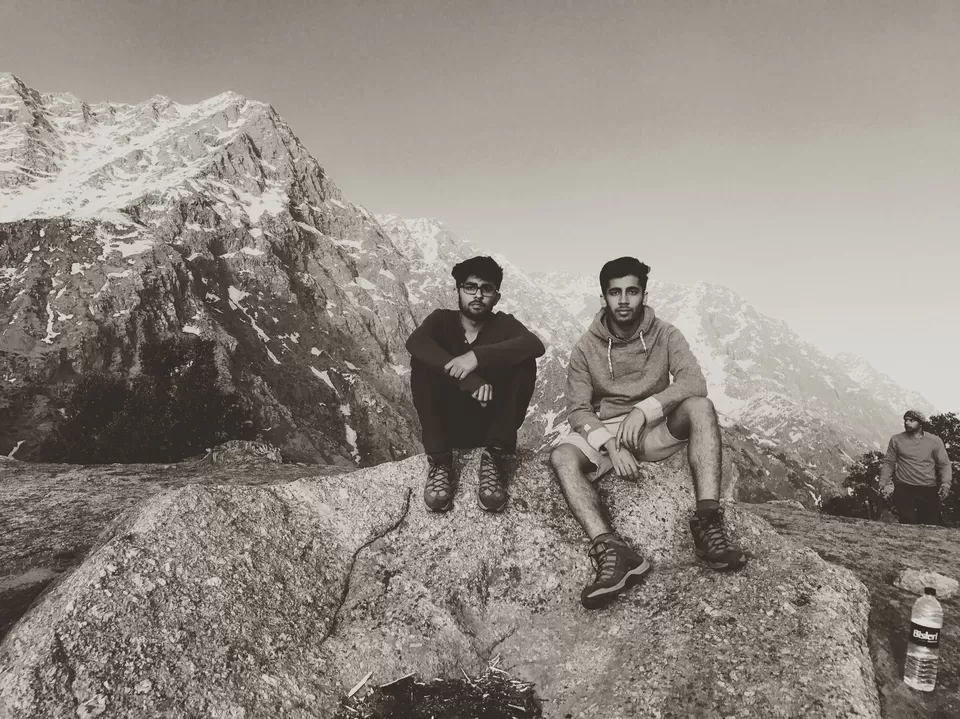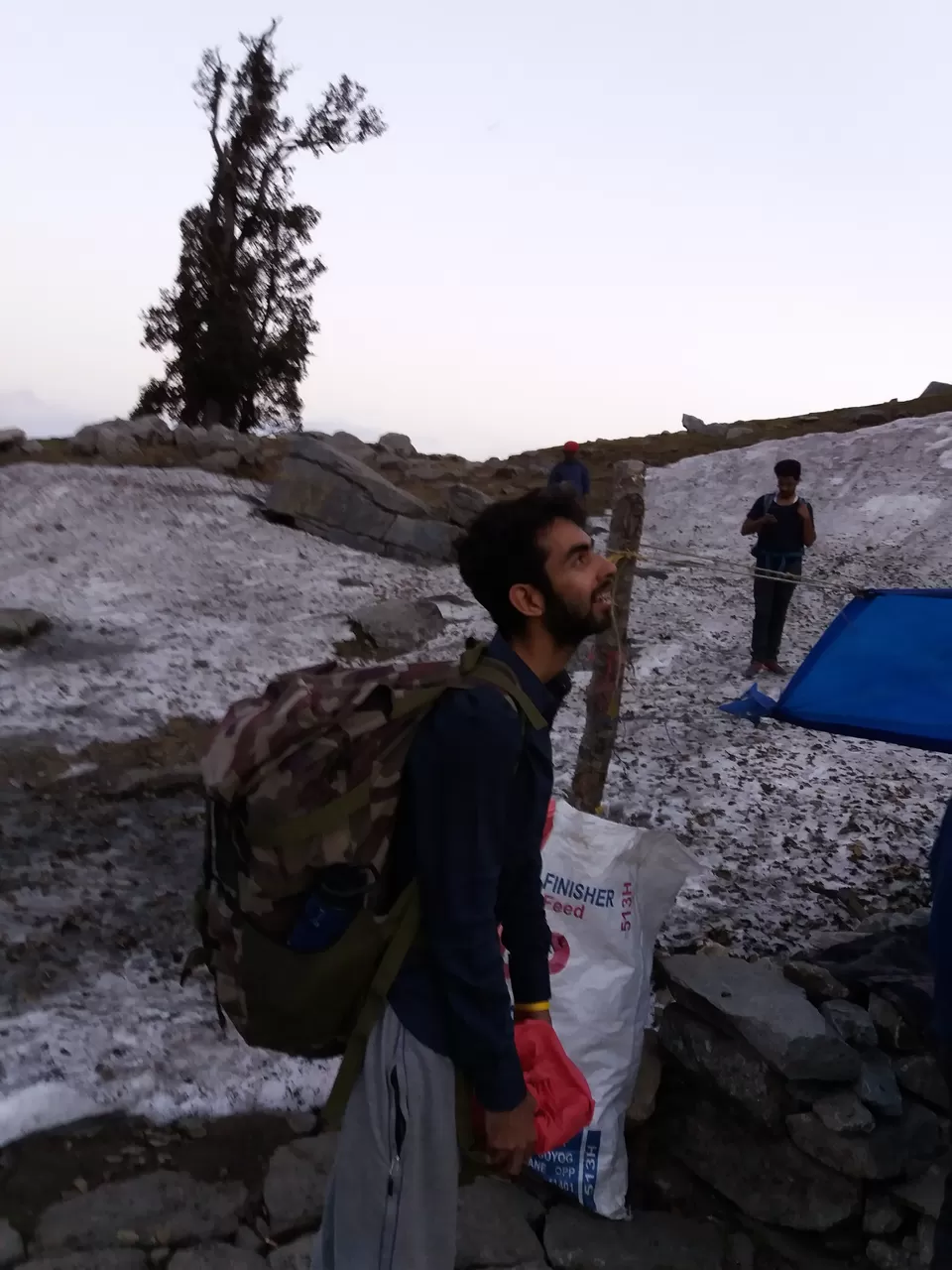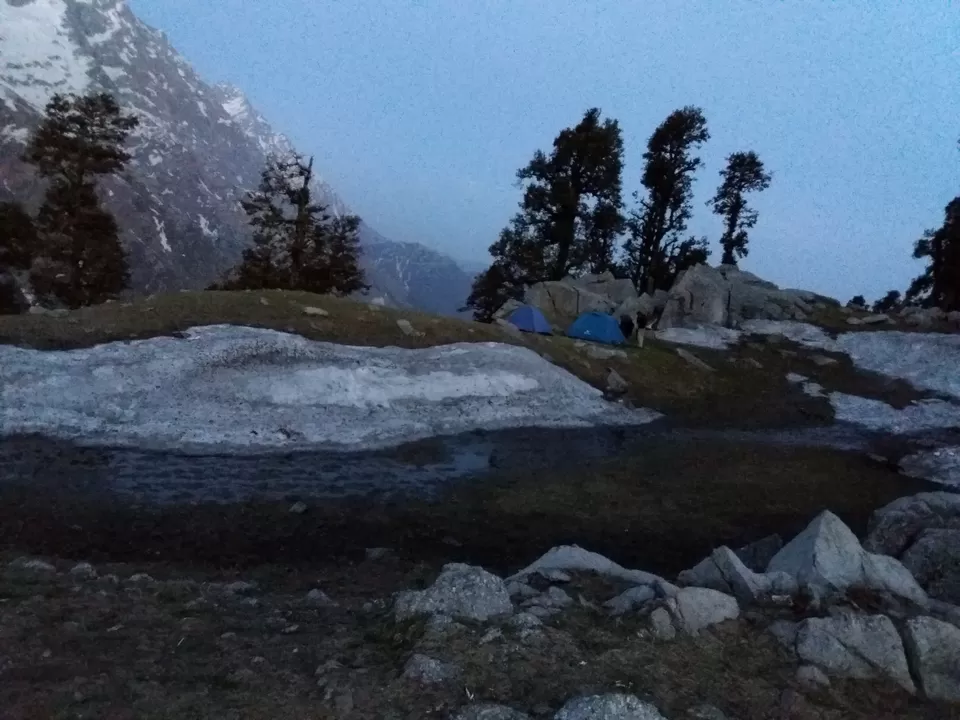 Bonfires were lit, interactions went on, new bonds were made. Its absolutely frightening when you analyse on how much you can know about a person in just one trip.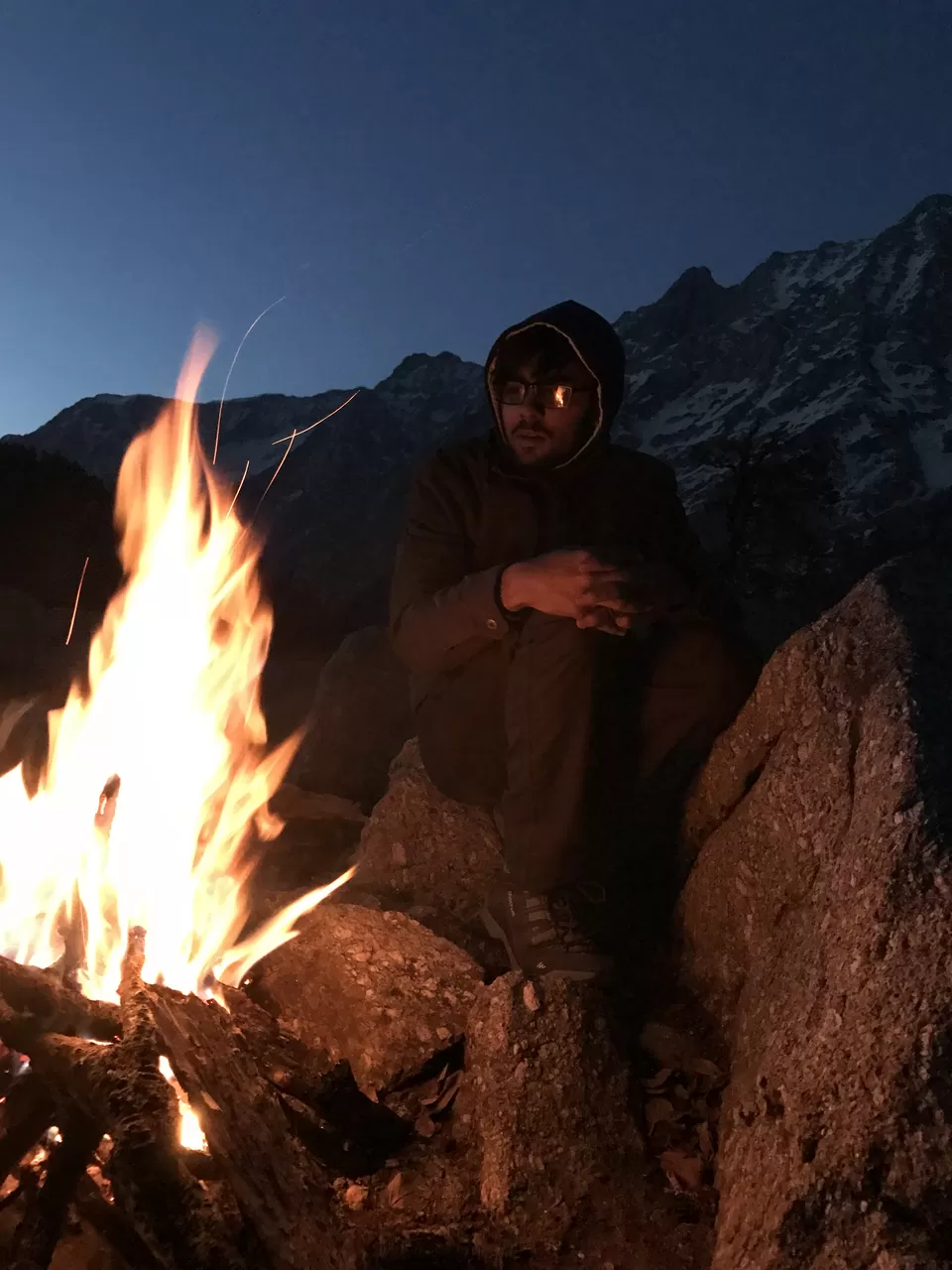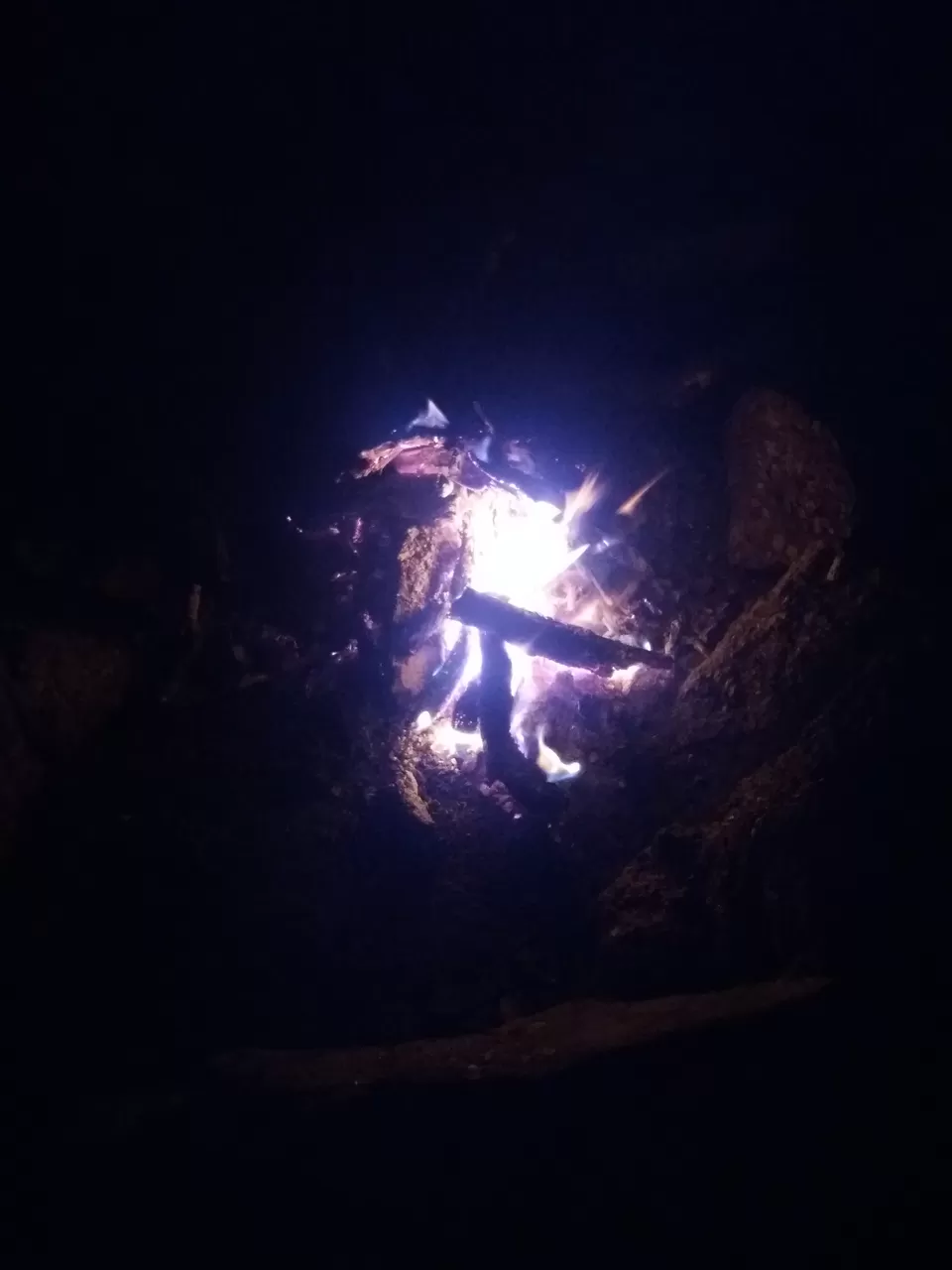 After our dinner and some time under the stars we went on a sleeping trail that lasted about 9 hours.
SNOWLINE DAY 3
We had a lazy start. Lazy mornings in the mountains is when you play around in the snow(pretty icy in this case), explore the area, enjoy a not so good breakfast observing the subtleties of mountains.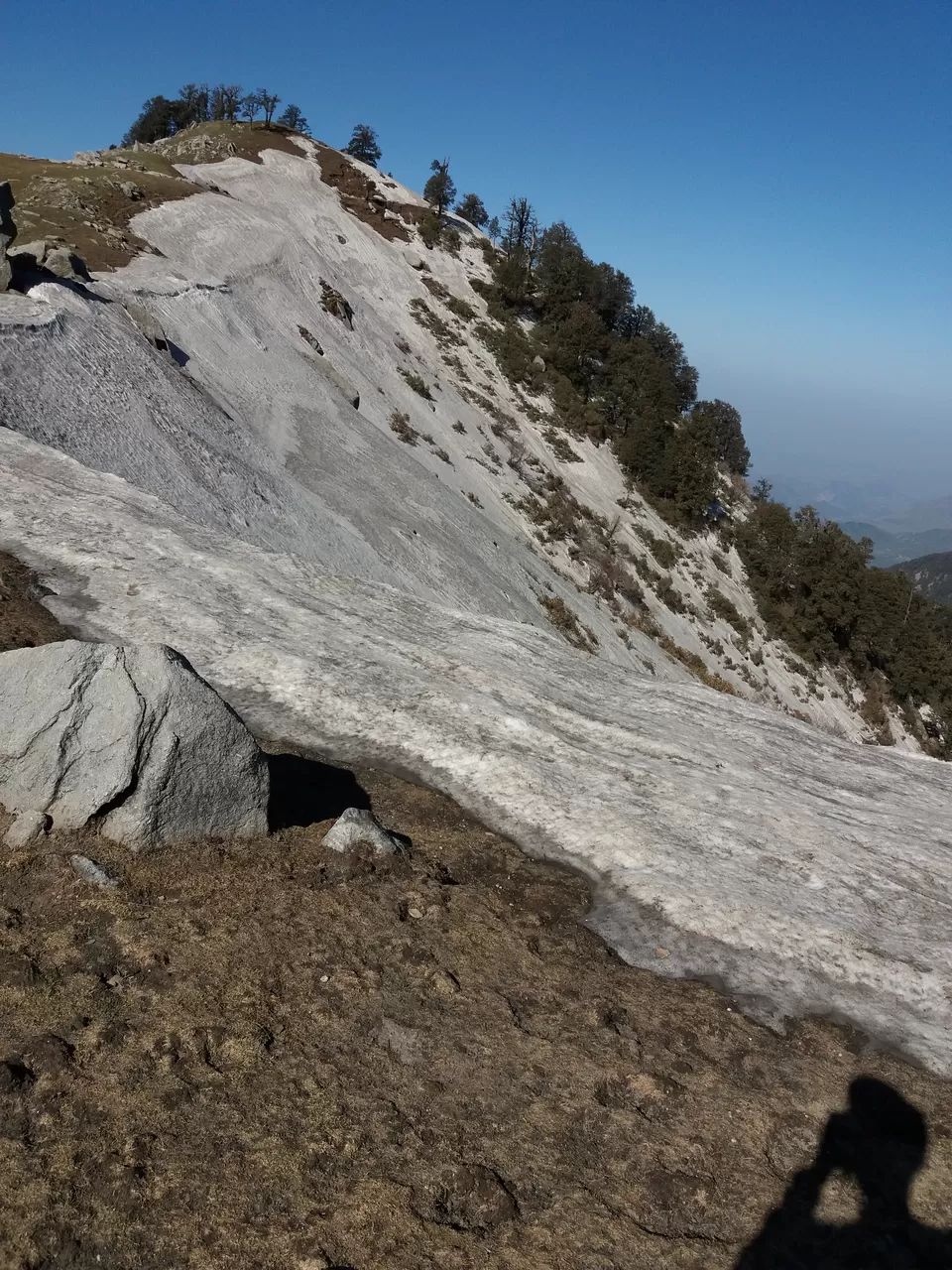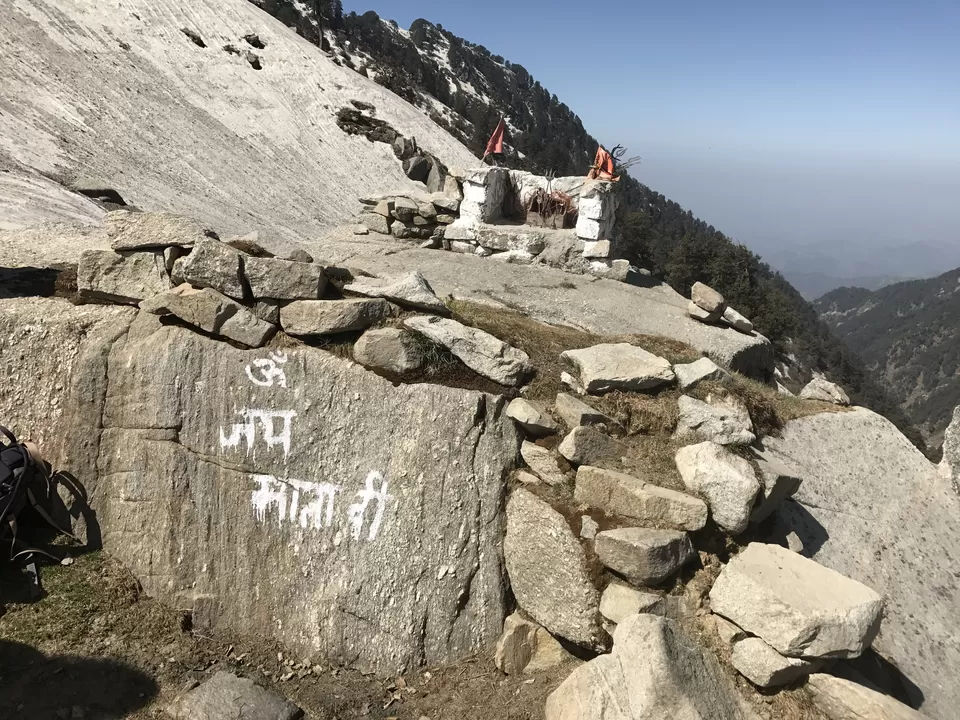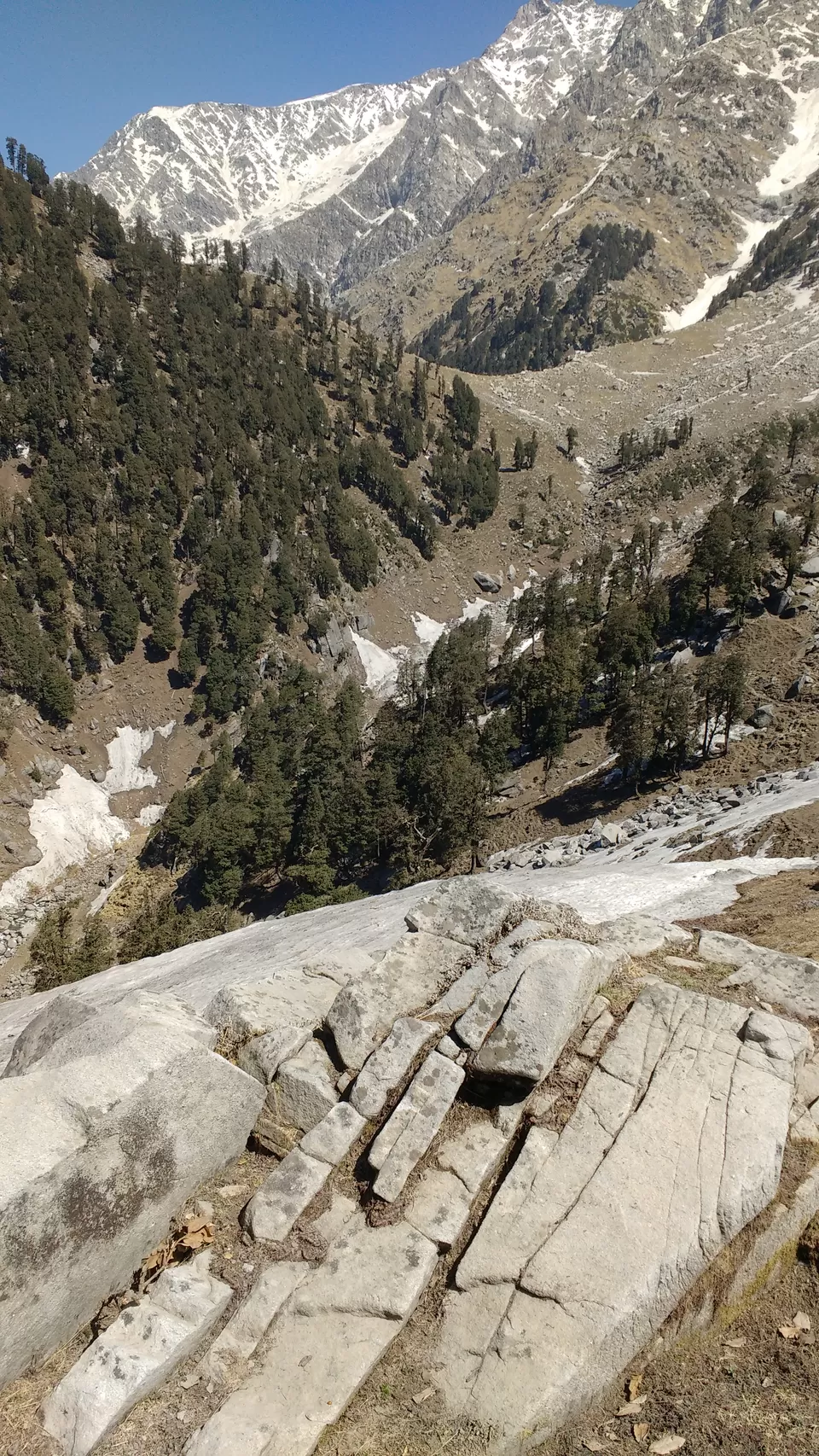 10 am we made our way to the mighty Lahesh Caves.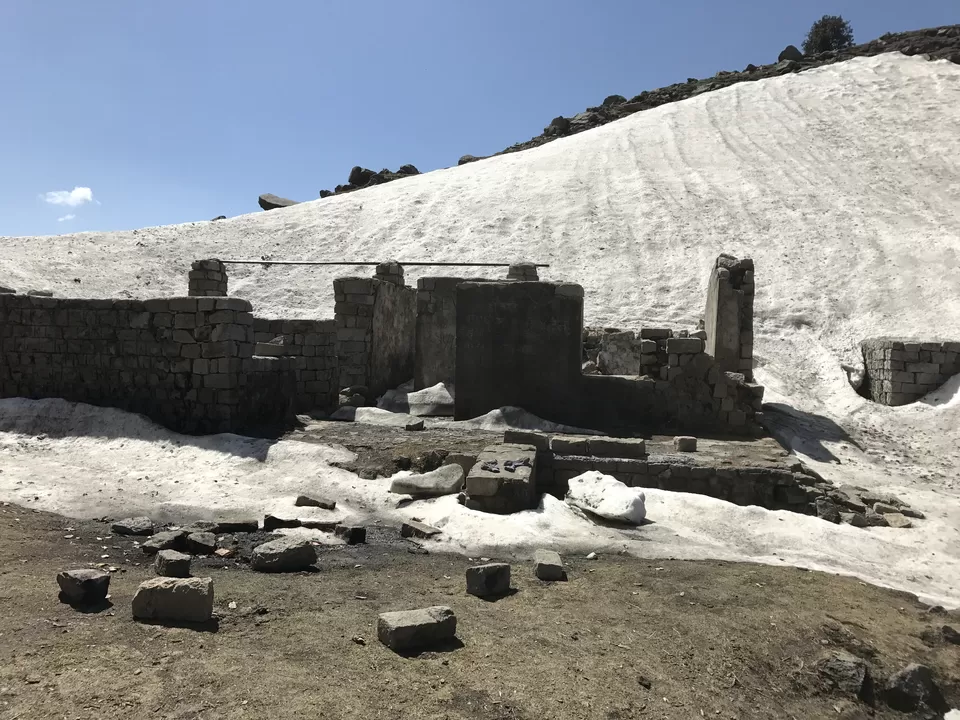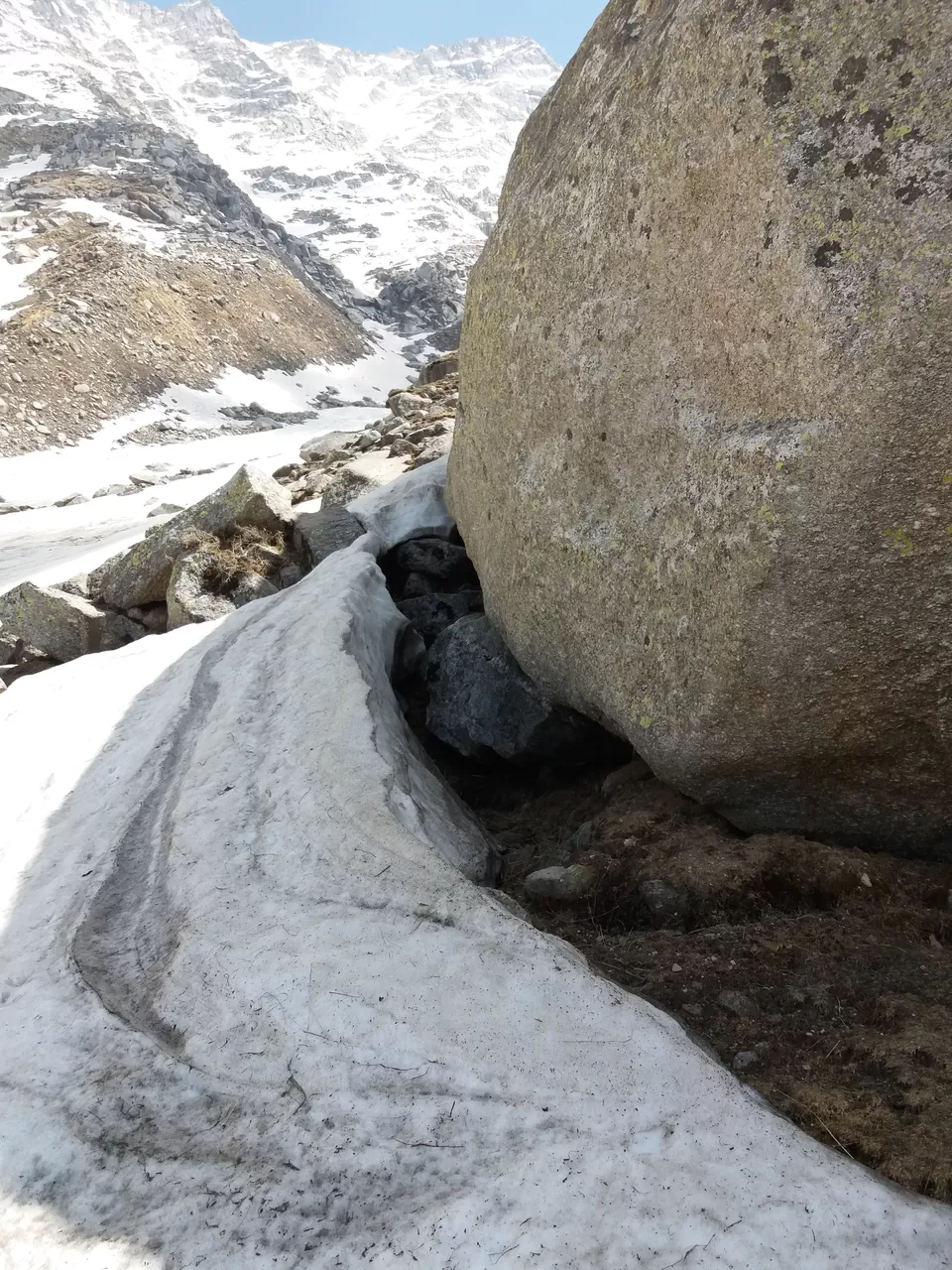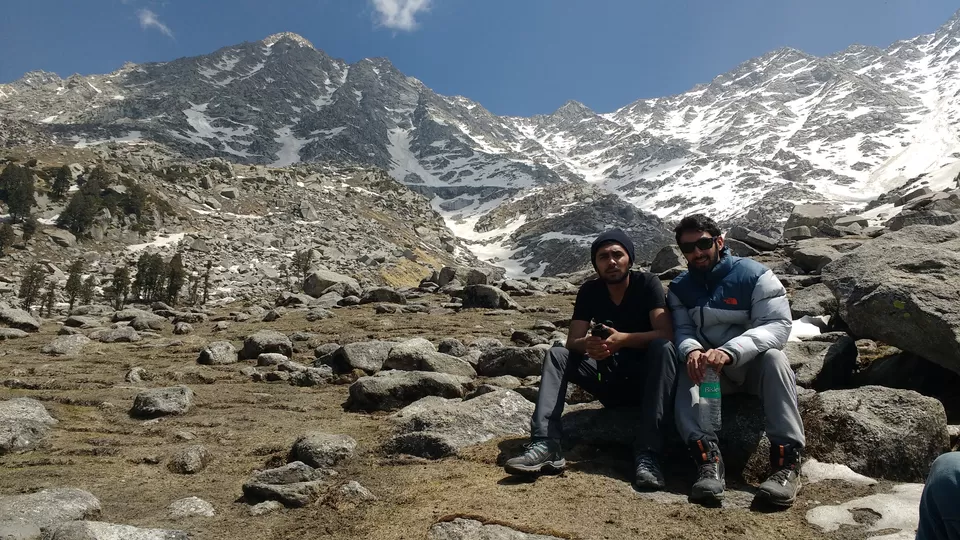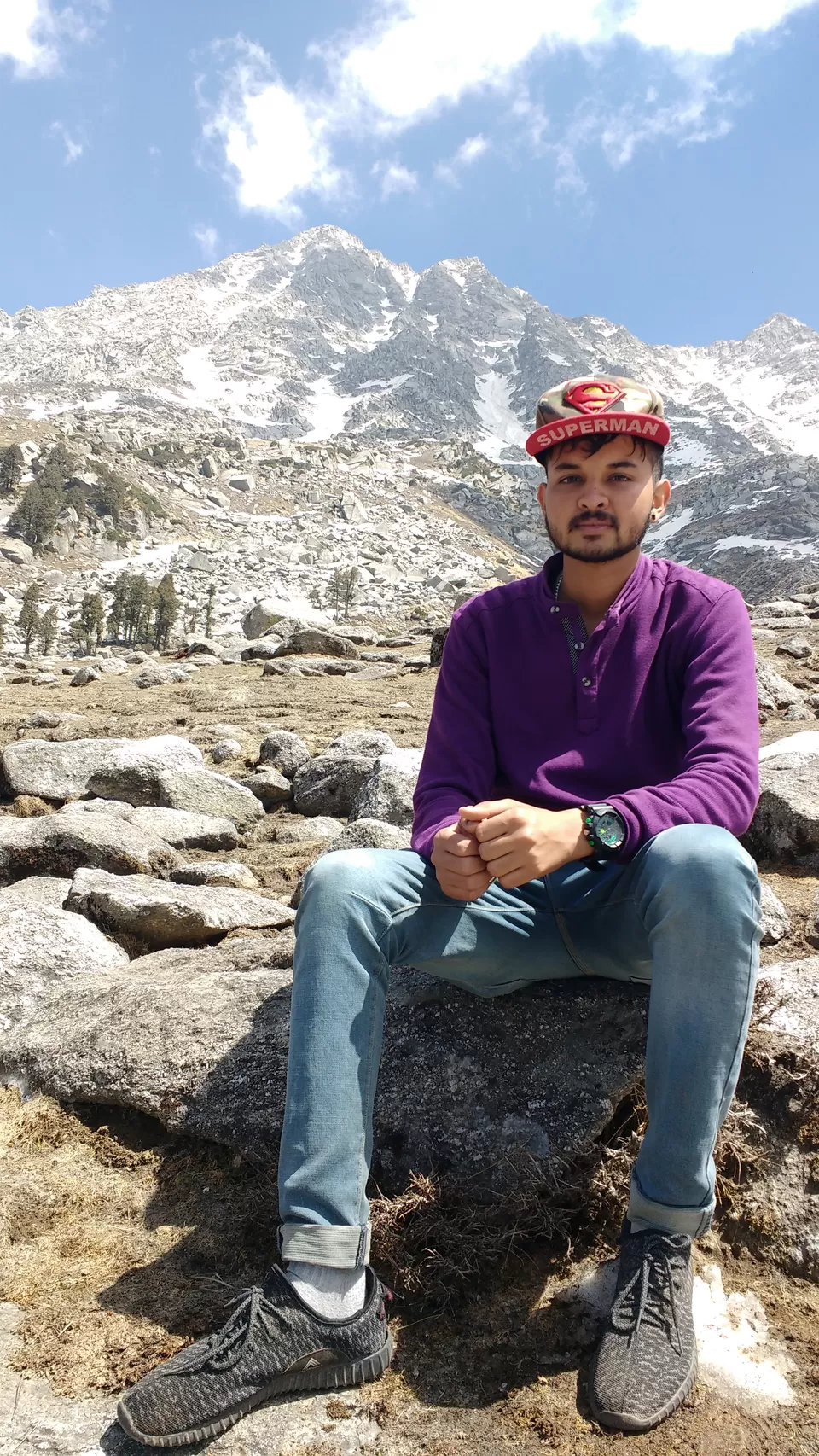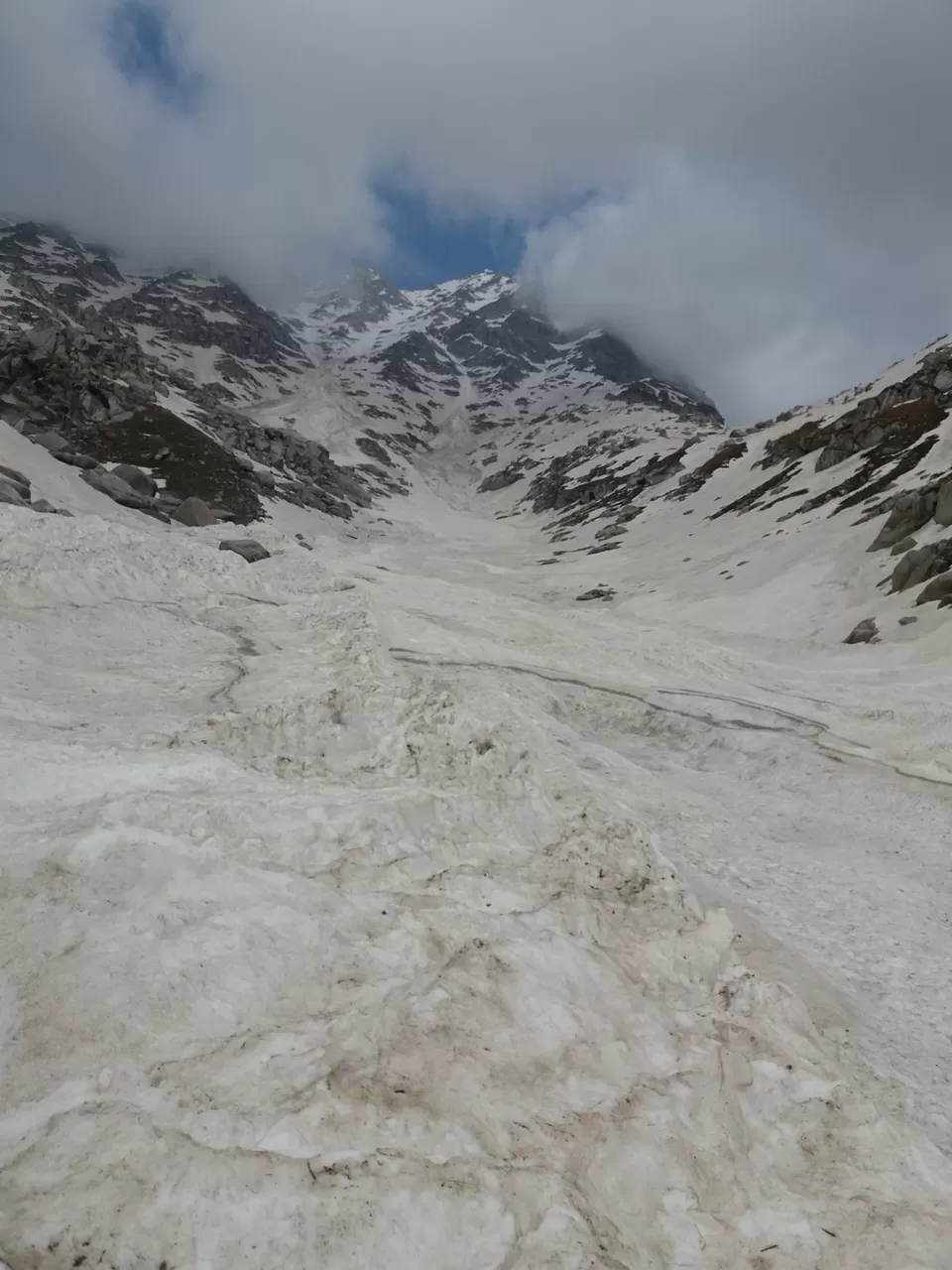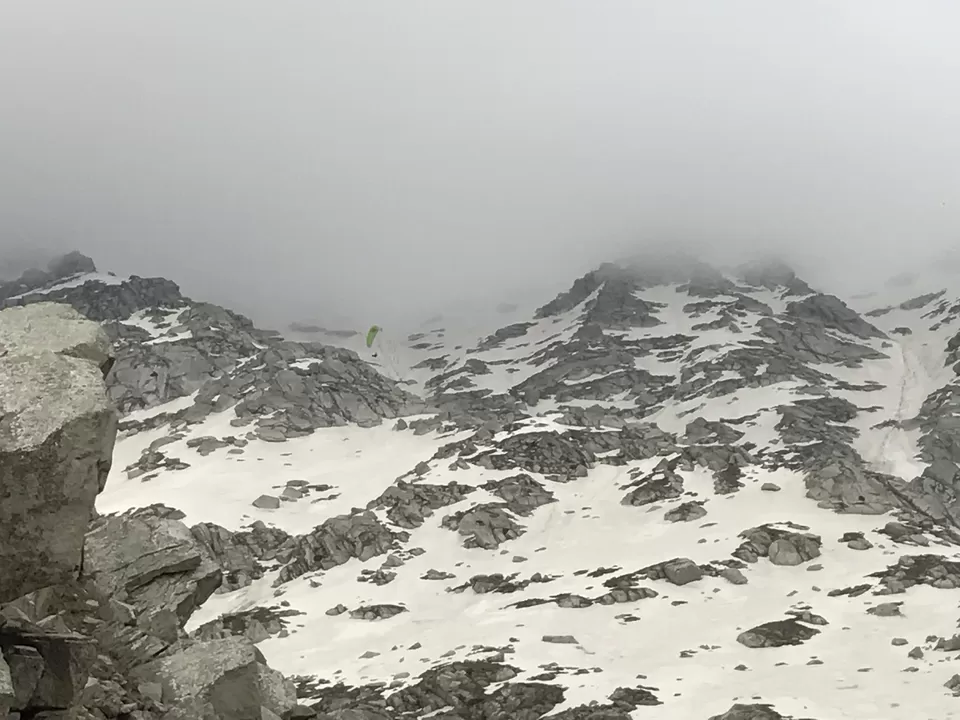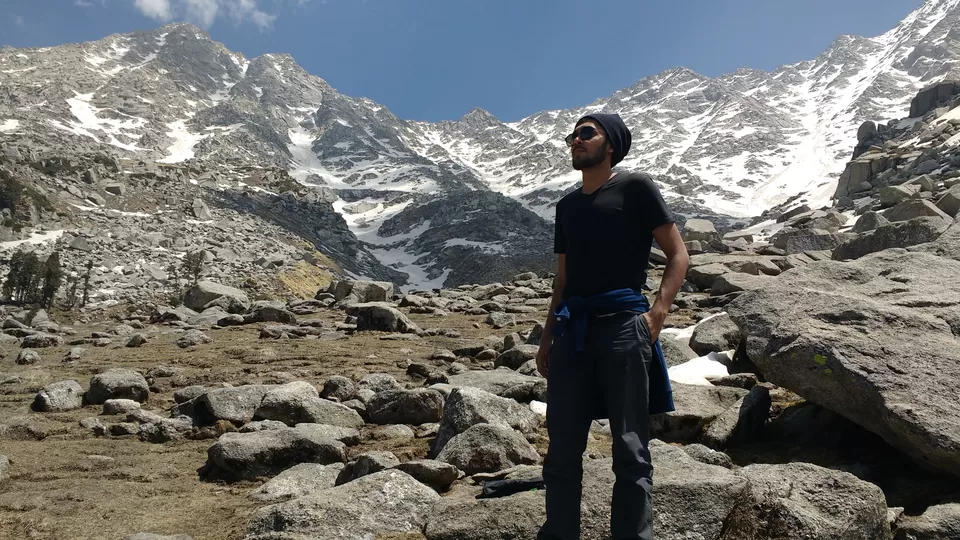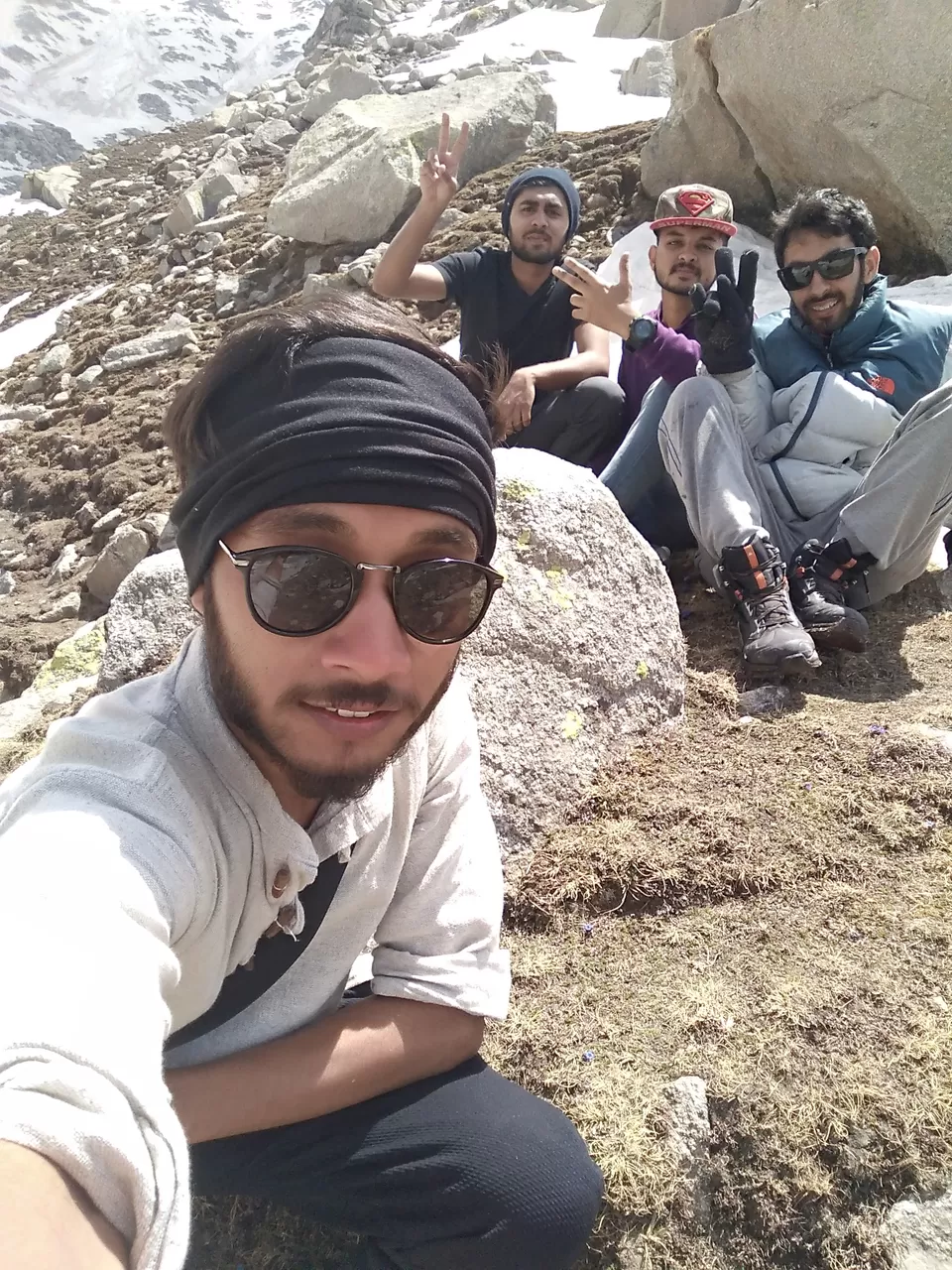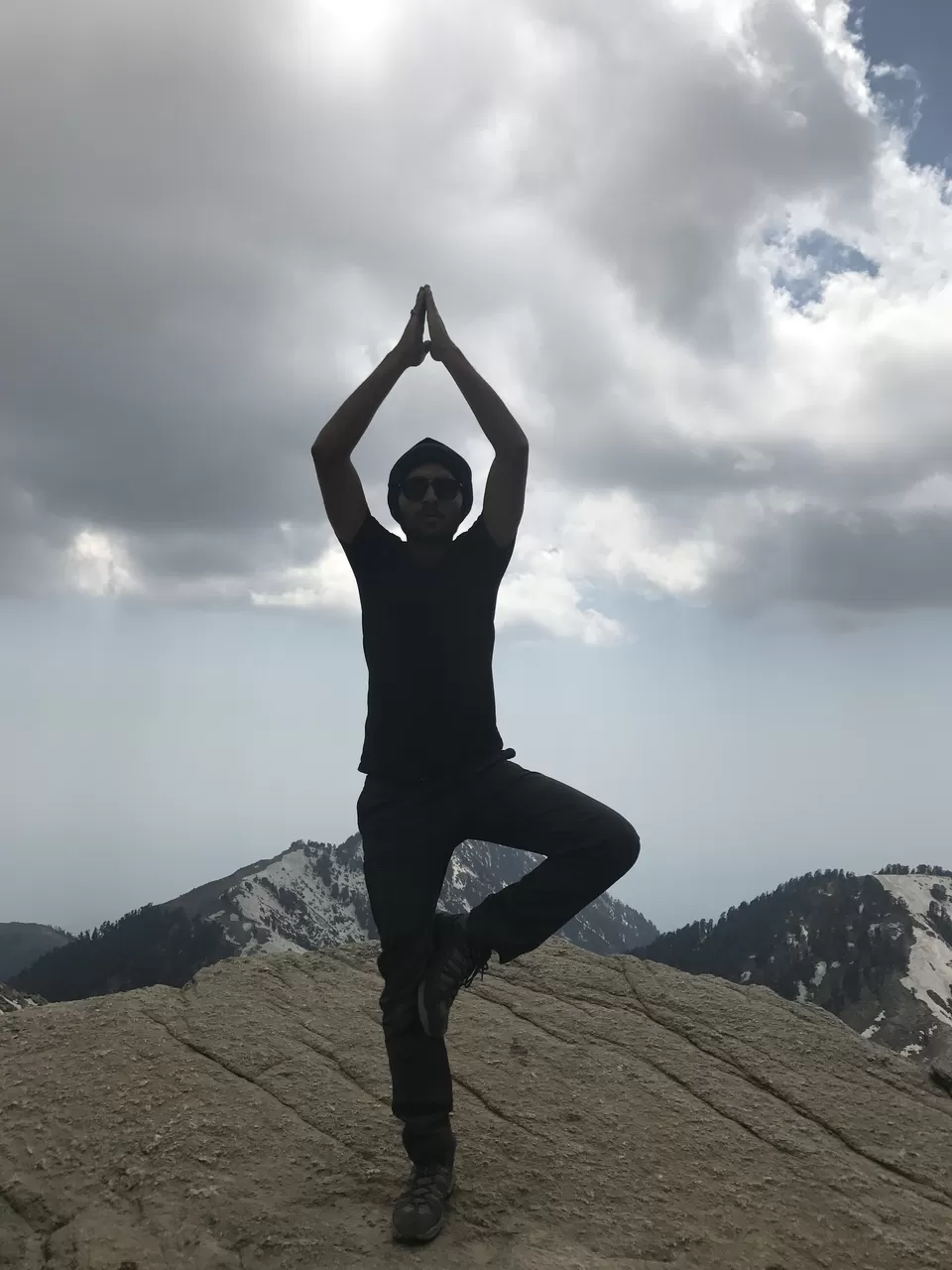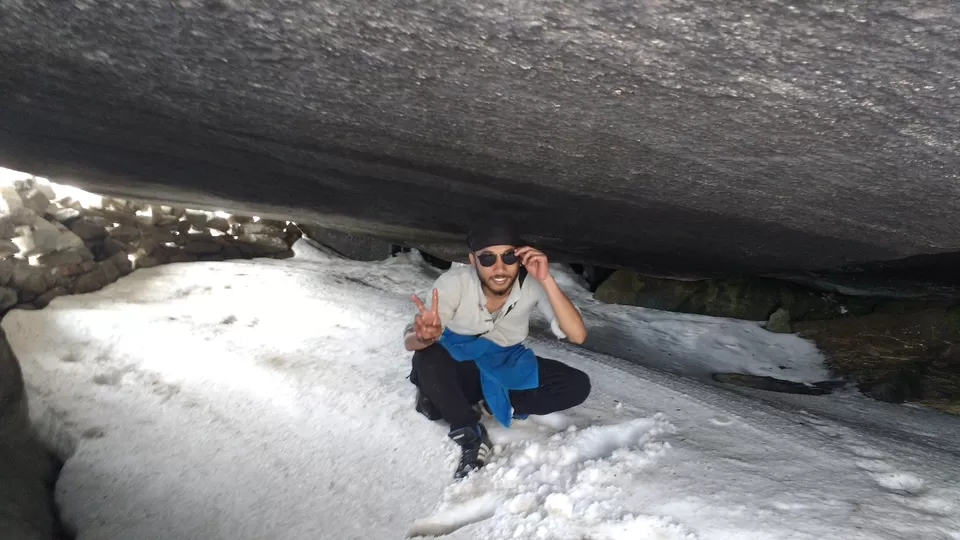 We didn't where we were going wrong routes were met, the efforts we put in were huge. Our bodies were drained. And we didn't even reach our destination.
We saw a crowd of people going by with a guide. My mind was in a dilemma I was tired but at the same time I wanted to get to Lahesh Caves.
Heck !! I was going to Lahesh. We crossed a glacier and reached the slippery inclined slope.
13th Attempt !!
This was going to be my last one I am going back if I don't get it this time.
I had two snickers left I gulped them both with my beaten up fingers. I composed myself, set a plan.
Slips still came I held on, I climbed it like Batman climbed the pit in Dark Knight Rises, it was death if I fail.( not getting there)
The cave was 4/5ths filled with ice. Thoughts came on me that why didn't he take us from the simpler path, there was no ice on this path a trekkable route it was.
I don't know how I got to the glacier, it took me about 2 hrs(a path of 1/2 hr). I heard shouts of my name "Aarush Aarush". I responded, another voice came by I couldn't respond, my throat's water was all sucked out I was thirsty for the last four hours.
Pallav was angry I didn't get lunch( from his end, understandable who will burn the burner again) and had only 1 l of water(which was the case for all of us) till our way back to Dharamshala.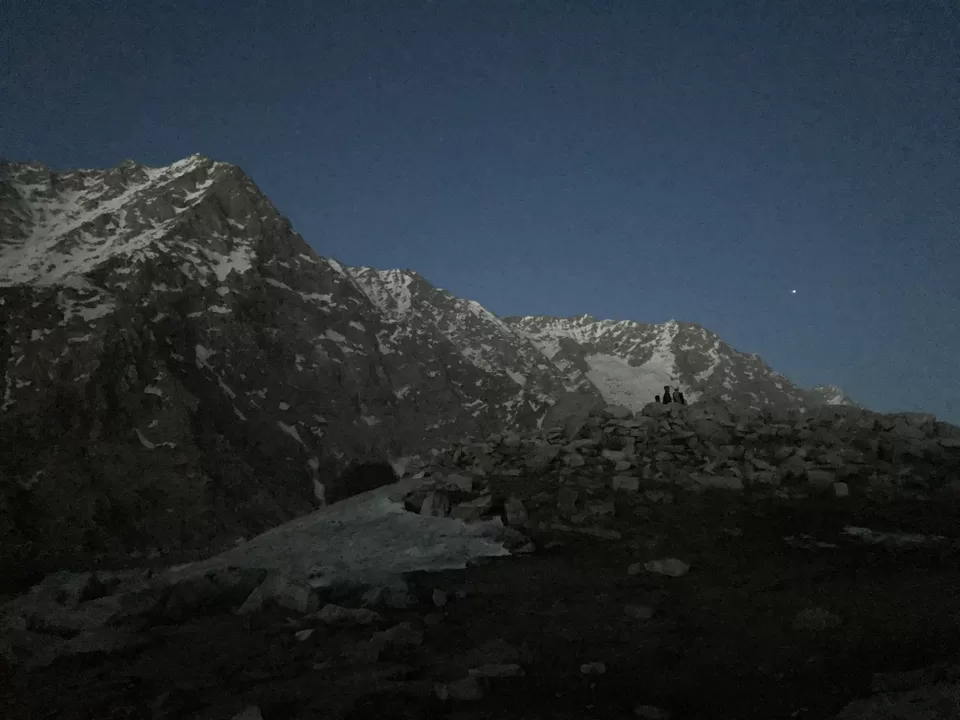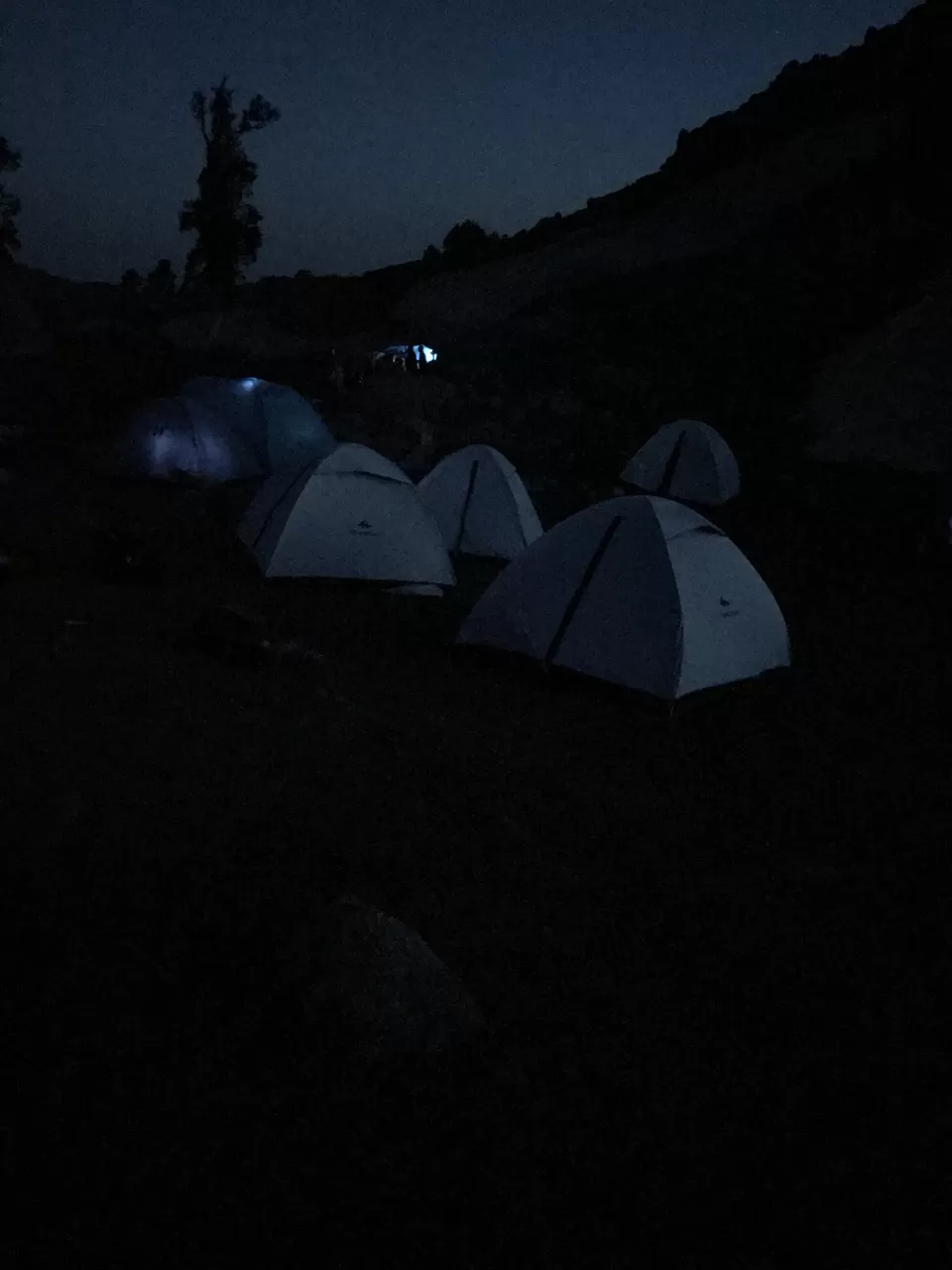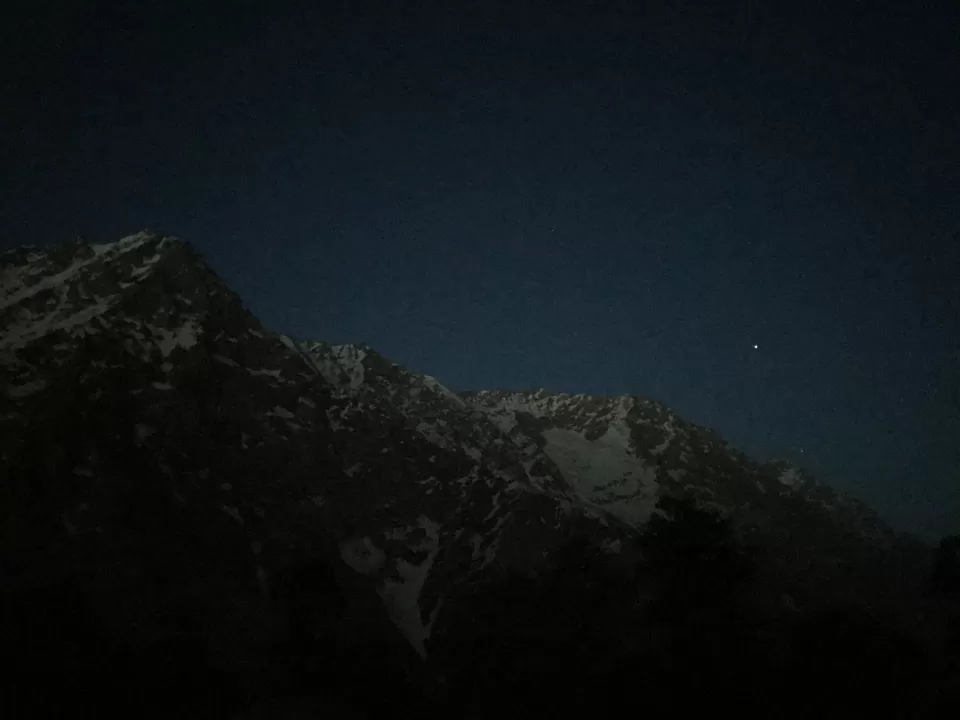 SNOWLINE DAY 4
The next day we started early my foot had inflammatory clots which should have slowed me down but I don't know I was so mentally tired that my physical tiredness was trumped and I reach triund back in 3 hours.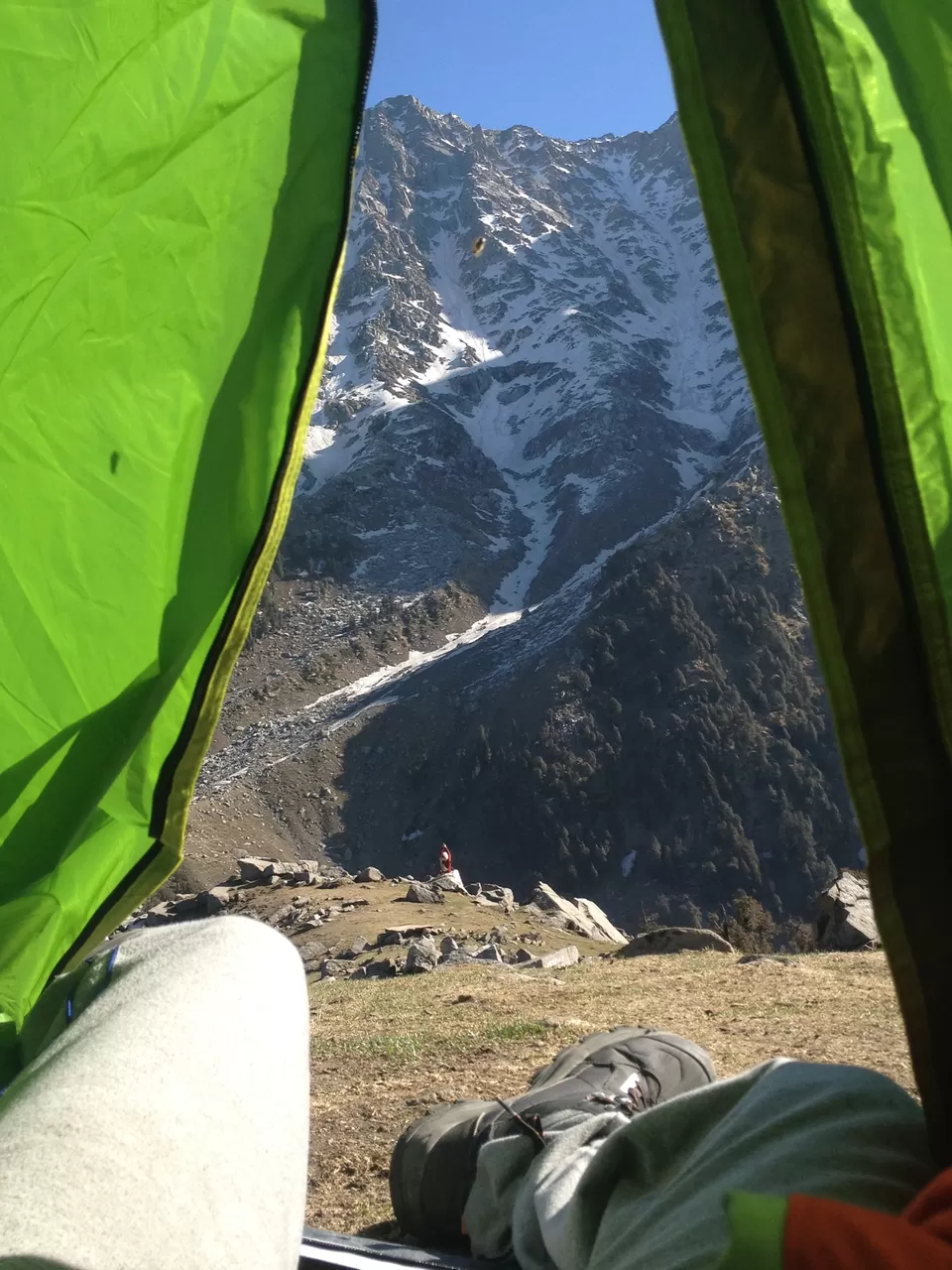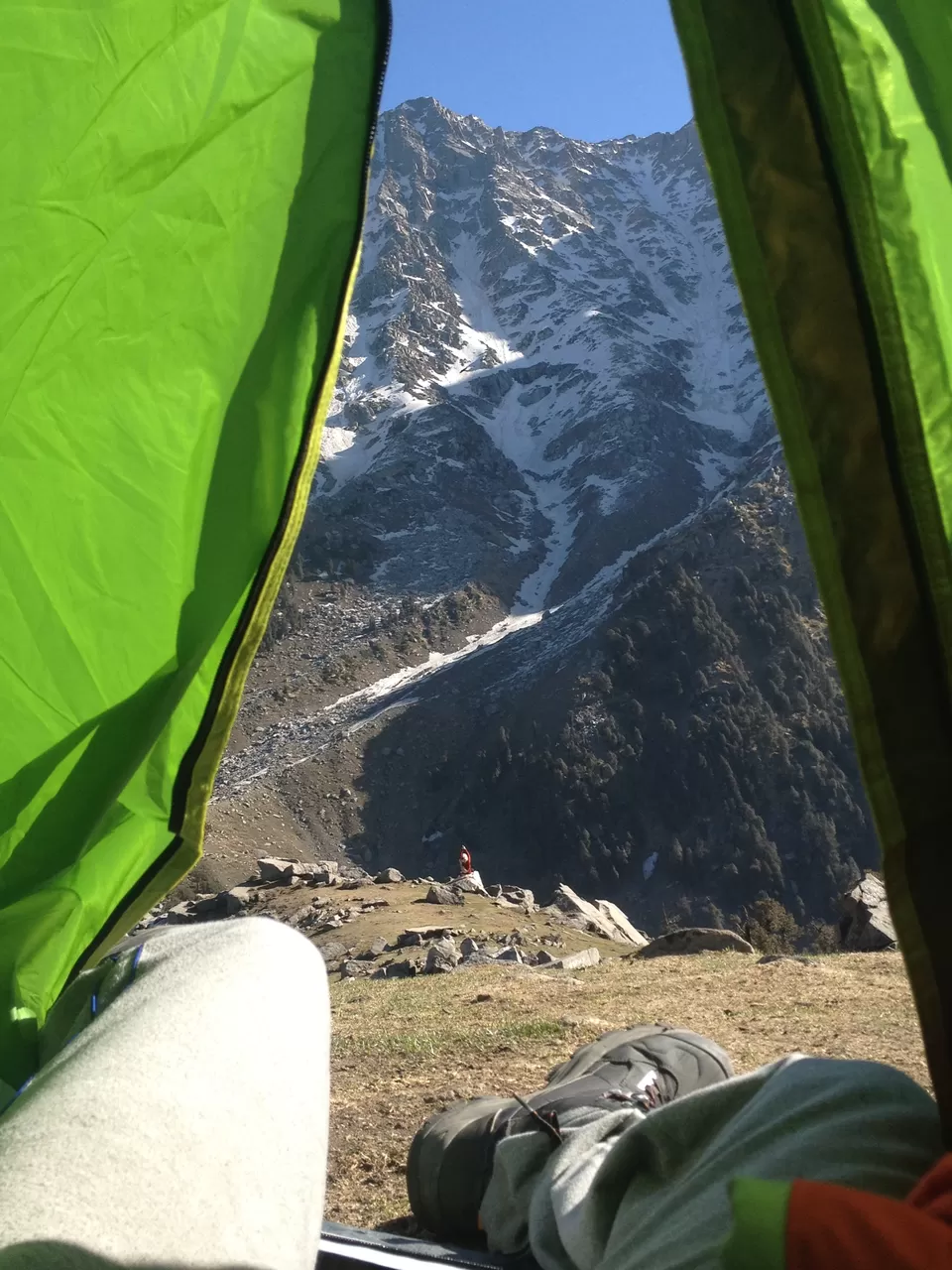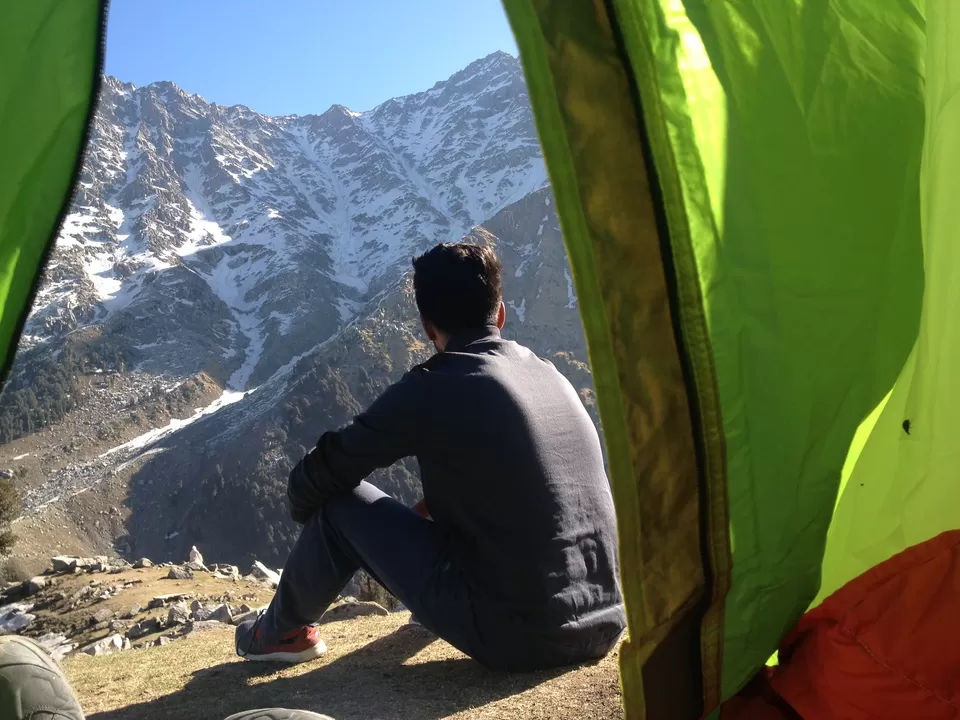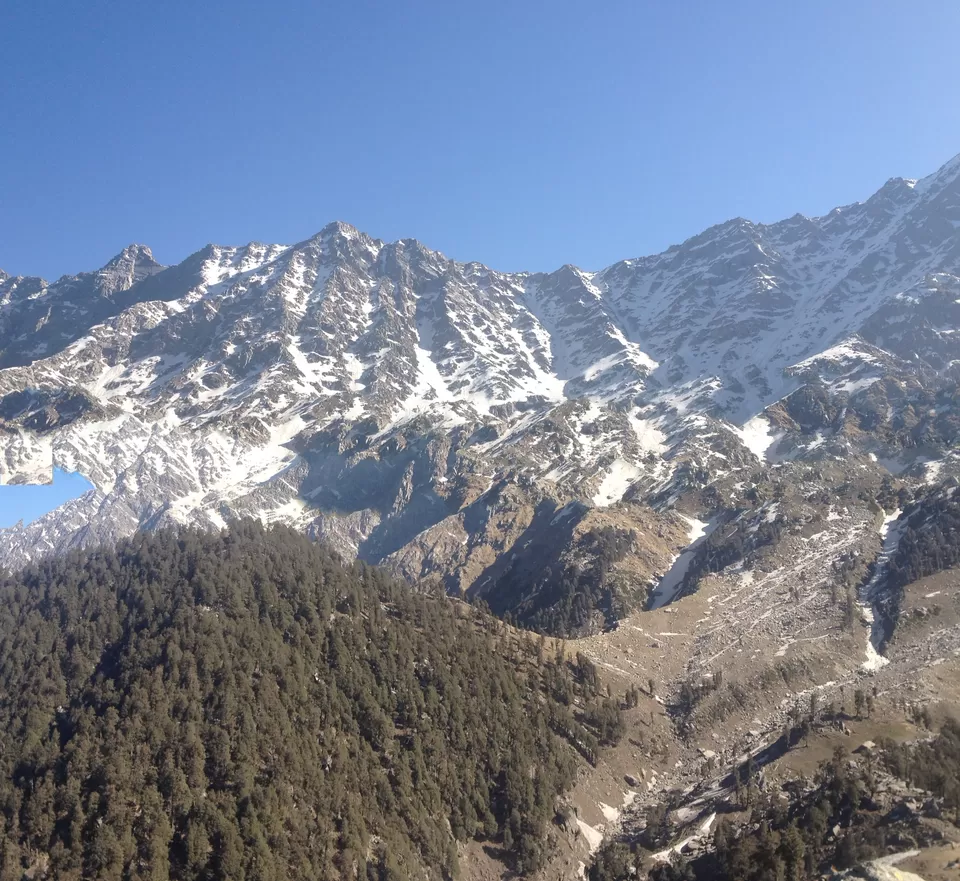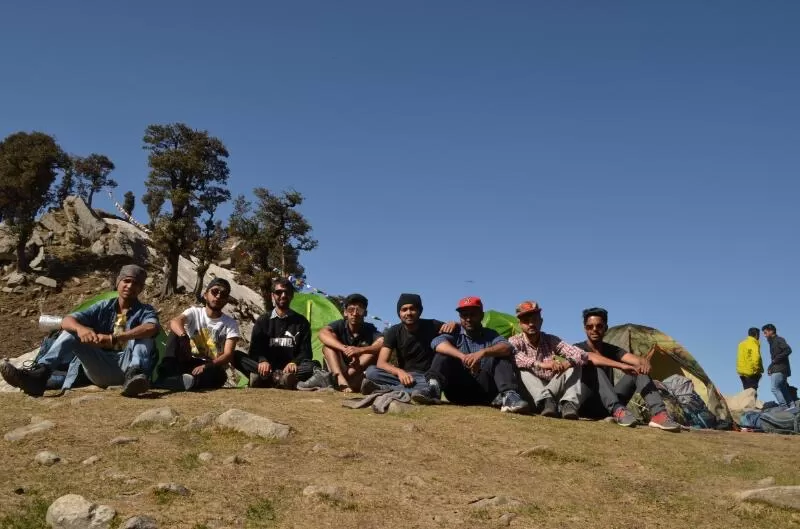 We searched for a hotel when we got down Vishal(got down in 2 hours) and me while the others were making their way down. We got a hotel luckily after many tries of finding a one in our budget.
I didn't want to stay, it was the first time this was happening, I wanted to get back. Vishal also had the same idea.(the rest stayed)
We got our volvo tickets cancelled, sat on a bus from Kangra which took us to Chandigarh, where we parted ways Vishal went home(he lives near to Chandigarh) while I waited for a while on the bus stand to finally get a bus back to patiala.