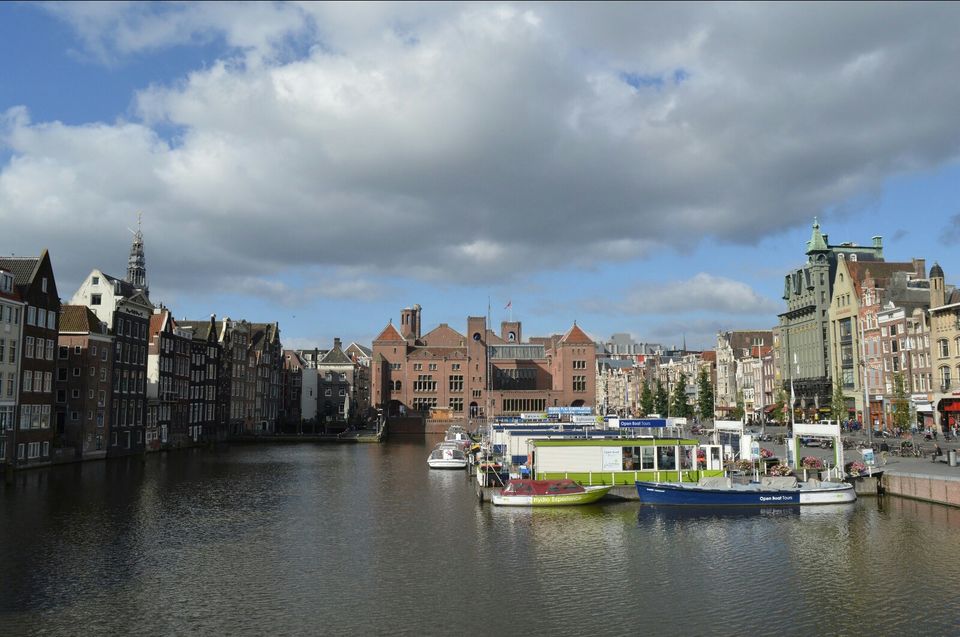 Last summer, I was interning in Dortmund, a city in Germany known for its football and more so for the club's loud fans. I hadn't been in Germany for more than 2 weeks, but the prospect of travelling to Amsterdam , the city most famous for its red light district and it's progressive tolerant policy to soft drugs was quite an idea I had been harbouring in my mind for a long time.
Booked my tickets via Eurolines, a meagre 9€ for a 6hr ride. That's pretty cheap compared to European standards, and don't ever make the mistake of taking Eurorail unless you have too much money to throw away !
But Amsterdam turned out to be much more than just a land of legalized prostitution and weed. Also called the 'Venice of North' , a lot many canals criss-cross the city. This city has more bicycles than their population, a plausible explanation to the fact as to why Europeans stay so healthy and fit compared to their counterparts on the other side of the Pacific. The place is beautiful, the people helpful and sweet.
Travelling unlike tourism doesn't have a pre-planned trip itinerary customised for you by a tour company, it's about making spontaneous decisions. So unlike other tourists, I decided to take the free shuttle ferry 'Buiksloterweg' across the IJ harbour to visit the Eye Film Museum, which most people skip on their trip to Amsterdam. The museum collection was comprised of movie posters dating back to origin of cinema itself, a chronology of film equipments from the time it all started to all the modern technology in use today. Enamoured by the collection , coupled with a discount on movie tickets for students , I ended up watching a critically acclaimed short movie. Another advantage of this place is that you can get clicked at the iconic 'I amsterdam' letters which is quite crowd-free at this location unlike the other one where a lot of people throng by.
After a couple of pictures later ,I returned to the mainland by the next ferry which runs every 3 min, picked up a map of the city from the city help desk, and was off to the city centre more popularly known as the Dam Square. The neoclassical Royal Palace, the Madame Tussauds wax museum, the National Monument ( a stone pillar to commemorate World War 2 victims) and a fancy department store make the 4 sides of the square. The atmosphere here was electric, the crowd crazy. Took me a few moments to take it all in , Europeans surely know how to have fun.
By the time I realized I should move on, it was dusk. The next destination was clear in my head : De Wallen or Amsterdam's Red Light District ! The whole street was bathed in neon lights , a large number of bikini clad heads were propping up from the windows in all directions ,women of various ethnicities, built and age groups.
Call the Europeans crazy or educationally oriented, they have as many museums as any popular junk food chain counter. I decided to check out the Prostitution Museum, and it turned out to be quite a learning experience, a typical insight into a prostitutes' life. Well atleast they have got one thing right, they treat prostitution as a regular respectable job.
The right light district did get me taking a round of the whole street, doubling back and running up the whole street again till I could take in all the color and the glamour. Next I decided to try the Leidsplein pub crawl and it turned out to be much fun. A little bit of boozing and hell lot of partying, it was already 3am when the music stopped.
It was quite late and I didn't have a hostel booked so I decided to spend the night at the Central Railway Station. Bad idea. I would advise anyone against doing that, the weather was super cold and windy, and I barely slept the night, desperately waiting for the sun to rise.
The morning came and immediately I hit the streets to walk around taking in the breathtakingly beautiful views the city had to offer. Shops displayed crazy Van Gogh dresses and bongs of all designs. An amazing thing about Europe is that all European cities offer free city tours where expert guides take you around, and you can pay whatever you feel like at the end of the tour. I signed up for one and I can say it now that I took this tour for every single city I visited over the course of my next 6 weeks.
The advantage of such tours is that you get to explore places where you wouldn't go on your own, get to know the places' history even if you have slept in those history lessons at school. My city tour took up the whole of my morning but at the end of it, I can surely say I was a wiser guy than the night before. After a lunch of some mouth watering Nutella waffles and vlammes fries (which they drip with mayo) , I headed to the other side of the city.
The Heineken Experience is a must visit for all beer lovers , where a tour of the place shows you all the processes, how the beer is brewed and manufactured and packaged. Also , +20 points to them because they give out free beers.
My next stop was the Van Gogh Museum and the Rijks Museum. I decided to skip both, partly due to less time and partly because I am not a big fan of art and history respectively ( I had enough dosage of history for the day). This place though does attract a large number of tourists who come to get clicked at the iconic 'I amsterdam' letters. A couple of failed attempts later to climb the letters for a good pose to send back home , I gave up. Got a few 'normal' pictures and left for the most anticipated place to see in the city, the Anne Frank Museum.
A fair warning here, if you are visiting the Anne Frank Museum, it's essential you book your slot beforehand,you would be very lucky to get tickets on spot. Having read Anne Frank's diary at an early age, I was super excited to see the house she grew up in , now converted into a museum. A tour around the house, and more stories about Anne Frank and all the atrocities committed during world war 2 on Jews, I came out a couple of hours later with the feeling of satisfaction that I have had a good trip.
I was still missing something though. You might have guessed by now. Coffee shops. A city famous for its tolerant policy of weed, I was not gonna leave this place 'unstoned'. Coffee shops are places designated by the government where you can buy limited quantities of certain soft drugs. I wouldn't go into details here , you can always pm me for those , but I left the coffee shops a happy man, smiling unto himself, and took a good half an hour to walk 500m to the bus station for my return bus.