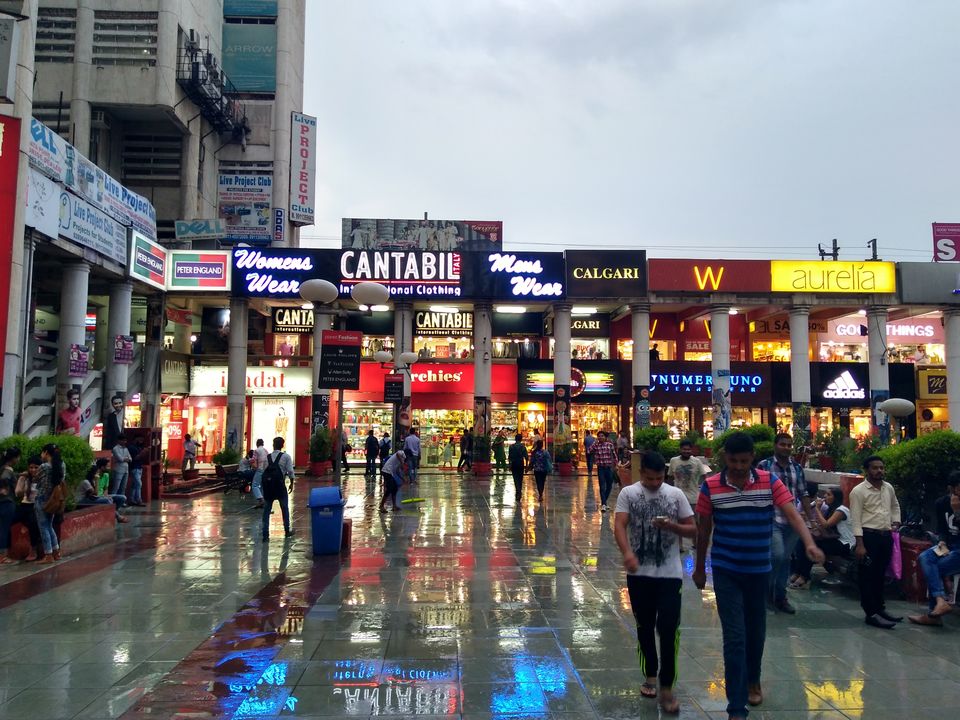 After what seems like a really long wait, the Delhi Metro Magenta Line is finally operational. It is now a little bit easier to zip through Delhi in air conditioned comfort as you skip the ever-growing traffic on the roads. This line, which connects Noida to West Delhi has made the commute a lot easier for folks on this side of the Yamuna to travel to Gurgaon and South Delhi as well! But that's not all, this line also marks a number of firsts in India's metro history. Driverless rides, platform screen doors for safety of commuters, cutting-edge technology for speed, and superb aesthetics, that too at reduced costs.
What's more? The stops on the Magenta Line are home to some of the city's best market places and eating joints. From GK's M-Block market to the famous Janakpuri District Centre, you can experience culinary delight, shopping extravaganza and some amazing sightseeing all in a day's trip!
So, on your next day-off, plan an outing on Delhi Metro's Magenta Line, with our pick of the 10 best stops as your guide.
1. Janakpuri West Metro Station
The first stop on the Magenta Line, Janakpuri is a major activity-hub in West Delhi. From the best shopping steals to the newest, coolest cafes, you will find it all here.
Distance from the metro station: 1.3km
What to do here: It is like a mini Dilli-haat with great deals on shoes and accessories. Everything is reasonably priced and if you bargain you can bring down the cost even further. Shop to your heart's content and pay almost half the price of what you would pay in malls.
Also try the various food stalls here. You can find momos, burgers, chholey bhature, chaat and several delectable street food delicacies all in one place.
Distance from the metro station: 2.9km
What to do here: If you want to take a break from street food, try this lovely cafe located in Janakpuri. They have an organic bakery, patisserie, and the usual cafe fare. The interiors are quaint and beautiful and it's perfect for an afternoon cup of coffee with your bff or even date.
2. Sadar Bazaar Cantonment Metro Station
This small station is the gateway to the protected Delhi Cantt area. While it might not seem like too big an affair on the outside, it packs a mean punch. The Sadar Bazaar market is a great place to shop for wholesale items as well as boots, jackets and imported hiking gear.
Distance from the metro station: 1.9km
What to do here: The market is extremely well known for buying hiking gear, sleeping bags and military jackets and boots. Guys and girls looking for that street-style military vibe can head here and buy outfits at dirt cheap prices. But that's not all! You can also find kitchen-goods, electronics, and bedsheets and curtains at wholesale prices.
3. Vasant Vihar Metro Station
One of Delhi's poshest areas, Vasant Vihar is known for its huge bungalows, big cars and extravagant lifestyle. It is home to the Basant Lok Market, which was once the centre of all activity in the area before the malls.
Distance from metro station: 500 metres
What to do here: This huge shopping complex has everything from clothing stores and salons to a movie theatre and restaurants. But the best place to shop is a thrift store right opposite McDonalds. You get amazing deals on export surplus items here and might be able to get your hand on exclusive Zara and Tommy Hilfiger merchandise at throwaway prices.
If you're in the mood for a fancy afternoon brunch, head to one of the many cool cafes and eateries – Perch Wine and Coffee Bar, Leo's Pizza, and even Blue Tokai.
5. IIT Delhi Metro Station
The Magenta Line is the only metro line in Delhi that connects four universities. IIT Delhi is one of them. With areas such as Essex Farms, SDA Market, Green Park and Panchsheel Park in its vicinity, this station is going to be bustling with activity.
Distance from metro station: 500 metres
What to do here: Eat, drink and party to your heart's content. Whether you are just looking for an evening cup of jo, a slice of cake to go, a sumptuous pizza dinner or a great breakfast, the SDA Market is home to some of the best and coolest hangout spots in Delhi.
6. Panchsheel Park Metro Station
It's another place where you'll find Delhi's who's who. But it isn't just about the bungalows and big cars, Panchsheel Park is also known for some amazing clubs, shopping spots, and restaurants.
Distance from metro station: 2km
What to do here: Designer labels, shaadi outfits and ethnic ensembles are the real deal here. Find the best ethnic steals here and also some amazing jewellery. There are some really good eateries here as well, like Eat at the Potbelly Rooftop Restaurant
7. Hauz Khas Metro Station
Hauz Khas needs no introduction. Already a part of the Delhi Metro's Yellow line, this one is now an interchange station. Extremely popular with college students and office goers because of its proximity to the famous Hauz Khas Village, the station is very strategically located. Besides HKV, you can also visit Green Park, Panchseel Enclave and Safdarjung Enclave, which are all just a rickshaw ride away.
Distance from the metro station: 2.5km
What to do here: You will find designer stores like Ogaan as well as small kiosks selling movie posters here. But shopping isn't the main attraction, the bars and restaurants are. Offering great deals, one on one drinks, and ladies nights offers on several days of the week, HKV is definitely the it-spot for party goers. And metro is the best way to get here because you don't want to get stuck in the parking hassle.
8. Greater Kailash Metro Station
I have no idea why GK didn't have a metro station earlier. The place is bustling with activity. With LSR located right next to the colony, it is a popular budget shopping destination with some well-known restaurants and eateries.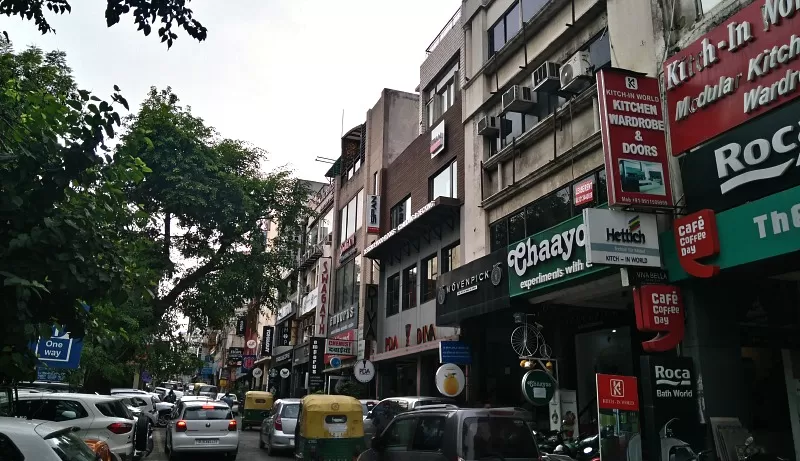 Distance from the metro station: 2km
What to do here: If you're looking for budget finds in the latest clothes, jewellery and makeup, M-Block market is the place to be. You will find the place abuzz with college girls, especially from LSR and Kamla Nehru. Make sure you stop by at Brown Sugar for their steamed wheat momos.
If you're looking for something more upscale, head to the N-Block market, which is another kilometre or so from the M-Block market. It has all the high end stores like Jaypore, Fab India, Anokhi and even some designers.
9. Nehru Enclave Metro Station
Nehru Enclave by itself is a residential area and doesn't offer much in terms of shopping and eating. But the Nehru Place nearby is where the fun truly lies. You can go shopping for all things electronics and then head to Epicuria for a fun night out with friends
Distance from the metro station: 1.5km
What to do here: You name a food chain and it is present in Epicuria! If you come here, you know your taste buds are going to leave the place happy. There are a number of bars and restaurants to choose from, including places like Social, Fio, Lord of the Drinks, and Nandos. It most definitely is one of the hubs for nightlife in Delhi.
Distance from the metro station: 1.5km
What to do here: Nehru Place is a commercial hub best known for finding electronics and gadgets at competitive prices. This place also has a wholesale fabric market where you can get good quality fabrics at a much cheaper price than regular shopping markets.
10. Jamia Millia Islamia Metro Station
One of the four universities connected by the Magenta Line, the Jamia Millia Station is bang in the centre of Jamia Nagar, which is again primarily a residential area. However, the surrounding Zakir Nagar and a few local markets have great places to eat and shop at.
Distance from metro station: 1.5km
What to do here: While most of us equate Delhi's culinary heritage with the Old Delhi region, not many know about this hidden gem in the Okhla area that offers tastier options at even lower prices! You can find everything from kebabs, biryani, chicken preparations and breads to go with it. Some of the best restaurants to visit here are Dilli Nihari, Shama Biryani Centre, Madina Hotel, and Purani Dilli Restaurant.
If you're looking to get some shopping done, make sure you visit the Jaipur Clothes Shop and Lucknow Chikan Art for some wonderful ethnic pieces.
11. Botanical Gardens Metro Station
Conveniently located next to all of Noida's favourite hotspots, Botanical Gardens is your one-stop-shop for most things Noida. All the coolest malls, shopping centres, and eateries are located in close proximity. And it is also connected to the blue line if you want to take that route.
Distance from the metro station: 3km
What to do here: One of the biggest shopping malls in the country, the Mall of India is spread over an area of 2 million square feet. You name a brand and you will find it here. Shop to your heart's content and when you get tired, sit in the food court or one of the many restaurants on the third floor, which is dedicated to foodies.
What are your favourite shopping spots in Delhi? Share them with us in the comments or write about them on Tripoto. Meanwhile, also check out our YouTube channel! You might just find awesome travel hacks there.
Frequent Searches Leading To This Page:-
the best food in delhi, shopping experience in delhi, must visit eating places in delhi, affordable eating places in delhi, places for shopping in delhi, weekend getaways from delhi, trip explore