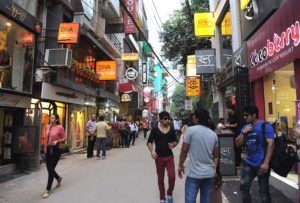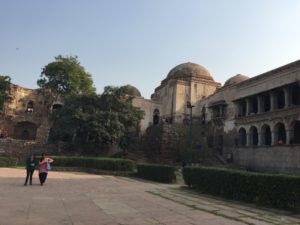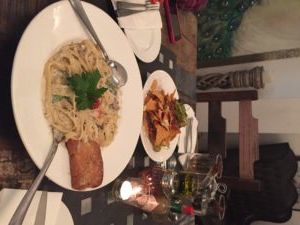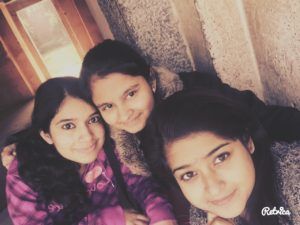 It was a beautiful, sunny December morning and I had decided to catch up with my friends after a long time. And what could have been better than Hauz Khas to just relax with your friends, have good food, a good time and a lot of memories to be cherished.
An alley overlooking the Lake. Boating Services are also provided.
Hauz Khas is basically one of the most affluent places in South-Delhi. Not only it is an attraction for the people looking forward to spend some good time with their friends but also a delight for the History lovers. One of the major attractions of this area is the Hauz Khas Fort and the Lake which go back to the time of Khilji Dynasty and seem to tell about that era through its ancient walls. The place is also the home to a mosque and a tomb , all from the time of Khilji Dynasty. Lush green lawns surround the fort overlooking the lake which provides a breathtaking view. The various alleys and secret passages provide a great time for the photographers, friends and families chilling out with each other and also the tourists.
The Busy Market
Well… as you can guess from the pictures, this was the very place we hung around for hours, relaxing and talking to each other, doing funny, crazy stuff and clicking crazier pictures. If you are wondering "Is this all I can do here ?", well then, you're wrong. The place has some of the best restaurants, cafe and clubs in the entire Delhi. If you're a shopaholic, then again Hauz Khas Market is your paradise. It's home to some of the best, fantastic, designer wear in the area and offers a wide variety from clothes to accessories and shoes.
Fun at the Fort
My friends and I spent an awesome day at the fort followed by good food at the Zo cafe. The pasta and the Blue berry cheese cake are a must try here. The other attractions for a foodie here are The Social, Out of the Box, Summer House Cafe, Cafe 6, Hot Box, Hokey Pokey- a must try ice cream parlor for every ice cream lover and the list goes on.
CONNECTIVITY :
The lust for good food
In addition to all the perks, this place is easily reachable through metro and bus for public transport lovers. The Hauz Khas complex is just about a 5 minute drive by auto from the Hauz Khas metro station. So, the next time you are looking for a place to spend good time with your friends or family, or to have some good food or shopping, you know where to go !!
This post was originally published on 'WHEN I'M ON THE ROAD'.