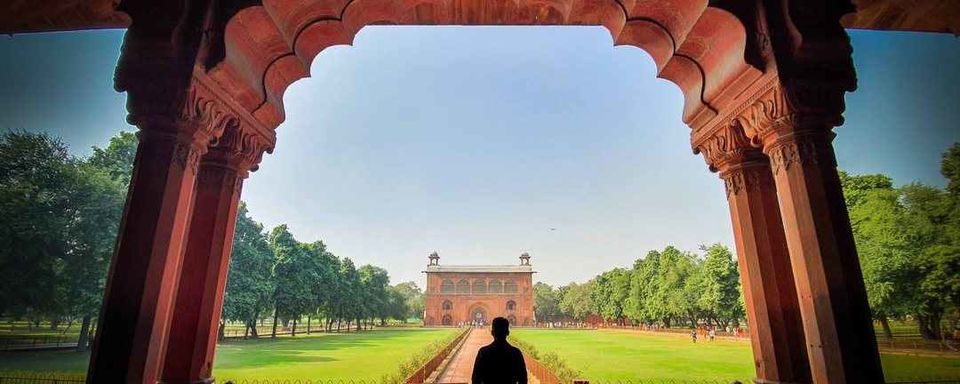 Ye Delhi hai mere yaar, bas ishq mohabaat pyaar! Quoting a line from a Bollywood song! I took time from my work schedule and flew to Delhi to find out how much love the city has to offer.
To be honest, Delhi on the surface seems to be a noisy, hustling, polluted city where nights are not safe and people are rude. But as I said, that's only on the 'surface', at the core Delhi is pouring love, or let me say that more effectively, Dilli ke dil me basa pyaar hi pyaar hai.
I spent 3 days in Delhi and here is what I did:
Metro Pass
I bought a 3-day unlimited metro pass for ₹500 (₹50 refundable). This pass allows you to take unlimited metro rides across the metro network in Delhi. It comes in very handy as Delhi's major attractions are located near the metro stations. I will be mentioning the nearest metro stations with the attraction to spare you some searching. To find out how to reach a specific metro station keep this link handy.
Day 1 (Pehla din)
Early morning while the city was still waking up, I headed towards the Jama Masjid, the oldest and the largest mosque in the city (Nearest metro station is Jama Masjid). It was quiet and peaceful. I spent some time admiring the mosque and then headed to the top of the minaret. The ticket to go up costs ₹50 and you have to climb up a narrow staircase. Upon arriving at the top you will be greeted by the ariel view of Chandani Chowk with Jama Masjid at the base. If you observe closely you can also spot The Red Fort from here.
After visiting Jama Masjid I had built up an appetite for breakfast and what better place have breakfast in Delhi than Chandani Chowk. I headed straight to Kake di Hatti which was recommended by a dear friend. I walked my way but you can also take an e-rickshaw to reach there. At Kake di Hatti, was a huge naan served in front of me and it was delicious! After the naan, I had an imarti and a glass of lassi. This was enough to keep me going for the entire day.
Red Fort was my next stop post breakfast. This monument was built by Shah Jahan and served as the main residence for Mughals. Currently, it is known for flag hoisting by Indian Prime Minister on independence day. Entry tickets are ₹35 for Indians and ₹500 for foreigners. To avoid the line at the ticket window scan the QR code located near the ticket window and buy the tickets online.
After admiring this lavish historical residence, I headed to Connaught place commonly known as CP (nearest metro station is Rajiv Chowk). I found CP to be quite a chill place to hang out alone or with friends, with lots of food options and a spree for window shopping.
At night I went to the India Gate which is a war memorial. On the way, I halted at Sri Bangla Sahib to seek some blessings. To reach there, go straight, and after two circles from CP is India Gate, if you take Janpath road. After spending some time with the vibe of India Gate, I called the day off.
Day 2 (Doosra din)
Next morning, I headed to Chandani Chowk (nearest metro station Chandani Chowk) to check out what Delhi had to offer for breakfast. To no disappointment, I had bedmi poori & nagori halwa, topping it up with some jalebi, rabri and lassi. I went to my friend's place post that and spent my evening at cyber hub Gurugram. With a lot of cafes and restaurants, Cyber hub is a great plate to just chill, unwind and relax.
Day 3 (Teesra din)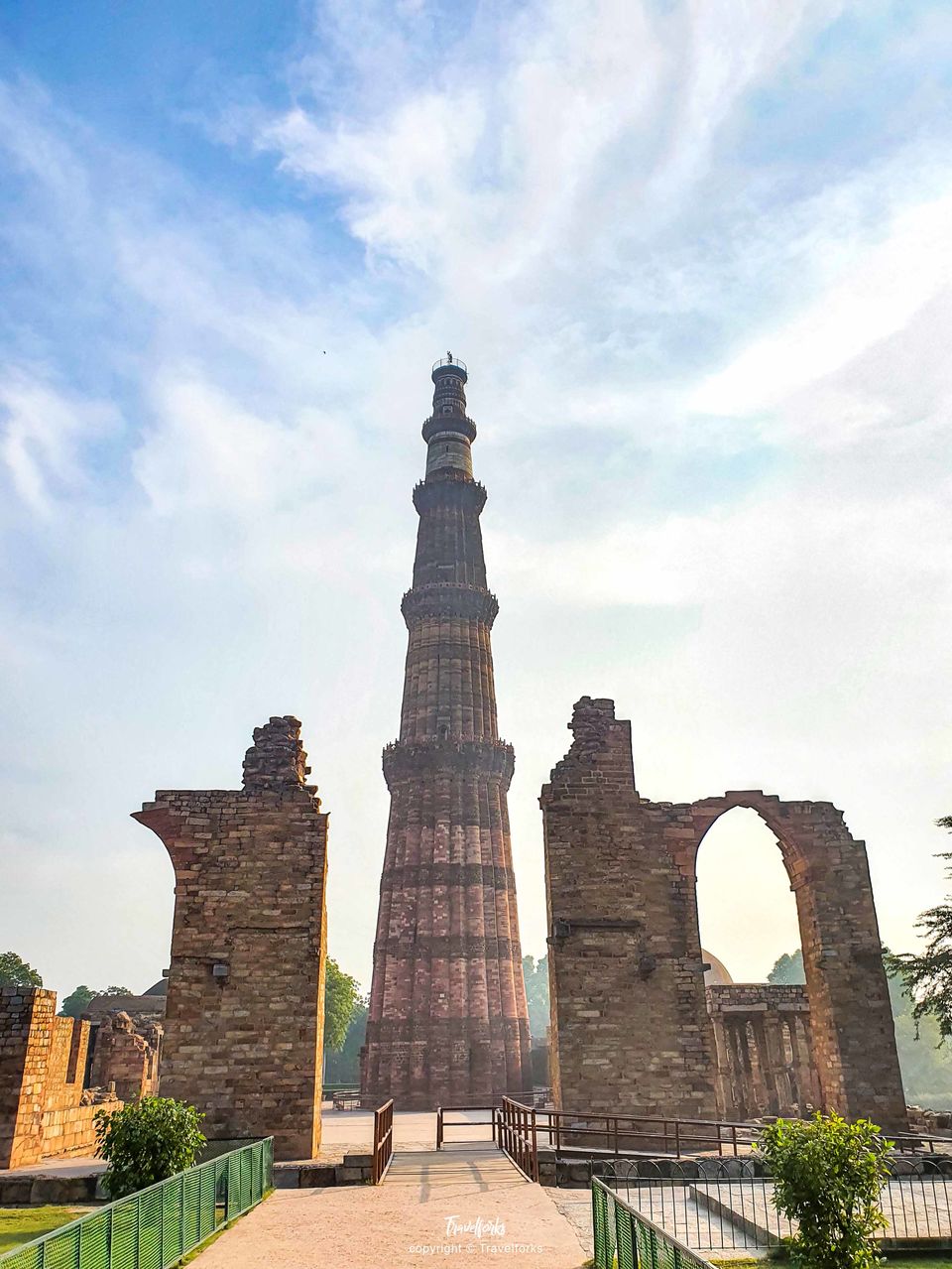 Woke up early in the morning and went to see Qutub Minar (nearest metro station Qutub Minar). It is a minaret and said to be the highest tower in India. You can take an auto-rickshaw from the metro station which will cost you 10-20 rupees. Now, I went there as early as possible and I got the entire Qutub complex to myself. It was very peaceful with the only sound of birds chirping. The complex is very pretty with Qutub Minar, the Iron Pillar and a few broken gates and structures to see. The iron pillar is one of the highlights there as the metallurgy department still can not figure out how it was made, that even today it is corrosion free!
After spending some quality time with this complex, it was time for me to listen to my tummy. From here I went to Pahadganj (nearest metro stop R K Ashram Marg) to have Delhi's famous chole bhature at Sitaram Diwan Chand. It is a short walk from the metro station. Not to mention, the Chole bhature was quite amazing! I topped it up with some kulladh ki chai and rabri from surrounding shops.
It was time to head back to CP. Went to Jantar Mantar in CP and explored the market. I bought some camera accessories at throwaway prices there. Then I chose Cha Bar to sit for a while, relax and recharge. They have an ayurvedic section of tea which I absolutely loved.
All recharged, it was time to make most out of the last day. Accompanied by a friend, we took an electric bike on rent via Yulu App. You will find a lot of Yulu zones in the surroundings and with just ₹250 as deposit and ₹10 per 10 minutes, you can get going.
We headed to Humayun Tomb from CP, visiting Agrasen ki Baoli and India Gate in between. Humayun's tomb is a nice, quiet and peaceful place to sit and get lost in thoughts.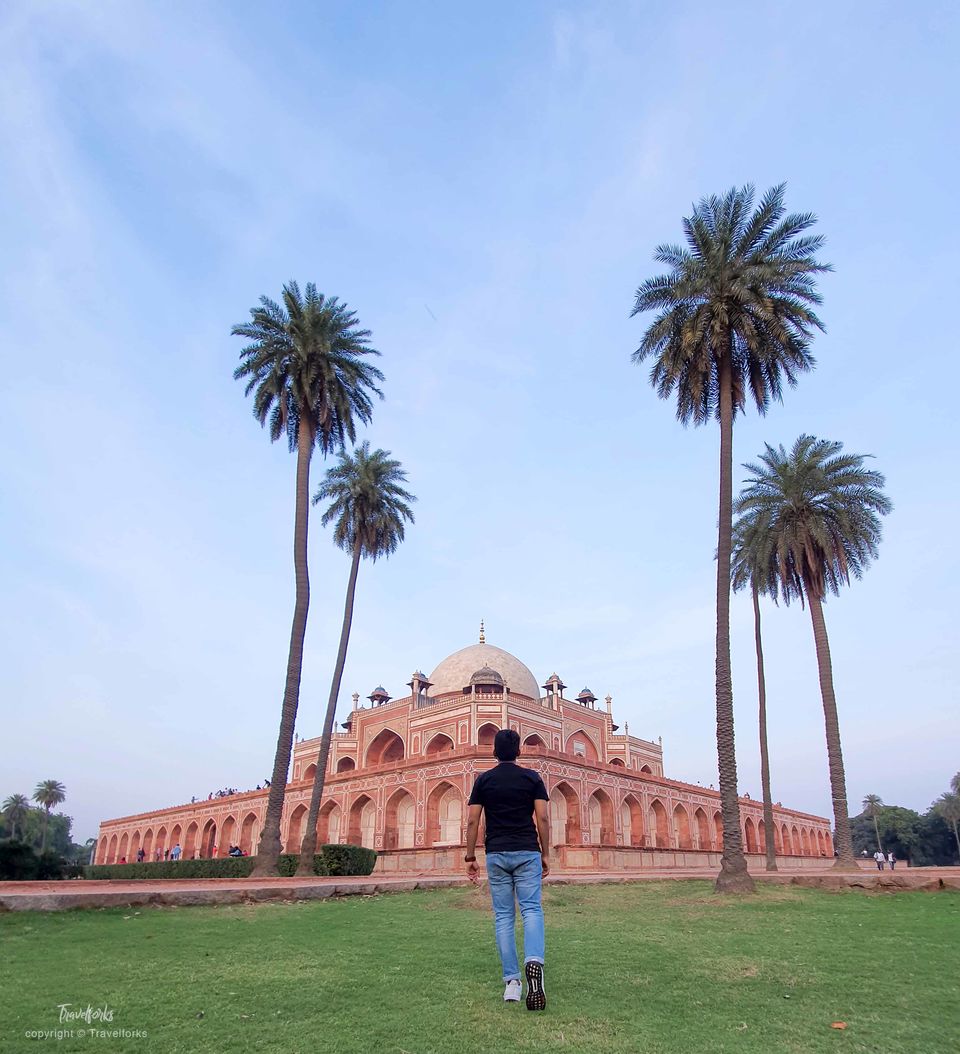 Post this it was time to wrap up the day, so we went to Saravana Bhawan, Delhi's favourite South Indian restaurant and relished our dinner there.
Three days passed with a blink and it was time to say goodbye already. Next day I took a metro to the airport and waived back at Delhi, hoping to come back for more love!
With all those experiences in my heart, I can truly say "ye shehar nahi mehfil hai" - this is not a city, it's a carnival!
Orignal blog at:
https://travelforks.wordpress.com
For more stories follow us on:
Instagram:
https://www.instagram.com/travelforksblog
Facebook:
https://www.facebook.com/travelforks