"Sarojini ke kapde pehen ke jaati madam Disco" remember this infamous line of a song from a Bollywood movie. Well, it's kind of true . The central shopping hub is one of the favourite markets among the college crowd especially girls for the impeccable variety of outfits in cheap prices. If you are going to Sarojini Nagar market and not coming with bags full of stylish clothes, you are surely missing out on the favourite spots in the market.
If you want to visit a place for trendy clothes in a budget and pair it with chunky jewellery, you are surely headed to the right place. This market is popular among Delhiites because of the great fashion fix at reasonable prices. There are shops as well but what makes it famous is the street vendors whose offering have everything from home furnishing, fashionable clothing, bags, cosmetics, belts, sweaters, footwear, and other accessories. This market never disappoints because every time you visit you can see new styles and designs and all the fashion trendsetters. From what the celebrities are wearing to what is upcoming, this place is surely a lesson in fashion styling. You can get some new fashion and even some clothes that are export surplus or probably rejected due to some minor defects from the fashion brands that you always want to wear but the pocket says "No". As long as it is fashionable and trendy and the fault is minimal, who cares.
To explore every side of the Sarojini Nagar Market, you need at least half day and it is good if you start early in the morning around 11 because they open shop during that time and you can put your bargaining skills to test being their first customers. With the new Sarojini Nagar metro station and multi-level parking, it has become convenient for people to visit this market.
What Makes it Amazing?
Trendy Clothes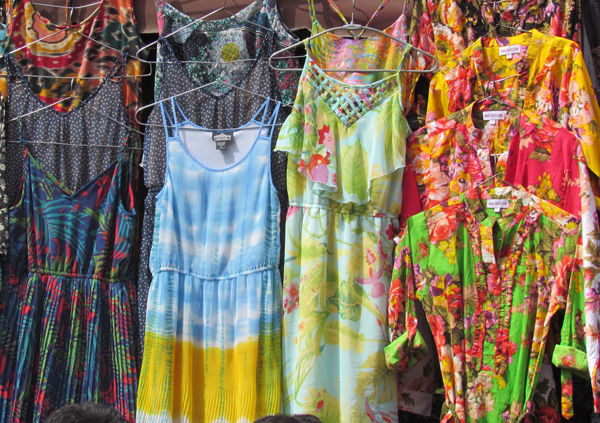 You can find everything here from a pair of shorts to dungarees, pyjamas, skirts, cocktail dress, casuals, semi-formals and a lot more. You name it and they have it. You can get a casual top at Rs.100 Rs.-500.Rs. Printed palazzos, skirts, and jeans can all be bought for around INR 250 or less and trust me they are extremely fashionable! Tattered jeans under Rs.200.The best part is it is suited for every budget. All your party woes are sorted from pyjama parties to Christmas party to theme parties, we've got you covered. Head to the export gallis to get some chic stuff. It seems like the high street trend. If you want to buy the best dresses, jackets and tops head to that archway with graffiti. The vendors here are up-to-date with the changing fashions and are ready to bargain as well. The cherry on the cake!! If you have it in you to fight out with a pile of clothes, you might find some hidden gem in Rs.50 as well. Carry a jhola or make sure to buy a jute bag because you are gonna be loaded with a lots n lots of polythene bags.
Junk Jewellery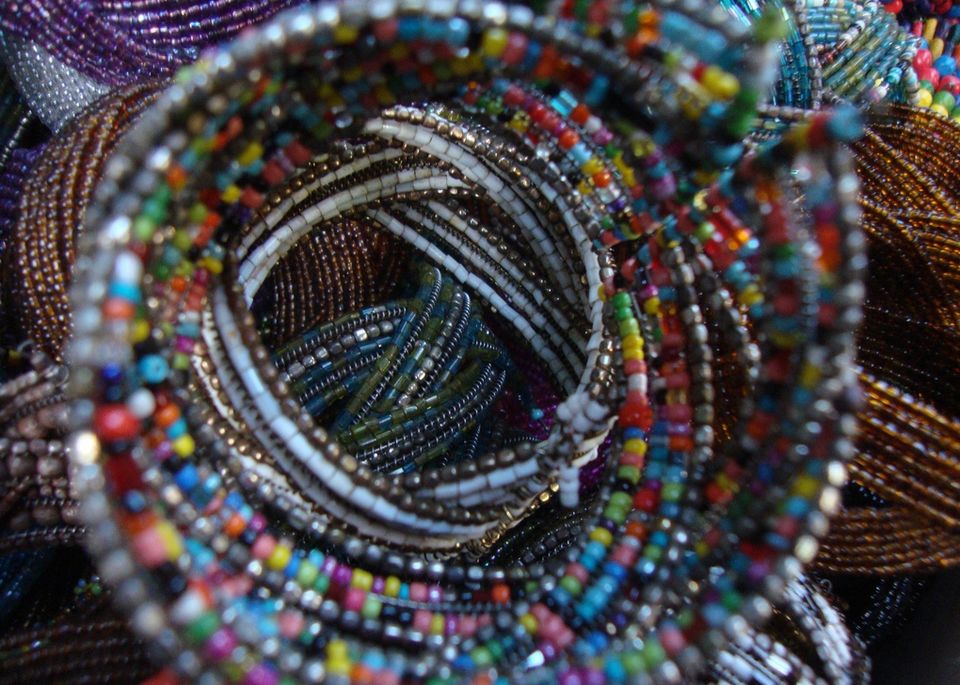 How do dresses look good? If it is accessorized well and complemented with a right pair of shoes. This makes it perfect. Sarojini comes across as one of the best shopping hubs selling junk jewellery at every corner inside the market. You can buy a stunning pair of necklaces and earrings as cheap as Rs.30 that can go nicely with your dress, kurtis or a smart top.
An Infinite collection of Sneakers and Slippers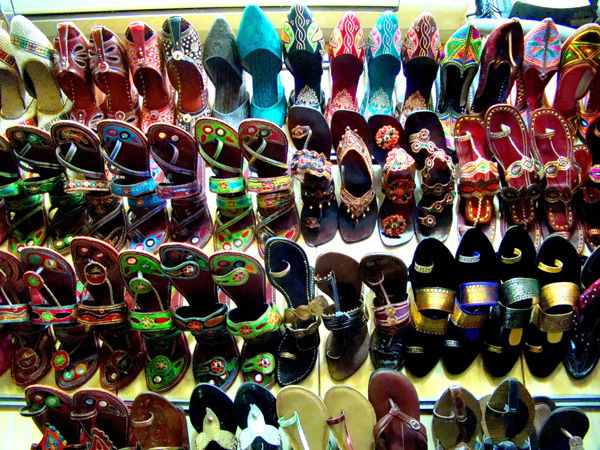 Trying to pull off a blogger look or looking for winter wear. There is an infinite collection of sneakers, boots, ballerinas, loafers and the basic chappals. You'll find fancy wedges, pencil heels, thigh-high boots, tie up flats and so much more. The best part is that you can get them at the cheapest price possible as flat ankle boots here are sold for as cheap as under Rs. 500.
Home Decor and Cutlery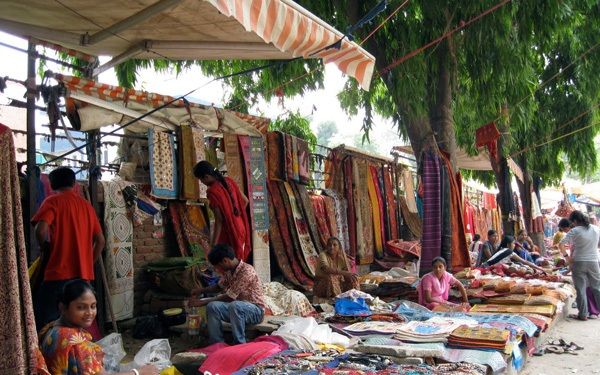 Sarojini Nagar Market is not just limited to buying clothes, there is a complete lane dedicated to home decor and cutlery. There are shops which sell beautifully printed curtains, show pieces, tablecloths, bed sheets, wall hangings, paintings, cushion covers and the list goes on. You can get fancy pieces of cutlery as well which includes coffee mugs, tea sets, printed glass plates, dining sets and much more.
Backpacks to Clutches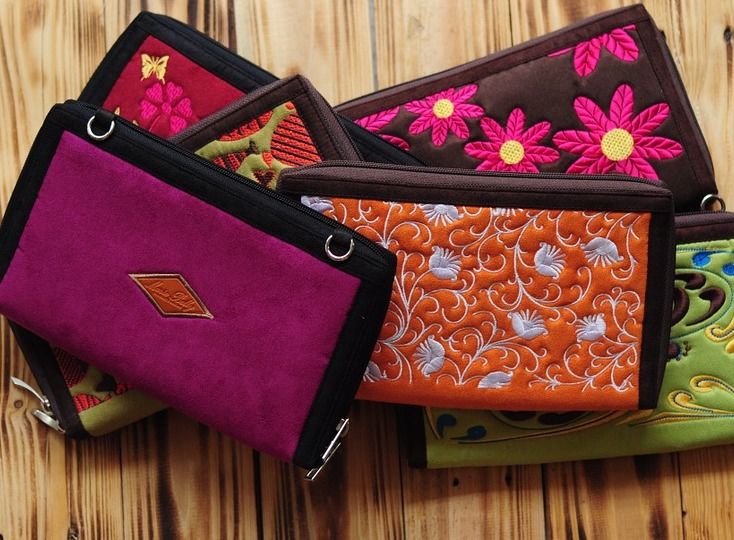 Not just clothes and accessories, you can get a vast collection of bags which includes sling bags, travel bags, leather bags, handbags, pouches, clutches, jholas, tote bags and the list is never-ending. You might have to struggle a little, but you can get a good bag reasonably priced with good quality plus they are durable as well.
Tips:
• Brush up your bargaining skills. Quote a price that is way less than what shopkeeper says, convince them with great conviction and the piece you are eyeing on will be yours in no time.
• The best time to visit Sarojini Nagar is on weekdays, especially during the afternoon.Weekends are totally packed.
• Keep an eye for the landmarks (be it hoardings or the fruit-juice walla!) so that you can return back.
• Don't forget to grab a bite while shopping. You can get moong ke pakode,momos and shakarkandi easily. For lunch, check out the eateries in the complex adjacent to the market or check out options in the market itself.
• The market is closed on Monday. However, if you go after lunchtime you can find many shops open and you might be able to get a good deal.
• Watch out for wear and tear, always point out the defect (may it be a small little hole or minimal stitching error) to the shopkeeper and use it to get an additional discount.
• There are limited options for Men's but you can get graffiti t-shirts, boxers, shorts and backpacks.
• The sizing on the garments are almost never accurate, so the only way is either try above the existing clothes because you don't have the luxury of changing rooms.You can also try taking one size bigger or convince the shopkeeper for return in case it doesn't fit and the last option quick fix at the alteration shop.
So, be armed with bargaining skills and get ready to revamp your wardrobe.
Do you know of any hidden gem in Delhi markets? Share your story on Tripoto.
Bored of flipping the videos, check out Tripoto's Youtube Channel for some travel inspiration.