Having lived in the capital for two decades, it took me a number of bittersweet memories, few bad vacations, and the passage of time to appreciate the beauty of this city. In a recent frenzy of not 'wasting' my long weekend, an idea struck me about being a tourist in my own city. (Without actually visiting the famous touristy places, of course). Delhi is a delightful city, full of surprises. I grew to love this city and I hope you do too. This then is a list of things to do in Delhi today, comprising experiences that you may have heard of but have not actually embarked on.
1. Pamper yourself by staying in a beautiful lodging
You don't necessarily have to shell out extra money, especially when you have your own home in Delhi. But for truly experiencing the city like a tourist, pamper yourself by staying in a cosy place like the one mentioned below -
Located in the trendy neighborhood of Hauz Khas Village, this beautiful one-bedroom studio apartment made in Rajasthani style has one bedroom, one drawing room with dining space and a balcony. Despite being surrounded by pubs, high-end restaurants, art galleries and fashion boutiques, this independent apartment provides serenity by offering a mesmerizing view of the Hauz Khas lake. Since the apartment can host only up to two guests at a time, it is ideal for a couple getaway. If you haven't already, then let this be the first of many things to do in Delhi today!
Where: Hauz Khas Village
Nearest metro station: Green Park
Cost: ₹4,260 per night
Timings: Check-in any time after 12pm, check-out by 12pm
2. Meet other travellers at this unique pay-whatever-you-like Travel Cafe
Kunzum Cafe is a unique concept started by traveller and photographer Ajay Jain. Deriving its name from Kunzum La, a high mountain pass in the Himalayas, the cafe offers a quaint, cosy ambience where you can meet other travellers and converse over coffee, tea or cookies for which you can pay whatever amount you'd like to. The place is not an eatery but you can always go there and avail the free wifi facility, pick up a travel book or gaze at the beautiful photographs from various places that adorn the walls of the cafe. They even host travel related workshops every now and then.
Where: Hauz Khas Village
Nearest metro station: Green Park
Cost: Pay whatever you want to
Timings: 11:00am to 7:30pm. Closed on Mondays
3. Availing the DMRC bicycle facility to explore the city is one of the best things to do in Delhi today!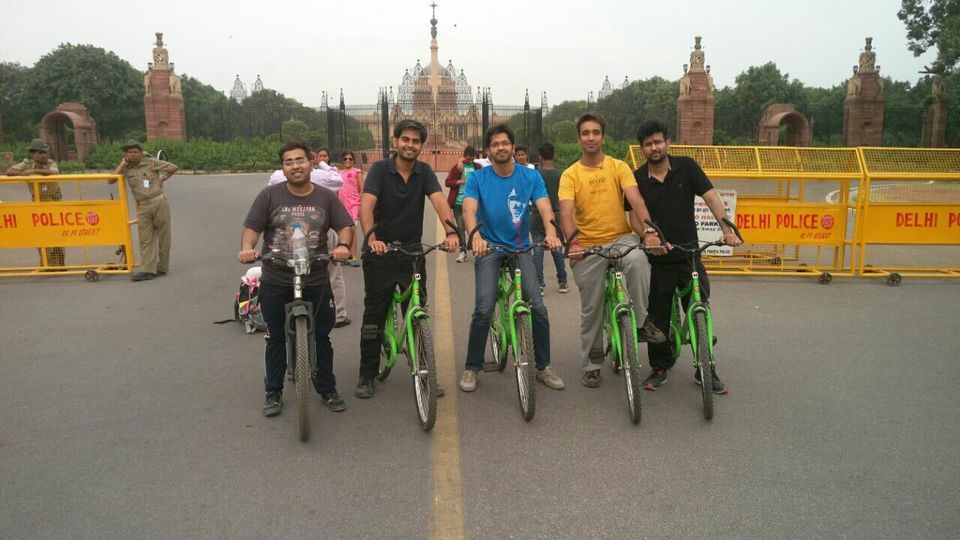 There are many metro stations in Delhi that provide the facility of using a bicycle at a mere rate of ₹10 per hour. Bicycling is not only great for physical fitness and pollution control but is also an economical means of exploring alleys you otherwise wouldn't visit. I personally love roaming around the lanes of Chanakyapuri and Lutyens' Delhi for the greenery and peace I find there. It is also the cheapest way to cover all the things to do in Delhi today!
Where: Multiple metro stations (Check out here)
Cost: ₹10 per hour
4. Chill by the hill and find peace amongst the dead
A resting ground for soldiers that had lost their lives in the two World Wars, this historic cemetery is a forgotten entity that offers nothing more than solitude and peace. The grand gate of the cemetery leads to a beautiful garden lined with tombstones that are surrounded by beautiful climbers and shrubs. Right next to the cemetery is a barren mound where you can seek solitude, if that's on your list of things to do in Delhi today.
Where: Delhi Cantt
Nearest metro station: Dhaula Kuan, Kirti Nagar
Cost: Free!
5. Grab a drink in Paharganj
Quite often referred to as Delhi's backpacker district, Paharganj is mostly dismissed as a shady and chaotic place. It houses cheap guesthouses and cafes and you can easily find beers for under rs. 100. If you're an aesthete, you'll be thrilled to explore the narrow and neon-lit lanes reminding one of Dev D or Enter The Void. If you're reading this on a weekend, this one's a must on your list of things to do in Delhi today!
Where: My Bar Paharganj, Sam's Restaurant And Bar
Nearest metro station: RK Ashram Marg
Cost: ₹700(for two) ; ₹90 for a pint of beer
Timings: 11am to 12:30am
6. Go out for a session of rock climbing
If you're the type of person who loves adventure, rock climb the artificial walls of IMF. The place is great for testing your endurance and strength and makes for a fun activity as you learn a new skill.
Where: Moti Bagh
Nearest metro: Dhaula Kuan, AIIMS
Cost: ₹150 per session
Timings: 9am to 1pm and 4pm to 8pm. Closed on Mondays
7. Watch a play and appreciate the art of acting
Instead of going for a movie, watch a play which is much more economical, unfiltered and real. While there are many locations, Mandi House with its renowned National School of Drama (the alma matter of many great actors) is a hub for hosting plays.
Where: National School of Drama, Shri Ram Centre For Performing Arts
Nearest metro: Mandi House
Cost: 100-200
Timings: Subject to the play
8. Admire the works of modern art
Run by the Department of Culture, Government of India, the gallery showcases visual and plastic arts and displays the changing art forms of India starting from the year 1857. There is also a small art shop where a lot of souvenirs and print reproductions can be bought.
Where: Jaipur House, Sher Shah Road
Nearest metro: Pragati Maidan
Cost: ₹20 for Indian nationals and ₹500 for foreigners
Timings: 11am to 6:30pm. Closed on Mondays and national holidays
9. Transport yourself to Delhi's very own Tibet
Majnu Ka Tilla is a tiny neighborhood in North Delhi, away from the urban chaos. As soon as you enter MKT, you'll be greeted by a beautiful monastery. There is a rustic charm to the narrow lanes bustling with people selling Laphing(a Tibetan snack), momos, Tibetan jewellery and other Buddhist artifacts. The place is filled with cafes, some of which are famous amongst college students. Visit the place for experiencing a different culture altogether.
What to do here: Try Tibetan street food or visit one of the many Tibetan restaurants, buy clothes and Tibetan jewellery.
Nearest metro station: Vidhan Sabha
10. Go out for a nature walk or a morning jog
Jahanpanah City forest is one of the dense forested park in Delhi spreading over 435 acres of land. Other than the surrounding residents, the place is unbeknown to most people. The forest has a 6km long running track and it is well laid out with trees, vibrant flowers and creepers.
Where: Near Alaknanda colony
Nearest metro: Nehru Place
Cost: Free
Timings: 5am to 6pm
What is your idea of spending an offbeat weekend in your city? Write about it on Tripoto and inspire millions. We're always looking out for more things to do in Delhi today!
Frequent Searches Leading To This Page:-
Top things to do in Delhi, Weekend getaways from Delhi, weekend getaways near Delhi, trip package from delhi for 2 days, nearest best places from delhi for weekend