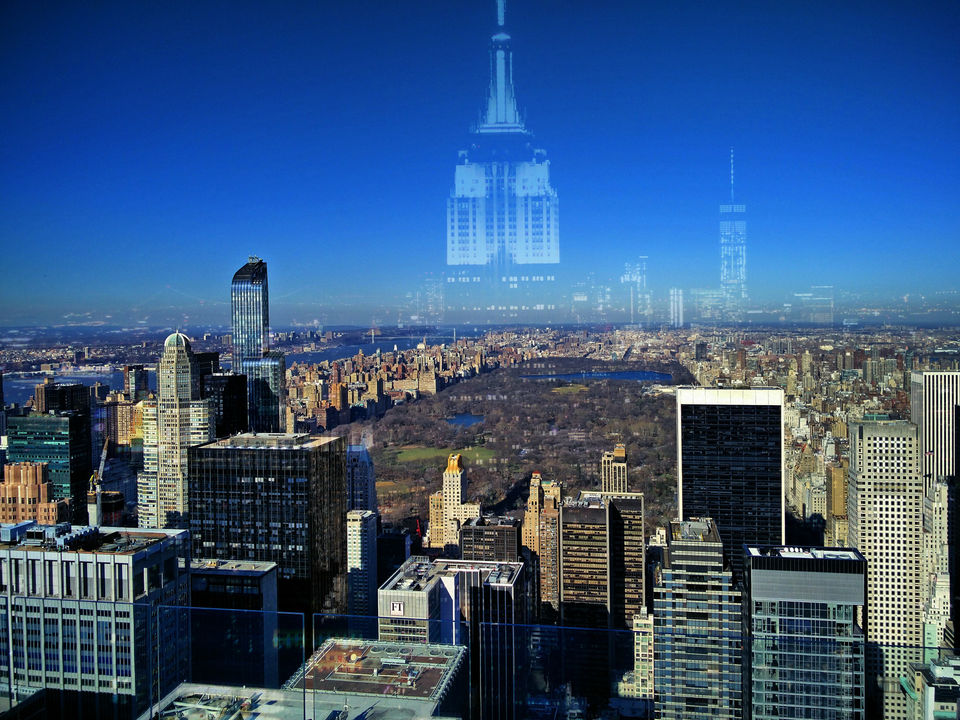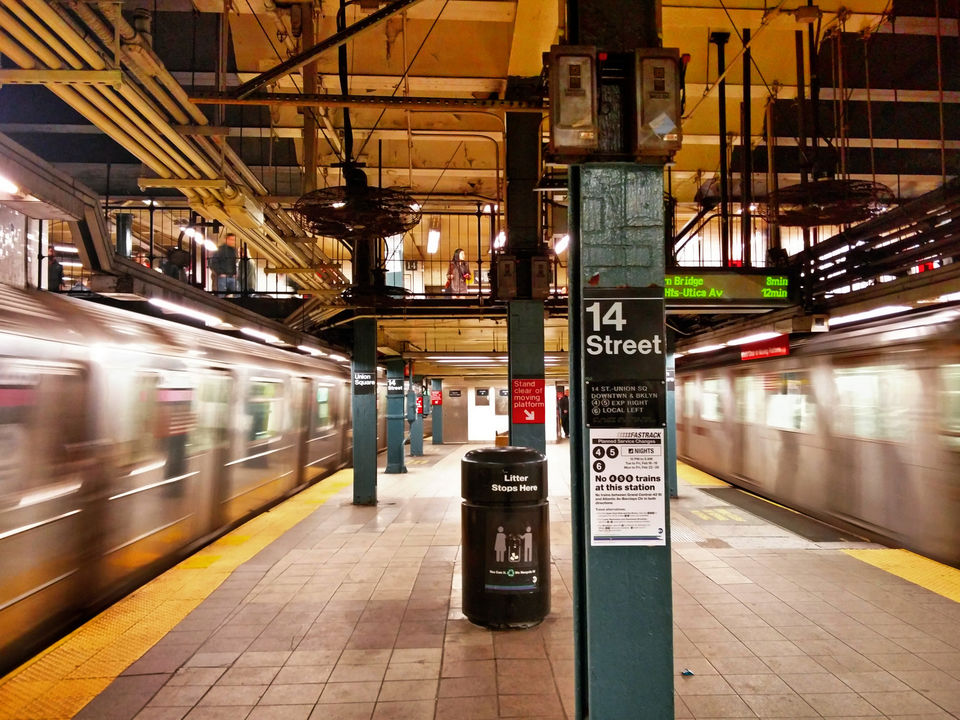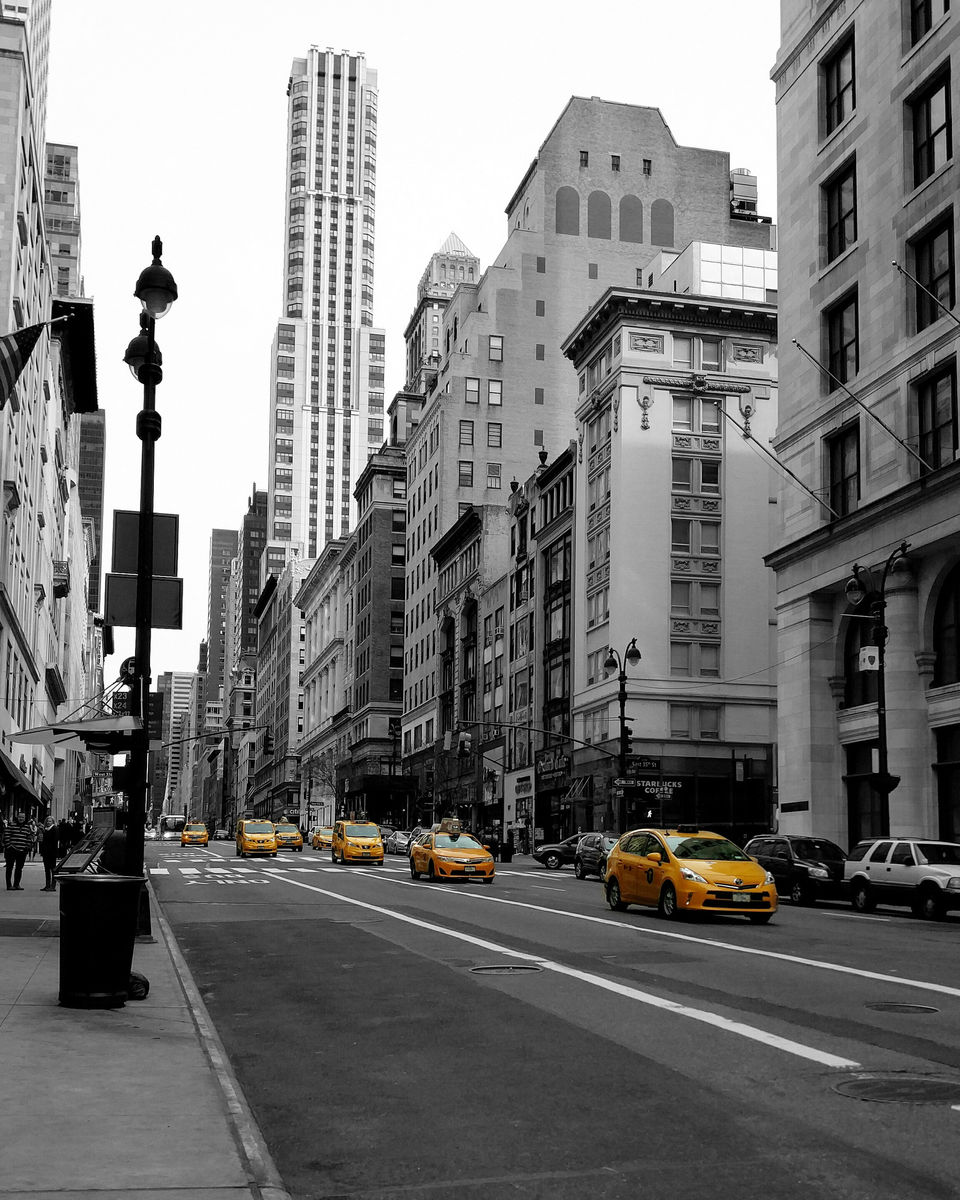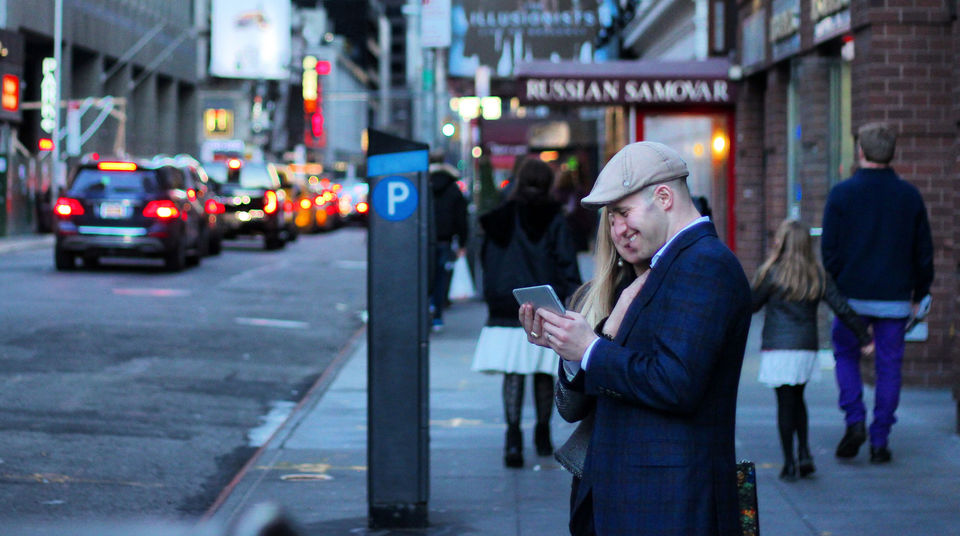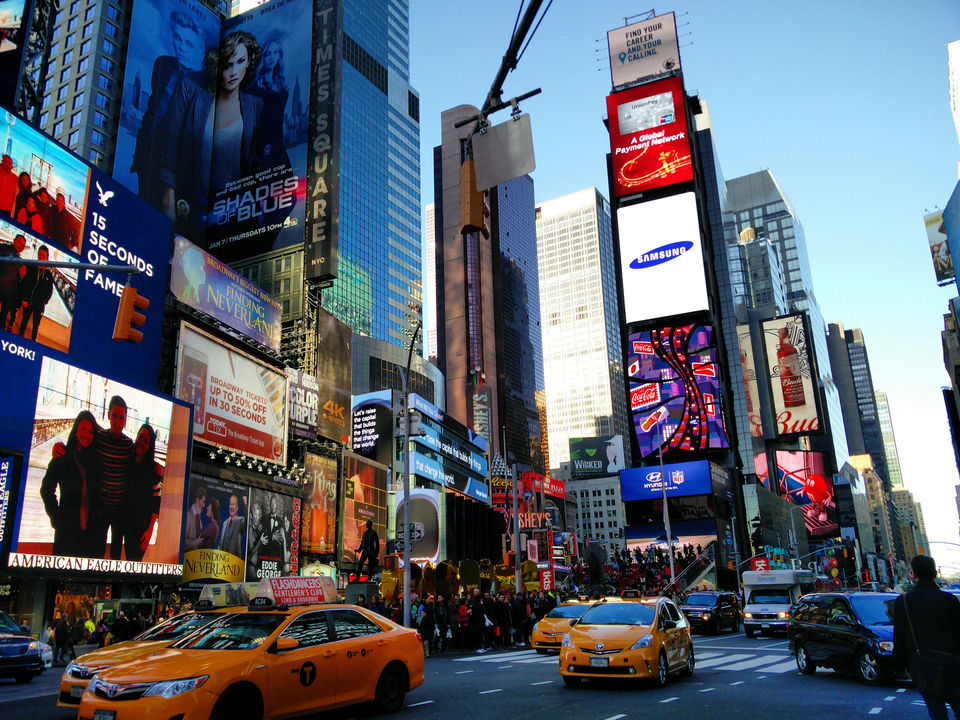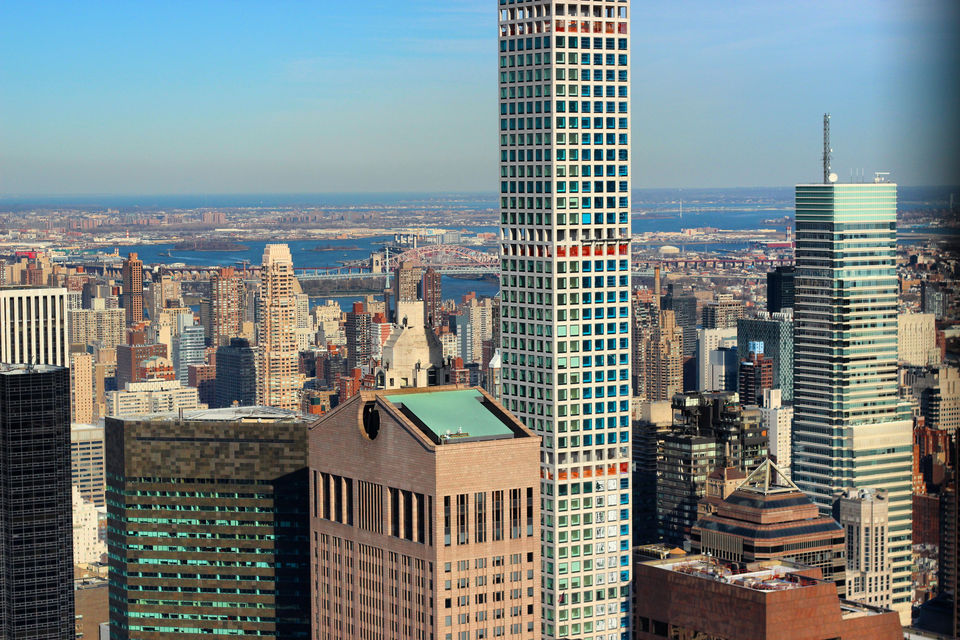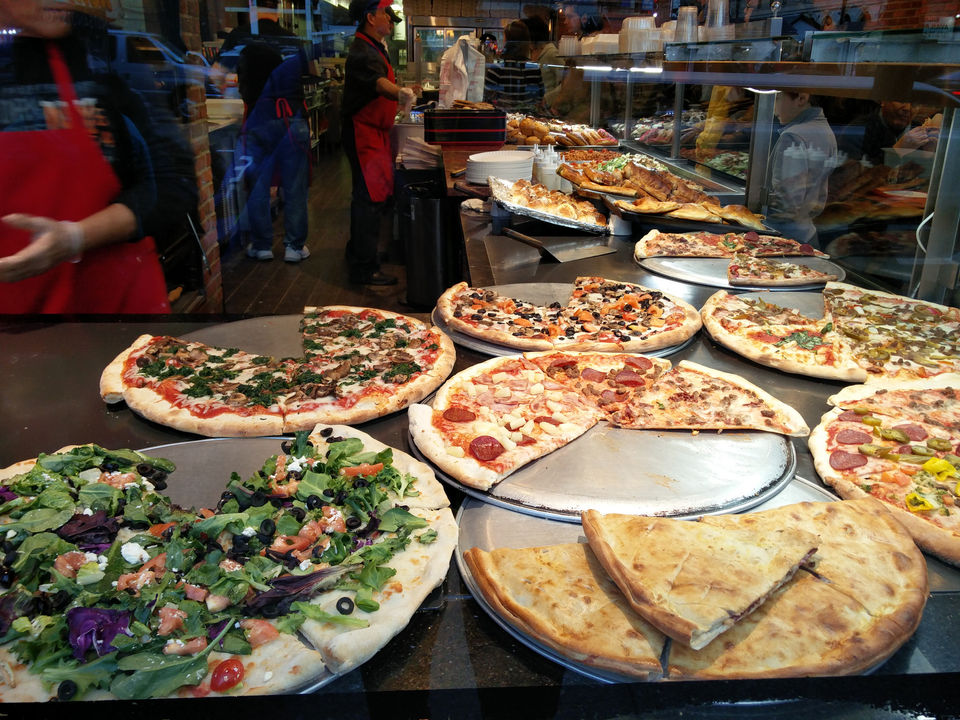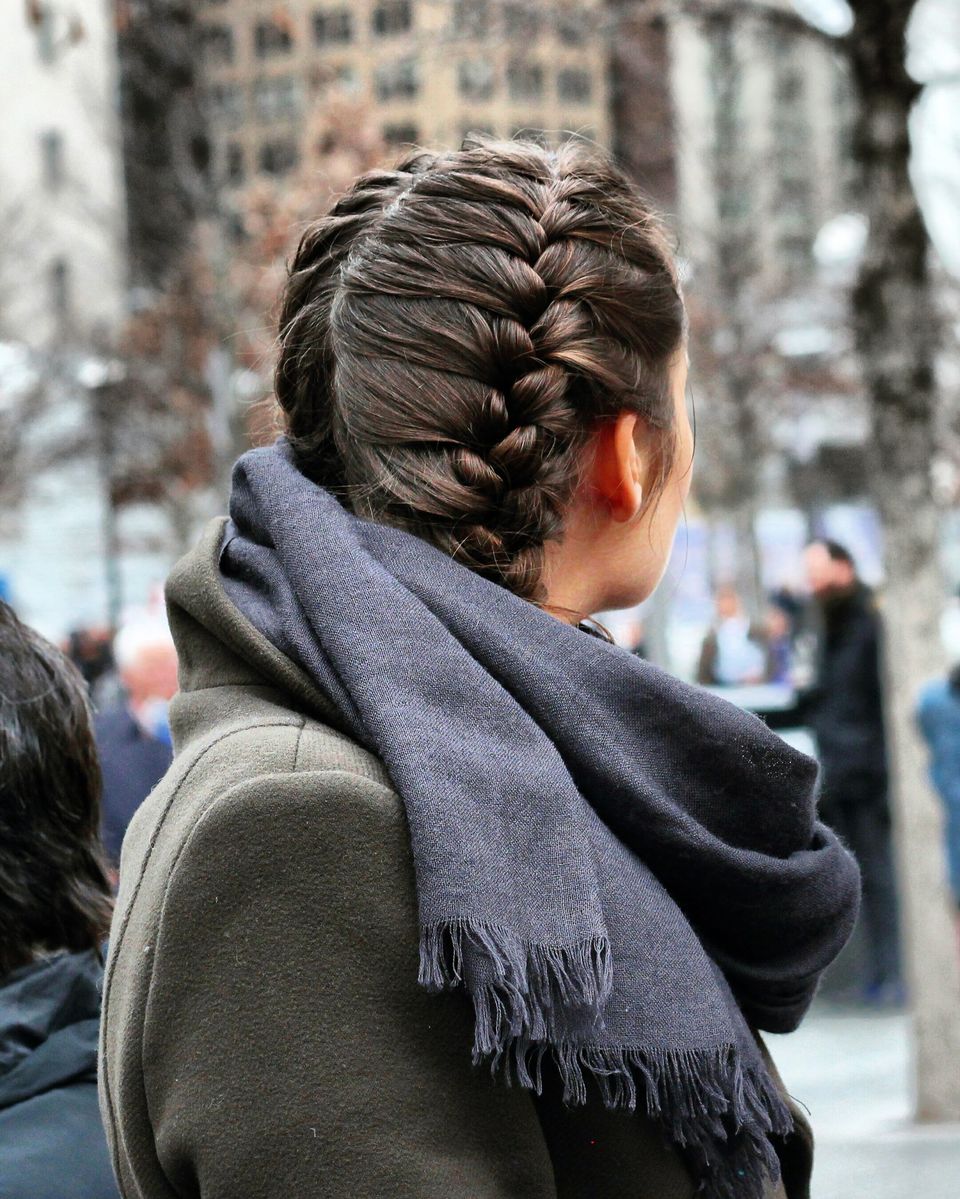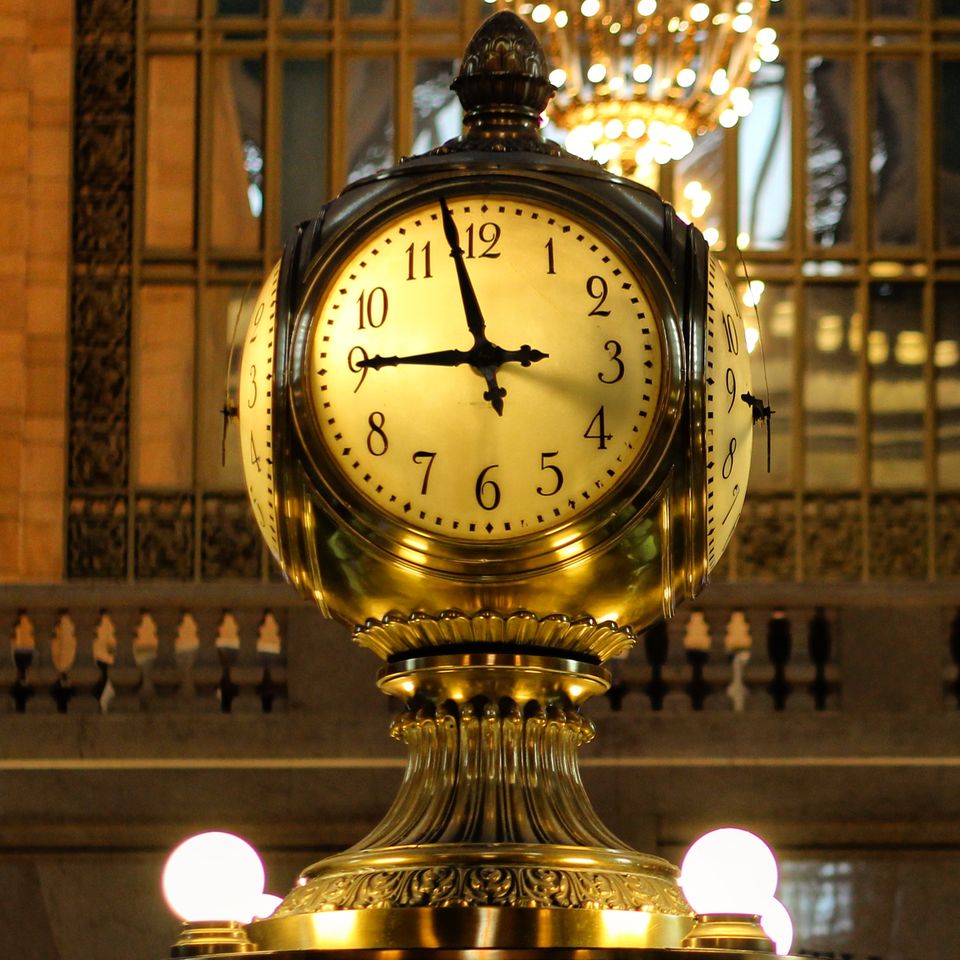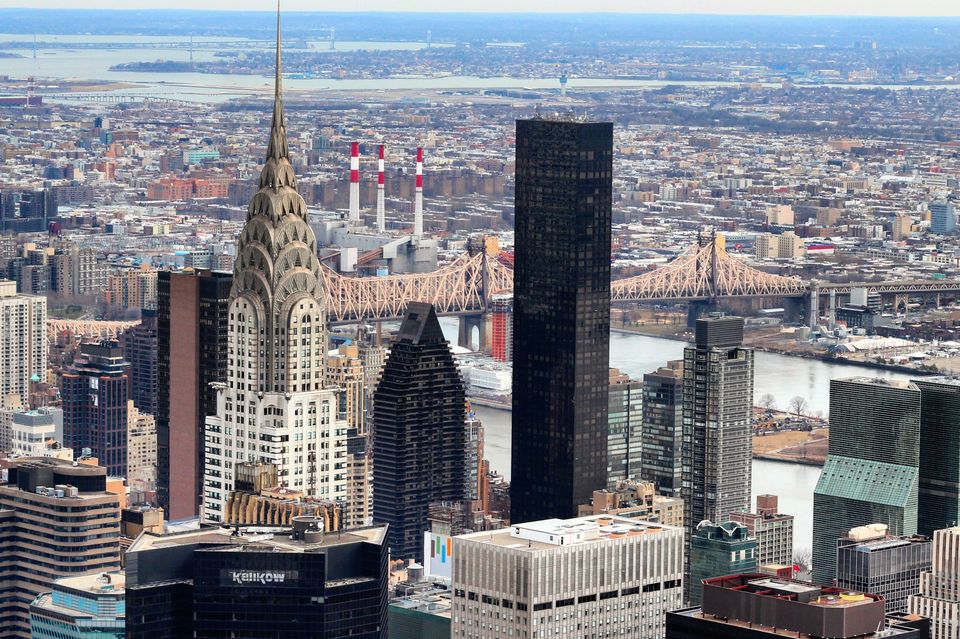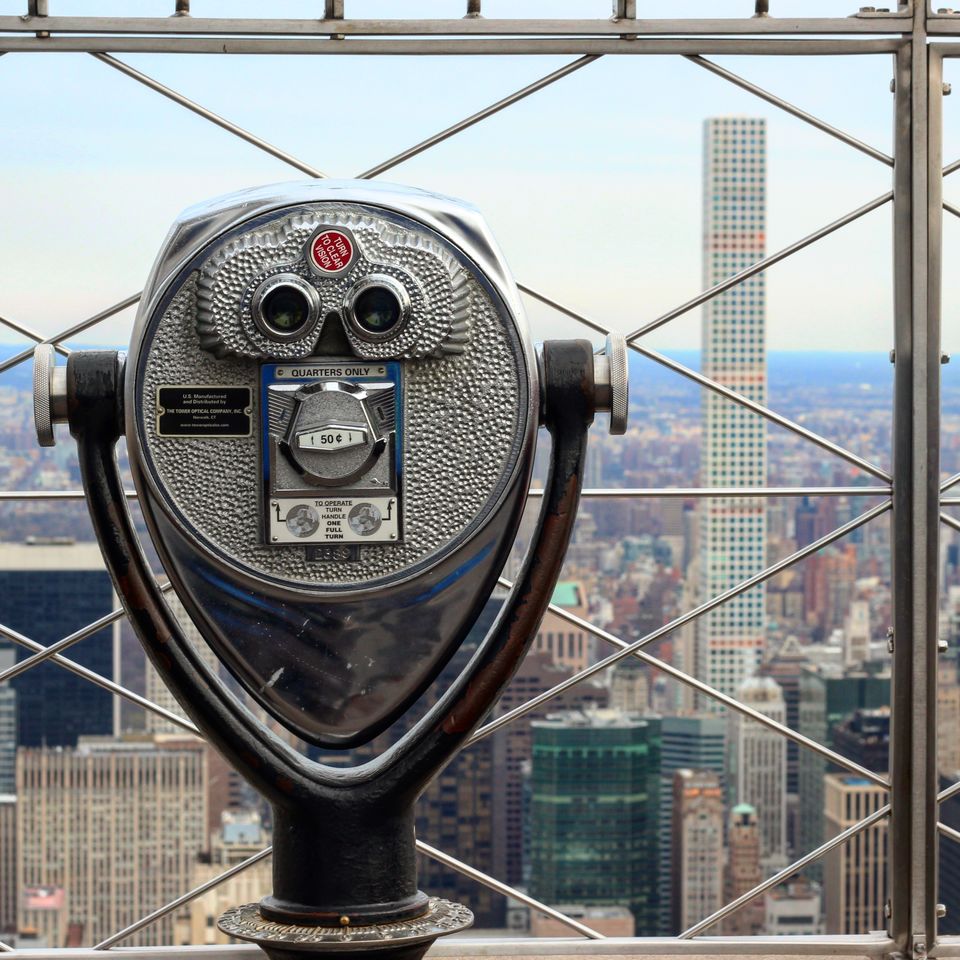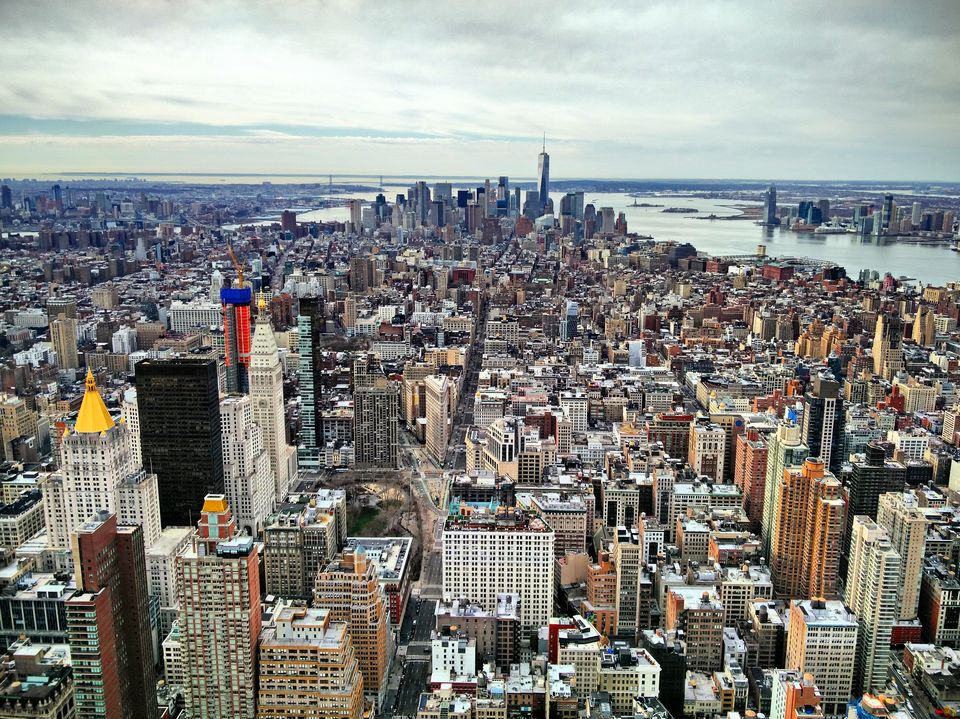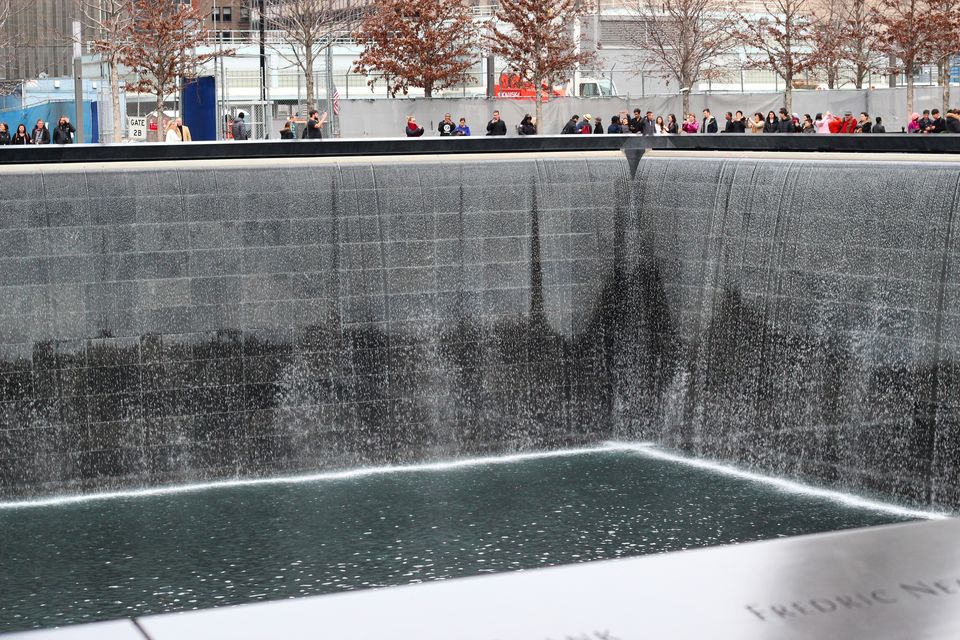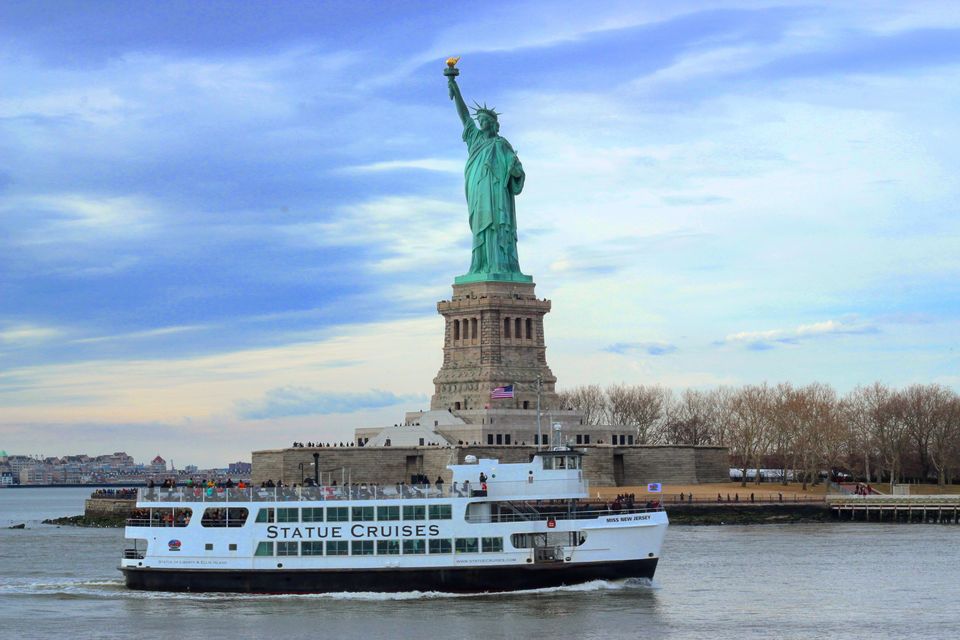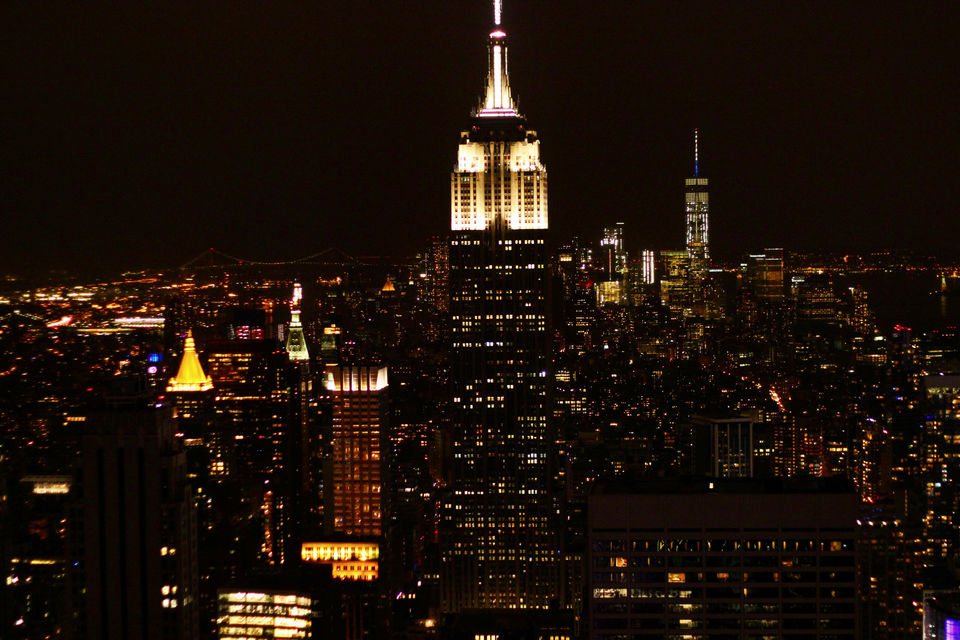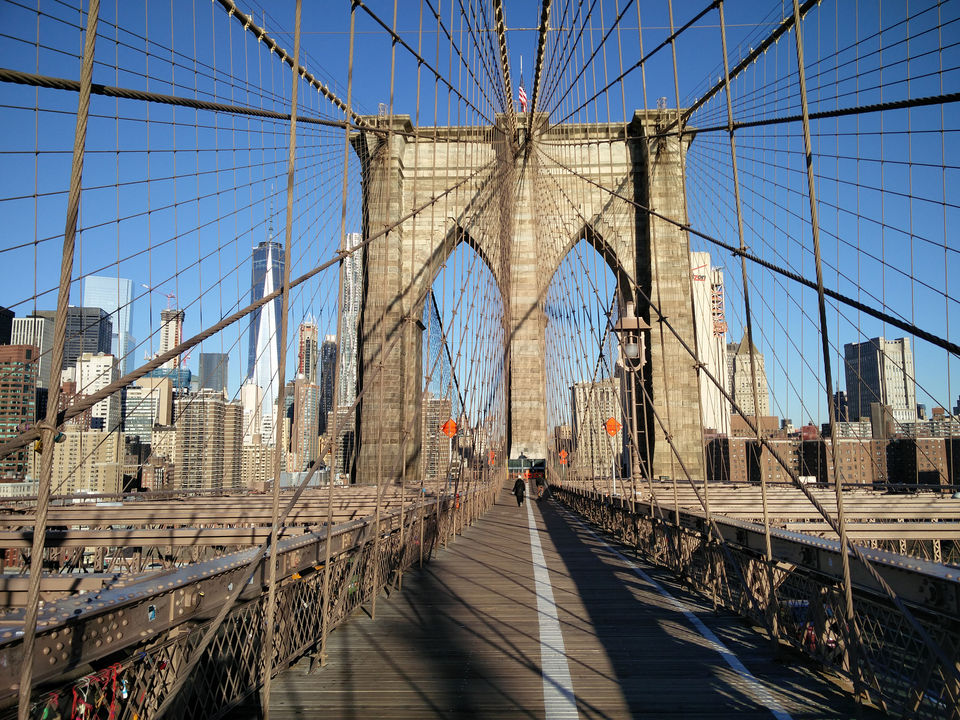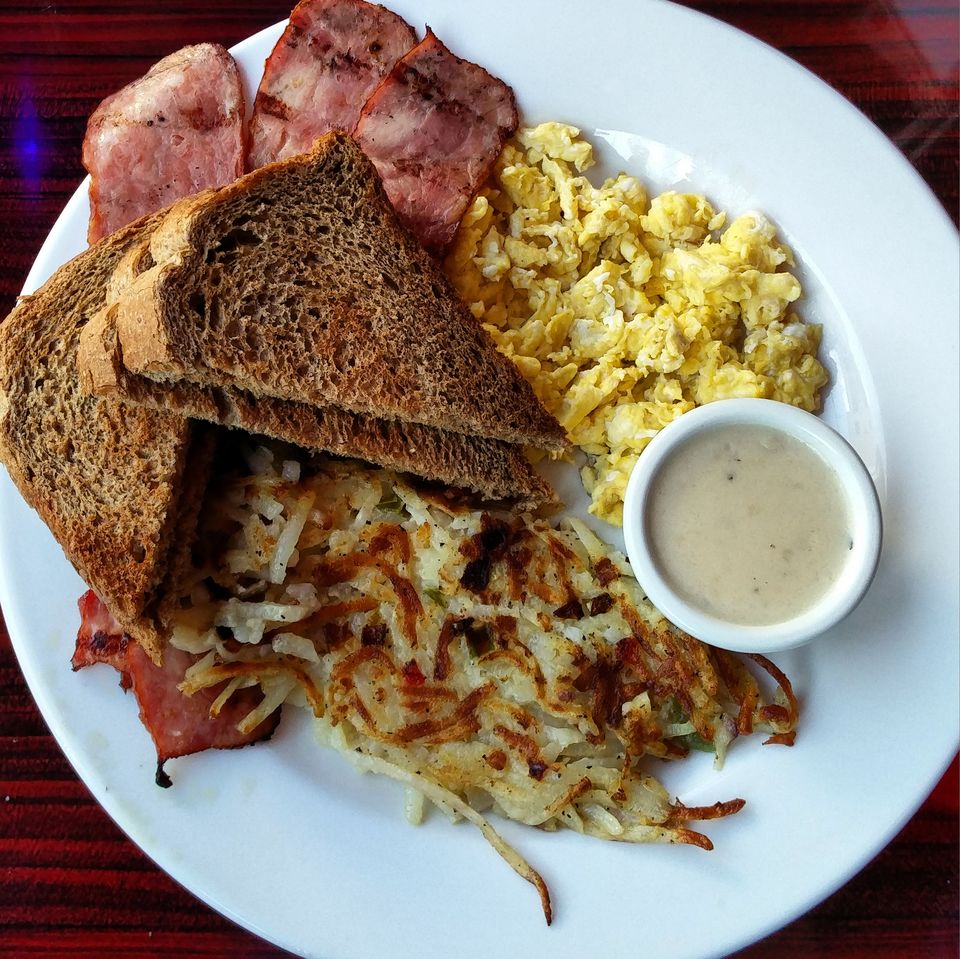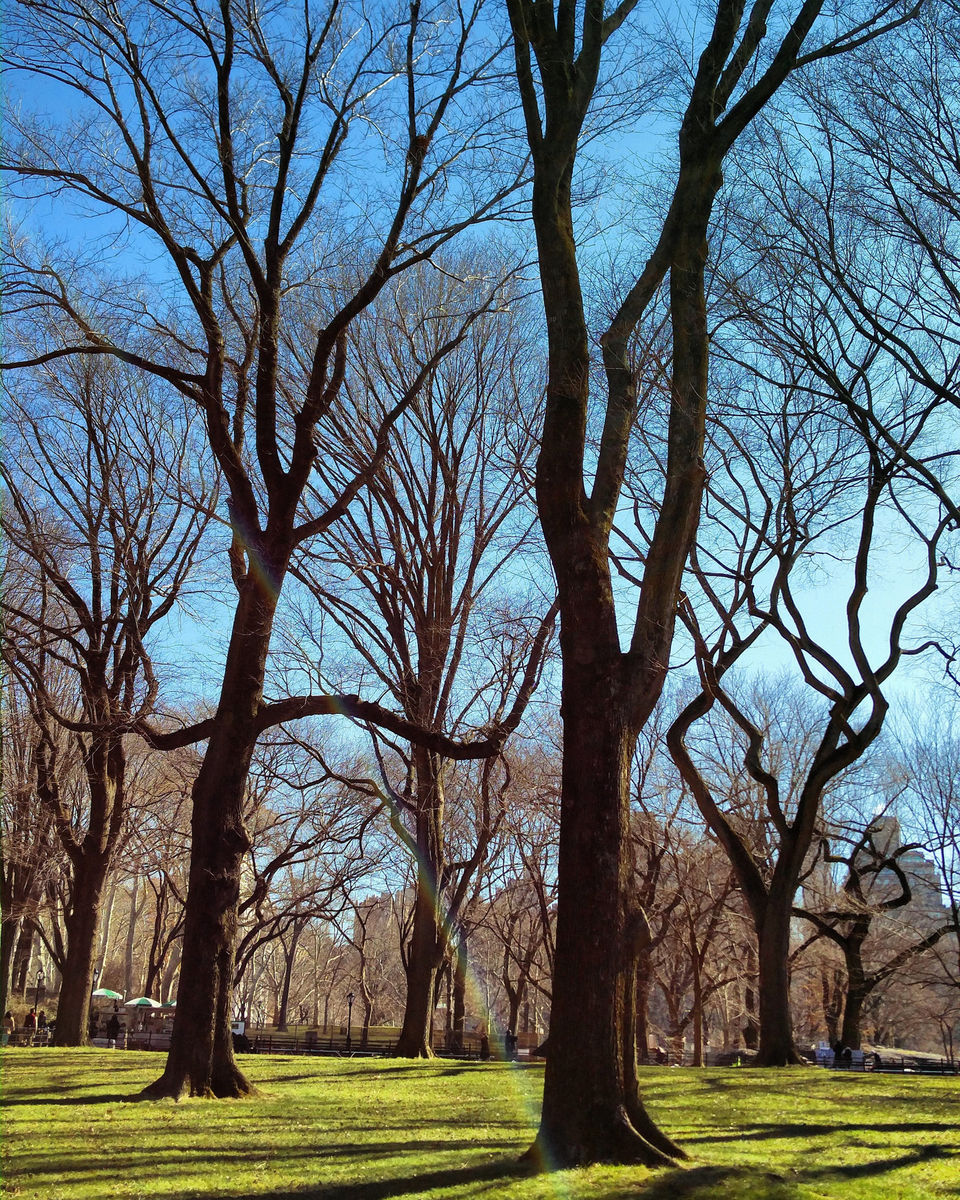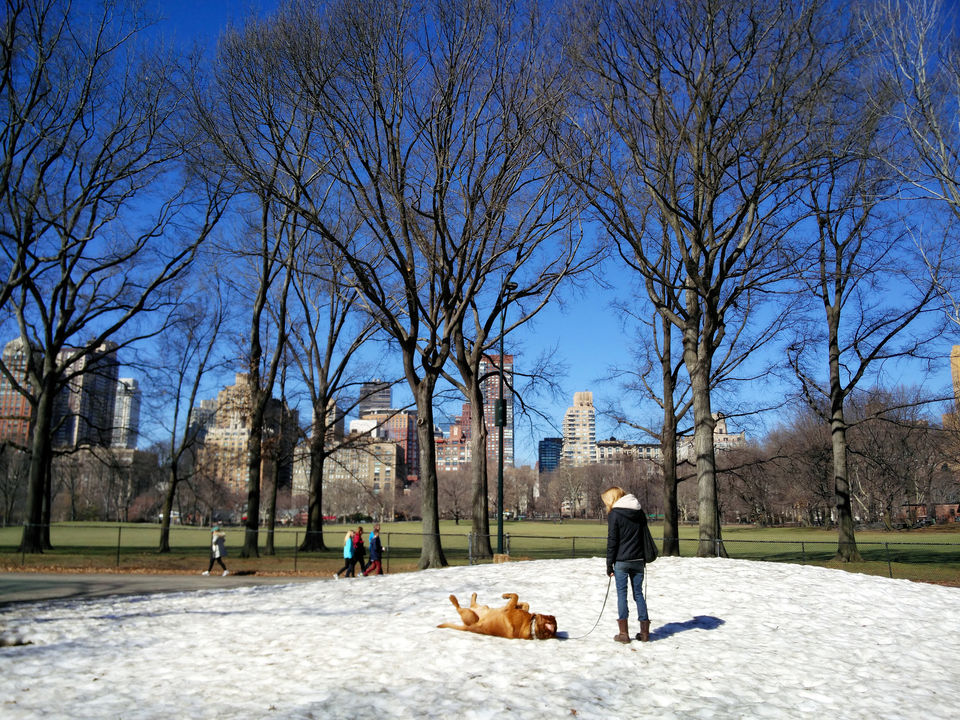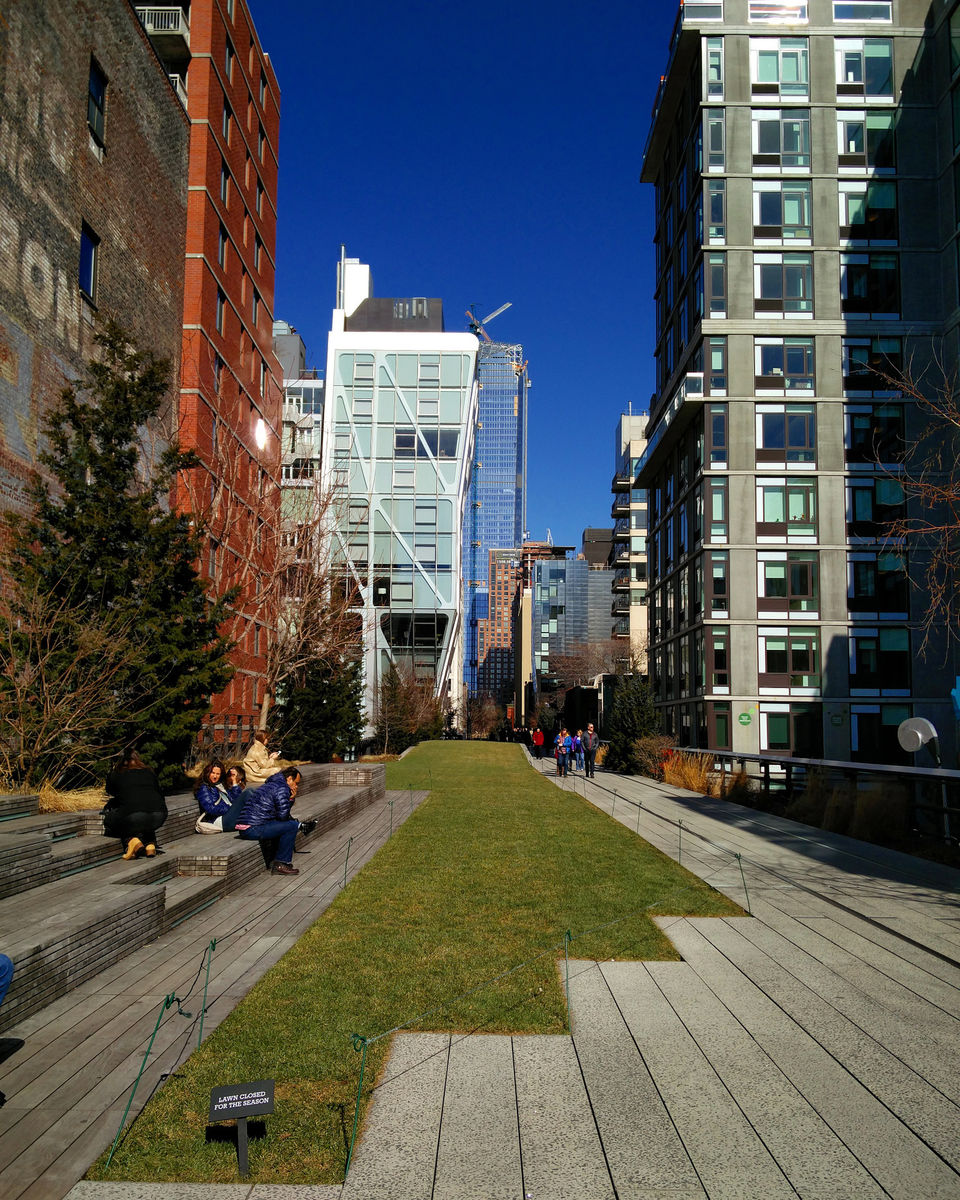 This is the story of how I nailed my first solo trip overseas to the most vibrant city on Earth.
New York City - I came here to soothe the traveler in me but as I entered this cosmopolitan bubble, little did I realize that it wasn't up to me anymore
That being said, there is no way my story can do justice to describe what New York City actually is, because you have to experience this at-least one in your lifetime.
But I'll give it my best shot.
This is going to be one long read, should you choose to continue. If yes, please put some music on.
When the news came in that I have to visit Boston(Read New York) for a couple weeks for official purposes, my first instinct was to politely refuse which I did. But as fortune would have it, I was the only person with the specific skill-set so I had to cave.
A solo trip overseas. Travelling within India doesn't scare me(read parents) but my heart was racing given the fact that sometimes I fumble while speaking English and also a million other reasons as well.
After days of arguments with my family I finally got a green signal. I felt like Joey before his trip to London.
New York, Baby!
There was an 18 hour flight ahead of me so I didn't sleep the previous day/night hoping to spend the entire journey sleeping. After a short flight from Ahmedabad to Mumbai I had to switch to the international terminal from where I had to catch a flight to Abu Dhabi. Etihad Airways did a splendid job with their exceptional in-flight service. The food was good and so was their selection of alcohol.
I had a layover of about 3 and a half hours at Abu Dhabi and the time flew by before I could realize. UAE doesn't have airports. They have shopping complexes, malls, bars, luxury showrooms and somewhere in the corner is an airport — just because they have to bring people in to buy stuff. The food court is on the second floor where I rushed to grab something to eat. International flights do serve meals so chances are you shouldn't get hungry if the layover time is near about a couple hours. The first floor is where all the action lies. If window shopping was chargeable, every second person would leave the airport broke.
If you're going to the US, the airport has a facility called U.S. Pre-Clearance so that you don't have to go through Customs at your destination airport. It's a splendid initiative but please make sure you do not keep roaming across the airport shops and be there well before time as the lines are very long.
Never did I feel more that we are an infestation to this planet.
I boarded the JFK bound flight and tucked in myself with the blanket they gave. The in-flight entertainment system is pretty dope for lack of a better word. The reason was — A380 because the other Etihad Flight to JFK is a Boeing 777 which is not as good. They have an updated collection of TV shows and movies which will appeal to people of all ages.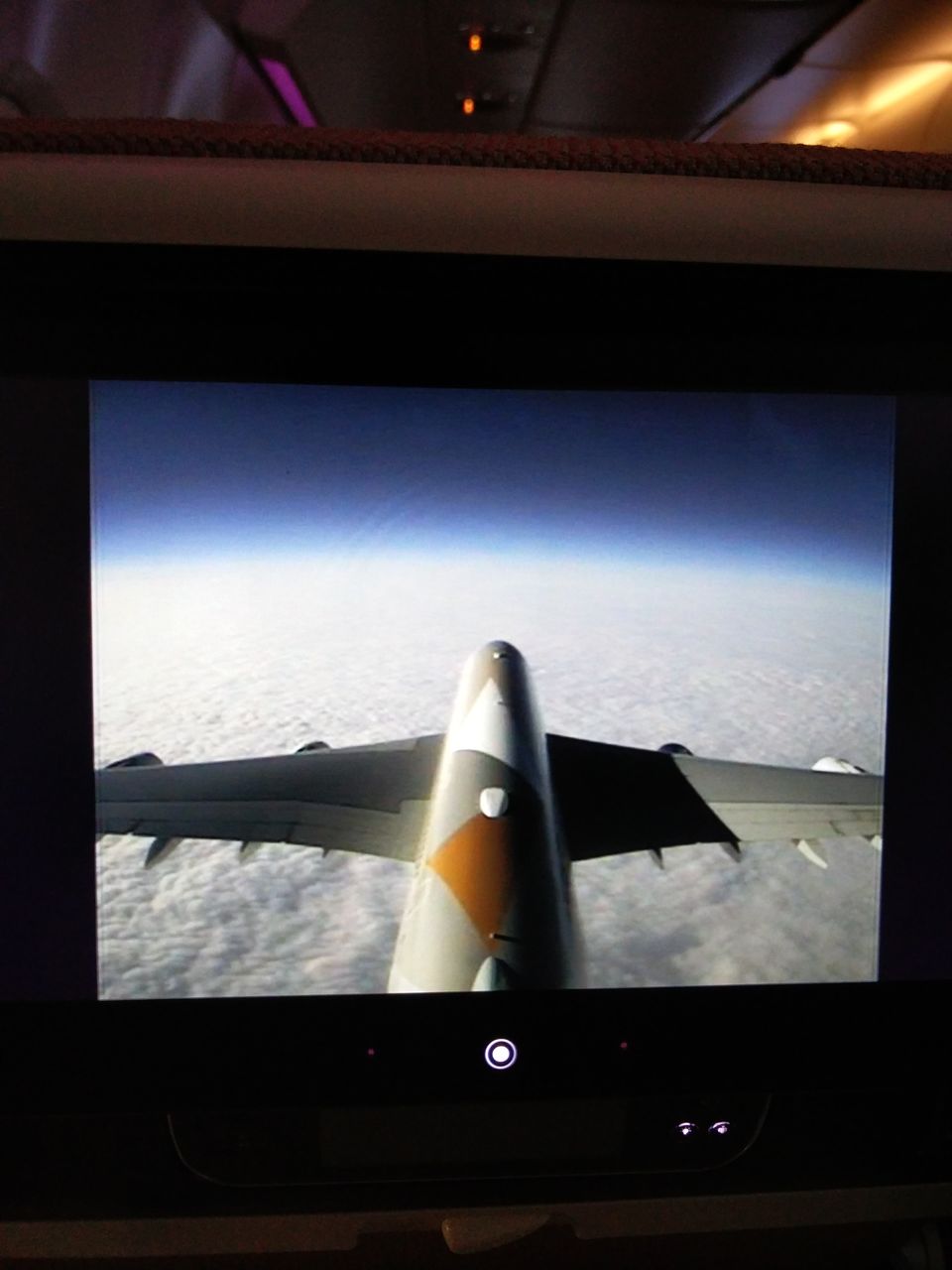 A380 cruising at 38000 ft at 948 km/h
I could only manage to sleep for 6–7 hours and I had a solid 8 hours more to go. I watched Mission Impossible — Rogue Nation which was meh. I also watched The Good Dinosaur for I love animated movies. What stole the show was The Intern and I strongly recommend you to see this movie. If you're a Robert De Niro fan, I'm sure you must have watched it already. Let me know how you liked it!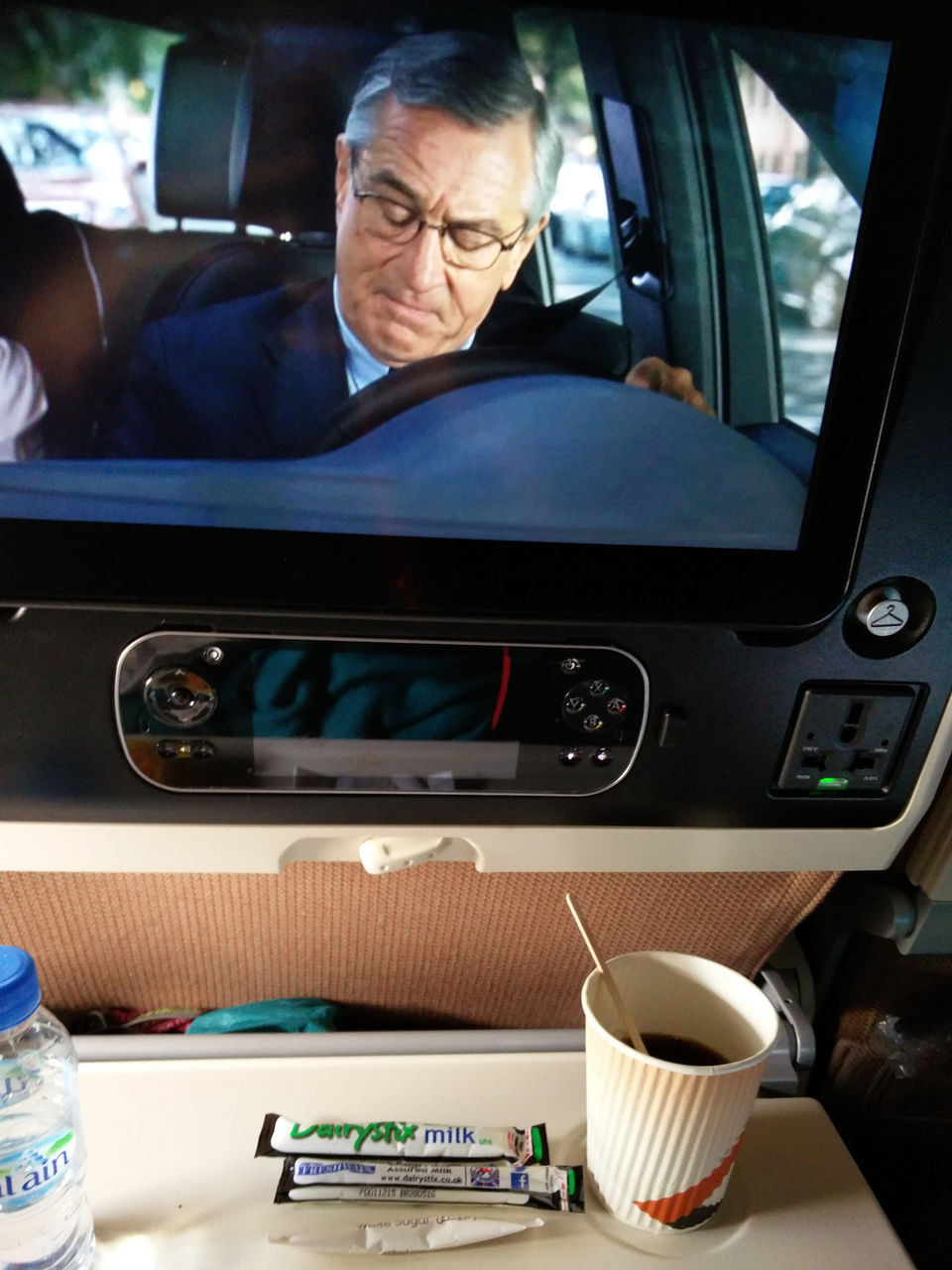 The combination of ever so talented Anne Hathaway and Robert De Niro, need I say more?
Now before I go any further, I want to share with you the most important TIPS in respect to New York City:
Keep a tab on the weather for at-least a week before and pack accordingly.
Prior hotel booking is strongly recommended.
Take a couple power-banks with you.
Download an offline map of the city in Google or Here Maps. Favorite all the places you want to visit.
Take a subway map with you or download an App. I used Next Stop.
Avoid cabs altogether but remember to take a short ride just for the local experience. Tame the subway. It will save your time and believe me, every minute in this city counts.
Learn how New York Subway Trains work. I suggest you read this article which helped me a lot.
If it's your first time in the city, take a bus tour for a day to cover major places. Spend your subsequent days to spend more time at places you liked.
Get a New York City Pass or book tickets to major attractions beforehand. You'll save a tonne of money and time.
Keep a backpack with only bare essentials with you, not even an extra set of earrings.
Most importantly and I cannot stress this statement enough — keep your money divided. Majority of your cash goes in your hotel room, couple of dollars on you and some in your backpack. Same goes with your documents.
That's it! Let's begin..
Day 1 - The One With All The Gawking
I was scheduled to land at 9:10 AM but it somehow took a little longer and I reached JFK a couple hours later. As much you plan your travels, something is bound to go wrong(Thank you Murphy's Law) and one such instance arose very shortly when I boarded my first subway. AirTrain is a special subway which only runs across the terminals of the airport. You can change trains for Manhattan from Jamaica Station.
I had only heard stories about travelling in New York subways and they all snowballed towards me like an avalanche of anxiousness. The distinct smell, the crowd, the screeching of the trains, multi colored sign boards — they all seemed to reflect the constantly changing shades of New York.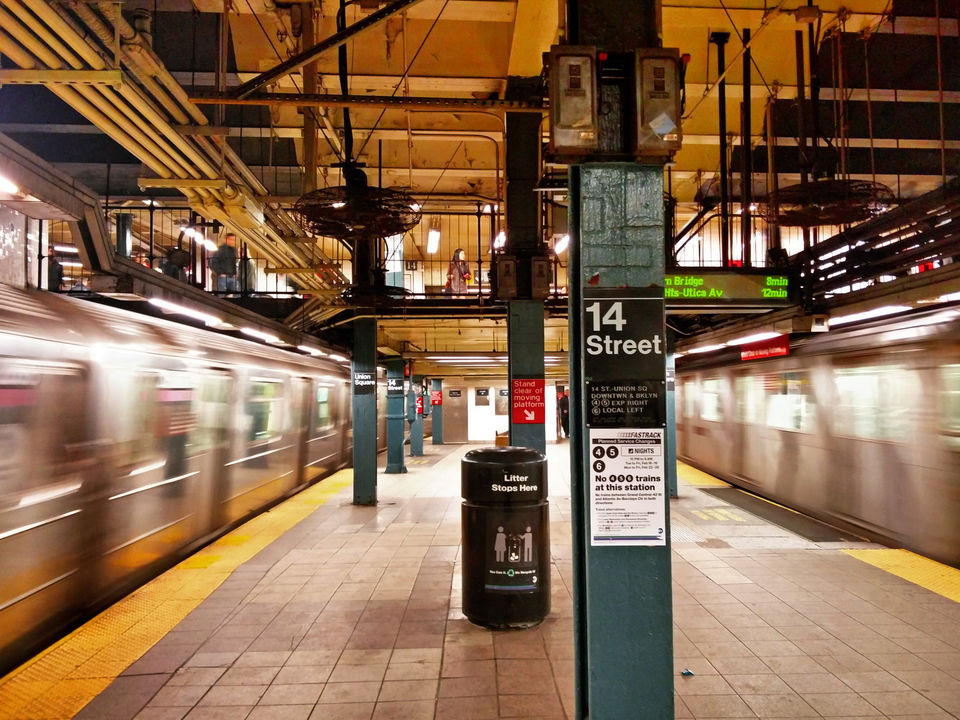 An HDR picture gone wrong.
I bought a 7 day unlimited rides subway pass and boarded the J train which was supposed to take me directly to Grand Street in lower Manhattan. But due to some construction work I had to alight at 14th Union Square Street. After asking some very helpful locals, I got the directions to catch the downtown train towards Grand Street where my hotel was.
Riding in an NYC subway is a lot similar to Delhi Metro only the people are well behaved and helpful. It took me a couple of subway rides to get accustomed to their style of travelling. I struck me how irresponsible and hasty I was because that's the way I had become due to years of adaptation living in India.
Breathe.
It's OKAY to give way to passengers.
It's OKAY to give a seat to someone in need.
It's OKAY to be a couple minutes late.
It wasn't until now I finally realized I was IN the heart of United States of America.
After stacking my luggage in the hotel room, I freshened up in a couple minutes and left for Rockefeller Center.
Let's not talk about the hotel. I wouldn't even advise my enemies to stay there. The only thing you need to know is that it was dirt cheap and I didn't intend to sleep much anyway.
I caught an uptown train towards Rockefeller Center and took the 5th Avenue exit. As I was gawking at the skyscrapers around me like an 11 year old girl instantly surrounded by unicorns farting rainbows, a heavy voice emerged from behind.
It was a cop. Don't be afraid. You can't be charged here for stupid things you did back in India.
"Fantastic huh?"
Yes Sir. It's my first time in New York and I am finding my way towards Top of the Rock, Rockefeller Center.
"Ah, alright. Walk with me, I'm going that way."
I'm just happy the weather is not giving me a hard time here.
"Yes, it was unbelievably cold since the last couple weeks, I kid you not. The forecast says it is supposed to be sunny for a couple days."
I hope so too, sir. Have a good day!
"You too. Enjoy!"
I was going towards the Rockefeller Center directly but he advised me to walk down the 7th Avenue right into Times Square and then continue onward.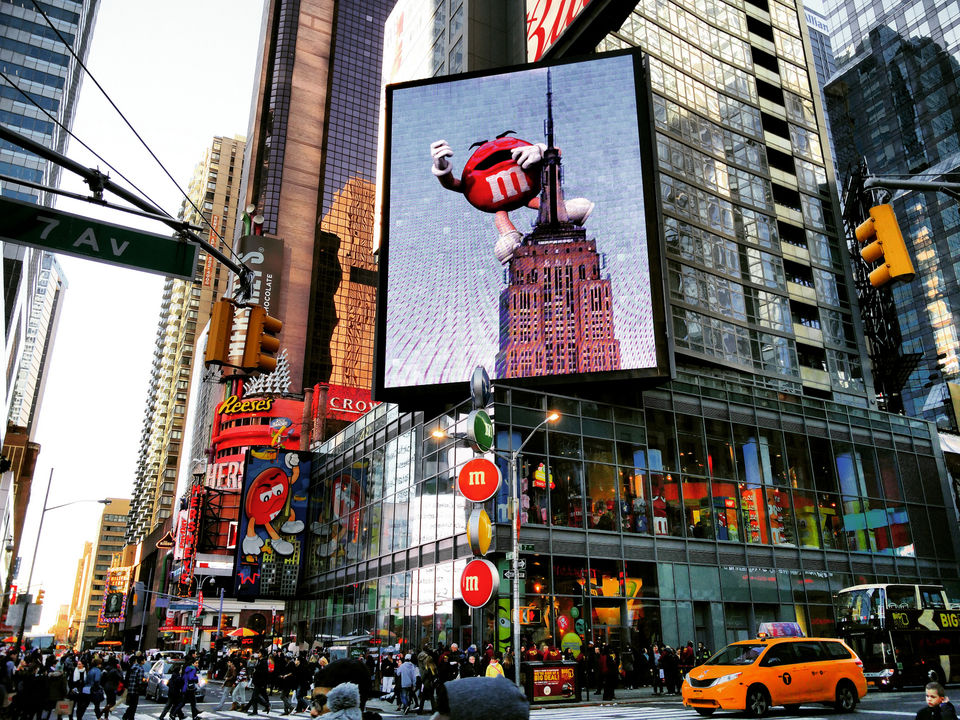 MnM
That billboard must be costing a fortune to them. Hence I bought $10 worth of their candies to ease their pain.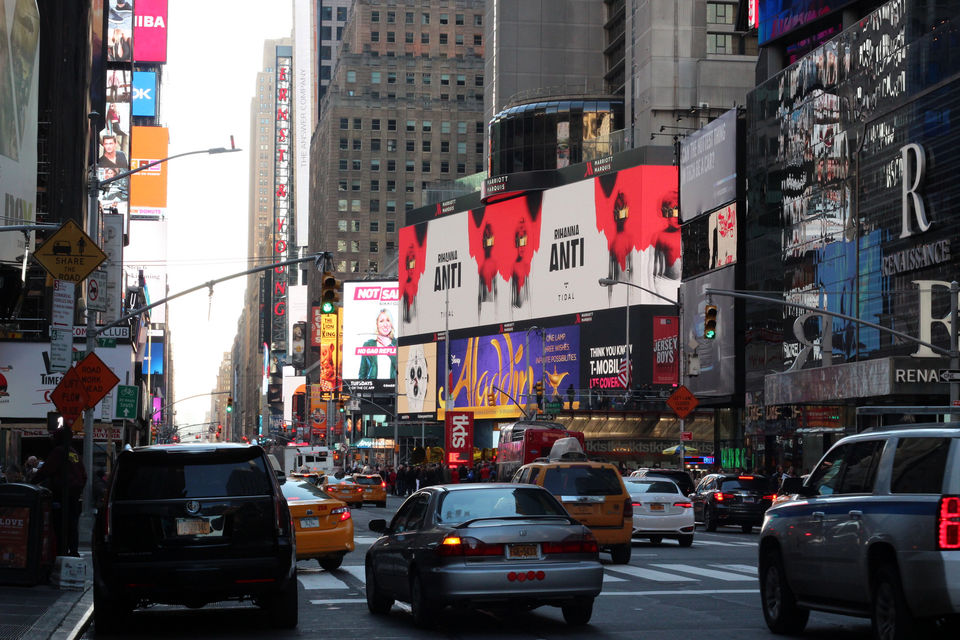 Looking at the picture above might make you feel a little nervous about walking around the city.
Believe me, it wasn't the case.
I got to hand it to them straight, they are very well disciplined. The vehicles always stopped at the first sign of orange and only moved when the pedestrian was all clear of people. Occasionally, the vehicles even stopped to let me pass whenever I lost my mind to gape at one thing or the other. They did not even honk, and flashed a smile. So go on, walk in New York City unperturbed.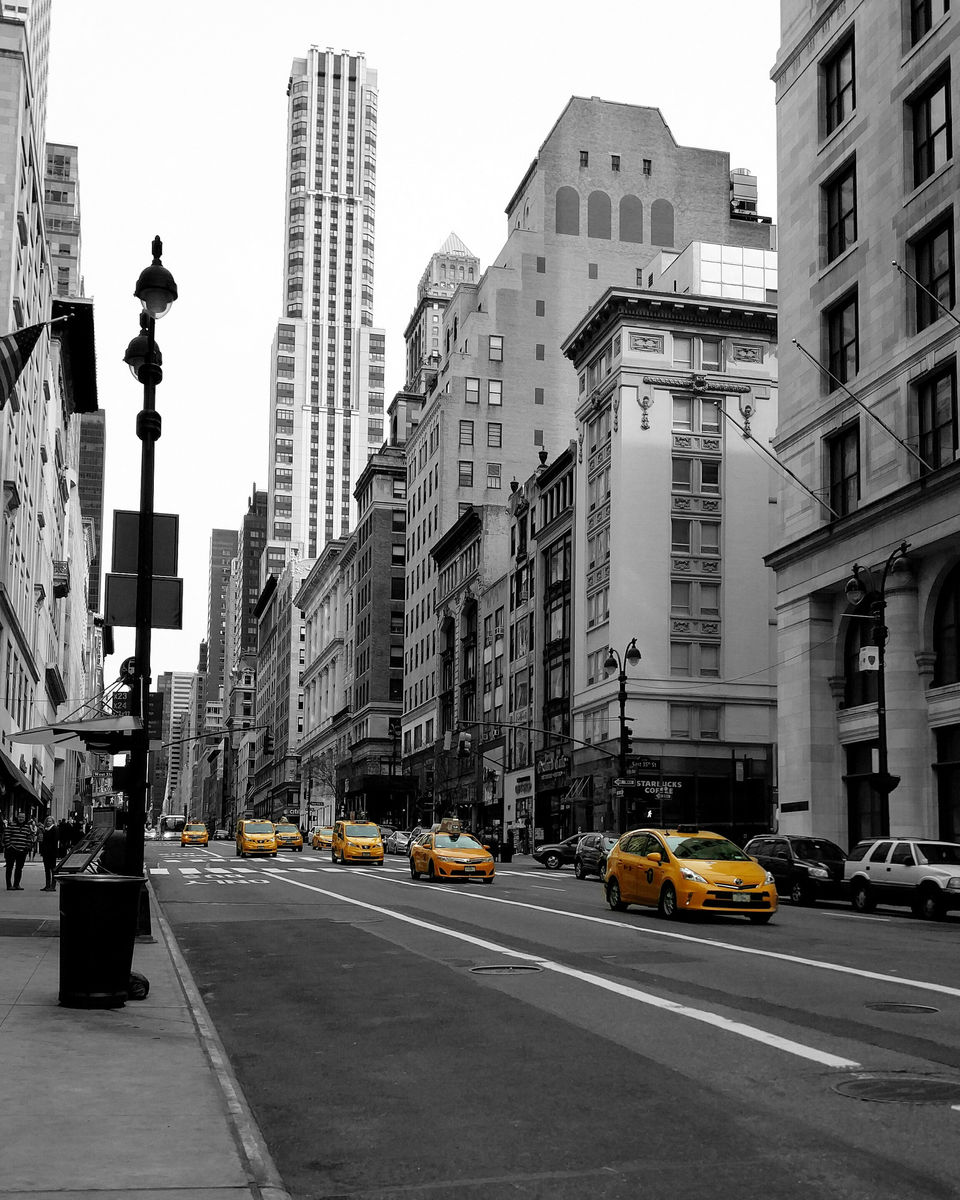 Rise of the Planet of Cabs
It took me a couple of miles to get a hang of walking around the city. It's okay to wait for two minutes till the pedestrian light turns ON. Just tilt your head up and adore the skyscrapers around you. Put that phone away for good.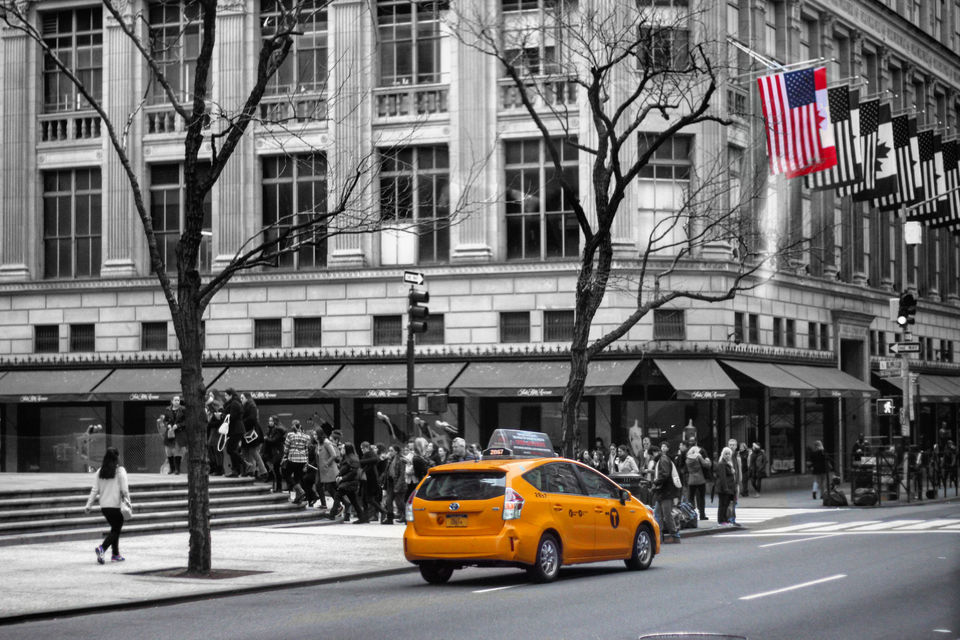 TIP: If just the center light is lit, it means the cab is available. If not, it means that the cab is already occupied.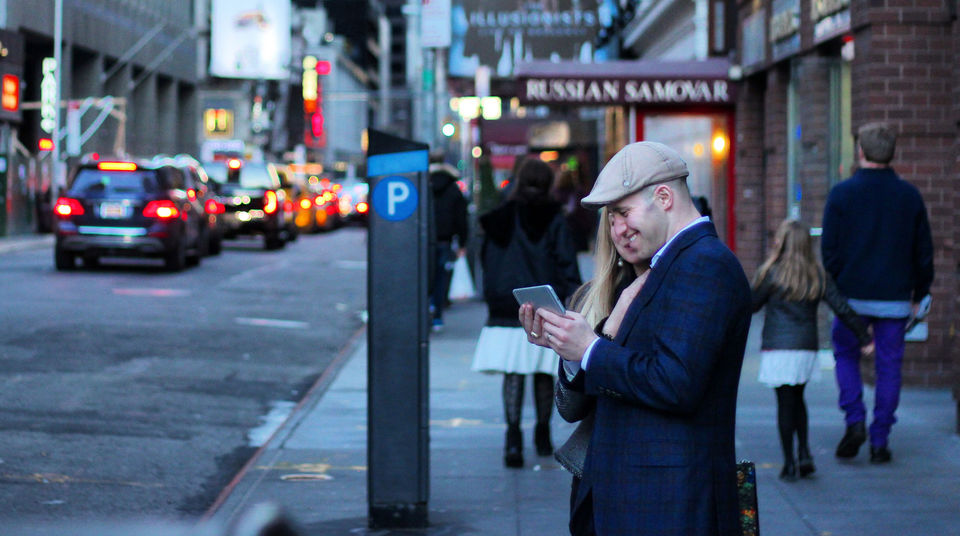 Love. It's all around you.
TIP: While walking on sidewalks or pedestrian trails, do not keep standing for a long time or stop abruptly as you'll bump into other people. The system is like a machine and you're a fresh new tool in it.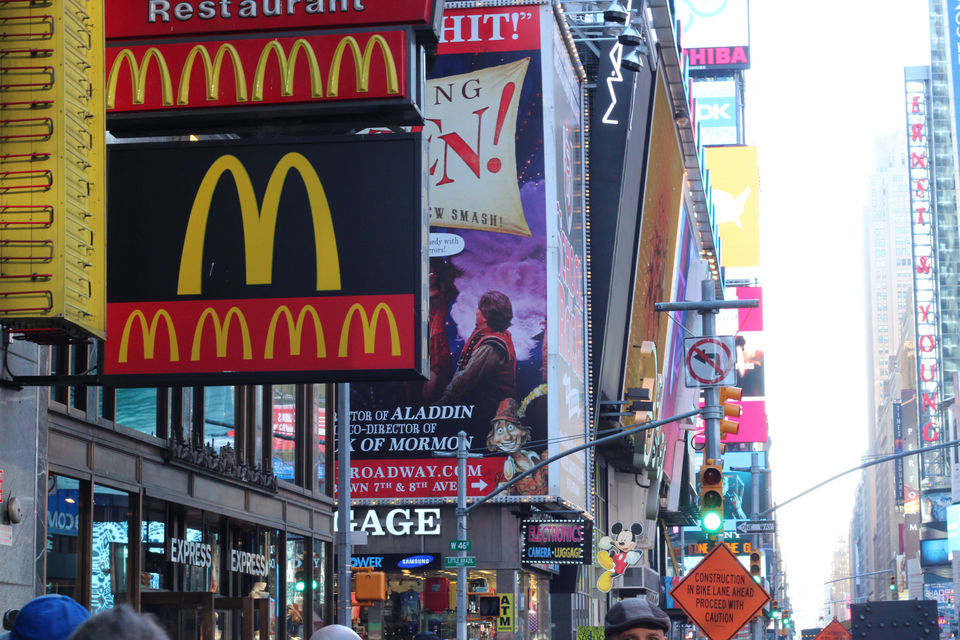 A quick lunch at McDonald's
There are a million places where you can grab a lunch around here. But it comes at a price. Given I fall sick effortlessly, I did not risk and had a light lunch at McDonald's. Tried and Teasted.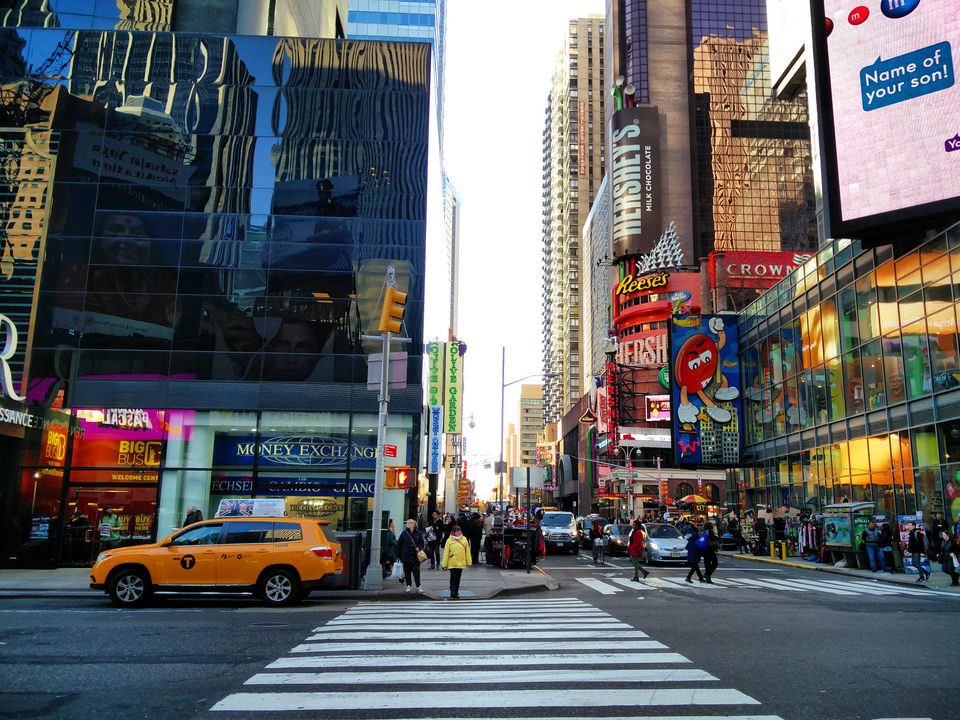 Stop. Look. Keep Looking. Okay, Enough. Go.
I walked several blocks around Times Square and every foot I traveled seemed like a leisurely stroll as there was so much to see.
The only walking I do at home is Kitchen ↔ Bedroom ↔ Bathroom
Anyway, there it finally was..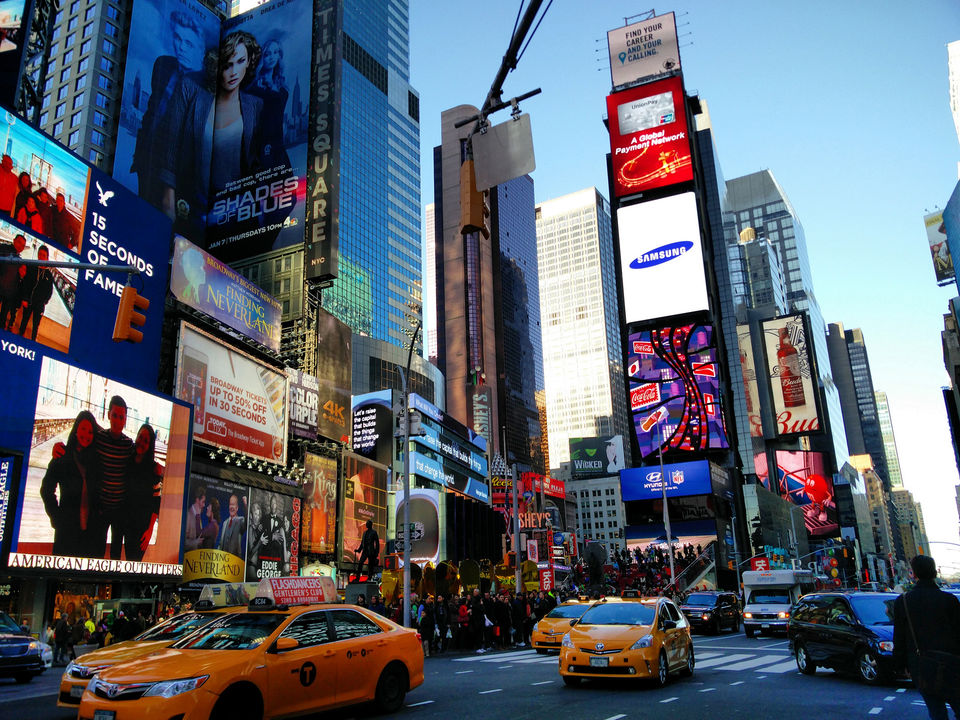 Times Square, New York City
My eyes. My eyes. MY EYES!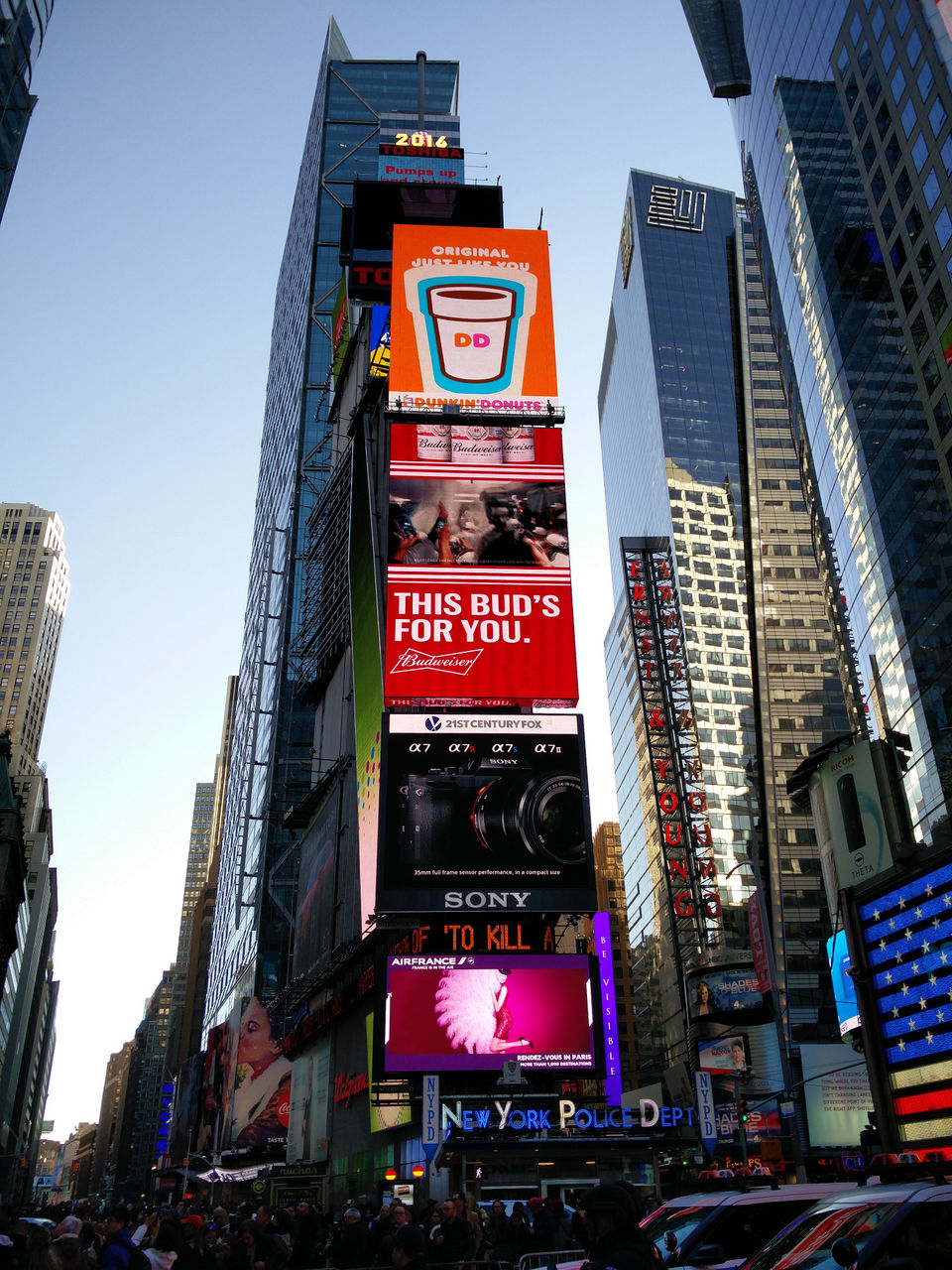 This is where the ball drops at New Year's Eve
A short video shot at Times Square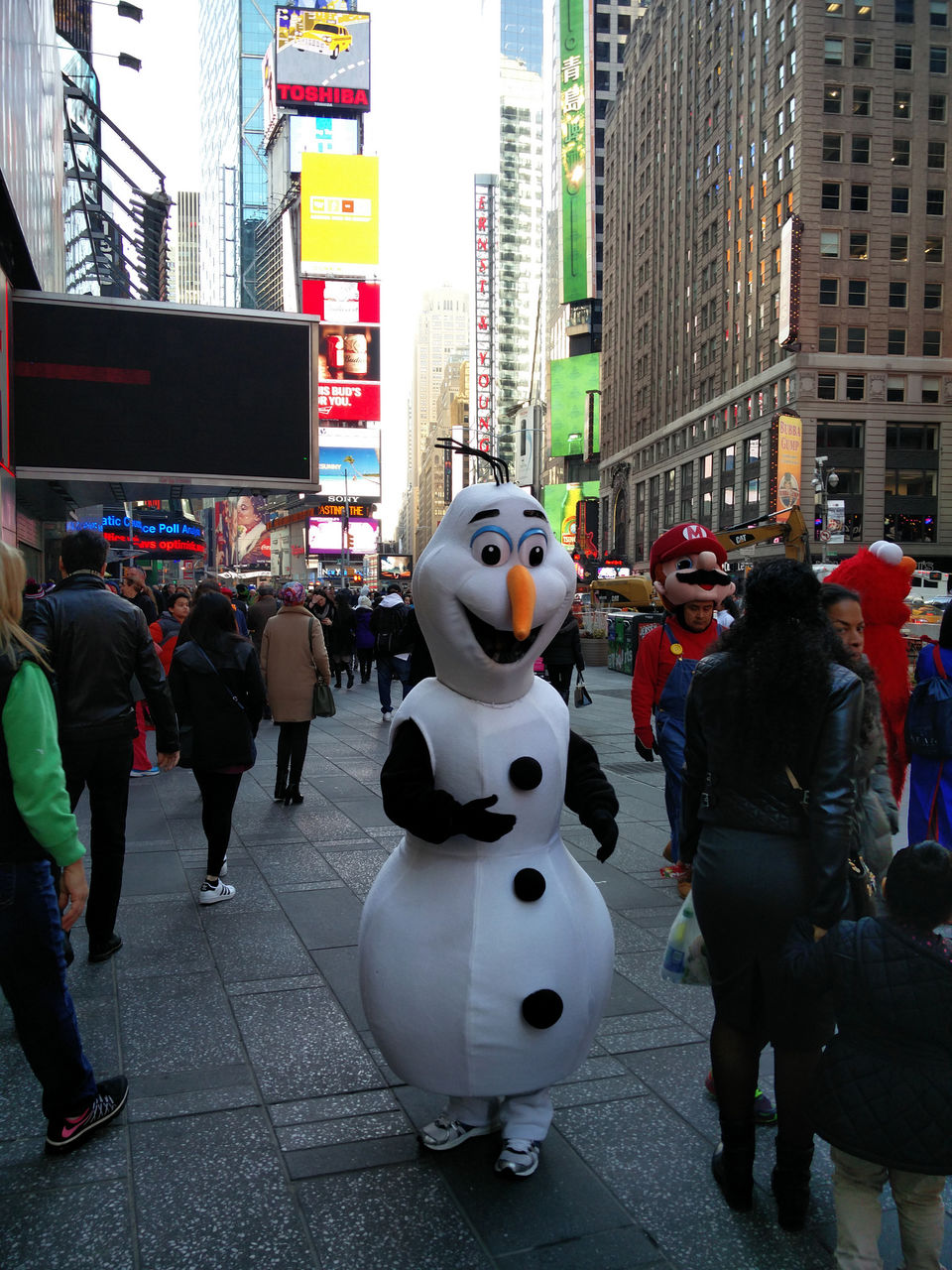 Hi, I'm Olaf!
It's a full-time business at Times Square wherein people dress like Mario, Luigi, Olaf, Elsa etc for tips in exchange for pictures with you.
I would have clicked a picture with Darth Vader but sigh, he wasn't there.
If you're wondering how Times Square looks like during night, just bear with me. We'll get there soon.
Rockefeller Center is not just one skyscraper. It comprises of 19 commercial buildings between 48th and 51st streets. It houses the headquarters of NBC Studios, Radio City Music Hall and Bank of America to name a few. One of them boasts of the observation deck at 70th floor and goes by the name Top of the Rock. I had purchased a scheduled ticket a couple weeks ago and it helped me skip the lines. I was escorted straight to the high speed elevator.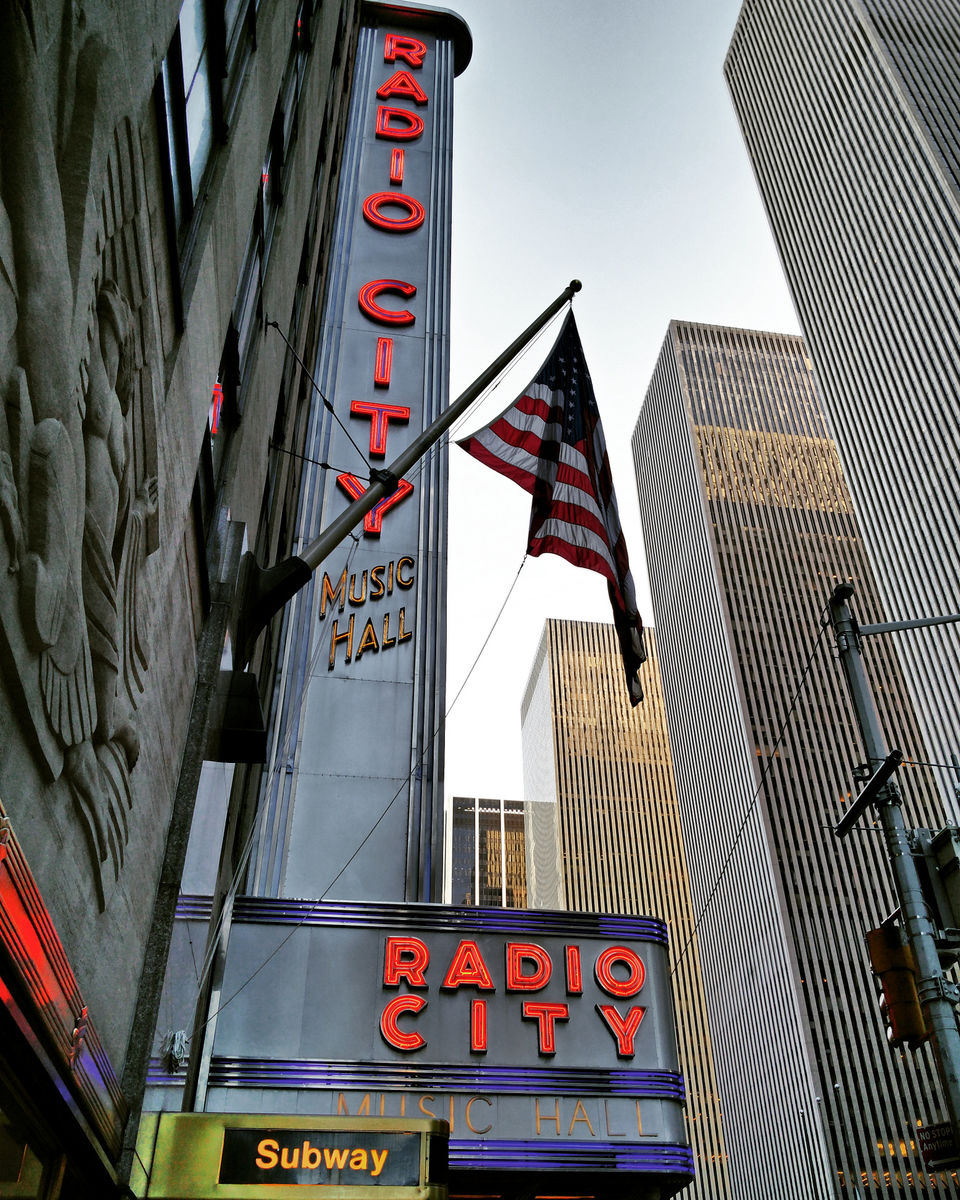 Radio City Music Hall Tours are said to be incredible
I clicked a quick picture before I entered the plaza.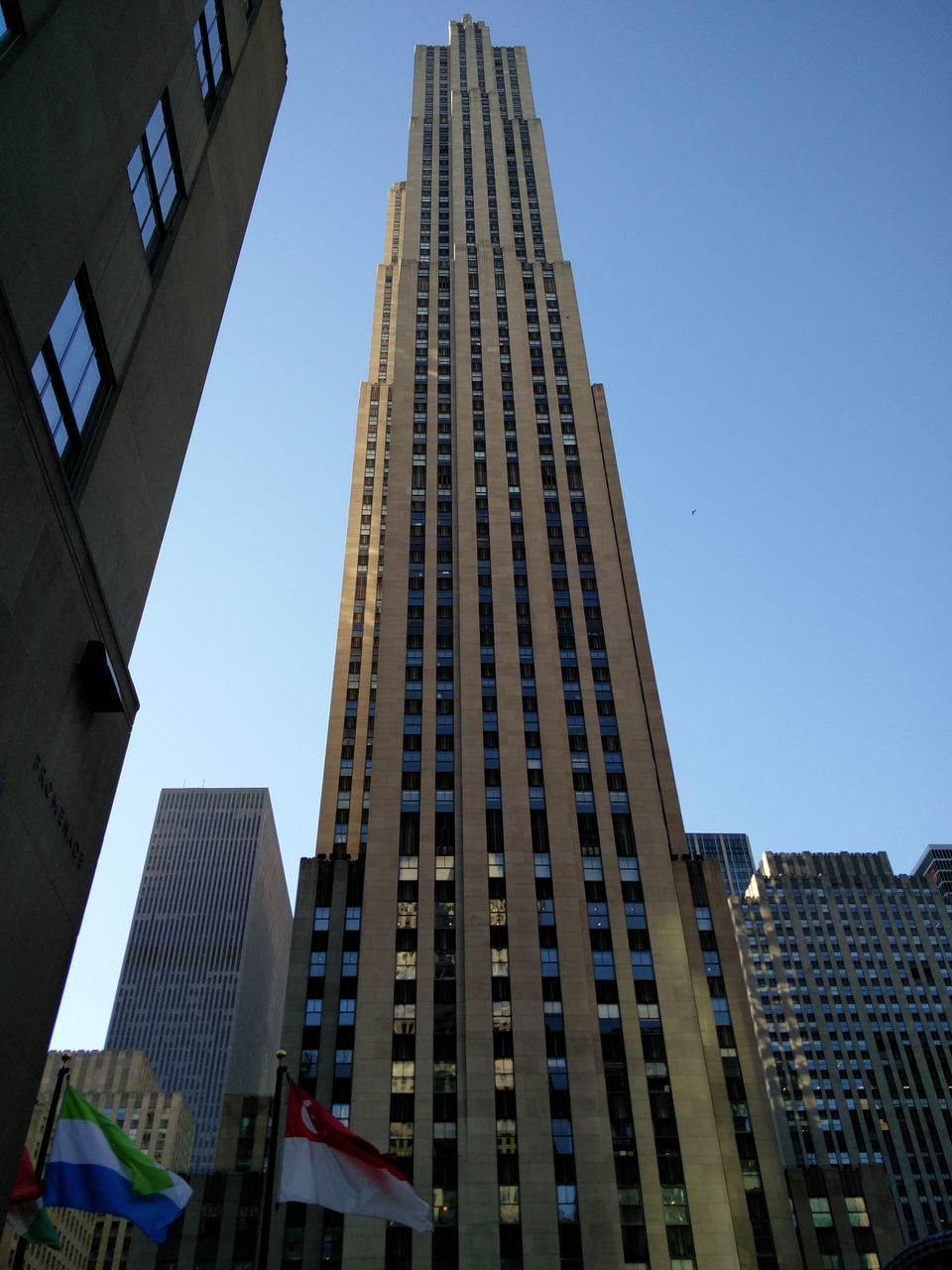 My neck still hurts
To give you an idea how fast the elevator was, the light dimmed the moment I entered. Seconds later my ears started acting up. The see through roof of the elevator projects a series of historic images and the elevator transforms into a mini night club with dazzling disco lights. The 43 second ride in this elevator was the most interesting experience I'd ever felt in an enclosed space.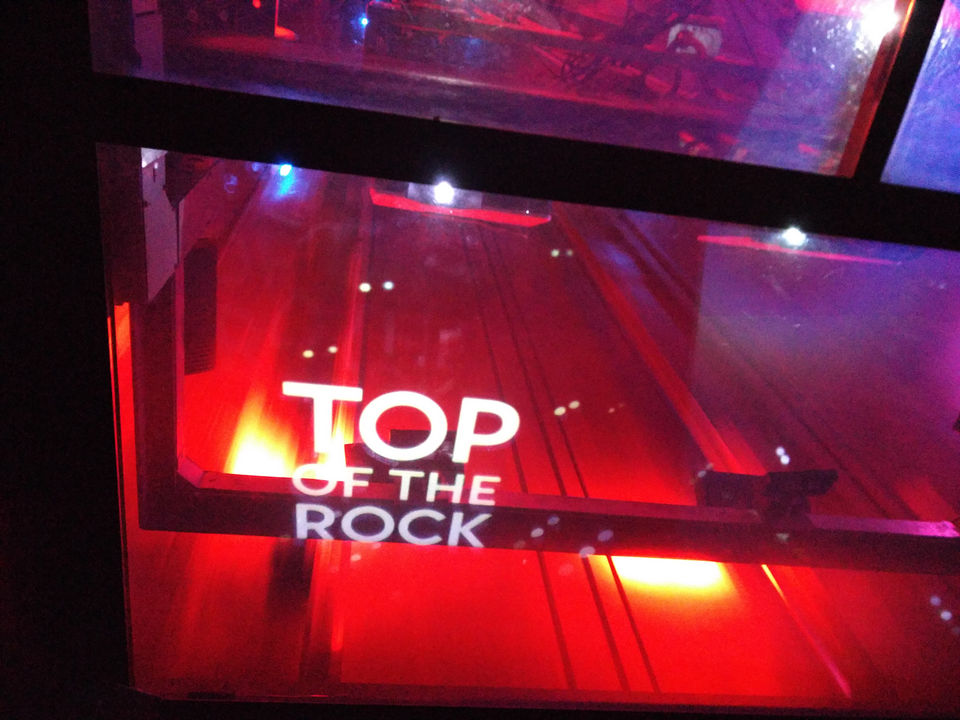 This elevator got more swag than me.
If the picture doesn't cut it for you, I suggest you watch the short video below.
I reached the Observation Deck in less than a minute and I could literally feel my heart pounding in my chest. This was something I was looking forward since the idea of New York had popped into my head.
A bird's eye view of the New York City. Well almost.
For a premium price, you can do a quick helicopter tour of New York as well.
Maybe some day.
I had researched all the vantage points weeks well before I landed here and it might be easy to assume that Empire State Building surpasses every given option. But the catch is, Rockefeller Center allows you to ogle at the Empire State Building besides the beautiful Manhattan Skyline.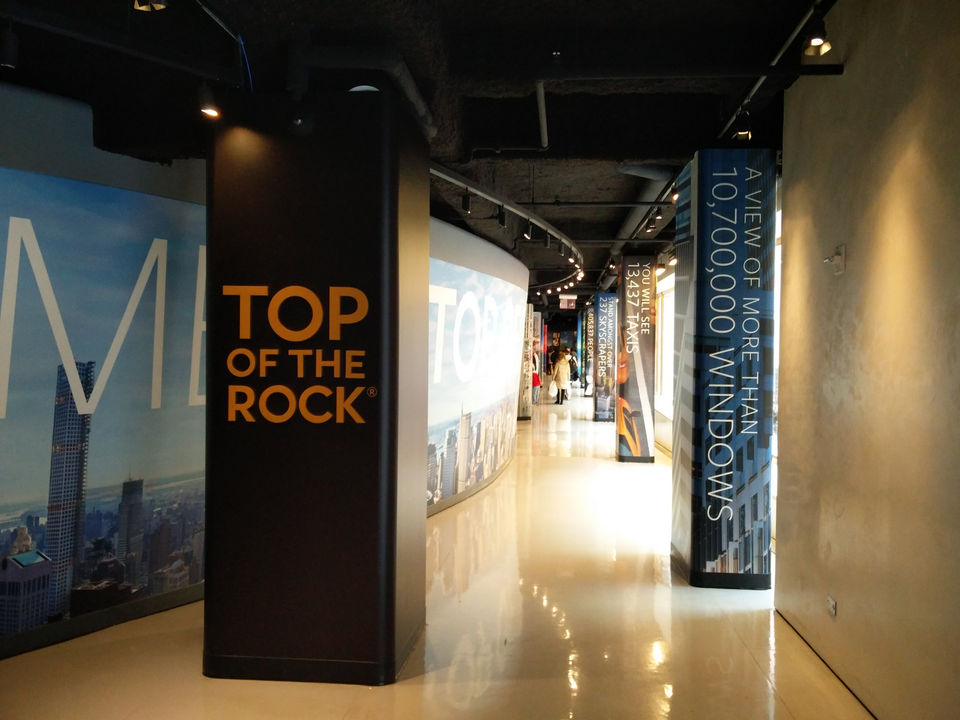 The Longest Walk of My Life
Hold still. Don't scream like a 12 year girl at a Justin Bieber's concert. Bottle your emotions.
It was easier said than done. I had an ear-to-ear smile all the way up to the top.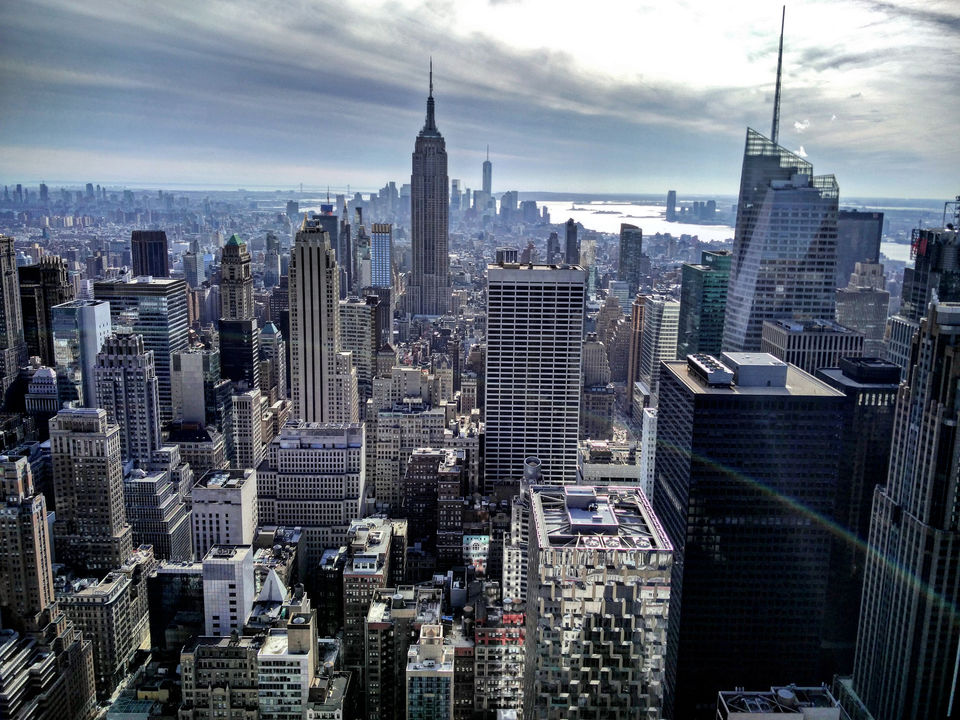 Empire State Building as seen from Top of the Rock
And boy wasn't I impressed.
I was wondering if they had a time limit on the top, but to my surprise there was none. You can spend as much time as you like up there. I pressed my nose against the glass and leered at each building I could lay eyes on before it started to feel weird.
The Central Park which is surrounded on all four sides by the bustling city is a marvel in itself. It stretches from 59th Street to 110th Street from North to South. One more area where Rockefeller Center scores an extra point over the Empire State is a better view of this massive urban park which is the most visited urban park in the United States as well as the most filmed locations in the world.
There are 3 decks on Top of the Rock. I spent an ample amount of time at each floor. The first one is encompassed by heavy glasses and as it was unbelievably chilly, I stayed there for a while till the winds subsided.

A Panoramic View of Manhattan Skyline
For a much better view of this image, please click here.
You must be wondering about the cuboid skyscraper marking an authoritative presence in the vast skyline, directing your eyes away from everything that's around you.
That is 432, Park Avenue. The skyscraper consists of 104 storeys(read apartments) and is one of the tallest residential towers in the western hemisphere.
Price ? A little shy of $95 million.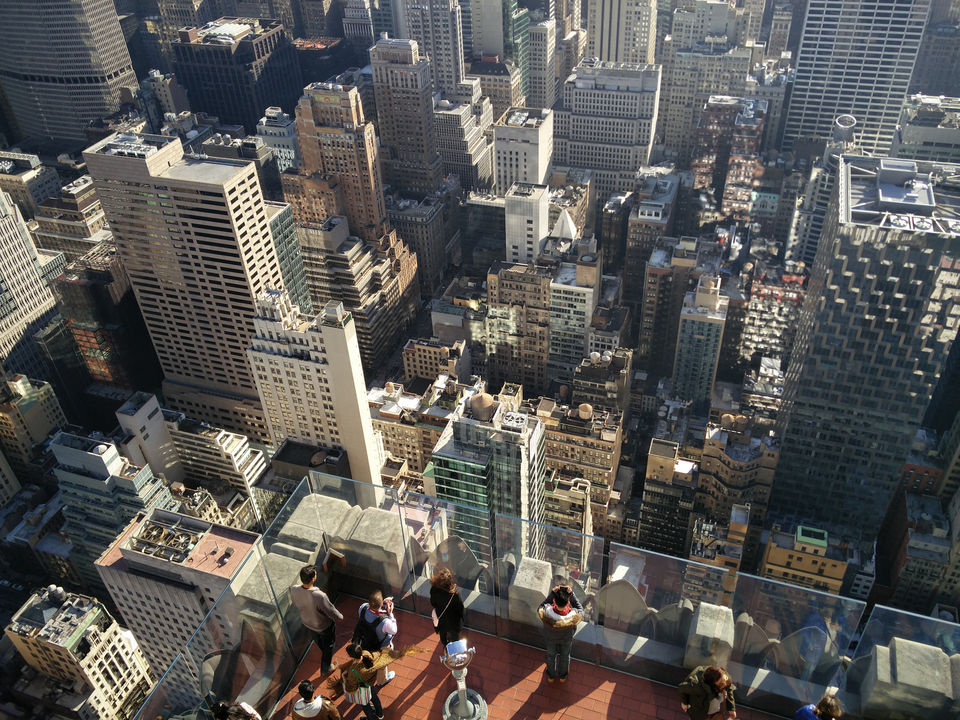 I want to throw an egg and hide in a corner. Who's with me? Once an Indian, always an Indian.
I was highly impressed with the management to make the place so safe and easy to reach. It's the perfect place to come relax for a couple hours provided the crowd is sparse.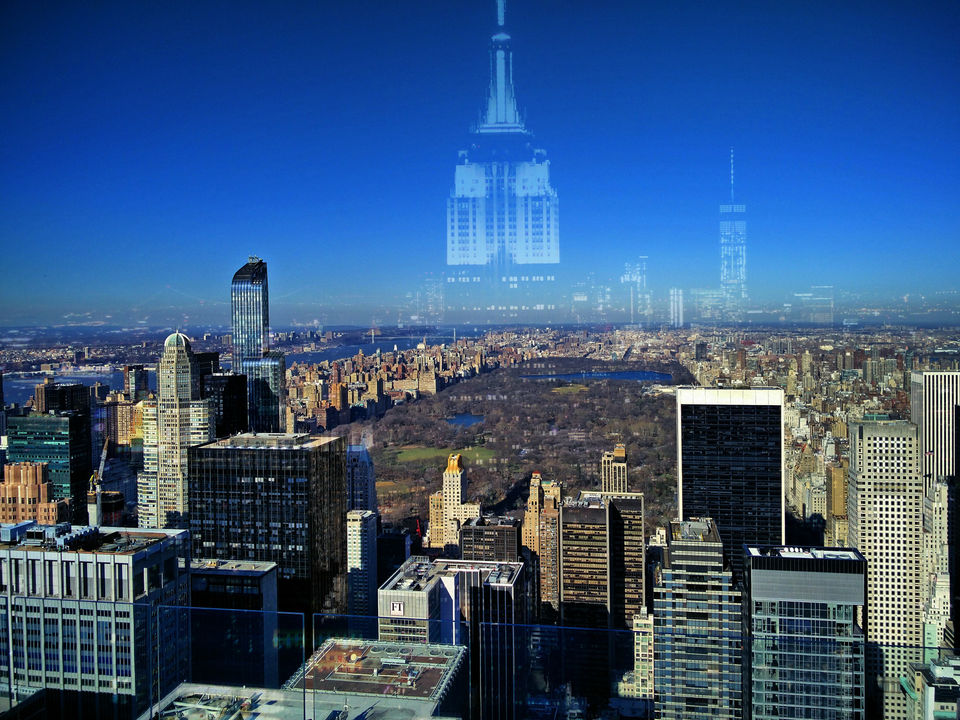 A Reflection of Empire State Building behind me
By looking at this picture you must have guessed it that I visited this place again the following night to see the gazillion shining lights the city had to offer. I apologize if the image above looks ruined but stay tuned for a couple more below. I hope you like them.
No amount of time spent here is enough for the part of you which lives to adore moments like these.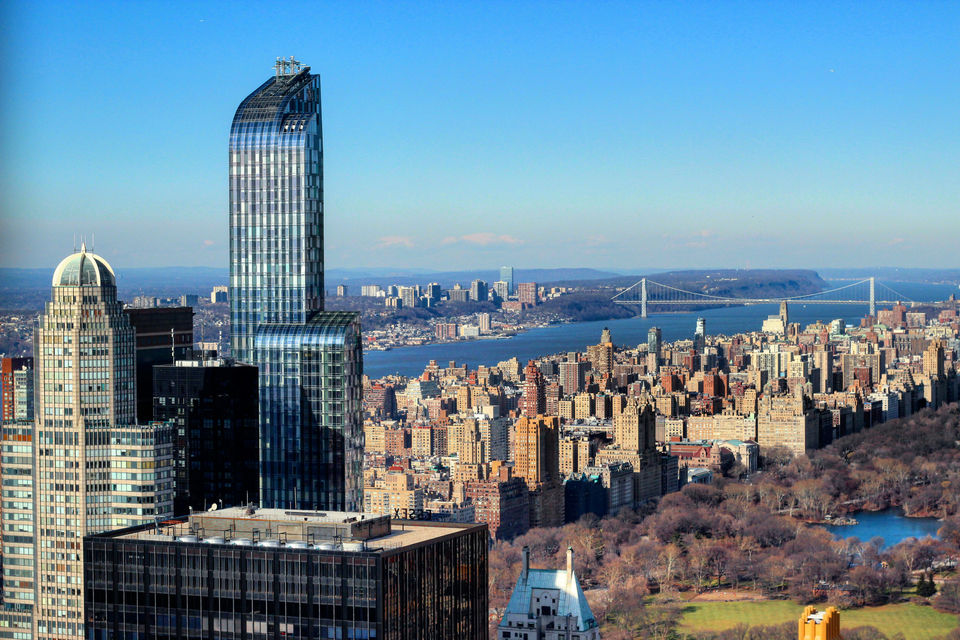 I can only imagine how Central Park must look from here during Spring!
One belongs to New York instantly, one belongs to it as much in five minutes as in five years. — Tom Wolfe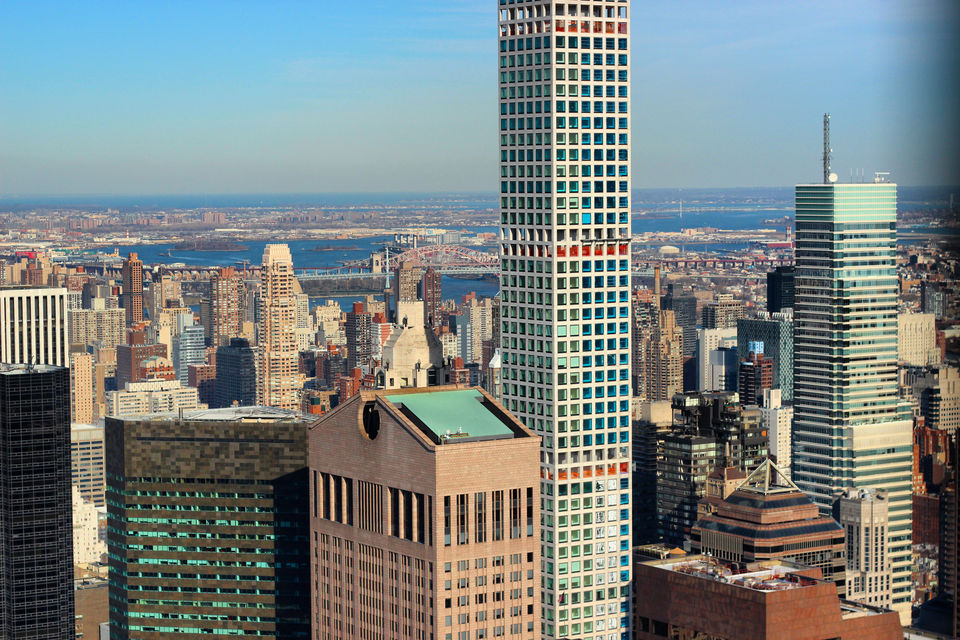 432, Park Avenue
There is a small skating rink at the bottom of Rockefeller Center which is flanked by flags on each side. I really must have paid attention to Fun with Flags with Dr Sheldon Cooper.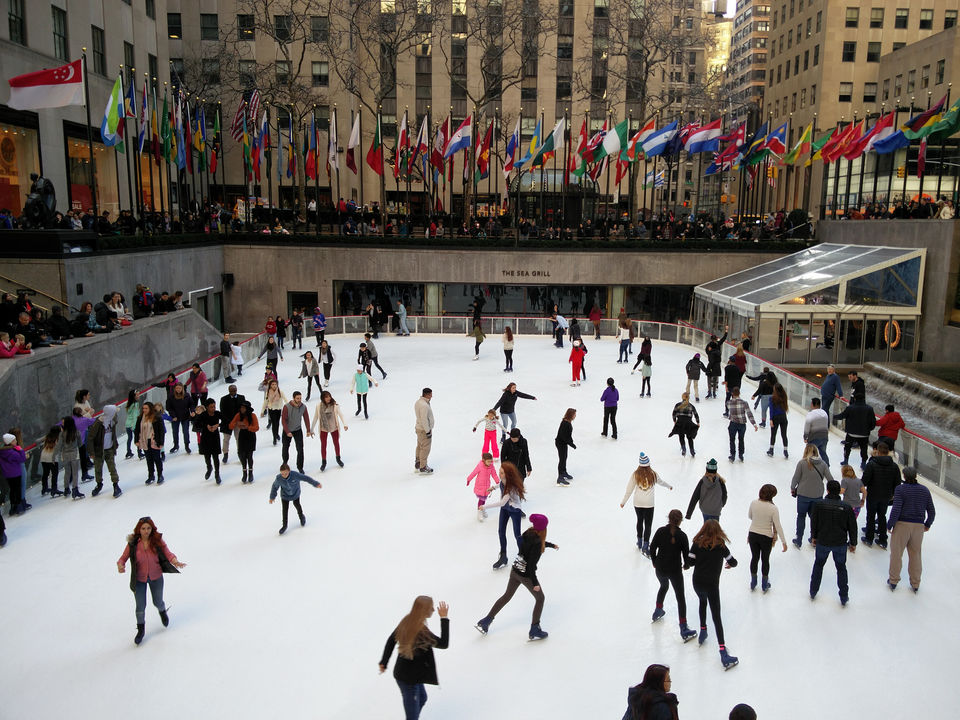 I was waiting for someone to trip but (un)fortunately no-one did.
If you're visiting New York during winters, I suggest you lace up, hold hands with your beloved and give it a try. Fall down on your ass a couple times to entertain on-lookers like me and have a jolly time!
Look at a different person every time the video loops!
But among all those flags, I didn't have much trouble spotting this one. As it was quite windy, it took me a couple of shots to get it just right.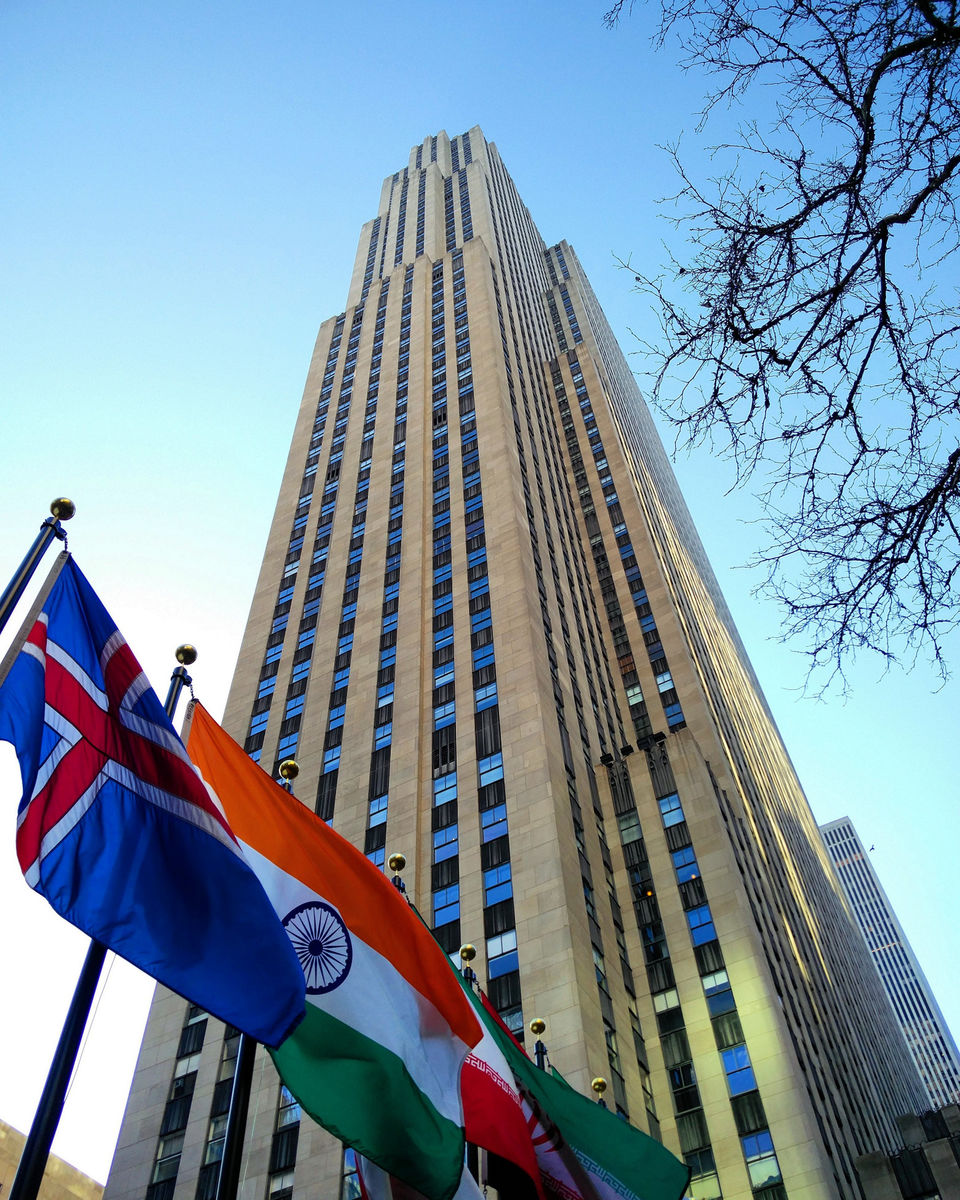 Jai Hind!
Kids of all shapes and sizes were skating so graciously which left me wondering if there was anything I am capable of doing in an non-awkward fashion.
None, the only thing I'm consistent at is disappointing people.
I was exhausted by all the non-blinking and craning my neck so I stopped for a slice of pizza, arguably the national food of America.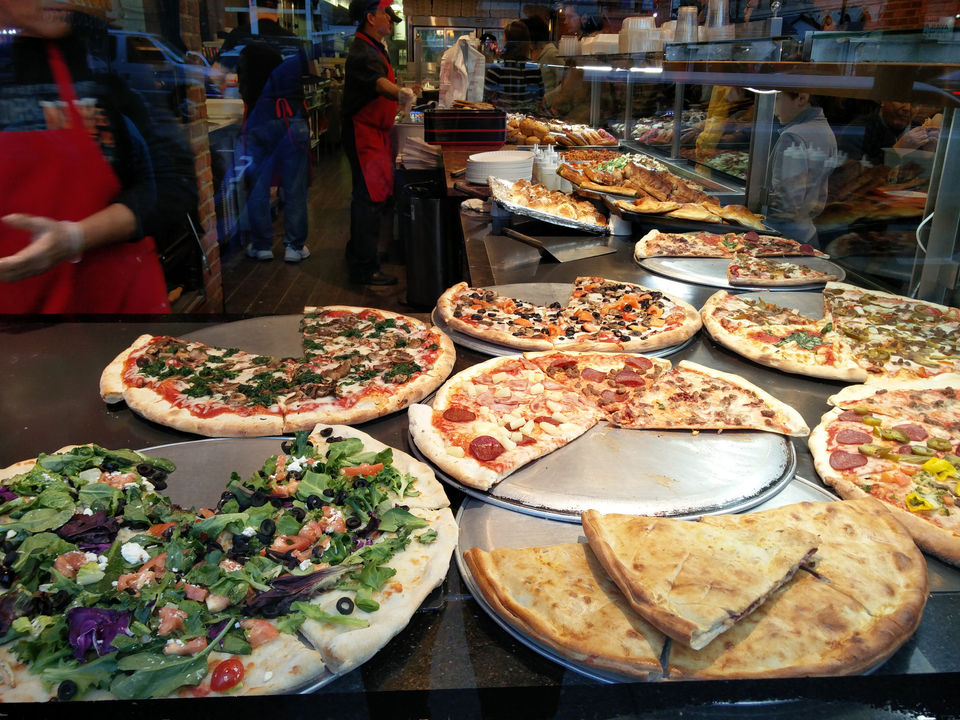 It's rude to simply stare. Just pick one.
It's common knowledge that after a full tummy, nothing can ever bring you down.
Unlike your grades, which would make you cry in a corner like a little girl.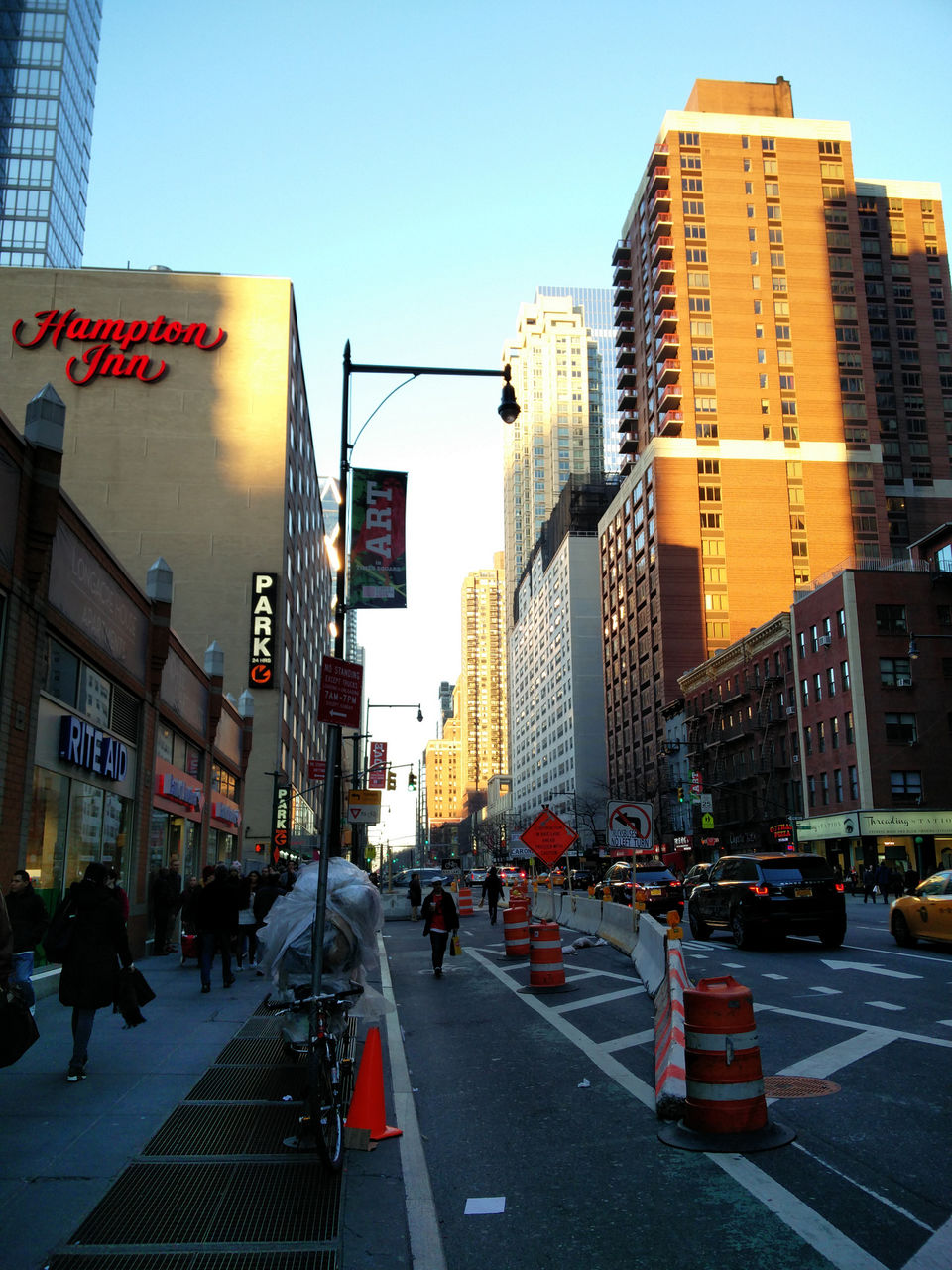 Gradual Sunset at New York City
Isn't it a lovely view when the sun plays hide and seek with the massive skyscrapers painting them with light.
Note — For a building to be termed as a skyscraper, it needs to have at-least 20 storeys.
With a little help from Google Maps, I walked for a couple miles and reached the Hope Sculpture.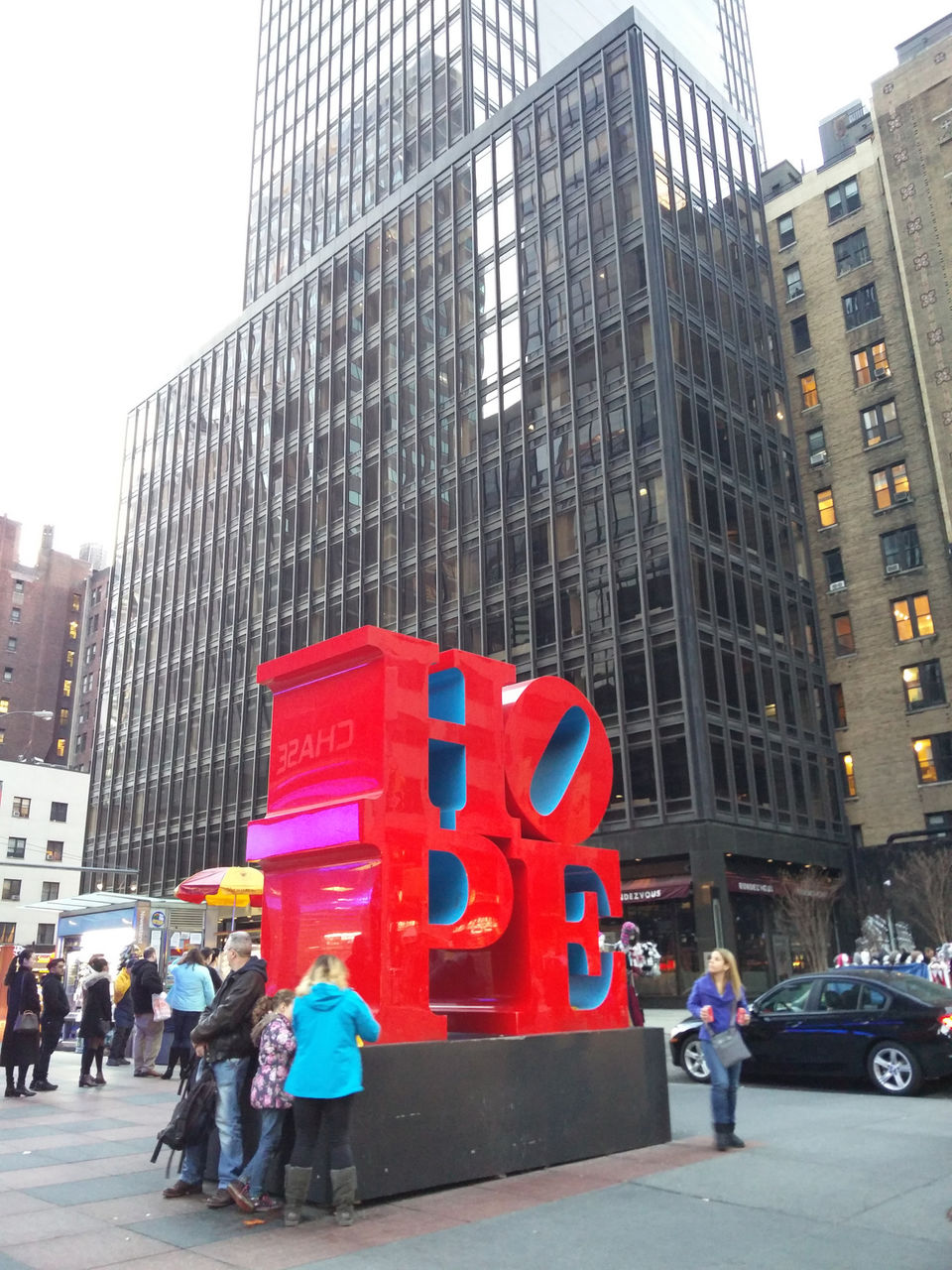 Humans for Scale
This $3 million sculpture by Robert Indiana stands tall at the corner of 7th Ave. and 53rd St.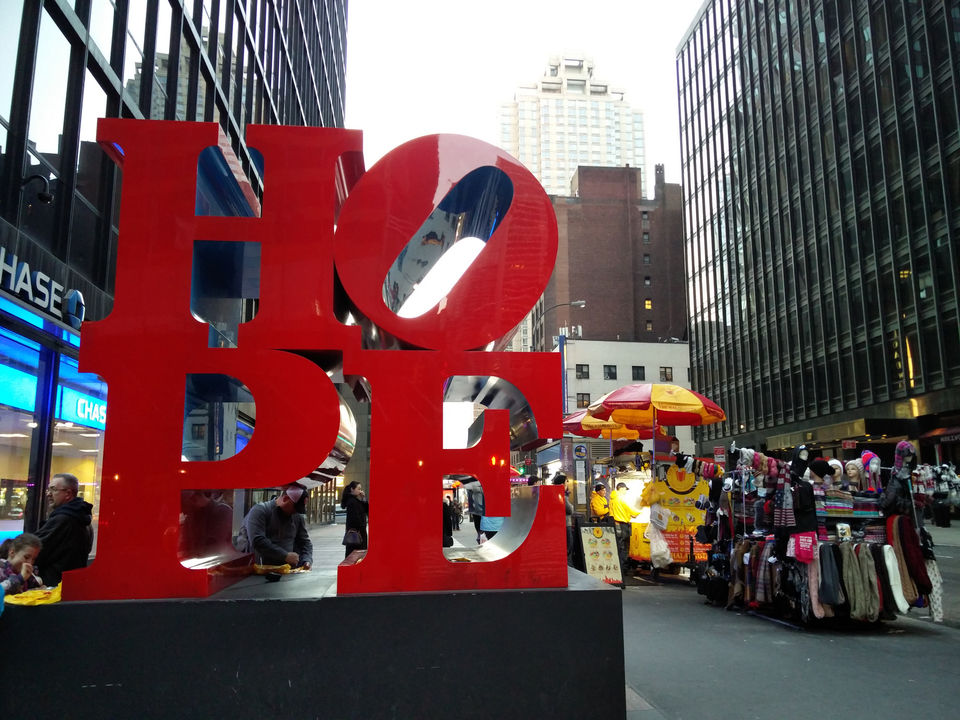 "Remember Reader, hope is a good thing, maybe the best of things, and no good thing ever dies."
The time you spent walking in the city is something you will neither forget nor regret. There's something waiting for you at every corner, be it a beautiful face, a friendly stranger, thoughtful signboards, typographic subway station signs, a helpful local, the car of your dreams or even your future girlfriend.
Well, I wouldn't count on that. So don't get your hopes up.
In short, this city is begging you to explore on foot. Not because you're broke as hell, that too but because you won't miss the tiniest of things in a blink of an eye and you'd have time to stop by and adore the energetic city life.
From the Rockefeller Center, I walked across the Times Square hi5ing Luigi and reached the Apple Store Cube. This place is more touristy than it's a commercial store.
I was still getting used to the idea of being greeted every now and then. Be it a small departmental store or a bad-ass store like this one, the store officials flashed a smile and welcomed everyone without fail. Even when the customers left the store without buying anything, they were being wished a good-night without any stares or judgement.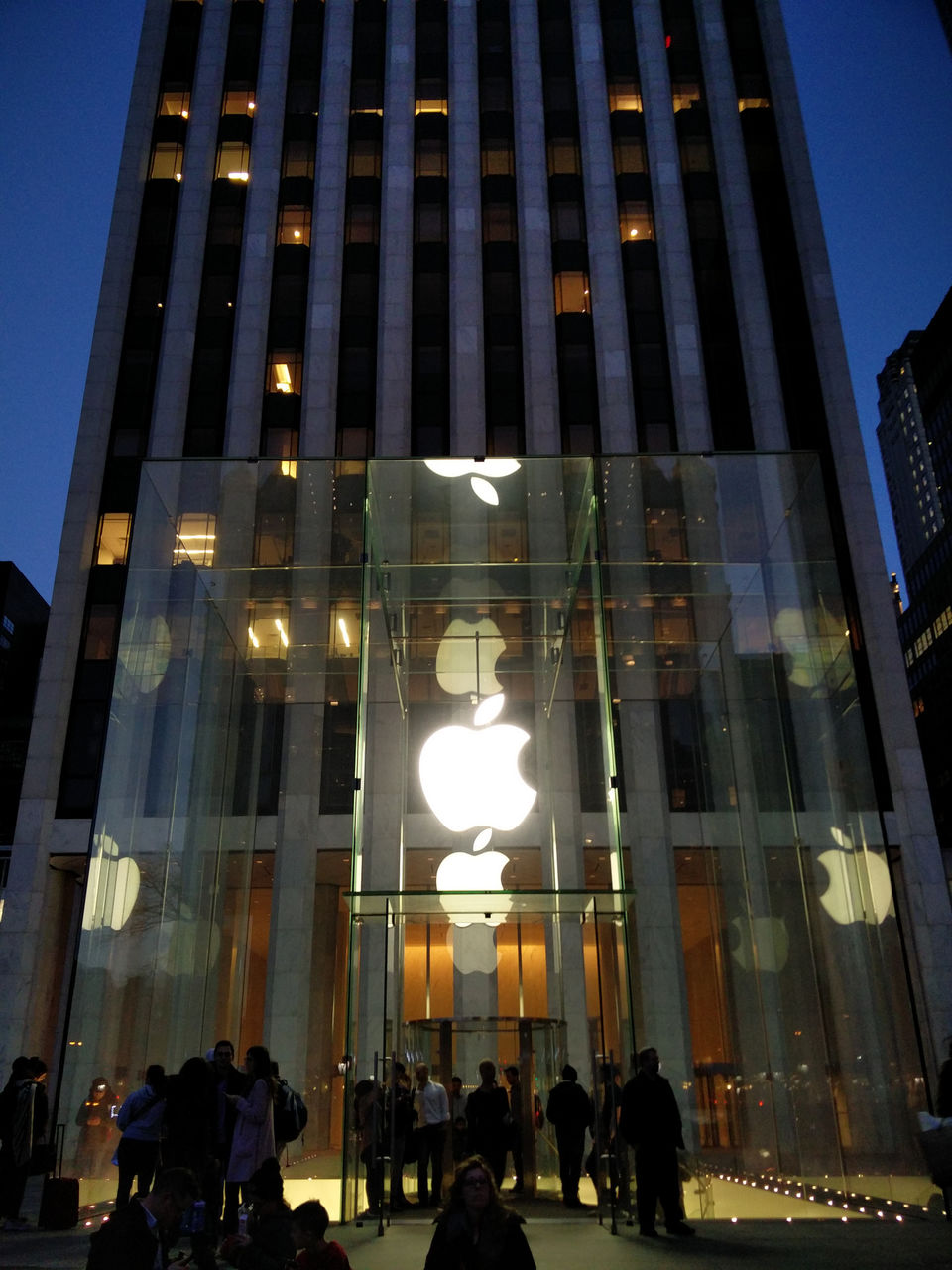 Interestingly, this 32 foot high glass cube is open 365 x 24 x 7 for an unparalleled service and is located in front of the GM building. As you walk down the glass stairs you are suddenly surrounded by a massive crowd of people from all over the world waiting for their chance to use Apple products on display. The store officials are welcoming and happy to assist you anytime.
As you can see in the picture, the cube is so well designed that the logo's reflection resonates symmetrically on each of it's faces.
As I spent a couple of minutes in front of the store, I could hear my bank balance whispering me to slowly do the walk of shame away from the cube. I nod my head in agreement and started walking towards the Grand Central Terminal.
Then it struck me that I'd miss walking across the entire length of Brooklyn Bridge as it was already getting dark. I wanted to see at the Manhattan skyline at night from across the bridge. I looked up the nearest subway station and took a train towards the Grand Central Terminal.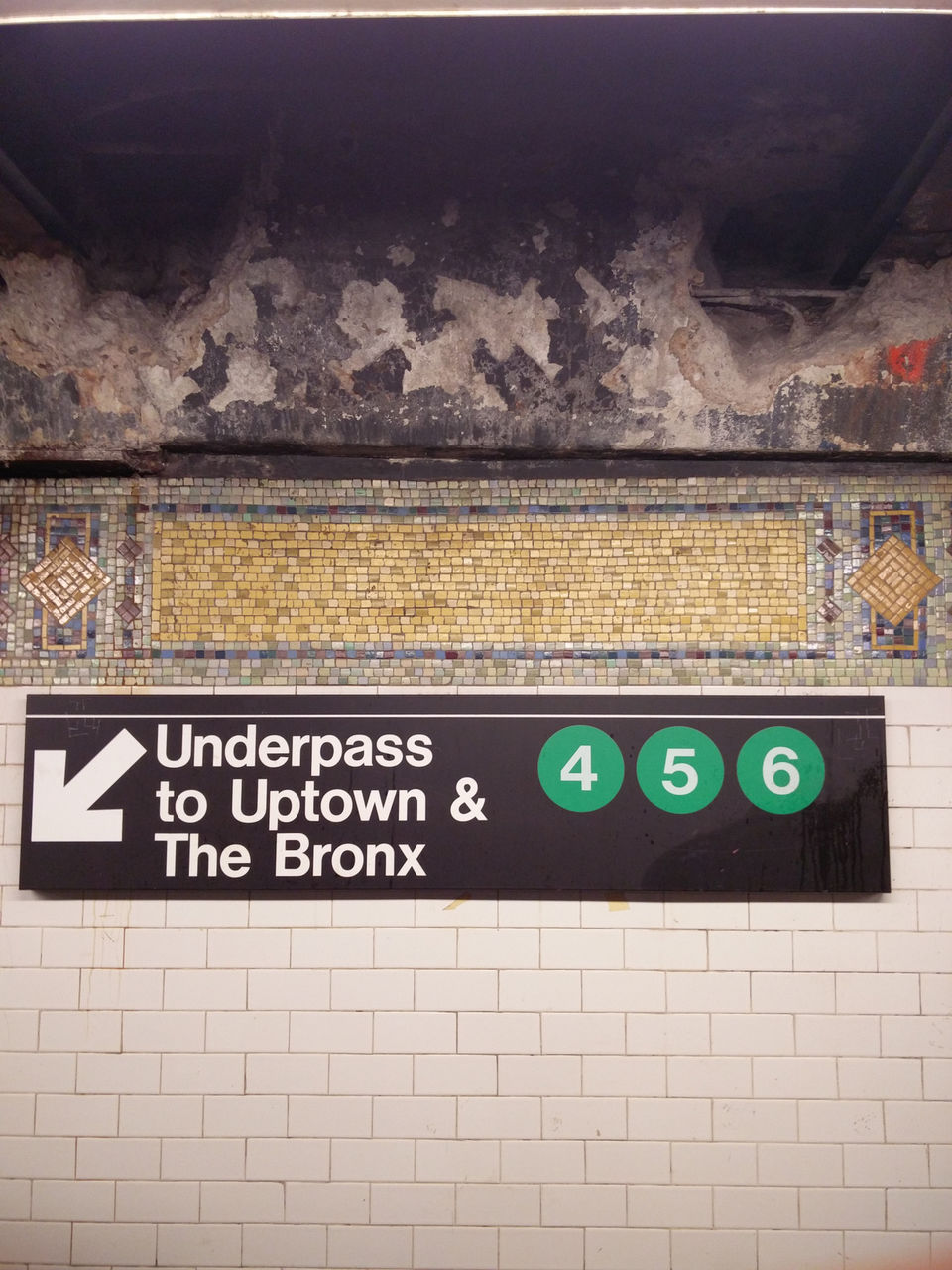 Typographic Paradise
If you're wondering if that's art on the top, it isn't. Imperfections are beautiful.
The Grand Central Terminal station is a window to the country's illustrious past which you experience when you observe the ceiling mural and the opalescent glass windows.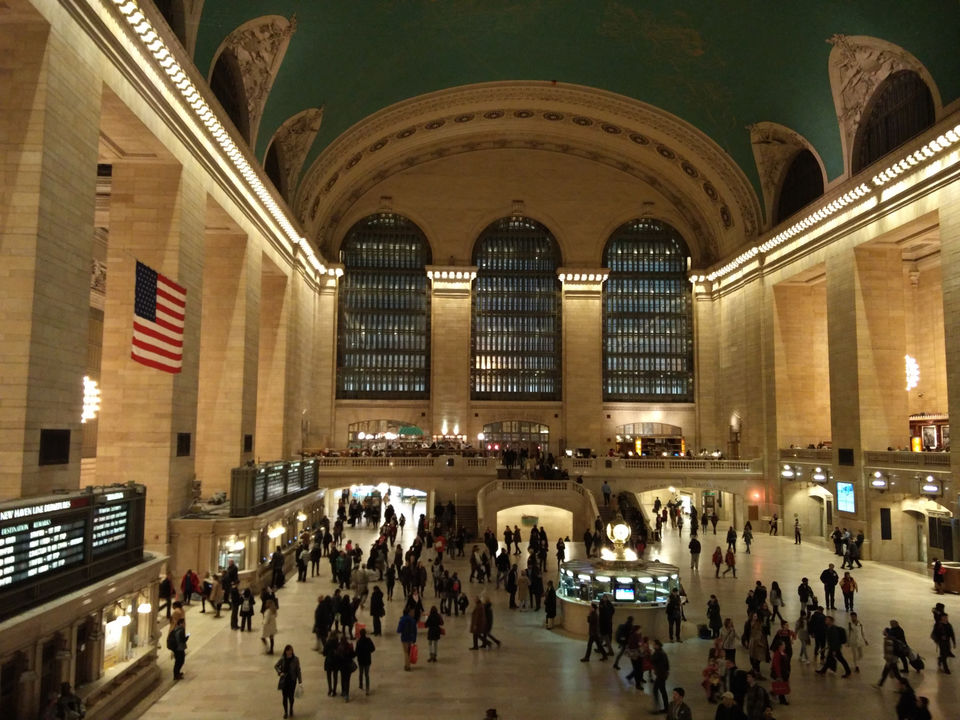 Grand Central Terminal Concourse
This station has 44 platforms, more than any station in the world. I'll speak more about this place when we re-visit this place the next day.
I boarded the downtown train to Brooklyn Bridge City Hall and it was getting colder by the second. When I resurfaced from the subway station to the ground, it was so chilly that a curse left my mouth in reflex — in my mother tongue. A fellow Indian laughed from the distance. Hiding my embarrassment, I shot an awkward smile and moved on. I looked for the signboards and after following them, I could finally see the Brooklyn Bridge in all its glory with the American flag fluttering on it's top.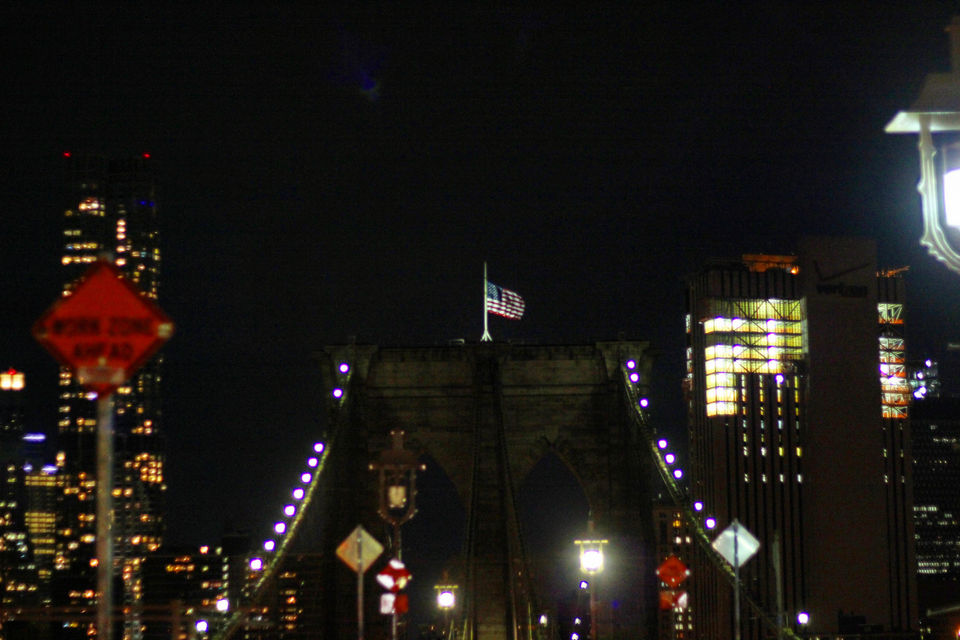 Thank you, America!
I will be honest with you. This was one of the listed items in 10-Things-You-Should-Do-In-New-York. The kind of lists I despise.
It doesn't get so chilly in any of the cities I've lived in India. The maximum drop in temperature used to be 5 to 6 degrees Celsius. So every memory associated with my time in New York has the word spine-chilling cold with it and I soaked in every ounce of that unsettling feeling because that was an experience I'll never forget.
When was the last time the sun was shining bright in middle of an afternoon and you still feel cold. ~Because 0 Degrees Celsius
In closed spaces like malls, stores, subway stations etc it was quite warm. Enough to take off caps and gloves. So it was a constant battle to not lose them.
But unfortunately I did lose my cap.
But I'm happy I lost it because I got to buy a new one, softer than the one I lost. But more on that later.
I love walking. This is a habit which developed during early days of school and the I never let that habit die. I can't recount how many cities I've explored just by walking from one place to another. Hence, the Brooklyn Bridge was a walk in the park.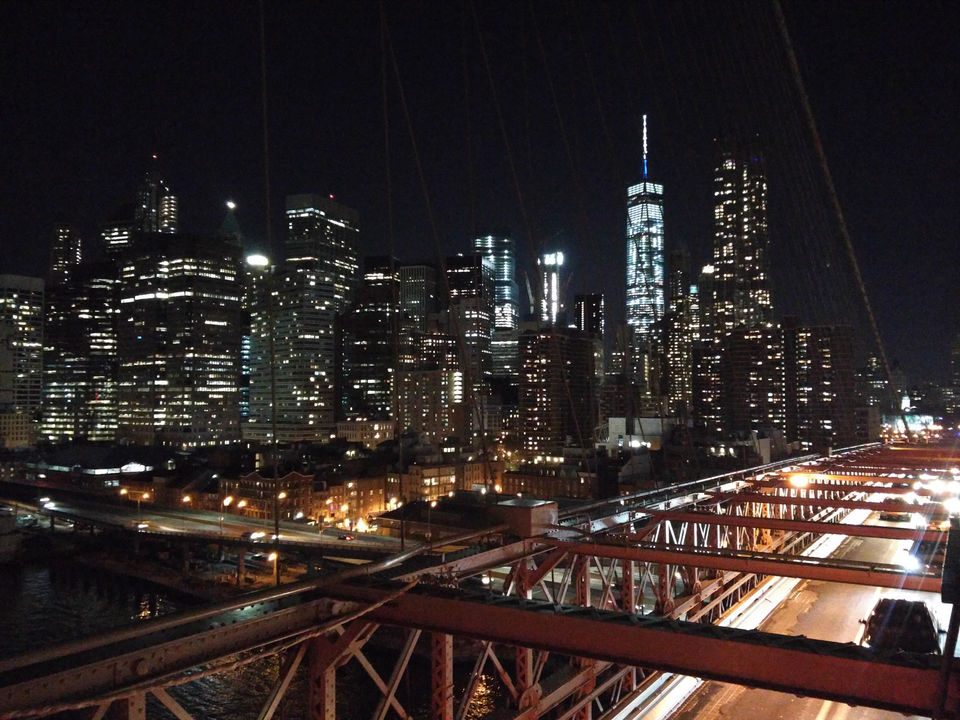 Manhattan Skyline as seen from the Brooklyn Bridge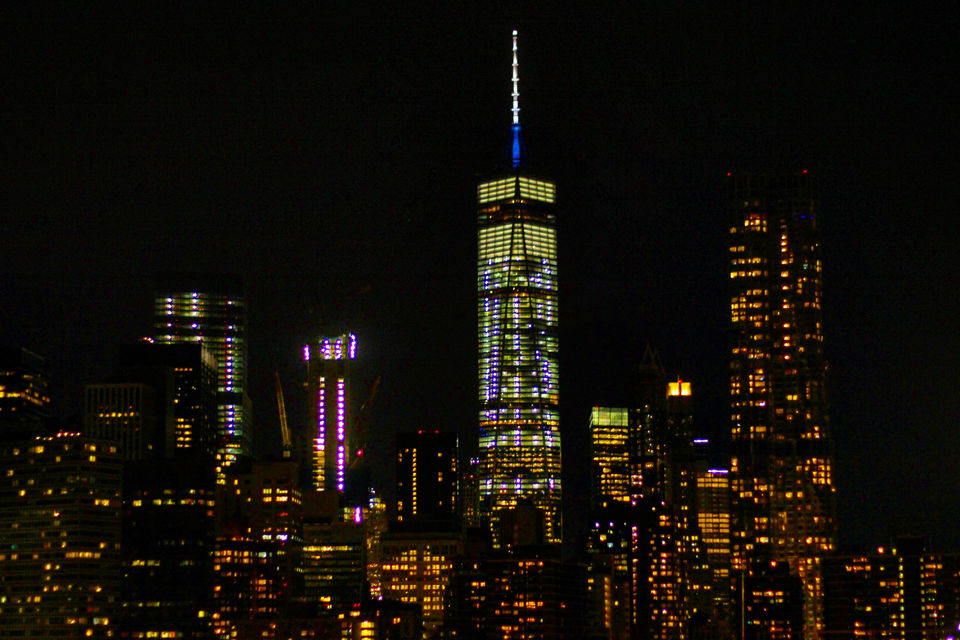 One World Observatory dominating the Manhattan Skyline

Empire State Building's turn
For a much better view of this picture, please click here.
The dedicated pedestrian pathway of the bridge is shaky with all the cars speeding by beneath you. It is an unforgettable memory of spending time gazing at the glittering stars; every-so-shiny lights, their reflection in the calm Hudson river; listening to the engines revving to half their potential and at the top of it — locals and tourists walking by discussing their daily lives or how their day has been so far in New York City.
Curious about how that skyline looks during the day? Don't worry, we'll be walking across the bridge soon enough during daytime as well!
At this point, I think you have grasped the fact that New York has an alter ego which only comes alive at night. You have to experience every aspect of it during different times of the day to be atonished.
TIP - Visit all your favorite spots during nights as well.
I grabbed a quick dinner at Dunkin' Donuts where I met Eeti at the counter. A beautiful Bengali girl with an impeccable English who was very polite and helped me pick out a sandwich and a heart-shaped donut.
Day 2 — The One With The Bus Tour
What pops in your head when you hear the word bus-tour? Please do not say open-air buses. I only have a couple of hobbies and getting slapped repeatedly in the face by cold winds is certainly not one of them. The temperature was sub-zero and we were freezing. But hey, who doesn't love bus rides.
I personally oppose the opinion of having a guide drag you from A to B and then to C, limiting your flexibility to explore a place personally. It's a plain nightmare if you're not a people person.
New York City is huge and for a lone traveler such as me, the concept of being on my own discovering all the places horrified me and hence I started searching for a bus-tour service, but just for a day. As usual, Google threw everything it had right to my face and I was unable to decide as they all were not suiting my needs. Mostly, they were out of my budget.
After a couple days I settled on 9 Hour Main Attraction Tour provided by New York Tours. My prime reason to select them was that they provided me VIP access to the Empire State Building as well as Statue of Liberty with pedestal access. I figured that as it's my first time in the Big Apple, I should have a guide around to answer all of my stupid questions. I put together a list of places I wanted to visit on my 3rd and final day.
After a good night's sleep I walked towards Grand Street to take a subway towards 7th Avenue Station.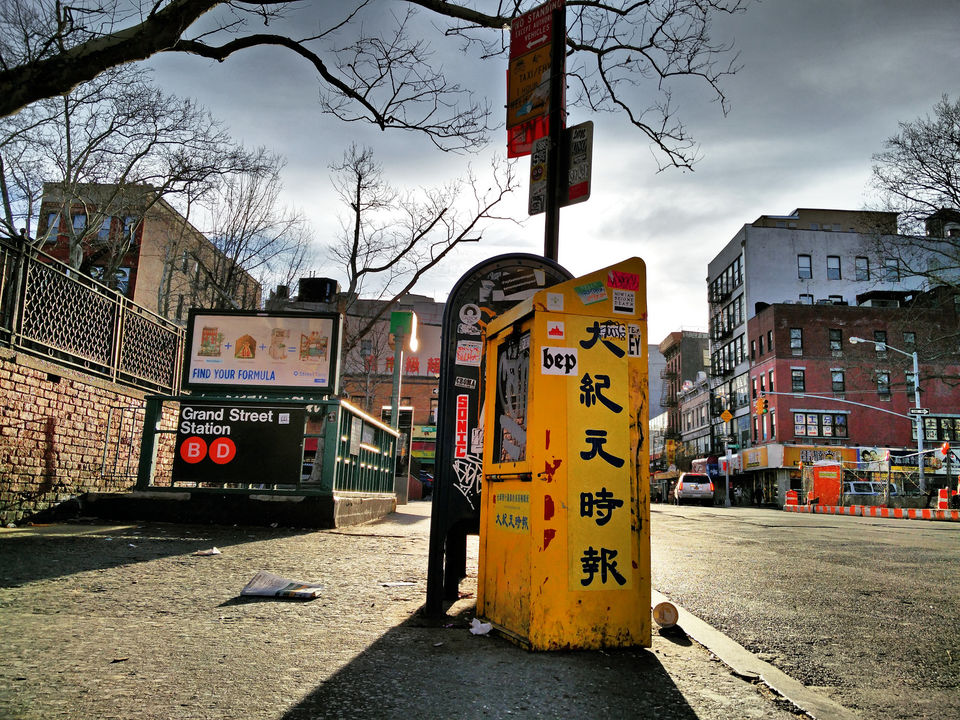 Hello Chinatown!
Taking the subway is as easy as 1..2..3.. but again, someone introduced the alphabet in algebra and declared it easy.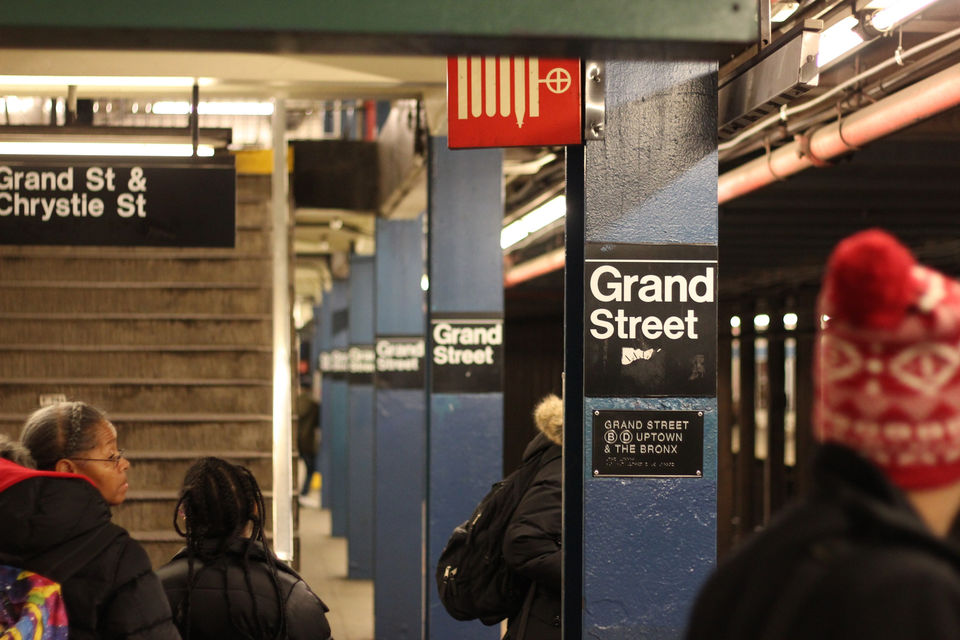 An Out of Focus Beanie at Grand Street
I placed a quick phone call to the officials to co-ordinate with them. They informed me that the bus was in front of the Broadway Theater waiting for their last passenger — me.
Our shuttle bus was a cute and little; so was our guide, Derek. He seemed full of life for a guy who had to come in at work at 8 am in the morning when he could be tucked in beneath layers of blankets. He introduced me to our driver and the moment I entered the warm and cozy bus, I envied his job.
The bus took off and I glued my eyes to the window like a kid who's off to visit the candy factory.
It was the third straight day I didn't have a warm cup of tea.
Our first stop was St. Patrick's Cathedral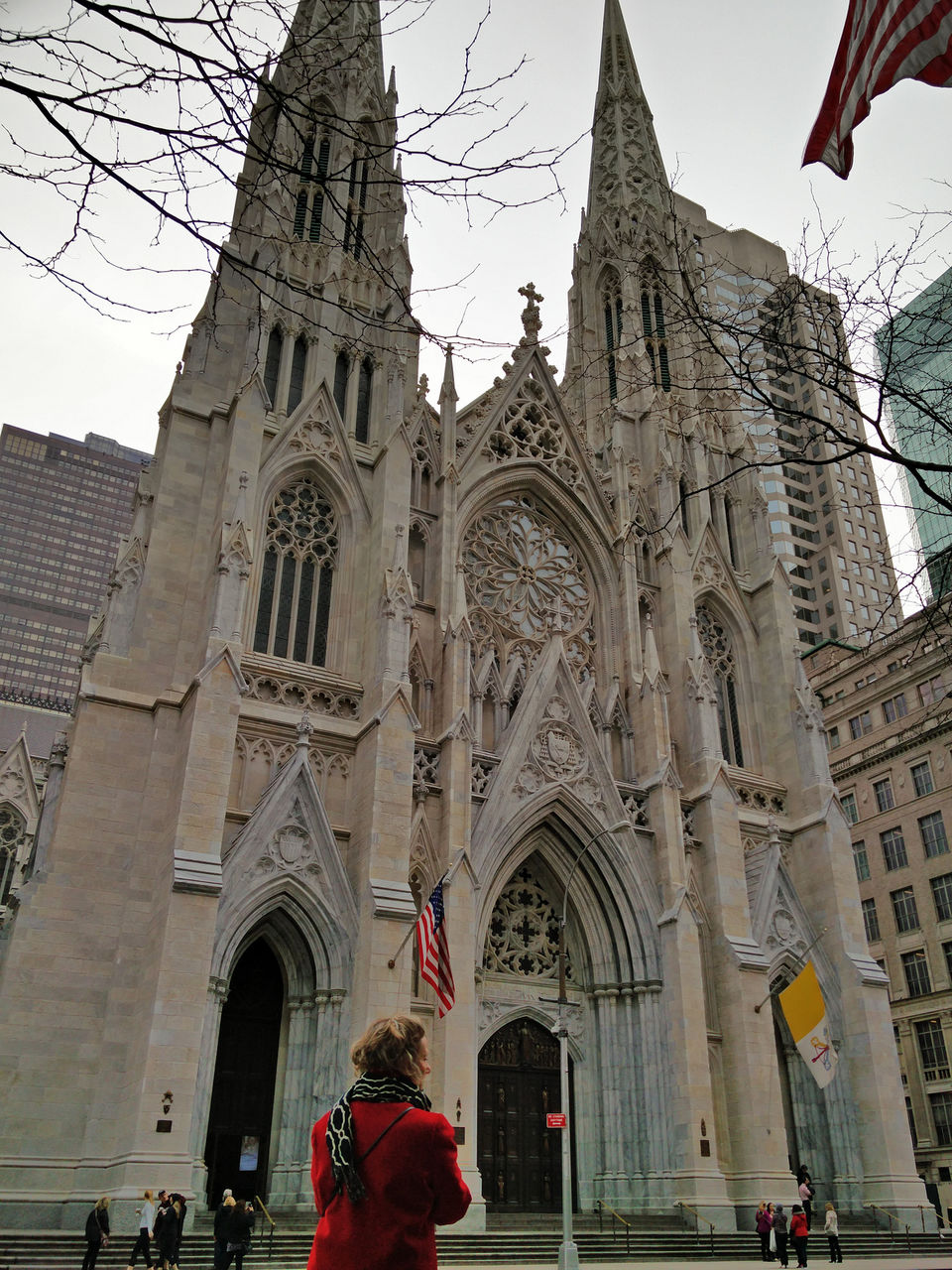 The Roman Catholic cathedral is an immaculate example of Neo-Gothic Architecture.
Don't ask me more about the subject. I took up Orientation to Art and Design in college so the phrase did seem to be familiar.
We walked inside the cathedral but as we were a small group(read crowd), we did not want to be a disturbance to the people saying their prayers. So we stood at a distance and adored the stain glass windows, pleasing art works and the altar.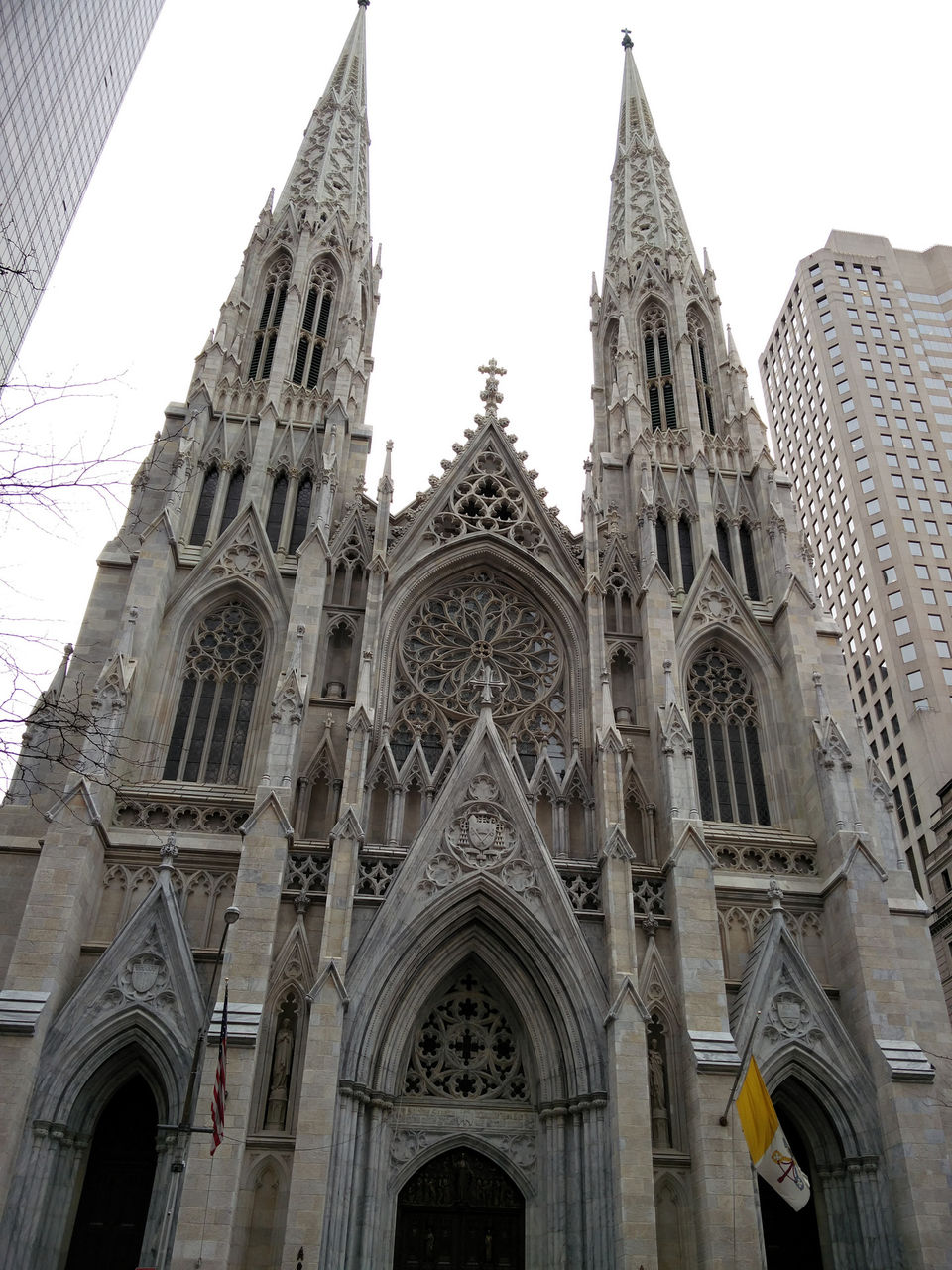 Would it be wrong to say that it somewhat looks like an alien warship?
I think it's a great time as any to share a wonderful quote I read on one of the massive billboards at Abu Dhabi International Airport.
"A nation without a past is a country without a present or a future." — Sheikh Zayed bin Sultan Al Nahyan
As we exited the cathedral, we saw the imposing statue of Atlas made of bronze in front of the Rockefeller Center. It depicts the Greek god holding the heavens. It weighs around 7000 kg, so you'd not want to be anywhere near it clicking a selfie if it were to tumble.
We shortly passed the New York Library which you can see down below.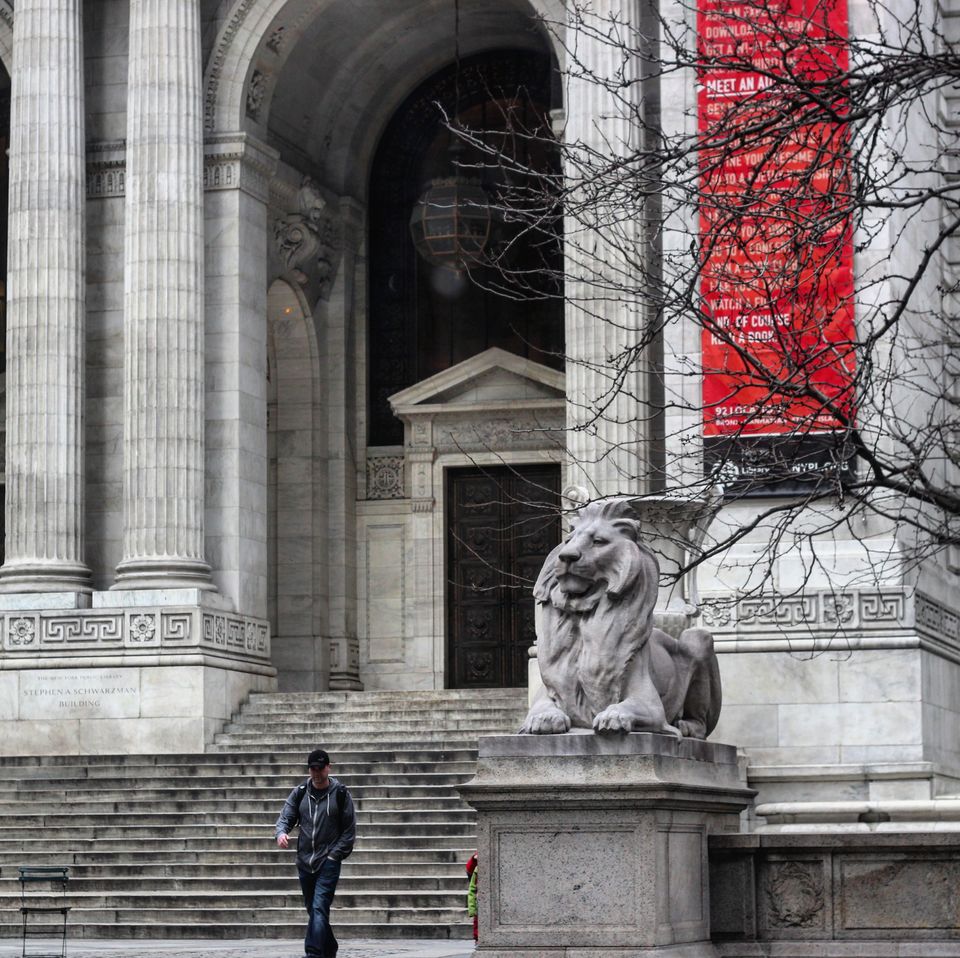 Fortitude, one of two Library Lions
It's the second largest public library in the United States and its entrance is flanked by two lion statues made of marble. Their nicknames have been changed over time and the ones which have stood the test of time — Patience and Fortitude.
Well, two of the most important virtues I would love to have.
These trademarked mascots are used by the Library in their logos and is often included in all major functions.
Don't worry, we won't go inside. A vast array of neatly stacked books is the last thing you'd want to see when we have so many exciting places waiting to be explored.
As we made our way towards Grand Central Terminal, I was excited to hear all about the place from Derek.
Derek who? Our guide. God! Try and keep up.
In my opinion, I prefer listening to reading. When you're listening to someone speak, all your senses are vigilant. And of course, there's always the concept of questions which stems from curiosity.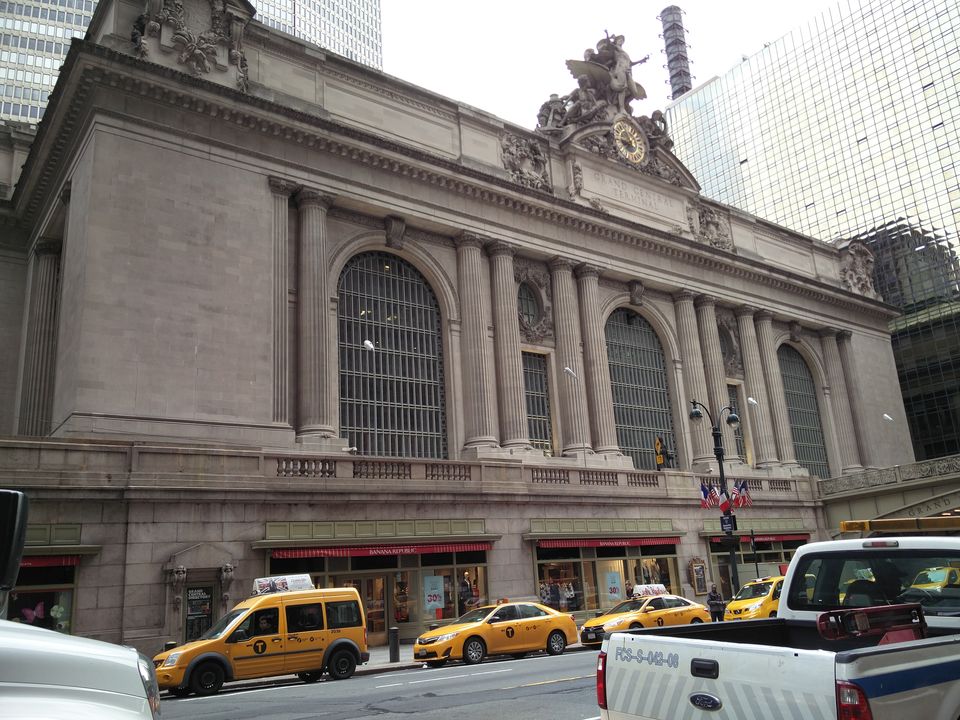 Grand Central Terminal
Before I tell you how close we were to lose such a precious piece of history, I'd like to share some pictures first.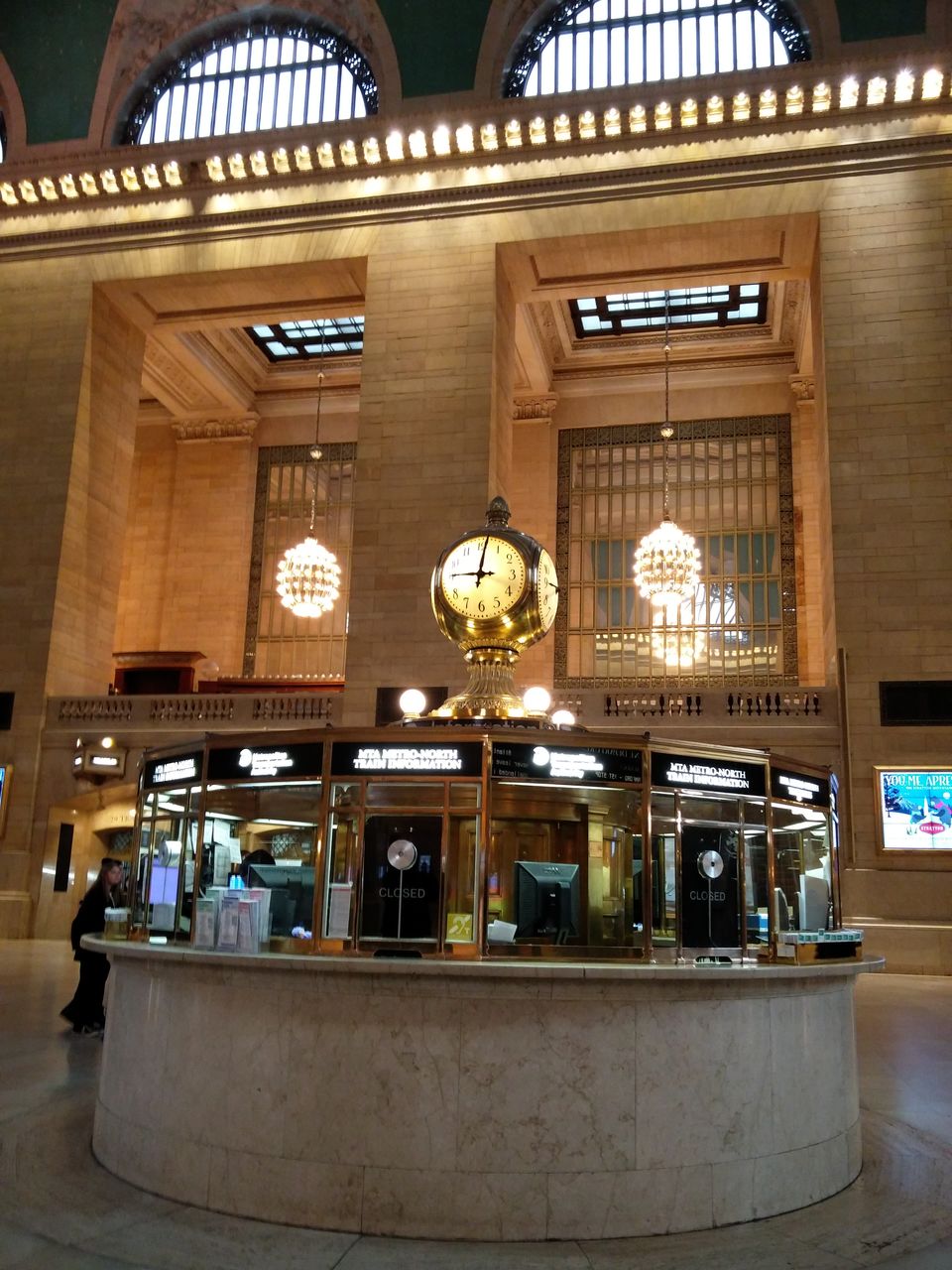 Let's zoom in a little bit.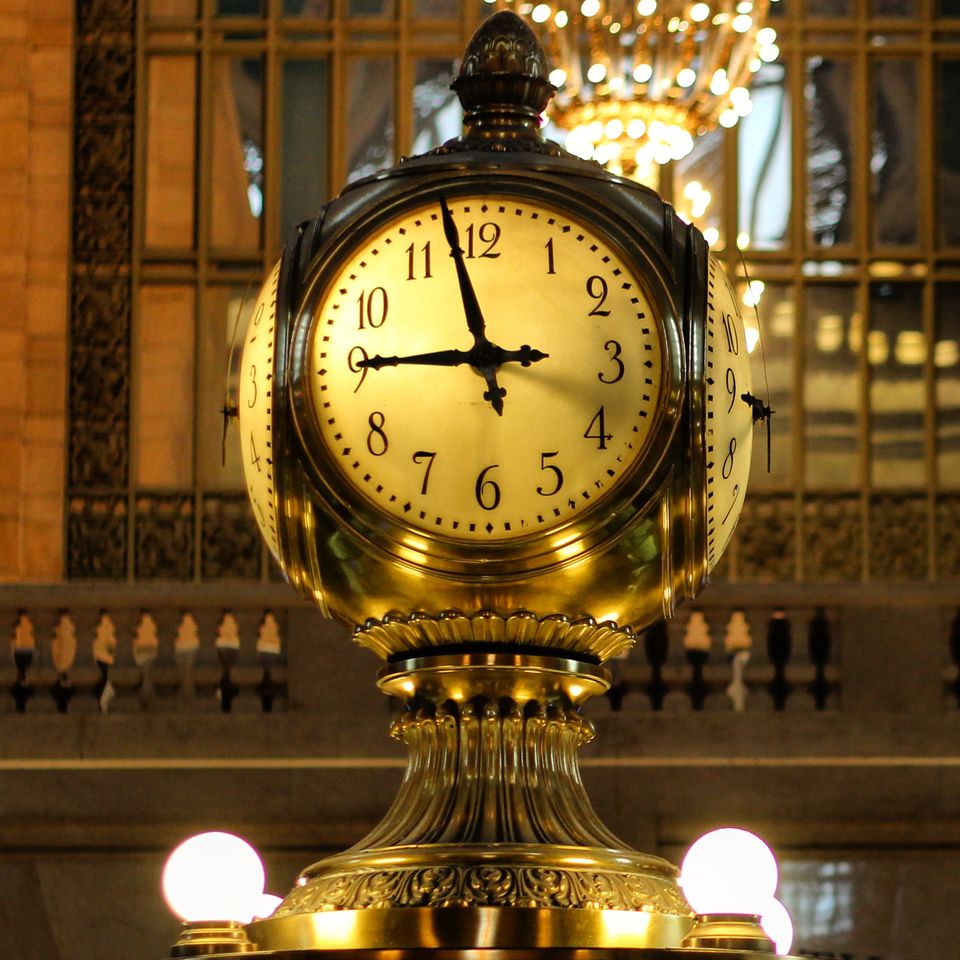 Ah, perfect.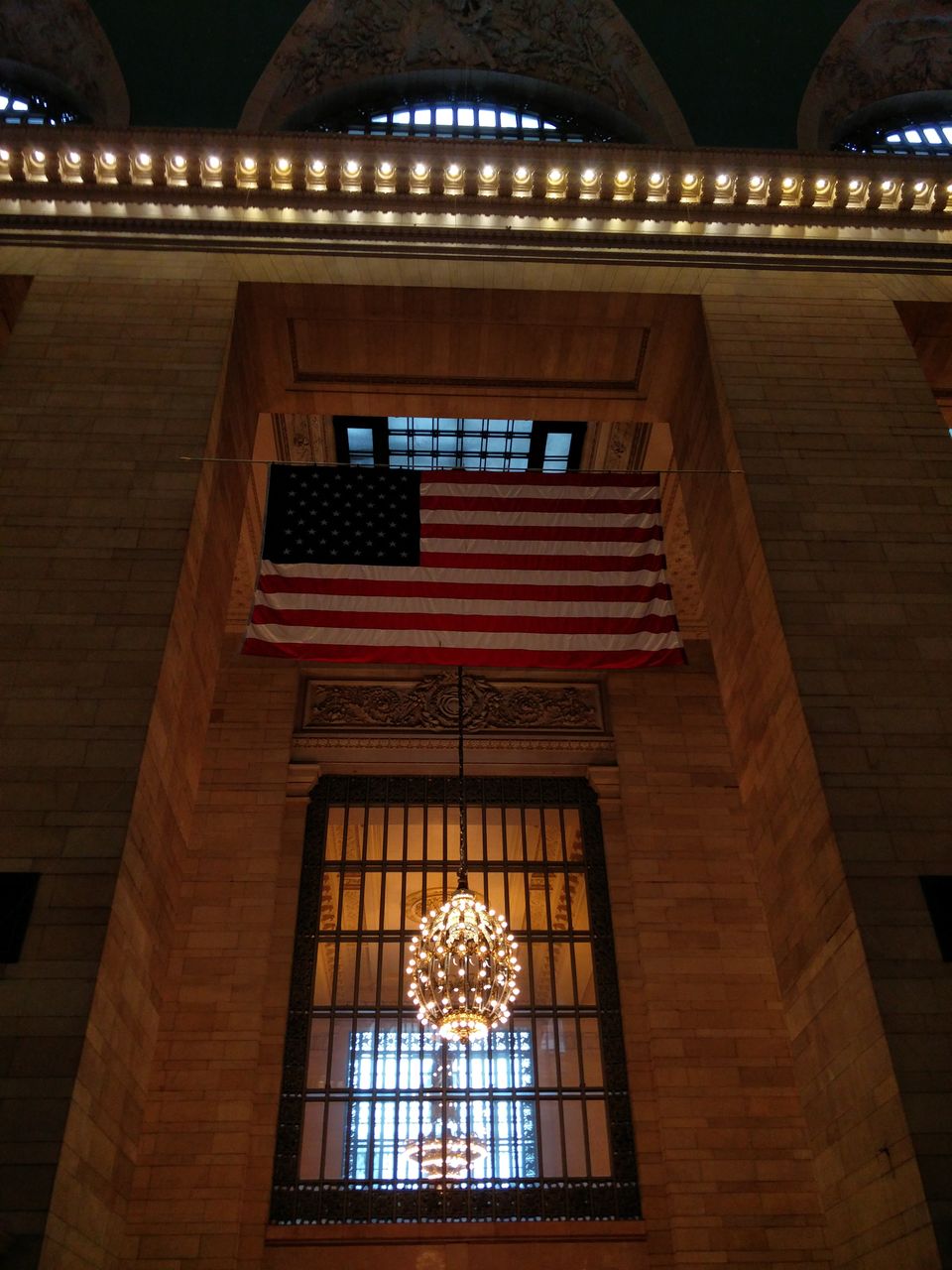 Wait, is that a Jackfruit?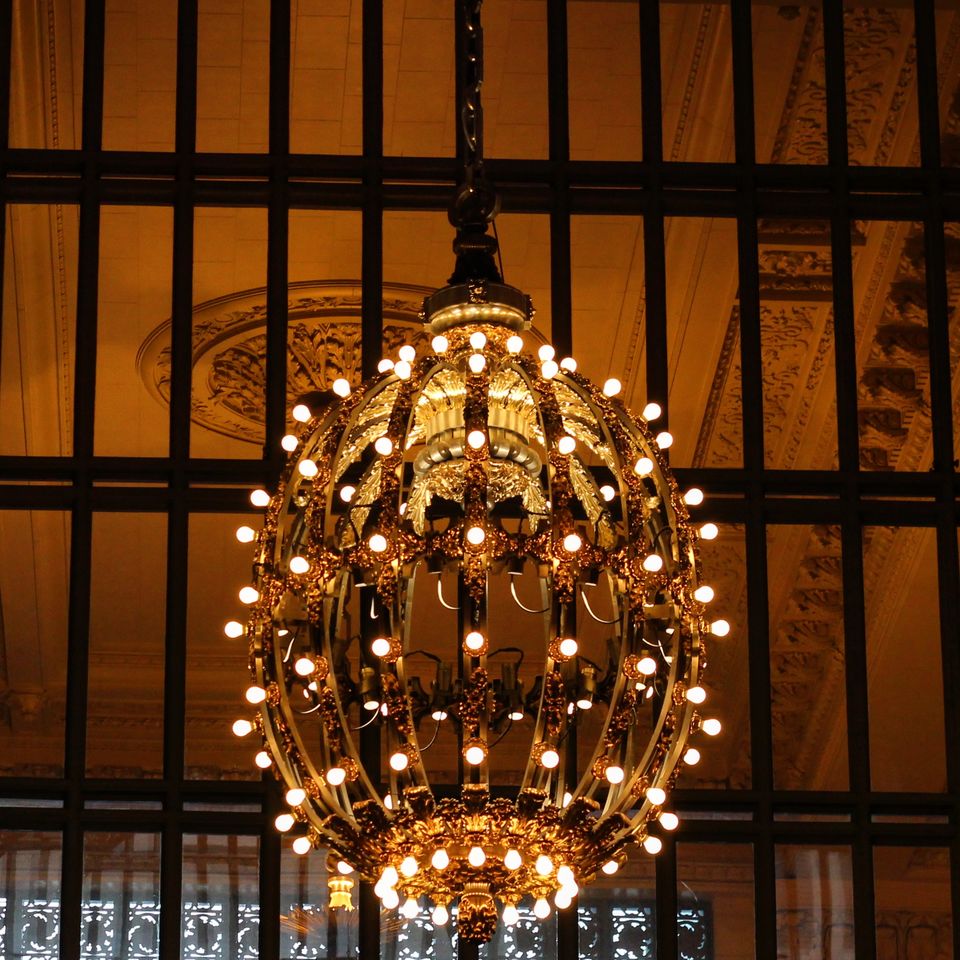 It indeed is, an electronic though.
After a strings of court dates, a decision was taken in favor of the terminal. The place was restored in the 1990s and behold —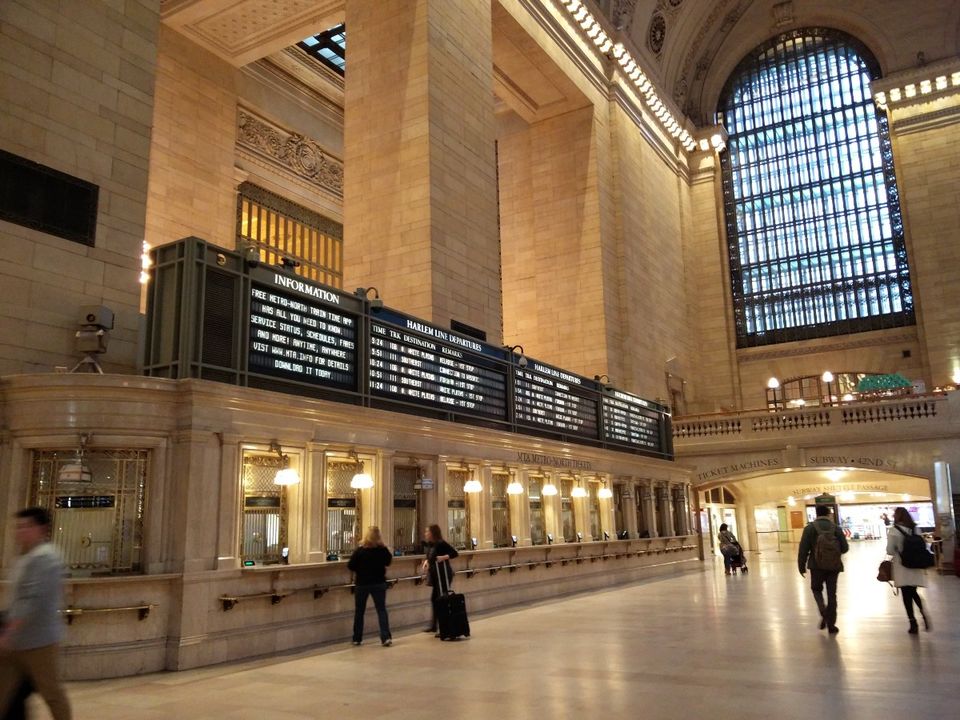 Ticket Windows at the Concourse
Just look at those magnificent windows. And to believe that this place came this close to being wrecked down for a commercial space to bud.
The ceiling of the concourse posses all your favorite constellations and thanks to excellent preservation methods, the place looks good as new.
Except for a small glitch.
If it weren't for the guide, I would have missed out on a secret of this place which mostly goes by unnoticed!
There's a small dark empty rectangle on the roof. This is what the ceiling used to look like! But what was the cause behind it being that dirty?
Smoke
As it used to be a very busy terminal, decades of smoke tarnished the beautiful ceiling. The funny part is that the scientists got to know this by a spectroscopic analysis.
Advisory — Cigarette smoking is harmful to astronomic ceilings.
Every few minutes I craned my neck for a view like this and hence, it took my head a day or two to get accustomed.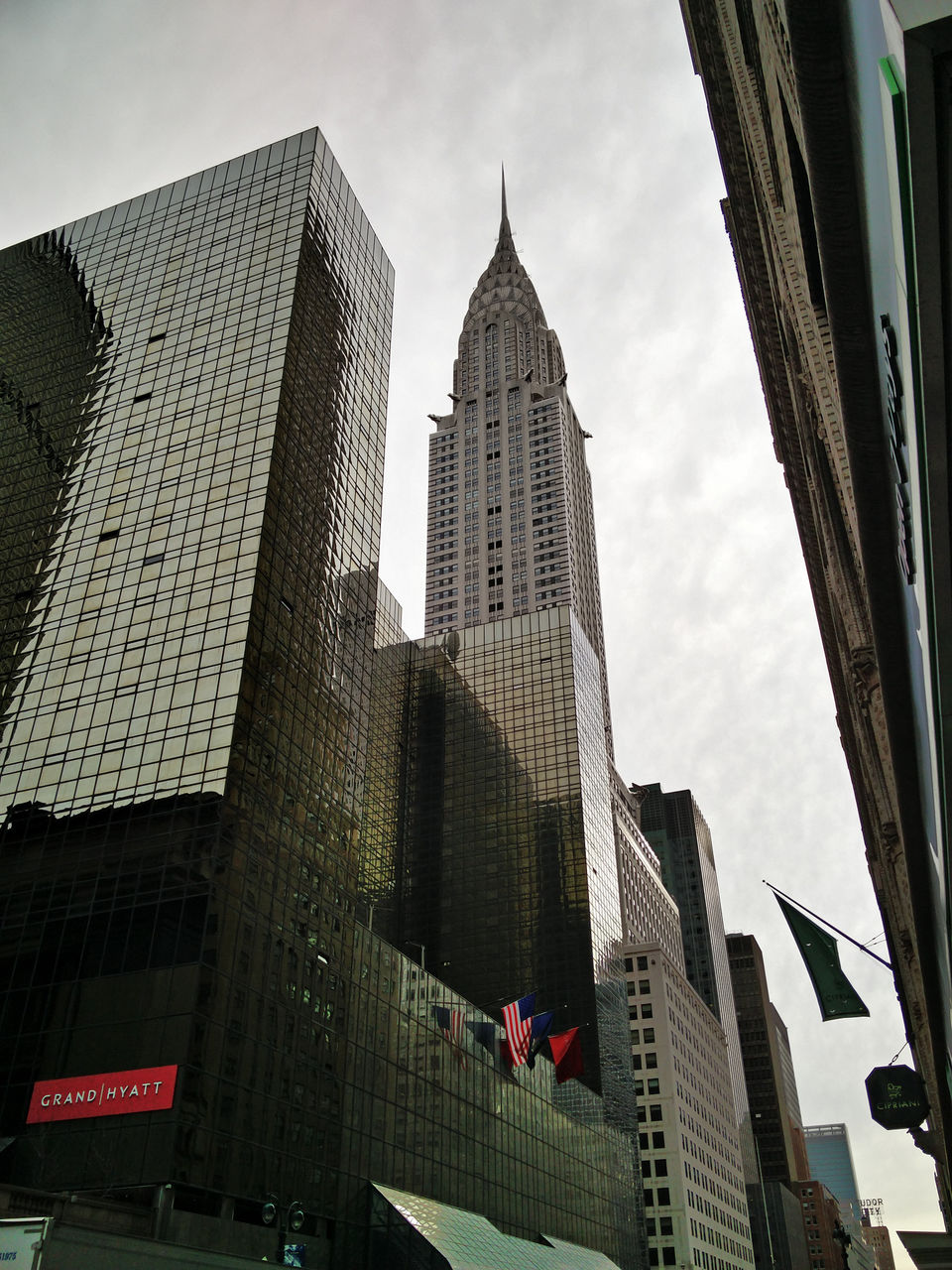 Chrysler Building
Impressed by our guide's knowledge and wondering how it would feel to live full time in this city, I returned to the bus and the driver was happy to take us towards the highlight of our tour —The Empire State Building.
This historical landmark is so much more than just a view from it's Observation Deck located at 86th Floor or 102nd Floor for that matter. It has a beautiful lobby with murals all along the restored walls, a Sustainability Exhibit and much more. The exhibit talks about energy conversation and how it affects our daily lives without us noticing.
Derek handed me the ticket and I dashed towards the entrance. The staff was polite and helped me with directions and security.
The first elevator takes you to the 80th floor. There is a gift shop on this floor where you can buy souvenirs to bring back home.
The second elevator takes you to this view —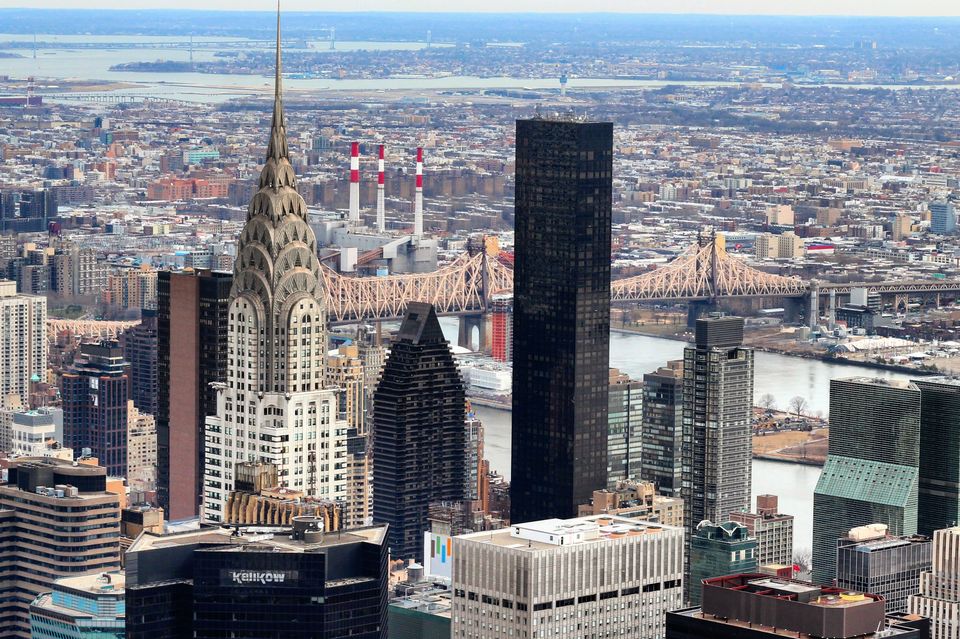 86th Floor, Empire State Building. You can see the Queensboro Bridge behind the Chrysler Building
The sun was shy and the cold winds were on a rampage. At the time I did feel a little uncomfortable but whilst typing this in the comfort of my home at a staggering 35 Degrees Celsius, that weather now seems Tropical.
Make the most out of any circumstance as you never know when the moment becomes a fleeting memory.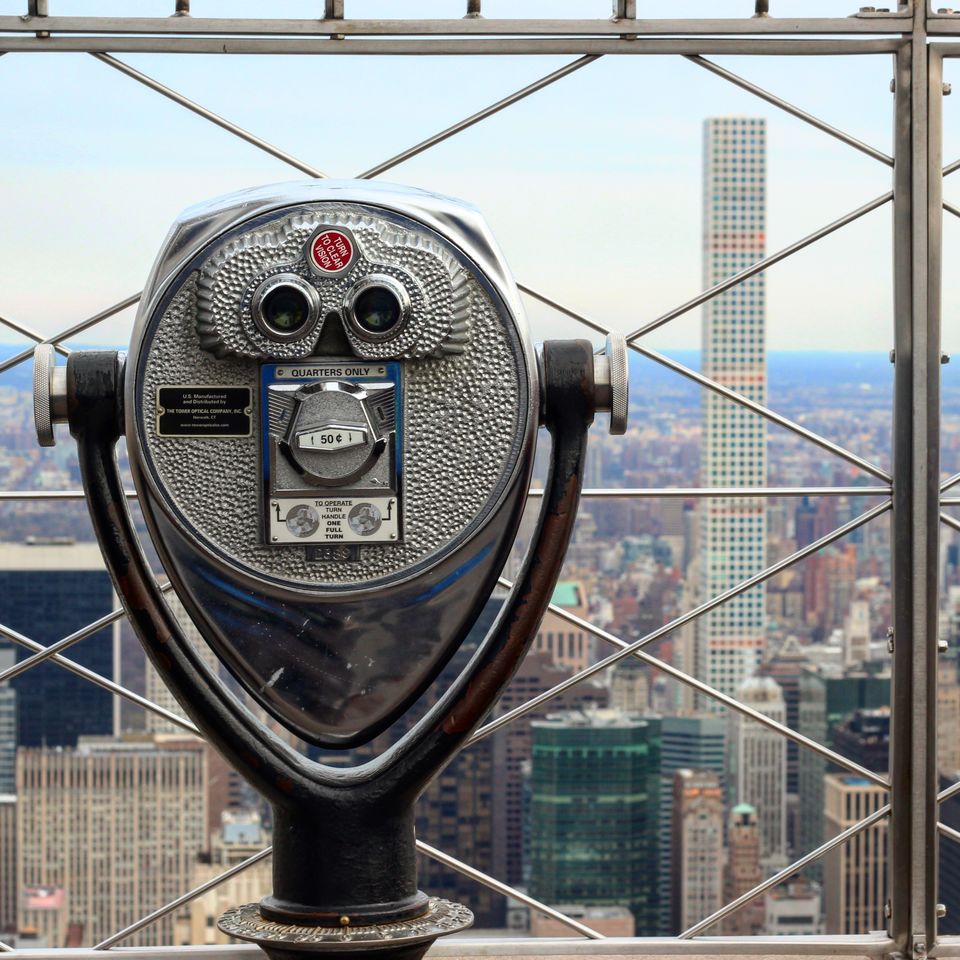 Caption? Read the below trivia
It takes 50 cents to see 432, Park Avenue from the Empire State Building but it would cost you $95 million if the buildings are exchanged.
I know what you're thinking. No photograph can do justice to the view this place offers. I spent a good 50–55 minutes at the top clicking a few pictures to share them with you —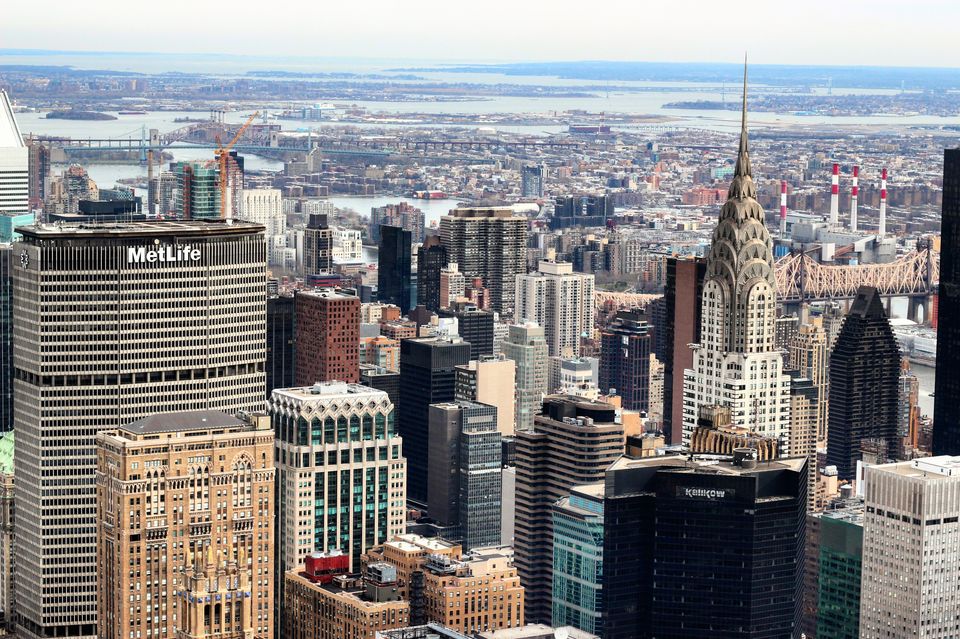 What do the Metlife and Chrysler buildings talk about?
The 104 storeyed One World Trade Center is the tallest building in United States. You can easily spot the building in the picture below. I'll tell more about it when we take a closer look later into the day.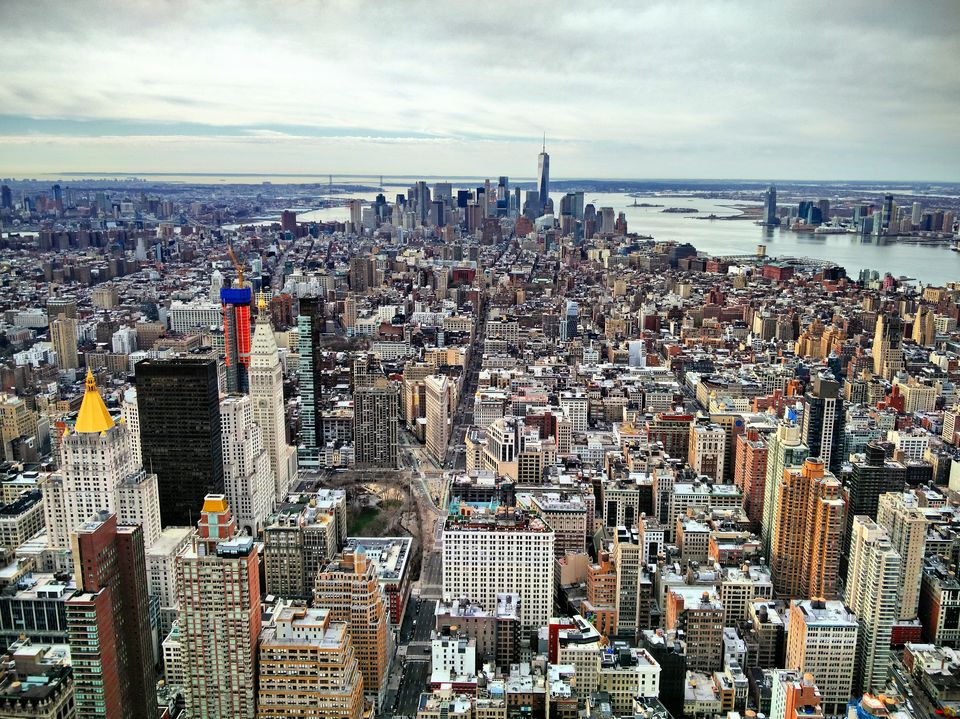 Spot the Flatiron Building Challenge
Let's take a closer look at the Flatiron Building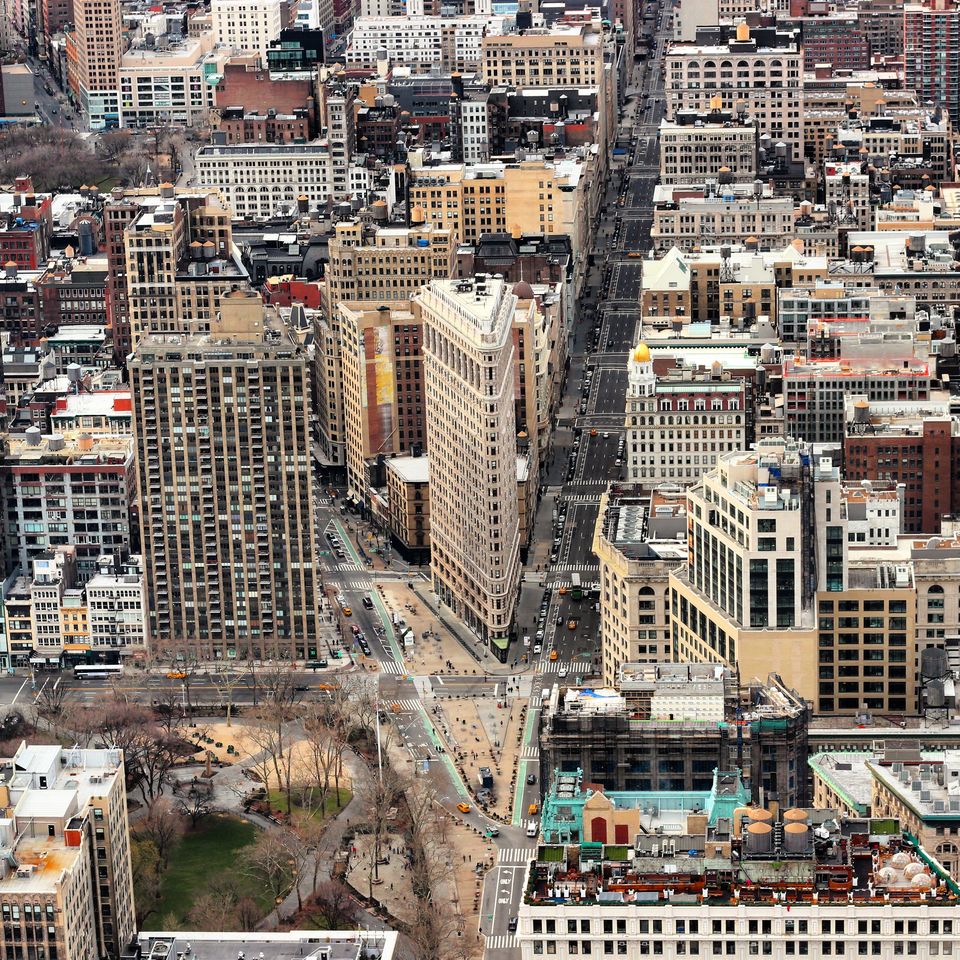 The Flatiron Building
The camera angle suggests that this is America's response to the Leaning Tower of Pisa.
Let's observe the tiny cars which seem to be moving at a snail's pace.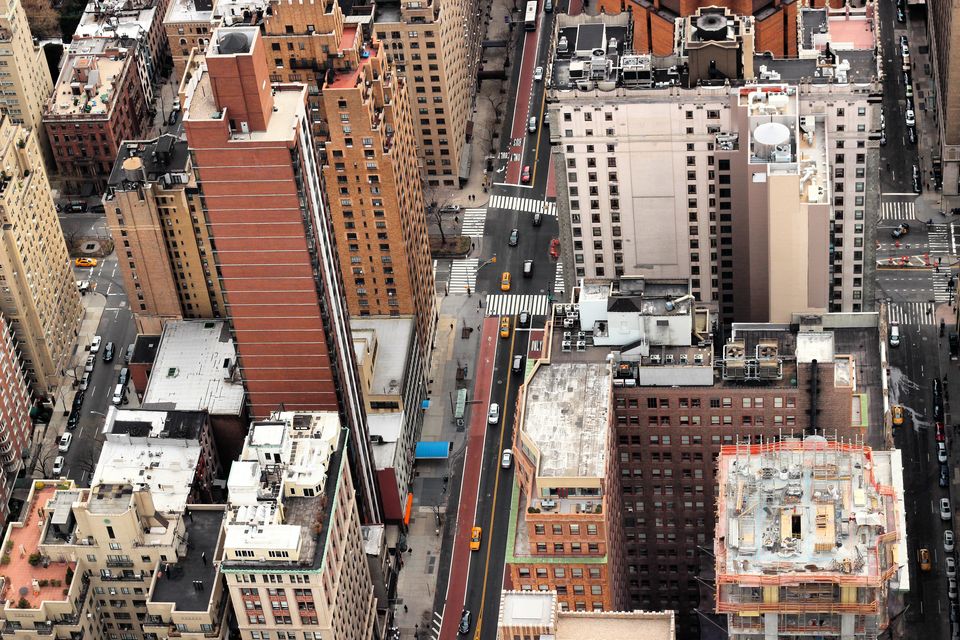 Ah, I forgot to push a paper plane from here.
One last picture, I promise.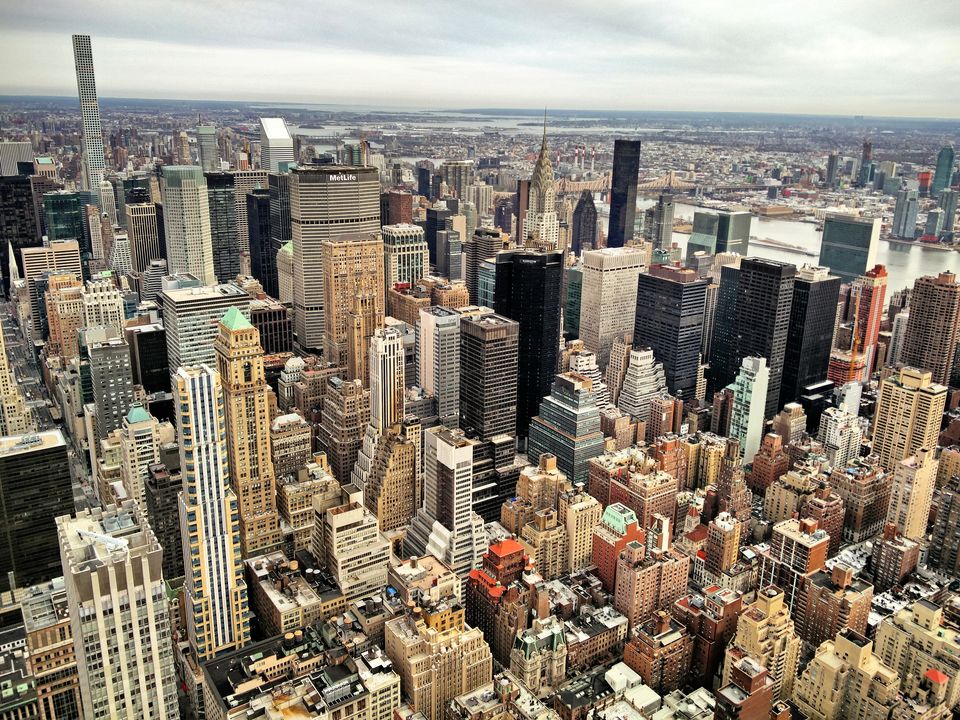 Derek, which bridge is that?
"Although there are a lot of bridges in New York.
The trick to remember the 3 major ones is my favorite car manufacturer,
Brooklyn Bridge
Manhattan Bridge
Williamsburg Bridge"
"Ah, that's nice to know. Thank you!
By the time we all gathered near the bus it was lunch time. The lunch was scheduled in a neighborhood called Little Italy.
As the name suggests, Little Italy used to have a significant population of Italians but today it's primarily a hub of Italian restaurants, bars and bakeries. It has also seen a fair share of organized crime in early 1900s.
We stopped at Paesano's where I had Ravioli with Cheese. It was not out of the world but good enough to get me through the day. I also tasted spaghetti with bolognese sauce and it's quite impressive.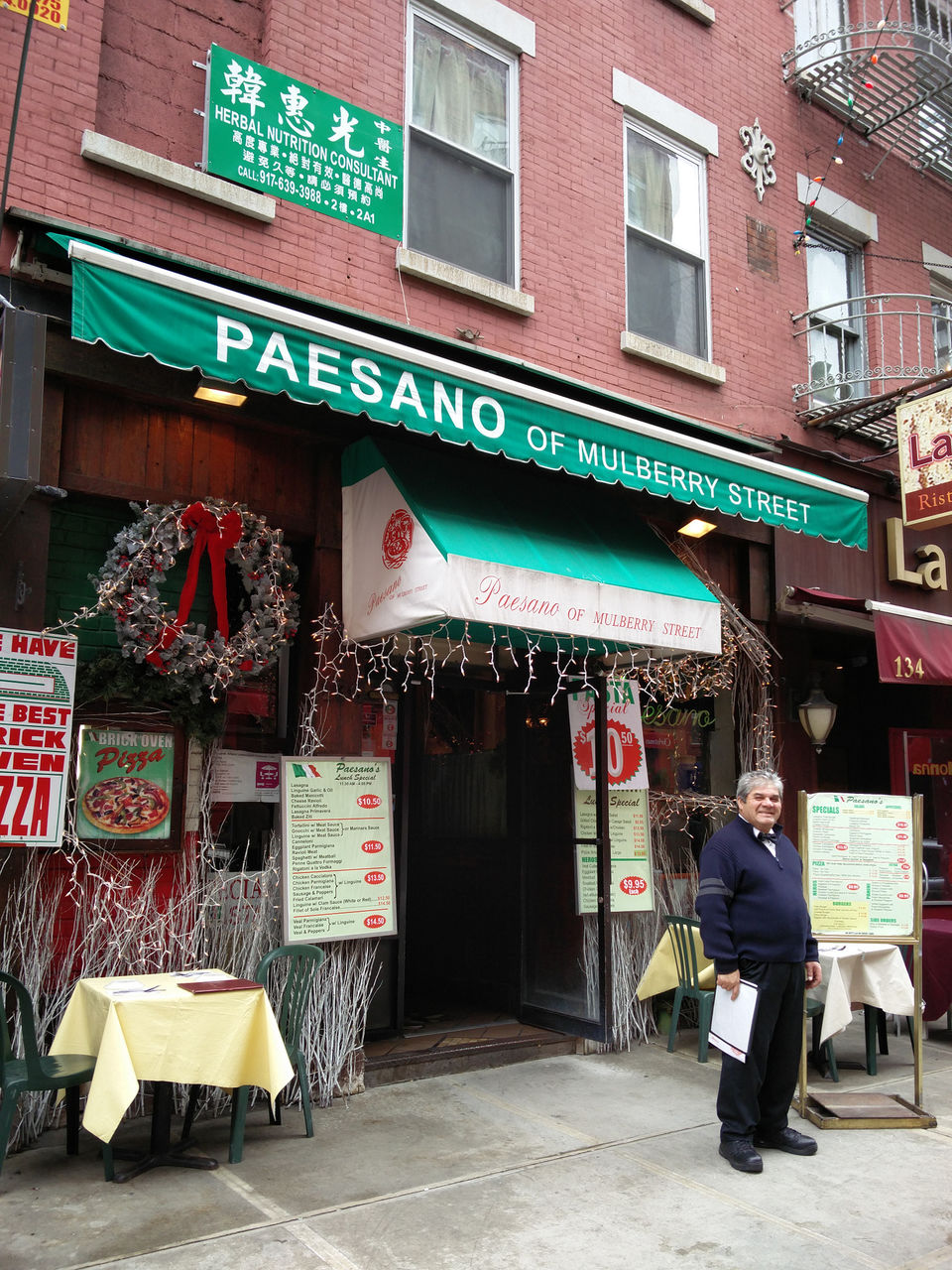 Quite a cheerful fellow manning the restaurant
Next we went to the New York Stock Exchange and Wall Street.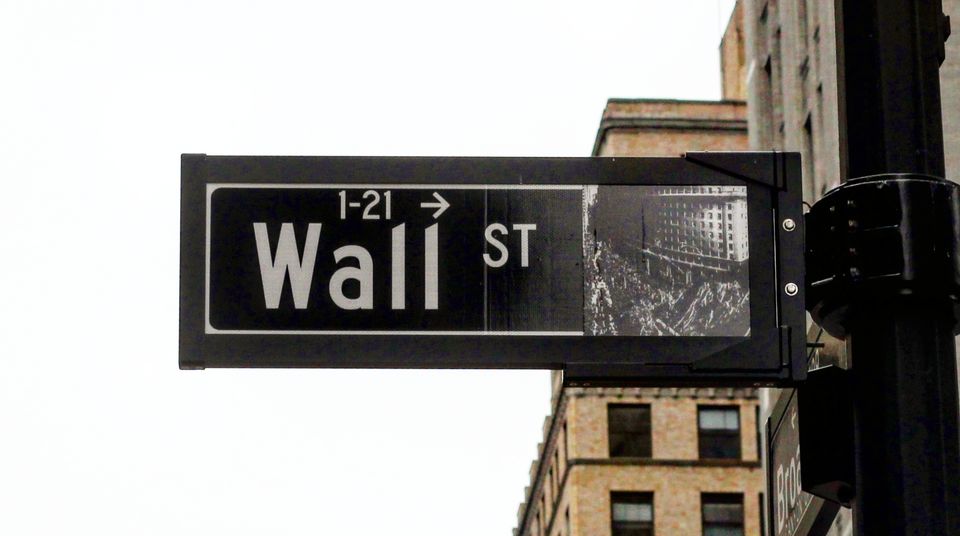 Street sign
The Wall Street is a kilometer long street which houses the world's largest stock exchange — New York Stock Exchange along with its little brother — NASDAQ.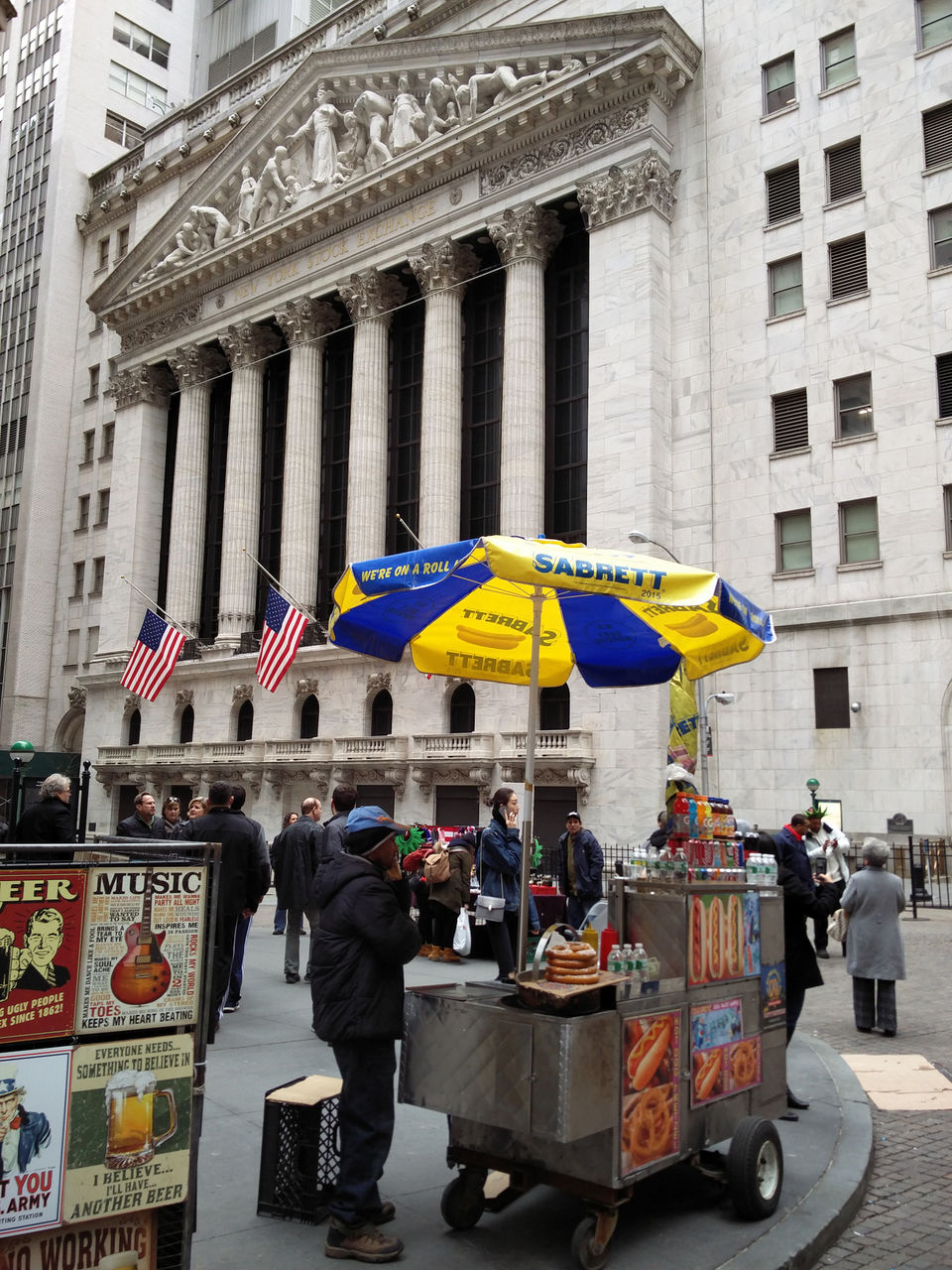 New York Stock Exchange
I chose this angle for a reason which can be explained in detail by this picture below.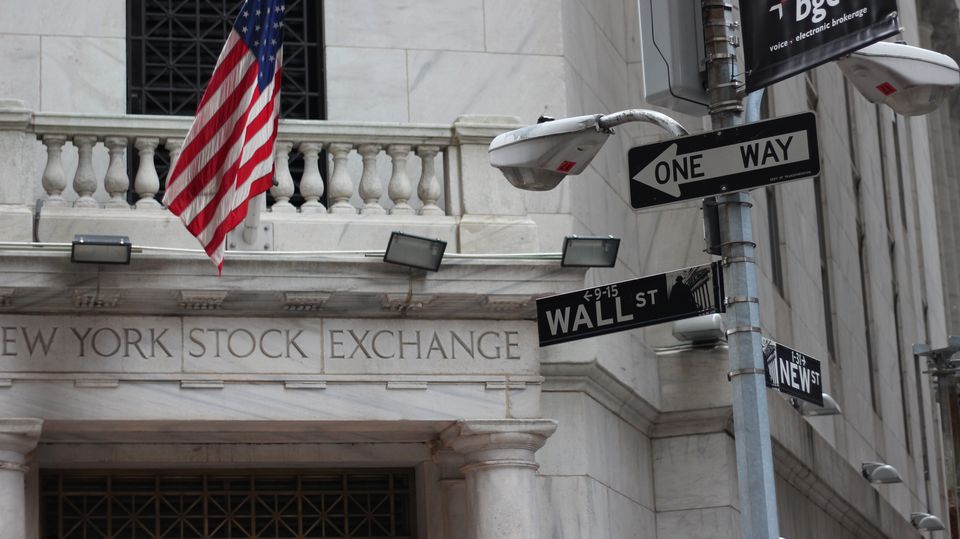 Focus on the One-Way street sign
Because that's the general direction of all the money which flows in here.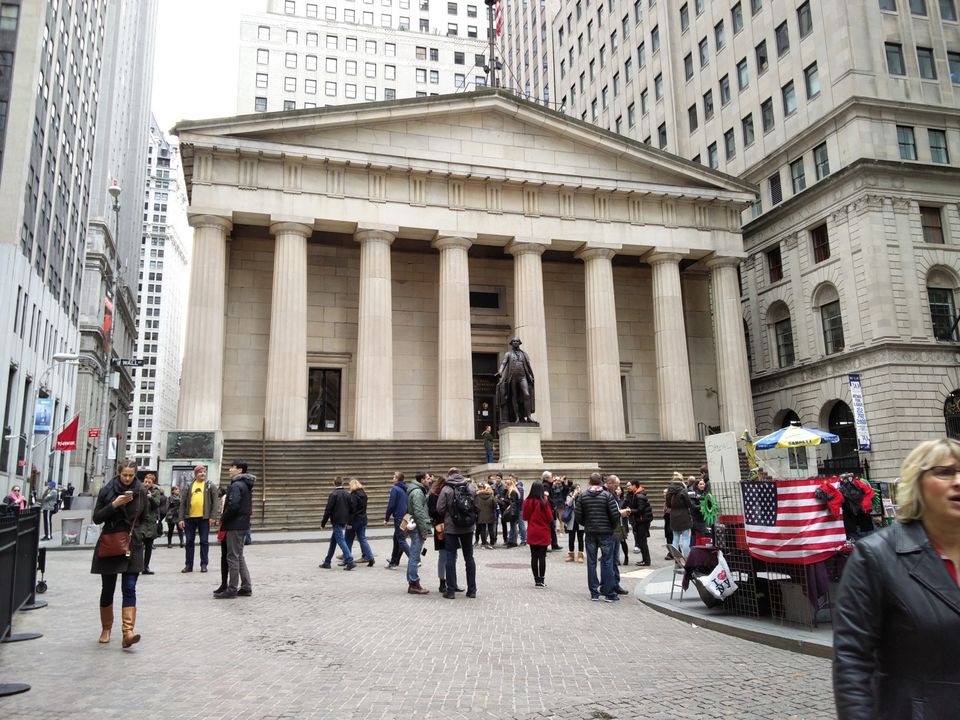 Federal Hall National Memorial
George Washington took the oath of office as the first President of the United States on the balcony of Federal Hall.
The hall was later demolished in 1812 and in its place, Federal Hall National Memorial was built as United States Custom House. It now acts as a National Memorial and post 2001 attacks, several members of the United States Congress convened in this very hall as a symbolic gesture of support for the city.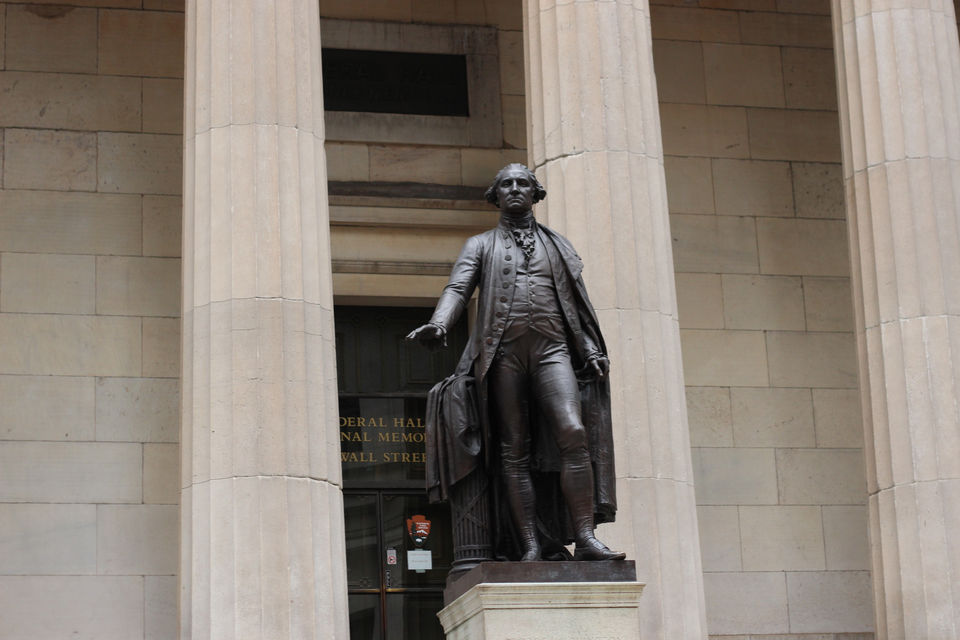 Chill Dude, I got this. Now who needs a piece of democracy?
And this dude indeed had gotten this. In 1920, a bomb detonated at a stone's throw from this building in which hundreds got injured and some even died. But this hall saw no damage and the statue stood erect as ever.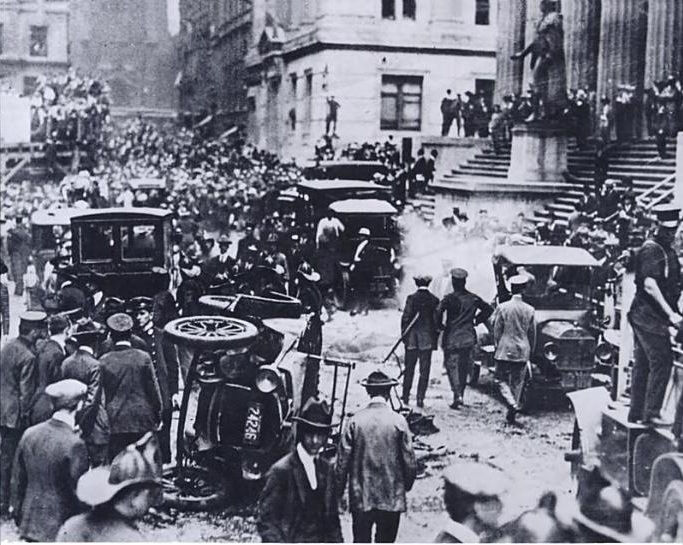 Source — Wikipedia
Other notable buildings on this street which you should pry your eyes on:
14 Wall Street
Trump Building
55 Wall Street
Deutsche Bank building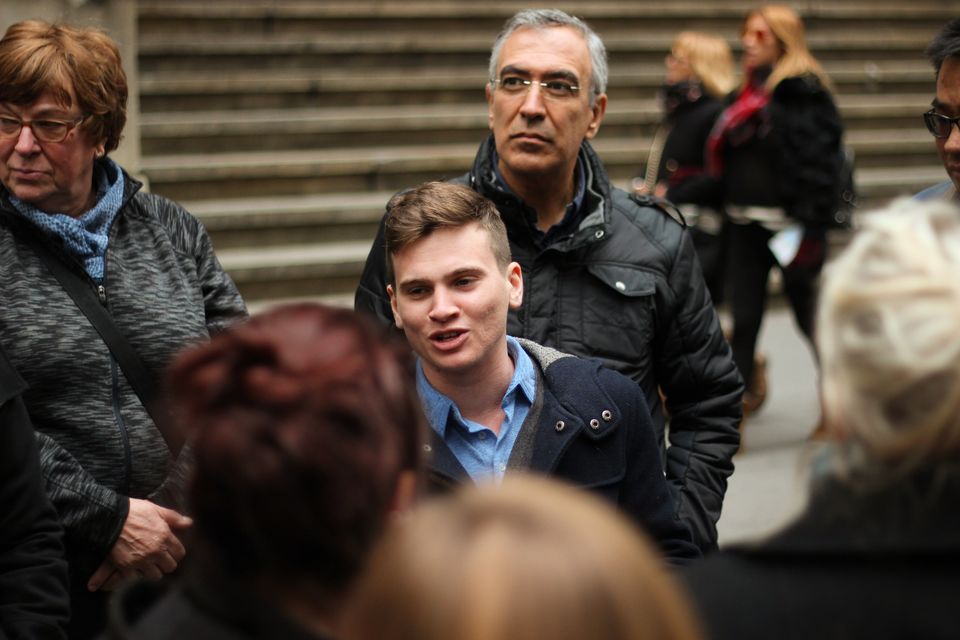 Derek Gaskill
I think it's reasonable to include a picture of him in this story of which he has been a crucial part.
The sun had almost set and we hurried our way towards World Trade Center.
Now, original World Trade Center complex consisted of 7 buildings which were destroyed during the 2001 attacks. Approximately 3000 people lost their lives that day.
I do not wish to speak more about the unfortunate day as we all know how the events unfolded giving way to a mass scale loss of property and life.
The new World Trade Center consists of a memorial with 6 new towers around the memorial.
Some important points about the World Trade Center you should know prior to your visit:
7 WTC, a 52 storey skyscraper completed in 2006.
The 1 WTC Tower, also known as the Freedom Tower, has a symbolic height of 541 m or 1776 ft signifying the year in which US declared its independence from the British.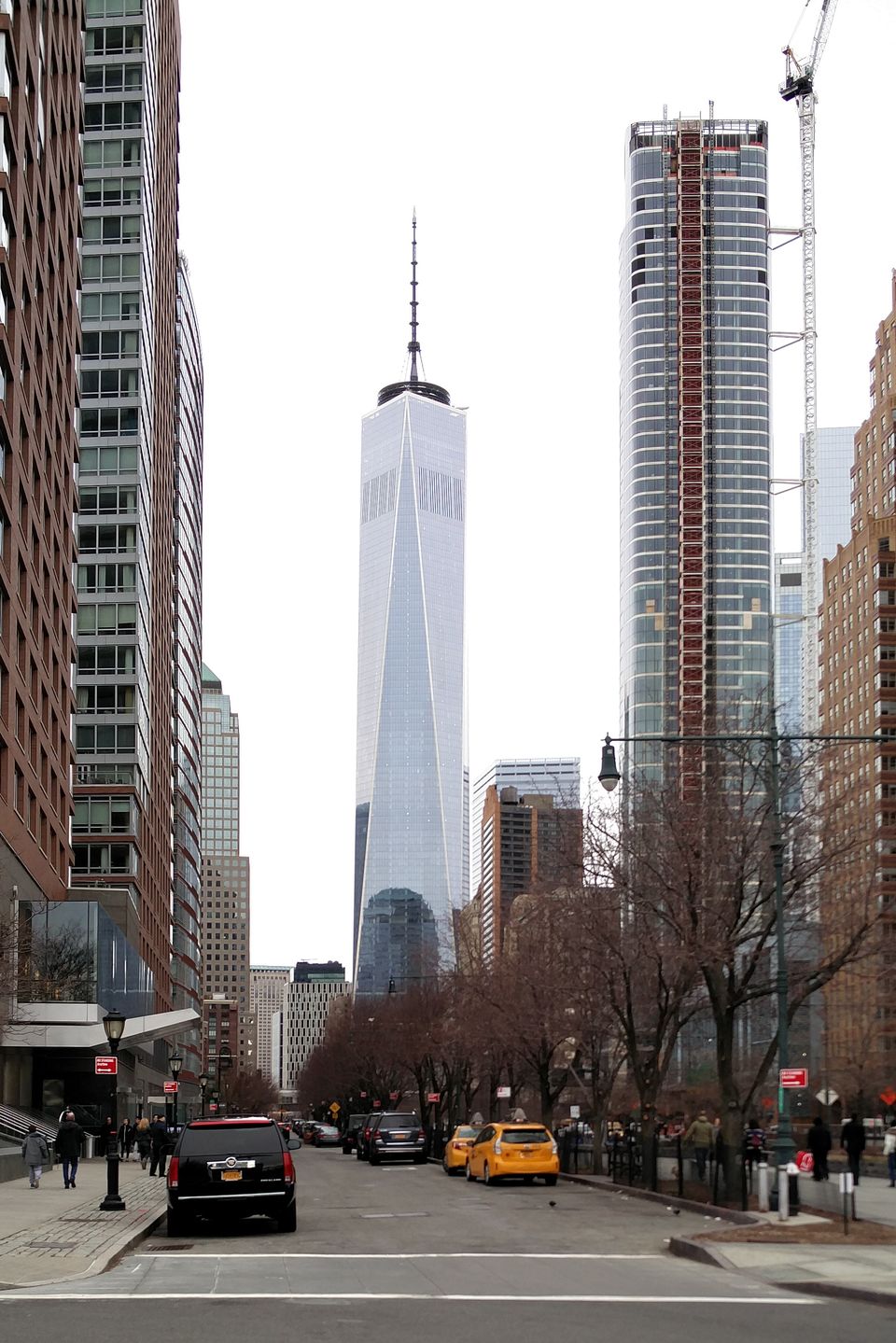 Freedom Tower
A memorial which has been nicknamed Reflecting Absence, has waterfalls on the sides and is illuminated by lights. It has been constructed at the exact place where the twin towers once stood. Victims' friends and families often visit the place which has the engravings of their loved ones and often put a flower as a token of remembrance.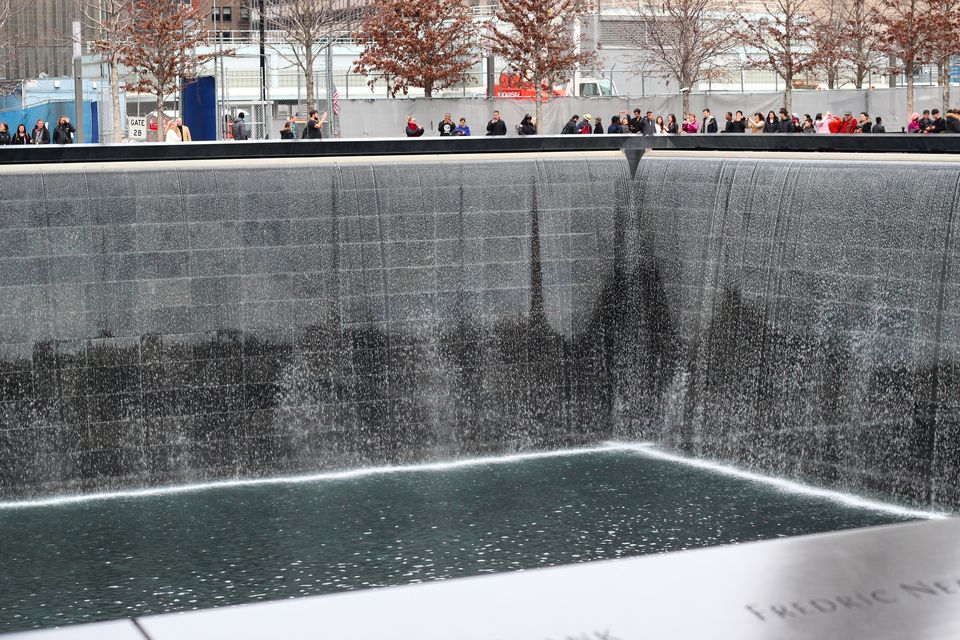 Respect
It goes without saying that if you visit this place, please do not litter, move the flowers around or do anything that disrupts the sanctity of this memorial. This place deserves our respect.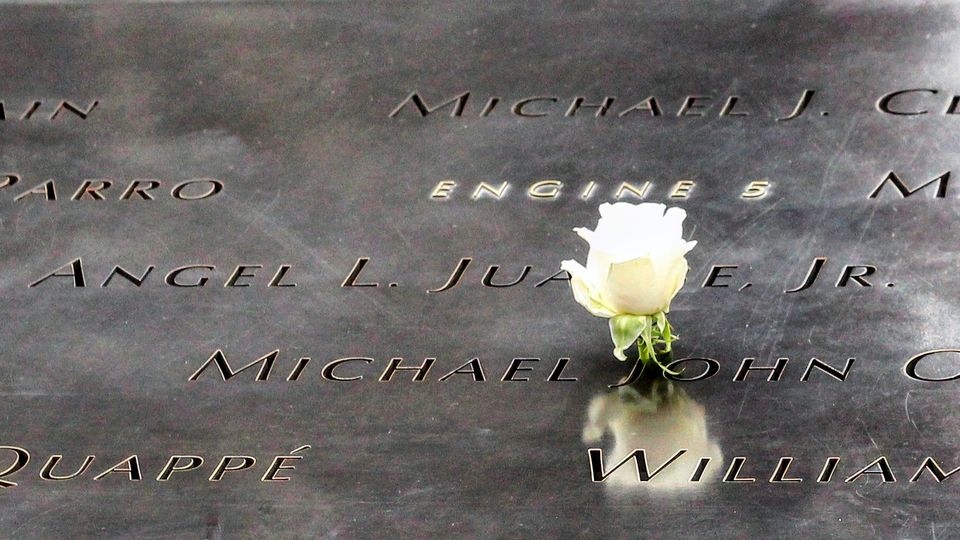 At the time of writing, I just came across the news that the $4 Billion WTC Transportation hub has now been officially opened to the public. It connects New Jersey's Port Authority Trans-Hudson (PATH) trains to New York City's subways.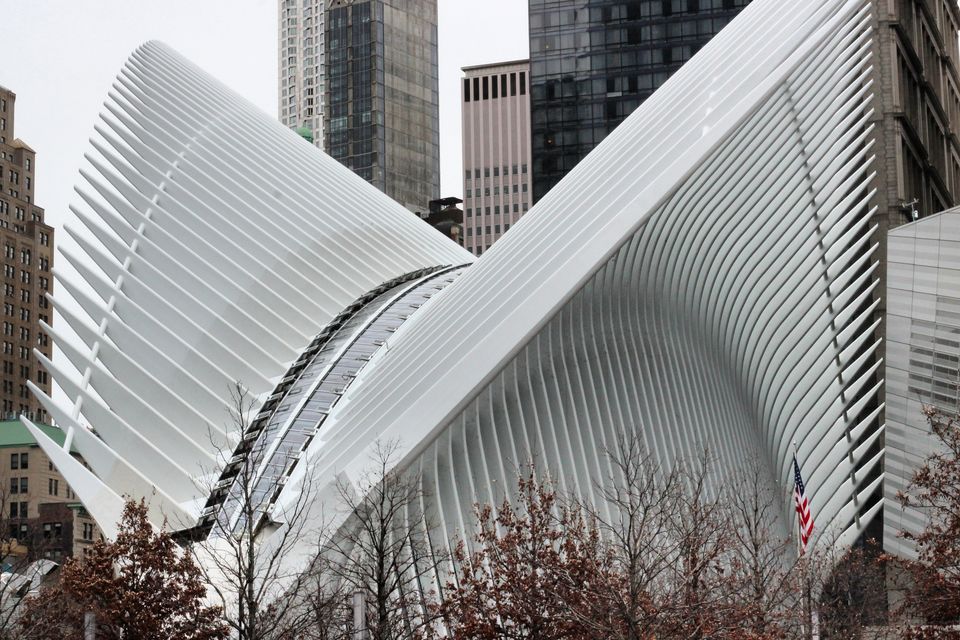 Oculus, World's Costliest Train Station
The station, Oculus, has been a long time victim of controversies and lawsuits. An additional $2 Billion and 7 years later, doors to this transportation hub have been opened to the public. Only time will tell if this architectural marvel, which many see as an optimistic start, withstands the test of time and nature.
Our final destination was a ferry ride away to the Liberty Island where the colossal Statue of Liberty stood.
We assembled before the ferryboat and received our tickets which included access to the pedestal.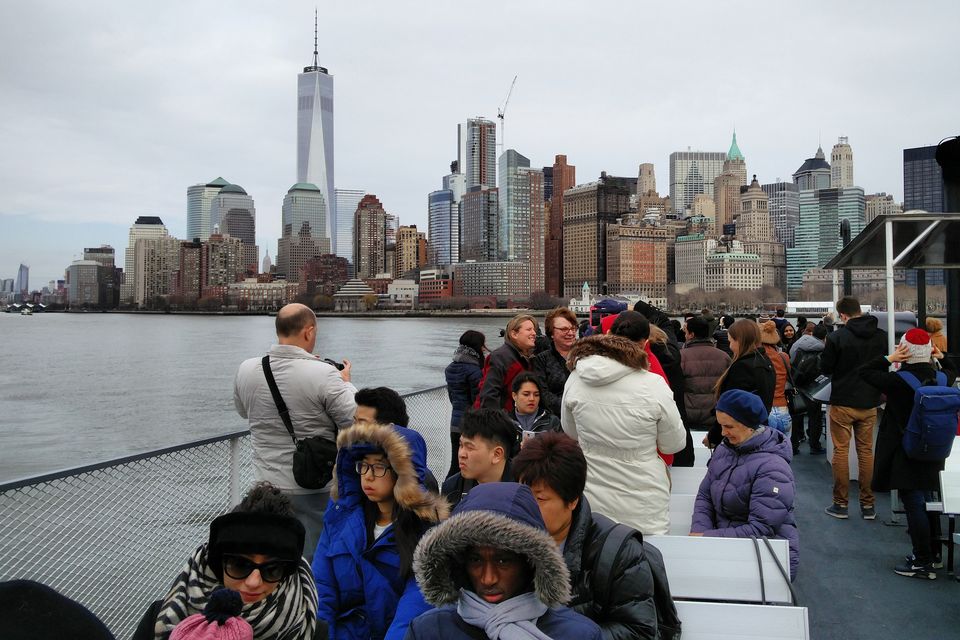 A View of Manhattan Skyline as seen from the Liberty Island Ferry
The looks on their faces will tell you everything about how cold it was during our bittersweet ride to the island.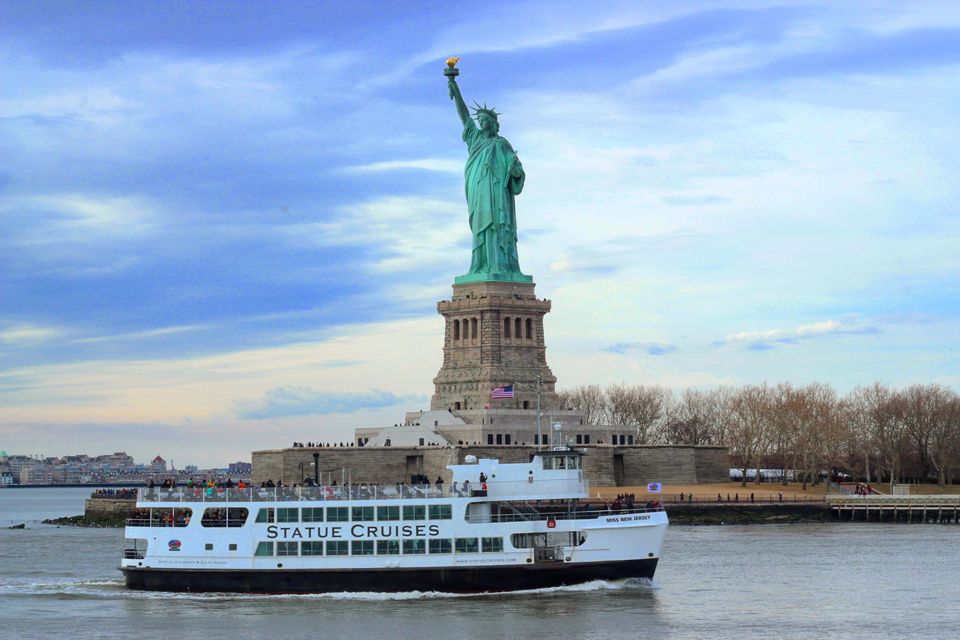 Twin Brother of the ferry I was on
The 46 m tall statue made entirely of copper was built by Gustave Eiffel. It was a gift from the people of France to the United States. The robed female statue bears a torch and represents the Roman Goddess of Liberty, Libertas. A broken chain lie at her feet which signifies the freedom of United States.
Apart from the torch, she also stands there 24x7(quite tough a job) with a tablet(not your electronic ones) on which the date — 4th July, 1776 has been inscribed.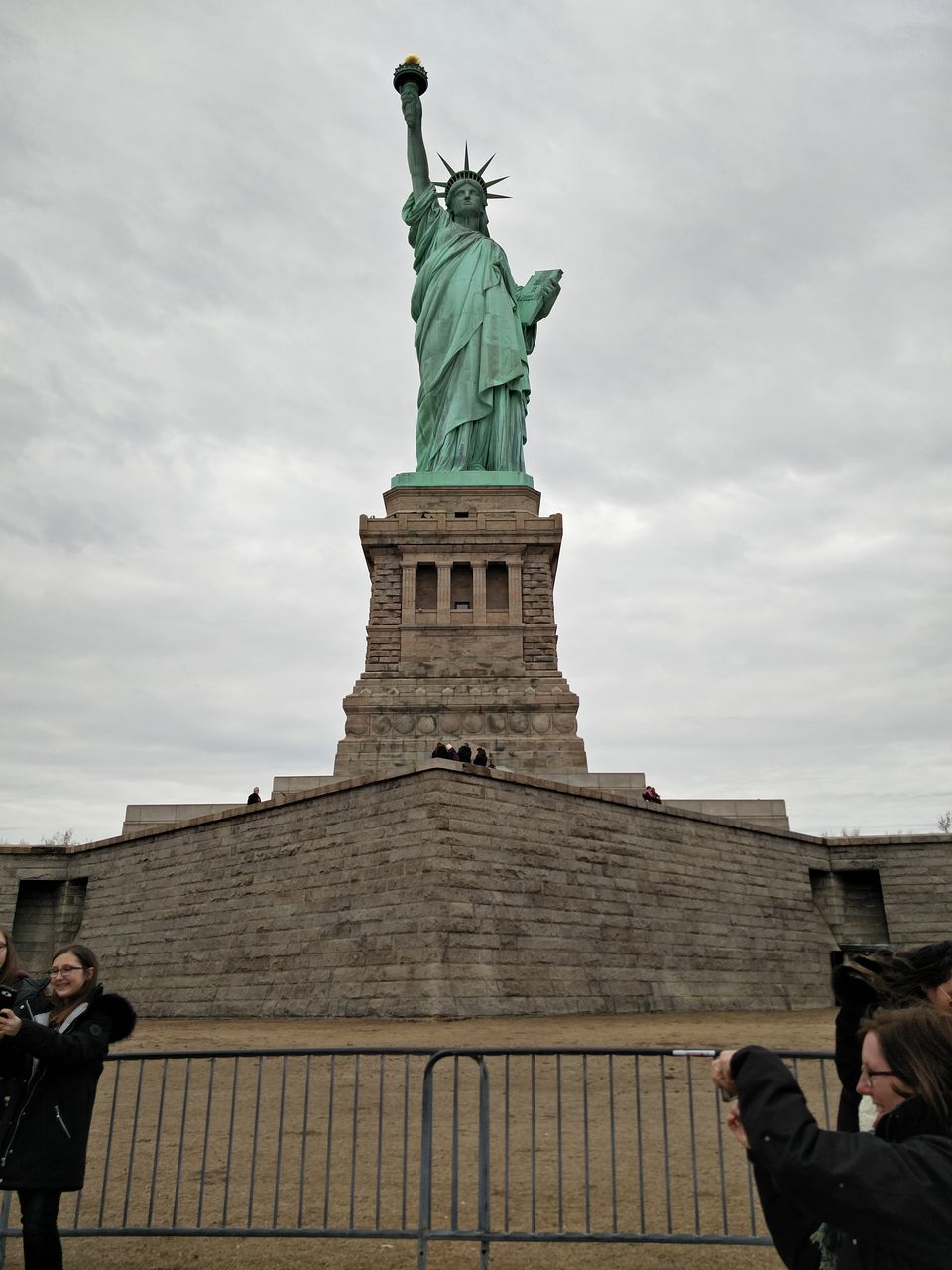 People for Scale
The view from the pedestal is charming. I suggest you to climb all the way up to the pedestal using the stairs like I did.
Forgive my language but man those curves —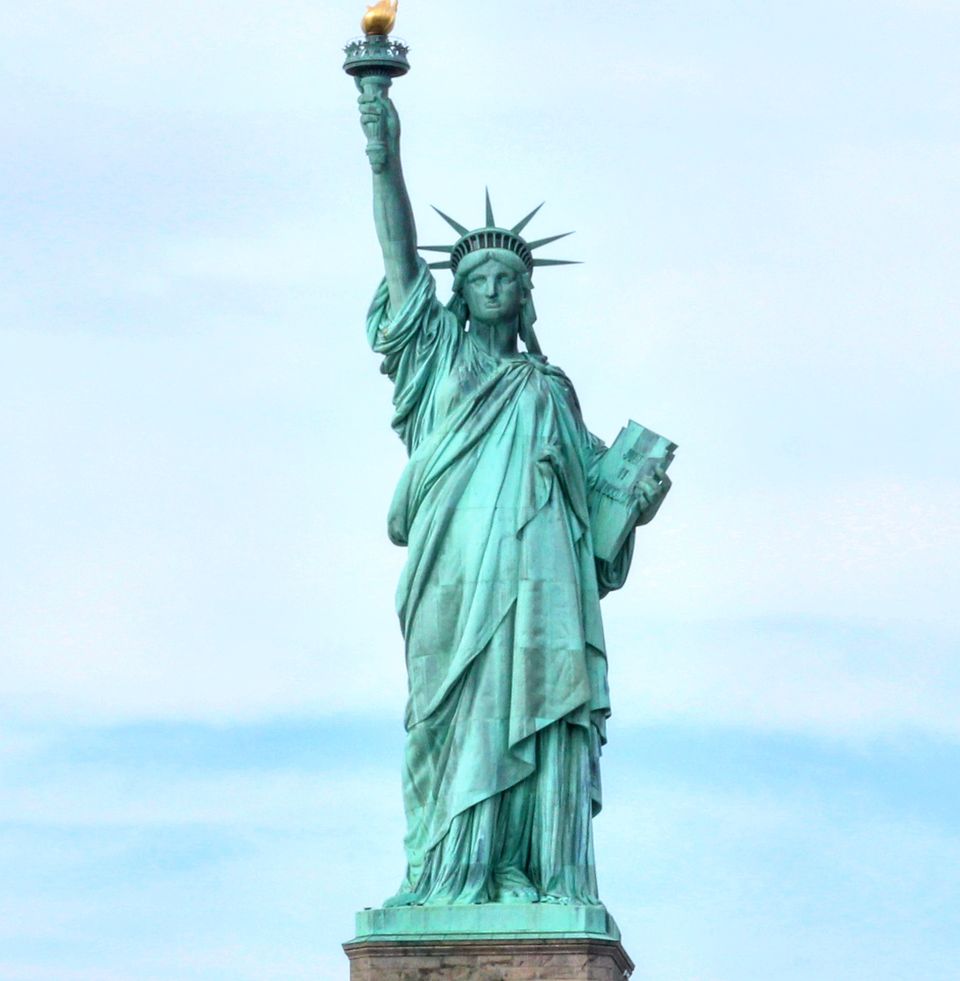 That's architecture porn right there
The view from the island is something like this —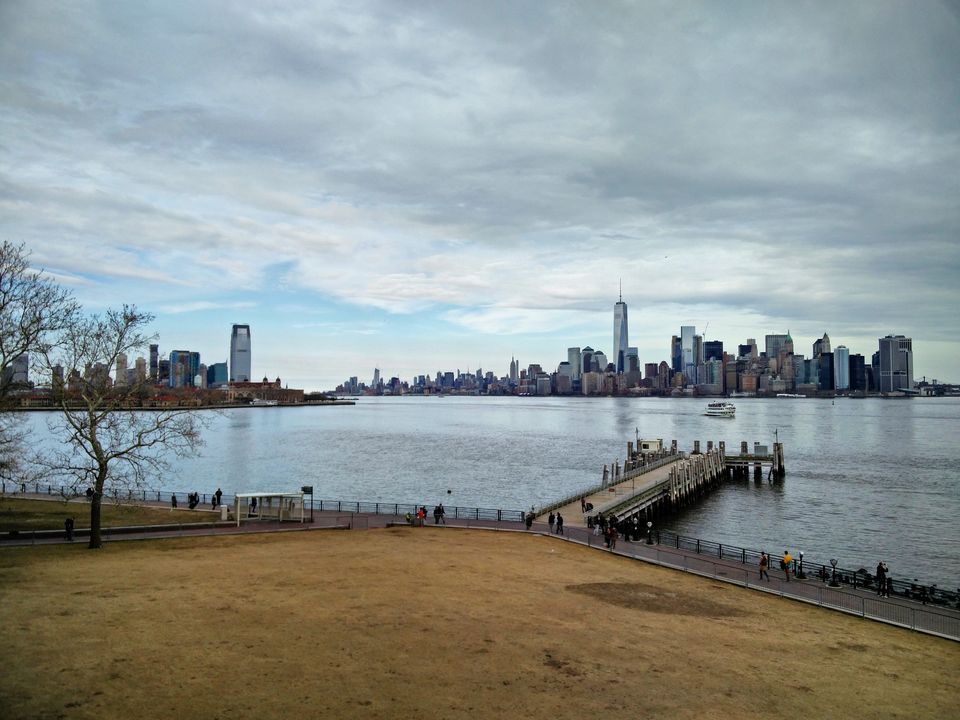 Isn't it serene?
As I walked around the statue, a fulfilling day was nearing a perfect end.
In this short video you can hear the tiny waves hitting the shore of Liberty Island, ragged yet animated Manhattan skyline waiting to be lit with a thousand twinkling lights, and whirring of helicopters in the smoky sky which give you an air-tour of the city. Seagulls, or as Derek used to call them — rats with wings, accompany you right from the time you board the ferry till you reach the island.
It's not advisable to feed them because if they see something in your hand, they won't request but barge in with force.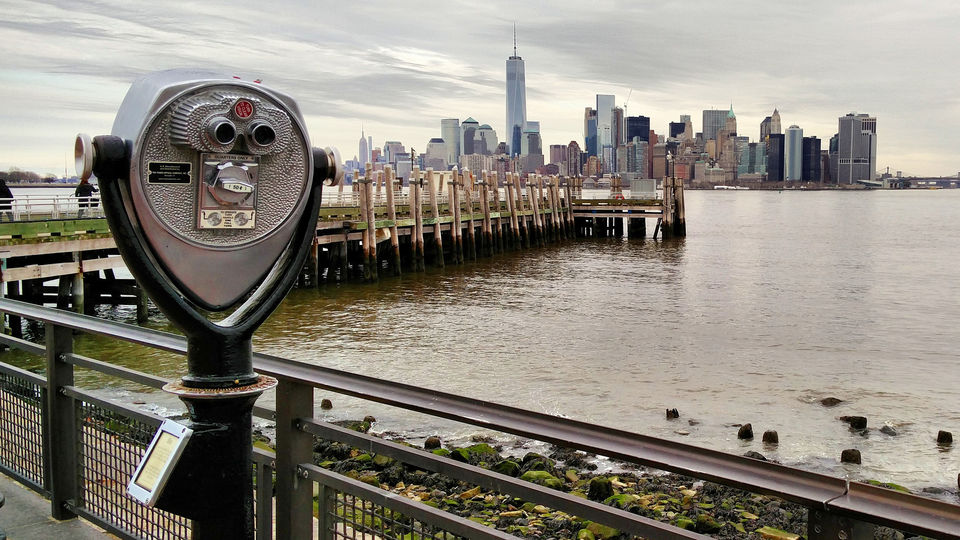 Best 50 Cents I ever spent in NYC
Behind the statue, you'll see the Liberty Bike on display. The entire bike has been made from copper and iron. There are a lot of design features which have been inspired from the lady itself.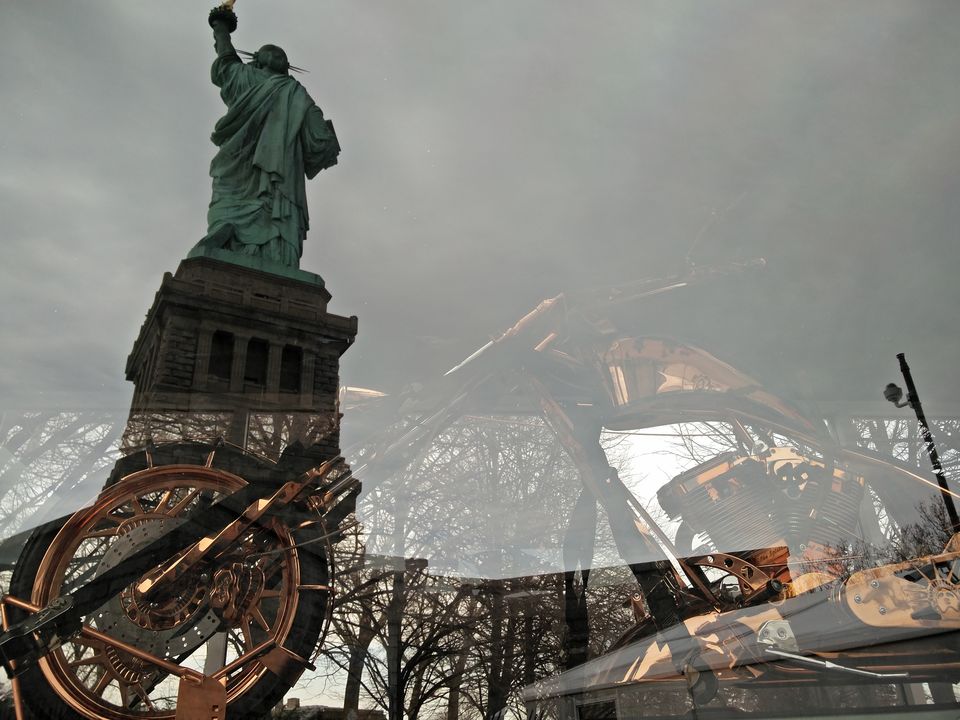 Liberty Bike
And yes, it runs and why wouldn't it? One of its components is a carburetor designed by Da Vinci.
On our way back, I saw the famous Staten Island Ferry.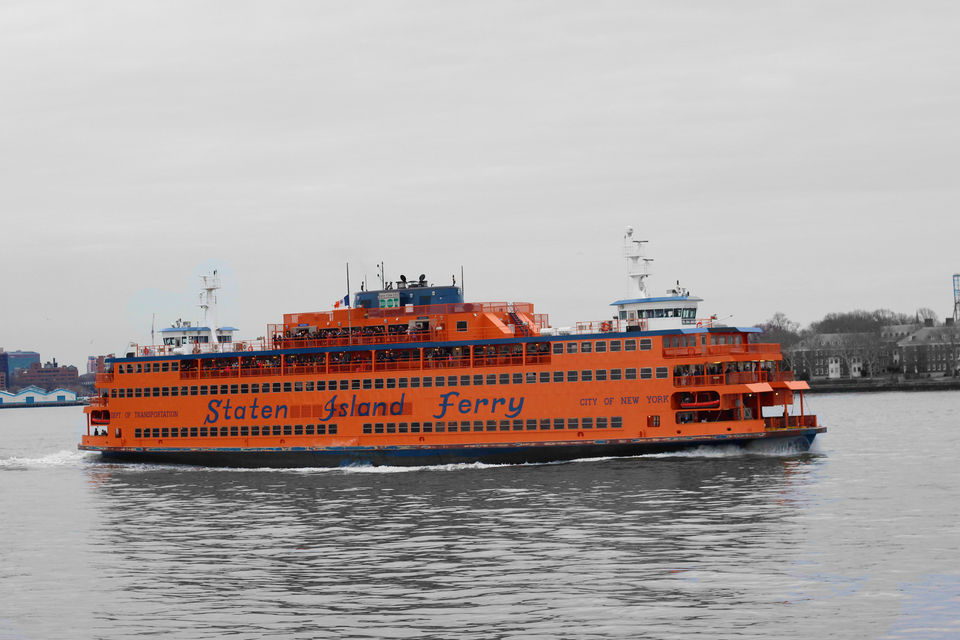 The color is what makes it stand out from other ferry boats
Staten Island Ferry is a passenger ferry service which is free of charge.
Derek, I read that this ferry is free?
"Yes, it indeed is."
Why would that be?
"Primarily because majority of the working population resides in the neighboring boroughs of Manhattan and to combat the issue of traffic in the city, the govt wanted lesser number of vehicles on the road so as to combat the issue of increased traffic."
Wow, I envy you people.
"Haha! The ferry ride doesn't seem to be that interesting after a couple of days, my friend."
You're probably right!
That brought us to an end to a wonderful tour. The bus dropped us at Hell's Kitchen wherein I stopped to have a drink with the doctor who was with us during the tour.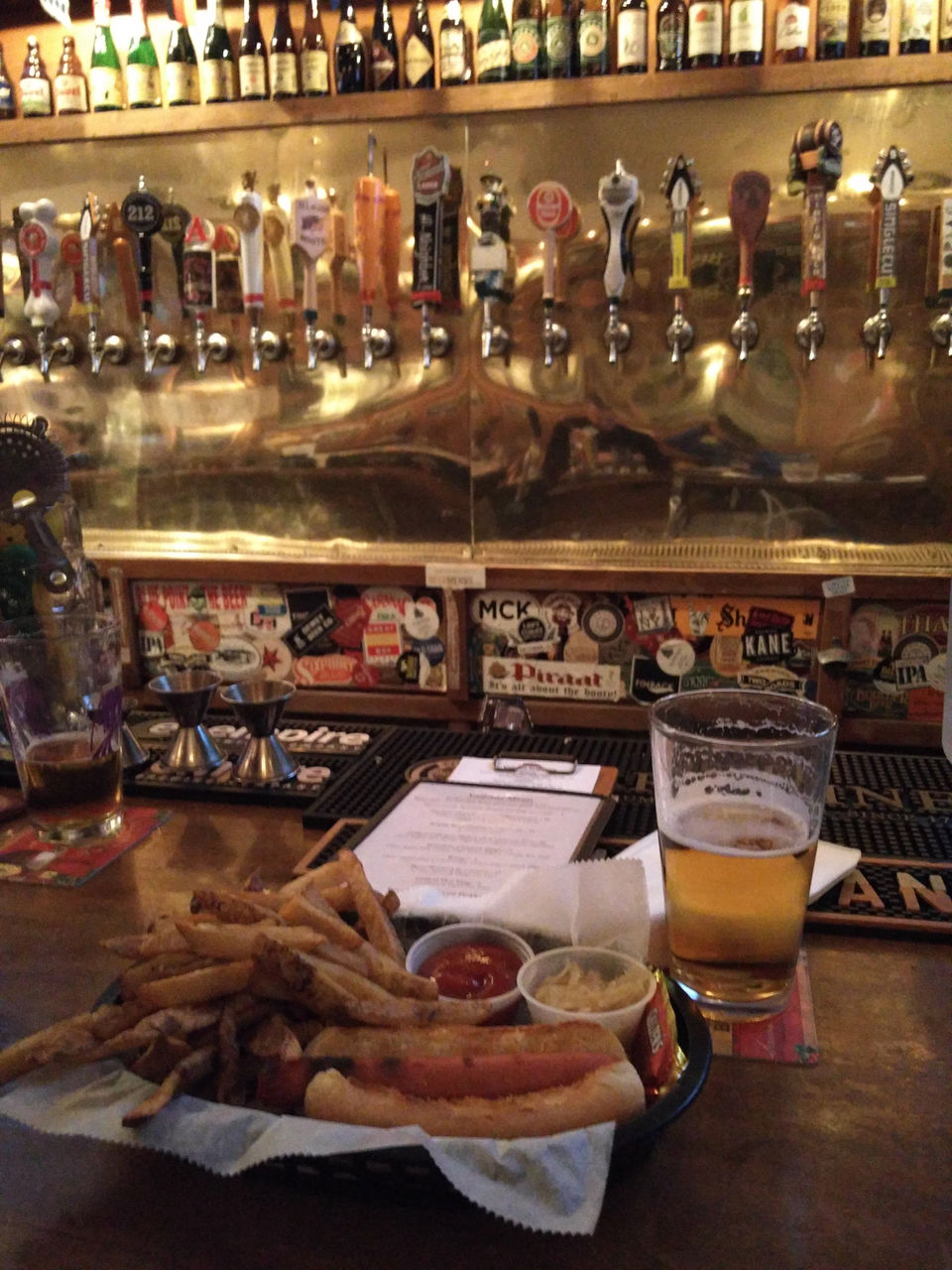 Draft Beer with Hot Dog and Fries
This place was called Valhalla and I would definitely recommend this place for a get-together or to unwind after a busy day.
Where are you from, Sir?
"Ever heard of Kosovo? It's a small disputed territory in Southeastern Europe just beside Albania."
I quickly checked Google Maps to see where exactly this country was.
Europe, that's nice. I hail from India and it's my first time in the city.
"So, how is the political scenario in India?"
Um, it's alright. Do you follow this subject quite often?
"Oh yes, I certainly do. Your new Prime Minister.. what's he called — ah yes, Mr Modi. Have things changed?
I gave him a blank stare for a couple seconds. Not because I didn't have a complete answer to that, but it was only seconds ago I realized the existence of a country I had never even heard of, but he knew about recent developments in India.
That's a tricky one. It only has been a year or so and he still has a long way to go. I've been following America's Presidential Race since a week and Donald Trump often reminds me of him, but that's entirely my opinion.
"Haha! Fair enough. Trump's stand on foreign relations are quite disturbing to some but a major section supports his ideology."
It had started to drizzle and the weather seemed to worsen. Hence, we decided to stay inside for some time till it stopped. The music was good, the ambiance just the right amount of chic. The temperature had dropped below zero degrees Celsius but it still couldn't discourage us from taking a walk down the 7th Avenue towards Times Square.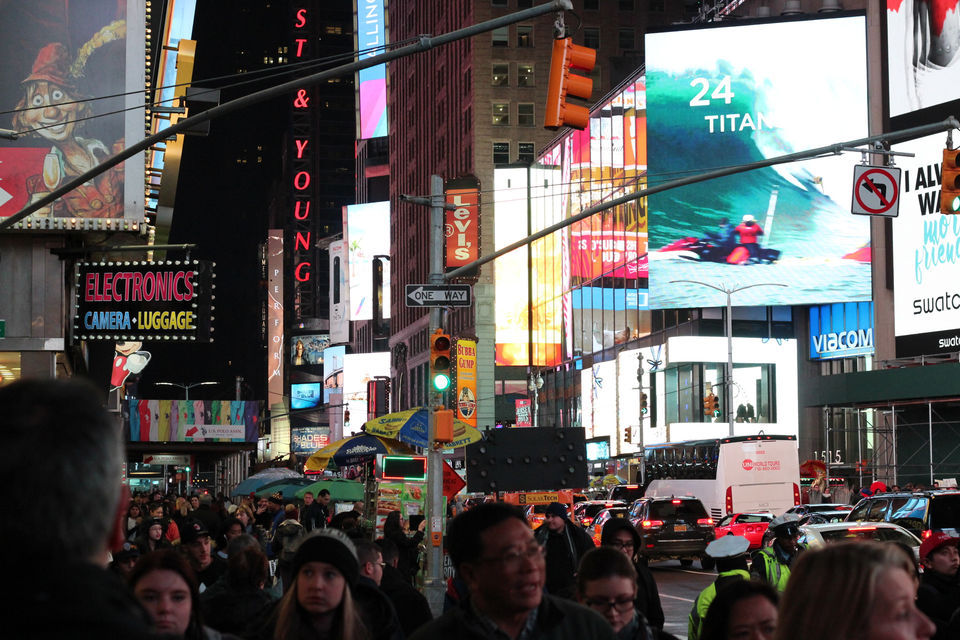 Your eyes would find it difficult on what/who/which to focus. That's the kind of magic 42nd Street holds for every person who pays it a visit. In places like these, traveling solo has its own perks.
You can get lost without the other person complaining every now and then.
I told you to not take that path. Now we're lost aren't we?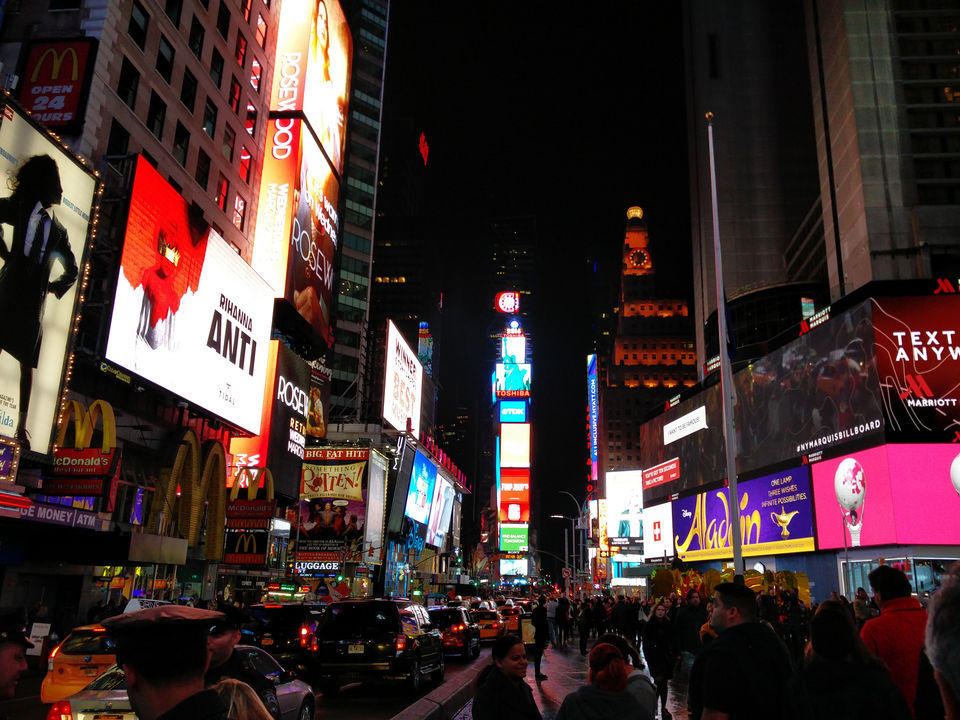 Times Square, Manhattan
What did I tell you? New York is a nasty chameleon, the moment you blink it changes its colors.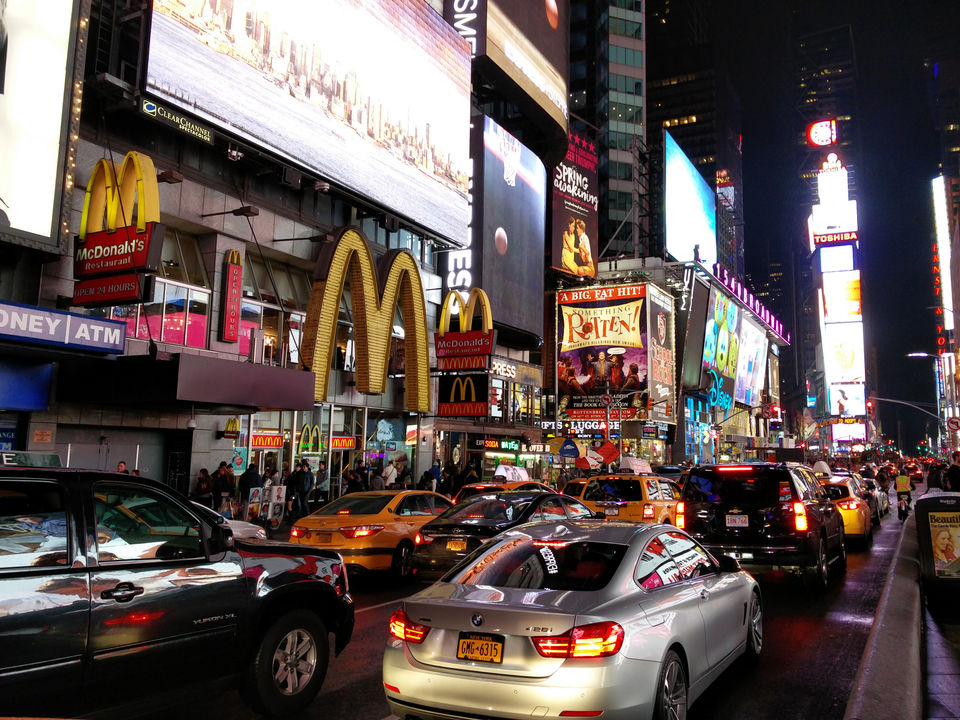 such colors. much glitter. so rush. wow
Before you judge, the picture down below was totally unintentional.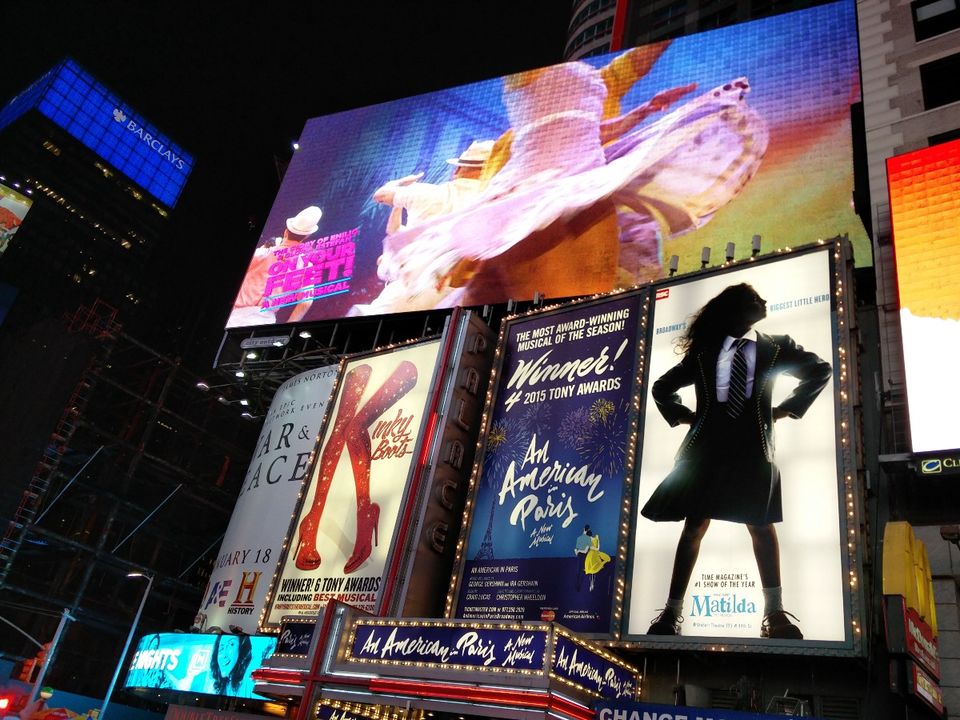 Massive billboards
I bid the doctor good luck and we both went our separate ways. On my way to the nearest subway, I saw a DeLorean.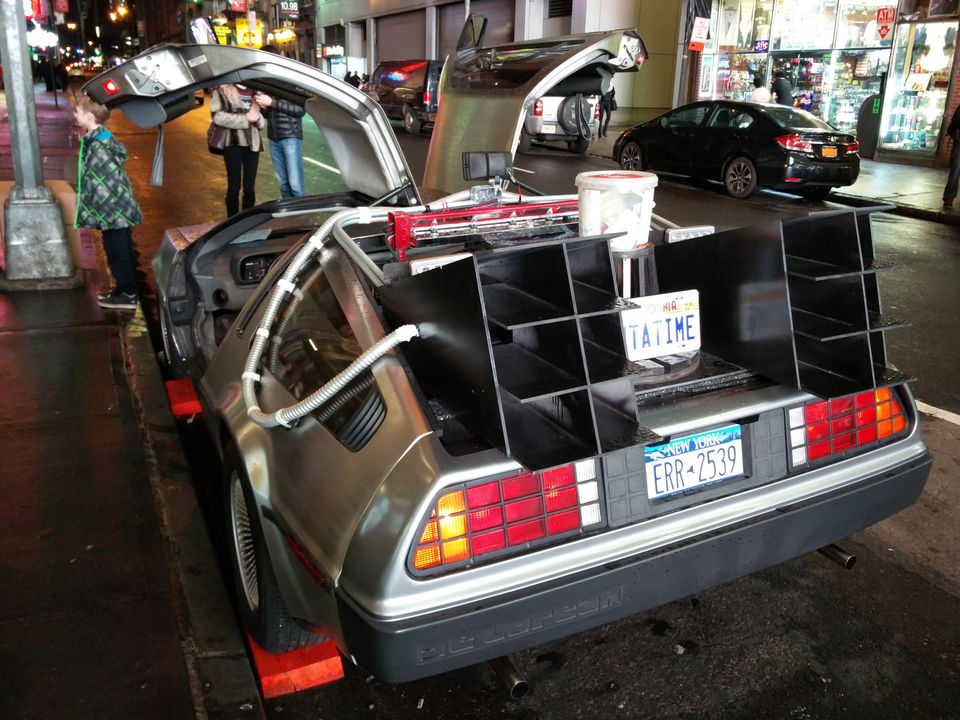 I want to be Back to New York
I arrived at the subway station and took the one towards Rockefeller Center once again!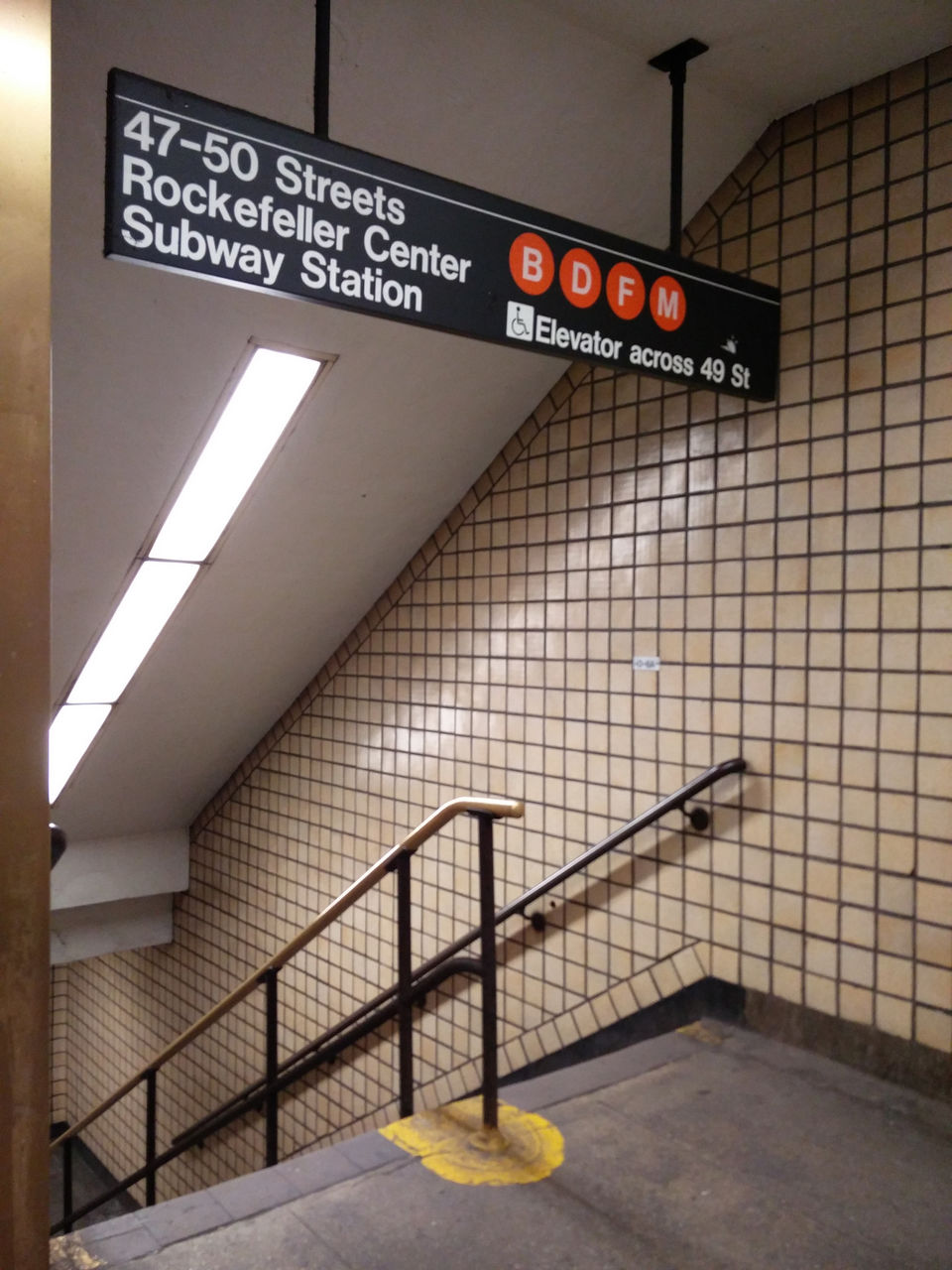 I could have walked if it wasn't for the light shower which was having it's share of fun with me.
"Hey! I saw you only yesterday. How you doin'?"
I'm great ma'am. I have a Sun and Stars ticket and I would like to go to the Top of the Rock once again!
"Sure. Just hop on to the automatic elevator. You don't have to push any buttons, it will take you straight to the deck."
Thank you.
Feast your eyes, readers.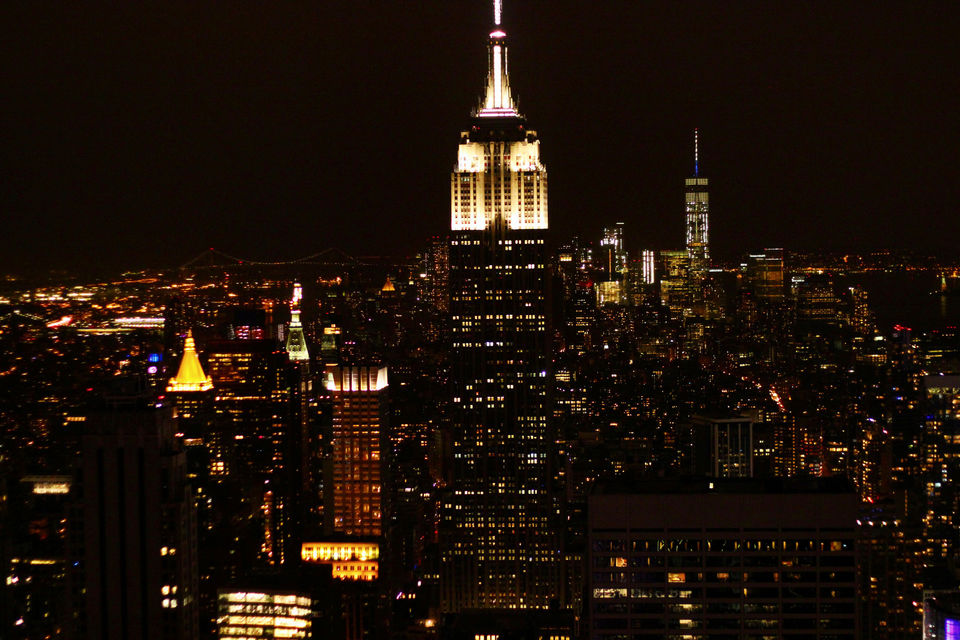 Empire State Building
I couldn't manage to take more pictures because of the light rain. I did manag to get a few pictures and I repeat, no photograph can do justice to the bewildering rush of emotions that will take over you when you stand against the edge of this view. And that sadly, can't even be put in words.
Be it the constant flickering of lights, a stranger handing you their camera to take a picture of them with the Empire State Building in the background, kids planning their next real-estate purchase, the tiny cars speeding across the many bridges of the city, each moment is special, right here; right now.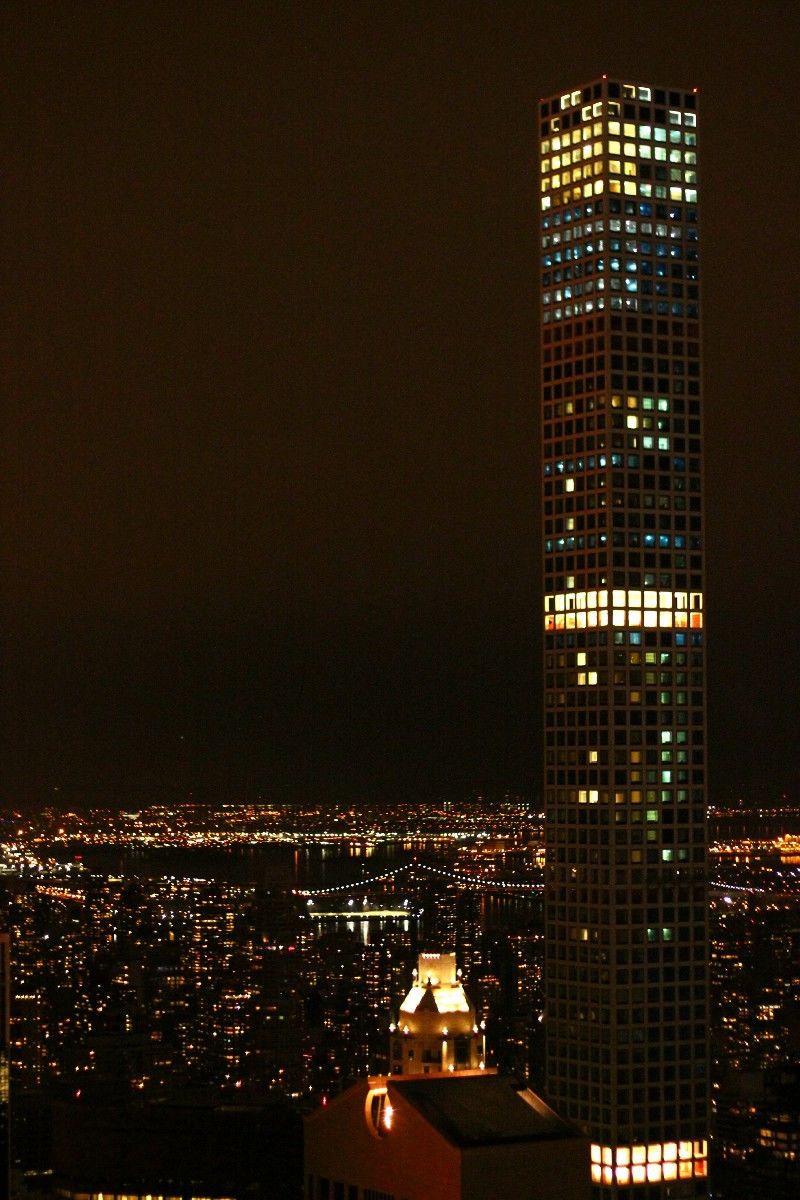 432, Park Avenue
You could almost see Times Square from up top as well.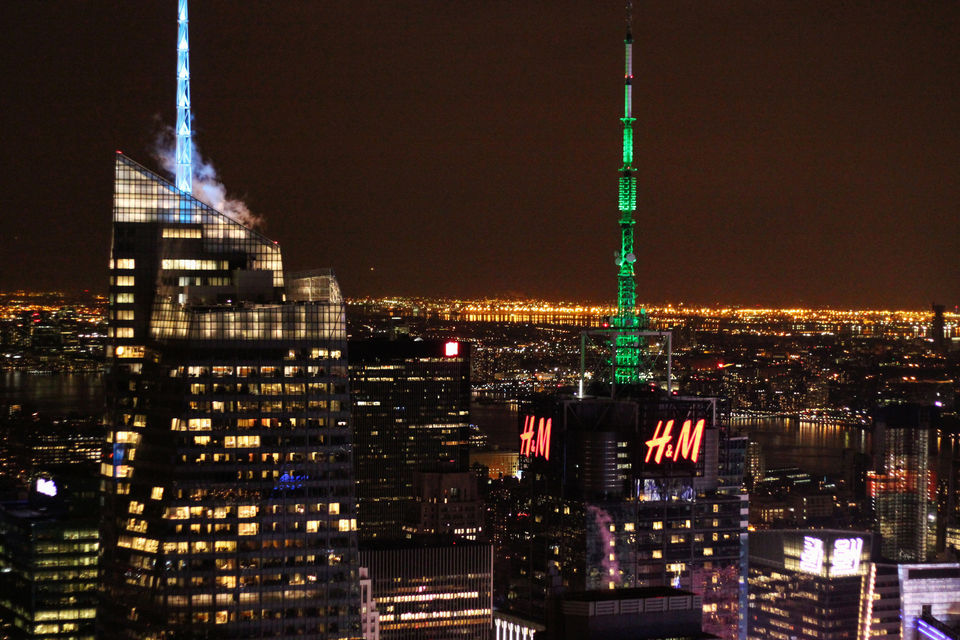 H & M Building
That was fun, eh?
Day 3 — The One With The High Line and Central Park
It was my last day in the most beautiful city I'd ever stepped foot in and I wanted to make the most of the time left there.
I woke up at 6 AM, checked out of the hotel, kept my luggage in the locker room, plugged in my earphones and stood outside with a coffee.
As I watched school kids boarding their buses and locals getting ready for a brand new day, I suddenly felt my skin tingle. The sun had risen and I felt the warmth which was much needed.
I started to walk towards the Brooklyn Bridge which I intended to cross for a quick breakfast at a restaurant I picked well before my trip.
Agar Tum Saath Ho ~Tamasha
How Deep Is Your Love~Calvin Harris
Boom Clap~Charlie XCX
Hymn For The Weekend ~Coldplay
Love Me Like You Do ~Ellie Goulding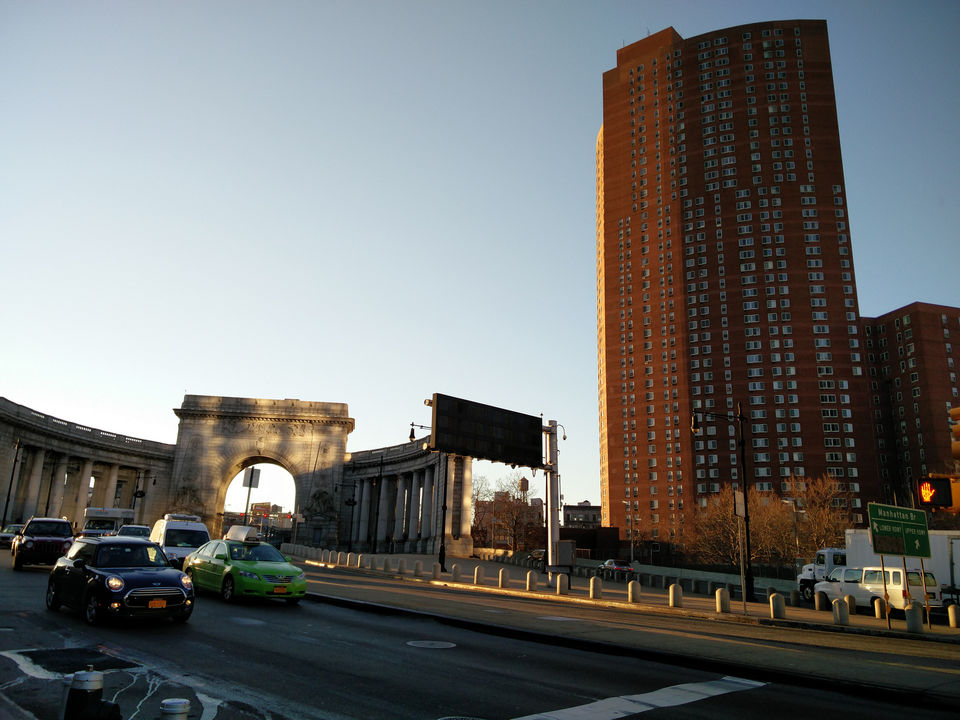 I shot a couple time-lapse videos before I climbed the dedicated pedestrian pathway. I immediately reached midway and stood there like the Statue of Corporate-Rat-Race with a camera in my hand.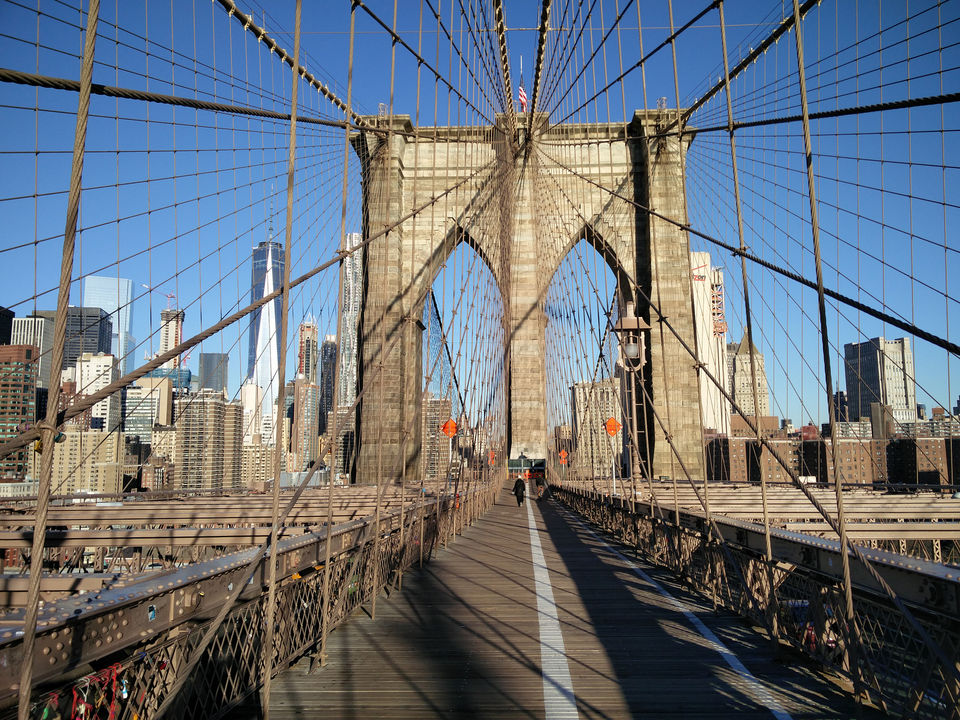 Brooklyn Bridge
At the end of this bridge, there's a restaurant called Brooklyn Bridge Cafe. I was their second customer of the day. The only waitress came to greet me and I chose a comfortable spot overlooking the busy street.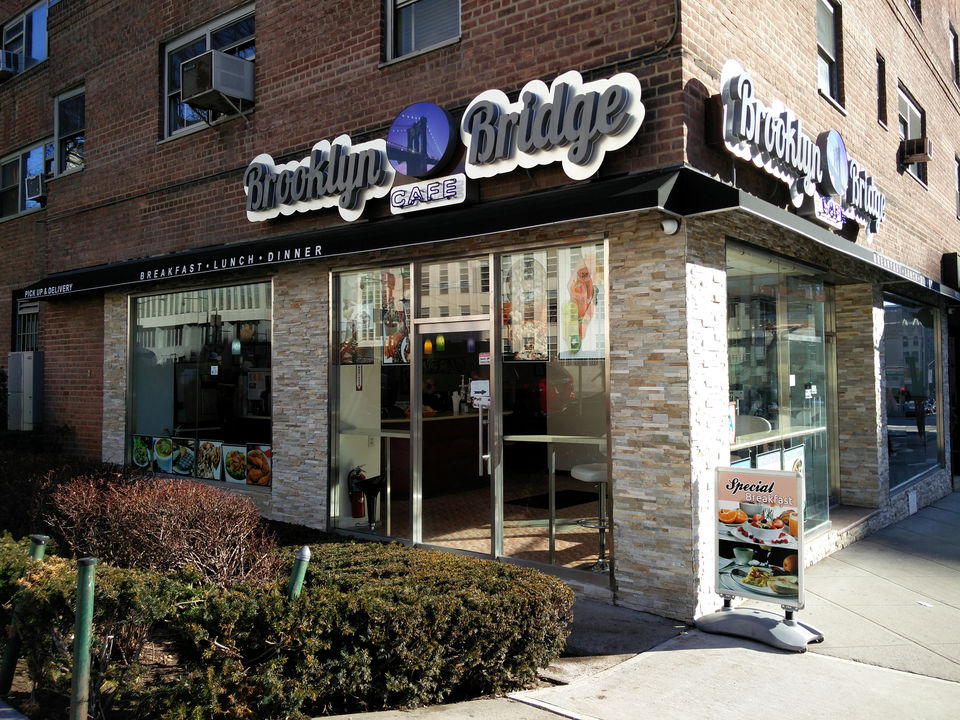 Without further ado, I instantly ordered the complete American breakfast and I was not disappointed.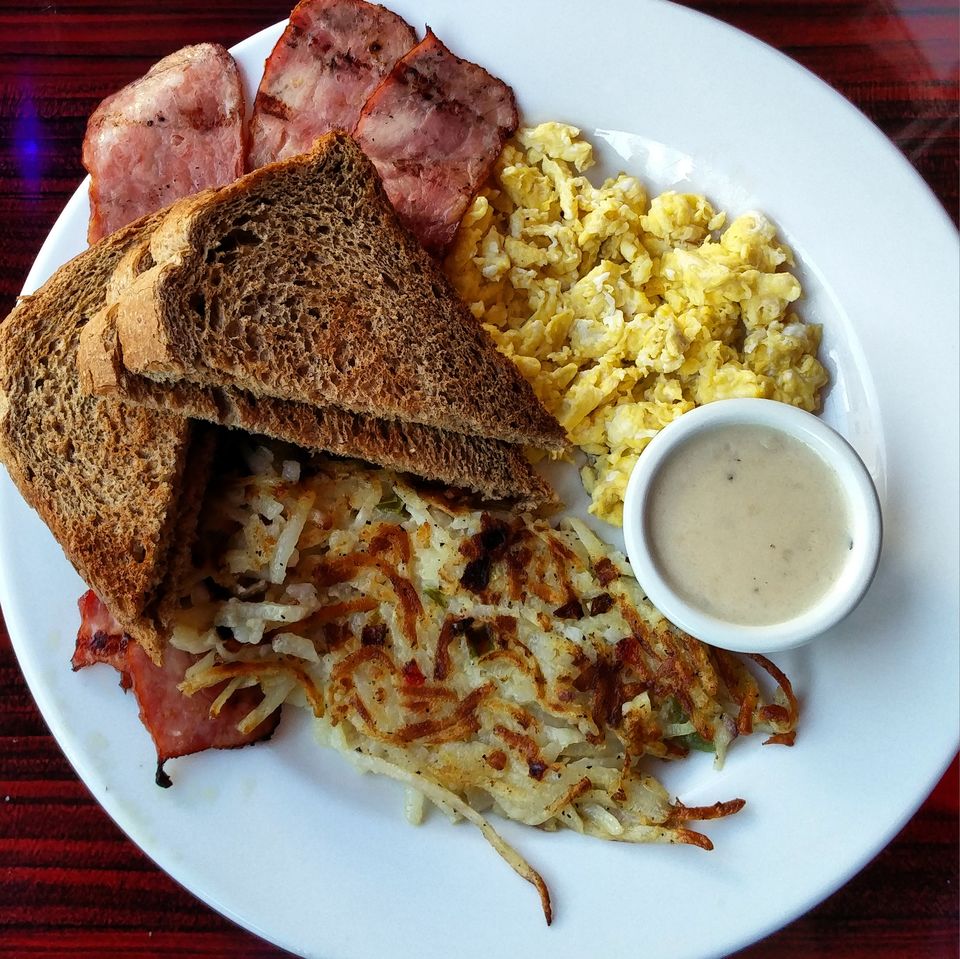 Complete American Breakfast
The breakfast tasted as good as it looked. I conversed with a gentleman called Mr Sadok, who was from Germany and was in town for business. He was quite a gentleman and told me that few of his colleagues were from Mumbai and he had been there a couple of times in the past.
That was enough socializing for a day.
It was a long walk to the nearest subway station — High Street — from where I caught an uptown train towards Central Park.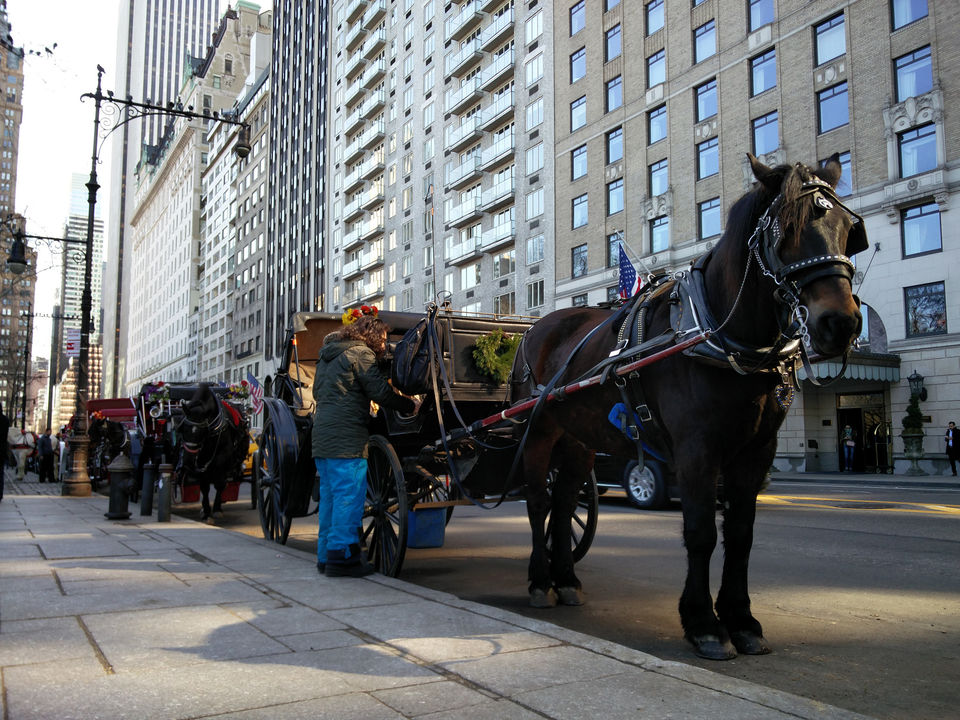 Horse Carts in front of Central Park
The park is so huge that you would need at-least a month to see everything it has in stock. It has a restaurant, zoo, numerous lakes, playgrounds, Metropolitan Museum of Art(although on the border), jolly street performers, skating rink to name a few. The park is very well maintained by the National Park Service and you could sense a change of quality in the air as soon as you walked a hundred meters into the park.
If you desire a horse-cart ride across the park, you can rent one from just outside the park.
TIP: Just don't go all NatGeo on them as horses are very shy in nature and we can't afford you to ruin that face any further than it already is.
I know I can't.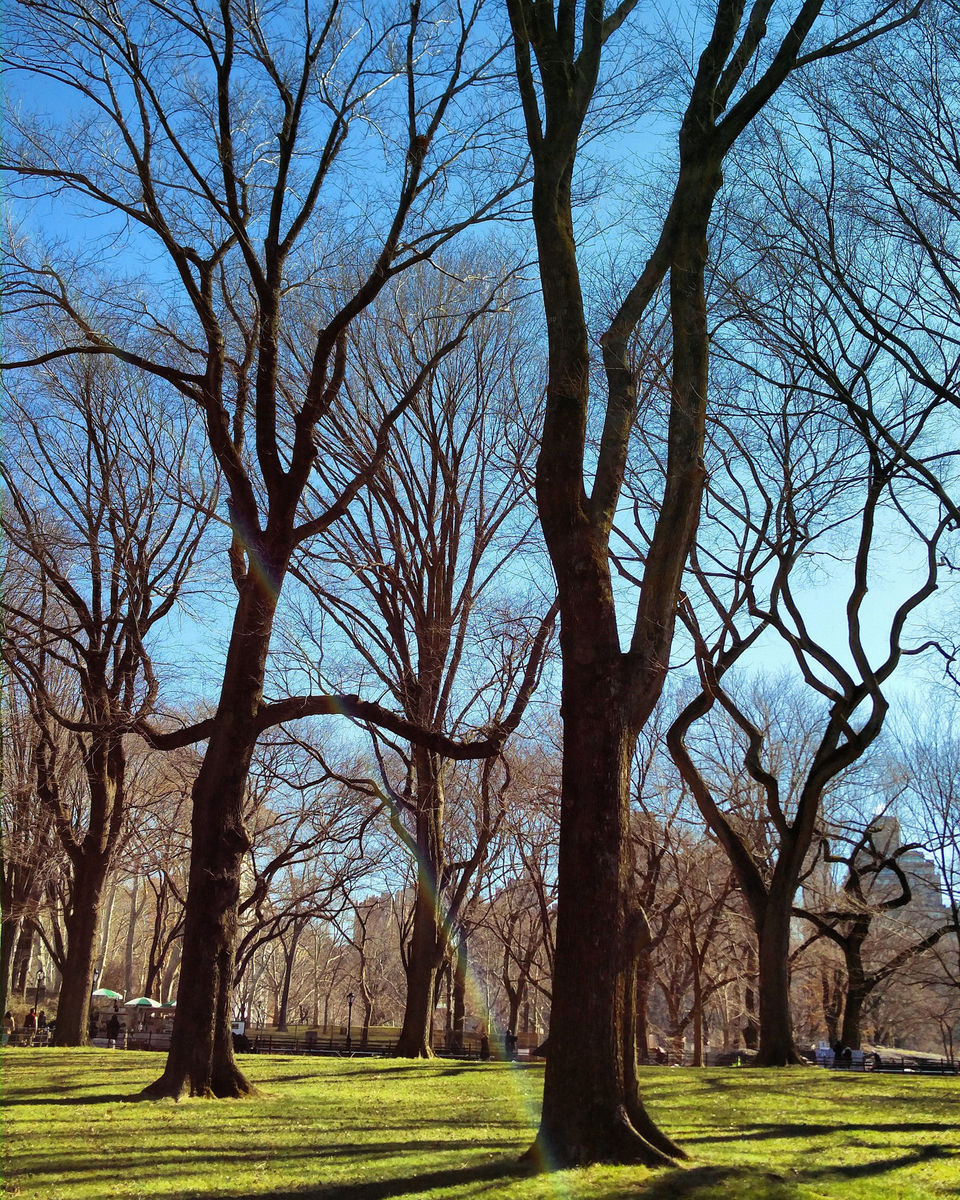 Is that a rainbow?
In my opinion, this park trumps any sightseeing spot in New York because it's a breathing example of how you can balance out the presence of nature and rapid industrialization living in close harmony.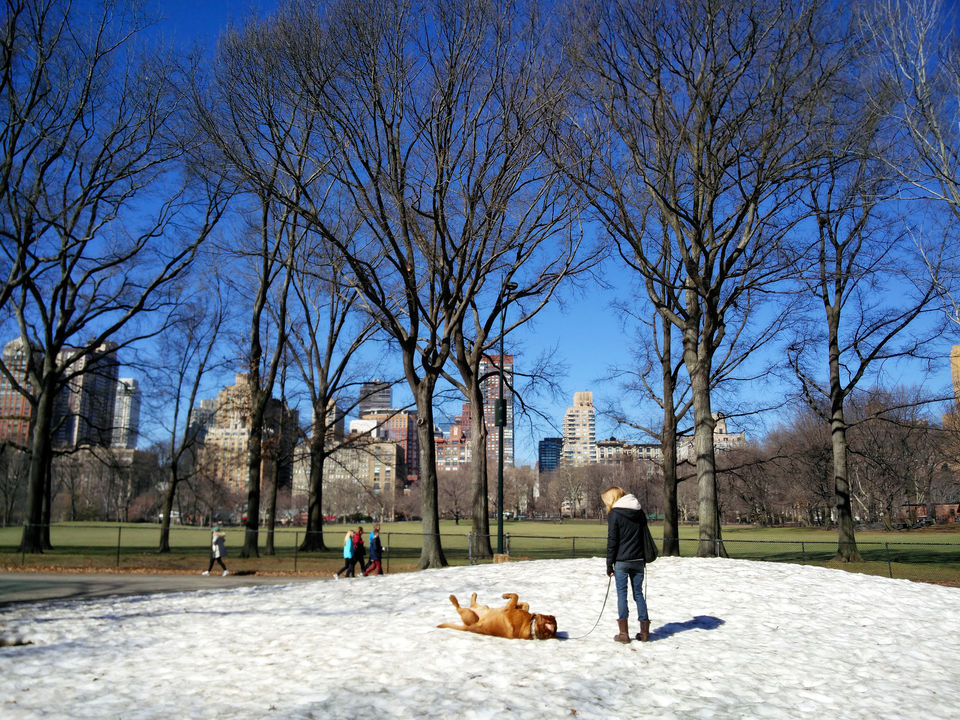 This daawwwg.
SO. MUCH. COCAINE.
This cute little furry creature lost its mind and started rolling in the snow. After she permitted me to take a picture, I went ahead and clicked a few.
A perfect example that everybody loves New York City, no matter what.
I walked for a mile or two before getting exhausted, like bull-dog exhausted. One of the things you must do here is to just rest on the park benches. You'll have enough time to ponder about all your screw-ups in the past until the realization finally hits you — 
what a gigantic piece of shit I've been.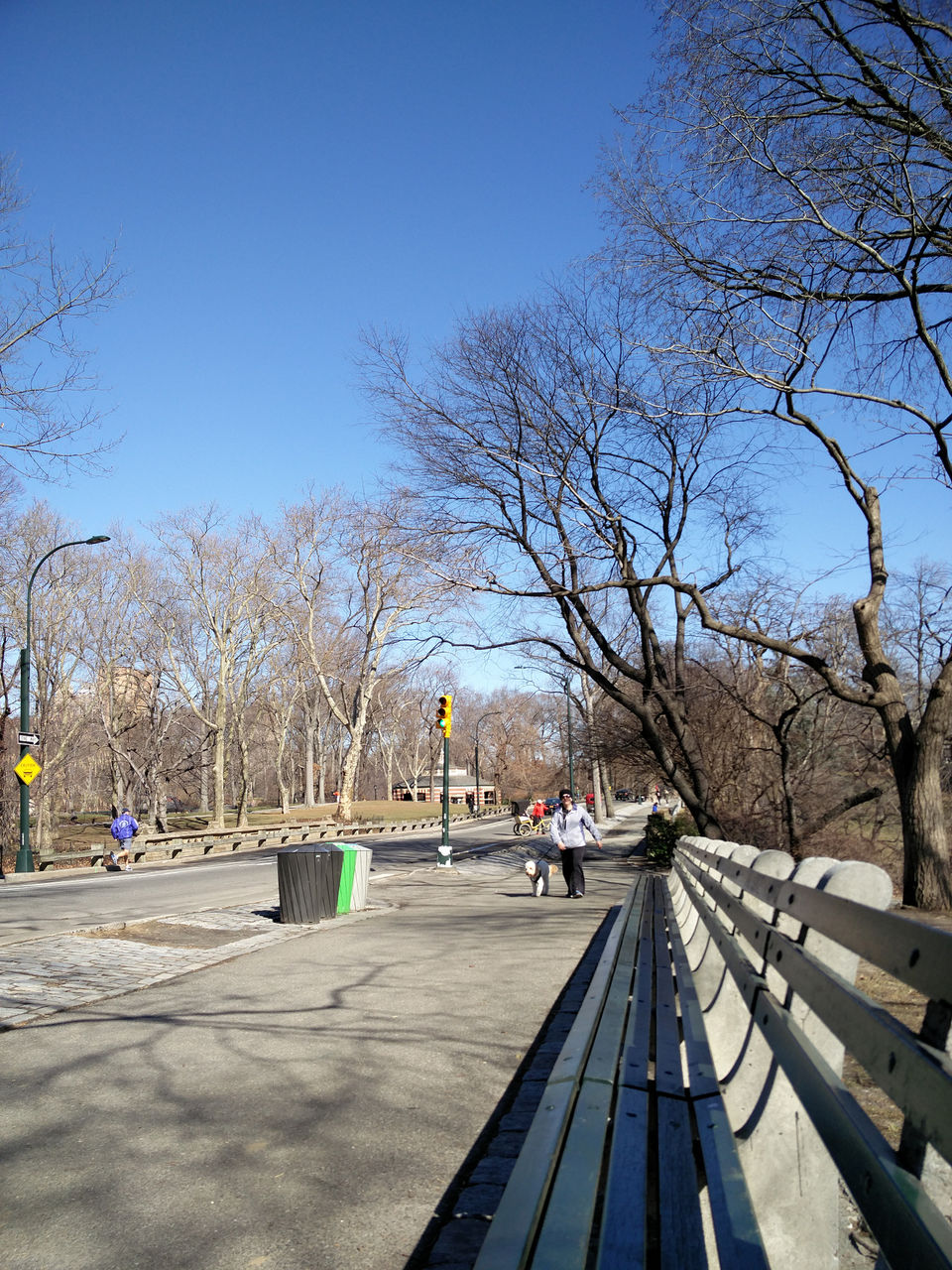 This place must look really adorable during spring.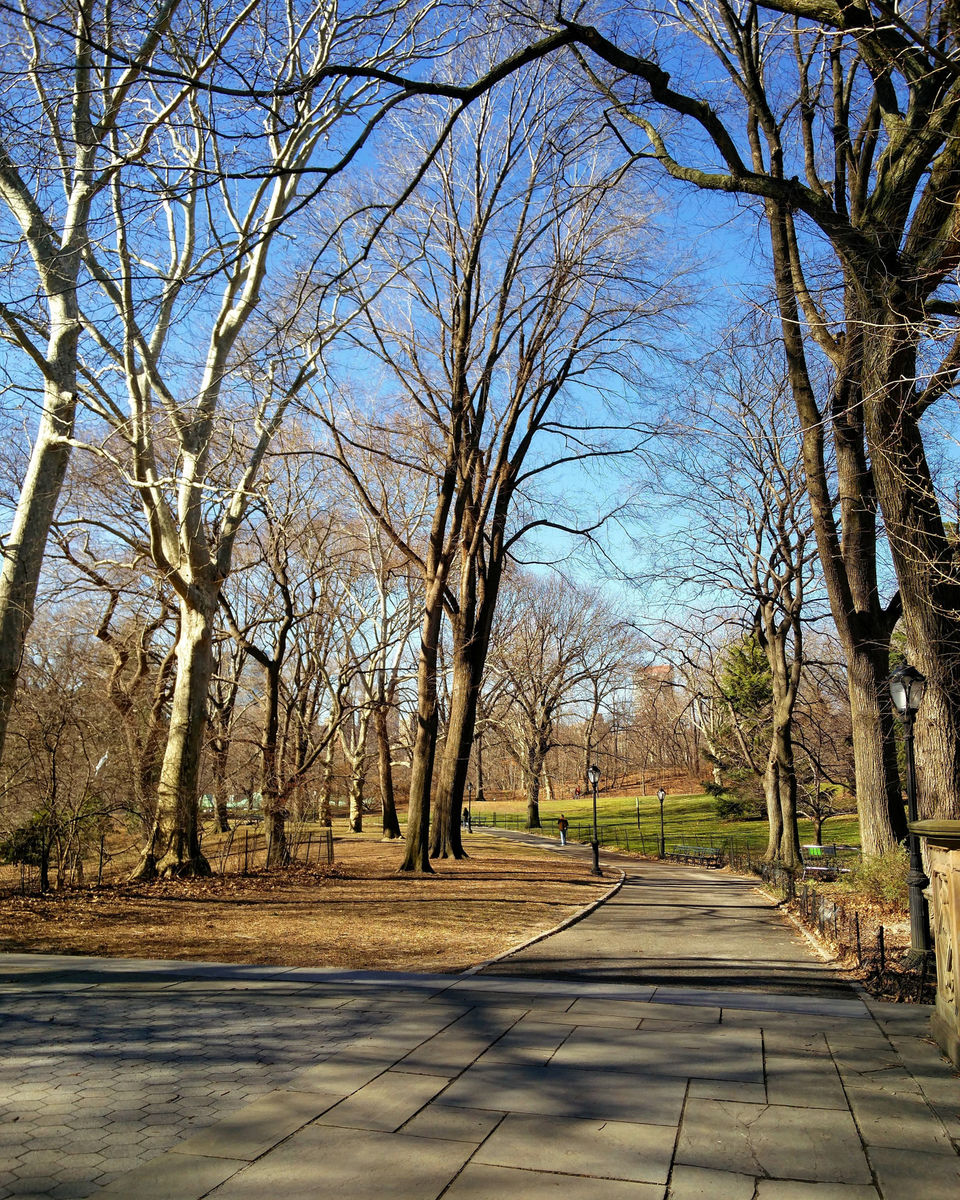 Get Lost, literally.
This is one of the ponds I was talking about earlier —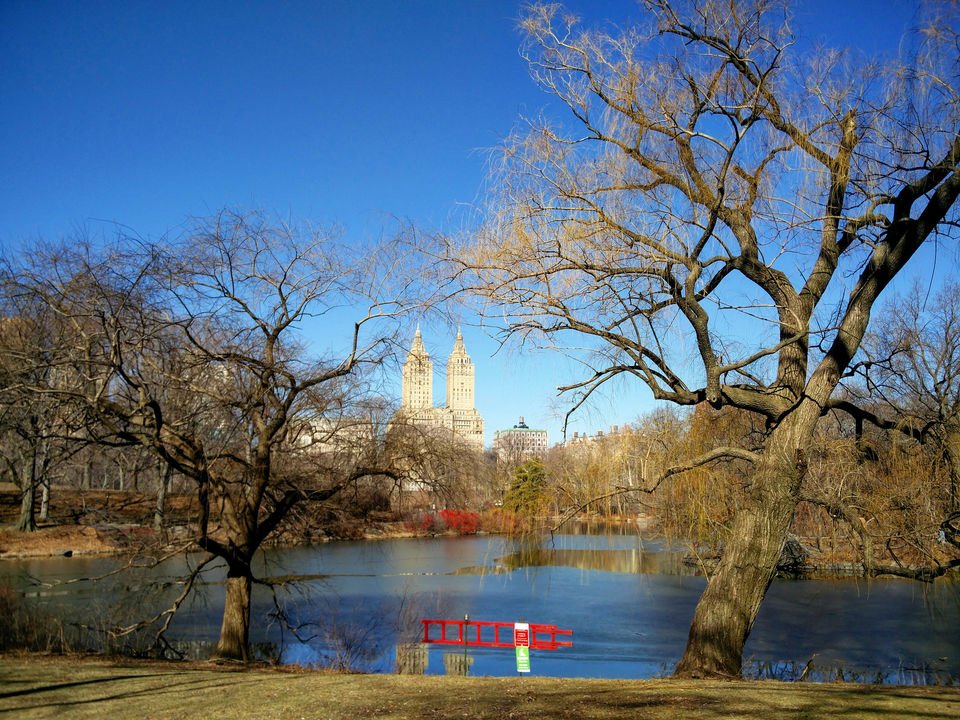 And it's killing me when you're away
There's a gift shop in the park from where you can pick up a souvenir. You'll fall in love with the serenity and calmness of this beautiful park so make sure you spent at-least a couple hours here.
With a heavy heart, I walked out of the park towards an equally mesmerizing park in upper-middle Manhattan — High Line Park.
The 2.3 km park has been made on an elevated train line which was supposed to be demolished but it proved to be technically unfeasible. It's closely surrounded by tall buildings and hence it was transformed into a walking park and it has been very successful in attracting over millions of visitors per year.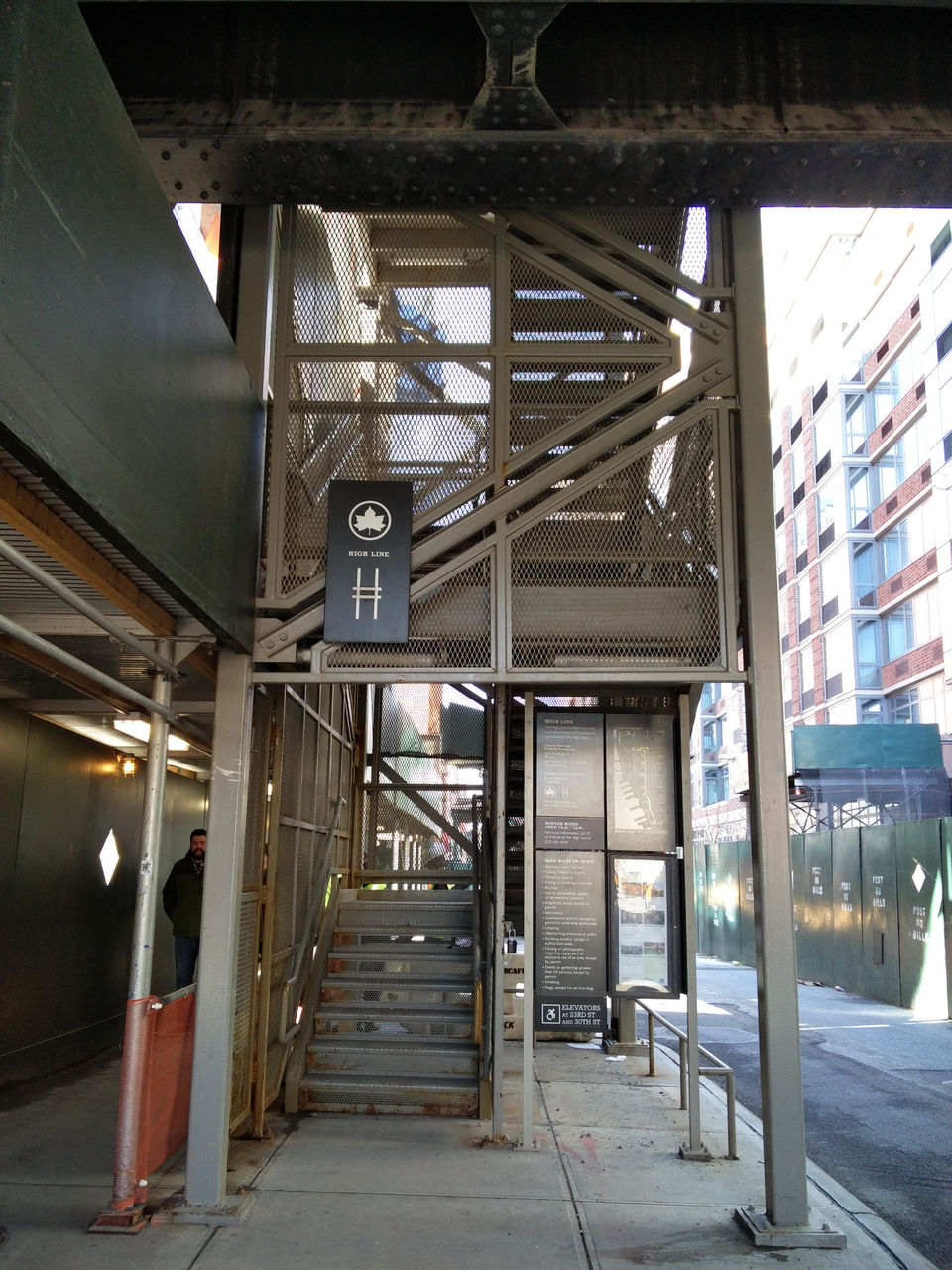 You can take the elevator as well, but would you?
The blissful experience of walking is second to none and this place was like a gift. I decided to walk the entire length from one end to the other. I started from the Meatpacking District and got off at the northern edge of Chelsea.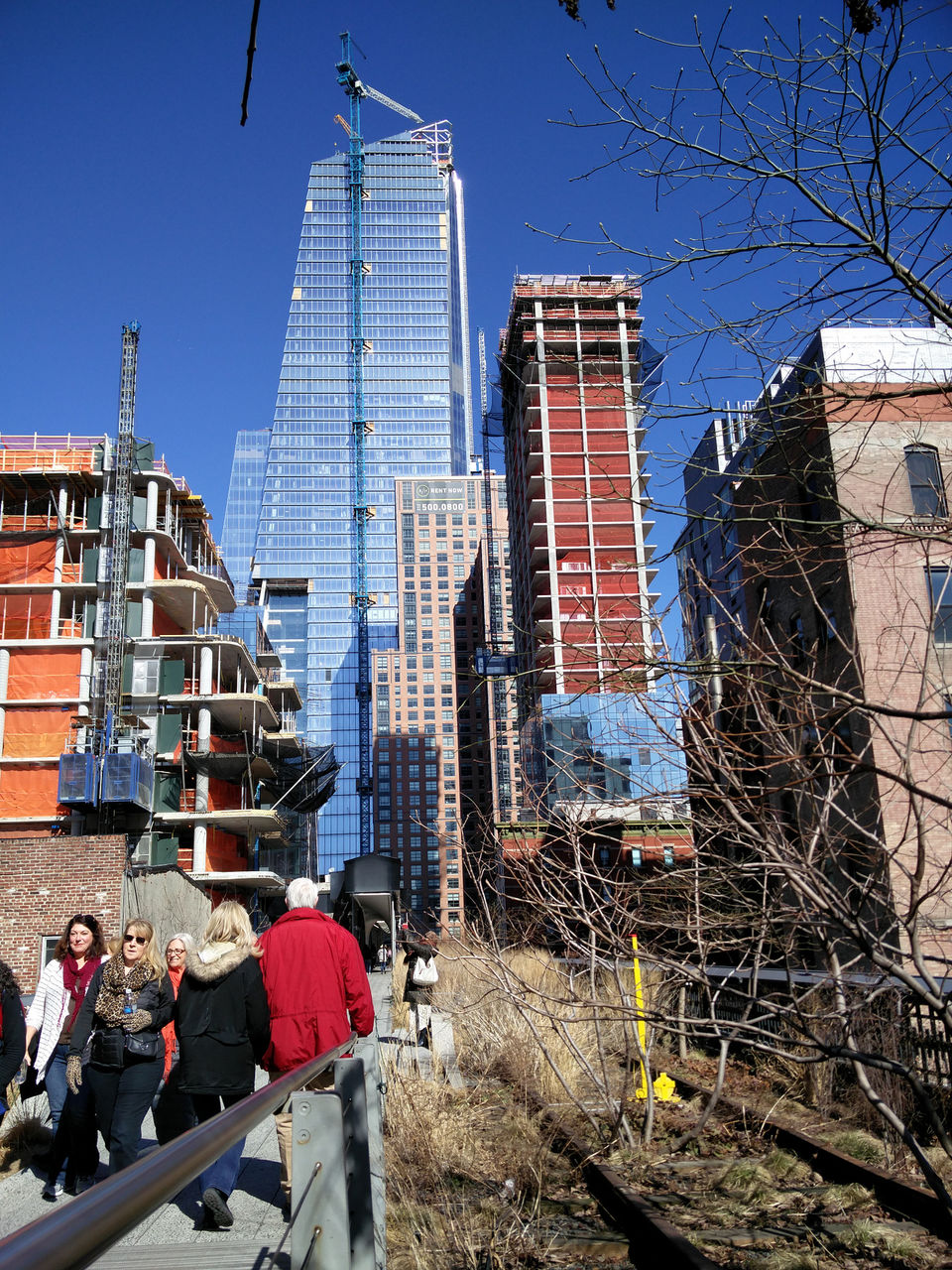 The sunny day was to blame for this beautiful picture.
Imagine the amount of planning that has gone into the construction of this park. We're talking about a floating park which provides a green roof to the city!
It has been designed so as to retain maximum amount of water but an irrigation system is also installed for this park.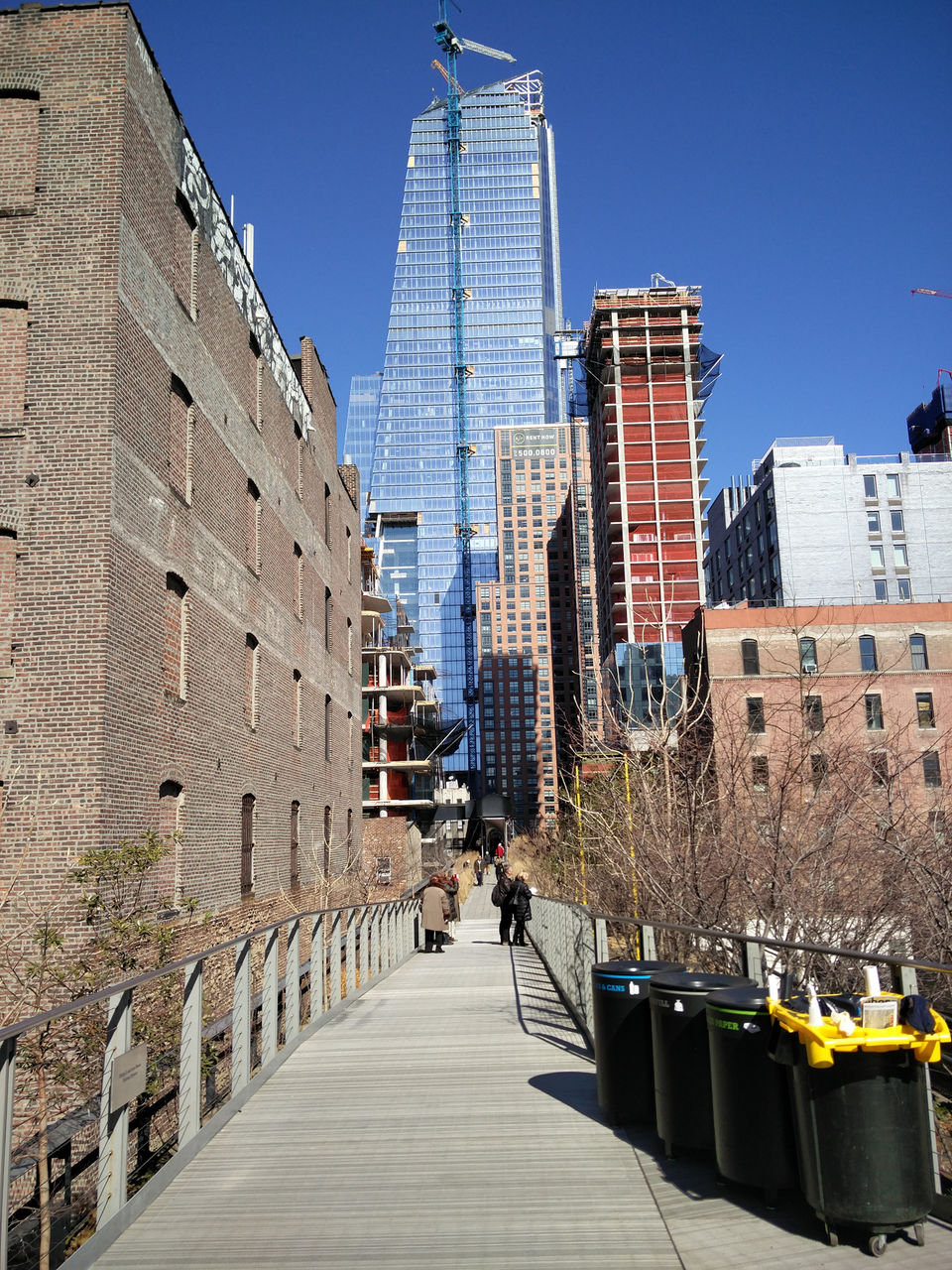 Even the garbage bins look so clean and organised.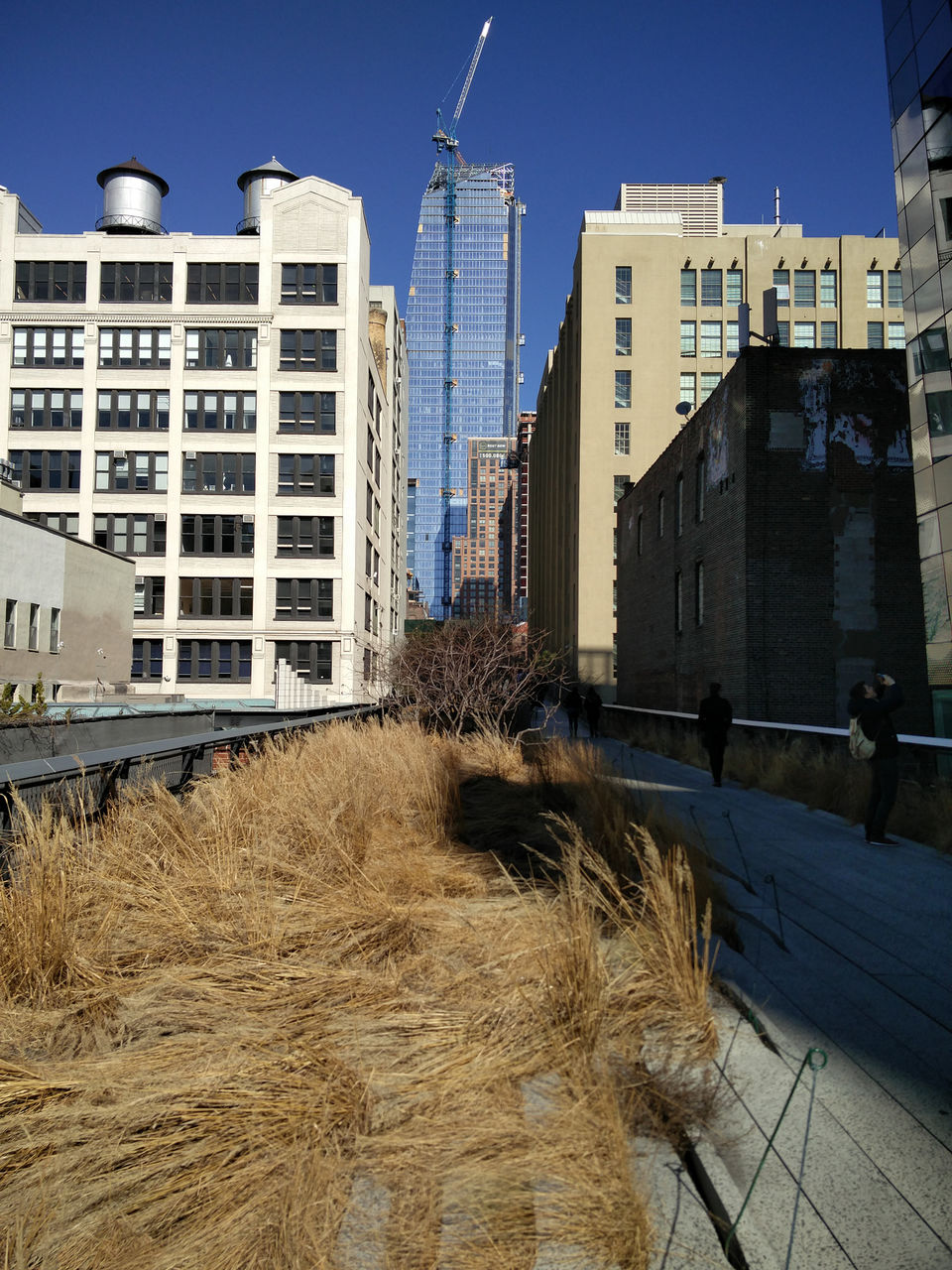 Send me a postcard when it's spring!
This park provides a nice view of the city as well as the Hudson river. There are park benches placed strategically so as to impress you with views such as this —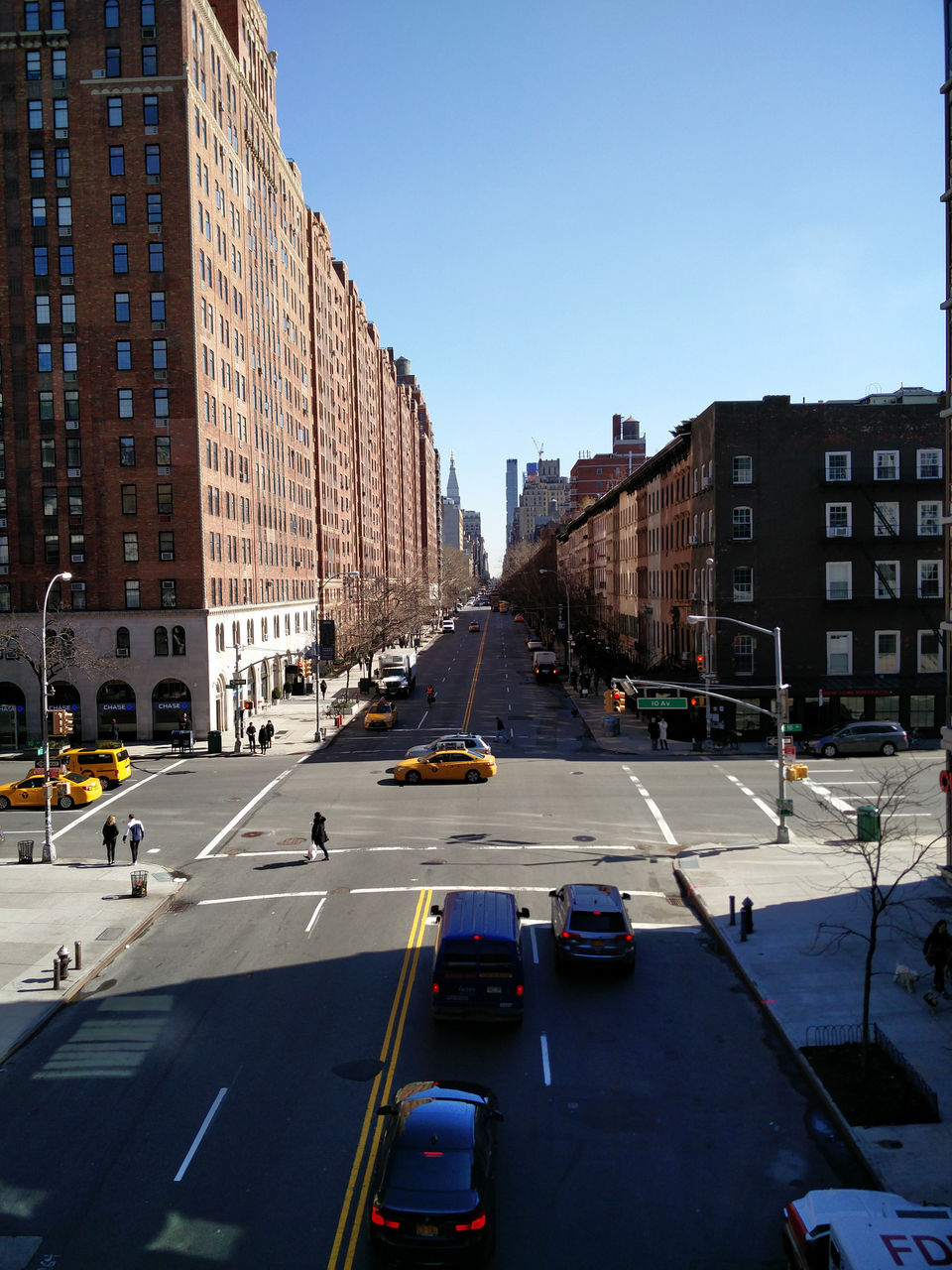 I shot a time-lapse here which I'll share with you shortly.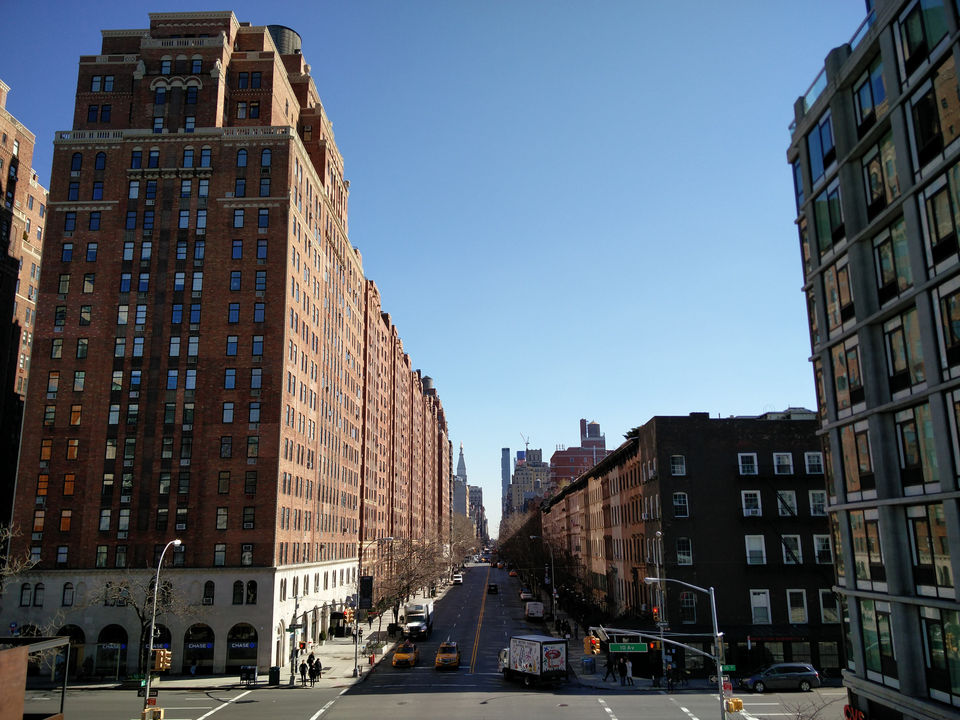 While I was shooting the video sipping on Gatorade, a small bunch of college kids came with an enormous pizza and savored it in this free open-air restaurant.
With zero taxes of course.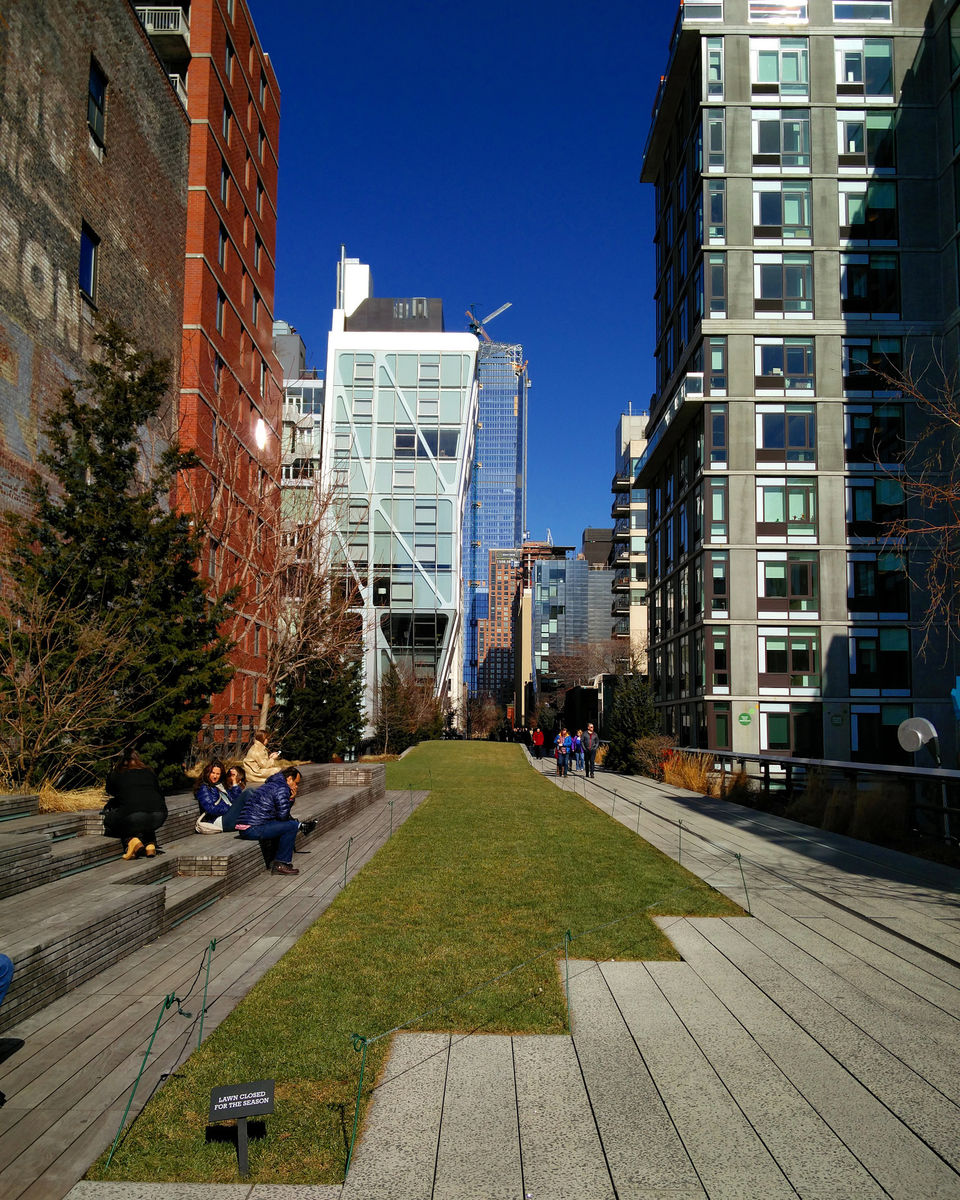 Greenery at last!
Some fresh green grass, finally! People were busy basking in the sun with their dogs and kids.
It reminds me of Scrubs
Carla: I just want a baby so badly…
Turk: Why? What's it gonna be like having a baby?
Carla: Dr. Cox said it's like having a dog that slowly learns how to talk.
Turk: Awesome!
As I exited the park, I stumbled upon an elderly street performer —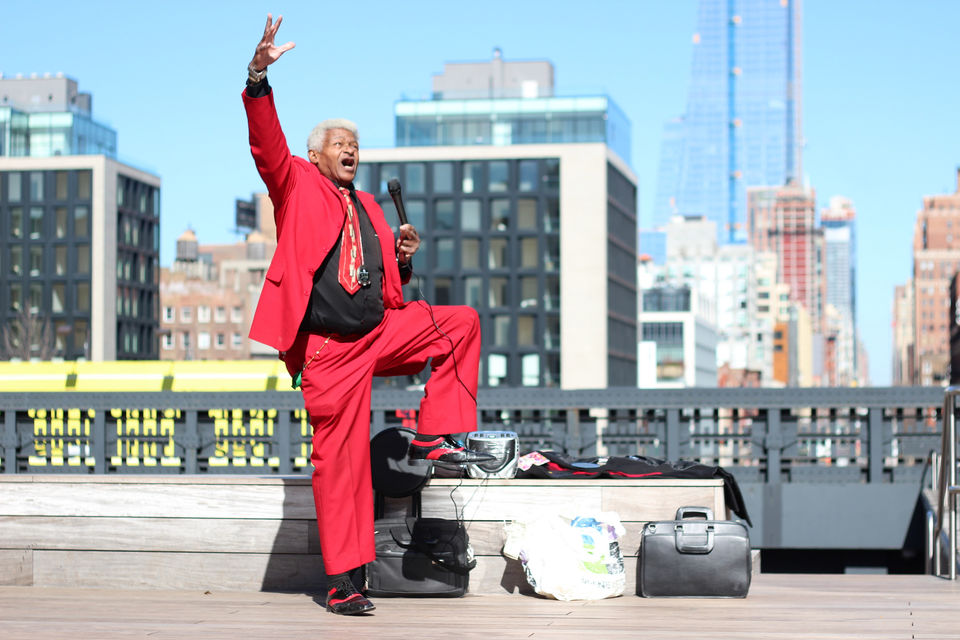 I wanted to experience the East River ferry but time was a constraint as I had to leave for Boston later that evening. So instead, I paid a visit to this cute little munchkin.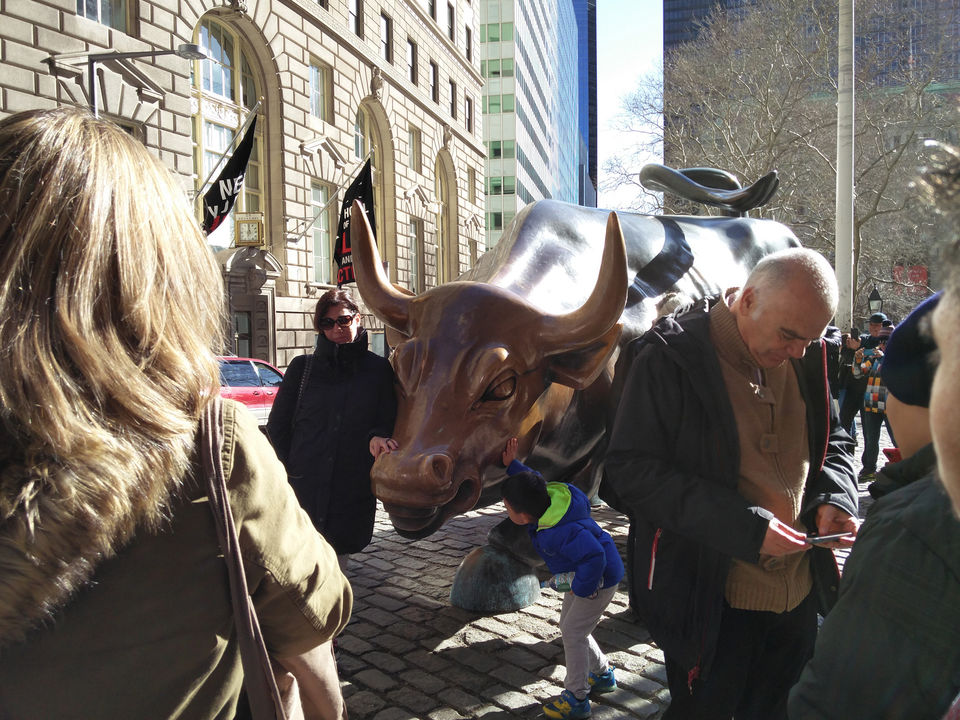 This curious kid needs to re-examine his choice of friends.
Okay. I might have exaggerated given my love for animals. He's not as cute as I said, but he gets more action than you. Why? Continue reading..
The 3,200 kg Wall Street Bull is an epitome of financial prosperity for the Americans. The charging bull has been meticulously sculptured to show that it's ready to shred its opponent to pieces with its fully flared nostrils and head lowered into the ground.
The bull is quite the ladies man. Don't be surprised if you see people taking pictures with its balls in hands, with some occasional rubbing — it's a symbol of good luck.
Also, don't laugh. I couldn't control mine so I quickly moved away in embarrasment. Totally worth it.
Oh, and the horns are lucky charm too. But this was less important.
The clock was ticking at double its speed and hence I moved towards the Wall Street Station.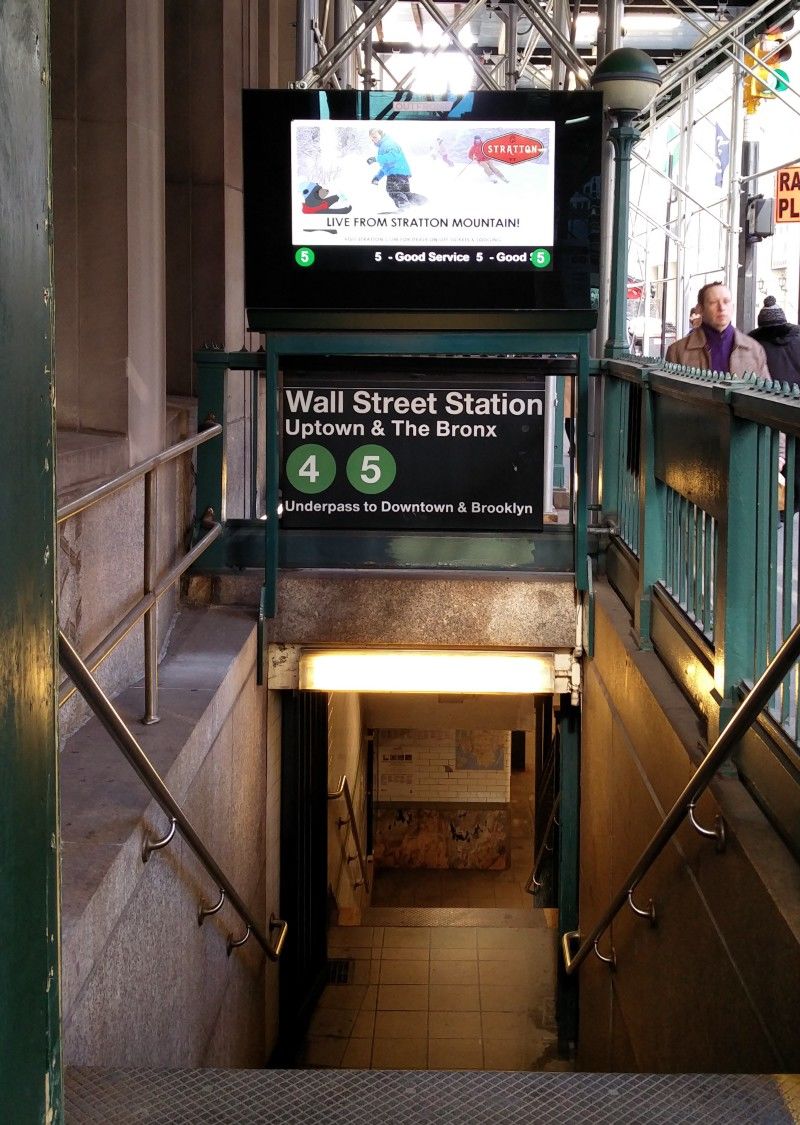 I had carefully chosen all the subway stations so as to try a new one each time I take a ride!
As I was approaching my hotel to pick up my luggage, I stopped for a bite.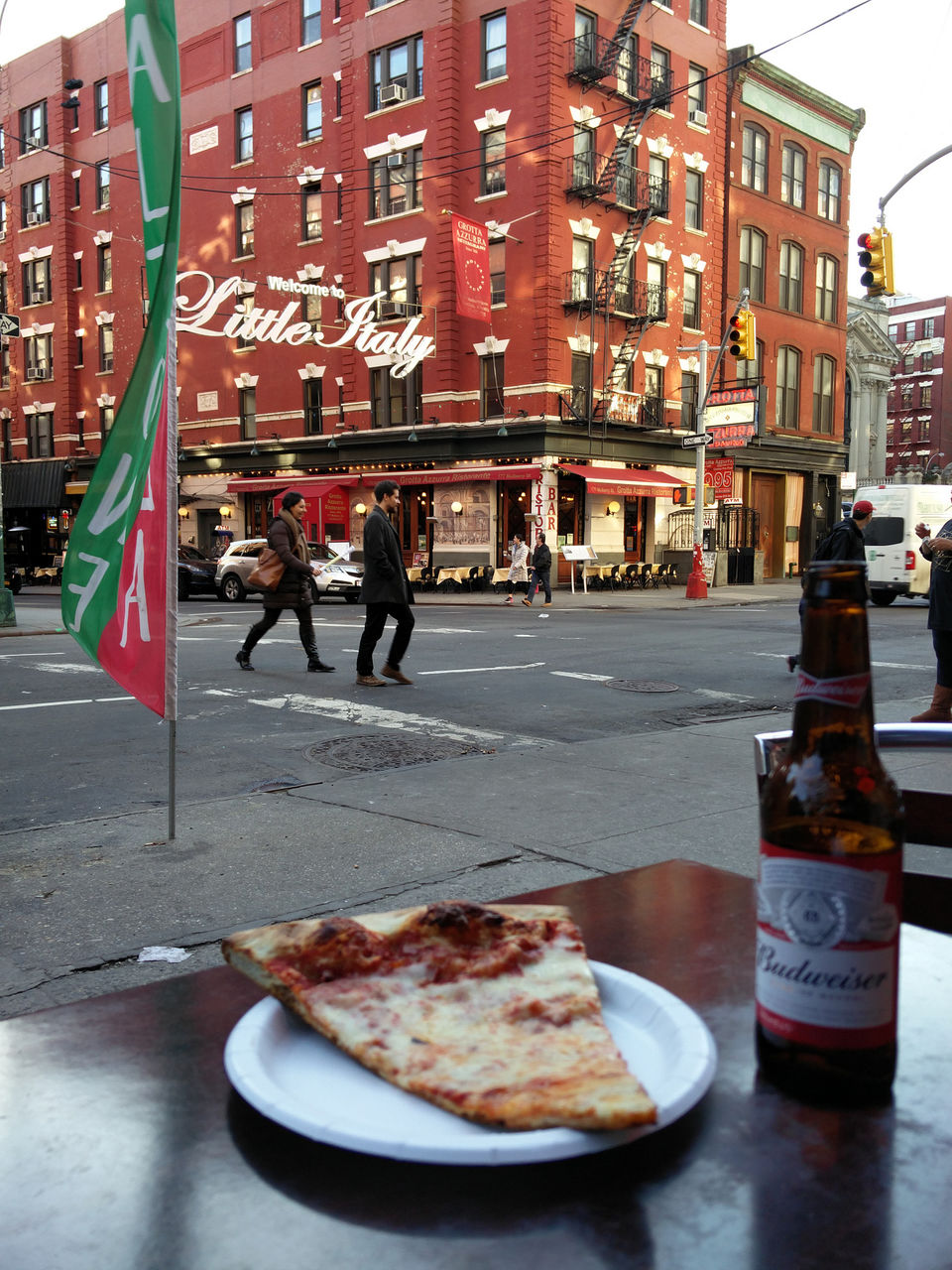 Sal's Pizza
Sal's Pizza came highly recommended from a fellow stranger and they sure had a good variety of pizzas. I started from a cheese slice and further went on to have their thin crust pizza slices.
As I had a lot of time to kill on my way to the airport, I took the local train instead of express towards Sutphin Boulevard on purpose.
Local? Express? You never actually read the subway article, did you?
It took me an hour to reach Jamaica Station and I boarded the AirTrain(which is fantastic by the way) and this was New York's idea of a beautiful Good Bye to me —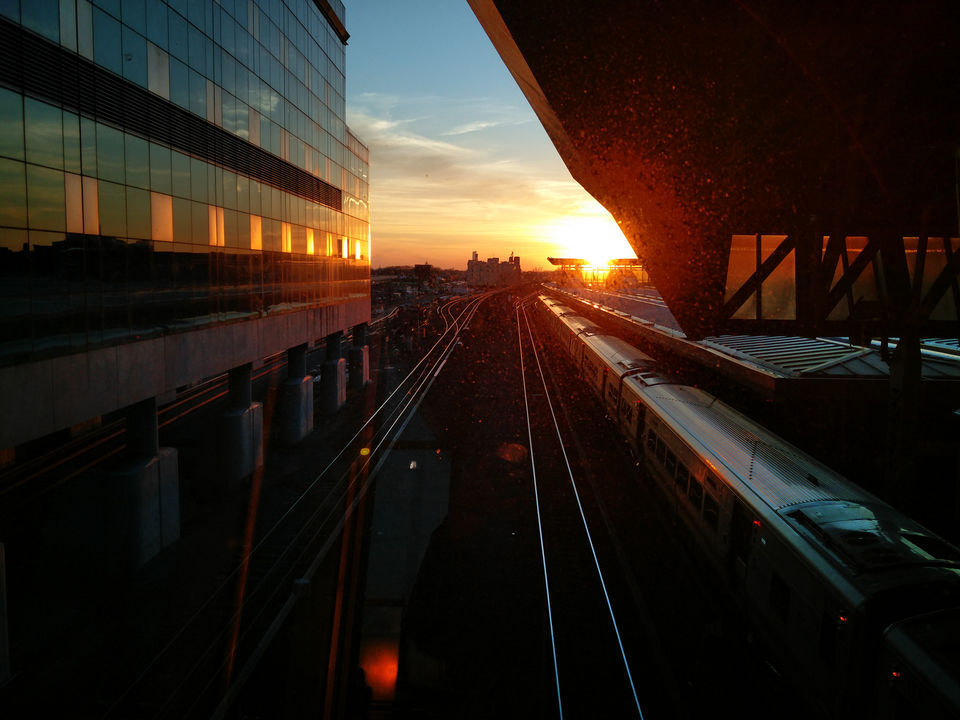 A picture perfect sunset
Well, that brings us to an end of a wonderful trip. But I would like to add some closing notes.
There are a lot of places I had to cut short because of time(read money)constraints —
Metropolitan Museum of Art
The West Village
East River and Staten Island Ferry
One World Trade Center Observation Deck
So if you guys/gals go there, send me postcard!
Have you ever noticed that whenever a city/country/continent is mentioned, there are only a couple of specific places/things that pop into your mind instantly.
That's not the case with New York City
The diversity of this cosmopolitan hub is phenomenal and that's coming from an Indian guy. I could spot people of different nationalities from all over the world just being together and having a jolly good time ignoring the geographical, cultural or political boundaries. Be it parks, bars, my hotel lobby — anywhere and everywhere.
That is the magic of this city which I want you to experience at-least once in your life, with the one you love.TIP: If you're not a m/billionaire make sure you don't leave her hand, there are more shops than people out here.
Last but certainly not the least, I'll never see NYC in the same light again.
So, how'd you like my story?
I'd love some feedback/criticism(constructive, I'm cool even if it's not)
Godspeed