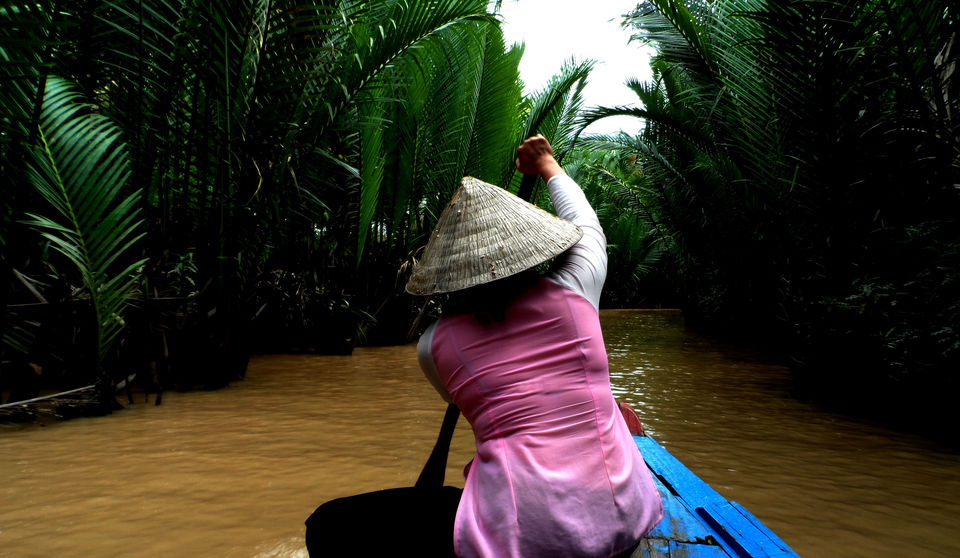 VIETNAM
With the streets full of motorbikes merging in all different directions and countless of horns honking, Vietnam can give quite a shock to first time travelers. But amidst of all chaos, it is very beautiful country filled with delicious food. The country has lots more to offer from the natural beauty of the man-made temples, pagodas to numerous rice terraces.
The country has suffered a long dark history of communism, war, and poverty whose effects is still visible on the faces, and bodies of the locals even today.
Like India, many travelers either love it or hate it. Admittedly, it's not an easy country to travel through, but the friendly Vietnamese make the journey quite comfortable.
Ho Chi Minh City
Ho Chi Minh City, also known as Saigon, is Vietnam's largest and most chaotic city. I loved the chaos, though you need to be a little careful when walking across the street! Motorbikes, bicycles, cars, and rickshaws go wherever and whenever they please and lots of street stands and market spill into the traffic lanes.
There is a lot of information about the war, from the War Remnants Museum to the Cu Chi Tunnels.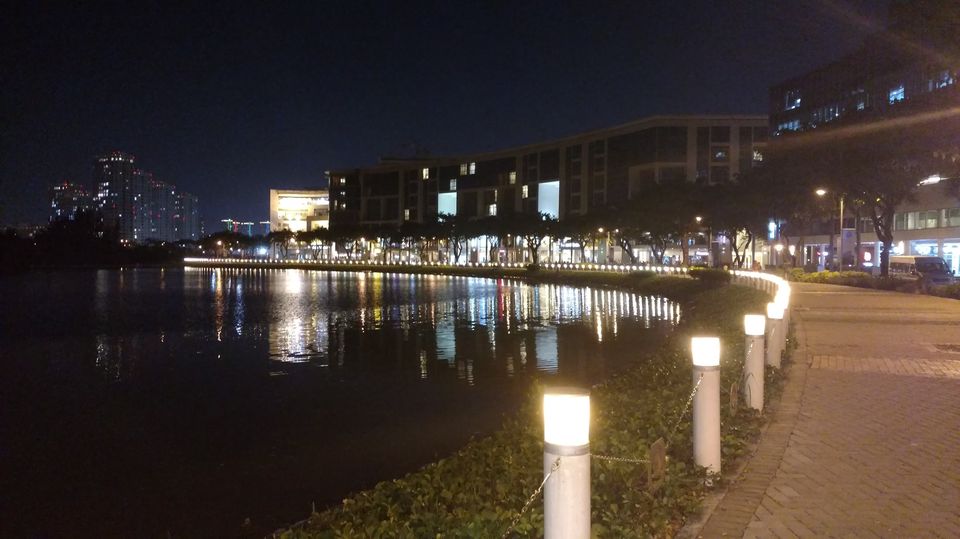 I knew a bit of history of Indochina War and the Cold War, but I really didn't understand the true human cost until I went there. There are some experiences which leave deep impact and make you think about human powers. Well, for me this was one of those :)
We booked one day trip from our hotel and our tour guide was quite knowledgeable. I highly recommend to take tour guide instead of getting there alone.
Short history of Cu Chi Tunnel
The Cu Chi Tunnels are an absolutely enormous network of interconnecting tunnels underground in the Cu Chi region of Saigon (Ho Chi Minh City) and a well-known historic vestige of the Vietnamese revolution.
The tunnels were used by the Vietnamese soldiers in the 1960s as communication and supply routes, as well as hiding spots for surprise attacks against the American and living quarters.
The Cu Chi Tunnel represented the will, intelligence and pride of the people of Cu Chi and symbolized the revolutionary heroism of Vietnam.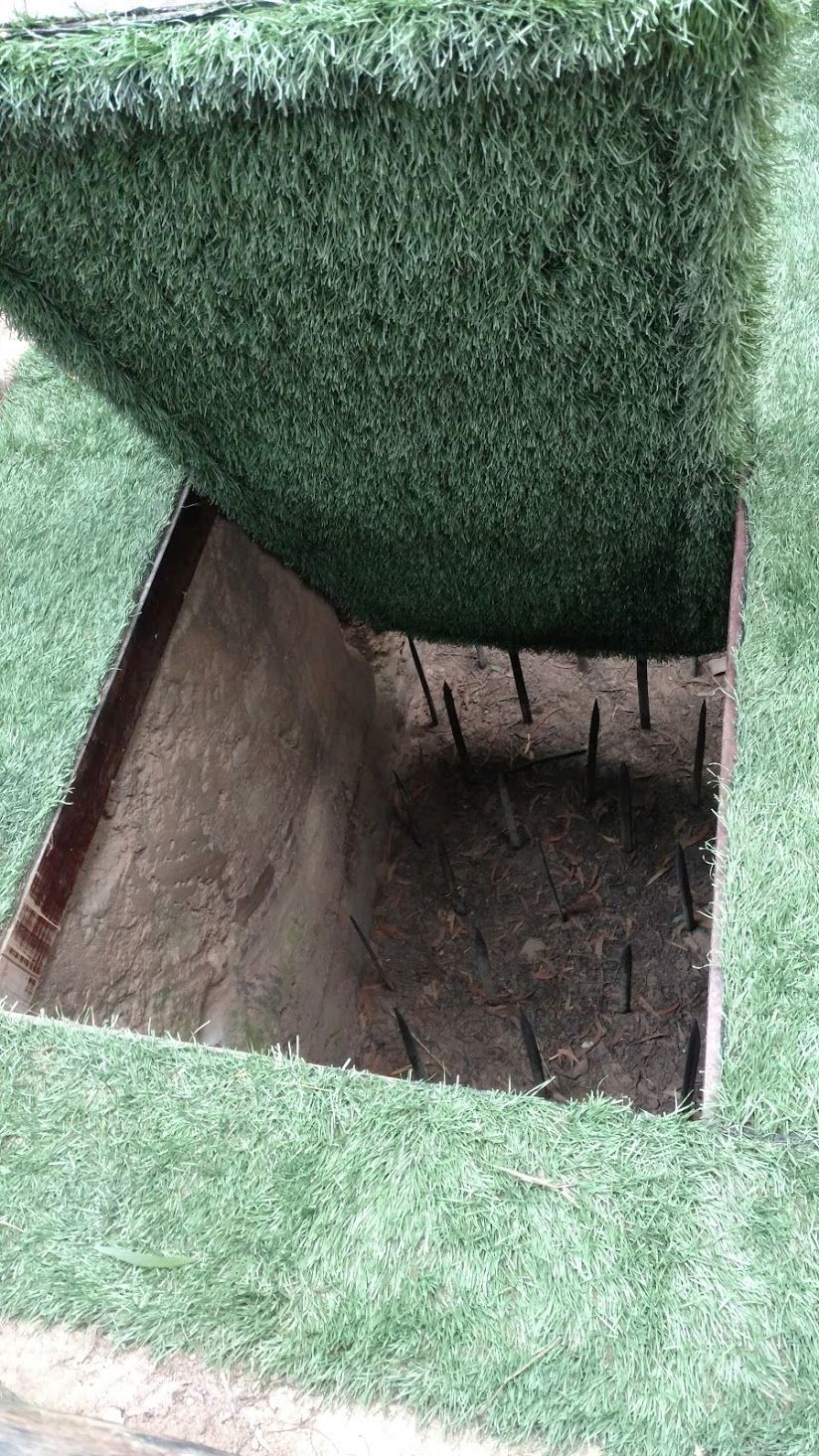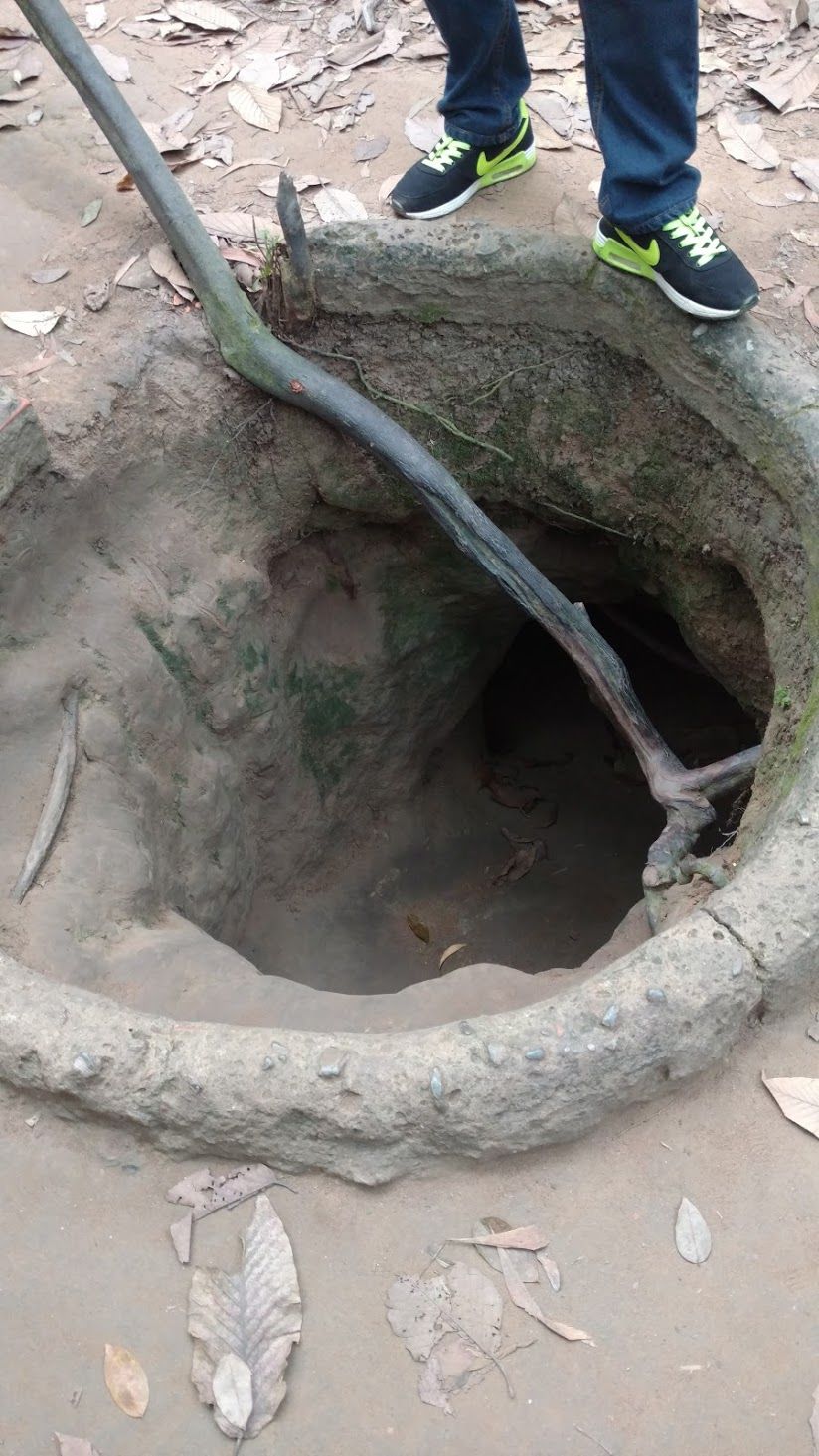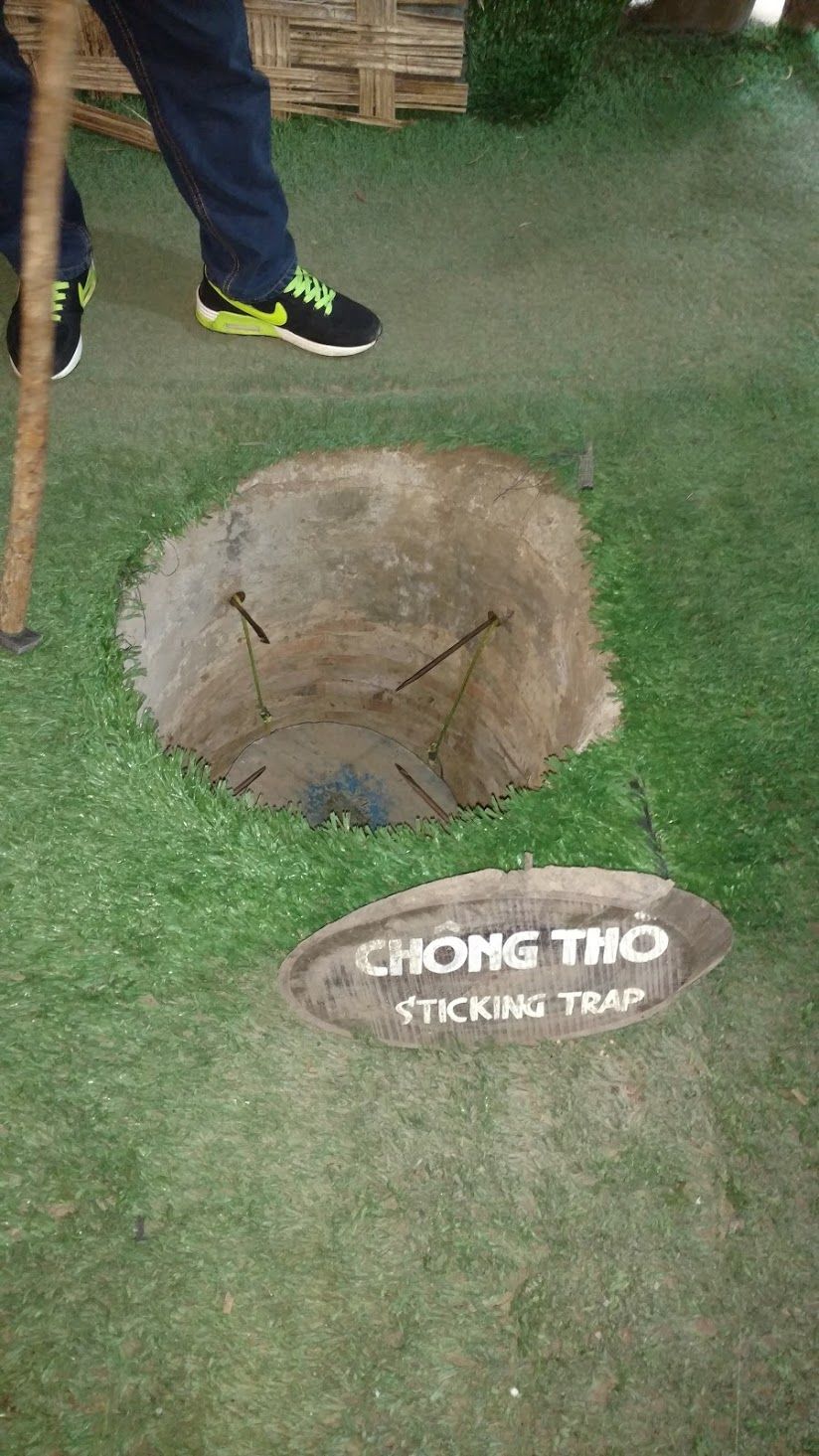 After visiting the tunnel we were given the chance to have a taste of life in the Cu Chi Tunnel. Yes, that's right, you can go inside the tiny tunnels and can experience yourself. They say original ones were supposed to be even tinier, and this one was made bigger to accommodate tourists than to most of us still find it too small and claustrophobic to squeeze through the tunnel.
We walked down a few steps to start our experience. It wasn't long before the opening became smaller and visibility got poorer, and we found ourselves lowering down our body further and further to the point of duck walking ha-ha!
An unexpected highlight was getting the chance to shoot an M16 machine gun – I didn't try it but, wow! It was very, very loud! Deafening!
Finally, our tour guide ended our trip over green tea and a simple snack of boiled taro with crushed peanut seed. He told us that this was common for Vietnamese people to eat in wartime, as it was the only thing they could really afford.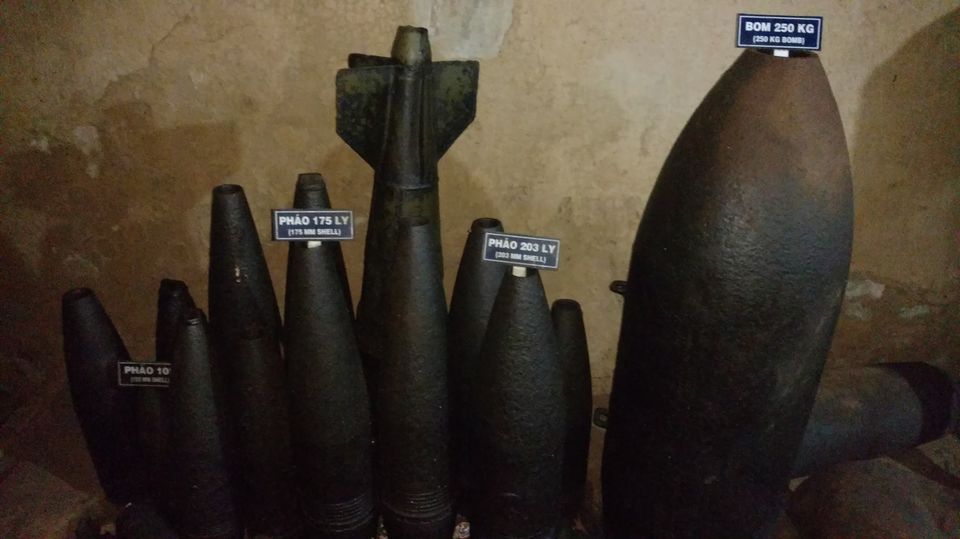 I know it's not the most beautiful and fascinating place to visit that's why many people miss this may be because they feel depressed about what happened in the previous generation. But for me, it was really worth the visit, especially if you get a great guide, like we did, who can educate you along the way.
The War Remnants Museum is a must see if you are interested in Vietnam's history of combat with both the French and the Americans. Inside there are lots of informative displays focusing on biological warfare, weaponry and details of Vietnam's armies during the war.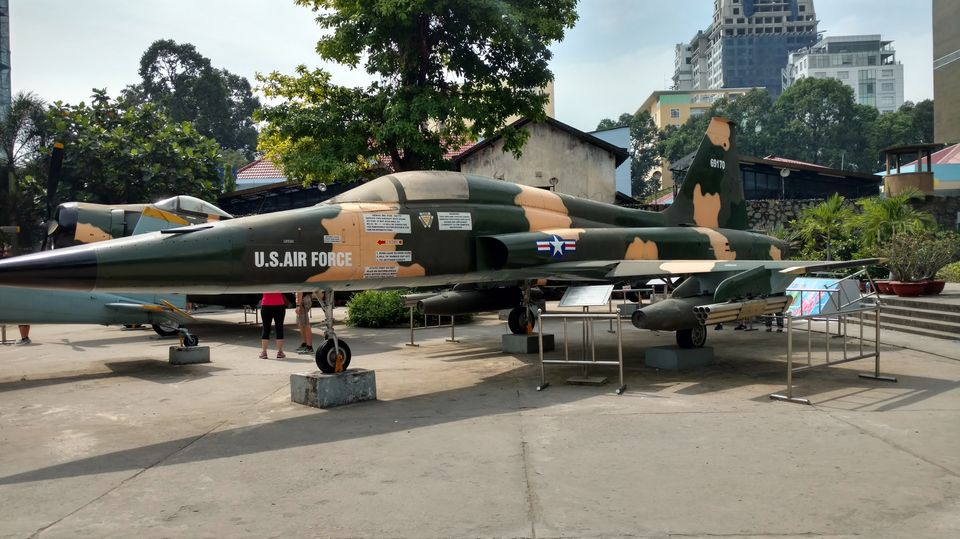 The museums have the best collection of bombs, tanks, planes and war machinery, which can be found in the courtyard.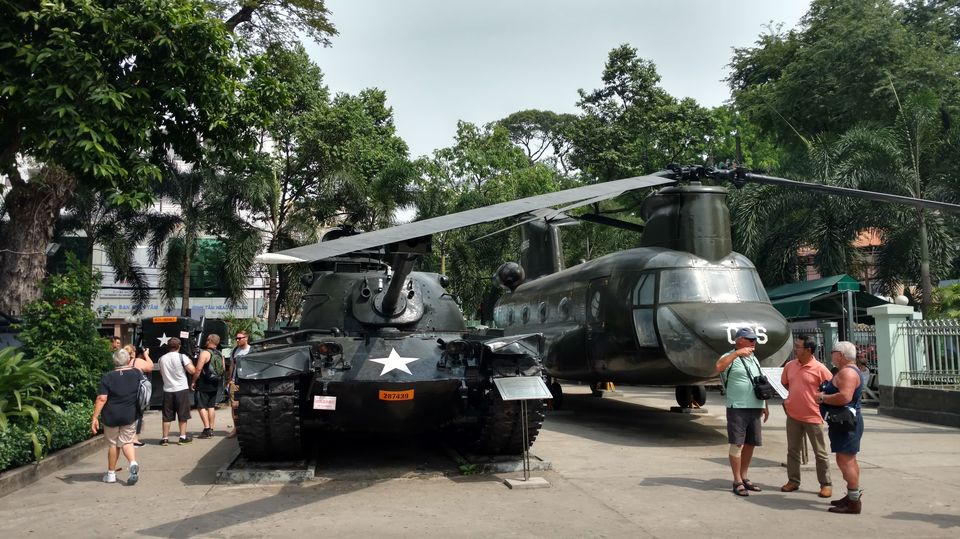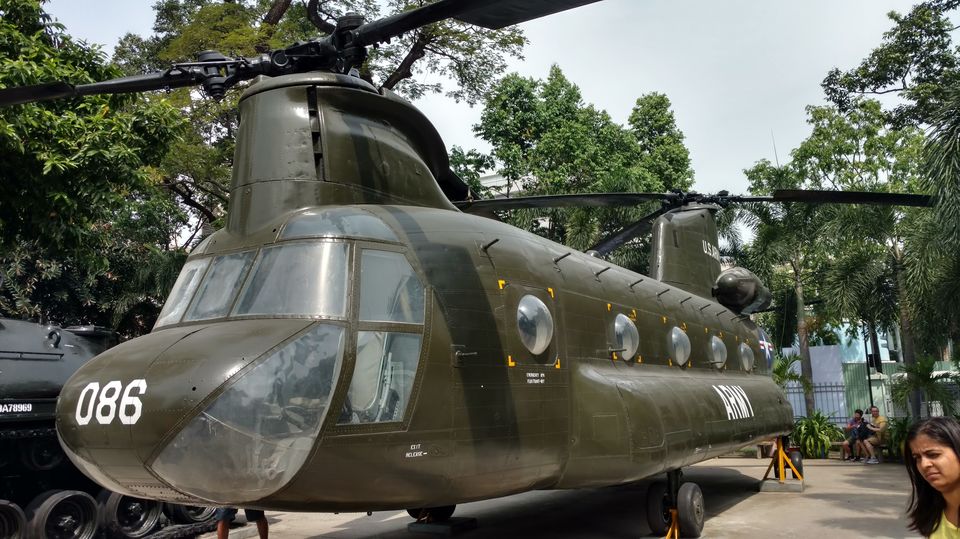 Fun Filled day at Mekong Delta
A trip to Vietnam would not be complete without a trip to the Mekong Delta. This is iconic Vietnam, a number of rice fields, wooden houses located along the river's edge, men and women in small boats also known as floating market, selling fruits vegetables. I was so excited to get a glimpse of this Vietnamese way of life.
We booked one day tour from our hotel.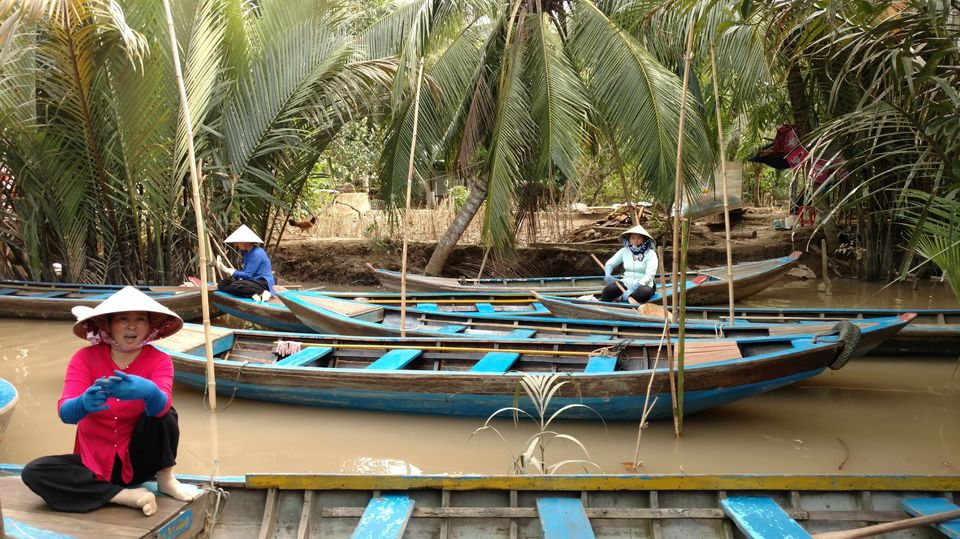 Our access point to the Mekong Delta was the small city of Can Tho. This city was easy to reach from Phu Quoc Island, just a half-day ferry and bus combination trip.
The Mekong River, known as The Mighty Dragon or The River of the Nine Dragons in Vietnam, is the life-line of six countries in Asia (Cambodia, Myanmar, Laos, Vietnam, Thailand, and China).
Our guide, gave us a short geography lesson before we boarded a small boat that took us to Unicorn Island, Phoenix Island, Turtle Island, Dragon Island named after a Chinese mythology.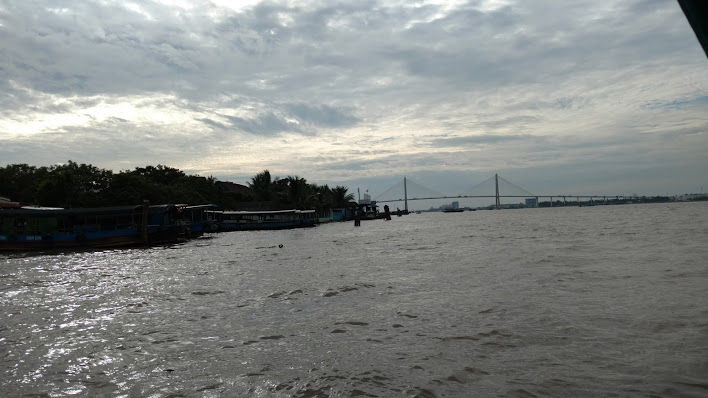 Later they showed how honey is made and I got a chance to taste homemade honey.
Moments later, we were treated to a song and dance by local musicians before we sail off to a neighboring island, known as the Kingdom of Coconut where several ladies were making coconut candy at a local coconut factory.
Our tour ended in the evening and we bid farewell to our tour driver.
Food Trail at Saigon
As the capital of Vietnam, Saigon is a great city to sample a wide selection of food. The city serves up local specialties like Pho on every street, but it's also easy to find a wide selection of excellent Vietnamese food from all over the country.
But from where to start?
1) Take a Food Tour
There are plenty of food tours available all over the city. Personally, I have a love hate relationship with food tours. I love the idea of food tour to learn about the culinary aspects of a city and bonding with local people. But at the same time, I hate the idea of food tours that waste my time and do not match with my taste.
So I thought of going to street food all by myself and try food according to my preference.
2) Eat Street Food
Saigon is a big city having some of fancy restaurants, but the best way to experience local food is by going down to the street. Each block in the city has multiple casual restaurants, plus a huge number of vendors serving homespun food right on the sidewalk.
Popular Saigon street foods include Banh Mi sandwiches and Bot Chien.
There are tons of internet lists with recommended street food vendors, but for me, I like food simply by following my eyes and nose. Whenever I visit a new country, my preferred technique to try new food is simply to see where and what the local crowds are eating and then I will just grab my chair and start eating the same :)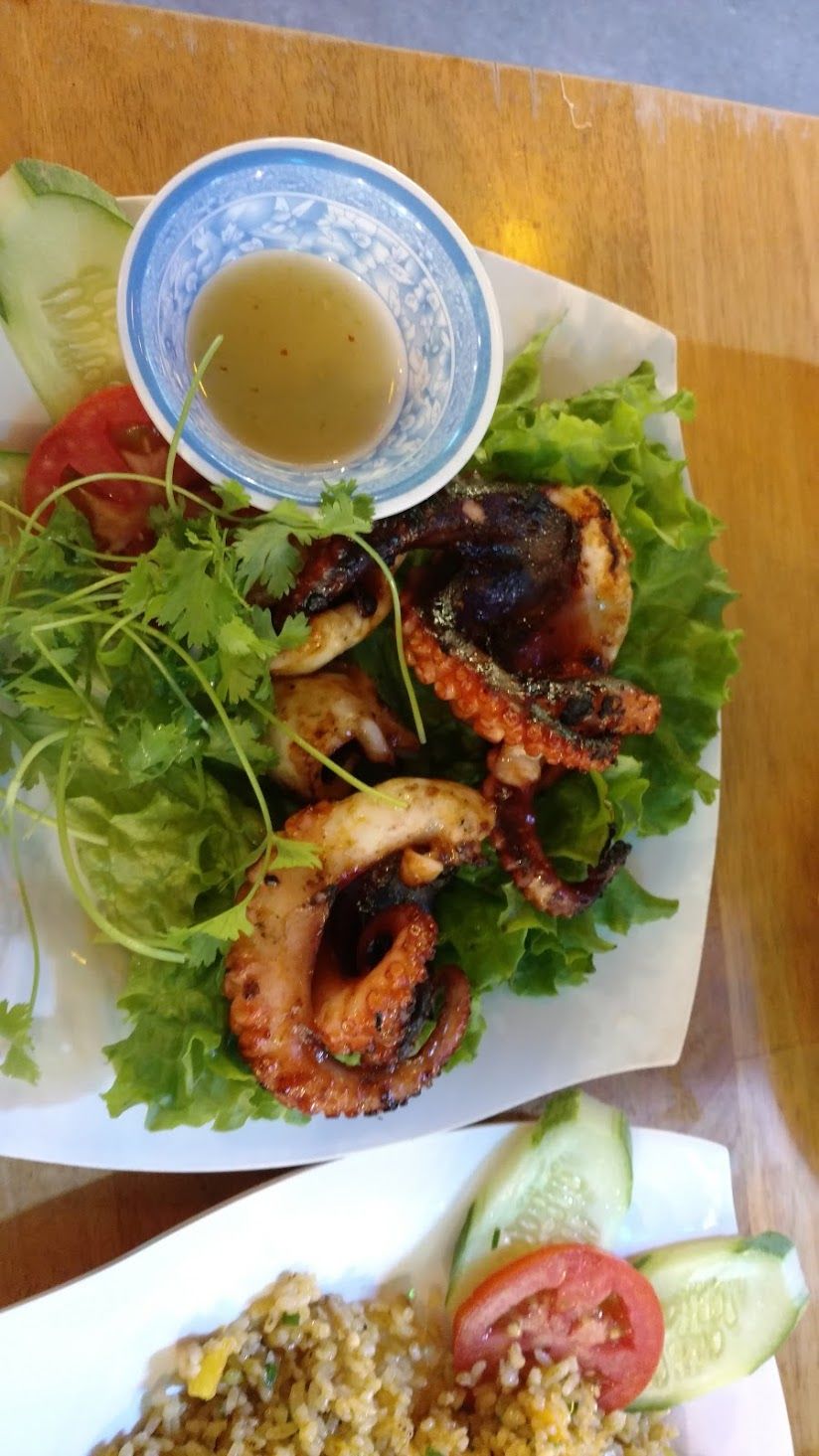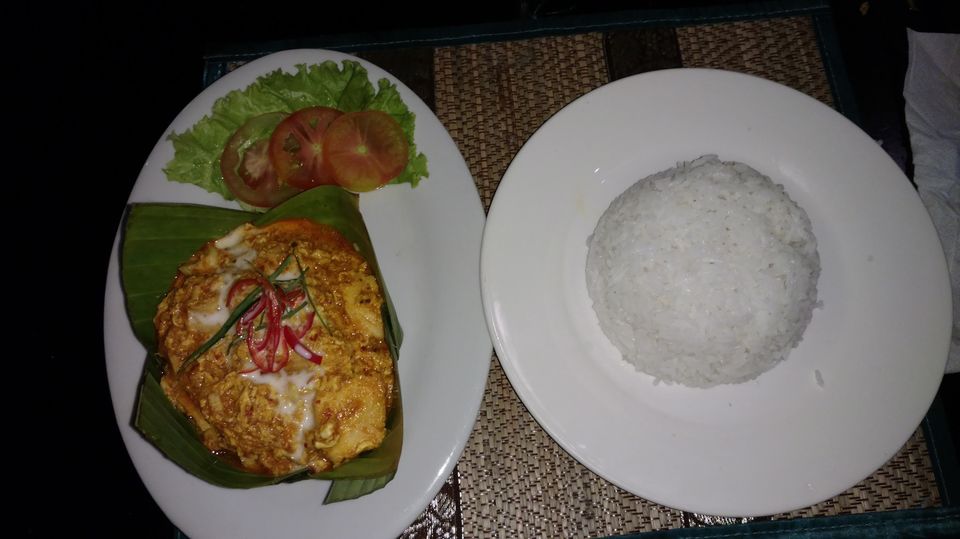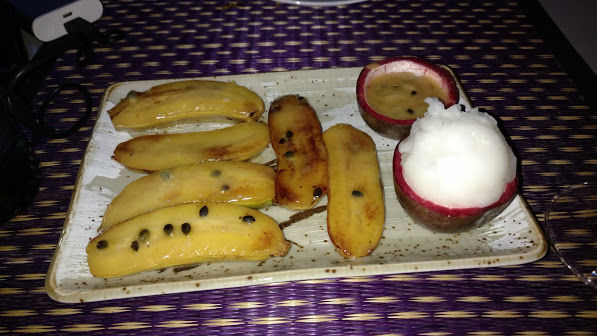 The food is super cheap and taste is boundless
Slurp, Soup
Saigon is a soup city! This bowl includes meat, noodles and a ton of fresh herbs.
In many ways, Saigon serves as one of the best Vietnamese food. If you look hard enough, you can find all of the country's specialities done with a Saigon twist. Soup is no exception to this
Drink Coffee
As the biggest city in the world's second largest coffee bean producing country, Saigon has a lot of coffee shops. Locals drink coffee all times of the day, usually the iced one. All the coffee shops are literally spread throughout the city, small coffee shops, fuel the city with endless cups of strong, and sweet coffee.
Dalat, Lâm Đồng, Vietnam
My next destination was Dalat, Southern Highlands of Vietnam. Back in the old days, the rich people from Saigon would travel to Dalat to get away from the heat and the bustling city to enjoy the wilderness.
Dalat is a beautiful small mountain town highly known for its flowers, strawberries and wonderful scenic spots. I spent two days exploring this gorgeous part of the country.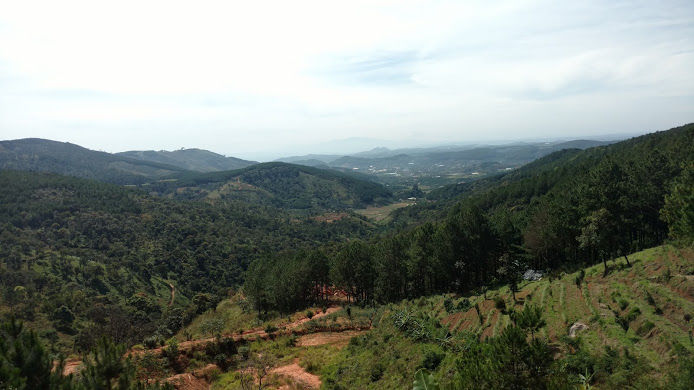 Getting There:
I took the night bus from Ho Chi Minh City at midnight and arrived at the Dalat bus station around 5 am. The trip was supposed to be a 7 -8-hour journey, but I reached quite early our driver was super fast. The bus costs less than $10 and was quite comfortable. Besides the excessive use of the bus horn, it was not so bad, and I would absolutely recommend taking the night bus instead of a flight.
It's fun, easy, and super cheap.
If like me, you are a lover of all things absurd and ridiculous, you need to pay a visit to Crazy House or Hang Nga Guesthouse, one of the strangest houses which looks like some giant tree. The architect of this strange house is Hang Nga, a wonderful woman whose father was the President of Vietnam back in some 80's.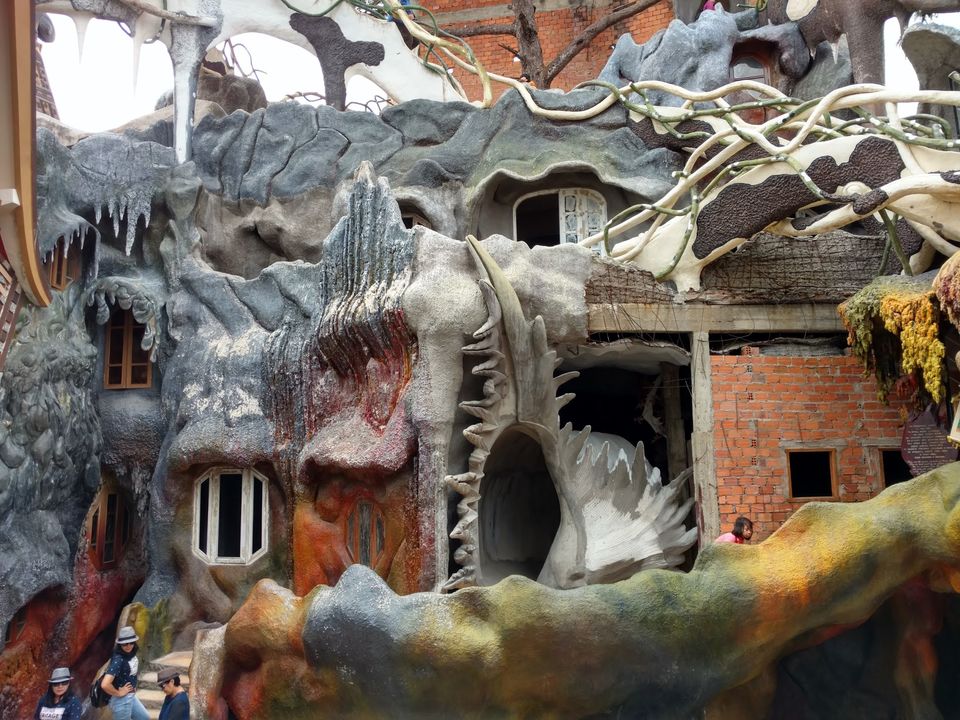 The design and walkways are so confusing and strange, I had a very hard time getting a good photo. This is definitely one of those places that you have to see for yourself, photos can't even describe how strange it is. If you visit Dalat, make sure to stop by to see this Crazy House!
The main reason or goal for such kind of architecture was to bring people back to nature and not destroy it. That's why all of the windows and doors are unevenly shaped and branch-like structures grow along the walls.
Stairs and hallways are designed to resemble tunnels and caves which make an interesting walk through the house.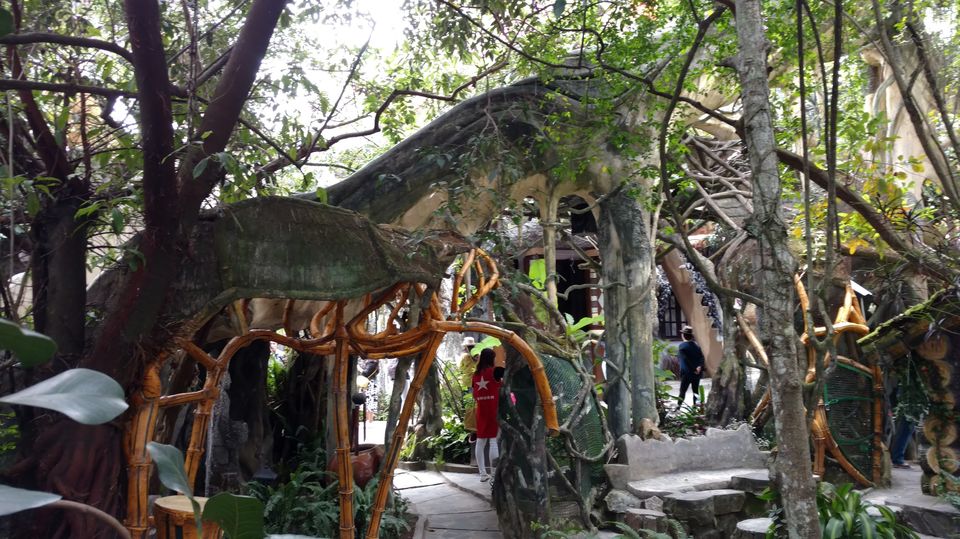 They say that this architecture wasn't supported for many years by local authorities due to its strange and unusual design. But with private funding, Nga was able to continue building the house, and since then the building has been highlighted in numerous travel guidebooks.
The view from the top is spectacular! The entire Dalat city seemed so quiet and peaceful.
After my perplexed experience in the crazy house, I took a small 10 min stroll along the lake and landed in the Dalat Flower Park.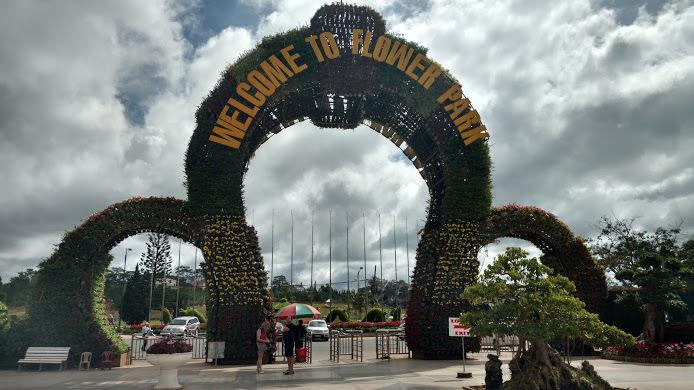 The park was filled with gorgeous flower gardens, fountains, and some of the flowers were shaped into dragons. It is definitely worth a look!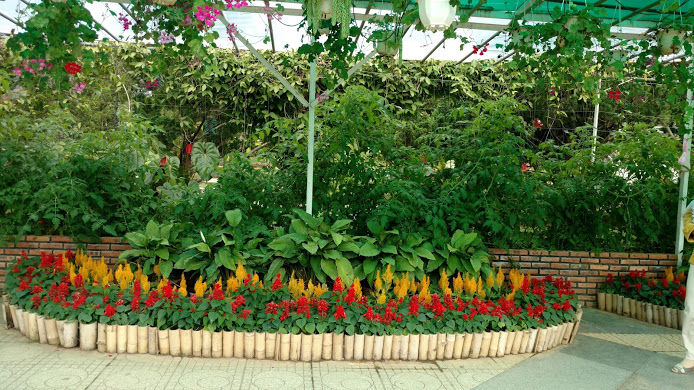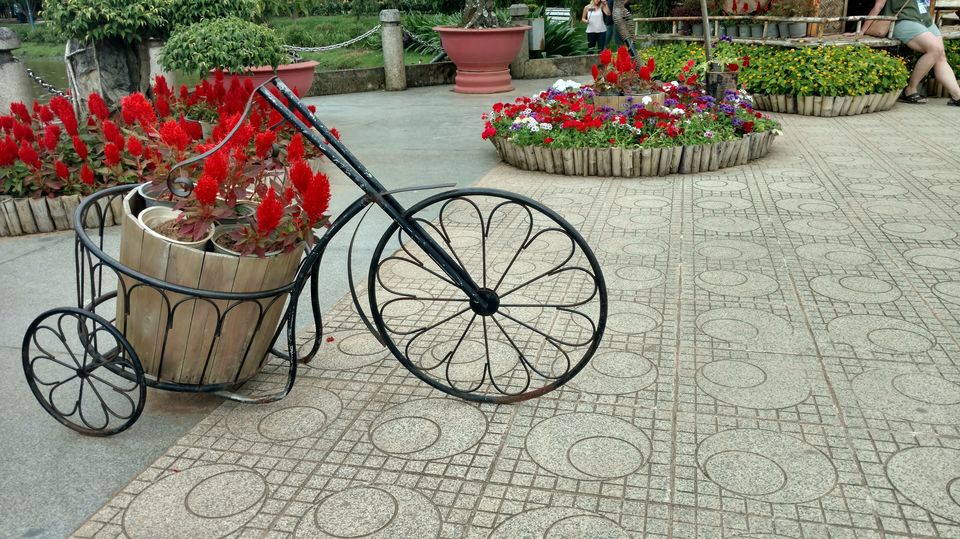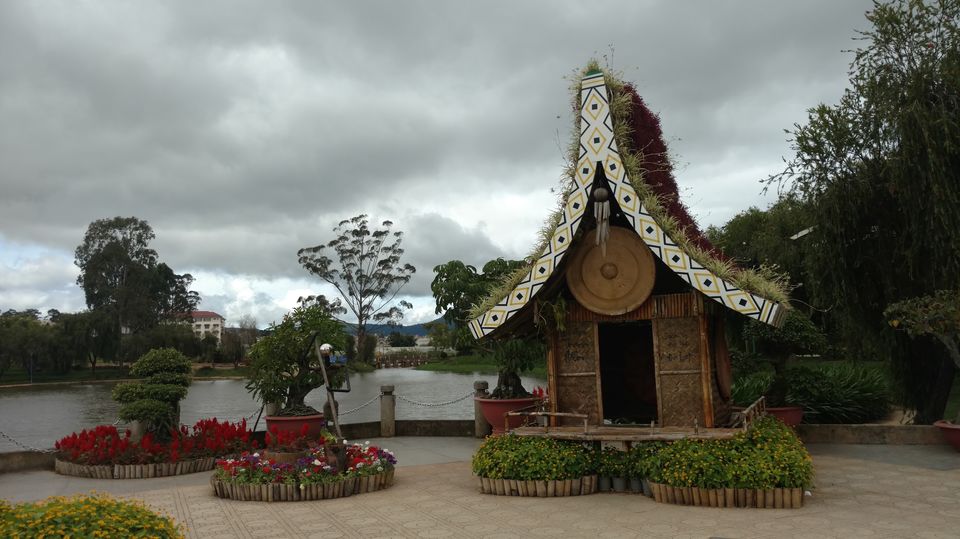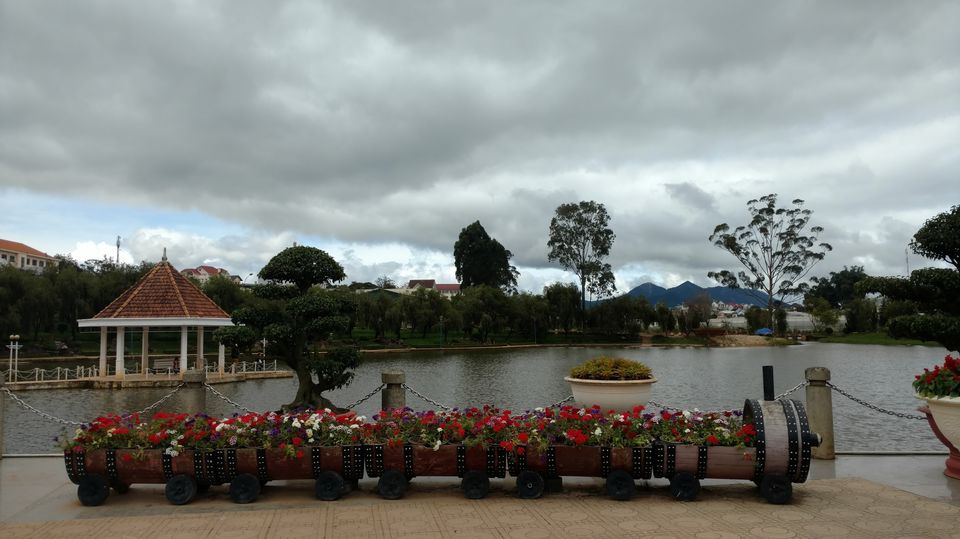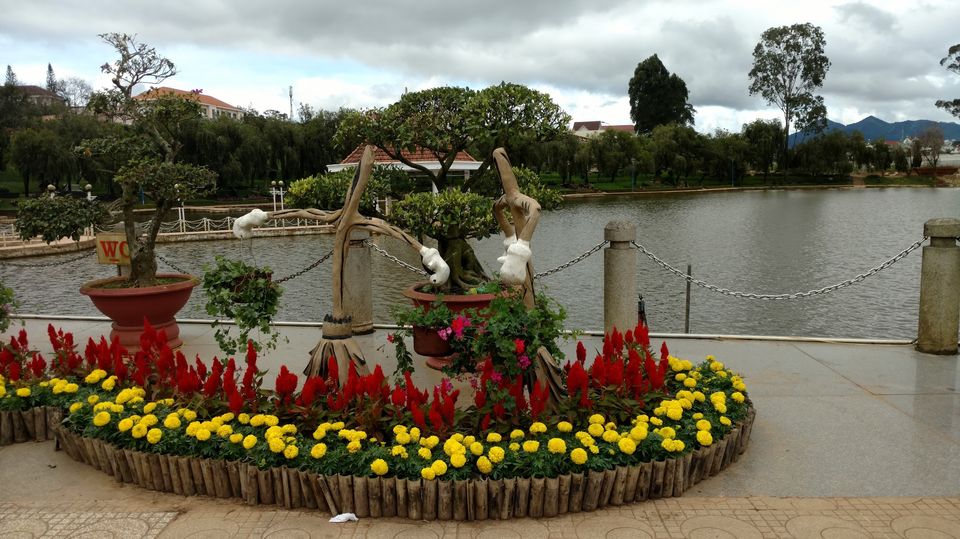 Motorbiking around Dalat with a Vietnam easy rider
What is easy rider?
Easy Rider is a familiar concept in Vietnam. Actually, they're a group of retired people who provide tours of the countryside on their motorbike. Most popular are the day tours of Dalat, but you can also book multi-day tours just tell them your destination and they will plan a great route for a couple of days.
By hiring easy rider you can visit a lot of local places, drive through the most beautiful landscapes and most of all learn things about Vietnam that you wouldn't otherwise.
Where to book an Easy Riders tour?
Well, Easy Rider tours are easily available ha-ha. I booked the half day tour from my hotel, but once you land Dalat you can find lots of companies offering this service or it's best to simply check the reviews on the company's TripAdvisor page.
The highlights of what was included:
- Thien Vien Truc Lam
- The Elephant Waterfall
- Silk Factory
- Pagoda
- Cotton factory
- Weasel coffee farm
- Build friendship with my rider :)
My motorbike journey began with my rider.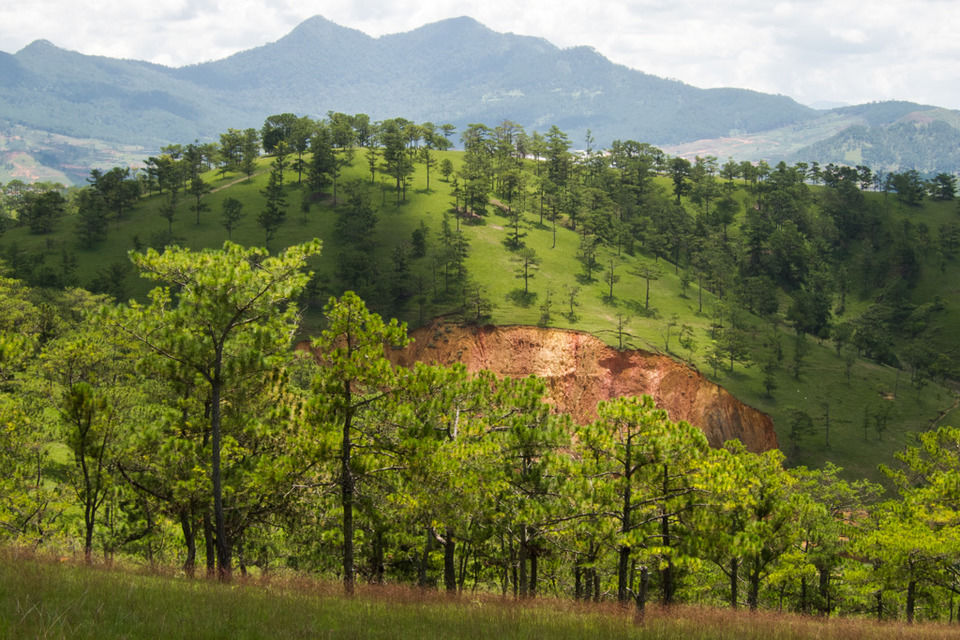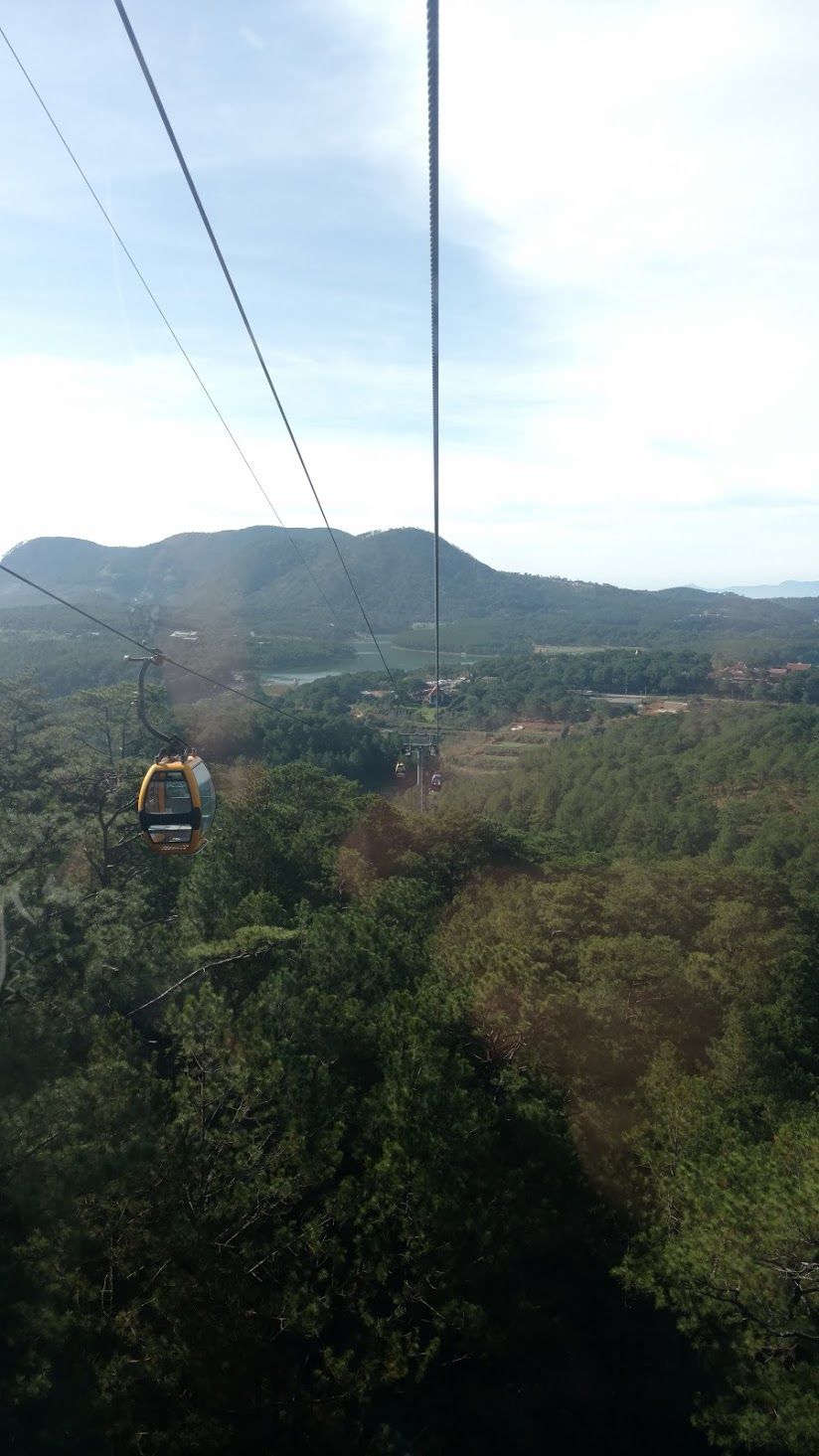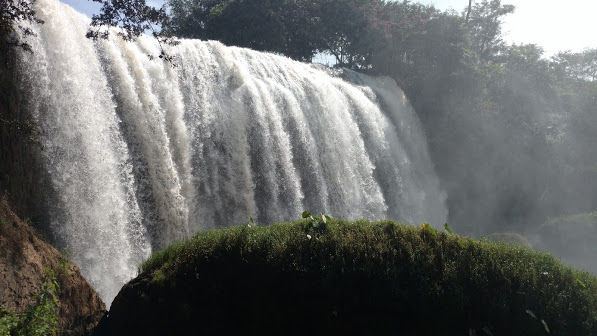 Nha Trang, Vietnam
After an adventurous bike trip in Dalat, I wanted to feel lighter! Nha Trang makes an excellent first impression: warm ocean air, shining sun, and a friendly vibe. Finally, I was ready for a vacation from traveling. In total I spend 1.5 days in exploring Nha Trang.
The Beach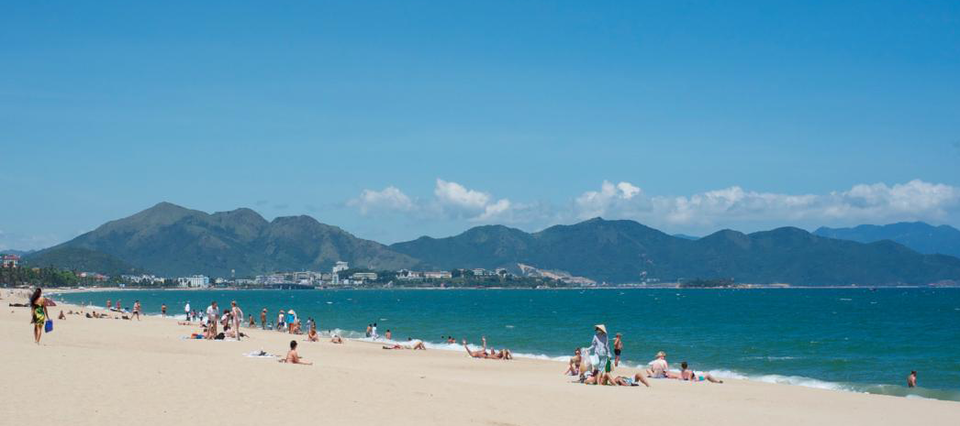 Nha Trang is a coastal city on the South Central Coast of Vietnam. The appeal of Nha Trang for me is it's a "proper" city on the beach with great nightlife.
The promontory of Hon Chong offers a very good view of the mountainous coastline north of Nha Trang and the nearby islands.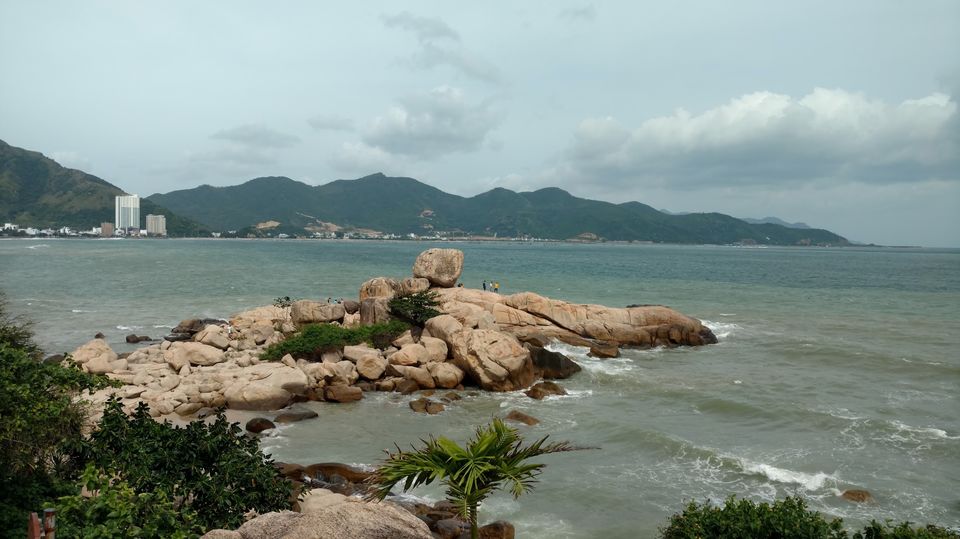 The beach here has a more local flavor than BeachNha Trang. It is less crowded than Nha Trang beach. I enjoyed the peaceful climate here.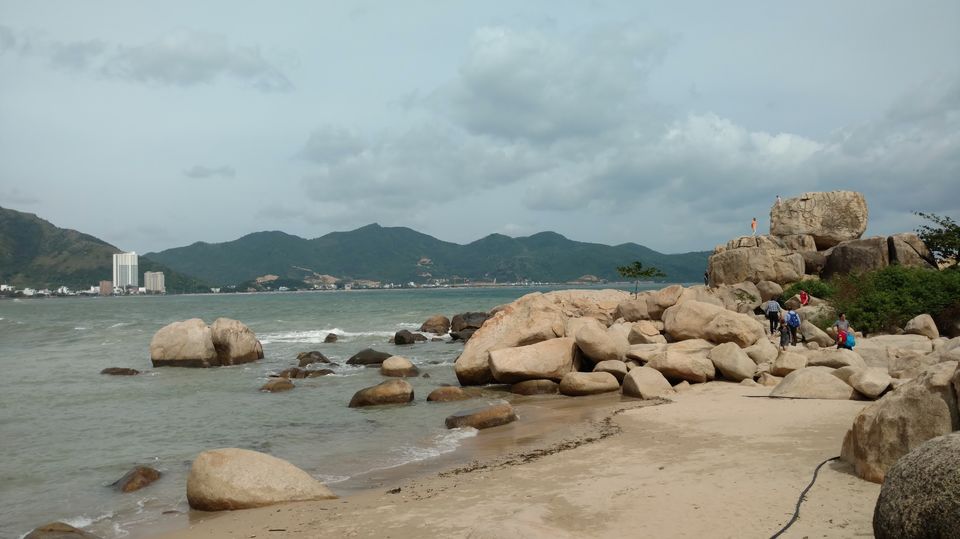 Night Market
After spending peaceful time near the beach I explored Nha trang night market. Nha Trang at night is a mixture of both old and new, this moment is perfect to feel free set their mind totally relaxes. The best part of it is near to beach.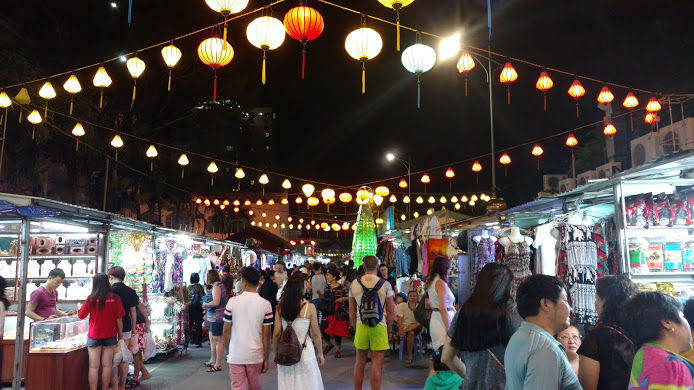 Don't forget to try local food from Nha Trang night food market, it is located in the center area of the Phu Dong Park. You will see hundreds of typical familiar dishes of Vietnam at low prices here. Nha Trang at night market will bring to you a totally different experience you will feel as if you are in a peaceful rural area while still enjoying the gentle breeze and babble of the sea.
Here ends my 1 week journey in Vietnam with lots of memories and learning. Travelling in Vietnam is easy, safe and very cheap.
If planned properly Vietnam has lots to offer in 1-2 weeks :) I loved the vibrant vibe the country offers and it will always have a special place in my heart.
Keep Exploring :)
Frequent Searches Leading To This Page:-
vietnam tour package for couple, vietnam tour package for 5 days, vietnam tour packages for family, vietnam tour packages in india