Want to sleep in a bubble? Just when you thought glamping couldn't get any more Instagrammable, here come the bubble tents. With stargazer-friendly transparent roofs, these "five-million-star hotels" have popped up everywhere—from the isolation of Iceland to the mystical sandstone landscapes of Jordan's Wadi Rum, here are a few best bubble-dome accommodations to check out.
What is a Bubble Hotel?
Bubble hotels are luxury accommodations, offering travellers all the trappings of glamping (high thread-count sheets, memory-foam mattress, climate control), plus the magic of sleeping under the stars.
1. Bubble: The 5 Million Star Hotel (Iceland)
Somewhere in the Icelandic woods, Buubble's bubble tents are heated to guard against the Arctic chill and have ventilation systems that promise to keep the interior climates fresh and dry. You will have to bundle up, however, to reach the bathroom and kitchen facilities, located in a nearby shared house. Since Buubble is technically a tour company and not a hotel, you must book your one-night bubble stay as part of a tour. It offers a Golden Circle Tour (with stops at the Geyser hot spring, Gullfoss, the Secret Lagoon, and Thingvellir National Park) as well as a South Coast Tour (with stops at Seljalandsfoss, Skogafoss, and a black sand beach). Iceland's extreme seasons present enchanting feasts for the eyes all year round. Watch birds and butterflies flutter in the trees and lie beneath the midnight sun in summertime. In winter, the aureola borealis often makes an appearance and paints a magical dancing image on the night sky.
Location: Buubble has two locations within a 90-minute drive from Reykjavik.
2. Bubbletent (Capertree, Australia)
The dramatic Capertree Valley, is the world's second-largest canyon. There's only three dome tents at Bubbletent, each carefully positioned so as not to intrude on the other. All come with a wood-fired hot tub, telescope and either a floating bed, hammock or love swing. Freshen up in the outdoor shower safe in the knowledge that only the valley's 237 bird species might be watching. When night falls, it's time to stargaze from inside the bubble and roast marshmallows next to the fire pit. A complimentary iPad comes installed with themed playlists and a constellation app.
Location: Nestled between Lithgow and Mudgee- 200km NW from Sydney.
3. Dream Domes at Ridgeback Lodge (Kingsten, Canada)
No TV, no phone, no internet—that's the promise at Canada's Ridgeback Lodge, hidden in the New Brunswick wilderness near the Maine border. With front-facing windows, the four romantic Dream Domes, the views face out to the front of the bubble, rather than toward the sky, and replicate a live cinema for admiring the colors of a scenic forest. Each comes with a king-size bed, a kitchenette with French press, a stove for warmth, and a Japanese-style wood-fired hot tub (available upon request for an extra fee).
Location: Located at 86 Old Reach Road on the Kingston Peninsula in New Brunswick, Canada.
4. Full of Stars Hotel at Wadi Rum Night Luxury Camp (Wadi Rum, Jordan)
After a day of exploring the protected desert wilderness of Jordan, stargaze until you drift off to sleep in one of the 11 inflatable bubble tents at the Full of Stars Hotel at the Wadi Rum Night Luxury Camp. Kitted out with king-size beds, the rooms also come with bean bag chairs, air-conditioning, a bathroom with a shower, a private deck, and Jordanian breakfasts and meals (included in the nightly rates). Wake up to views of the sunrise over Wadi Rum's red sandstone peaks.
Location: Wadi RUM , P.O Box. 124, Petra, Jordan, 71810
5. Joshua Tree Remote Desert Stargazing Bubble Airbnb (California, USA)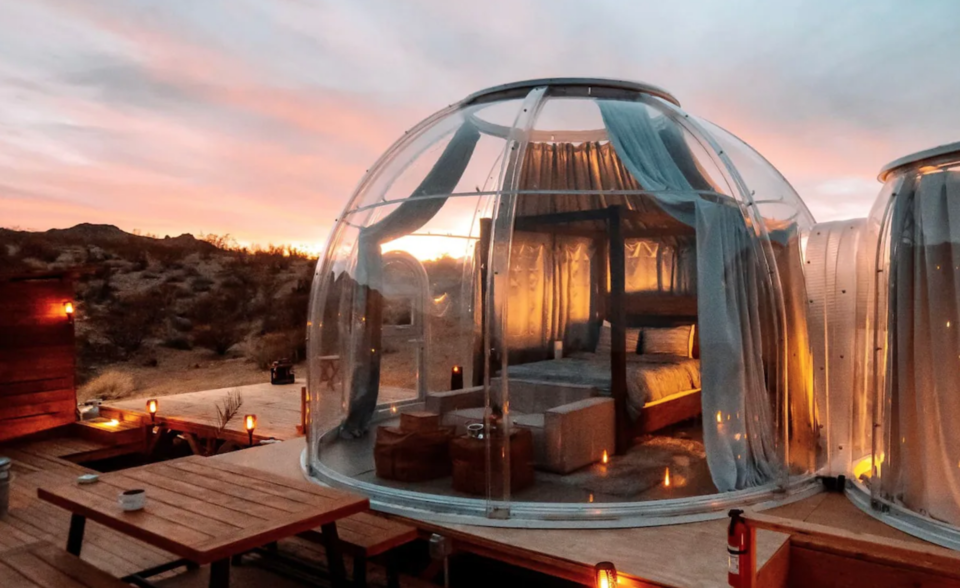 This off-grid bubble Airbnb is one of the best places in the United States to go stargazing thanks to consistently clear and dark skies. Even though you'll have to drive down an unpaved road to get there, this Airbnb is not lacking in amenities. In addition to a queen-size memory foam mattress and a half-bathroom inside the bubble, you'll also find a heated outdoor shower, hot tub, and a barbecue for cooking on the deck outside.
Location: Located roughly 13 miles from Joshua Tree National Park
6. Campera Hotel Burbuja, (Guadaloupe, Mexico)
Campera Hotel Burbuja, a "bubble hotel" with 12 inflatable bubble tents that come with full-sized beds (cloaked in drapes for privacy) and attached private bathrooms. The hotel is miles away from light pollution, which makes for great stargazing. Come morning, revel in sweeping views of the surrounding vineyards and enjoy a meal at the hotel's restaurant Doce by Campera.
Location: Two hours south of the border is Baja California's Valle de Guadalupe wine country.
7. Finn Lough Luxury Hideaway (Northern Ireland, United Kingdom)
Wake up in a four-poster bed, pop in a Nespresso pod, and settle into an antique armchair to drink your morning coffee inside a stylish Forest Dome at Finn Lough resort. Guests here can spend the day hiking or fishing for pike in the Erne, then wind down with sundowner drinks by the lake, accompanied by roast-your-own s'mores and bowls of the resort's house-made fancy popcorn (garlic-thyme, lemon-sesame, or mango-maple, depending on the season). Come bedtime, retire to your bubble for 180-degree sky views, best enjoyed while wearing the cozy bathrobe provided.
Location: Located among the trees on a secluded lakeside peninsula in Enniskillen, Northern Ireland, United Kingdom.
For sure there are more bubble accommodations popping up anywhere in the world! Did we include your favourite? Are you keen on staying in? Let us know in the comments below!
For more travel stories and information follow me on Instagram @tan_s07.
Ready to travel for free? Earn credits and redeem them on Tripoto's weekend getaways, hotel stays and vacation packages after the pandemic is over!