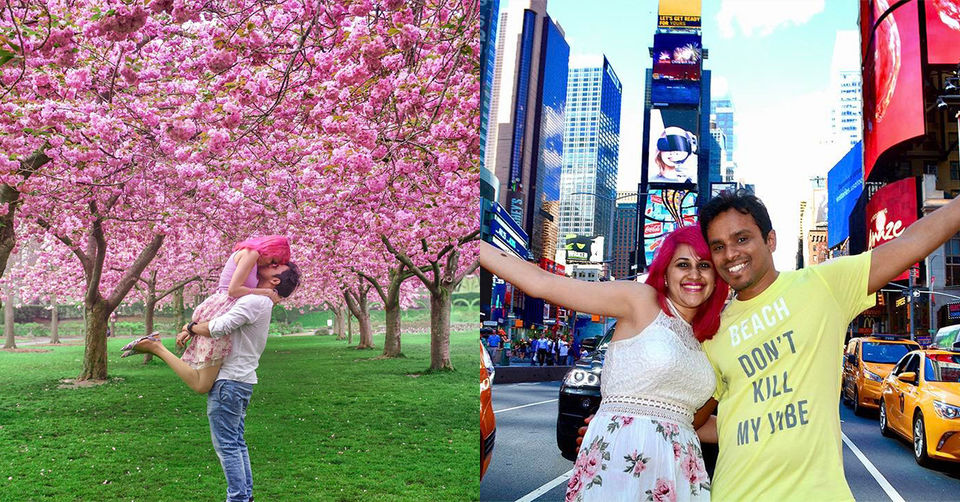 In yet another tragic case of selfie deaths, an Indian travel blogger couple recently fell to their death in California's Yosemite National Park. According to a report by NDTV, Meenakshi Moorthy and Vishnu Viswanath fell off Taft Point, plummeting into a 800-feet gorge while trying to take the perfect picture from the popular tourist spot. Several eyewitnesses have claimed that they saw the couple set up their tripods near the edge of the cliff. It was only after an unattended tripod and camera was found on the spot that the authorities started a helicopter search. Meenakshi and Vishnu's bodies were found on Monday, 29 October 2018.
Meenakshi (30) and Vishnu (29) ran a travel blog named 'Holidays and Happily Ever Afters' and were known for their inspirational travel content on Instagram as well. Both Moorthy and Viswanath were born in India but had been living in United States for the last few years. The couple had been married since 2014 and aspired to be full-time travel bloggers.
Ever since the unfortunate news broke out, Meenakshi and Vishnu's followers have been taking to Instagram to express grief. Here's a quick glimpse of the deceased couple's life and times:
In an age when travellers are willing to push the limits for that one perfect shot, cases of selfie deaths continue to come up at an unprecedented rate. According to NDTV's report, authorities in the Yosemite National Park have admitted that out of the 10 deaths in the park premises in 2018, 6 of the visitors fell to their deaths. These alarming figures prove that it is extremely important for all of us to realise the importance of human life. While a great picture might get you a lot of likes and gain you a bunch of followers, it will never be worth a life.