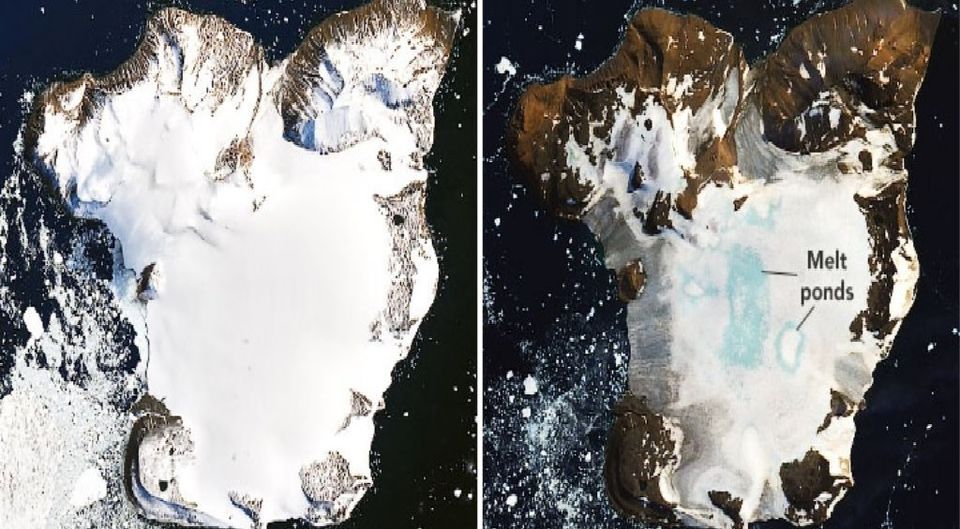 Global warming once again makes its presence known in a scary fashion. Between February 5 and 13, a heatwave across Antarctica raised the maximum temperature to 18.3°C (64.9°F). This is the hottest the icy continent has ever been. NASA has now released images of melting ponds showing the extensive ice melt caused by the heatwave.
It's turning green!
NASA's Landsat 8 satellite captured the before-and-after snapshots of Eagle island, a landmass at the tip of the Antarctic Peninsula. The image exposes the rapid greening of this Island over the course of nine days. Global warming has already increased moss growth at sites across the Antarctic Peninsula and this process of Antarctica turning green is only progressing with every day. Eagle island is about 40 kilometers from Esperanza Base, where the record-breaking temperature was recorded.
Measuring the damage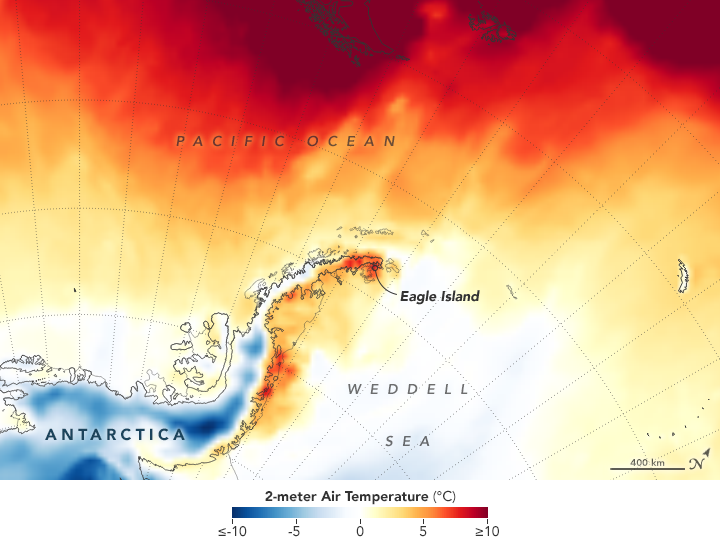 The persisting warm temperatures resulted in ice caps melting quickly and forming melting ponds. The melted ice pools cover an area of more than one square kilometer, as shown in the image. The heatwave melted about four inches of snow, a quarter of which melted on February 6, the day with the highest temperature. NASA estimates that this single heatwave caused the melting of about 20 percent of the region's entire seasonal snow accumulation.
According to reports, Mauri Pelto, a glaciologist at Nichols College who has been studying the heatwave commented that melting ponds don't usually appear so quickly. He added that these kinds of melt events are common in Alaska and Greenland, but not in Antarctica.
The future does not look bright
Scientists are linking the high intensity of this year's heatwave with atypical weather patterns off the coast of South America. At its hottest, Antarctica recorded temperatures even higher than those in Orlando, Florida. Scientists further warn that this may soon become a more frequent occurrence due to the impacts of human-driven climate change.
What do you think of this story? Write about it on Tripoto and help the traveller community discover something new.
Craving for surreal travel videos? Try Tripoto on Youtube!