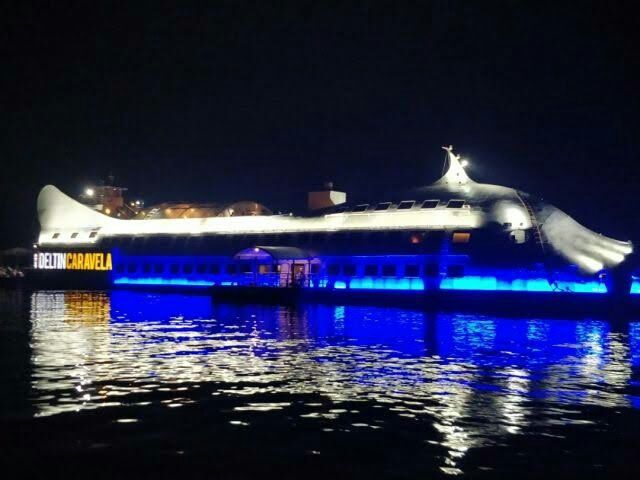 If somebody go to Goa and don't visit Casino, then the trip really remains incomplete.
As it's Goa where we find many options to visit Casino's at a single place and enjoy at full.
Location:
All Casino's are situated at Mandovi rever in Panjim.
Details about Casino's:
There are about 5-6 casino's like Deltin Royal, Big Daddy, Casino Pride 2, Deltin Joak, Deltin Caravel and all are having there receptions in a single line only near Mandovi rever.
All are having different charges system , like at Deltin Royal the charges are about :
RS. 3500 per person and for women it's Rs.3000.
At Big Daddy:
RS.2500 per person (Man) and Rs. 2000 per women and don't have any charge for kids, but gives only 1500 chips against Rs.2500 and 1000 against Rs.2000.
At Deltin Caravel:
RS.4000/couple and Rs. 1000/kids (above 4 years) , but they gives you chips of costing RS.4000.
In other way they charge RS.2500/man and Rs.2000/women and kids have the same charges
We opt for Deltin Caravel , as more chips , more entertainment would be there in playing.
Inclusion in the Charges:
Drinks - those who drinks, must go to visit Casino , as they would be getting unlimited drinks and that also of a very good quality brand.
Snacks - of very good quality with quality.
Dinner - a good quality dinner (buffet) with lots of entertainment like songs/dancing.
Dress Code :
Please be noted that they have a dress code, specially for Men's. To get the entry in the Casino, apart from paying their charges , Men's should wear formal/casual dress like jeans/pents/denim etc , but not allowed in shorts /caps/sleepers.
As , I was not aware of the same, so I had to go to my hotel back to change the dress.
Timings:
Evening 7:30 PM to late night 1.00 Am.
I ensure you that the time will pass very quickly.
What is Chips :
Chips are basically a round shaped token only , which is equivalent to Rs.500 (1 chips =RS.500) , in case of Deltin Caravel , and they gives you about 8 chips , which means you have RS.4000 to play.
Chips cannot be encashed and has to be played , else the same would be a waste only and the money you win by playing the games by betting through the chips, can be encashed.
How to play at Casino :
In case of Deltin Caravel, they gives you 8 chips of Rs.500 each and there are different games to play in Casino.
For Chips holder , only one game is there , where you can bet with Rs.500 only (means 1 chip) and in all other games , you have to bet minimum of Rs.1000 (means 2 chips).
In case you win , you get the same amount in return, for example you played with 2 chips (1000),now you get Rs. 1000 ,which could be encashed, that means you get Rs. 1000 in your hand ,where as in the chips cannot be encashed.
Though if you start playing with cash, then the winning amount is just double , i.e., if you bet with Rs. 1000 , you get Rs. 2000 on win.
There are different games likes Ander -Bahar (a Card game - a good and interesting and a simple game, chances are more to win), number game by rotating a wheel (simple game and probability to win is more) and lot of other games are also there.
Kids :
For kids there is a separate room , where they can play and enjoy and have sleeping arrangements also , so if your kid want to sleep after playing then there are good kid's beds also.
Kids are not allowed to enter the Casino area and mom can visit them time to time as per their convenience.
Dinner :
A good quality dinner would be there at 9:30 PM along with songs/dance performances and you can enjoy your drinks at dinner area also.
At 1 PM:
At the end , you must be worrying about to reach back to hotel in late night, so need not to worry , as GOA don't sleep there and lot of autos and taxis could be available outside the Casino at Mandovi rever road side.
As I go with my family there , with my 2 kids, we enjoyed a lot there and won Rs.1500 also and as we're there to enjoy only , so we didn't play anything in cash and whatever we won we took it back with us and that should be the only spirit if we go there, else the experience could be of any side.
Happy travel.