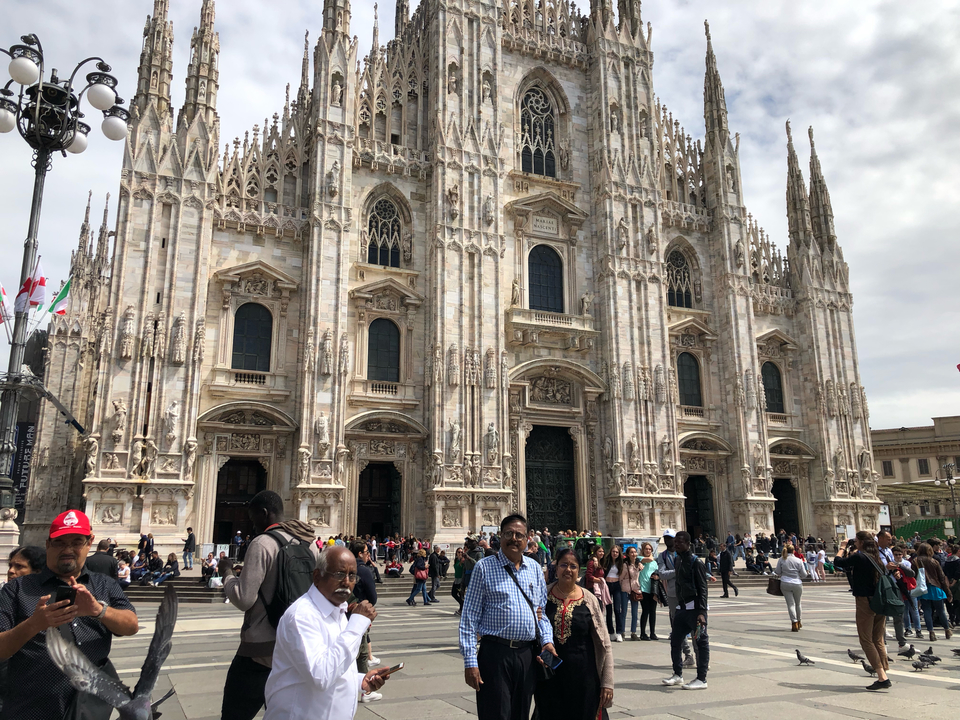 Ever since I visited Switzerland 9 years ago I had always wanted to see the rest of Europe.....I fell in love with Switzerland. Thanks to my husband and my children who made it happen....the trip was too good, too good to be true. I did a thorough research on the places and attractions and also on the various travel companies. Soman's Leisure tours offered what we wanted at an affordable rate that would fit our budget. Our Schengen visa, documentation, Sim card for Europe, Forex ... everything was well taken care of. Our trip was worth every penny we spent and worth in terms of the memories we brought back home.
The peak travel season in Europe is from June to August, I learnt and hence we booked our 'Hightlights of Europe' package for 4th May 2019.
Mr. Hariprasad was our tour leader from Soman's. There were 43 of us all of who became like family members by the end of the tour.
Our tour leader Hari Prasad (second from right) with hubby and co travellers
Our tour group
It was indeed a fast paced trip which I didn't mind as I love to see the maximum number of places possible in minimum time. In each city the local guides did a wonderful job of explaining the history and tourist attractions of the place.
To define Soman's it was affordable and comfortable.
These moments will stay with me forever as fond memories.
We enjoyed the beauty of the landscapes that was fleeting
past our window as we drove. Each place that we visited
was unique and has stolen a piece of my heart.
We took off from Cochin Int'l Airport on May 4th morning to Paris, France via Muscat....that was the start of what was going to be an incredible journey....
Landing in Muscat was like home coming. It was here that we spent a major part of our life, it was here that our children grew up, this was our home for 30 years. The new airport was under construction when we left Oman.
At Muscat International Airport
Our Oman Air flight landed in Paris, the city of love @ 7.40 PM. It looked like 4 PM in India. The sun sets after 9 PM. We had dinner at an Indian restaurant and drove to our Hotel Mercure where we retired for the day.
Our tour leader gave us our time table of 6 - 7 - 8 for the next eleven days. ie wake up call at 6, breakfast at 7 and we should be out by 8 for sight seeing.
Hotel Mercure
We started with a city tour of Paris the next day.
Our bus for the next 11 days and our driver Mr. Tom
was waiting for us.
Smiling Tom
Our first stop was the Arc de Triomphe
Arc de Triomphe
Our tour leader briefed us about notorious pick pockets and
we did observe some of them who tried to be friendly with
tour groups and rob them.
Our local guide Mr. Senthil explained that The Arc de Triomphe is one of the most famous monuments of Paris. It stands at the western end of Champs-Elysées. Twelve avenues meet at this junction we were told
by our guide.
Mr. Senthil , our tour guide in Paris
The Arc de Triomphe honours those who fought and died
for France.
Hubby with fellow travellers at the Arc de Triomphe
Beneath it is the tomb of the unknown soldier from world war 1. There's an eternal flame that burns in memory of the unidentified soldiers who laid down their lives for the country.
Remembered India Gate in Delhi.
We then drove through the Champs Elysses, a high end street, to Concorde square which was our next stop.
The perspective of Arc de Triomphe from concorde square through the
Champ Elysses is beautiful.
View of Arc de Triumphe from Concord square
It was here that public beheadings were done during the
French Revolution including that of Queen Marie Antoinette and King Louis XVI.
The fountain at the Concord Square
At the centre of the square is a 3000 year old obelisk gifted by Egypt.
The Obelisk at the centre of the concord Square
We then drove past the Alexander III Bridge and reached the
Invalides.
Invalides
The gold leaf covered dome at Invalides
Invalides
Church dome with the gold leaf coverings
Next we had a photo stop at the Louvre Museum which is located on the right bank of river Siene.
At Louvre
The Louvre Pyramid
After a local lunch we proceeded to see the icon of Paris, the Eiffel Tower...This iron tower is named after the engineer Gustave Eiffel who designed and built it. The top of the tower can be seen from all over Paris.
It's the most visited paid monument of the world. It has three levels and can be ascended either by lift or stairs. We took the lift and it was indeed a spectacular ascent. There are restaurants in the first two levels. The view of the city from the 3rd level is breath taking. It's very windy and cold on the top and we need to be appropriately clothed to beat the weather on top.
View from the top of Eiffel Tower
The tall tower seen in the above picture is Tour Monteparnasse which is located right in the middle of the city centre and one can get a beautiful view of the city of Paris including the Eiffel Tower from its observatory deck. Sadly we missed it due to lack of time.
View of Paris city from level 3 of the Eiffel Tower
The main attraction on the top floor is Gustave's office with the life size wax models of Gustave and his daughter Claire welcoming Thomas Edison.
Mr Gustave with Mr Edison
Mr Gustave's daughter Ms Claire
There is also a champagne bar at the top.
Next we did a Sienna River cruise. I feel it's a must do on a visit to Paris. There are several companies that provide tours down the river Siene. We cruised on a double decker boat which was booked by our tour agent. Since it was very cold on top my husband and myself chose to remain on the first level. There was also washroom facility in the boat.The journey was indeed spectacular.
Down the river Siene
Cruise through the |river Siene
River Siene
Our city tour included the Opera, Place de Vendome a high end square with jewellery shops, restaurants etc. The Ritz Hotel where Princess Diana had her last dinner is at Vendome Square.
The historic Vendome column
In front of Ritz Hotel
Vendome Square
Petit Palace
Opera
Opera
Our city tour ended with an Illumination tour of Paris at dusk. The Eiffel tower is beautifully lit up and for a few minutes it sparkles......every night.
You need at least 3 to 4 days to see all of Paris. Ours was a packaged tour and hence we covered only the most important spots which could be covered in a day.
The Eiffel Tower at night
The Eiffel Tower sparkles for a few minutes at night
.......The journey continues to Belgium, Luxemburg, Germany, Switzerland, Leicheinstein, Austria, Italy and the Vatican.
Drive through the country side - France to Belgium
Stay tuned......
Frequent Searches Leading To This Page:-
complete europe tour package, whole europe tour package, cheap holidays in europe, best europe trip packages, best europe holiday packages, europe bus tours packages, europe tour itinerary from india