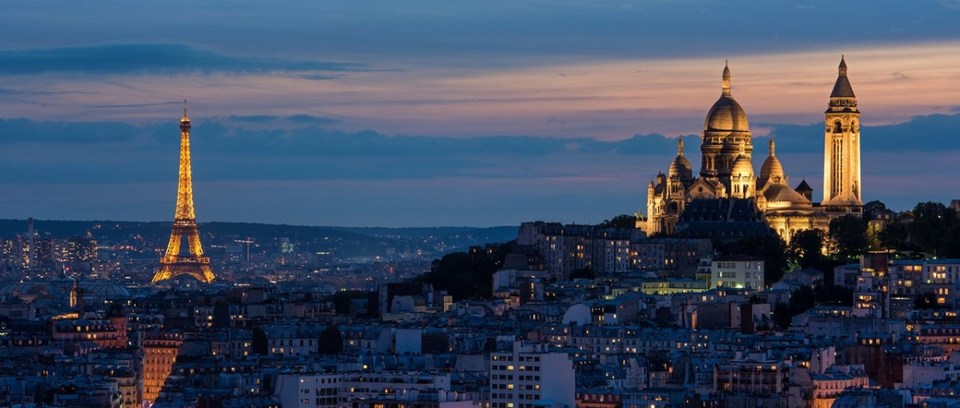 Paris, the city of love and considered to be one of the romantic city in the world. This was my favorite choice of city to visit in our tour. On 30th September we drove from our hotel in London to Faulkstone, we had got our tickets to Le Shuttle, which would cross the English Channel through an underwater tunnel called Eurotunnel. That was a 35mins journey in train to cross the border of UK and enter France. We had to pass all types of checks and immigration as well before we board the train. This shuttle takes 4-wheelers, 2-wheelers, buses inside it and help them to cross the country. Its also a good way to import/export goods between UK & France. As soon as we left the station, the train enters the tunnel and we cannot see anything outside. But we could get down from our bus, roam inside train and we clicked few pictures too. Take a look of Le Shuttle below.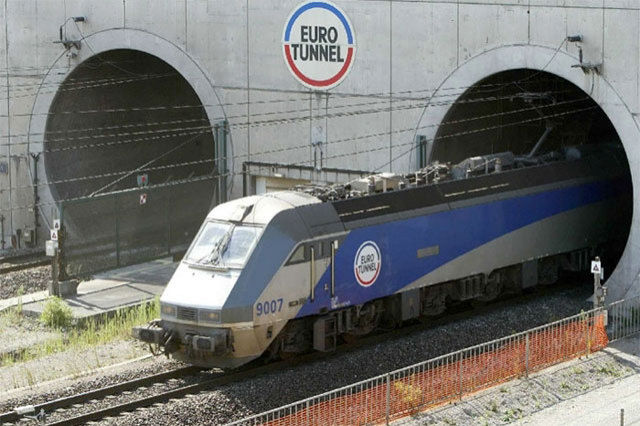 We had entered France and got down in a station called Calais. We changed our bus here, which was a long distance coach and drove towards Paris. It was around 290km of drive through country side which was so nice with so much of greenary to see in the surroundings. Highways were broad, roads were smooth and plain without any speed brakers and we reached Paris by 6pm in the evening.
The same evening we had to do our City tour as well. We met our local English speaking guide there and started our city tour with Arc de Triomphe. So far, we were 18 people and other 25 people joined us as part of Thomas Cook group who were there till the end of the tour.
This is a triumphal arch commissioned by Napolean which indicates his victory at Austerlitz. Beneath the arch, there is a tomb of unknown soldier and everyday by 6.30pm, its flame is relighted. To its west is the Champs Elysees and to its east is the Place of Concorde. Its built in a circular way from which 12 grand avenues radiate, forming a star.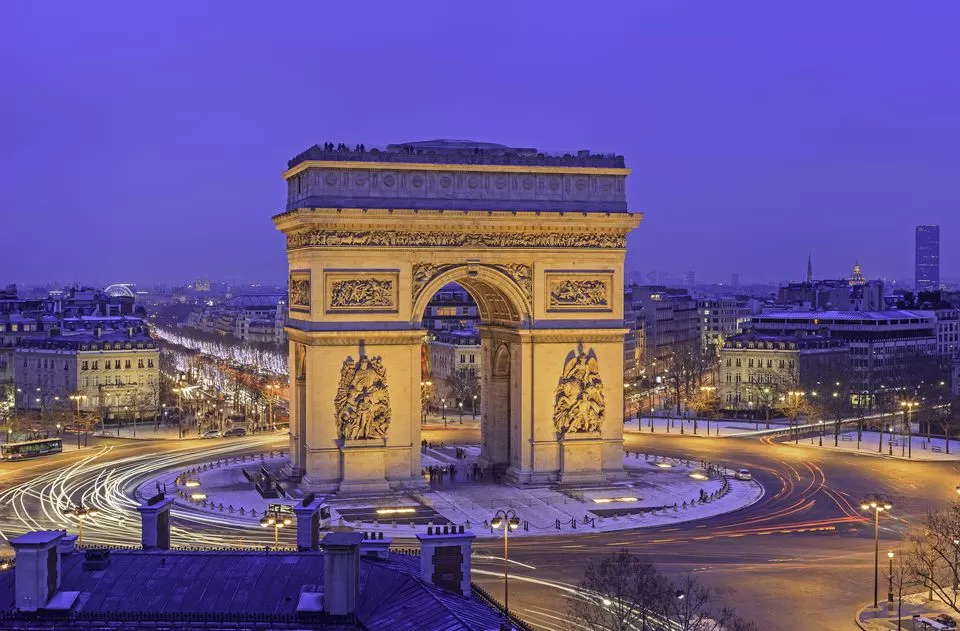 The Place de la Concorde is between the Tuileries Gardens and the Champs Elysees. The 8 female statues adorning the 4 corners of the square represent France's largest cities. We passed by this square.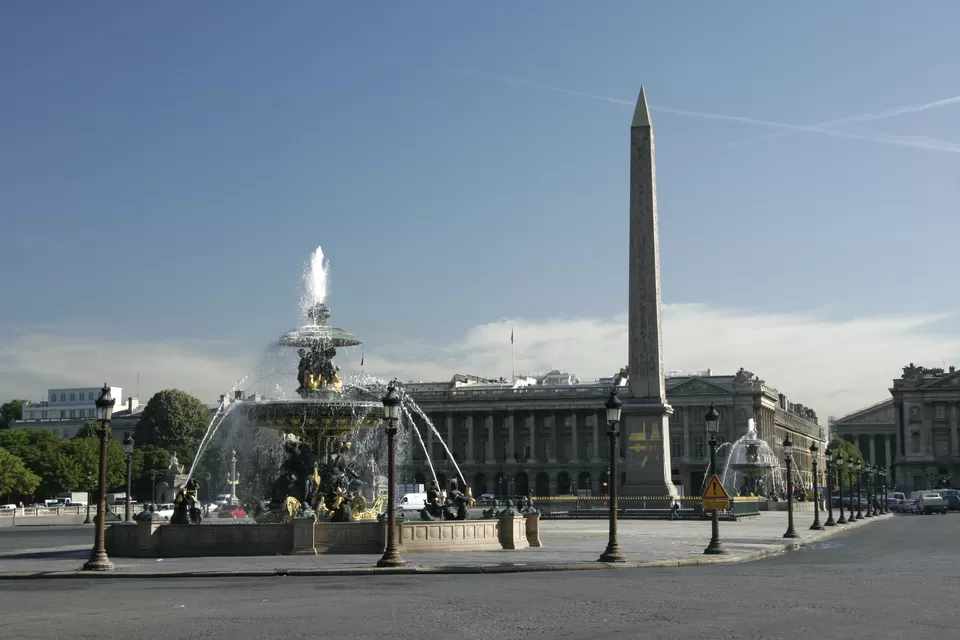 Later we drove in front of Opera House but didn't get a chance to see inside of it as we were running out of time. This magnificent building is the largest opera house in Europe, with a capacity of more than 2000 people. It is also the setting for a number of films and novels, including the Phantom of the Opera!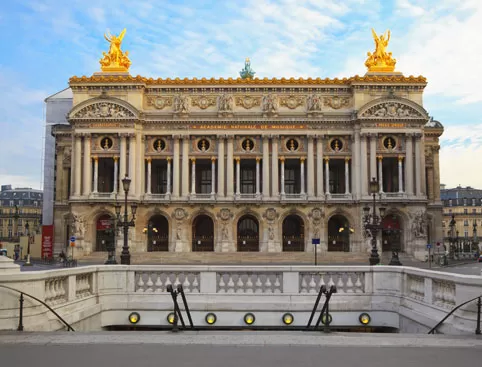 The complex of buildings known as Les Invalides. It consists of museums and monuments related to the military history of France. The most recognizable and well-known part of Les Invalides is the Dôme des Invalides, a gold-domed building now used as a burial site for a number of the country's soldiers.
Napoleon Bonaparte, whose last wish was to be buried at the banks of the Seine River, died on the island of St. Helena and was buried there until King Louis-Philippe decided to have his body exhumed and returned to Paris in 1840. He chose to have him entombed at Les Invalides.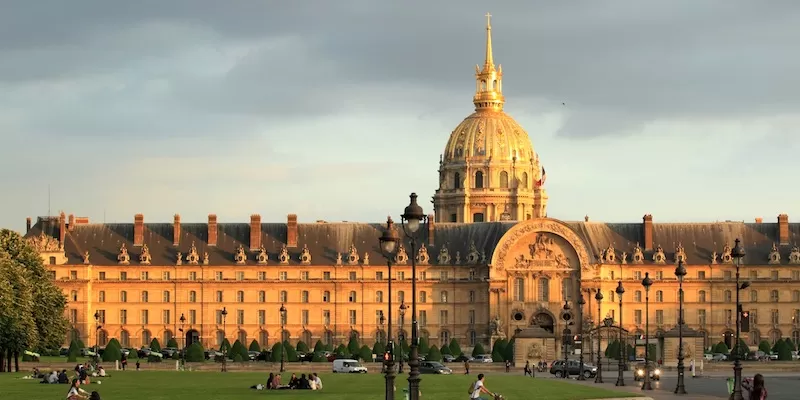 It's a a royal palace, the Louvre became a public museum at the end of the 18th century. It is located in the heart of Paris. There are about 35,000 objects on display in this museum, but the most famous is Leonardo DaVinci's painting of Monalisa. Unfortunately, we could not go inside and see the painting. It is the largest art museum in the world. The information was given by our Tour Manager.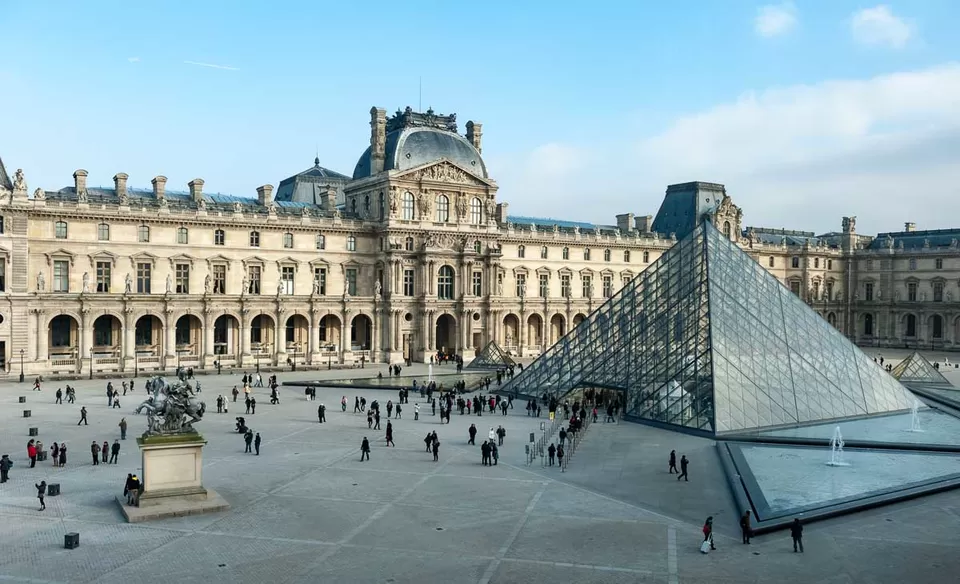 All the above places were just seen from the windows of our bus. As it was a Saturday night, traffic kept increasing inside the city and we also got a glimpse of Eiffel Tower from a distance and we stepped into an Indian restaurant - Welcome India for dinner. Later, we drove to our hotel - Suite Novotel which was bit outside from city. Checked into the hotel and had a good sound sleep as the day was spent most in journey.
On 1st October, it was a cloudy and windy day with little bit of rain as well. The day was planned to spend in Disneyland and followed by visit to Eiffel Tower. We started around 8.30am, which was an hour drive to Disneyland. A fun filled day ahead, I was so excited and waiting for this highlight of the tour. Yes, we arrived there by 9.30am, crowd was not yet started and we all immediately hit the entrance gates. By this time, there was still more cold breeze which was chilling.
I had watched most of the disney characters in my childhood days and I liked them a lot. Mickey Mouse is my favorite character. Disneyland in Paris has 2 parks in it - Walt Disney Studios & Disneyland Park. Its a spectacular experience to be here, everything looks so colorful and lively. We opted to go for Walt Disney Studios that consisted of movie making, rides and a theme park. Our whole group was dispersed between the 2 parks as per their choices.
The park is in outskirts of Paris and in a open space which will make you feel more colder than in city. We walked through an eatery area and stepped into ride area. There were lot of big queues and crowd which was expected on a Sunday morning. But still we did only one small ride after waiting for an hour in the queue.
We were given packed lunch boxes for the day for each individual. Carrying that everywhere and waiting in queues was next to impossible. So we searched some sitting area and finished our lunch. It was too windy that we couldn't have our lunch properly as the food was also cold. Though it was tasty, we couldn't enjoy it. In the mean time, it started raining, 2 of the attractions were closed on that day.
Later, we went to 2 themed live attractions where public were involved in interactions and Disney characters came on stage & performed a live skit. That was so nice to see the performance. Rain still continued and we were under a shelter for some time and went inside shops to buy souvenirs and I also purchased a Mickey soft toy as a mark of remembrance of Disneyland.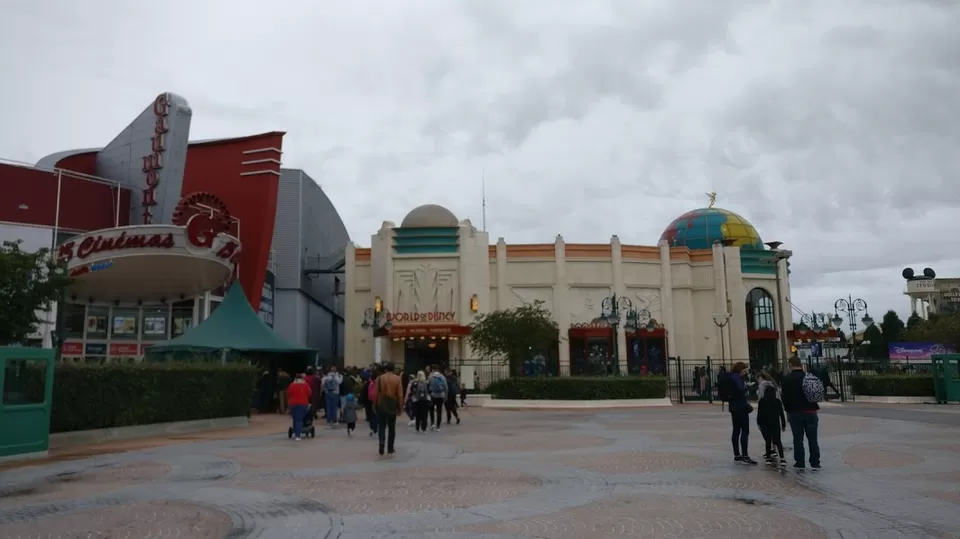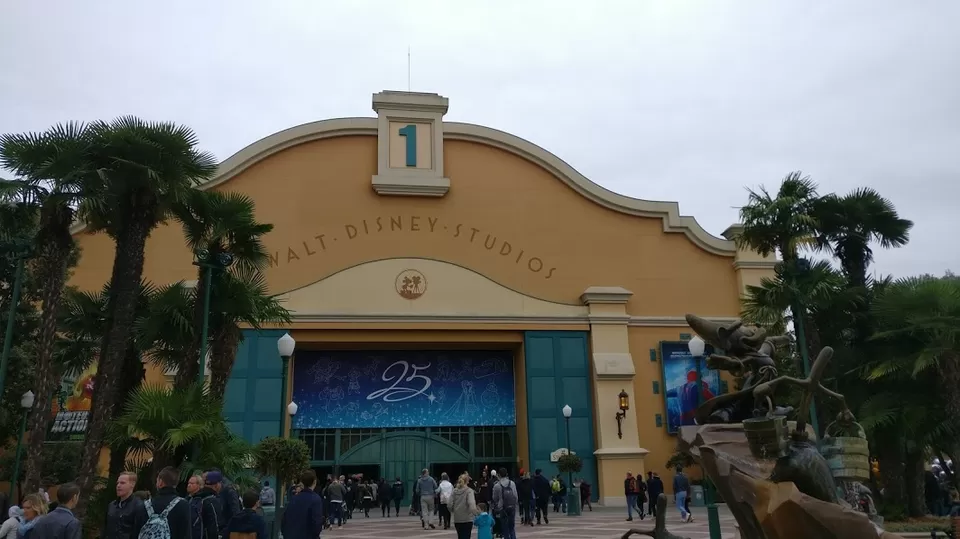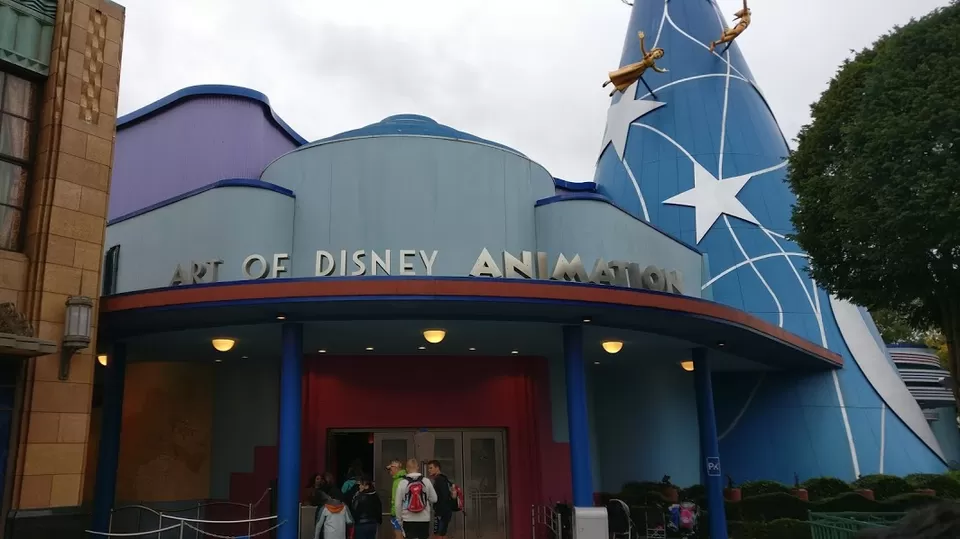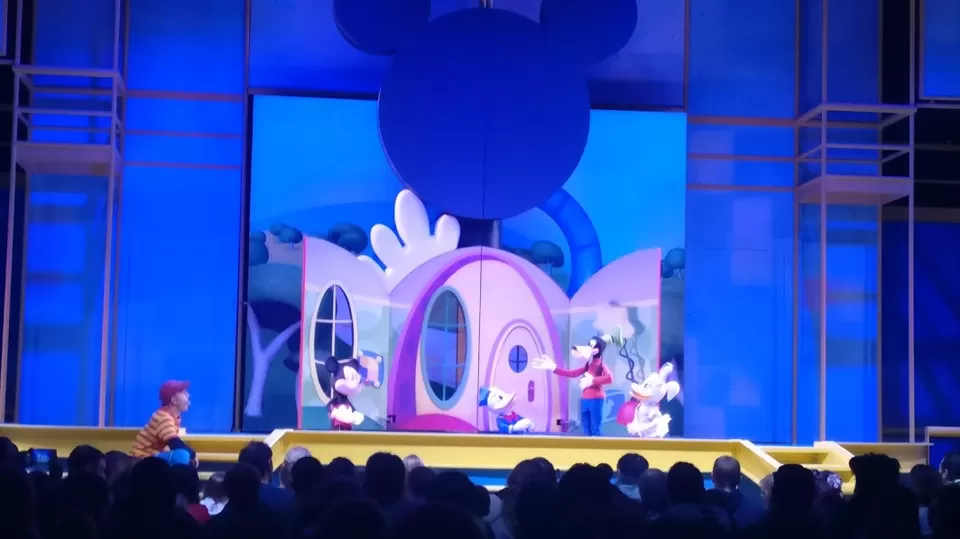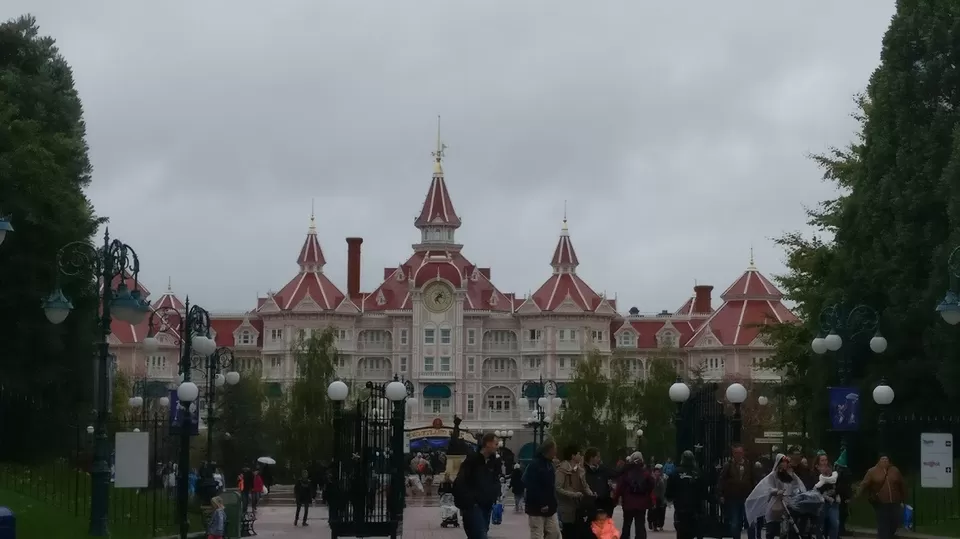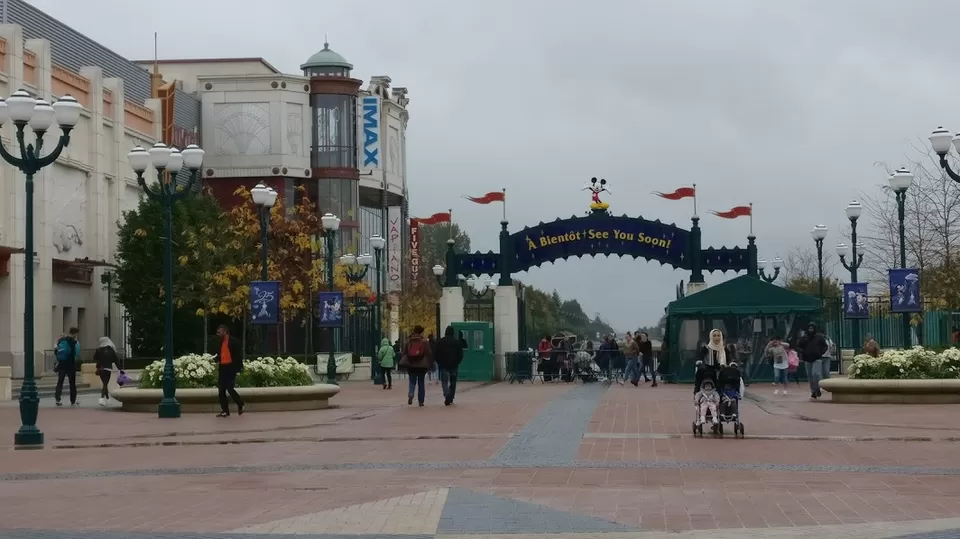 By 4pm, we were out of Disneyland and had to drive back to City & the evening was planned to visit Eiffel Tower. Again it was 1.5hrs of drive to city, in the mean time we all got a chance to introduce ourselves in the bus and there were few families from South India, Bangalore as well. By this day, we all were known to each other and it felt like a big family lead by our Tour Manager. People sang old songs while on way back to City which were melodious.
In the city center, from a distance also we can see the Eiffel tower and it was time to see the beauty of it in front of my eyes. Our bus was parked in the backside and we had to walk for around 500m and enter the tower. There were security checks before we enter the lift. Public are allowed to go till second level. There is a restaurant at the tip of tower and it has separate entry tickets. Through lift we all reached the second level of this beautiful Eiffel tower. It was so windy there.
It has amazing 360 degree view of the Paris city, we could see the Seine river which divides the city into 2 parts. Few telescopes are placed in that level to view the far buildings, every angle of the view is worth taking pictures. There is also access to one level down which we can go by stairs. But the upper view is just awesome, worth visiting the tower. We spent few minutes, clicked lots of pictures and we came down through the same lift.
It was getting dark by the time we came down. We had hot coffee in a small cafe in front of the tower itself. I just couldn't take eyes off it. I looked at it from its head to toe, which is made of wrought iron but doesn't look like that when its viewed from far. It was like my dream come true to stand in front of this stunning beauty. By now, illumination was on. This added to its beauty. Both the views were excellent. I just stood in front of it for few minutes and enjoyed it completely. Everyday at 8pm, shimmering lights will be on for 8mins and we waited specially for that to see it. This was ultimate and it made my day. Have a look at this mesmerizing monument below.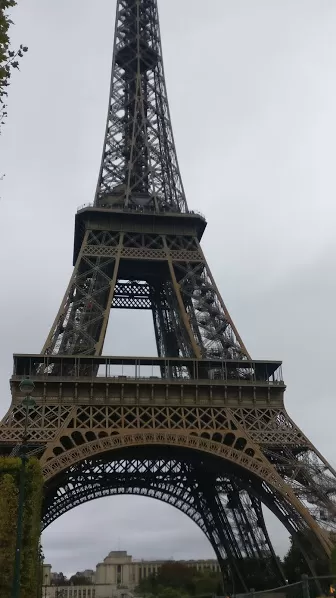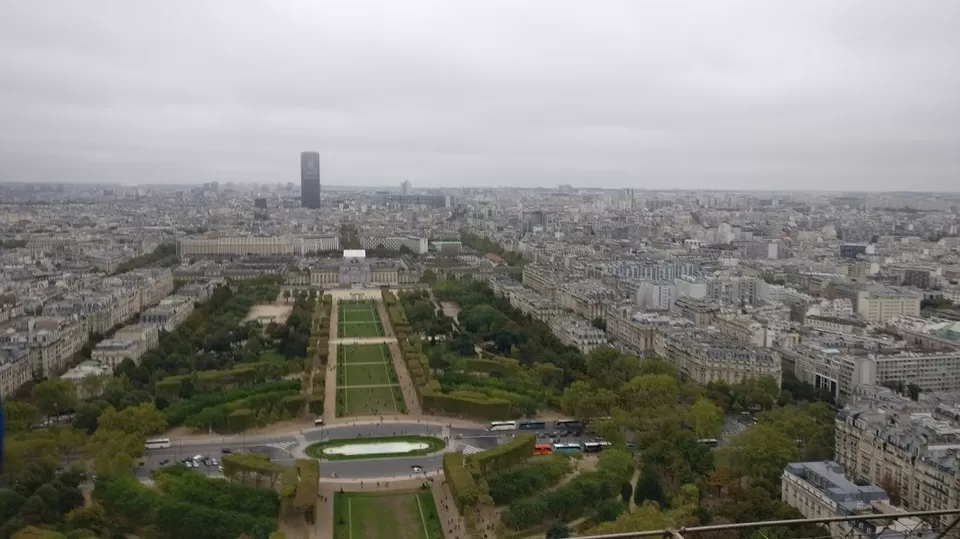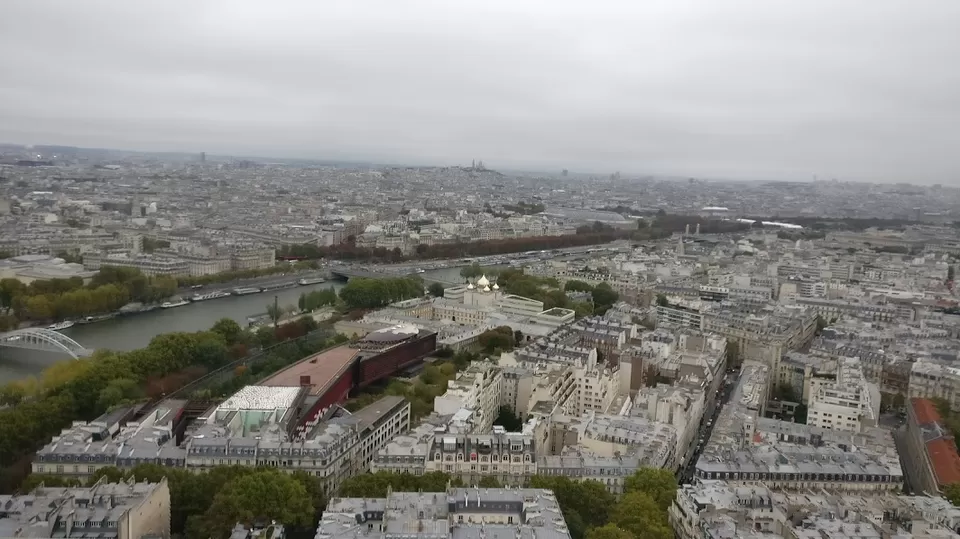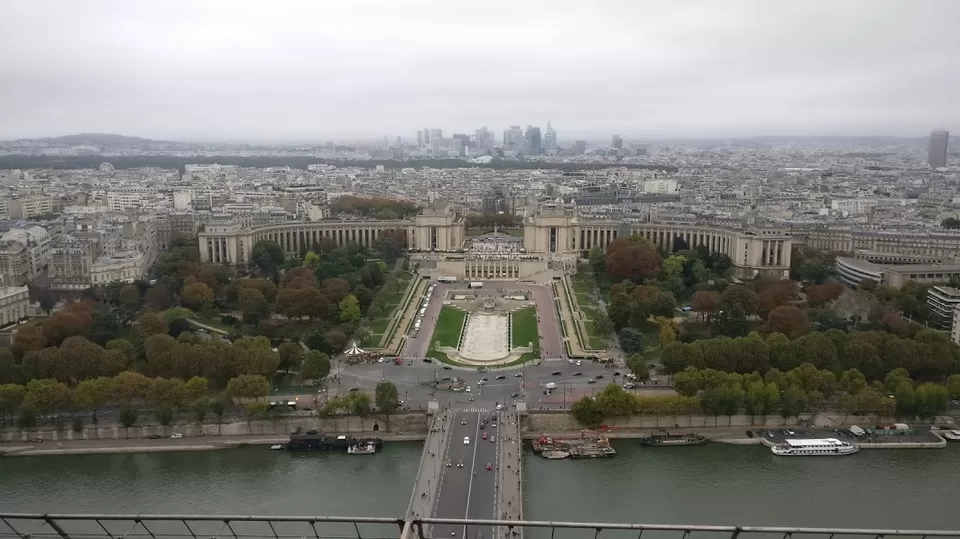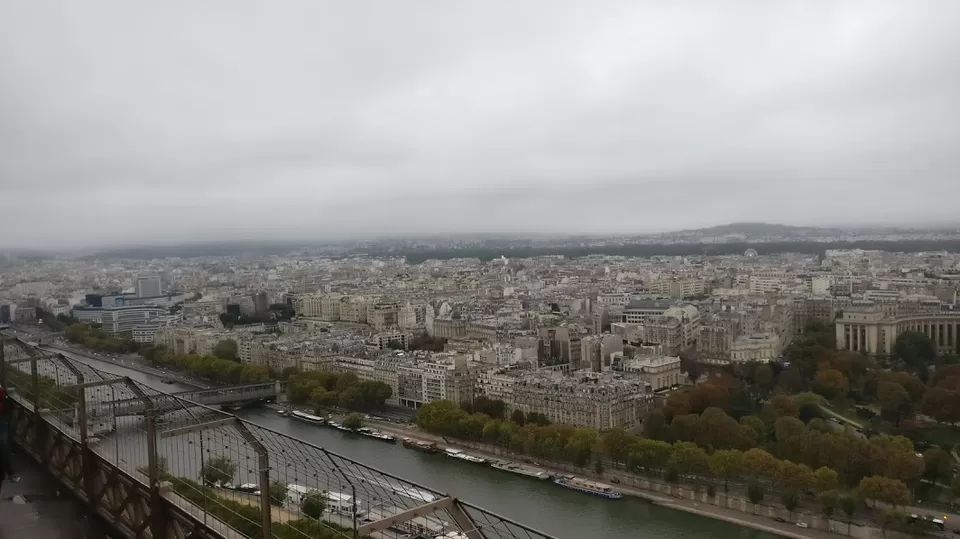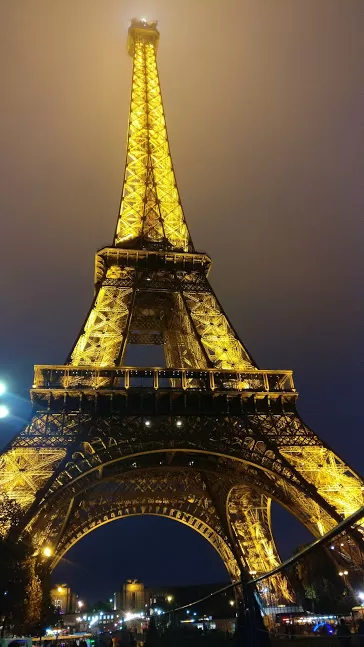 Just to give a small background for Eiffel Tower, it was the main exhibit of the Paris Exposition or World's Fair in 1889. It was constructed to indicate the 100th year of the French Revolution and to demonstrate France's industrial power to the world. It was designed by Gustave Eiffel, a French Civil Engineer.Although at the beginning it was seen as 'the ugliest building in Paris,' soon it became the symbol of the city. It took just two years, two months and five days to build the Eiffel Tower. Construction work began in January 1887 and was finished on 31 March 1889. The tower is composed of puddling iron. Total 7,000 metric tons of puddling iron, which were the precursor to construction steel, was used. A fresh coat of lead-free brown paint is applied to Paris' Eiffel Tower once in every seven years, every crevice, nut, bolt and beam is re-painted by hand.
Later, we headed to an Indian restaurant - Bhojan for dinner which was tasty and pretty good hotel and we drove back to hotel and next day we had to checkout the hotel. It was last day in Paris. It was a short & sweet visit to Paris where we couldn't see all places in detail. There were lot more other places also to see in Paris, which were not included in our tour. I'll definitely try to make a visit again & would like to see the left over places too.