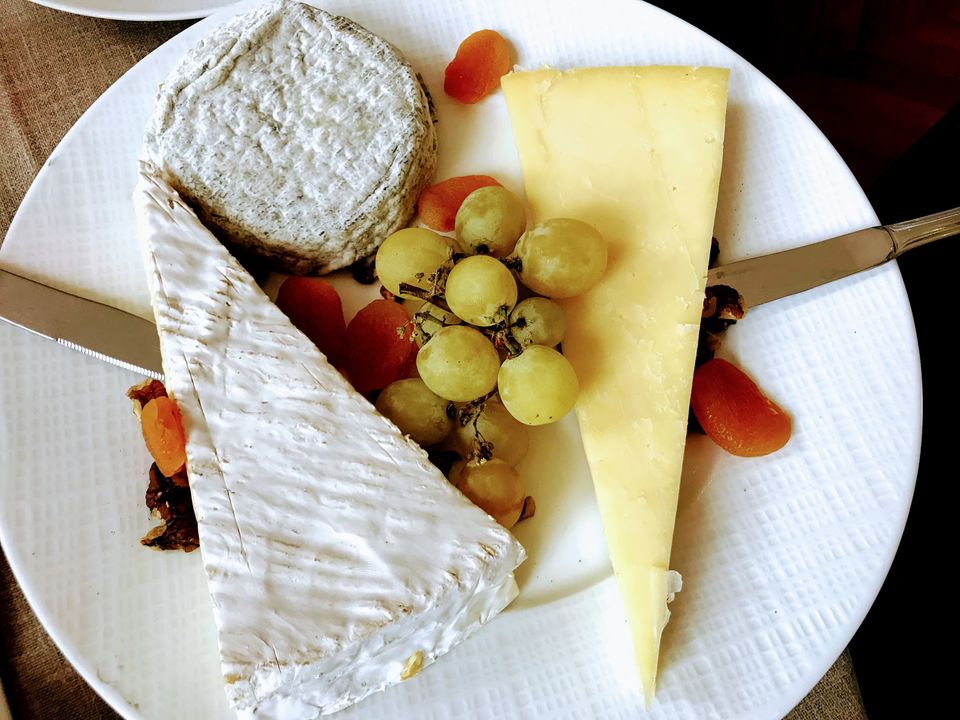 When I think of Paris, I immediately conjure up an image of freshly baked crunchy baguettes, soft and flaky croissants, an eclectic cheese platter, and desserts so gooey that they simply melt in your mouth. The gastronomic city offers enough and more options for vegetarian folks- all it takes is a bit of planning to enjoy good vegetarian food in Paris!
The 3Cs of Parisian breakfasts- Croissants, Coffee and Chouquettes
Vegetarian breakfasts in Paris are seldom a problem, because traditional Parisian breakfasts typically comprise a croissant and a coffee. Most cafés serve good croissants- you can experiment with a few close to your hotel. But if I would have to pick one, it would be Café La Tour du Temple. Their fresh croissants and coffee marked the perfect start to my day! If you prefer your coffee with milk, ask for a café au lait (coffee with milk) or a café noisette (coffee with a dash of hot milk).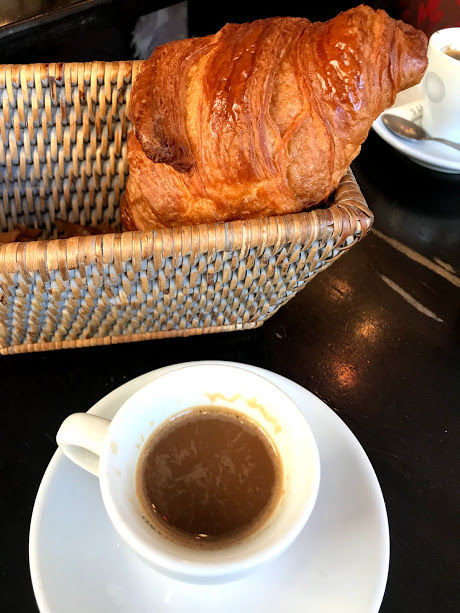 If you have a sweet tooth, you can kick-start your day with a delicious pain au chocolat (chocolate bread)- a light, buttery and flaky rectangle pastry similar to a croissant but filled with decadent chocolate- even better when it's dark bitter-sweet chocolate.
You can also try a small bag of chouquettes. These tiny little spheres of goodness really won me over. They are light as air, crispy and topped with sugar crystals. Chouquettes are essentially a type of pastry consisting of dough and topped with pearl sugar. They are usually perched on top of the glass pastry cases in bakeries and sold by weight. Head to Le Quartier Du Pain for these sugary treats that are worth every calorie!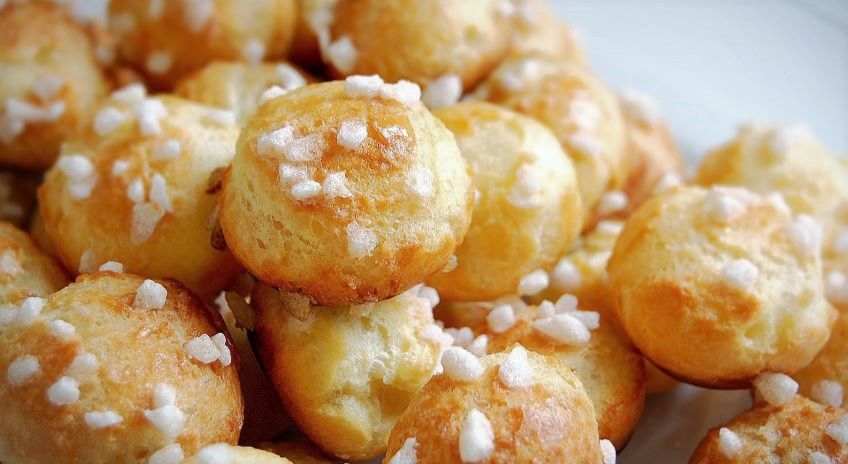 Une crêpe, s'il vous plait
Crêpes are an excellent option for vegetarians in Paris. This traditional French delicacy is a thin pancake which is served with varied fillings from nutella to mushrooms to spinach. Breizh Café in Le Marais dishes out amazing crêpes best enjoyed with a glass of apple cider. There's a wide variety of savory and sweet crêpes to choose from which are prepared using organic buckwheat from Brittany- the origin of crêpes.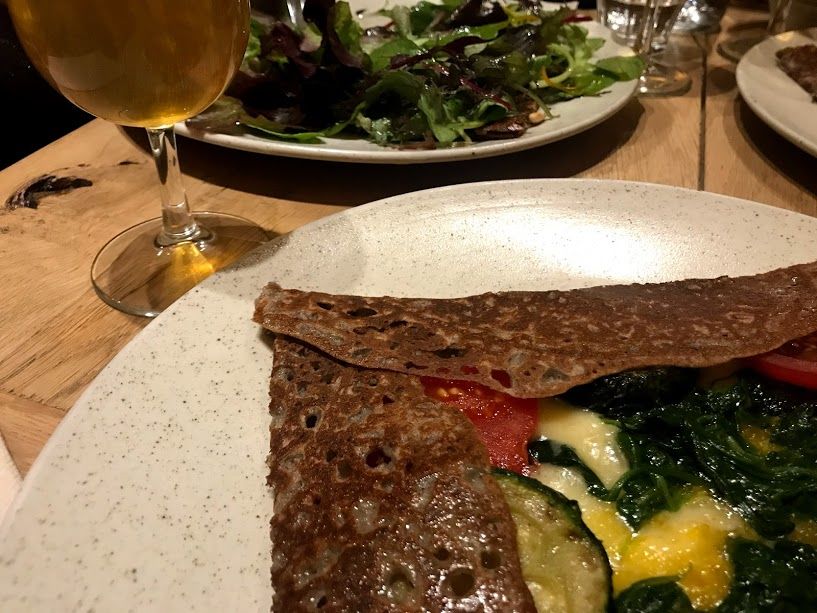 I had a market-fresh vegetables crêpe with comté cheese sans the egg. They can prepare a lot of their crêpes without eggs and meat for you. My dish was wholesome and delicious and probably one of my best meals in Paris. I finished off with a sinful sweet crêpe with caramel and artisanal vanilla ice cream. The flambéed crêpe Suzette is also a good option if you enjoy the zesty citrus flavor and orange rinds.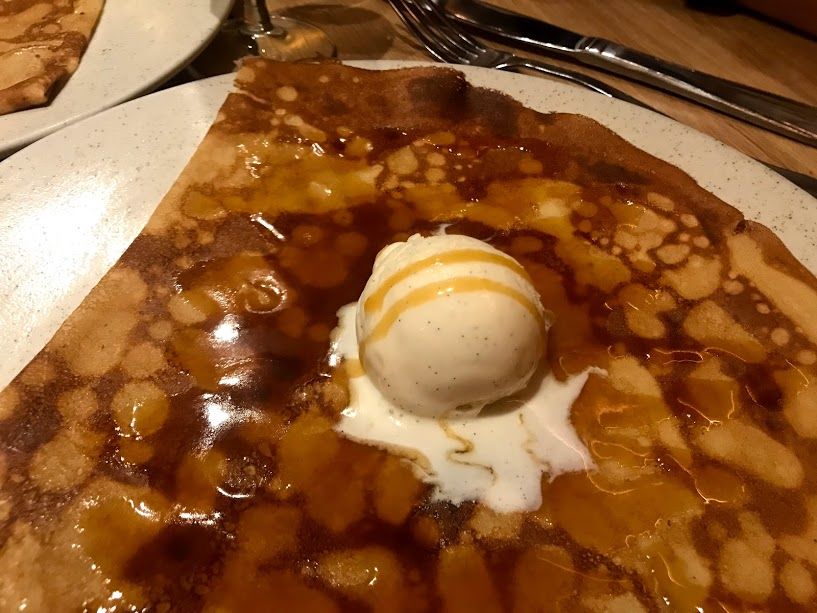 Say cheese
Another good option for vegetarian French food is a cheese platter or une assiette de fromage. Although, this is not considered a typical main dish, but something that you finish your meal with and share with everyone on the table, there's no harm in having it as a main dish. From brie to camembert to comté to gruyère, take your pick, or try the assorted cheese platter. This is usually served with some grapes or fruit jam and bread. L'affineur Affine does great cheese platters of 2, 5, and 10 varieties of cheese; and they also guide you in the order in which they need to be eaten. Finish your meal with a baked cheesecake if you're up for it!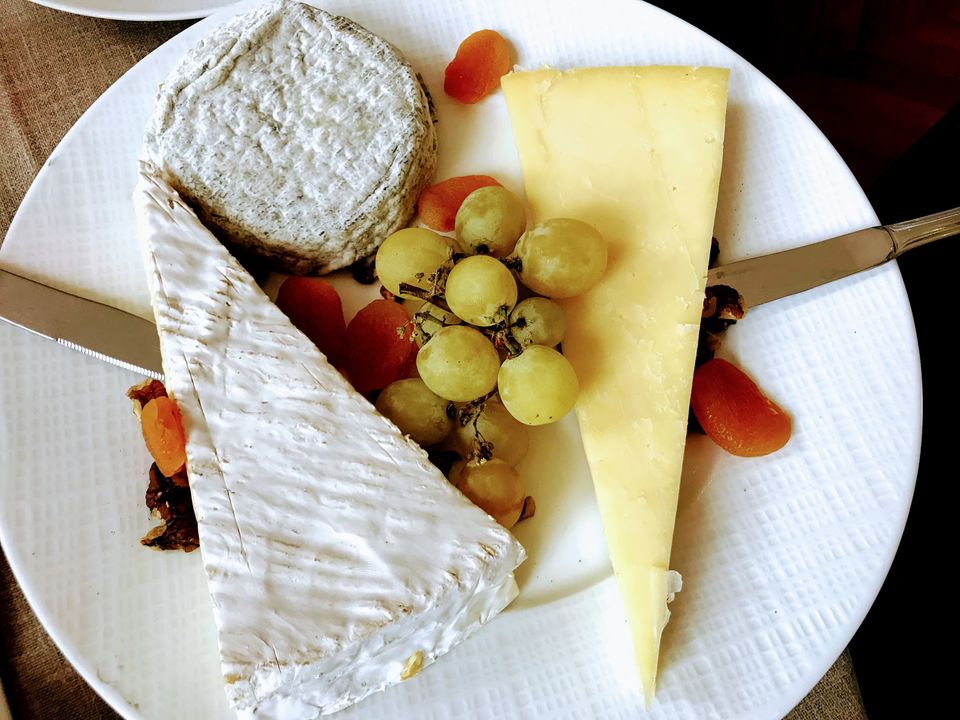 One more thing I highly recommend is picking up some bread and cheese from a local boulangerie and fromagerie (Psst! Alleosse is a great fromagerie), and a bottle of wine, and heading to the nearest garden. Park yourself on a bench or on the grass and enjoy the classic pain (bread), vin (wine) and fromage (cheese) while basking in the beauty of your surroundings. This is a very natural thing for Parisians to do, and you will see lots of locals doing this; so there's no need to feel out of place.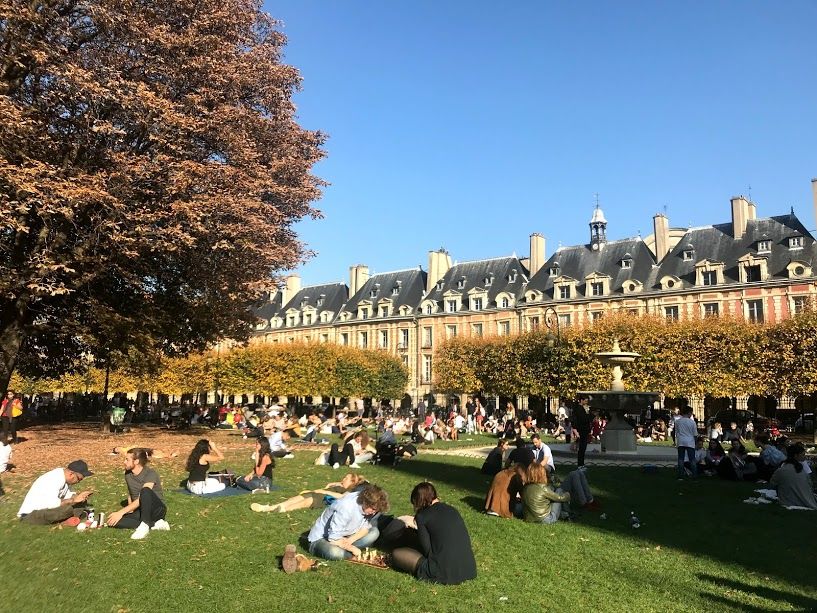 Of quiches and tarts
The quintessential quiche and strawberry (tarte aux fraises) or raspberry tarts (tarte aux framboises) are great vegetarian snack ideas in Paris. There's nothing like a crispy buttery crust with a luxuriously dense filling of cheese and vegetables- bliss in every bite. End with a luscious strawberry or raspberry tart and you'll be good to go till dinner time.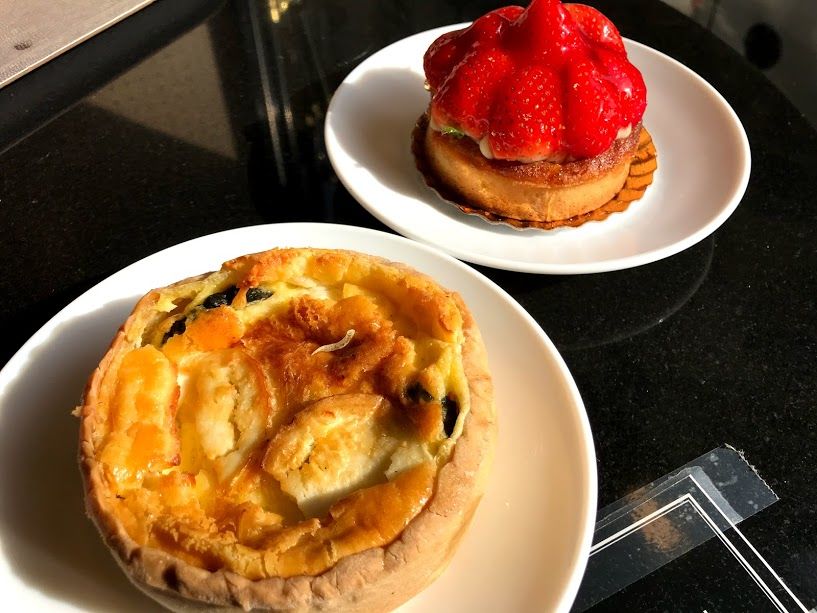 I tried Maison Hardel near Champs Elysees which is an artisanal boulangerie and patisserie, and it was quite good. This is literally a hole in the wall place with only Boulangerie written in bold letters. If it would not have been for my local friends, I would have not explored it. I heard Maison Laduree also does lovely strawberry tarts, but unfortunately couldn't try it on my trip. But do visit and let me know what you think!
When you want a break from French food
In case you're tired of French vegetarian dishes and looking for a change, try the falafels in the Jewish quarter of Le Marais. The locality is dotted with lots of cafés, art galleries, and East European Jewish restaurants. Stroll along the cobbled streets and stop for a bite at Chez Hanna. It's a tiny place and almost always full so you might have to do a take-away. The falafels, fresh hummus and grilled eggplant are tasty and filling and won't create a dent in your pocket.
Which vegetarian friendly restaurants in Paris would you recommend?