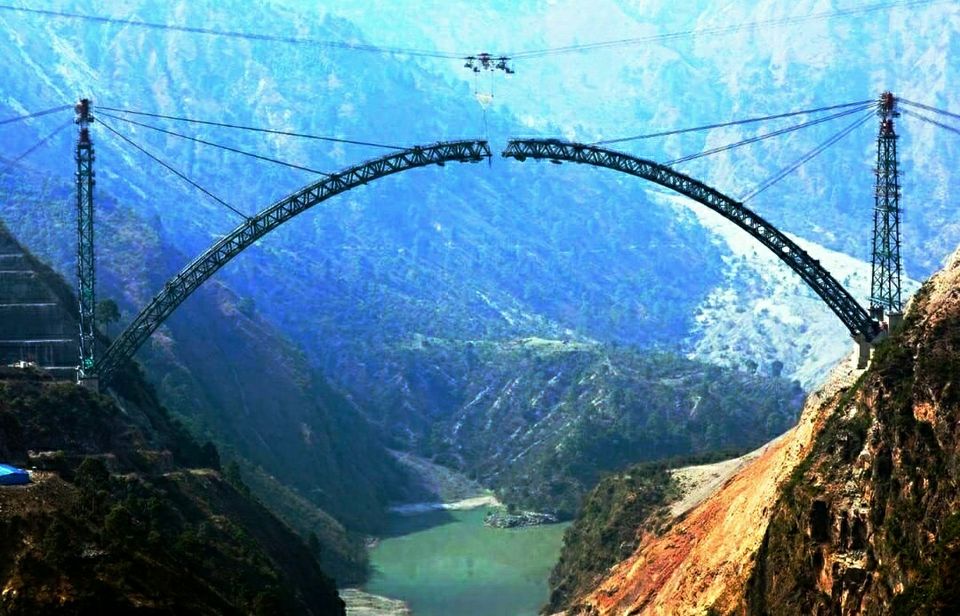 Chenab bridge, located in Jammu & Kashmir (between Bakkal and Kauri in the Reasi district) is an under-construction rail bridge. The locals were facing a lot of problem while travelling in and around the mountainous terrain in J&K. The Government of India felt the need to provide better transportation facilities.
Sigh of Relief for Travelers
Chenab Bridge is being constructed in such a way that it will enhance mobility within the state and across India. This bridge will span across the famous Chenab river and provide access to the Kashmir valley from Udhampur.
What Makes the Bridge Unique?
The bridge will be 1315 m long and once completed, it will be the tallest rail bridge in the entire world. "Chenab bridge, the world's tallest railway bridge over Chenab River in Kouri area, will achieve another 'engineering milestone'", Railways minister Piyush Goyal tweeted on Thursday.
Once completed, India will be proud to have built a bridge even taller than Eiffel tower in Paris.
The bridge is expected to be completed by March 2021.
Ready to travel for free? Earn credits and redeem them on Tripoto's weekend getaways, hotel stays and vacation packages!
Think we missed out on something? Tell us about it in the comments below. Or write about it here on Tripoto and earn Tripoto Credits!