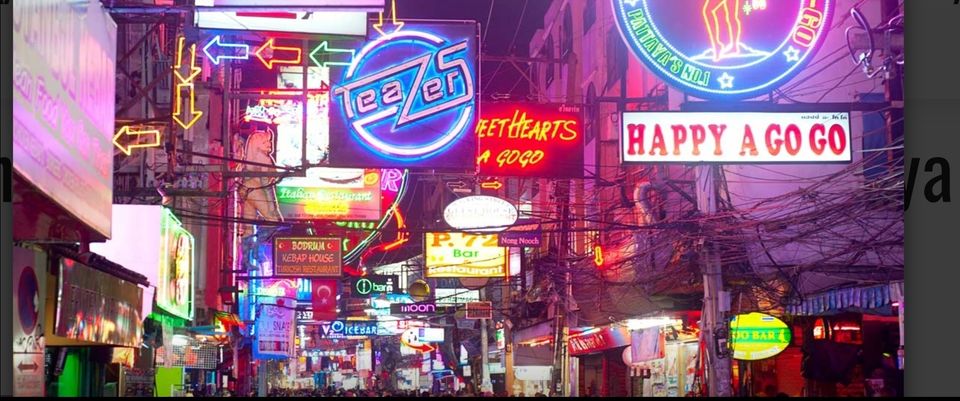 Bangkok and Pattaya are in the bucketlist of every party lovers. Particularly guys have a different level of fantasy about it. Me and my friends also wanted to check out if the nightlife in Pattaya is at all worth the hype or not. So we included Pattaya Walking Street in our itinerary when we were planning for our Girls Only Thailand trip.
I won't advise female travellers to not visit Pattaya Walking Street (the hub of Pattaya nightlife) but I would definitely ask them to take some caution. Here I have provided a list of things you should know as girls about this nightlife before going.
1. Whatever is Said About Pattaya is True
Yes, it is true. Sex tourism is highly prevalent here. Many male tourists look out for Thai escorts over here. Sometimes you can see the bargaining done on road itself and sometimes they will manage to make a deal with a bar dancer. I would advise you to go there being prepared to see all these going around. If you feel you won't be comfortable its better to avoid going there at all.
2. Guys Will Openly Approach You
Guys exploring Pattaya will openly approach you if you are traveling solo or are in a girls-only group. My advice to you will be.....just be polite and say you are not interested if you are actually not interested. There is no need to be rude as most of them will politely go away if you say no.
3. Girls Will Not be Allowed in Gogo Bars
If you and your female friends out of curiousity want to explore what happens behind the doors in a Gogo bar (Strip Clubs)....bad news for you.....female tourists will be turned away from most gogo bars. (On the other hand the bar girls won't mind pulling the arm of your boyfriend as an invitation for the bar.) You will basically find strippers inside these bars doing their stripping infront of the customers. We did manage to enter one with the help of a friend but did not have a good experience at all. When we went to occupy vacant seats the waitress tried to convince us to join with some random men. Better to avoid such places if you are not comfortable with all this.
4. People Will Come Up to Invite You to Come and Watch Nude Shows
Don't get alarmed if some guy working for a bar walk up to you and hand over a menu. This is not a food or drinks menu if you get confused with the hilarious names in the list. These are basically nude shows which are organised at the bars. I would advise a solo lady or only-girls' group to avoid attending these as you never know how respectfully people will behave there with you.
5. There Might be Unwanted Stares
Some idiots do stare at girls in a creepy way. But don't worry no one will dare to go any further. Just ignore them and mind your own business. In case you feel really unsafe you can directly take help of the local police base located at the end of the Walking Street.
6. The Bar Tenders Might Act a Little Rude
The bar tenders might be a little rude at times as they might be frustrated dealing with tonnes of people throughout the day. In such a situation just politely come out and move on to the next bar. Don't pick up a fight with them....it is after all their area.
7. Most Bars Don't Sell Food
Being Indians we mostly have a habit to order snacks with our drinks. In Pattaya most bars sell only drinks....for food you have to depend on the street food selling vendors outside the bars.
8. There Will be Dine in cum Bars as Well
Though most of the Pattaya bars are drinks-only bars there are some with both food and drinks options as well. We found a peaceful bar providing beach side seating with good cocktails and fast food.
9. There are Chances You Will Meet Good People as Well
There is no need to avoid everyone you meet out of precaution. Not everyone wants to get into our pants. Just judge the situation and act accordingly. We met two wonderful local guys who asked us about our travel experience.
10. It might be a Bit Risky to Use Local Tuktuks While Returning
It will obviously be late when you return home. Better to call a Grab rather than relying on the local tuktuks. Ask the Grab to come directly at the start or end of the street.
11. Don't Drink Too Much 😂
Try to drink within limits as you don't want to risk getting tipsy at least in this atmosphere.
I don't want to scare you away from enjoying Pattaya Walking Street. Just I felt that it is better to know some things beforehand rather than going there and getting a shock. It is a different kind of place which will definitely tickle your adventure spree. Just be cautious and stay safe while you explore the Bangkok and Pattaya version of nightlife.