So first international trip and that too in Bangkok- Pattaya, would surely raise too many questions and expectations in your mind about certain things, but for those who are looking for some specific details may click the red cross button on the right-top corner of their screens. But was it a bachelor's? It surely qualifies for that if there is no other such happening trip before my marriage.
I have covered other interesting places as well which you can check on my blog here.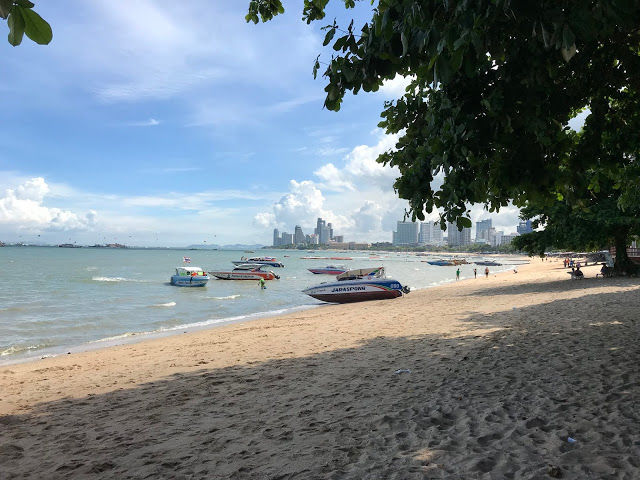 So it all started on a fine Friday night when I and one of my office friend Abhishek took our first international flight to Bangkok from IGI Airport.
So we went with the cheapest direct flight which was available i.e., spice jet. But I'd highly recommend that you choose some other global carrier as it was really uncomfortable. Moreover, it was packed with Indian families and was worse than any AC 3-tier typical Indian rail with kids roaming and crying during the entire journey. It took us almost 4 hrs before we could see the clear Bangkok skyline and landed on Suvarnabhumi Airport around 4:30 AM.
I'll try to give all the required information and a perfect day wise itinerary so that you can cover everything without spending much.
Visa on Arrival signboard is everywhere on the Suvarnabhumi airport and Indian passport holders can apply for 15 days tourist Visa on arrival which costs 2000B. Some of the necessary documents to be shown are:
4. Sufficient Funds- 10,000B/ person or 20,000B/ family
But I'd say it's better to take visa beforehand as it is cheaper (around Rs 2700) as well as would save you from long queues especially when you have arrived in a full packed Indian flight. One thing I noticed as well was that government officials are slow whether its India or Thailand (no offense).
Lot of us while going abroad for the first time have a question regarding phone connectivity to stay in touch with our bosses. There are three options to choose from: one you take your boss with you (highly not recommended), two- go with international roaming which I think is not a good Idea too as network sucks in India and I don't think it'll be able to provide services abroad, third is to buy a local pre-paid sim card. The third option is much more reliable in Thailand as it provides high-speed internet as well as international calling. I went for AIS sim and, it was really good.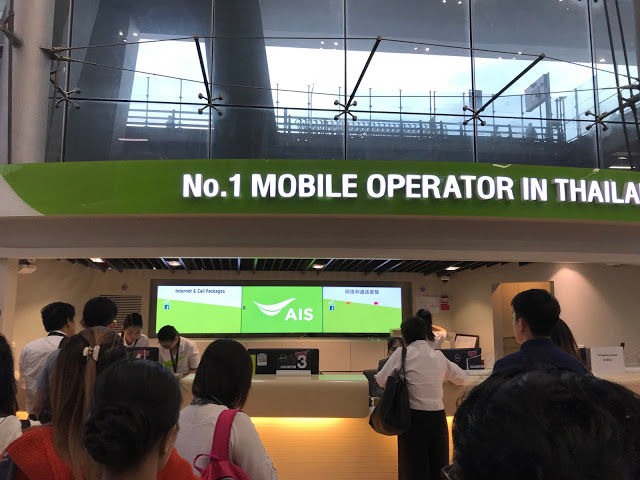 Going from Bangkok to Pattaya
There are various options available such as bus, taxi, self-rental car, limo, train. One can pick and choose depending upon their pockets. I'd suggest taking Roong Reuang bus service (available at level-1 near gate no. 8) which costs 120B/ person as you'll be requiring a lot of funds in Pattaya. So try saving wherever possible.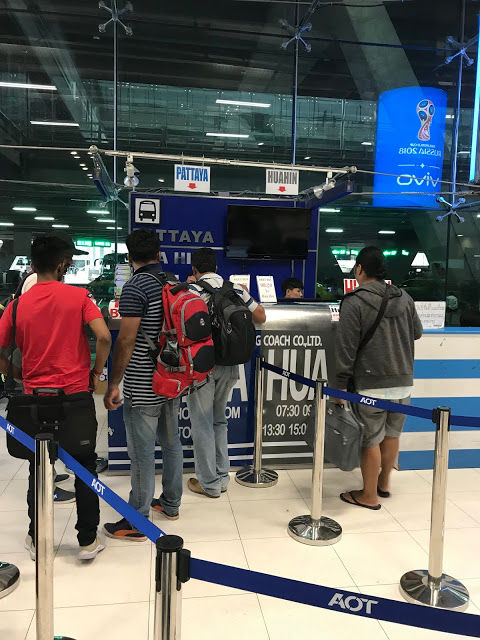 You can de-board the bus at North, central or south Pattaya stops depending upon the location of your hotel.
Believe me, the food is not good and vegetarians will have a hard time finding a good restaurant. I was surviving on veggie delight Subway (ate 4 times out of 10 meals), Margherita pizza (ate twice), Bread butter, fruits, chips (rest of the time). You'll find Indian restaurants here and there but the food really sucks. I ordered aloo parantha and Lassi to be on the safe side but they made it clear that better stay hungry than going to an Indian restaurant.
The water there is not served free as in case of most Indian restaurants so you'll need to buy everytime from a nearby Seven-Eleven or family mart store which is located at every 100m.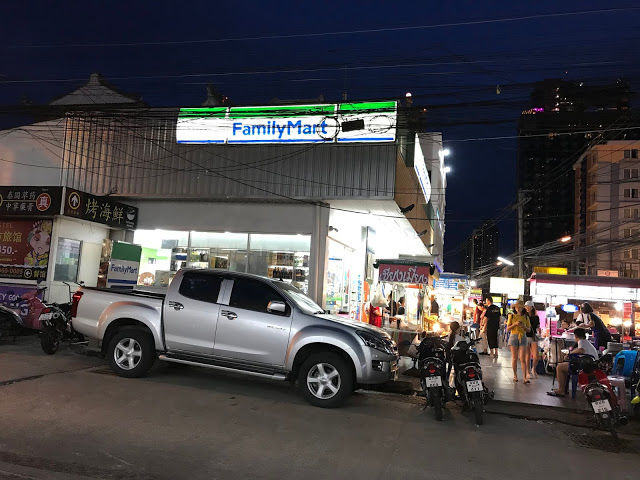 For non-vegetarians options are little wider if you like seafood. Otherwise, KFC, burger king, subway and dominos are the only options as they don't know how to make that desi butter chicken as well.
We stayed at IBIS which is situated in North Pattaya. It's a decent hotel but room sizes are like Mumbai PG's. The breakfast was good with a lot of non-vegetarian options. They tried making Indians happy by cooking Rajma, Poha, and Upma but failed with shining colors in their unsuccessful attempt.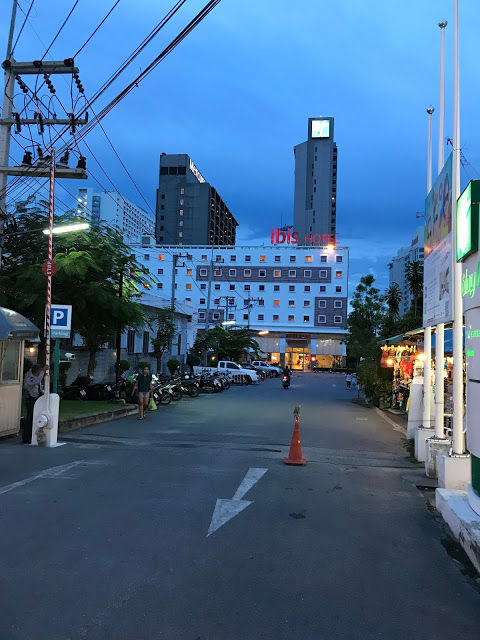 Hotel check-in: 2PM (They don't give room before that, even if you have traveled all the way and struggled to reach there safely, so plan accordingly)
Hotel Check-out: 2PM (They will come 15mins before to remind you that your time is over :P)
Don't take the taxi. They will charge you a lot of money and will try to fool you about the exact distance. In Pattaya, the tuk-tuk service is available everywhere, which is much cheaper. But the trick is that don't ask about them the destination. Just hop-in, open Google maps and hop-out giving 10B to the driver as soon as your destination arrives.
Again expectations? Sorry, you need to click the red cross button in the top right corner once again for more details. After checking in to the hotel it was time to hit the beach Pattaya beach which was almost at a 2 min walk. Pattaya beach is not that clean as one would expect as it is situated at the heart of the city however itis a popular place for various water sports. The overall view is surely mesmerizing with tall buildings on one end hiding the sun and beautiful Thai ladies on the other.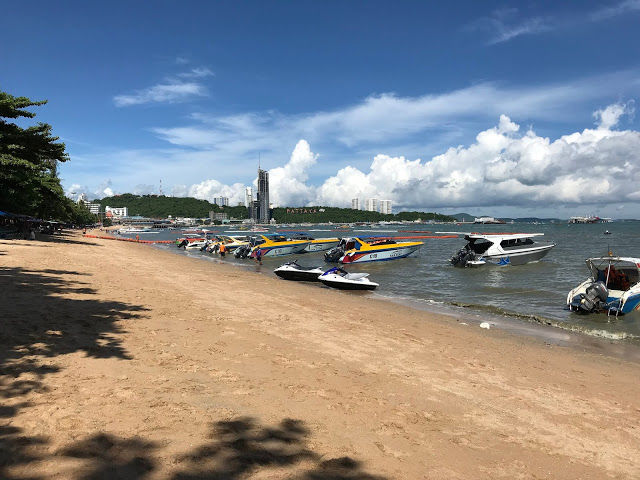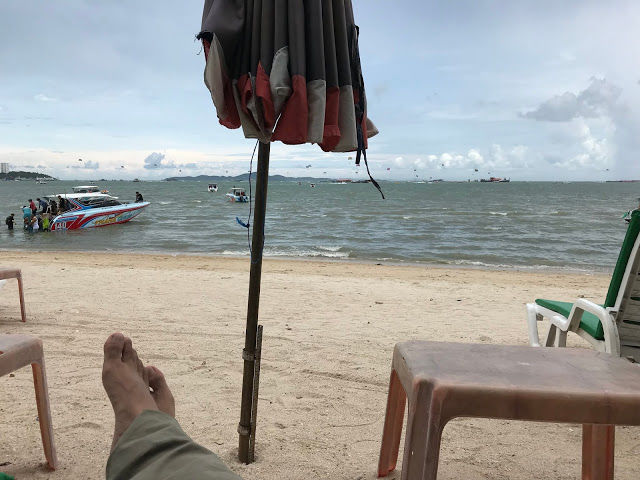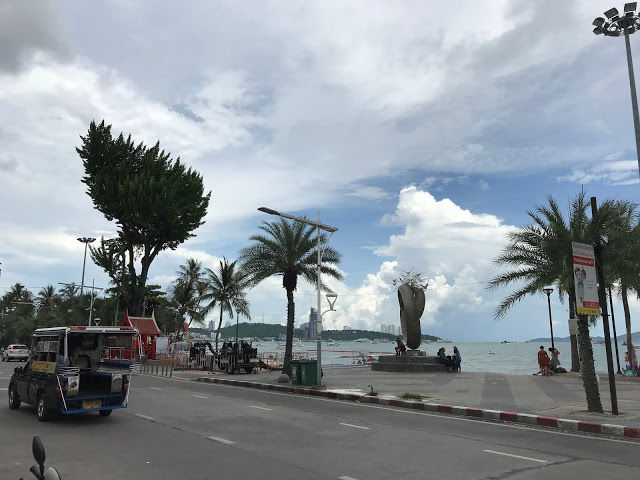 There are various sightseeing places which we tried covering:
Its a highly recommended must watch ladyboy cabaret show which is famous all across the globe. There are other similar shows as well such as Alcazar, but I bought tickets for Tiffany as it is considered the best.
One recommendation here would be that don't buy tickets from the venue, instead get it online from Klook or explore travel agents on the beach road which will give you VIP seats in 900B.
The incredible talents of the transvestite and transgender community, drawn from all corners of the Thai kingdom, are showcased in a display of spectacular exotic scenes, enhanced by the latest lighting and sound technology. Extravagant costumes, toe-tapping choreography, and beautiful 'showgirls' will ensure your night at Tiffany's is one to remember.
This is the place in Pattaya for which most of the people are crazy about. The street is located in the south Pattaya region and houses a number of famous clubs such as Insomania, Nasha (an Indian club which plays desi and Punjabi songs), massage centers, local food joints etc. The street is colorful and lively with beautiful girls pulling and begging you to enter their bars.
But beware most often they are ladyboys. It's actually really hard to differentiate between and a girl and a ladyboy in Pattaya.
At the walking street, it gets clear that why it is considered as the paradise on earth as girls and alcohol both are in plenty.
Since we were short of cash on the first day itself, we decided to head straight to the beach with a can of beer and call it a day.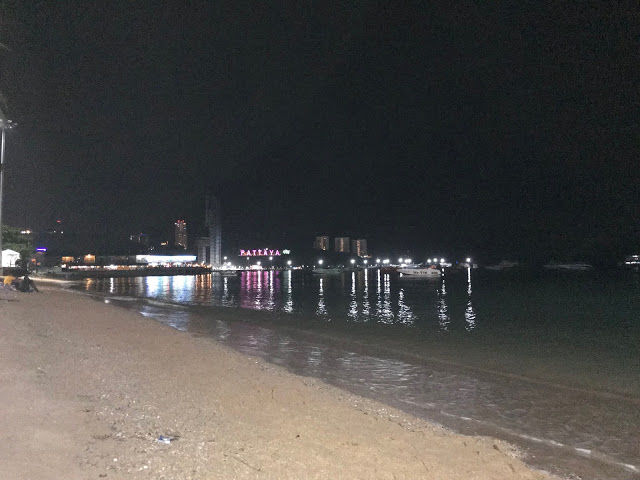 Tinder Ok as most of you would know that it is a dating app, but it totally has a different meaning in Pattaya. So while sitting at the beach and after having a couple of sips, we thought of trying tinder in Pattaya. You never know you might find someone good as people have found their life partners on such trips. But unlike India, here it's totally opposite which means you'll get match 90% of the time. We both were in seventh heaven after getting so many matches in a fraction of few minutes. But as I started the conversation with one of the pretty girls and behaved like a complete gentleman by asking how she was doing? She replied she was good and if I want her or not?
So obviously I couldn't say no! but how could have said yes either? Anyway, I wrote yes and instantly she replied 2000 full night.
Yeah, so you got that right. The girl's there are using tinder to get business and if you are trying to show your charm and want to date someone genuinely, I'd rather recommend hitting the bar and offering someone a drink.
Football match
Just like India, Pattaya has a lot of football fan following too. And on that day, it was the champions trophy final between Liverpool and Real Madrid. I never really followed football but that day was fun, we went to an open bar, watched the match, played snooker and had a couple of more beers. Ladies, there were crazy about Real Madrid and mocked Abhishek every time we passed that bar as Liverpool lost that match.
Day-2 (Time to get adventurous)
So on the day-2, we had planned some water sports and coral Island tour. You can book this tour online as it is comparatively cheaper than what you'll get there.
The tour is properly planned and is inclusive of a shared cab which will pick you up from the hotel on time. So after the breakfast, we headed towards the beach where our guide gave us certain instructions which were really funny as he tried to speak English but was suffering like anything.
The activities were safe and were accompanied by instructors. The tour is systematic as I mentioned earlier with defined timelines. But there is a con too that I felt a little restrictive as we hardly got time for other relaxation and exploring the island on our own. So if you are a sports enthusiast you may take this tour otherwise its better to go on your own.
All in all the tour was fun and it's better to do in the group as you meet a lot of new people. So we met Chee hon from Korea who was a firefighter, Jackson who was a chef and couple of Chinese and Russian guys as well.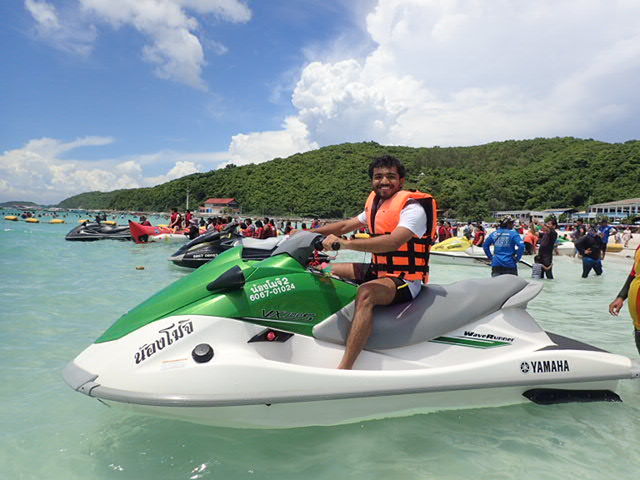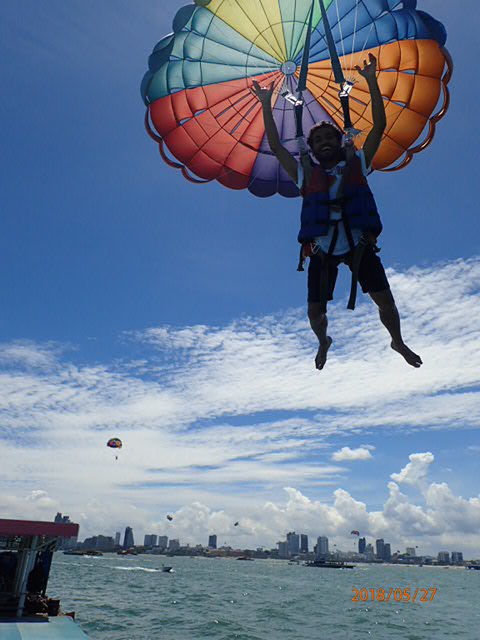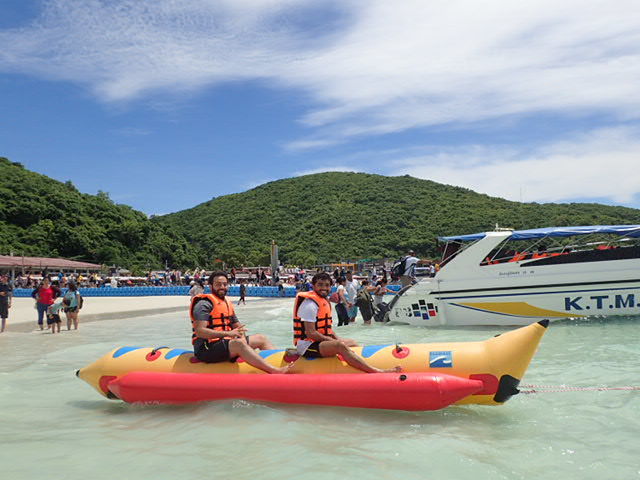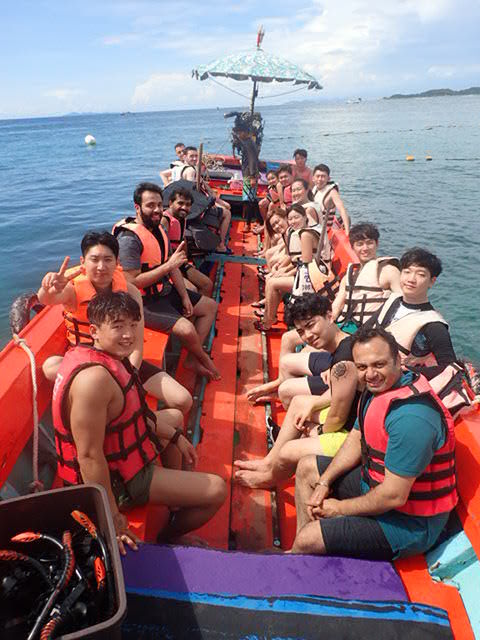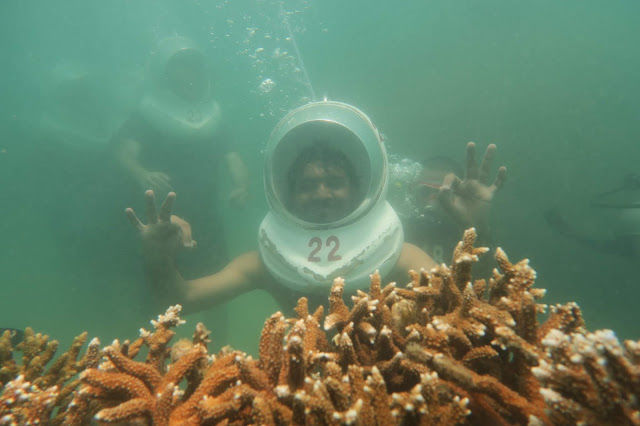 Lunch I don't know what I ate that day. It was vegetarian for sure, some curry with rice along with a soup. Over the lunch, I met a couple of Indians who were from Mumbai and had come straight to Pattaya. So as an Indian, how can I not advise and miss the opportunities of giving them the tips to survive and live in Pattaya. Afterall, I had spent a full day there and was fully aware of the cabs, girls, walking street and food. I don't know whether I was missing someone to speak with in Hindi or had so much to share.
P.S: Abhishek didn't speak much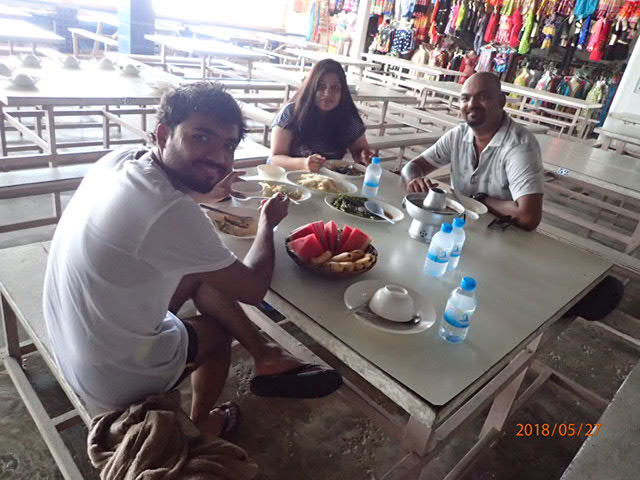 We spent the rest of the day at leisure scouting for food, some shopping as we realized its just a day which was left in Pattaya.
Day-3 (covering the rest)
We started our day with a visit to art in paradise which is 3D museum. Below are some of the photos which we clicked while we were there. Some of them are really crazy.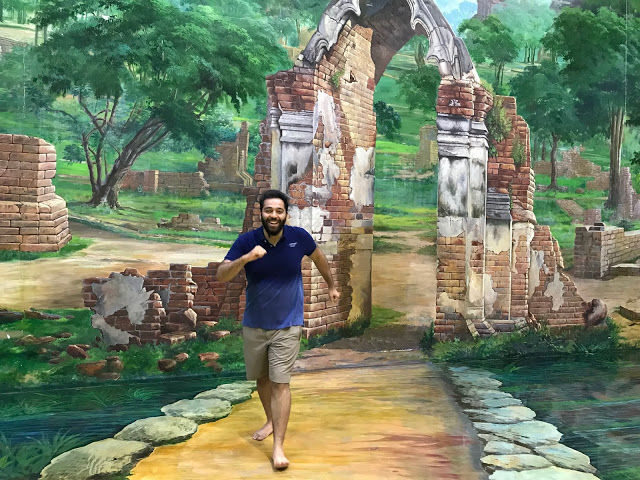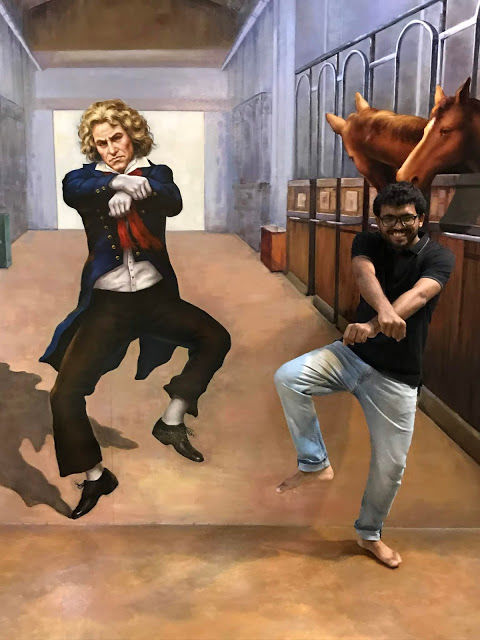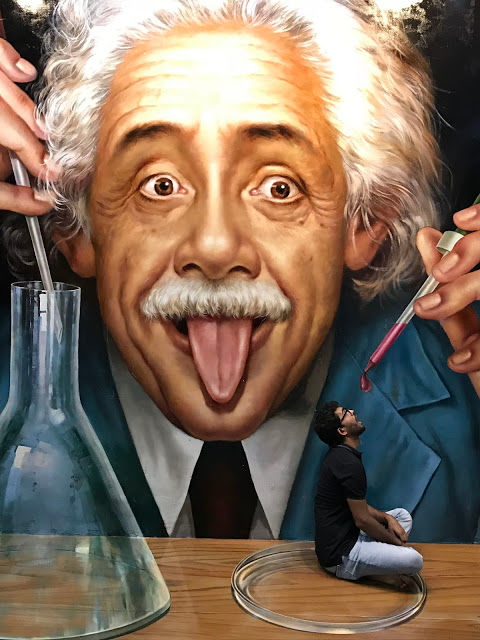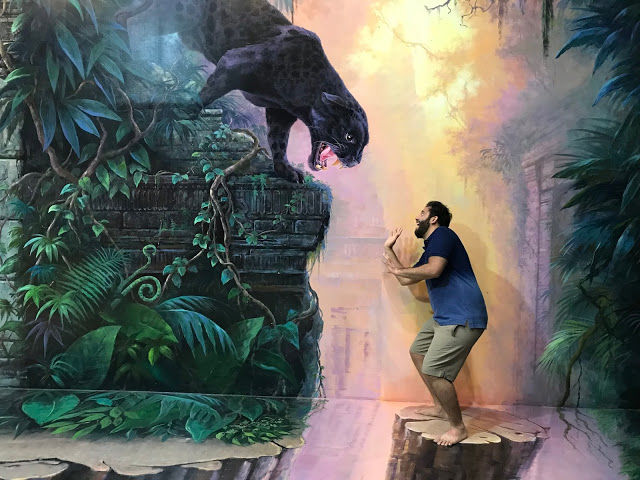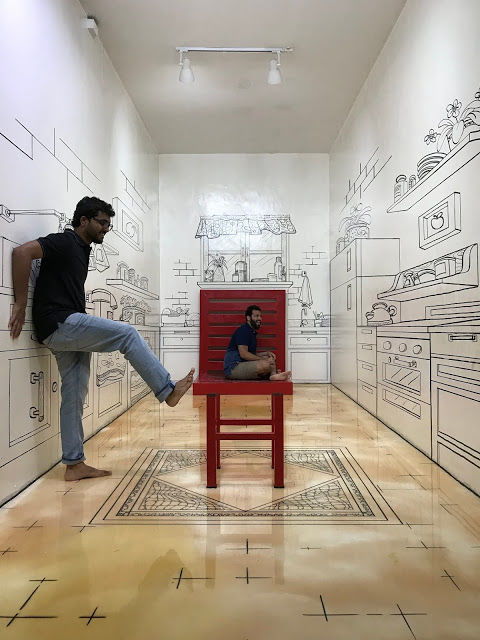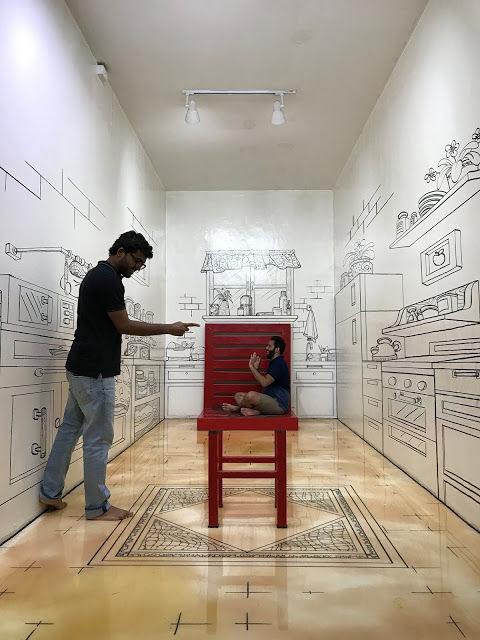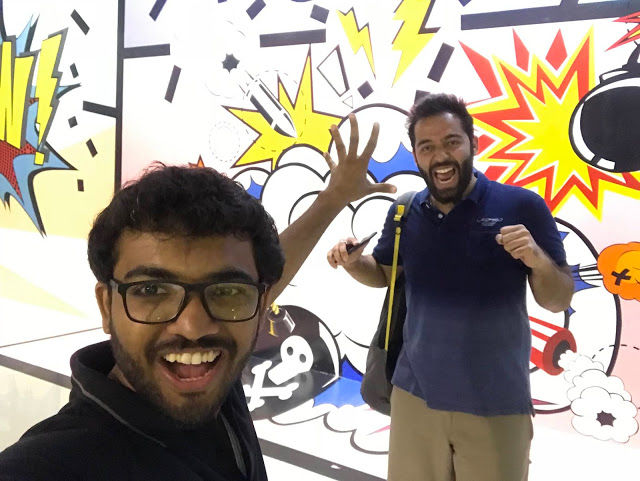 It's a beautiful Buddha temple situated on the seashore. Most of the people don't visit the temples while in Pattaya but we being firm believers of God couldn't miss the true Nirvana (Sarcasm).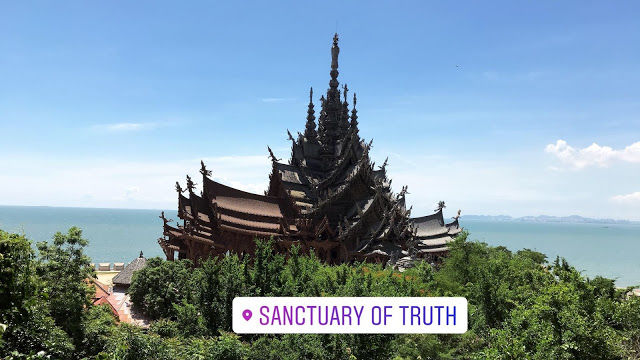 We couldn't go inside, not because the temple was closed but because we were literally out of money and 500 Baht at that time seemed too much for an entry to a temple.
In the evening we went to one of the less explored and cleaner Jomtien beach. The beach is a little far from main Pattaya street and is mostly surrounded by the residential complexes. But its comparatively lot cleaner and peaceful. So if someone is looking for good beaches, Jomtien is a must.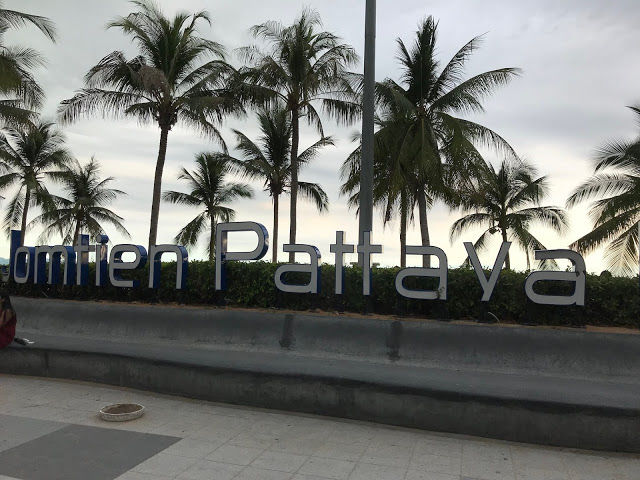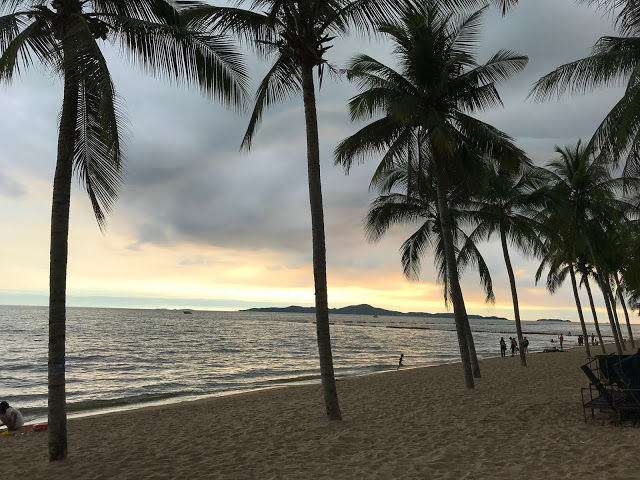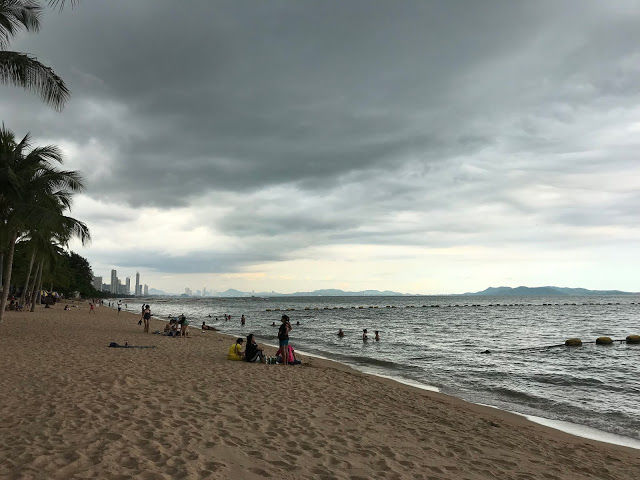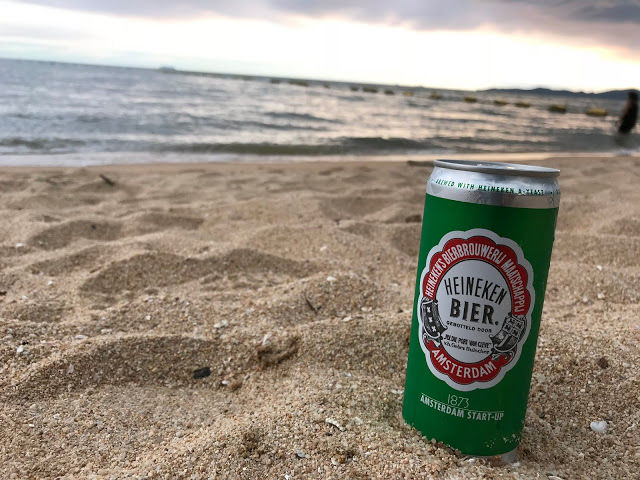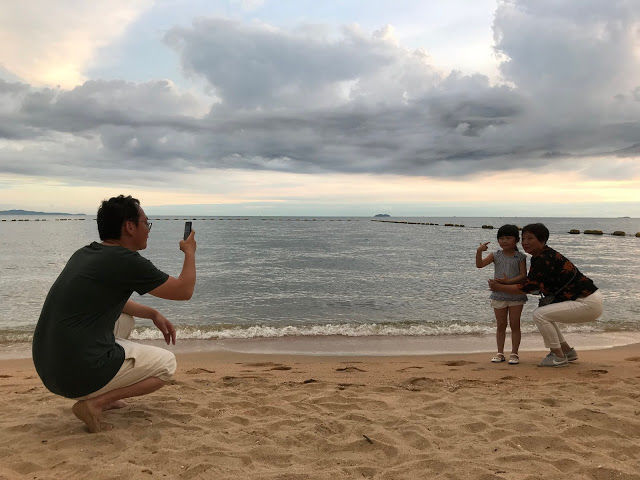 Day-4 (Time to leave Pattaya)
After checking out from the hotel we headed straight to Pattaya bus stand and boarded on the bus to Bangkok.
I'll cover Bangkok in a separate chapter as it is totally different from what we experienced in Pattaya.