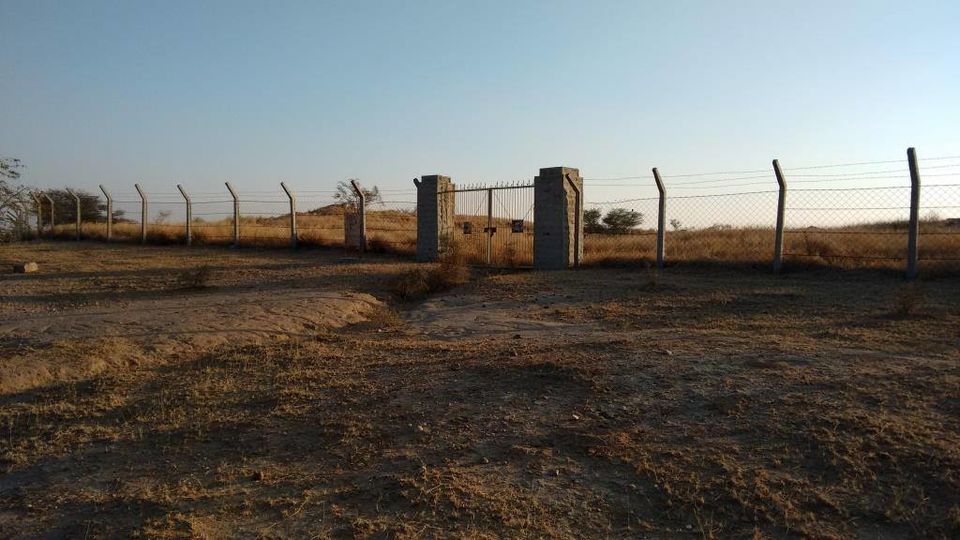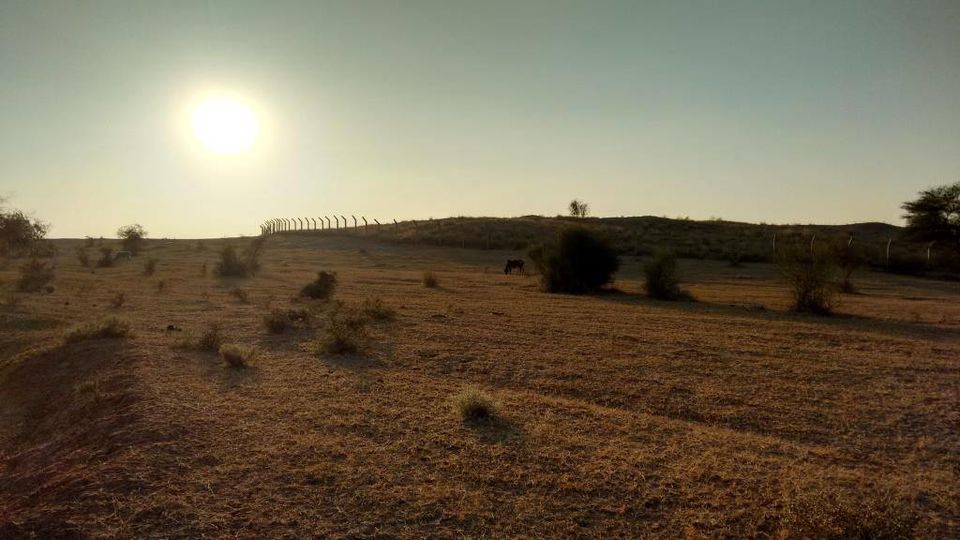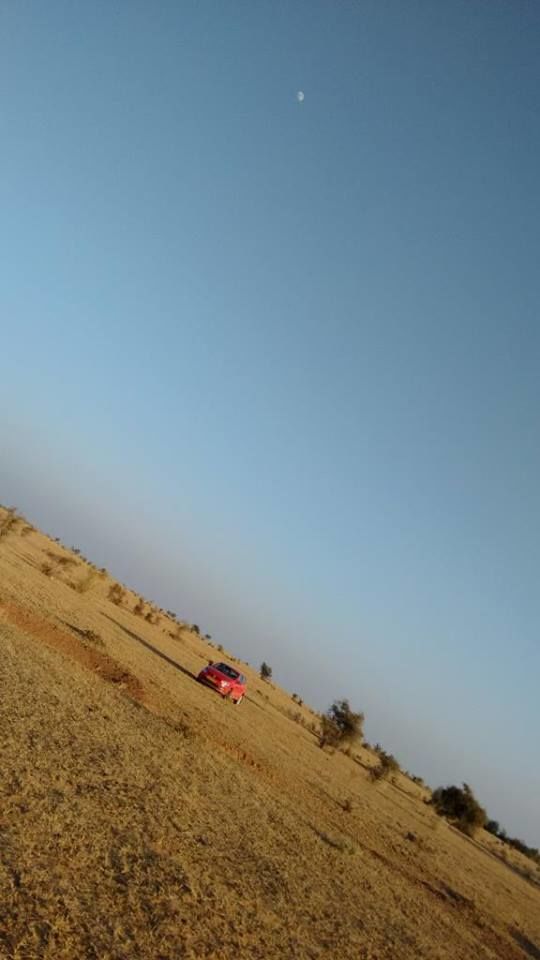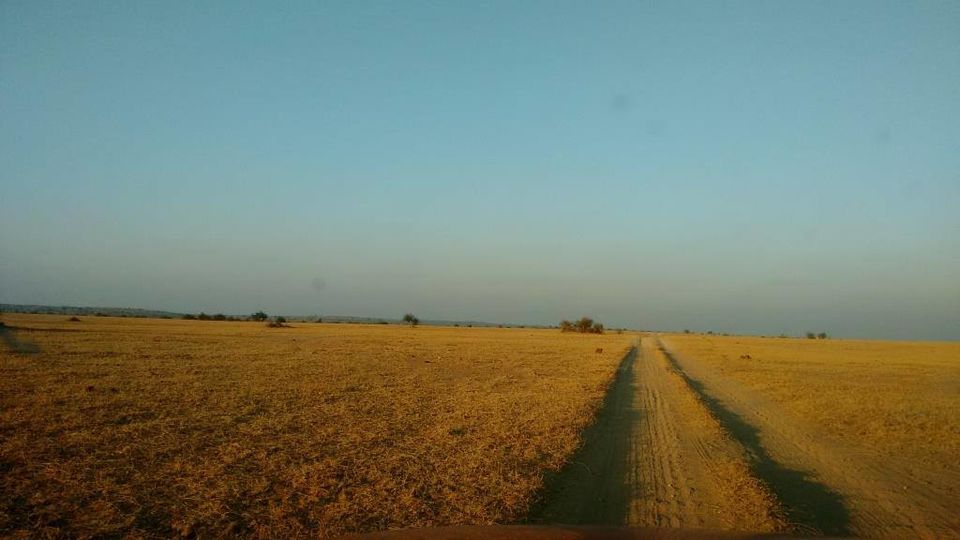 I am a fanatic when it comes to travel. Whenever I go on a trip, my friends are always like "beware of this guy, he's going to do something stupid in the name of adventure". Because I always prefer to take the road less traveled, trek on random hills, discover some new location to sit & have a beer there. Well, I was on a road trip to Rajasthan in Dec'14 with one of my close friend (named Anurag as well).
We left Jaisalmer on 31st Dec at around 3 PM, & were on our way to Jodhpur for new year. At about a 100 kms from Jaisalmer, there is a small village called 'Pokaran'. This is a test site for India's nuclear warhead. First test was conducted in 1974, & again in 1998. Anurag & myself were quite eager to see this nuclear test site. Our minds were full of questions about the appearance of the place, are there still any effects of the test, how did it affect the nearby area & so on. So we decided to visit the place.
Upon reaching Pokaran, we asked some locals about the test site but couldn't gather any credible information. We then met an army soldier & asked him about it. He told us about the location where the bomb was tested in 1998. He also told us that we cannot visit there since the area is under the control of army & civilians are not allowed to visit. We could only have a look & that too from a far away distance. He gave us a rough idea so as to how to reach that place. We tried to find it but couldn't. We both were quite desperate to just have a glimpse of the site & were not ready to go back without having that.
So now we did what everyone does when they don't know what to do: Google!!!
Anurag found something, courtesy of Google (apparently it has an answer to every question), the coordinates for the nuclear test site of 1974. We were really optimistic that something is indeed better than going back empty handed. So we put those coordinates in Google Maps & I started driving in that direction. Our destination was in the middle of nowhere, even google maps guided us to a point on the tarmac road, a state highway (nearby an overhead water tank) from where the test site was somewhere around 5 kms towards the desert, but there were no roads or directions to follow in the map.
Initially, we didn't go towards the desert & continued to follow the same tarmac road after the water tank till next 2-3 kms, when we found a small village. We again asked the locals about the test site. They told us that there is an off road path starting adjacent to the water tank going towards the location, but the path is full of sand & we won't be able to drive our vehicle there (i was driving a VW Polo). I turned back the vehicle & reached the water tank. We saw the off road path going towards the deserted area. First we were a bit reluctant that whether we should go or not. It was already around 5 in the evening. But even before we could decide, we were on those sandy tracks (as I've already mentioned, I am up for anything when it comes to exploring).
We slowly started moving towards the Red Balloon in Google Maps. It really was a difficult track to drive on, the vehicle was drifting in the sand & I had to drive in the 1st gear for the whole way. It was evident from the tracks that it was made by some heavy vehicles (most probably those huge army trucks), which made us think that what if we are trespassing classified area, but we moved ahead anyway. Throughout the way, we were unsure whether we should go there or not, but kept moving. I stopped the car once, we thought of turning back. But the same moment, we saw the Google Map, we were pretty close to our destination. At that point, it became clear that whatever comes, we are going to that site. Just after few minutes, we saw a large circular barricaded area through binoculars.
Probably it was nothing but a stupidity, but it gave us a sense of accomplishment. We moved further & now we could clearly see it. I parked the vehicle at some distance due to a lot a bushes near the site. We walked to the barricading. There was a very old signboard (around 40 years old), which hardly read 'Prohibited Area'. It was a great feeling, to be one of the few who have been at a nuclear test site. It was already 6 PM. The view was great, the whole area was deserted. We could see few deers & other animals running around at a distance. It felt like we were in the middle of a discovery channel show. The place was so isolated & no one was there for kilometers in any direction.
We stayed there for a few minutes, took some photographs & started driving back. We thought, we are done with today's adventure & we should be on our way to Jodhpur. But we didn't know that some more adventure is waiting for us ahead.
We were almost through with the sandy track, when just a couple of meters before the tarmac we got stuck. There was a bulk of sand & the stretch was a bit inclined too. I didn't notice it, since we were pretty happy & busy talking about what we just did. This was a mistake & the car got stuck in the sand. I tried a lot but couldn't move the vehicle. We tried with wooden planks, boulders but the car was dead stuck. It was almost 7 PM, & about to be dark. We were beside an interior state highway, with no one to be seen around. We had also heard stories about locals looting the passers in interior villages. It got a little scary. But you know what happens when 2 guys from engineering colleges are together. We had no idea what to do, but soon we started laughing at the stupid things we did that day. The fear turned into a comic scene.
Having no other option, we locked the vehicle & started walking towards the village we went earlier, for getting help. It was totally dark. We reached the village in about half an hour. We found a resident, asked him to help with the car. He turned out to be quite friendly. He told us to wait & went inside the village. Just minutes later he came in a big carrier vehicle with another one of his friend. We sat in his vehicle & took him to our car. He & his friend tied a rope from his vehicle to our car & pulled it out of the sand. He even guided us through a different route from where we could get on the tarmac without getting stuck again.
Finally, we were back again on the road. We thought, now he'll ask for a big amount of money for helping us out but he just took a small amount of 500 bucks. We thanked him a lot & left. Those guys would not remember us probably, but we could never ever forget them.
Anurag and myself took a sip of 'Real' juice & drove straight away to Jodhpur, without any other adventures in the day to celebrate the new year!!!
Place where India tested it's first nuclear warhead!