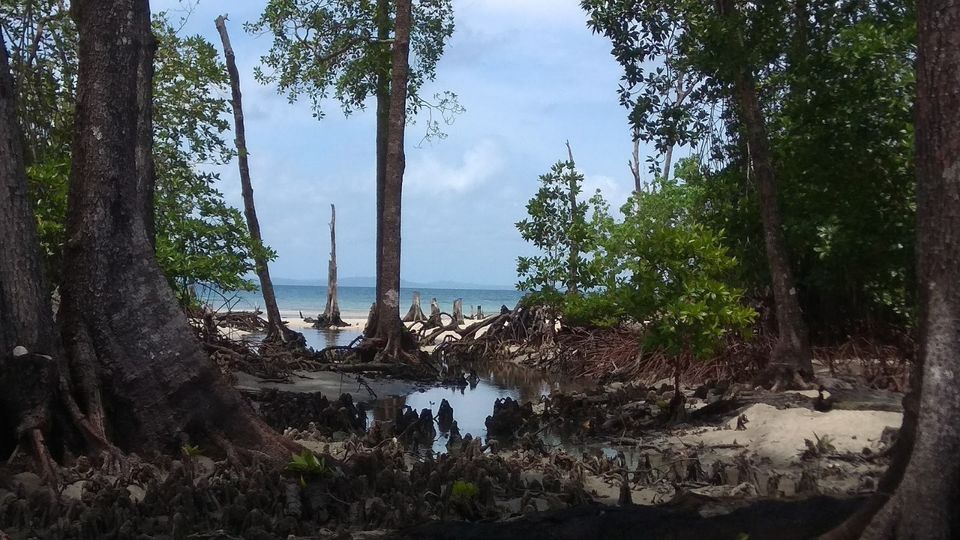 #Islandlife
Never ever thought that, that cluster of Lil island situated in the Bay of Bengal ocean will be so mesmerizing and stunning which made me still.
Andaman and Nicobar Island which has Asia's most cleanest and beautiful beach Radhanagar beach is very breathtaking during sunset.
On the day we depart from Kolkata Airport I was very keen to capture the window seat as I was told by one of my friend from Port Blair that the view of island from sky is worth watching. So didn't even thought of missing that chance. Arrive safely but misfortune is that we took rain along with us. But no worries we enjoyed cellular jail light n sound show in the evening precisely.
As we had only 5 days in hand so we thought of covering all the 3 Island beforehand, but every day is not a Sunday that's it. We arrived at harbour all set to depart for havelock but our fate has other things for us. Just ferry got canceled due to bad weather and had to stay 1 more night in Port Blair. As we drop back to hotel and made another plan for evening visit to Chidiyatapu for sunset view, very much excited, as I said our bad luck so RAIN again. We reached the point n back again to hotel without any view.
After breakfast we proceeded directly to harbour as we are determined to go to Havelock, but as I said our destiny has planned no option for us. Again for same reason ferry got canceled. Fussssss....... But somehow our friend got to know that govt ferry will carry the passengers and we headed towards that ferry, but again same thing other copassengers got the tickets n only us.
Why..... Us?
Back to hotel again, this time we are like scavenger if someone says anything we will kill them. But yes we were lucky enough afternoon ferry got schedule to carry passengers. We sail towards to Havelock. Jaan me jaan ayi. Once we reached the island we made sure that we book our scuba activity. And went directly for scuba where the corals, ocean creatures are just amazing. We witnessed the most beautiful sunset in Radhanagar Beach.
Today early in the morning we got ready for a trek to Elephanta Beach. It took hardly an hour to reach the beach, but the road was very slippery. The moment we reached there we were all speechless by seeing the beauty of nature. I haven't seen such a beautiful place ever before like this, so virgin so freshing so calm so me. Omg I was so much stunned. We enjoyed snorkeling and many more.
After lunch we came back to port blair, while coming back we had an opportunity to visit the deck where captain operates the ferry. We are lucky enough really.
Evening was like relaxing for us after so hectic tour.
Today is the day we have to return to main land from island. We will miss every moment in Andaman Island. Miss out lot of things to do but nevertheless we ll visit again to see more wonders n beauty.
Love you zindagi.....
#Islandlife