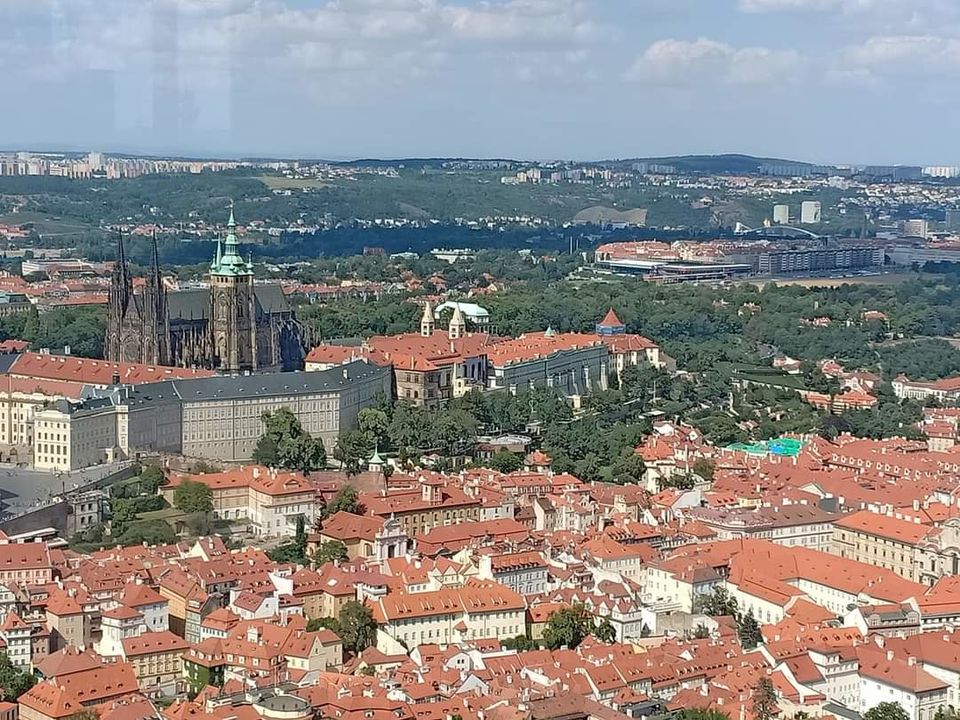 An exuberant weekend trip with my girls,
The arrival at City Centre hotel,
A quick stroll around neigbourhood,
An instant hunger pang,
The pizza dinner at a crowded restuarant,
The handwritten messages on its walls,
The tossing and turning night ,
Kicking off day one,
The walk through the Eastern streets of Praha,
The sheer variety of old town square's sights,
The massive gothic clock tower offering panoramic views,
The reinnovating old astronomical clock,
The majestic view of the Tyn church with distinctive gothic exterior,
The popular pedestrian Charles's bridge,
The outstanding views across the bridge,
The long uphill walk to the most preserved historical Strahov library at West Prague,
The wander down to the 'Playground for alchemist ' a.k.a Golden Lane,
The breath taking Prague castle,
The attractive St.Vitus cathedral in the castle grounds,
The magnificent art nouveau stained glass of the cathedral,
The leading down from the castle on the southern slopes to the beautiful Castle Garden,
Back to Eastern Praha,
Transiting to Petrin towers on the Western sides,
The beautiful steel tower that inevitably reminds of Eiffel tower,
The phenomenal 360 degree view,
The double helix staircase to ascend and descend,
The mirror maze that blow off your mind,
The man hanging out statue at the cobblestone street,
The moving statue of the head of Kafka a technical marvel,
The superb example of modern art,
The rushing hour to Hotel,
The high speed prep –up,
A tint of colour and tone,
The race to the pub,
The rock and roll on the floor,
The guzzling up,
The teeter-tottering to the boat party,
The bounce back moment,
The disco lighting,
The blasting music,
The three damsels in distress,
The shero of our group,
The lady to the rescue,
The land to the banks,
The car ride to hotel,
Then hitting the hay.
And a day to remember.
Day two commences..
The feeling of the fiesta,
The groggy start,
The rush to the Powder tower,
The ride on a vintage car,
The sightseeing tour with the winsome driver,
The race to the Jewish Quarter,
The squeamish feeling to the gross,
The retreat to rest,
The pulling of Rath cart of Lord Jagannath in the foreign land,
The chanting of sloks by the preachers,
The feeling of being grateful,
The breather for a while,
The rebound to explore,
The reunion at the shopping mall,
The shopping binge,
The Indie dining out,
The sail through the Vlatava river,
The unique evening experience of the city,
The Sunday Scaries,
And then pulling an all-nighter to the tunes.
.
.
.
.
Praha, Praha, Praha.
A city to wonder and wander,
A city that I fell in love at the first.
An experience that I would cherish till the last.
#traveller #explorer #tripotocommunity #travelislife #travelstories