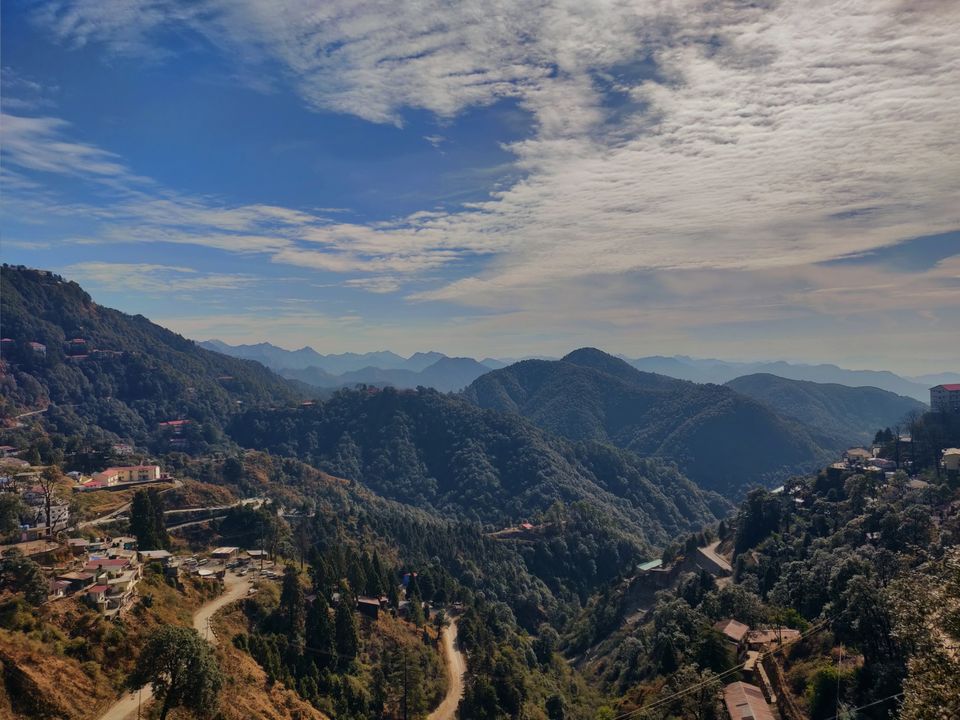 Woke up, packed my backpack, charged my phone, put the protein bars on the front pocket, and I started my hike to Laal tibba. I saw the map once, and I kind of figured half of the route. So I closed my google maps and started the hiking. First stop was at a restaurant for breakfast, I wanted to have an omelette from the lovely omelette center, but it was Tuesday and the shop was closed, but somehow I met him at the restaurant, so he waved at me and greeted me good morning, I was in shock as he remembers me because his shop is always filled with people, so remembering one of them is quite a task. So after eating aloo parantha with chai, I continued my hiking. I was full of energy after breakfast, I thought I would complete the hike without any breaks or just a single break. The hike was going amazing, I was not tired at all, I was clicking amazing pictures, but then I faced the real shit. It was the steep slope. It was so steep that at every step I could feel my legs stretched till a very uncomfortable level. After walking 10 minutes on that steep slope, I was tired as hell. I had to take break, I was breathing fastly. ( I don't smoke or I don't do drugs) I drank a little bit of water and I saw a cafe which was serving nagaland cuisine. I was excited to try that out but I was already full. So I skipped it and started my real hike. After 10 more minutes I had to take a break. I clicked some amazing pictures, I sent my sweating pictures to my friends. I already had removed my jacket and I wanted to remove the T-shirt but I couldn't. I sat there, opened google maps and marked a point, and decided that I had to walk continuously without any break till that point. It took me 25-30 minutes to reach that point but oh boy I was so proud of myself that I didn't take a break. I was sweating at a whole different level, I was thirsty af. I was lured by a Tibetan cafe but I didn't stop.
But after that long walk, I stopped every 10 minutes. All the struggles were worth for the view. At one point you could see a deep valley with a lush green cover, at another point you could see the raffish town of Mussoorie. The roads were surrounded by tall trees and monkeys. I found some villas which were nothing less than future goals. I reached the famous Chaar-Dukan at Landour where I visited the Cafe Ivy. This cafe was the perfect mountain cafe, decorated with all the antique items, posters of famous musicians, a fireplace and most importantly the verandah. The view from the patio was literally breathtaking. The red sun shining above the green valley was stunning. Apparently, I was asked to sit inside the cafe as there were monkeys around the cafe. So I sat there, ate masala maggie with lemonade and I was set to go. Laal Tibba was not far and the excitement was increasing at each step. Forget about the valleys, the roads were becoming more picturesque. I reach to the point and there were two cafes, one was Laal tibba and the other one I don't remember. You need to buy something to enter the terrace of the cafe, where the binocular was attached. You can see the majestic Himalayan ranges from the terrace, the white mountains looked like it was a desktop wallpaper. The Badrinath, Gangotri and two other peaks were easily visible with the help of binoculars. The guide showed me a picture of the same spot in the winters, it was filled with snow up to knees. It looked even more beautiful in the winters. On the exact opposite side of the Majestic mountain ranges, you can see the Queen of hills: Mussoorie. The sun rises through the might white mountains and sets in the Mussoorie.
The whole struggle of hiking, traveling thousands of Kilometres was worth. My body was continuously releasing Serotonin and Dopamine. I choose the different path of going back to Chaar-Dukaan. So imagine a circle where Chaar-Dukaan and Laal tibba are located exactly opposite to each other. The new path was more secluded and more peaceful. I loved it even more until I saw a weird slope against the valley. It looked different so I took the picture then as I went closer to it I came to know that it was a Cemetery. There was no one around me, and I could hear dogs barking. So I went rushing towards Chaar-Dukaan. On my way, I found the famous Rockeby Manor. At some point in my life, I want to visit Rockeby Manor and stay there for a couple of days. I reached Chaar-Dukaan, as I was not hungry I couldn't try anil's omelette. I came back again to Mussoorie, the route back was nothing less difficult, because the slope was so steep that it was tough to control your speed. I somehow reached Mussoorie's bus stand and I was set to leave this beautiful with amazing memories. I was on my way to Dehradun where I met a bunch of elderly uncles. So at that time, a bizarre incident happened in Uttar Pradesh. It was a funeral, and foul alcohol was served to the people, and it killed almost 20-30 people. It sounds extremely unfortunate but not to the elderly people.
They were all friends and it seemed that it was their daily or weekly routine. They were all cursing the people who drank alcohol. I would like to quote some of them. " ***** sale, pata nai chalo *****walo ko, dudh jaisi koi sharab hoti hai? Kisiki mayat mai aye hai waha bhi nasha nai chhoda jata, **** log acha hua mar gaye ". I was like these oldies don't give a single damn about life now. After this talkative ride, I reached Dehradun ISBT to catch my bus to Jaipur and then to Ahmedabad.