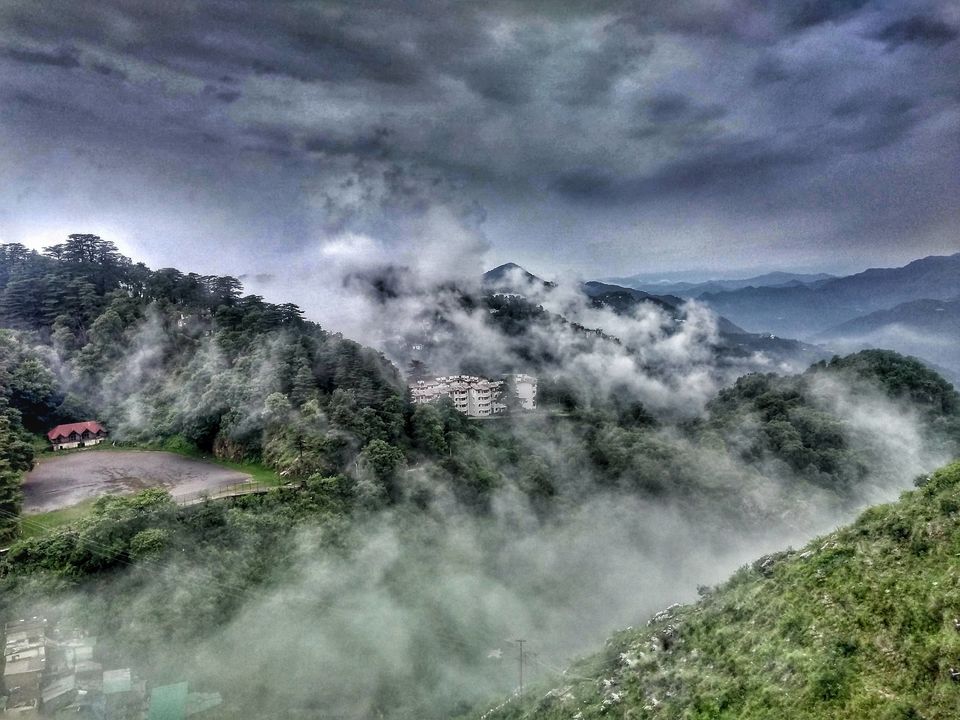 When you think of Mussoorie, you think of pristine mountains, clear skies and laid-back cafes. While for most people, the mall road and Kempty falls might qualify as one of the most happening places in Mussoorie, for the rest, a little hamlet named Landour wins the race. Located amidst an old-world aura, this place in Mussoorie is fed by unending murmurs of fresh air, chirping of birds and an endless stretch of cedar, oak and pine trees.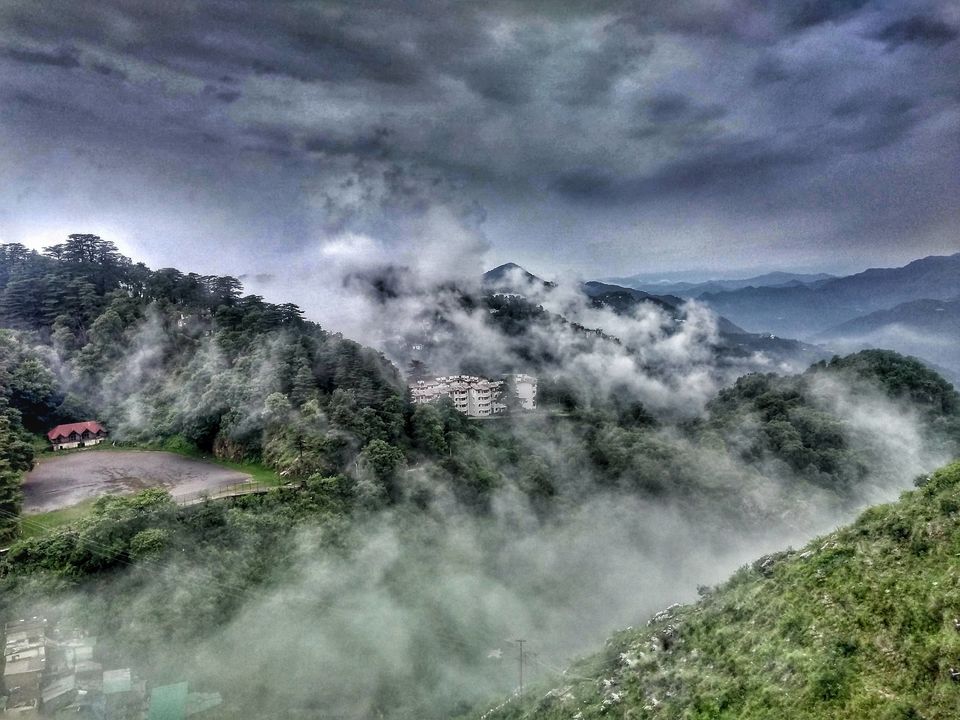 We climbed through a lane overlooking the mall road, but that stretch of five minutes made me breathless to an extent that I could no longer walk. Some days are just difficult. However, I helplessly pulled myself through the easy uphill climb that felt like an expedition in itself, and got a room for 1000/-, the highest I've ever paid for myself for a room in a day!
My room was pretty decent, and for the next half an hour I started counting my days. I was already low on cash and my throat was sore from the rain. So I decided to spend some time at leisure, gazing at the misty cloud cover that followed post the shower. I spent the evening worrying about the extremely low amount of cash that I was carrying and soon started plotting my survival strategy for the trip. First, like anyone else, I began with investing all my faith in google. Without a doubt, from all the places to visit in Mussoorie, Landour, as usual, enjoyed a better part of my attention.
The next morning I was greeted by a beautiful combination of sun and clouds. I hurried through my breakfast and started off with my venture towards Landour. Back in my mind, I had already painted an image of the town as calm and uncommercialised. I tell you, the best decision that I made was to explore the small town on foot. The walk was an uphill one, pretty tiring to be honest. However, the mountains kept on playing peek-a-boo with me and I was at my happiest. I could see tourists arriving in private vehicles, and engaging in clicking pictures at certain points to tick the places to see in Mussoorie off their list., one by one. That, I realised was the horror of commercialisation. It bothered me how people do not wish to engage in their surroundings anymore. They are not patient enough to walk a trail or two. Most tourists just hurry from one destination to another. And for a pretty place like Landour that needs so much warmth and engagement, it was heartbreaking.
After a 4km hike from the mall road, I finally landed in the much celebrated 'chaar dukaan' area. It's basically a group of cafes where people come to relish in some tea, snacks..and our favourite momos! Adjacent to the chaar dukaan, there was a beautiful church, that shone brightly under the sun, ironically avoided by the tourists. A white horse was engaged in some private stroll around it. I swear to God, the horse was too cute to ignore.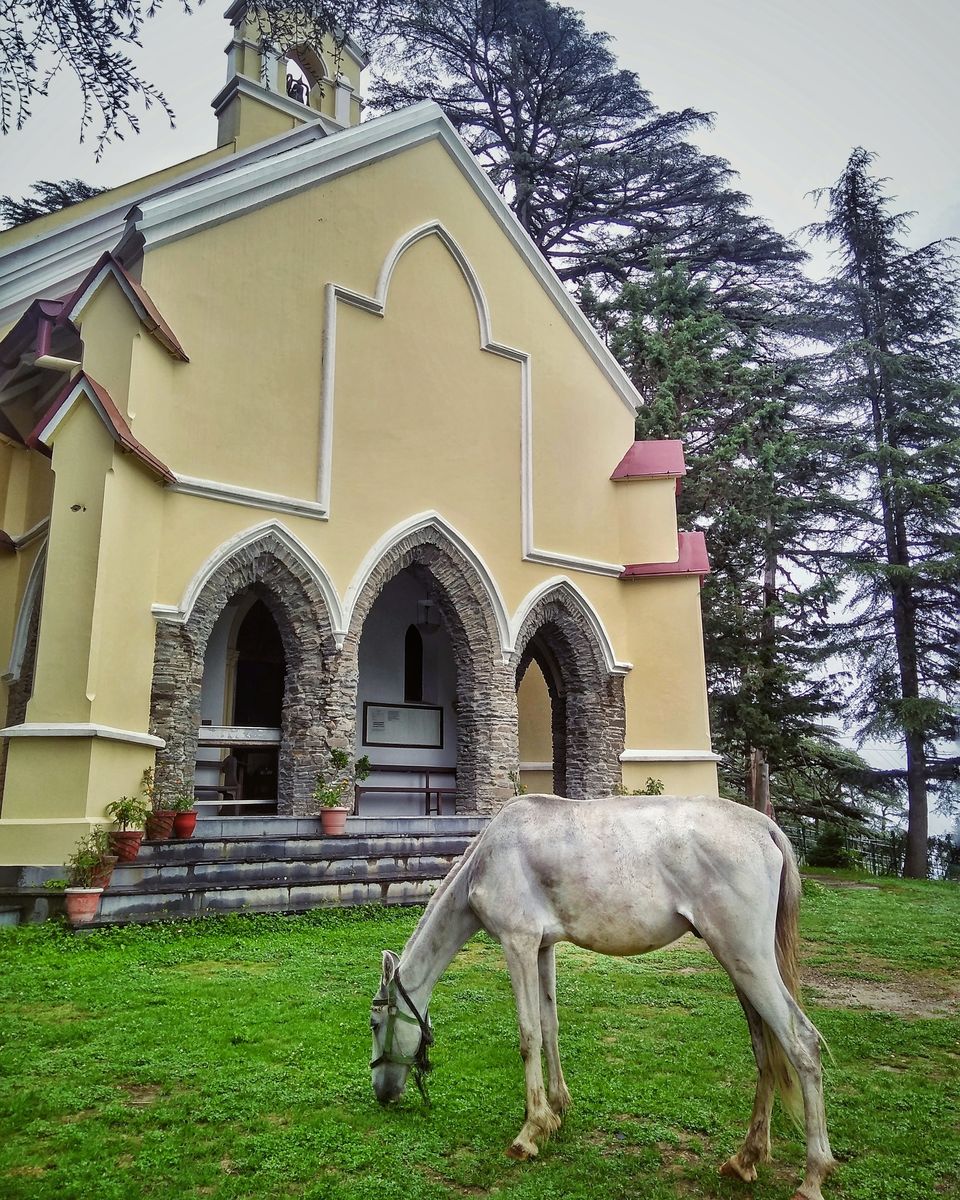 I walked inside the church and greeted the guard at the gate. The man politely smiled at me and encouraged me to go inside. I went in and felt the silence. A sense of unforgettable peace lingered within me, for pretty long to be honest. For the next half an hour, I let my foodie-self surface, and I finally gave in to my cravings for a plate of hot momos! And damn, they were undoubtedly delicious.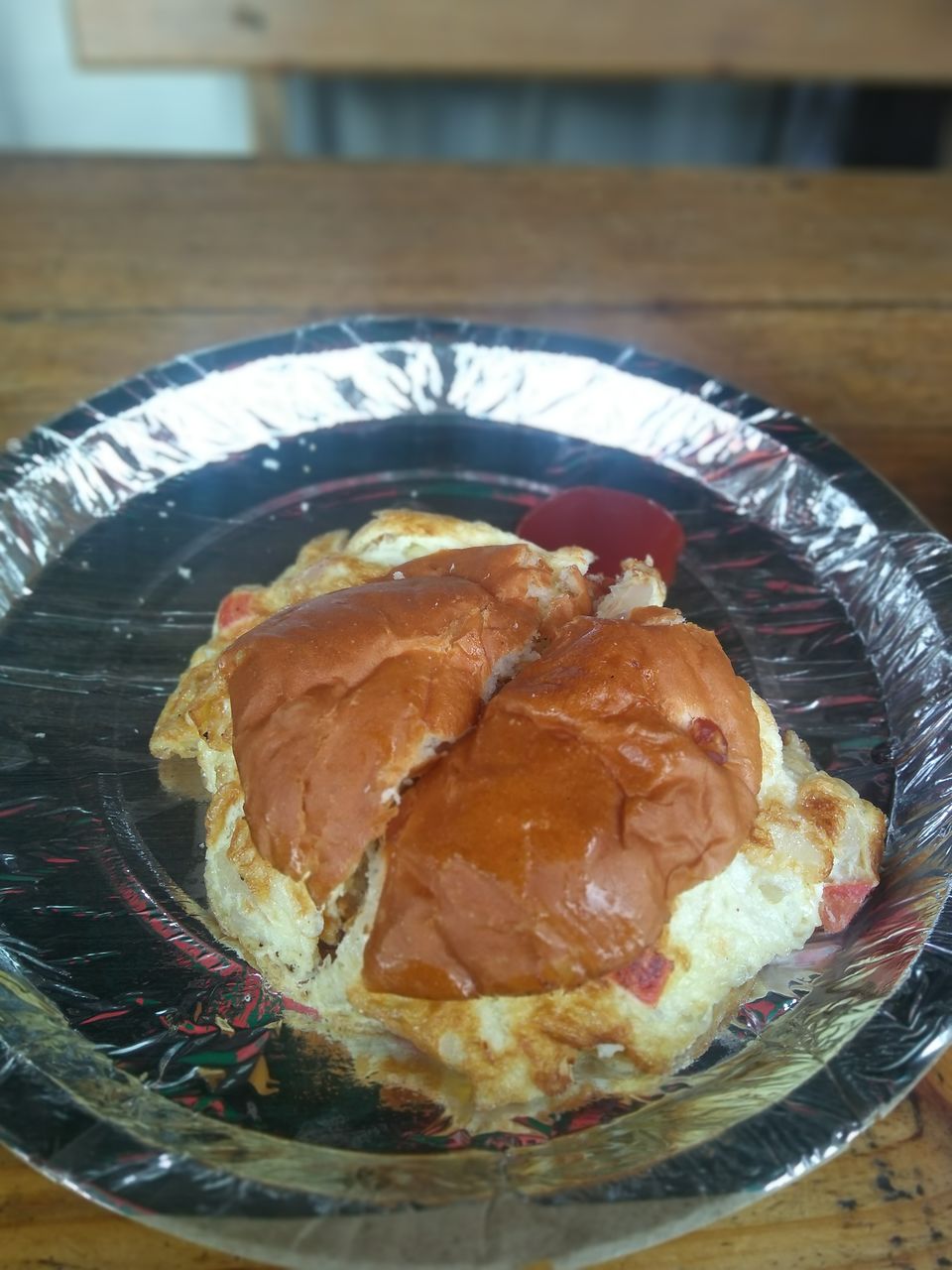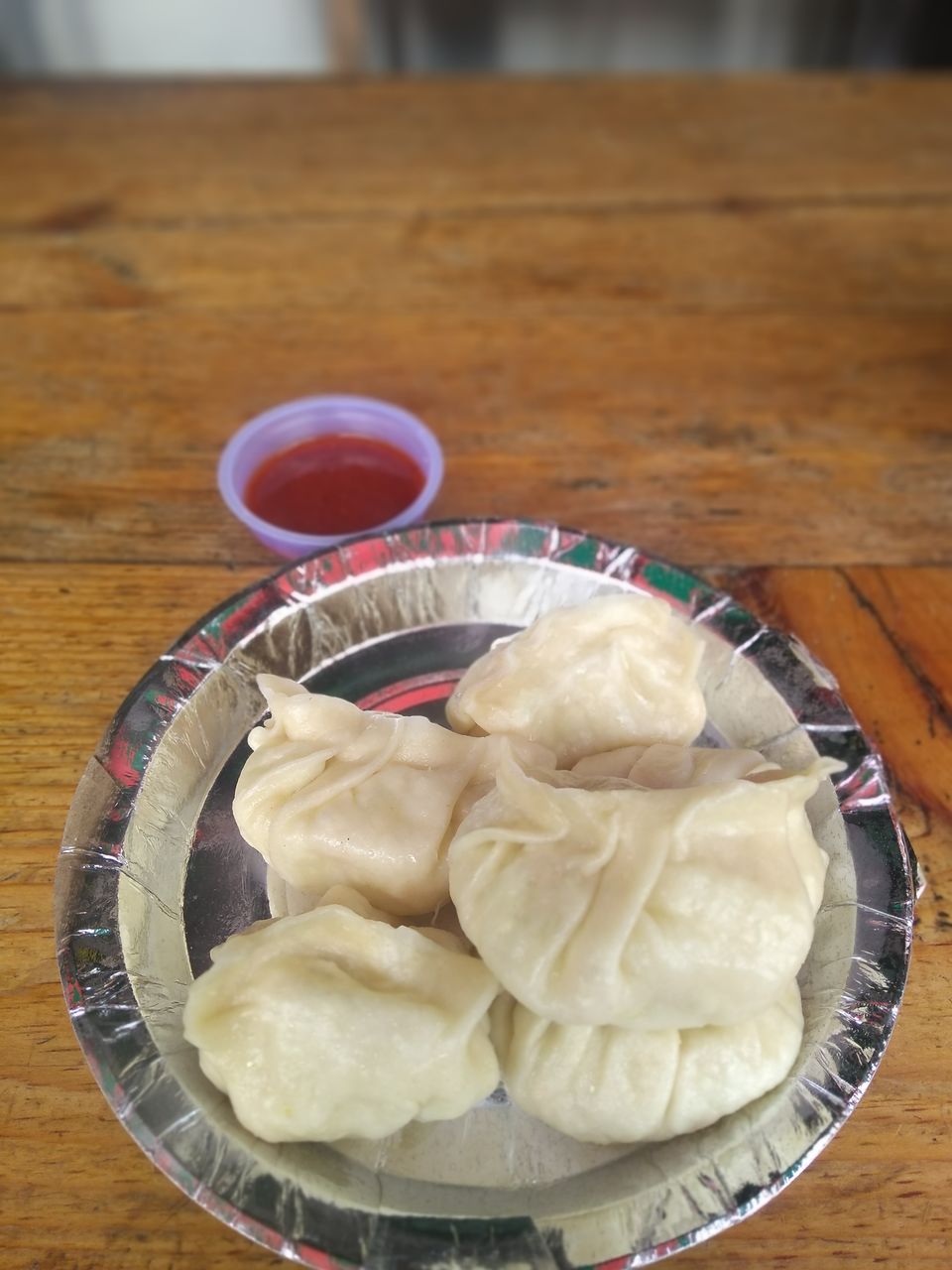 The food boosted me up for the next stretch, as I picked up my backpack to continue with the hike. The pine trees kept shivering in the breeze, and the moments that followed was more like a love story between nature and my senses! The entire route consisted of all the 'tourist spots' that people seek. The most renowned of the lot was Lal Tibba, which to be honest was utterly disappointing. On reaching Lal Tibba, I became conscious of how the next few minutes is going to make me feel. There lies a cafe amidst a panoramic view of the mountains, where people gather to get their pictures clicked. Lal Tibba was the place where I stayed for the least duration. As I continued to walk, a group of young girls broke the silence by playing one of those "girls trips" songs on their speaker..and I sighed back in my mind. I increased my pace as much as I could, and finally reached a cemetery that created a stir in my mind. The cemetery looked abandoned, like most other cemeteries. But the aura felt like an unusual merge of beauty and eeriness. A group of beautiful Hydrangea flowers soothed my soul, as my spirits remained high as I continued with the hike.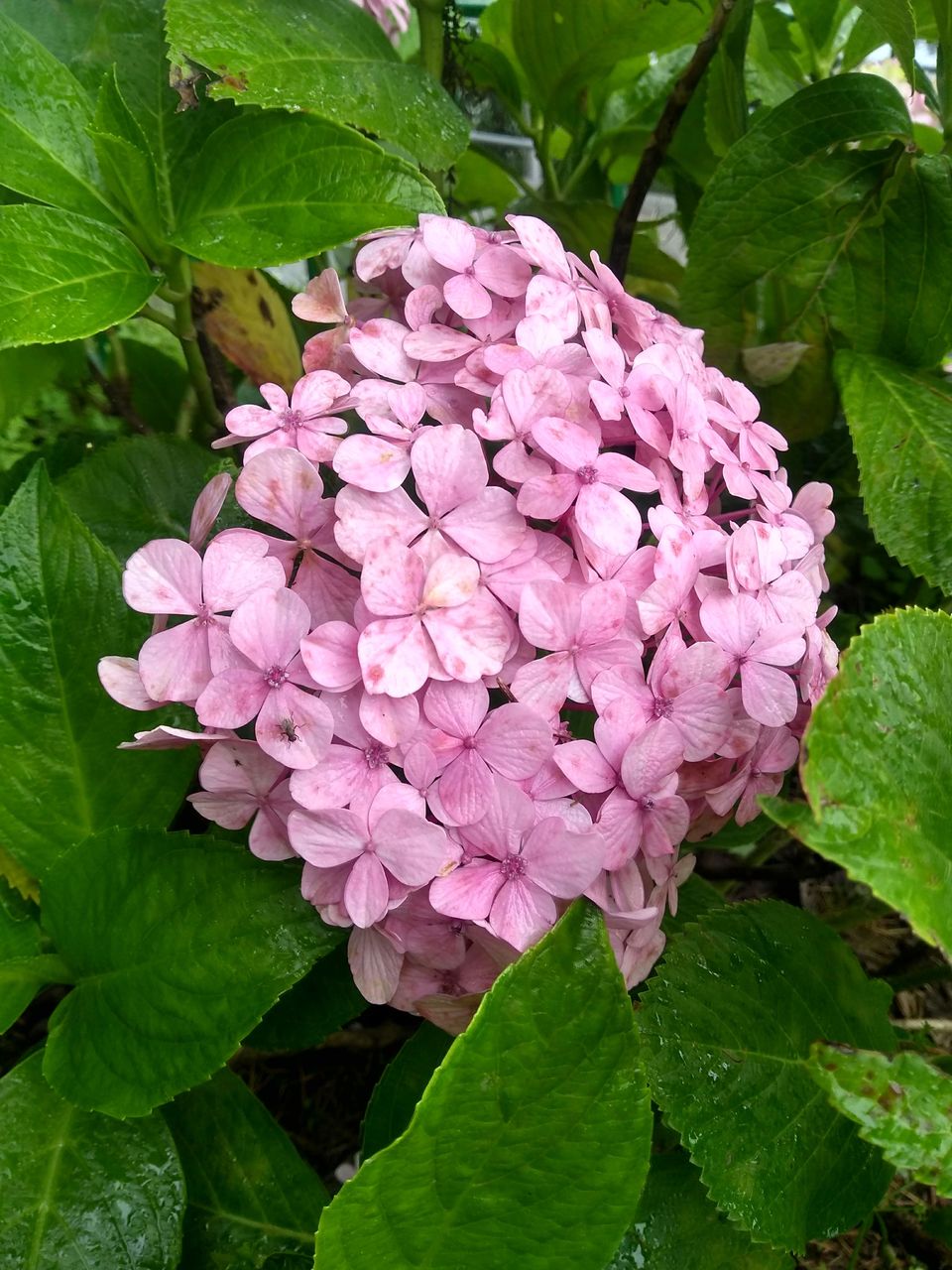 The next spot was Sister's Bazaar, a group of two or three small and cute shops, one of which was a bakery- apparently the only existing bakery in Landour! I entered as it caught my interest- there were numerous shelves with books from some other era. A few of my favourite books by Ruskin Bond played hide and seek with me. And to be honest, my heart felt full. I glanced through the delicacies that remained lined up in the store. Most of them were desserts. Despite the high price, my sweet tooth couldn't resist. I scanned the entire cafe that boasted some fine distressed furniture with vintage photographs and quotes. My brownie was soon served hot...and I swear to God. It was the yummiest brownie I've ever had in my life, and with a view like such. Something to die for!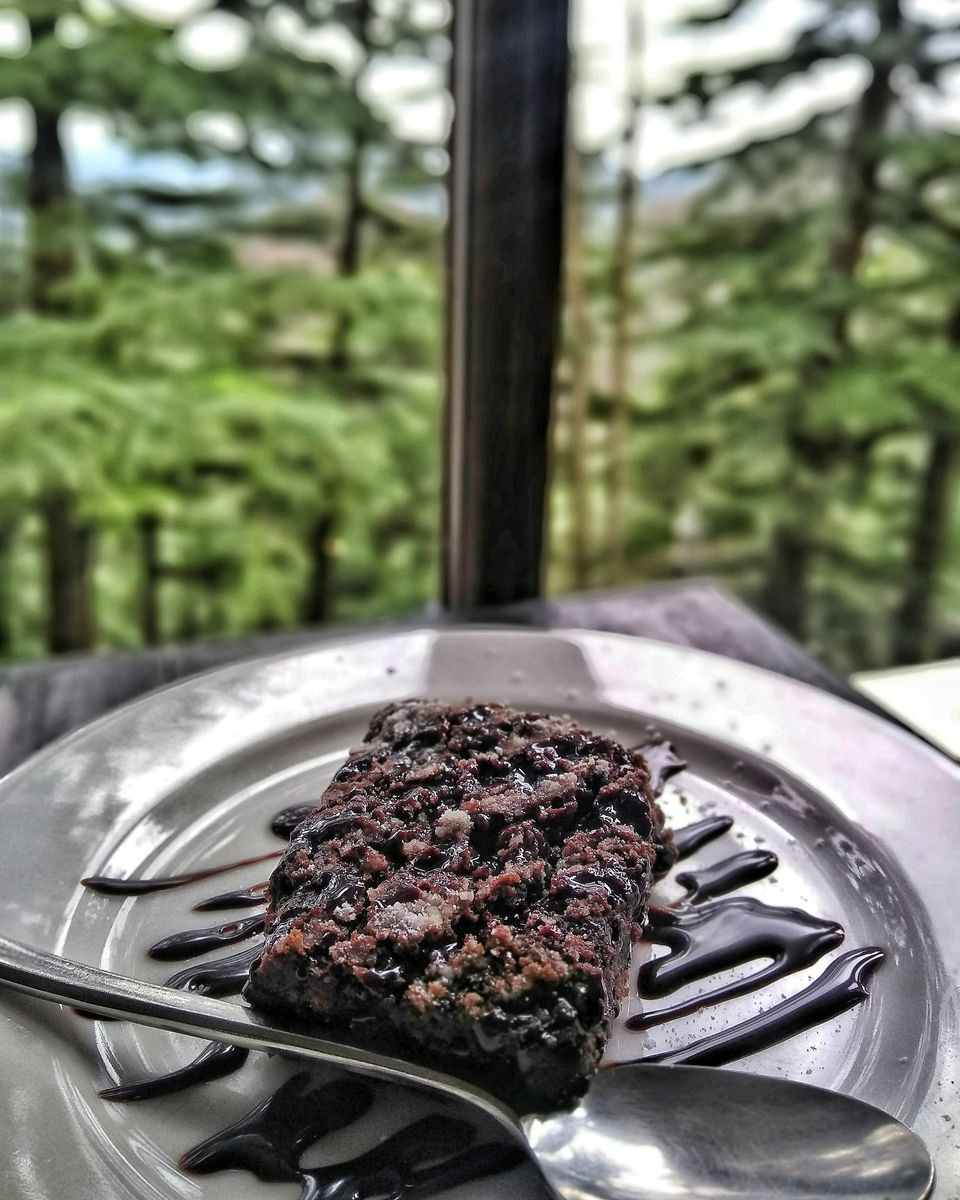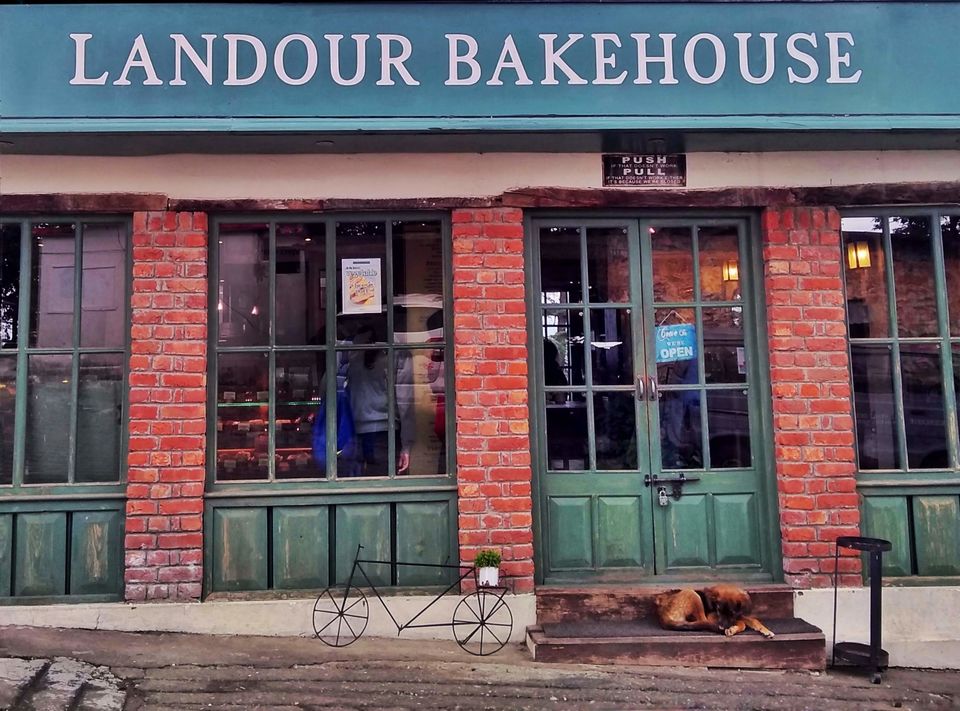 Sister's Bazaar was the last destination of Landour, post which the main road ended. There was another road that went uphill, but as the locals informed, the road only led to some private houses. Ending my Landour venture felt sad, and I was supposed to trace the same way back to Mussoorie. The way back to Mussoorie made me feel like I was reliving an older tale, the charm and the surprise still felt new. Throughout my journey, one thought remained consistent at the back of my head- I was hovering around the same routes that are home to Ruskin Bond. Although I was not on a quest to meet him, but not like I didn't wish for it!