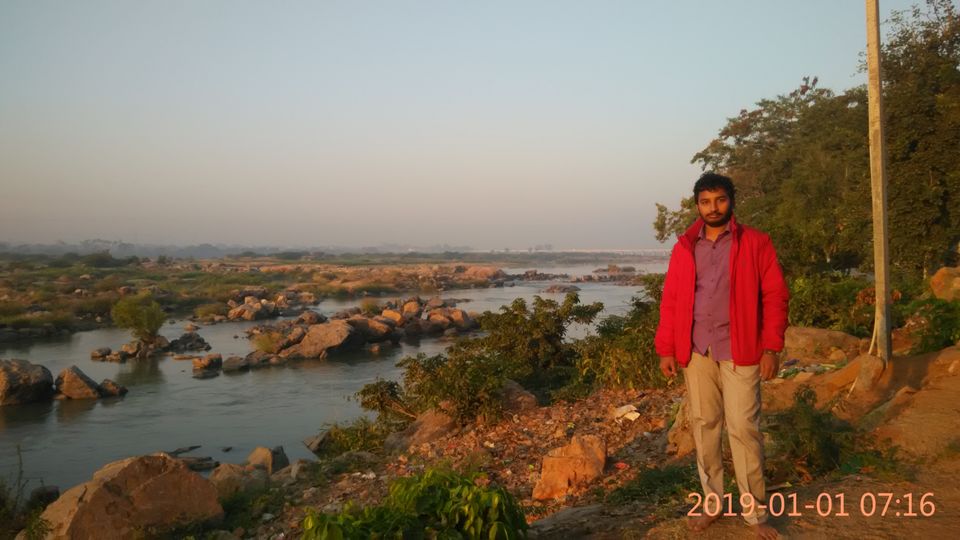 Happy New Year...
Me and Vinayak wanted to celebrate new year in a different way...we decided to roam around the city at mid-night....we didn't find anything going on...we just came back and decided to leave to Bichale (Bichhalli) 30 km from Raichur early in the morning...
We got up at 4:15 AM and freshened up, left around 4:45 AM to Bichalli...Reached the place at 6:00 AM....It's a place, where Mantralaya Sri Guru Raghavendra Swamiji spent his time for 13 years and his disciple Appanna Achaarya served him in this place...
Sri Apanna Achaararya has built a Eka Shila Brundaavana of Sri Guru Raghavendra Swamiji....
The place is located just besides River Tungabhadra...We took a holy dip in the river on the occasion of new year and took darshana of Rayaru...
We wanted to visit the actual house (has been renovated recently) of Appanna Achaarya where he and Guru stayed, but couldn't as it would open only after 9:30 AM....
Hence, we just returned back to Raichur, as it was a normal working day for us...
Distance from Raichur - 35km
Distance from Mantralaya - 20 km
If you just type Bichale in Google Maps, it'll direct you to the place....the road is good from both sides except for last some 4 kms....
Have a peaceful visit to bank of River Tungabhadra where you can seek the blessings of Sri Raghavendra Swamiji🙏
Happy new year again🤗