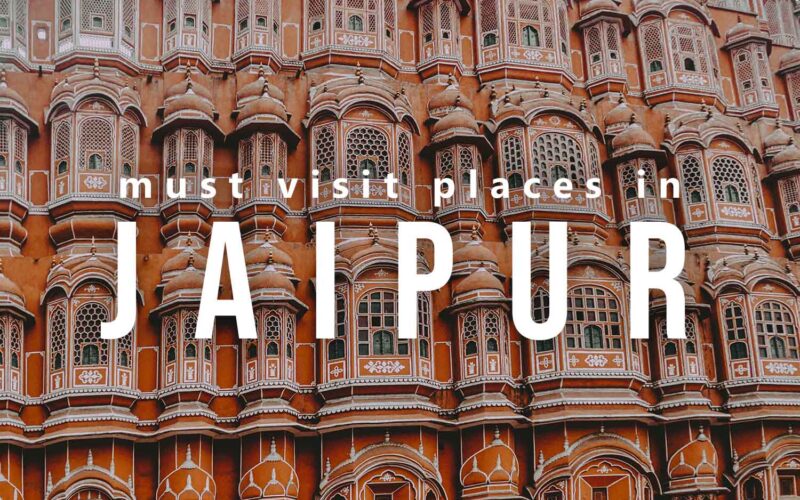 Best places to visit in Jaipur - the pink city is the closest getaway you can from the capital. And there are plenty of places to visit in Jaipur to make your trip a culturally enriched one! From forts, palaces, temples, and museums to swanky picturesque cafes and bars. These two co-existing sides of Jaipur blend together beautifully as well. Think bars in old Havelis, palaces converted to heritage hotels, beautiful vantage points from forts atop hillocks.
Jaipur was established in the 1700s by Amer's ruler Jai Singh II. And happened to be one of India's first planned cities. But it wasn't until the 1800s that the city was painted in its signature pink colour. Known to be a welcoming hue, Maharaja Ram Singh donned the city pink to welcome the then Prince of Wales during his visit.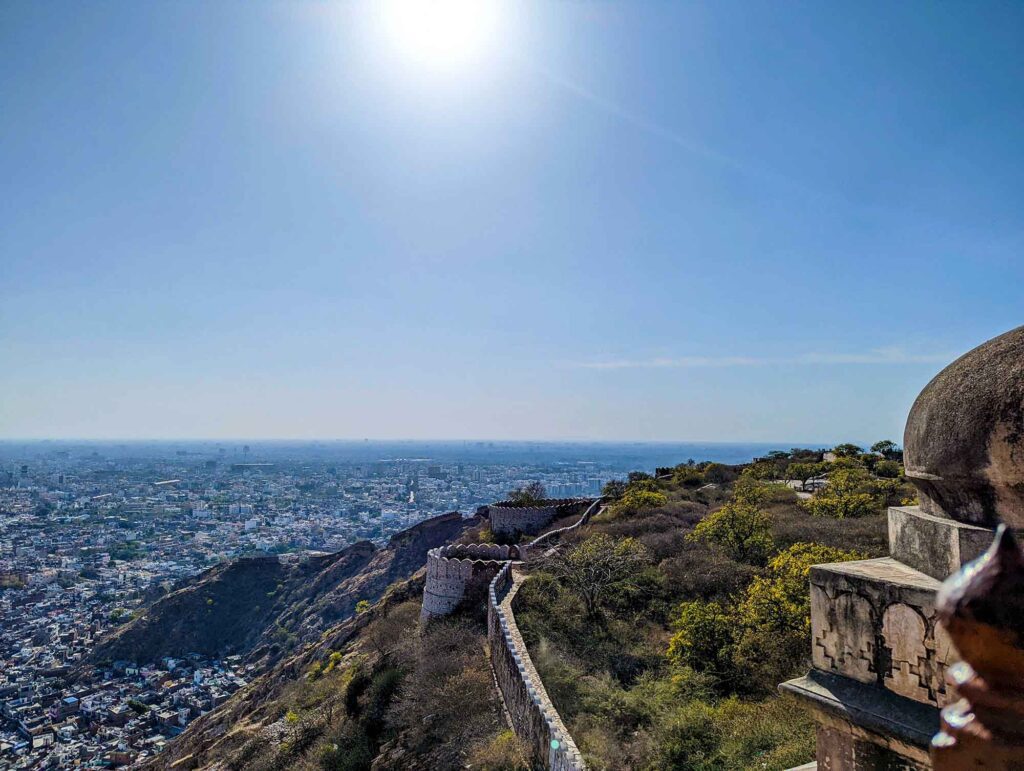 Best places to visit in Jaipur
There is not a single dull moment in the city, from shopping in the Johri Bazaar, to exploring an age-old camera, old forts, and palaces that the Royal family still inhabits. Traditional block printing, puppets, namkeen, and textiles, there is plenty you can get up to in Jaipur.
There is of course the much obvious experience of Choki Dhani. Choki Dhani was established in the late 90s and was a unique, traditional village experience. From mini museums, historical moments in Rajasthan's history, camel rides, and puppet shows - the traditional Rajasthani thali that is served later on is the highlight. Over the years it has become overly commercialized and doesn't find a spot in this list. But it is definitely a good visit at least once - on your many trips to this ever-flourishing city!
Here is my list of the 10 best places to visit in Jaipur!
City Palace
Located in the heart of the city, the city palace is the official residence of the Maharaja of Jaipur and the Royal family manages and maintains its day to day. There is the armory, diwan-e-aam and sabha niwas, and a photo and picture gallery, which is a new addition sure to remind you of a quaint corner of the MET!
There are 2 different tickets you can opt for - a basic one or one which includes a tour of some of the private quarters of the Royal family - yes, those perfect IG pictures you have seen of the blue room.
Amer Fort
This UNESCO site was once the official palace until the capital was shifted to today's Jaipur. Located about an hour's drive from the main city, Amber or Amer fort acted as a safe haven from attacks back in the day. There are 2 distinct portions to the fort - new and old. The newer includes the Diwan-e-aam and Diwan-e-khaas courts and the Sheesh Mahal. Some parts, including a temple, are still in use by the Royal family, especially during Navratri. There used to be an underground tunnel to Jaigarh fort, which is now closed off! You can easily drive to Amer Fort - the drive is absolutely beautiful. There are a few government-authorized parking spots but are often running at maximum capacity, and the local tour guides are likely to lure you into either taking one of the jeeps and offering you that spot as parking. The walk to the fort isn't a long one, so I suggest finding a parking spot and walking.
You can also opt for an elephant ride if you would like the experience. A guide for inside the fort is a good idea to take you around. There are a few shops near the ticket counter, so stock up on some water and juice to keep you hydrated, no matter what weather you are visiting.
Souvenirs at Amer Fort - While exiting the fort, there are some good shops to purchase souvenirs - 'itr' - the traditional Indian fragrances are a must-buy. You can also indulge in block-printed fabrics, Jaipuri quilts, magnets, and postcards. Amer's namkeen is also very famous, maybe not as much as Bikaner's but there are a few shops you can taste and buy from just ahead of the parking lots.
Also explore 1135 AD, an opulent restaurant located with traditional Rajasthani dishes.
Nahargarh fort
The slightly less traveled to Nahargarh fort is an increasing favourite among youngsters as one of the best things to do in Jaipur. There isn't as much to do as compared to Amer fort, but the views of the city and sunset at Nahargarh fort is a site worthy of experiencing! Perched on the Aravallis, Nahargarh fort too was built to guard the city and served as the Royal family's summer home. Today it is a popular picnic site for the locals and offers unparalleled views of Jaipur.
jantar mantar
Maharaja Sawai Jai Singh II built 5 such observatories of which the one in Jaipur is the largest. Jantar Mantar literally means instruments for measuring the harmony of the heavens. In the past, these observatories measured time and tracked celestial bodies.
hawa mahal
Hawa Mahal is the most recognizable monument of Jaipur. It stands tall in the heart of the city and is in close proximity to the City Palace and Jantar Mantar. Jharokas - the small latticed windows are the USP of the palace. They acted as ventilation and also for the Royal women to enjoy the view of the city.
Must do near Hawa Mahal - Mr. Teekram Chand Pahari is the fourth generation carrying out the league of photography with this Vintage camera. The black and white portrait photographer is a tiny bit tough to locate, but once you do, you absolutely have to sit in front of the black, slightly wrinkled background and get a shot. He is a very happy fellow who will willingly show you how the camera works, the negative and positive, and how he converts and re-focuses the picture. Not the sharpest or prettiest picture, but this makes for such a perfect postcard to take back home.
patrika gate
The Patrika Gate at Jawahar Circle is a must photo-op! Patrika Gate helms the Jawahar circle, close to the Jaipur Airport. Epitomizing Rajasthani art and paintings, this gate is one of the most snapped in Jaipur in recent times. Surrounded by gardens, try visiting early in the morning to beat the crowd.
Albert Hall museum
If there is a major museum in the city, it is obviously going to be on any travel list I pen down! Inspired by the Victoria and Albert Museum in London, the architecture takes a lot of inspiration from its namesake. The museum houses artefacts, sculptures, paintings and miniatures from the Jaipur, Udaipur, Bundi, and Kota schools of art.
Johri Bazaar
This very organized and symmetrical market is the perfect one for your shopping spree. You will find all the traditional lehngas and ghagras, cheap leather bags, minakari earrings and more. Don't forget to grab a bite at the iconic Laxmi Mishthan Bhandar and pick up some pyaaz ki kachauris.
https://www.instagram.com/p/CYrGXaPha0V/
Anokhi museum
Anokhi museum of block printing is only a short drive from Amer Fort. It is housed in an old restored haveli and they also house artisans who can show you the art of block printing. You can learn about their various initiatives to keep the art forms of Jaipur alive. They have a small store too, but in case you are planning to shop, the one at KK Square, Prithviraj Road is amazing!You can also check out Panna Meena ka Kund nearby!
Jal mahal
Jal Mahal is a sight to behold in Jaipur. This palace is half-immersed in water and appears to be floating in the lake. You can obviously only view this from afar. Although, the area around has been developed and you can enjoy boating and some street snacks! It is enroute to Amer, so catching it on your way back is the best pitstop.