History is intriguing indeed!!!
And best way to learn about history is visiting places.
India has a very rich historical heritage and the good part is some of that has been well preserved.
The main place to visit at Ajmer is the dargah of "Ajmer Sharif". This we did not go in this trip but I've been there twice earlier. It's a very different experience. In the dargah, one feels very calm and with oneself. Almost from a kilometer, we feel like having entered a sacred domain. Lots of shops selling "Chaadar" and garland are seen hanging on both sides of the street.
This monument is a sufi shrine of sufi saint, Moinuddin Chishti.
The very moment one enters the dargah, one feels like having engulfed in that sacred atmosphere. It is believed that at this place if we wish for something with a pure heart, the wish is fulfilled.
From Ajmer, we left in the morning around 10 and it is almost 6~7 hrs journey by road to Jodhpur. We had taken a small package for our tour which included stay at several places and the commute by car.
After a tiring journey, we reached Jodhpur at around 5 pm. I was very excited on entering this historical place.
Most of the old Havelis here have been converted into Heritage hotels. We had booked one such hotel here. The environment inside this hotel was all royal and we felt like having descended from the royal family.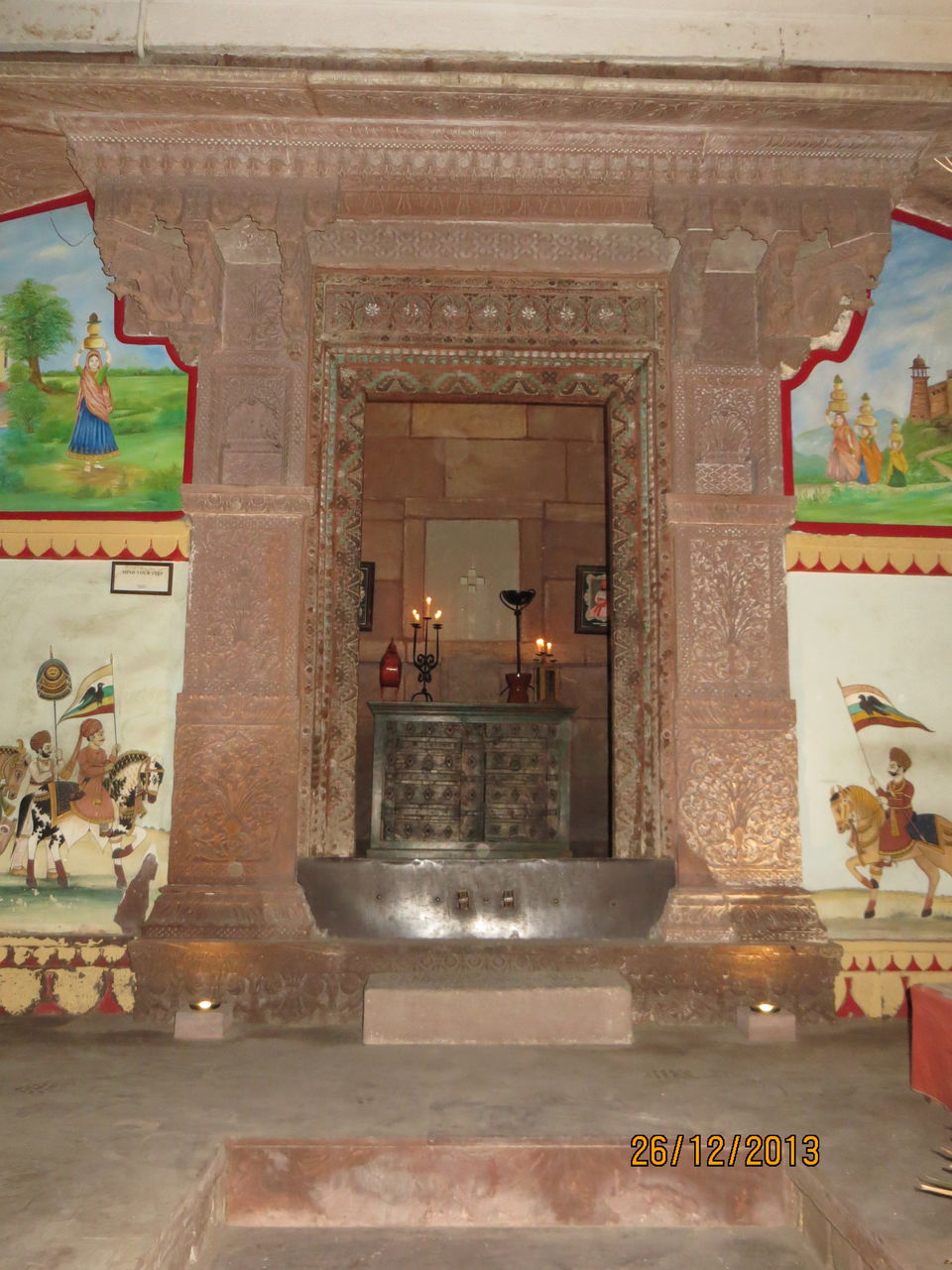 From our room we could see the "Mehrangarh", the magnificient fort. It seemed so powerful like a big giant standing in the city to protect it from invaders.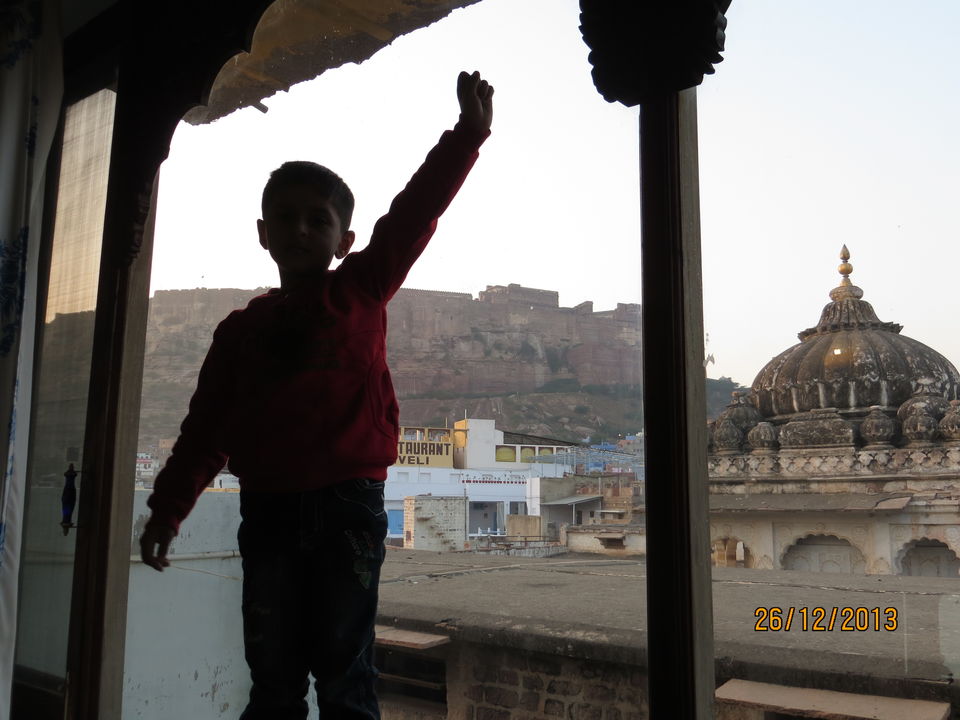 Just near the Jodhpar "Haat" was the City Clock Tower. Luckily, we were not so late and could get tickets to go upstairs in the Clock ☺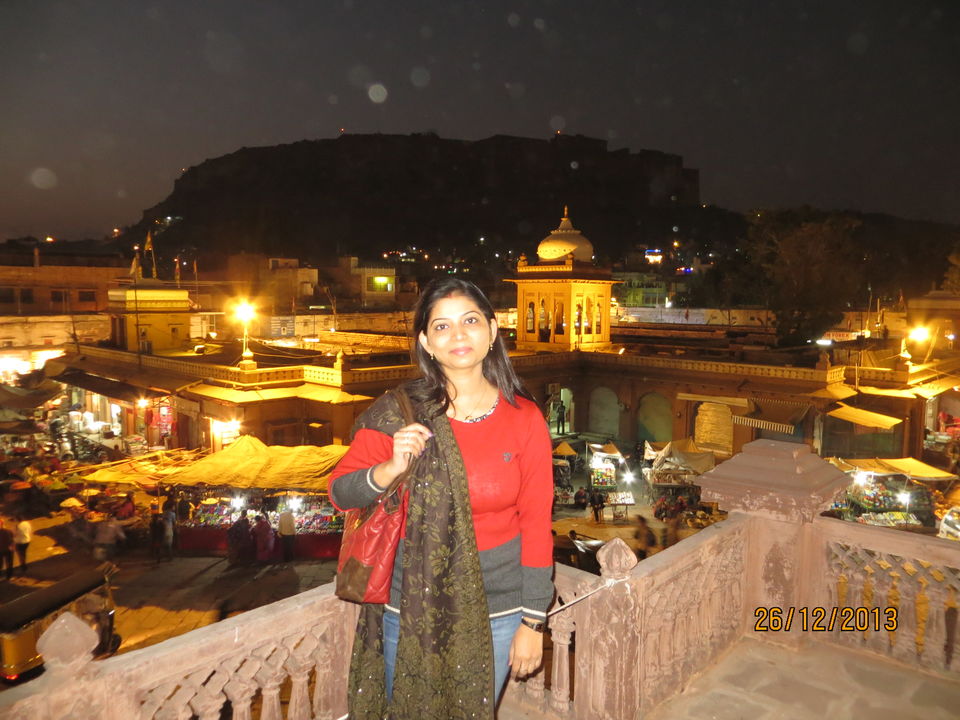 Next morning we left for Mount Abu after having a short visit to the new palace of Jodhpur. It was a long drive and we reached Mt. Abu quite late in the evening.
Being so tired, we all went to sleep quickly after dinner. With the rising sun, we went to see the Dilwara temples. These are very beautiful jain temples with beautiful carvings on stones which cannot be described in words and one must see themselves.
We also went to Mount Abu lake.
With this our Rajasthan trip came to an end and we came back to Pune with lots of wonderful memories and of course tons of captures in our camera ☺
We could not include Udaipur in this trip but that's an excuse which we have, to return to this mesmerizing state of palaces and royalities ☺
This post was originally published on Mind Uncovered.
Frequent Searches Leading To This Page:-
best tour packages in rajasthan, rajasthan family tour packages, rajasthan travel packages, rajasthan trip packages, rajasthan tour package for family, honeymoon packages in rajasthan
Although there are a lot of places in Rajasthan which hold a "must see" status, we could include a few of them in our trip.
Jaipur, the capital of Rajasthan and one of the most attractive cities for foreign tourists was not included in this trip as we fortunately have had the privilege of staying in this mesmerizing city for almost 3 years. However, the memories of Jaipur are still fresh in my mind so will share that experience too. But, would like to dedicate a separate blog to Jaipur☺
The main cities travelled in this trip were Ajmer-Jodhpur-Jaiselmer-Jodhpur-Mount Abu.
Jodhpur was included twice as it is almost at the centre from Ajmer to Jaiselmer and it is difficult to travel directly from Jaiselmer to Mt Abu.
So our journey began from Pune to Ajmer and then further.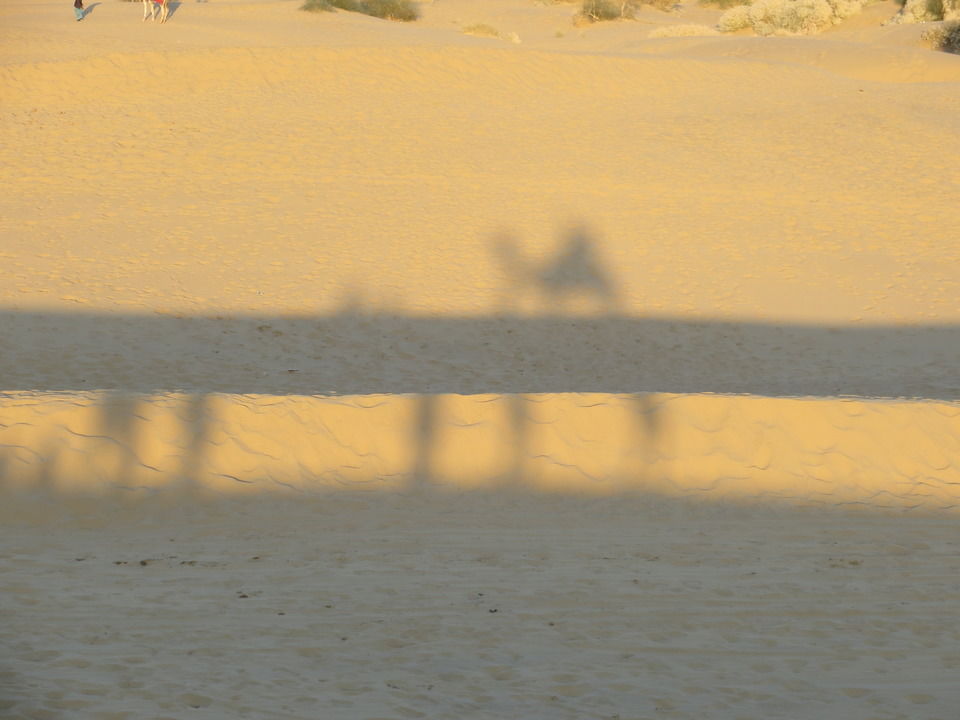 We attended a family gathering at Ajmer and then headed towards our journey to Jodhpur.
Forts often fill us with some eerie feeling for several reasons, firstly the sheer enormity overwhelms us. Then they are usually associated with some "not very happy" stories which definitely raise our curiosity.
At the same time, the architecture and beauty of palaces inside these forts mesmerizes us.
Unlike forts of Maharashtra, the forts in Rajasthan have a palace inside where kings used to live.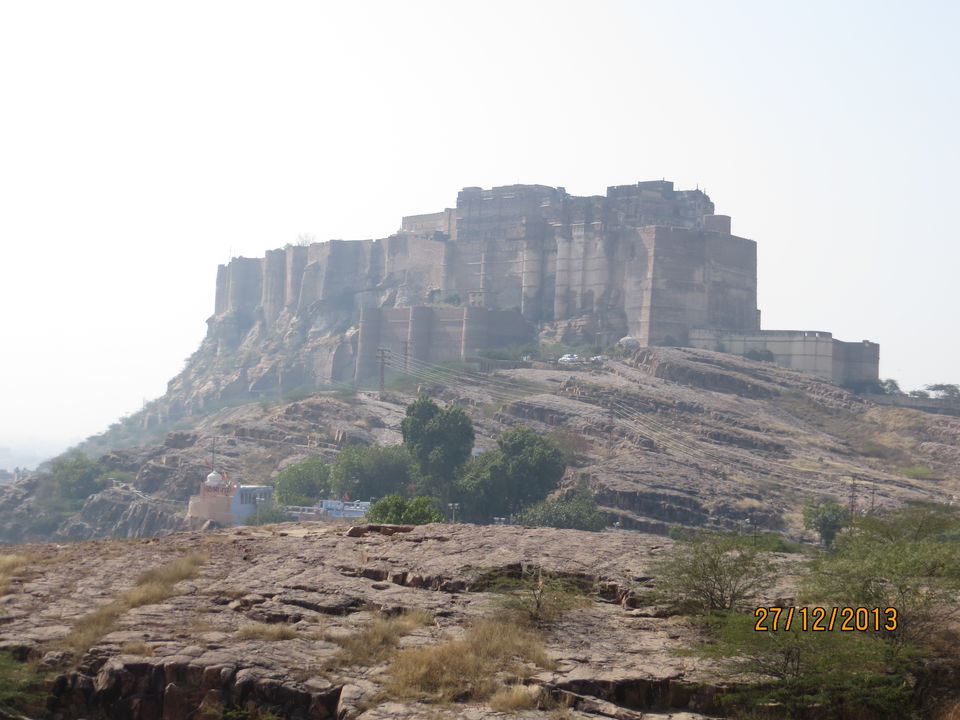 After a little rest we left for a small stroll near the old Jodhpur, our hotel was very near the old jodhpur market popularly called "Haat". Soon enough we were amidst the hustle bustle of the haat....
Time seemed to have stopped at this very place. I could just visualize about how this market would have been ages ago and could figure out only one difference, the attire of the people buying goods.
However, there were quite many people who wore the same traditional dress of Rajasthan.
The market was a large square area with lots of bangle shops on both sides. These were the lead bangles, the traditional and popular Rajasthani bangles. Lot of woollens were being sold as it was very cold during the month of December.
And lots of road side eateries selling panipuris, mirchi pakode, kachori ☺ and we readily helped ourselves with some of it ☺
A little ahead we had the main market. Well organized shops on both side of the road. Each shop having a number assigned to it. I was amazed at the infrastructure of the market created years back. All so systematic.
This also reminded me of the Jaipur's Bapu Bazaar and other markets of old Jaipur. A very well defined and organized city with roads always intersecting at 90 degrees. This infrastructure was created centuries ago and with such foresightedness. Really amazing design which beats the designs of our new modern cities as well.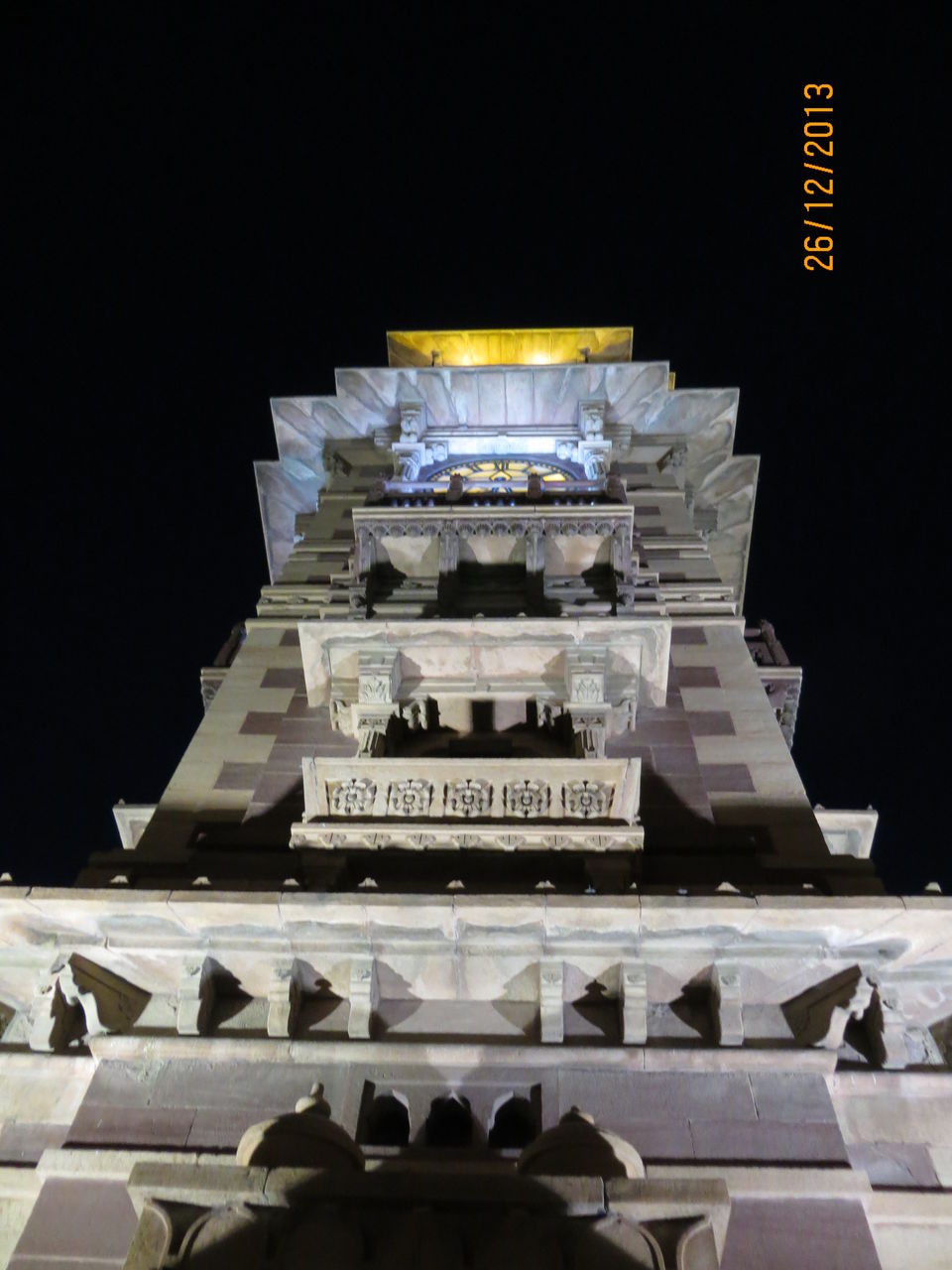 View of "Haat" from here was awesome. I thoroughly loved our small stroll in Jodhpur.
Next day we had planned to go to Mehrangarh, the famous fort of Jodhpur and from there to Jaiselmer.
So, next morning we got ready and had our breakfast and left for the "Mehrangarh" fort.
The moment you step inside this fort, you feel like having transported to another world. The huge fort with huge palace building speaks volumes about the skill, lifestyle and the royal family of that era. The whole back wall of the palace was covered with pigeons who were now the inhabitants of this place...who knows these little creatures might actually be the royal family of that time in their new avatars ☺. As it is said that love of palaces is something one cannot get rid of easily and this also seems to the core of many haunted stories around forts ☺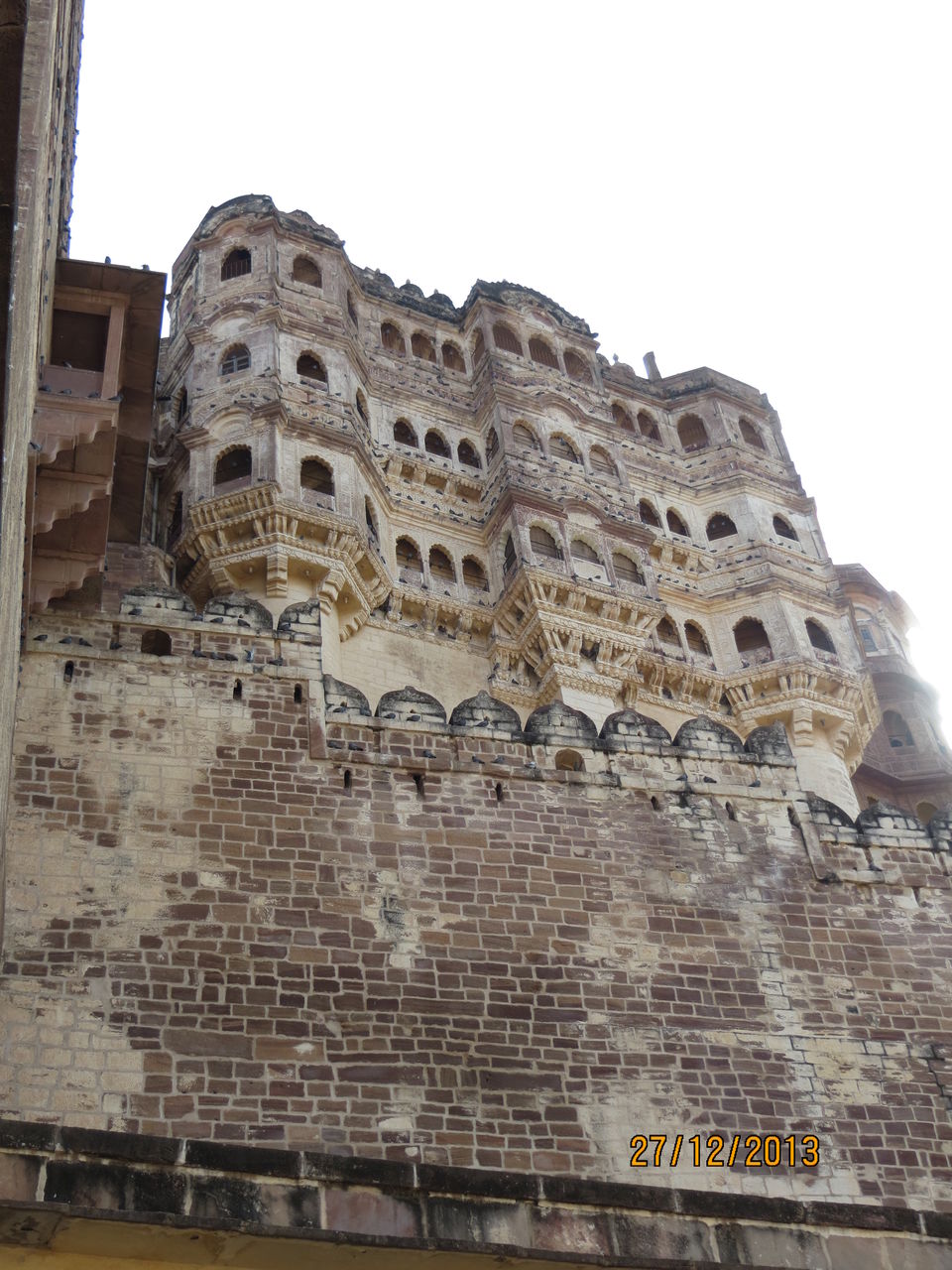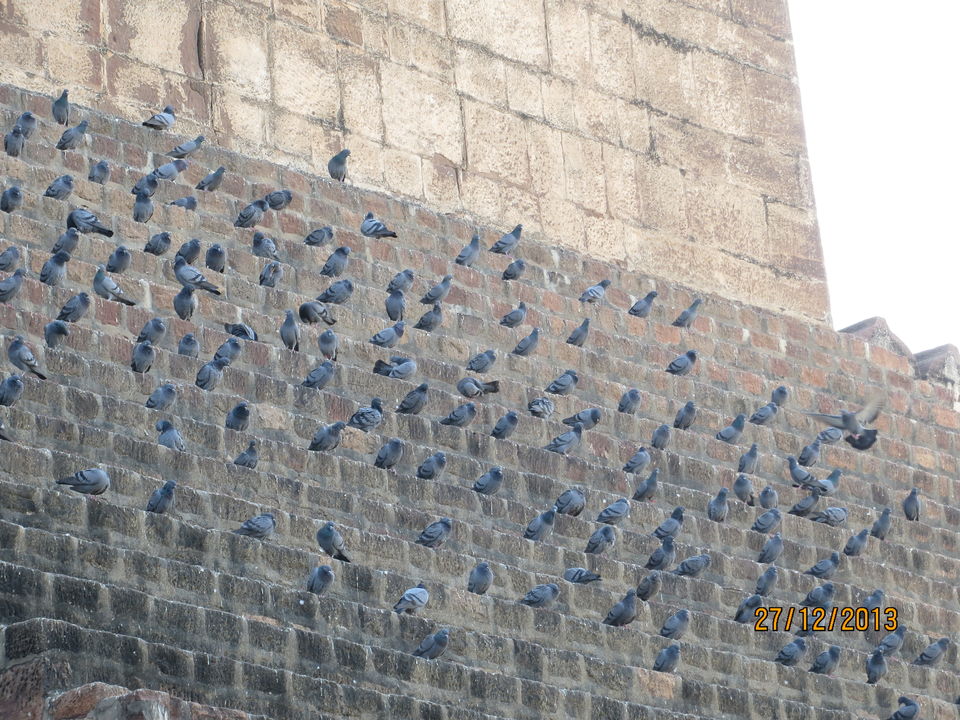 On a serious note, the fort just enthralls the spectator at the very first sight with its glory and beautiful architecture and the brain starts visualizing the kings and queens roaming around in the palace.
Considering the enormity of the fort it was impossible to see everything there so we chose a segment of the palace to view it from inside and then went to see the other part of the fort which was meant to defend the enemies.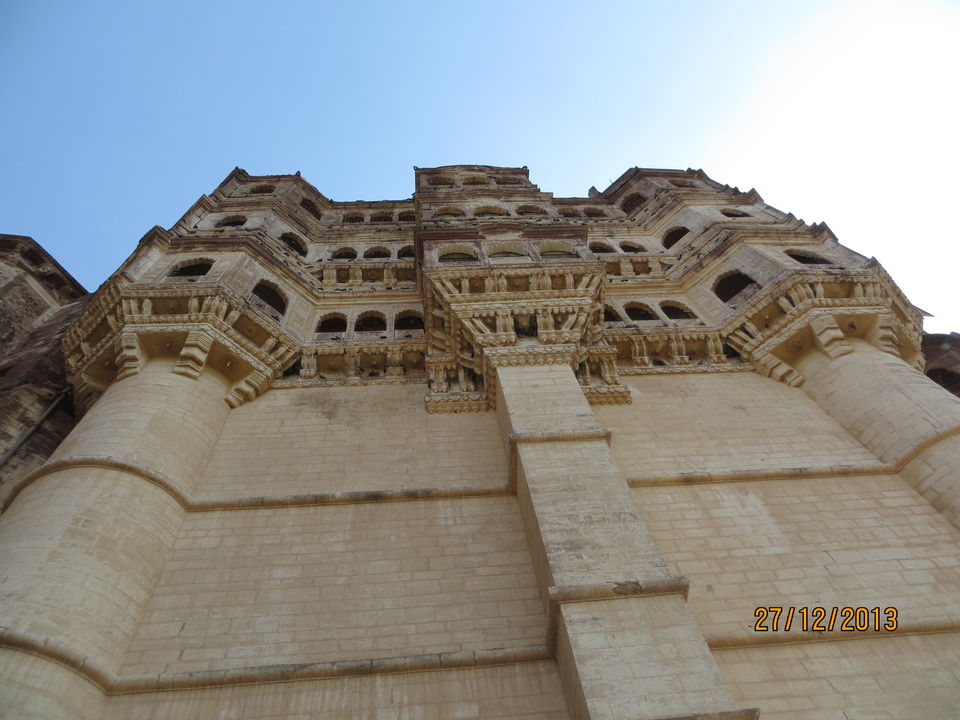 Due to its sheer size one obvious question which comes in mind is, how many people the palace accommodated . It was like a non-ending maze, you enter some door and will come out you don't know from where and there was no chance of going back to the original door again ☺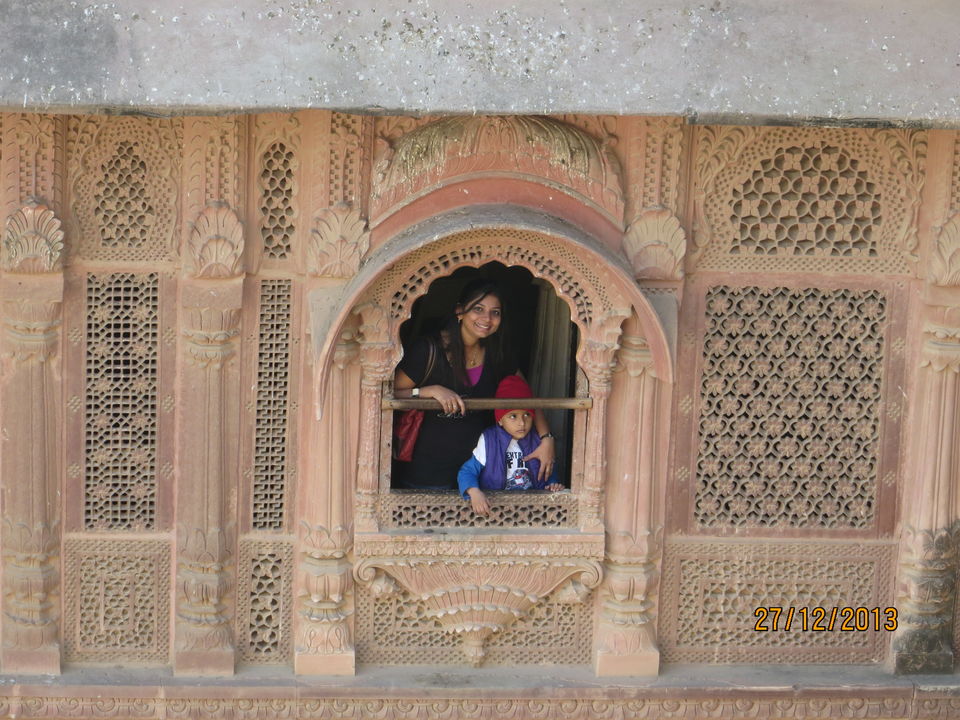 Certainly one of the best places for Hide and Seek for the royal children ☺
We had entered the fort from the back side which led to the palaces but the front was the big giant guard for the rest of the city and this palace. Front of the fort was used to stop enemies. The canons still lay there at regular distance giving the evidence of the time they were used in.
Seeing all this instantly shoots up the adrenaline levels.
One remarkable point of every fort is the small temple built at the extreme corner, the deity in which is assumed to have taken care of everything. Till date the deity is worshipped religiously morning and evening.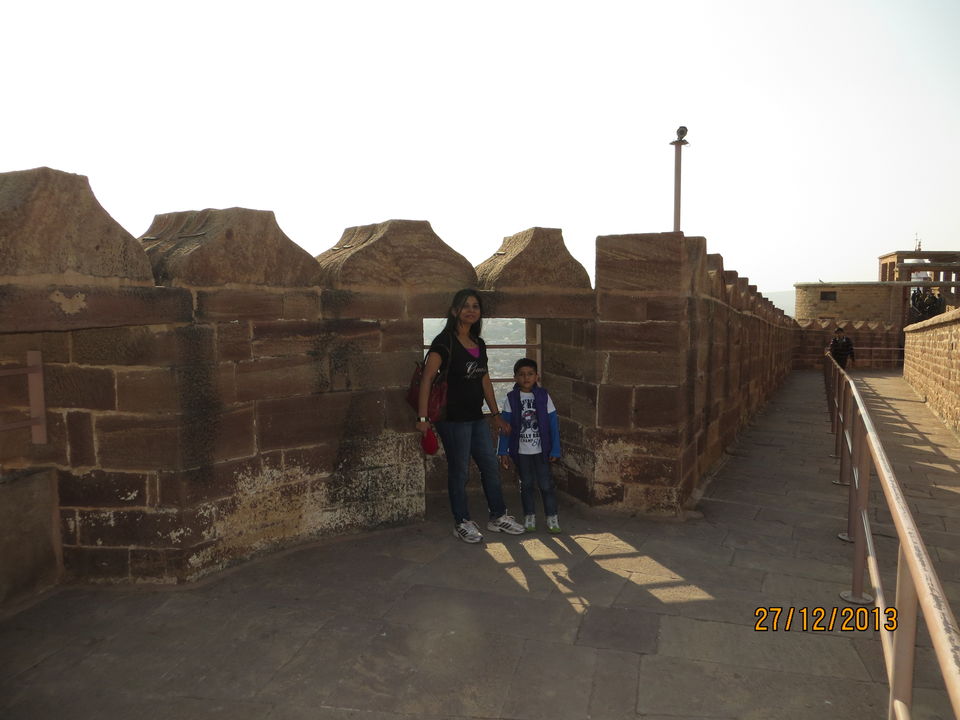 Even after coming back from Mehrangarh fort, I could not erase the sights off my mind...it had such a powerful hangover. Many more questions came in my mind, if Jodha Bai, queen of Akbar hailed from this place....did she walk the same path we just got a chance to go? But on surfing, I found that perhaps nothing is so sure about Akbar-Jodha's story and history, as in google, spoke something different from our regular belief of this fairy tale lovestory.
Next in our itenary was Jaiselmer. I was so joyful just with the thought of staying in desert ☺ as we had one night camp stay in desert.
"Jaiselmer" the Golden City.....even if one does not know that the nick name of Jaiselmer is Golden city....it is the next thing that comes to mind after having stepped in this city...all pathways, building, monuments are made up of golden yellow sandstones. Jaiselmer fort is also made up of yellow sandstone and enjoys the status of "Sonar Killa". The entire population of Jaiselmer used to reside inside the fort, even today so many people live inside this fort's campus. Its a very huge fort.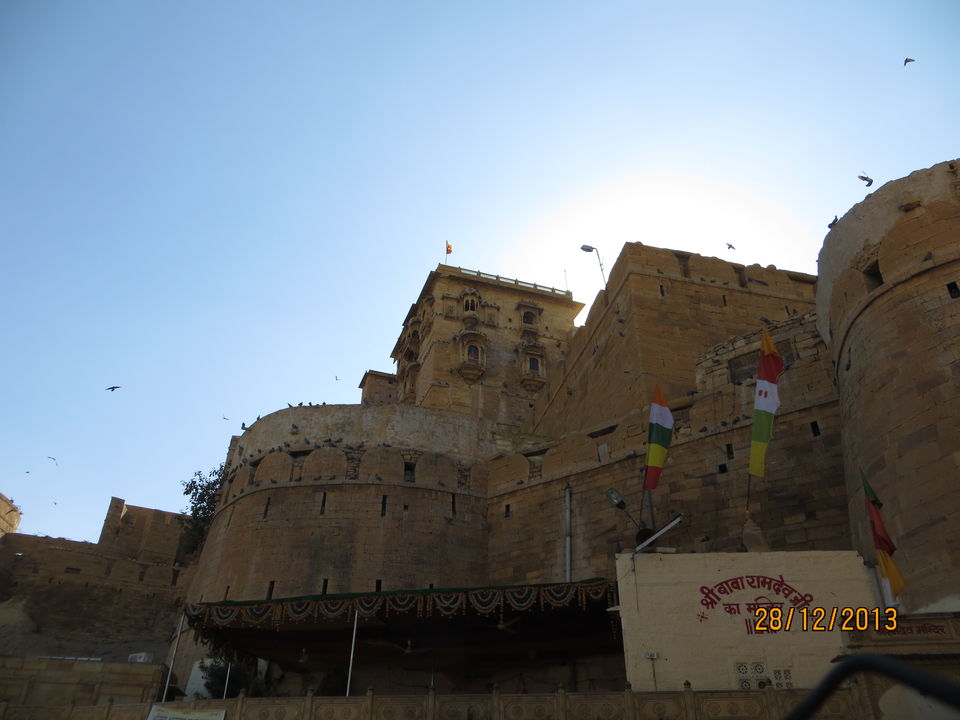 On entering the fort, we can see the royal palace and marks of Sati's hands all over its entrance gate. It is said, after the death of great warriors in the war from royal palace, there wives were asked to jump in their funeral pyre and while going for this ritual, they had to make their hand imprints on the gate which are treated very sacred and these satis are referred to as sati mata.
I could not even imagine the plight of women at that time, so many did this on their own will while many others were forced. Hand imprints have been preserved till now and looking at them, our mind flies back in time and all the visuals come flashing before the eyes.
What an irony, such richness, such glorious palaces are home to such sadness. Beautiful architecture with not so beautiful stories.
The architecture in this palace is suberb. The fort is all decorated with very fine stone carvings.
Besides the fort, Jaiselmer was home to very rich merchants also who used to do import export business via desert route. There haveli's also are worth seeing.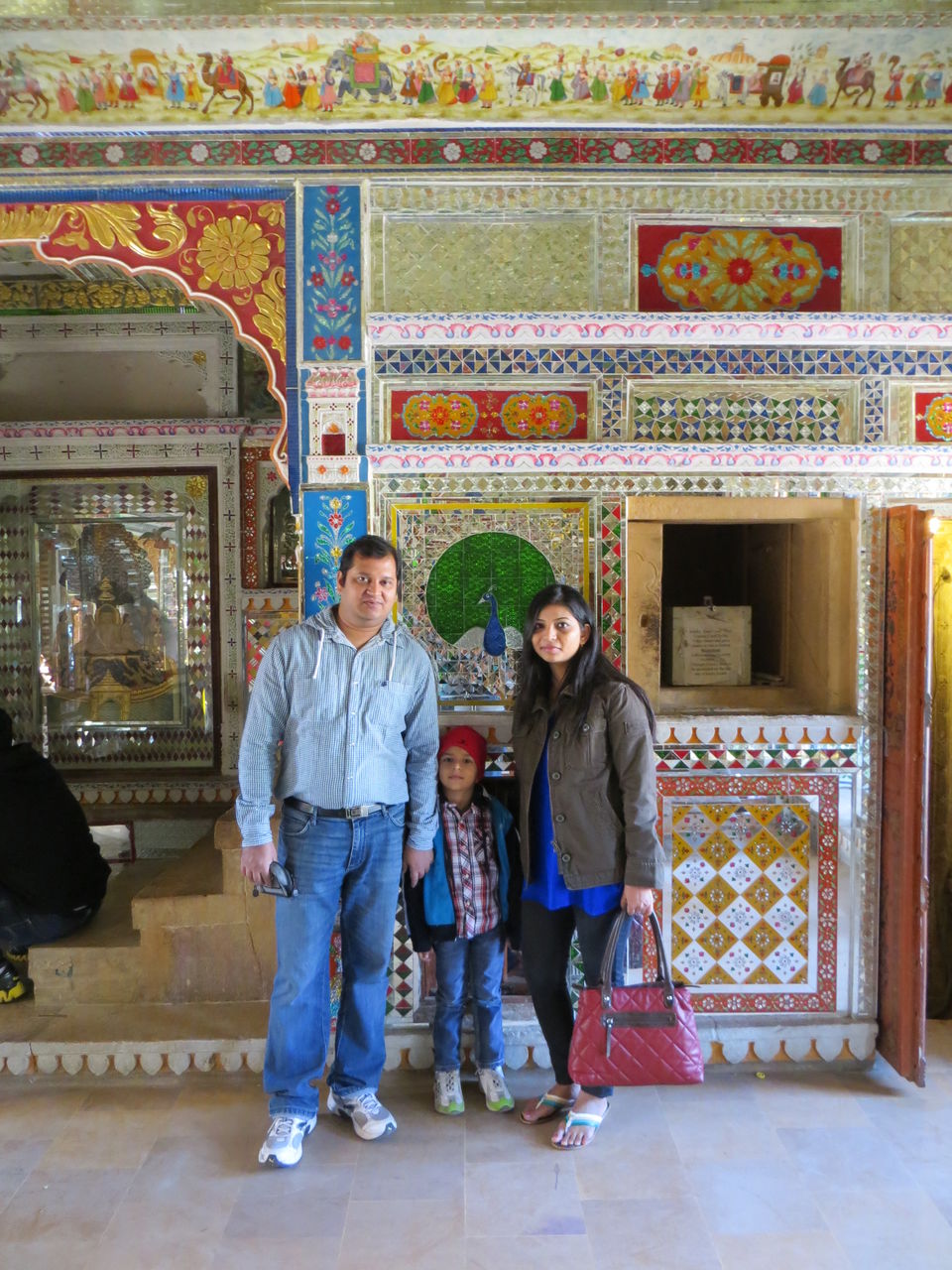 The heritage hotel- Narayan Niwas where we were staying was also no less than a palace and by this time I was already thinking myself to be some royal princess :)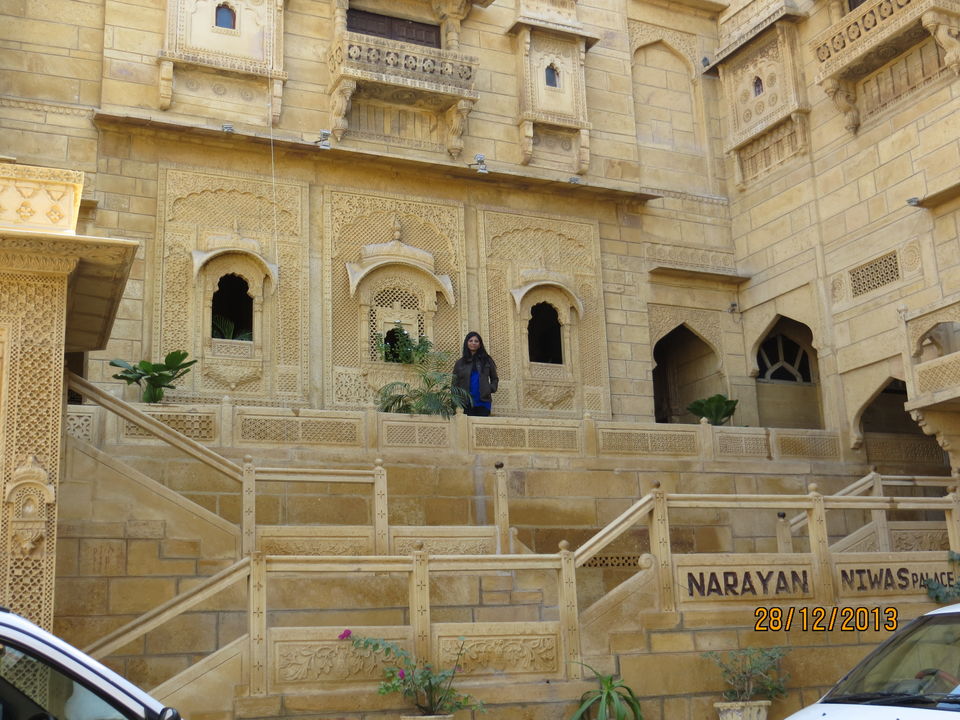 From main Jaiselmer, our next stay was in the desert at Sam which was around 1.5 hr drive from here. And it was just beautiful....I was seeing the sand desert for the first time in my life and it looked so much more beautiful than what we have seen in movies. Golden sand till miles and miles, it was a sea of sand.
We enjoyed the camel ride in the desert and then had a sumptuous Rajasthani dinner in the camp at night followed by Rajasthani folk songs and dance. What an awesome evening it was!!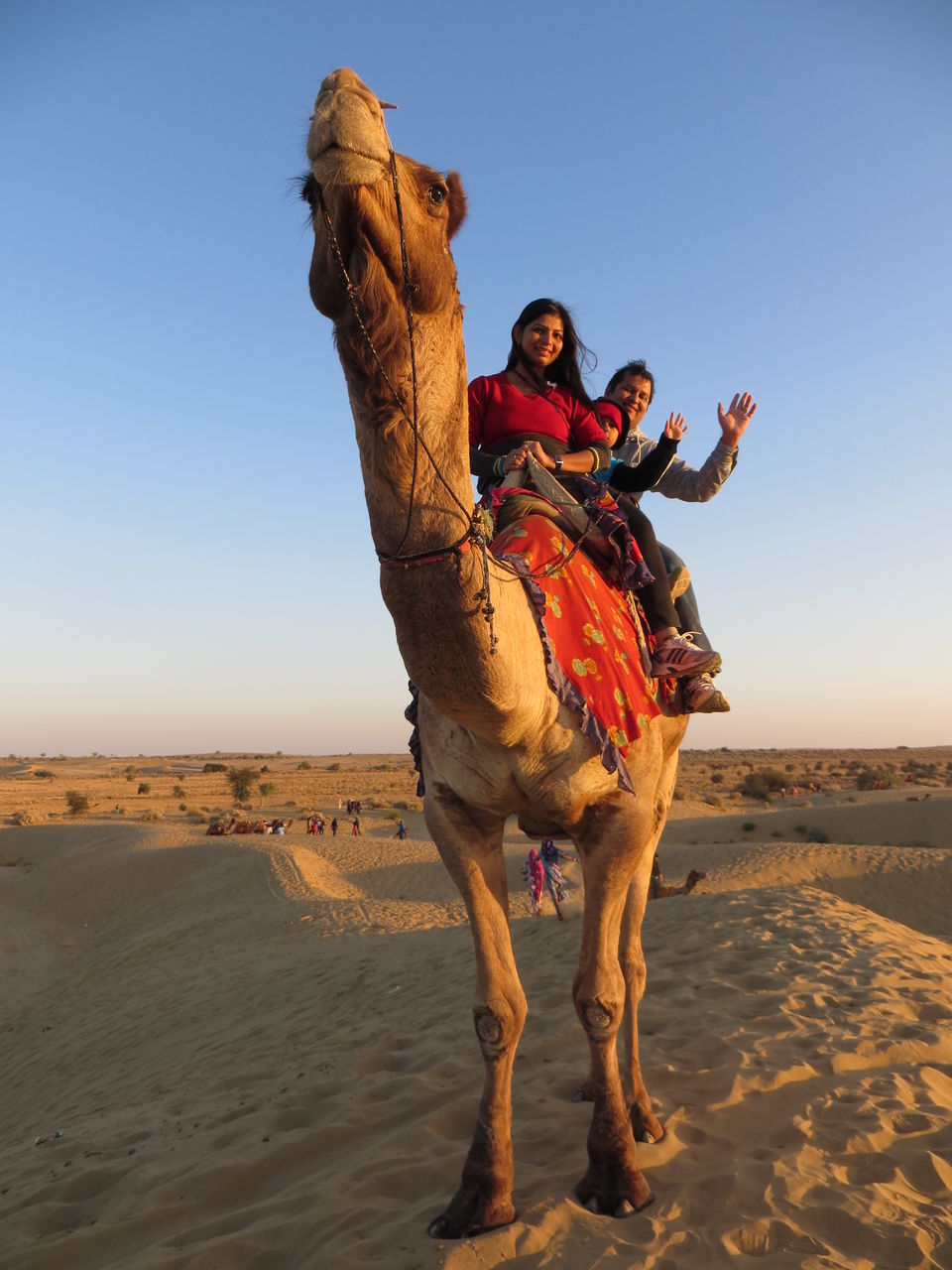 Next day was the time to return from the sand....but we wanted some more time in this sand which we then allowed ourselves and went again inside the glorious desert.
While our way back, we stayed for one night at Jodhpur and enjoyed the lovely Sirvi haveli. It was a very cozy place. Not so big but very royal. It was gifted by the maharaja to the ancestors of the owner of that haveli.