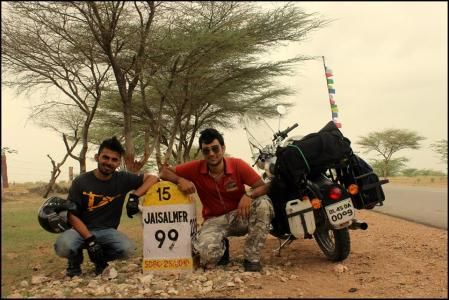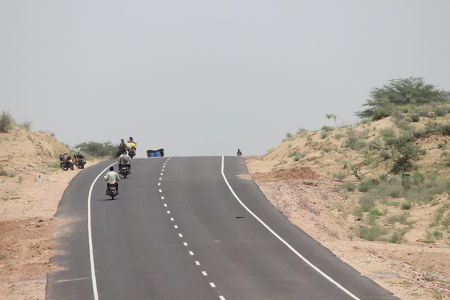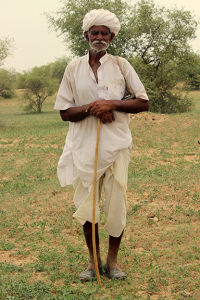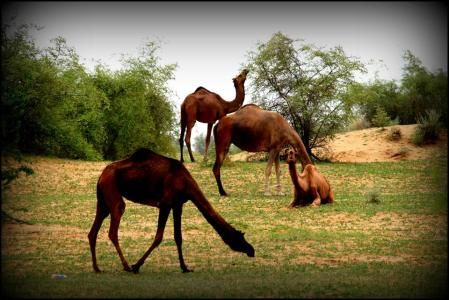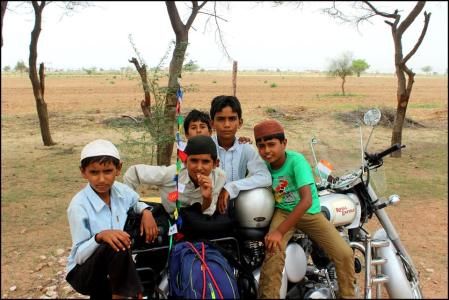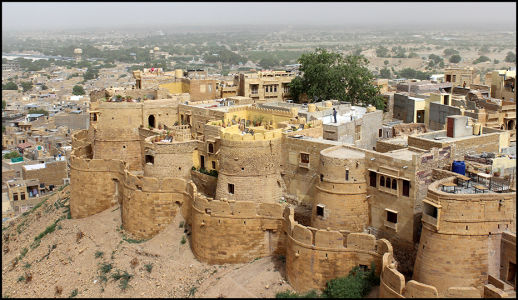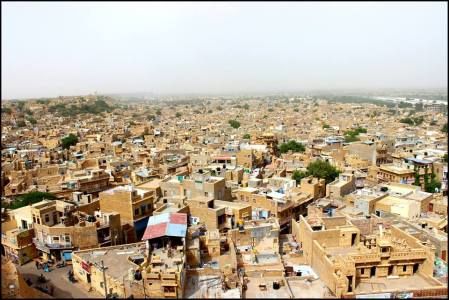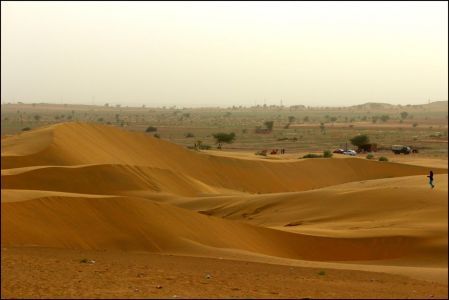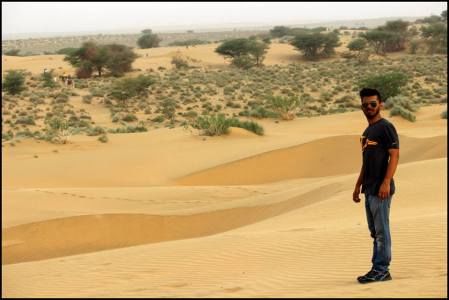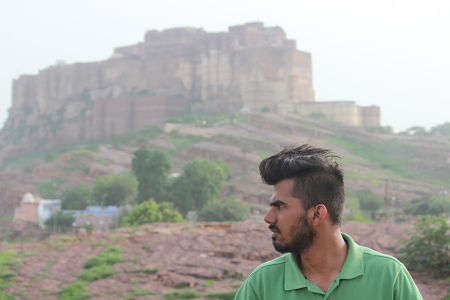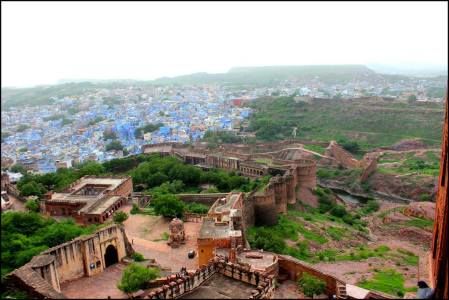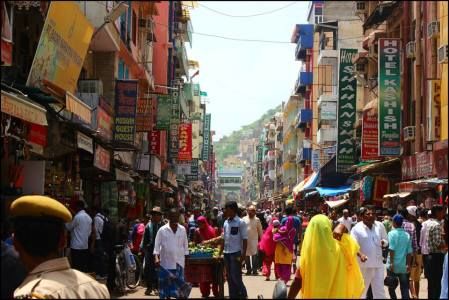 Delhi-Bikaner-Jaisalmer-Jodhpur-Ajmer-Jaipur-Delhi
My friend and I started from AIIMS (New Delhi) at 5:30 in the morning on the Royal Enfield Classic 350 cc. The plan was to cover the route, Delhi-Bikaner-Jaisalmer-Barmer-Jodhpur-Ajmer-Jaipur-Delhi in 4 days. That is approx 1900 km in 4 days. I didn't know if I had it in me to do this on a bike, never had undertaken such big distance in such short span of time on a bike, but I was fairly excited.
We started from Delhi and didn't stop until we reach Rewari that's a small town in Haryana approx 150 km away from Delhi. It was 15th of August, Indian Independence Day; our first stop was at a very lonely looking tea shop. There was a radio inside the shop, and a couple of guys were listening to Prime Minister's speech inside the shop. We stretched our backs and sipped a cup of tea each and continued with our journey. The road went from smooth to bumpy with few kilometers of leaving Rewari and stayed bumpy for some time. It was overcast, and the wind made everything tolerable. We continued on State Highway 26, after another hour of riding, our back started killing us. We continued on the State Highway until Fatehpuri and took only one more stop until reaching here.
We got onto NH - 11 from here, which was as smooth as butter; we stopped at a Dhaba 20kms out of Fatehpuri for Lunch. My back felt so stiff when I got of the bike; I was only able to straighten it up after a struggle of 2 minutes. We took a good 1-hour break at Fatehpuri and rode non-stop till Bikaner.
We took a short tour of Junagarh Fort and Lalgarh Palace & Museum, after that we went to explore the city a little more. We found one nice looking restaurant, Gallops and we decided to feed ourselves there. It was already 4:00 pm when we left Bikaner, we had to cover till Phalodi by the end of the day, and we were already so tired.
We took NH15 from Bikaner towards Phalodi; the terrain started to look more like Desert now. We could occasionally see tribal people with camels far off the highway. The highway was pretty much lonely with only trucks going to and fro. The sun kept coming in and going out of the clouds the whole day. At 7:40 we were around 40 km from Phalodi, and we stopped the bike to witness the sunset. It looked amazing, the yellow ball of fire disappearing into the horizon. We reached Phalodi at 9. We stayed at a friend's place who was stationed at Airforce station at Phalodi.
Next morning we left from Phalodi at 9:00 am for Jaisalmer. The road here was silk smooth; we crossed the famous Pokhran in another couple of hours. From Pokhran, there was a lonely stretch of 140 km to Jaisalmer, which has fringes of Desert National Park on the both sides. We saw a tribe with his camels; we stopped to click some picture, it was the quietest place we have been to during the whole trip.
There was nothing but the sound of air. After another hour, we stopped close to a tribal settlement and gave sweets to the kids and clicked their picture, everyone who saw our bike waived at us, asked questions about our journey. We were amazed when we had the first glimpse of the Golden Fort of Jaisalmer, located in the heart of Jaisalmer. We went inside the fort and realized there is a city within the fort as well. We parked our bike inside, went to one of the rooftop cafes and had a pizza and pasta, which surprisingly was better than all the food chains serve in Delhi. We took a complete tour of the city with the fort and fort. It was mesmerizing, and the view from the top was like nothing you would have ever seen. After spending few hours in the fort, we rode towards the dune; every calls them Sam Dunes.
It is 60-70 km from Jaisalmer, and this 70 km ride gave us the real feel of riding in the desert and the wind here was so strong we were barely able to keep the bike stable. Dunes on the both sides of the road and nothing else. We spent some time in the huge dunes and clicked some great pictures. Earlier we had planned to stay for a night in Jaisalmer, but we realized that we cannot cover Barmer in these four days, so we ditched visiting Barmer and instead planned to go back to Phalodi tonight.
When we left from Sam Dunes, it was already 7 and by the time we reached the long lonely 150 km stretch it was pitch dark, and it started to rain as well, we managed to be back at Phalodi by 12.
We left for Jodhpur early late on the third day; we were really exhausted from the two days bike ride. We reached Jodhpur in 3 hours from Phalodi by taking the State Highway number 61, the condition of the road was excellent, and it is the shortest route to Jodhpur from Phalodi. We went directly to the Magnificent Mehrangarh Fort; it is the mightiest fort I have ever seen. We took a tour of the Fort and started to head for Ajmer at 8:30.
The road from Jodhpur to NH8 was a very confusing one; we got lost twice even after following the GPS, and it consumed more than 4 hours and killed our backs totally. We touched NH8 at 10 in the night and stopped at the first Dhaba we saw, we were barely able to walk now, our back and ass were completely gone. We just walked and stayed up at the Dhaba for the next 1.5 hours. Once we were back to normal, we continued towards Ajmer and reached there in 40 mins. We immediately checked into the first hotel we saw and dozed off. We visited the Dargah in the noon and started heading towards Jaipur by continuing on the NH8, we reached Jaipur by 3:00 PM and decided not to go in the interiors of the city and continued our journey towards Delhi. We reached Delhi by 9:00 PM
This trip was originally published on TRAVEL beings
Frequent Searches Leading To This Page:-
best tour packages in rajasthan, rajasthan family tour packages, rajasthan travel packages, rajasthan trip packages, rajasthan tour package for family, honeymoon packages in rajasthan