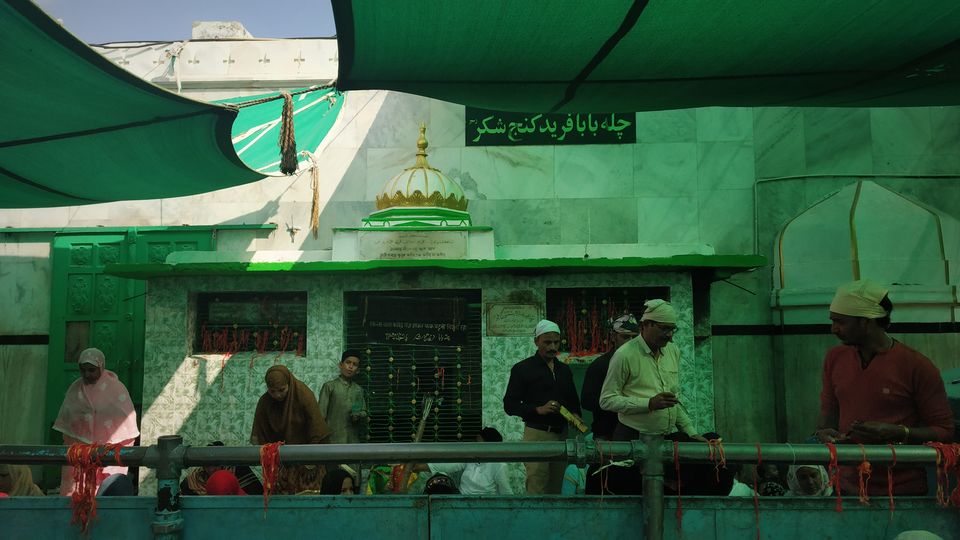 The 'Heart of Rajasthan' or the 'City of Unity', AJMER, is a sacred tourist place in Rajasthan. The ancient city is surrounded by the majestic Aravalli Mountains and is a cauldron of various castes, creeds, cultures, and traditions. If you want to witness unity in diversity and communal harmony in their best form, then you should definitely visit this beautiful city. The holy land of Pushkar is only 14 kilometers far from the burial ground of Sufi saint Khwaja Moinuddin Hasan Chisti, which was my major reason for visiting Ajmer. I wanted to visit the famous dargah from a very long time, and I finally got a chance to see the grandeur of the place in October, which is also the best time to visit Ajmer.

3 days in the holy city of Rajasthan was everything I could ask for myself. Read on what made it so special…
With huge confidence in my prayers and a strong belief that whosoever prays with a pure heart here gets all their wishes fulfilled, I visited this marvelous Sufi shrine. Well-known for his secular preaching, the Persian Sufi saint Khwaja Moinuddin Chishti is enshrined here. You get to pass through a few huge silver doors having intricate carvings in order to enter the dargah. The tomb of Moinuddin Chishti is carved out of marble. The gold plating on top and silver and marble railings look very beautiful.
I am not a religious person, but I visited this architectural marvel to connect to my spiritual self. In spite of being a very crowded place, I was able to find peace and serenity here. The vibes of such places are very strong and pleasant, and I ensure that I become a part of such an aura once in a while. And while I was here, I couldn't miss spending some time listening to Qawwali. The experience was really soothing and unique that is hard to be felt anywhere else.
My tip: Sohan Halwa available in several variants at all shops nearby the Dargah is something that you should definitely try. I don't have a sweet tooth but still I really loved it.
Located on the outskirts of Ajmer, this is the ruin of a mosque that goes by the same name. It is at a walkable distance from the Dargah and you can reach there in just 15-20 minutes. It is believed that it took only two and a half days to build the mosque by the order of Mohammad Ghori. The sultan gave only 60 hours to the workers to construct it and the workers worked day and night. They couldn't complete it but constructed a screen wall so that the sultan could offer his prayers. It has beautifully carved walls, stone pillars and domes covered in Arabic writing. Seeing people worshiping there is a lovely experience.
Located in the heart of Ajmer, this is a breathtaking artificial lake. Looking at sunset from this gorgeous lake is an extraordinarily wonderful experience. You can also go for boating or water scooter rides here. An island can be spotted in the centre. Nearly 4.4 meters deep, the lake stretches across an area of 12 kilometers. The best time to visit the lake is from October to March since it dries up in summer. The place beholds magnificent and fantastic views.
The lake is surrounded by lush green Daulat Bagh Gardens along with the Khobra Behroon temple as well.
Pushkar Ghat and Pushkar Lake
The Pushkar Lake (a declared heritage monument) is hugged by 52 ghats, and most of them are 300 years old. The ghats are used for sacred bathing and rites, such as ancestor worship. Out of these ghats used by pilgrims to take a holy bath in the lake, ten important ghats on its periphery have been declared as 'Monuments of National Importance'.
Brahma Ghat is the most popular among many others such as Gau, Yag, Jaipur, Karni, Dadhich, Saptarishi, Gwalior, Kota, Varaha, and Gangaur Ghat.
It is believed that the lake was created when a lotus fell from the hand of Lord Brahma. People strongly believe that the water next to each ghat has special powers ranging from giving beauty and charm to curing diseases like leprosy. They have faith that just one dip in the waters of the lake is equal to performing yagnas for hundreds of years.
These ghats in the sacred town of Pushkar amplify the splendor of this holy city. Various kinds of religious ceremonies are held in its vicinities. The calm aura of the place is something that you should not miss. Visit there in the evening and you will not even realise spending a couple of hours sitting there and just looking at the serene water body.
Brahma Temple
This Hindu temple is situated close to Pushkar Lake. It is counted among the few existing temples that are dedicated to the creator — God Brahma. The temple is built with stone blocks and slabs, joined together with molten lead. As a mark of offering to Brahma by the devotees, the marble floor and walls inside the temple have been embedded with silver coins with their names inscribed on them.
Photography is not allowed inside the temple.
For those looking for a spiritual getaway, Pushkar boasts of various other temples including Raghunath Temple, Atmeshwar Temple, Mahadeva Temple, Old Rangji Temple, Apteshwar Temple, Savitri Temple, and Paap Mochini Temple. These temples will take you through the history lanes of this ancient city as well.
Shopping
Strolling around the Pushkar market near the lake is a must-do. The market comprises local shops, showrooms and emporiums. You can find here a huge variety of embroidered clothes, silver and artificial jewellery, chic accessories, Rose products, handicrafts, paintings, colorful puppets, wall hangings, and a lot more available at reasonable prices. Shopping on the colorful streets of Pushkar is not less than therapy.
Besito Factory
If you love to collect souvenirs during your journeys, then Besito Factory is a must-visit for you. Alicia Nieto Alfaro from Spain is selling handmade customized felt brooches, magnets and key chains since 2008. You can find her easily in the market and if not, then any local would easily guide you to her. A huge fan of India, the items she sells are so cute and exclusive. I purchased 1 brooch and 2 fridge magnets from her. Her passion inspires me a lot.
Whenever you are hungry in Pushkar, you should visit this lovely rooftop café that offers a lake view. I ordered White Sauce Pasta and Limonana here. Everything was yummy! If you are a vegan, an artist or a solo traveller (like me), then you are going to love this place for sure. The vibes and ambience are quite relaxing. I had a conversation with Param, a very nice staff member, who explained to me the history of the restaurant and showed me his sketches as well. Undoubtedly, he is really a very talented guy. He also introduced me to the owner, who is a chef as well. He was sweet enough to give me complimentary handmade chocolate. I had an amazing time and I would love to go there again.
Other places to see in Pushkar
Pushkar is known for its biggest camel fair on earth that is held in November every year. Nearly two lakh camel drivers, pilgrims and farmers attend it with as many as 50,000 camels and cattle. Apart from them, a large number of tattoo artists, tourists, musicians, vendors, actors and holy men come to Pushkar to be a part of the grand fair.
If you have more time, then you can visit these places as well:
• Man Mahal
• Kishangarh
• Rose Garden
• Naga Pahar
• Merta
Desert safari is also very famous in Pushkar wherein you go to the desert sitting on a camel. Since I am against such kind of practices that cause pain and unkindness to the animals in any way, I didn't try that, and so I can't tell you how the safari experience is.
My accommodation
Being a budget traveller, I stayed at Doctor Alone in Pushkar. It is right at the ghat and the view from here is mesmerising. Its restaurant offers a wide variety of delicious food. Falafel Hummus Pita is the major highlight. The staff is also very friendly.
If this hasn't inspired you enough, then you should check out my Instagram page strolling_shoes and follow my adventures around the world!
Keep travelling :)