Jodhpur has got enough to fill our hearts with all of its forts, palaces, sandstone buildings and a lot more. Yet, there's something that the blue city has been hiding from all its unsuspecting tourists and that happens to be the Panch Kunda cenotaphs – a beautiful set of as many as 46 chattris in the outskirts of the city.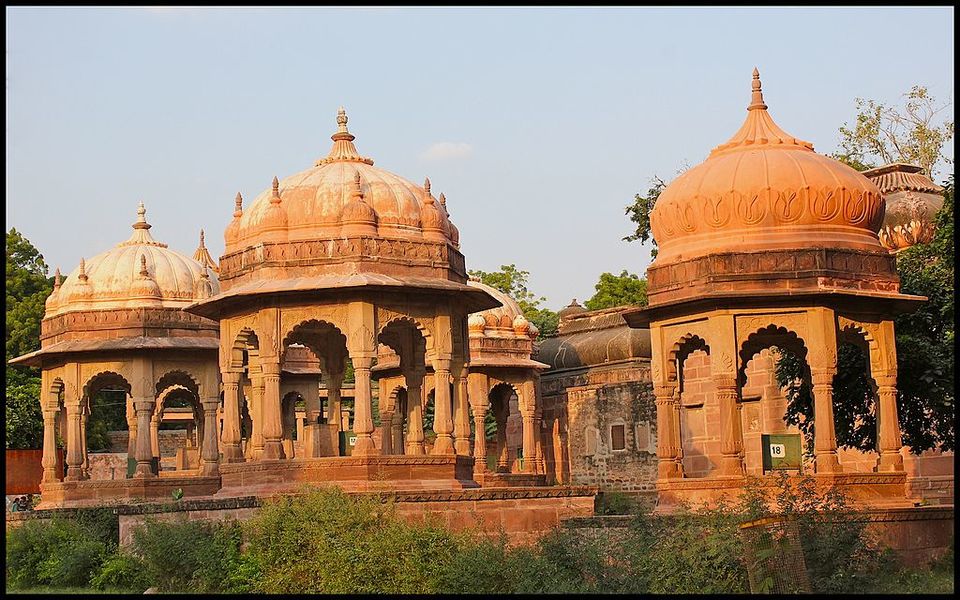 Usually, tourists of Jodhpur make it a point to visit the Jaswant Thada cenotaphs but a lot of them haven't heard of these chattris. So what is it that makes the Panch Kunda Cenotaphs worth a visit? They are ancient, they are built in Rajasthani sandstone architecture and are stunning to look at. Untouched by the throngs of tourists who visit the place, these chattris retain all of their original charm. Despite being in ruins and having had no maintenance or restoration done on them in all these years, the monuments stand strong and yes, they're beautiful too.
Plus, these cenotaphs have got quite an interesting history. One of the most popular capitals of ancient India – which happens to be Mandore, has had many popular kings rule it in the past. It has become a tradition of sorts to build cenotaphs for the queens of Mandore and Jodhpur here in this place. These gardens have eventually gone on to have 46 cenotaphs for all of these queens built in beautiful and intricate sandstone structures. Some of these monuments are known to have been built for some of the prominent ministers and servants of the royals as well, along with the royals themselves.
It is yet to be discovered which queen or minister each cenotaph individually belongs to however and recently, historians have begun working on that as well, from what we've heard.
Where are the Panchkunda cenotaphs in Jodhpur now?
The Panchkunda cenotaphs are located on the outskirts of the city, far away from most of the main tourist attractions and all the noise. Near the cenotaphs is the famous Sukhshwar Mahadev temple. The area is called as the Panchkund, after which these monuments have been named.
Not being a popular tourist spot in Jodhpur, the Panchkunda cenotaphs have not really been worked upon for restoration nor has anything been done to preserve these structures. In fact, the place now is filled with monkeys and flocks of pigeons dwelling around here due to the absolute lack of people.
When is the best time to visit the Panchkunda cenotaphs?
The weather in Jodhpur is best during the months of October through March when the temperatures aren't too hot or humid with no rainfall usually. So next time you plan a visit to Jodhpur during these months, make sure you pay a visit to this place.
How far is Panch Kund from Jodhpur?
The panchkund chattriya are about a 40 minute drive from the main city of Jodhpur. The area is on the outskirts and is deserted. Despite being away from the town, the place is well connected to the rest of the town by public transport and cabs can take you there as well.
Only recently, some historians have been making some efforts to study these monuments and find out who these cenotaphs actually were built after. It is very likely that these cenotaphs are going to be having more visitors than they have had in the recent past, considering how their stunningly intricate architecture and their significance are slowly coming out into light. So go pay a visit to the beautiful panchkunda cenotaphs while they are still untouched and hidden as it sure looks like they aren't going to be, for very long!
Have you been to the Panchkunda Cenotaphs? What was your take on these monuments? You can share all about it here.
Get travel inspiration from us daily! Save and send a message at 9599147110 on Whatsapp to start.