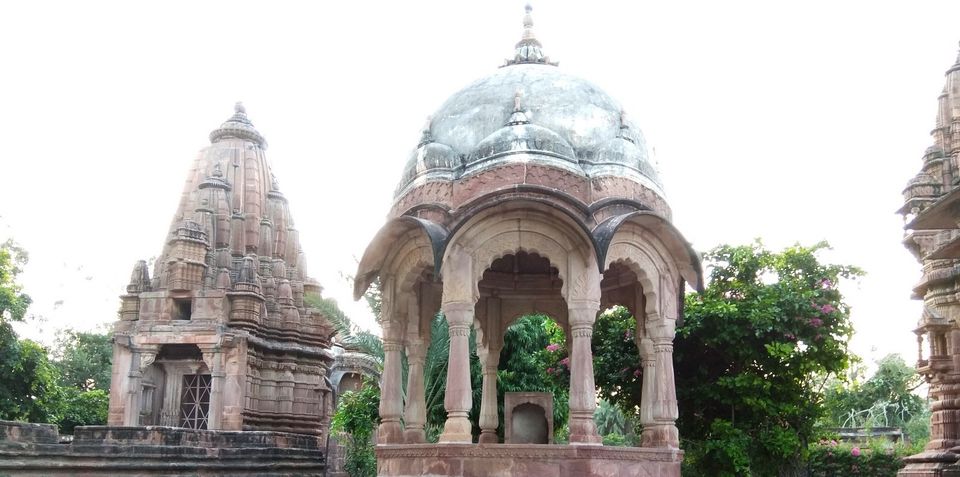 Interesting facts about mandore garden which you should know before visiting
1-Mandore is also called raavan ka sasural because it is believed that it is hometown of ravan wife mandodari(Princess of mandore) and their marriage took place here.There is also raavan chavri(where marriage vows taken) is also near mandore railway station.
2-Mandore was former capital of marwar but latest due to the invasions of Muslim rulers of gujrat and malwa, marwar capital shifted to mehrangarh fort on hilltop.
When you enter mandore garden you can see langoors/monkey so don't keep any eatable in your hands.
When you move further and cross ajit pol you can see hall of heroes(devtaon ki saal) in which you can see local gods statues and paintings.
Mandore garden also having government museum which you can visit till 5 pm and entry charge is 50 rs.
Museum is very small but most intresting thing is that there is very huge stuffed buffalo in museum which stopped running train engine in yard during shunting.
From outside museum there is a way to go uphill and see ruins of mandore fort and also witness amazing sunset from the top point.
There is also ruined place on uphill called brahma mandir k avsesh(remains of Brahma temple), its intresting because there is only one Brahma temple in the world which is in pushkar only(according to mythology no Brahma temple is possible to built due to curse on brahmaji).
Panoramic view from top point is awesome.
When stepping down from uphill one can see a water canal called nagadari which was full of fishes(but sadly now in very bad condition but repairing work is in progress after Rajasthan High Court order so hopefully within few months mandore garden will be in new shape update may 2019).
Mandore garden is famous for its ancient cenotaphs/chatri of royal members of jodhpur.
Architecture of every cenotaph is unique and contains various sculptures of hindu gods.
Biggest cenotaphs are of maharaja ajit singhji and maharaja jaswant singhji 1.
Note-it is mandatory to remove your shoes before entering cenotaph.
These cenotaphs are perfect spot for photography or your Instagram photos.
Things to know-
1-You can go to panchkunda ki chatris from mandore garden where tere naam movie song odhni odh k naachu few scenes shooted. Distance is 2 km.
2-Few famous movies like manikarnika and kung-fu yoga scenes shooted in mandore garden.
3-Distance from Jodhpur railway station to mandore garden is approx 10 kilometer.
4-You can easily get auto as well as public bus from station or nai sadak/ghantaghar.
5-There is no entry fee in mandore garden.
6-Best time to visit is rainy season or winter.